Your Daily Erotic Tarot Card for December 13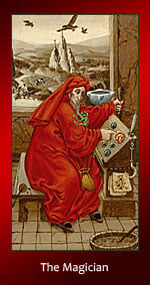 The Magician
The appearance of The Magician card is great news, because even if your sex life has been a disappearing act lately, he says that you can use your considerable sexual skill and sense of erotic adventure to compel it to come back to you starting today. There's a creative component here, too, so don't forget to use your steamy imagination to really get things sizzling. Once you use all of your powers of seduction to their greatest potential, there's no limit to the carnal magic you can conjure up.
Your Daily Erotic Tarot Card for December 14
Strength
The Strength card shows that something you've been trying hard to obtain keeps slipping out of your grasp. Romantic partners are generally attracted to you because of your strong sense of self-confidence and sheer determination, but if that isn't working right now you could understandably become exasperated. Crossing the line into aggression may only result in frustration, so resist the urge to keep going even after your admirably bold attempt at seduction gets rejected.