The Witches Daily Divination Journal
Tarot Card of the Day
Ace of Wands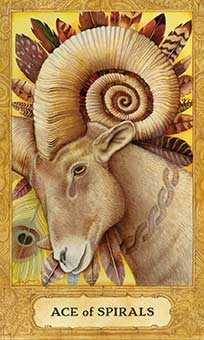 This suit, most often called "Wands" and sometimes called "Rods" or "Staves," represents initiative, ambition, drive and desire. This is the suit of enterprise and risk-taking.
An Ace of this suit in this position symbolizes a pivotal act, or fateful step, that will set loose a chain of events leading toward your desired goal. It refers to a birth or new beginning, the inauguration of an endeavor, and the building of the necessary commitment to see a project or plan through. It personifies an aroused Will that is totally focused, aiming at the bulls-eye.
Tarot.com is Part of the Daily Insight Group © 2018
Daily Love Tarot
The Hanged Man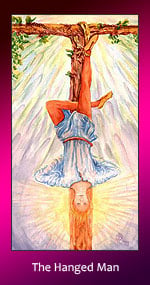 The Hanged Man asks, "What do you see from a new perspective?" If you look, you catch sight of the truer nature of a union. You feel yourself relax. You live in the future now, and not in the past. You learn not to get excited over every little upturn and downturn. This is the message of the card today: focus your eyes on the moment and nothing slips beyond the radar of awareness.
Erotic Tarot
The Magician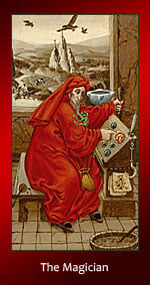 You can take the Magician card quite literally today as it's telling you that your love life needs a bit of sexual magic. The Magician card encourages you to use the intuitive power you have that allows you to approach potentially (or explicitly) passionate situations with erotic determination. Who do you want under your spell this time, and what sensual tricks do you have up your sleeve to seduce him or her? This card is an indication that it would be a shame to let your passionate talents go to waste.
Today's Psychic Tip
11.7.18
Leap Of Love
This is a day to dream big and seize the moment. Love is headed your way if you move in with a plan for seduction. Are you ready to leap?
Tarot.com is Part of the Daily Insight Group © 2018
Your Daily Rune For November 7
Isa
"Iss-ah" – Literally: "Ice" – Esoteric: Stasis, Stillness
Rune of concentration of things in a static or frozen state. Rune of stillness and the Ego-Self.

Psi: mental faculties, focus, ego, self-image/self-identity

Energy: stillness, contraction, stasis
Mundane: cold, self-preservation, harsh reality
Divinations: Concentrated self, ego-consciousness, self-control, unity of being; or egomania, dullness, blindness, dissipation, immobility, self-centeredness, lack of change, psychopathy.

Governs:
Development of concentration, will and focus
Halting of unwanted dynamic forces as an act of self-defense (ard against demonic influences)
Basic ego integration within a balanced multiversal system
Power of control and constraint over other wights (entities), emotional outbursts
Focus of the will into single-minded action
Your Influences for the Week
Tarot Influence
The Sun Reversed
The outcome of future plans is nebulous. Trouble with relationships and work is very possible.
Astrological Influence
Aquarius Reversed
This card signifies the closing of both heart and mind, which leads to stagnation.
Element Influence
Water Reversed
Water reversed denotes secrets to which you are not privy. Approach all ventures with caution.

Your Animal Spirit Guide
The Characteristics of the Frog as a Spirit Animal
Advice from a Frog

Crack the Cookie

The Wisdom of Buddha
There are only two mistakes one can make along the road to truth; not going all the way, and not starting.