Your Daily Witches Digest for Tuesday, December 5th
(Tarot Cards, Runes & Much More)
Tarot Card of the Day
Seven of Wind
---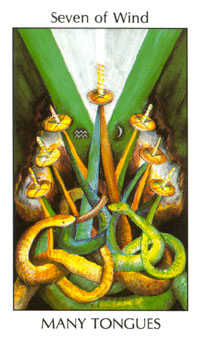 The Seven of this suit typically refers to mental preparedness, acquired through the use of imagination, including the rehearsing and visualizing of desired results. This card represents the positive mental habits of a natural winner. The image most often associated with this card is that of a canny warrior who has infiltrated into the enemy camp on the eve of a fateful battle, checking out their preparations and stealing their swords. Such a move is guaranteed to demoralize the enemy and undermine their performance in the upcoming confrontation.
Putting it in modern terms, one who draws this card needs to work smarter, not harder. Think long and deep, study all the angles and put yourself in the shoes of your competition. As a result, you will have such a thorough grasp of the whole situation that there will be no surprises — and no excuses for anything but success. Skillful preparation justifies the optimism of the natural winner.
Six of Pentacles reversed
---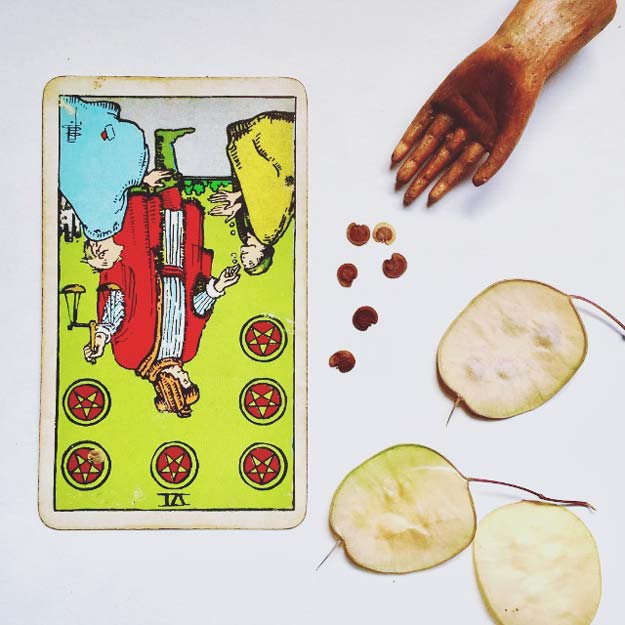 Here's this card again! We saw the Six of Pentacles last month as well, and it does seem that some of the lessons or struggles present in November are still with us currently. This is not unexpected. November marked the start of a chain of busy holidays; this year a number of stores where I live started merchandising for Christmas even before Halloween, and now are in full-swing with decorations and many additional products. In our spread, we have the Six of Pentacles positioned in reverse, which seems in direct alignment with this month's theme card. I can't help thinking about the fine line between holiday spirit and holiday pressure — pressure to find the perfect present for everyone on my list, pressure to get everything done on time… By some people's standards, I'm already late if I'm still doing my holiday shopping now! And as noted above, if you're operating on a budget, and many of us are, including everyone you care about and finding just the right thing for each of them can be tough.
When this card is reversed, it often indicates mishandling of resources, so I'm taking its appearance here as a warning. What sort of creative solutions might we find to honor those we love with clever gifts that don't have to drain our resources? Last month's appearance of this card asked us to think about different ways we could serve others. Generosity does not have to be financial, even though Pentacles are the suit of tangible concerns. There are many ways to show love. We can give others our time and energy to help improve the quality of their tangible existence. We can use our time and skills to make something for loved ones. People often say that it's the thought that counts, but this is usually meant to excuse a lack of effort. If we put care into what we make, these gifts will be seen as both thoughtful AND enjoyable.
This card in reverse can also suggest greed, but in the current context, I would interpret that a little differently. Pressure to perform as expected can cause many of us to withdraw. I sense fear of a sort in this card, too. Perhaps we fear that others will not return our efforts of generosity. Giving to get or giving only because we received is a strangely deceptive cycle. Overall, this card is a reminder that how we treat others is important. A balance of the material and spiritual is essential for our well-being, and the act of giving supports that balance.
Considerations for the reversed Six of Pentacles:
1. What actions by others make you feel loved?
2. How do you typically show your love for others?
3. Think about those closest to you, people you would want to demonstrate your care for with a gift of some sort. What do you think makes each of them feel loved? How could you tailor your gift to match this?
How to Do a Serenity Tarot Reading
A Tarot spread to help you heal and find inner peace
---
The famous singer Marvin Gaye once said, "If you cannot find peace within yourself, you'll never find it anywhere else." How true this is! Unfortunately, sometimes it seems as if life gets in the way, and achieving tranquility is harder than it should be. Are you struggling with overcoming grief, feeling bombarded by the negativity in the news, or managing some kind of internal conflict? This 6-card do-it-yourself Serenity Tarot spread shows you exactly what you need to do to clear out the emotional clutter, and put yourself back onto a more positive path. Keep reading to see how YOU can use this spread to heal.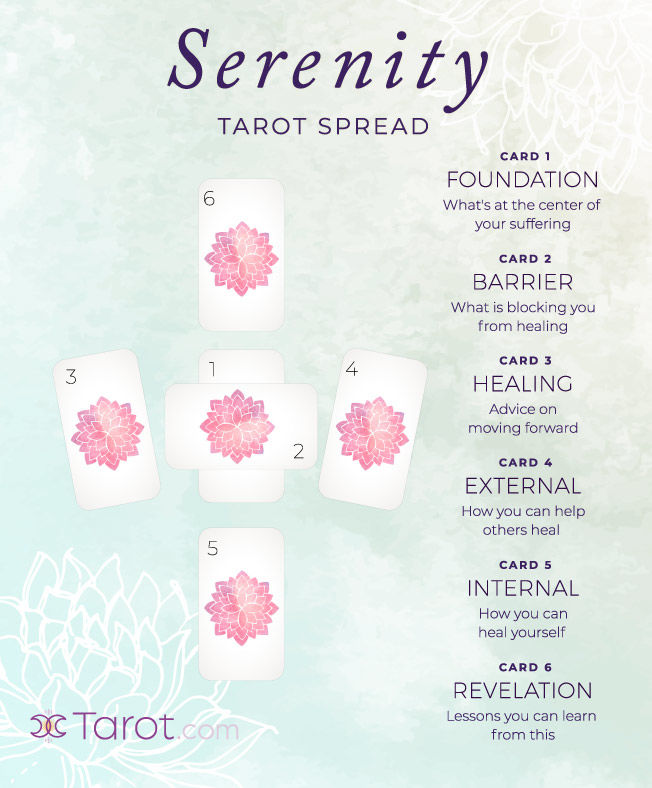 Position 1: Foundation card
Heart of the issue
The first card of this reading takes a look at what's really at the center of your suffering. While it's usually pretty easy to identify how we're feeling, sometimes we don't know why we're feeling the way we do. When pulling this card, make sure to sit and focus on the emotions you're experiencing at that moment. Allow yourself to fully embrace what it is that's going on in your head and heart. Think of this card as putting the spotlight on the darkness you're experiencing right now.
Position 2: Barrier card
What is blocking you from healing?
The path to healing is not a straight line. The Barrier Card will help you see what it is that has been preventing you from finding the inner peace you need. Sometimes these stumbling blocks come from outside influences, and sometimes the struggle is coming from within. The message you receive from this card will allow you to confront — and deal with — what has been stopping you from finding inner peace.
Position 3: Healing card
Advice on how to move forward
When we're swimming in an ocean of emotion, it's not always easy to see what it is we need to do to feel good again. The third card in this spread takes a look at your situation and gives you the practical insight and advice needed to help soothe any anxiety or uncertainty you're feeling. Think of the Healing Card as your own personal counselor, helping guide you towards a better future.
Position 4: External card
What you can do to help others
In dark times it is not only we who are hurting — others around us may be as well. We all have an internal light that acts as a beacon of hope no matter how dark these times may seem, and your External Card helps you see what this special gift is. Is your higher power that you act as a pillar of strength? Or, is it your unwavering compassion for those suffering around you?
Position 5: Internal card
What you can do to help yourself
The Tarot is known for its ability to empower us, and there is nothing more empowering than learning that everything you need to be happy is already inside of you. Think of your fifth card as your "self" card, one that shines a spotlight on your greatest source of inner strength. The insight revealed in this position will show you that not only is healing is possible, but that you already have what it takes to get there.
Position 6: Revelation card
Lessons you can learn from this situation
While it may not seem like it at the time, there is always a silver lining in times of adversity. Not only can our suffering teach us important lessons about life, but it can also teach us important lessons about ourselves. Think of your Revelation Card as a glimpse into your future — a future where you're stronger and wiser for having gone through this situation.
No matter what it is you're dealing with right now, this simple 6-card Tarot reading can help guide you towards a happier, brighter tomorrow. Are you ready to get started? Take a deep breath, shuffle the cards, and let the power of the Tarot guide you now.
Your Crowley Thoth Tarot Card for Today
Lust


While similar to classic Tarot's Strength card, Lust goes a step further by suggesting we should enjoy the pleasures of exercising our strengths, sating our passions, and embracing that which allows one to express the majesty of their unique self. The lust this card indicates is not purely sexual, but at its most basic this lust is a primal desire to experience life to the fullest degree possible while taming our more beastly side. Lust implies that we not fight with our base instincts, but rather that we accept and manage and nourish them as an essential aspect of maintaining a balanced, complete self.
Your Weekly Influences
Tarot Influence
The Hanged Man Reversed
The reversed Hanged Man represents a preoccupation with the worldly and wasted energy. This is the card of false prophecy and time wasted.
Astrological Influence
Taurus
With The Bull comes strength, loyalty and determination
Element Influence
Fire Reversed
Fire reversed denotes calamity that may be on a catastrophic level. Prepare to deal with changes you do not want.
Your Ancient Symbol Card for Today
The Green Man

Where the Green Man appears the mystery and untamed energy of nature abounds. The Green Man indicates the presence of choices and powers that have not been muted by civilization. The Green Man represents the antithesis of technology and industrialization. He offers primal energies veiled in mystery and derived from the spirit of nature in its purest form.
As a daily card, The Green Man indicates you are in a place where you will be well served by exploring your place in the natural world. At the moment the wisdom that will serve you best cannot be found in books or on talk shows or extracted from today's headlines. What's called for is an affirmation of your place in the natural world.
Psychic Tip of the Day
UNCOVERED
You are confronted by a misunderstanding that you might have used to your advantage. Someone is not as forgiving this time. Are you discovering a new set of facts?
Witches Rune for the Day
The Blank Rune
Meaning: This is a rune of difficulty and negative influences will rule your life for a time, but as all difficulties are a learning experience it will lead to improved personal perspective and progress on your life's path. Always consult the surrounding runes with this stone. If it lies with a positive stone, it indicates that the pain of this experience will lead to a beneficial change in circumstances.
Your Daily Elder Futhark Rune for Today
Save
Your Animal Spirit Guide for Today
Crack the Cookie
The Wisdom of Buddha
When one has the feeling of dislike for evil, when one feels tranquil, one finds pleasure in listening to good teachings; when one has these feelings and appreciates them, one is free of fear.