Weekly Tarot Card Reading
A one-card reading gives you a glimpse at what's coming
---
For the week of November 21, I chose the Eight of Wands!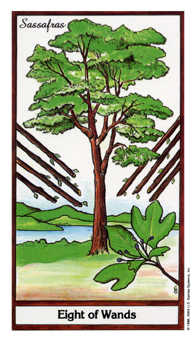 With eight wands hurtling through the air, you know that this week is going to be about movement … fast movement! It may seem as if everything you're involved in is in over-drive — relationships, work, thought processes, ideas — you name it. There's no slowing down around here!
This week, expect things to move forward quickly. Nothing is going to stand still and everything is going to change and evolve.
For some, it will be the perfect pace, especially if you like rapid change. For others though, it may be just a little too fast. Don't resist it –- just go with the flow and appreciate the energy that is swirling around you now. Invite this flow of energy into your life and feel how it refreshes you and the energy around you.
This is also a great week for travel, particularly air travel. Lucky you if you're jet-setting to a faraway country or traveling for work.
Part of the Daily Insight Group
©Tarot.com 2016. All rights reserved