Tarot Card of the Day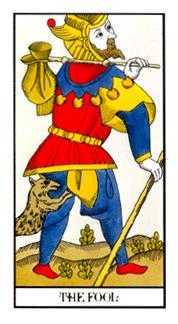 Pamela Coleman-Smith's artful rendition of The Fool in the Rider-Waite Tarot deck is often used to represent Tarot in general. Early classical versions of The Fool card, however, portray quite a different character — a person driven by base needs and urges, who has fallen into a state of poverty and deprivation.
In some earlier instances, The Fool is made out to be a carnival entertainer or a huckster. In others, he is portrayed as decrepit and vulnerable — as the cumulative result of his delusions and failures. Not until the 20th century do you see the popular Rider-Waite image of The Fool arise — that of an innocent soul before its fall into matter, untainted by contact with society and all its ills.
Modern decks usually borrow from the Rider-Waite imagery. Most Fool cards copy the bucolic mountainside scene, the butterfly, and the potential misplaced step that will send The Fool tumbling into the unknown. Don't forget, though, that the earlier versions of this card represented already-fallen humanity, over-identified with the material plane of existence, and beginning a pilgrimage toward self-knowledge and, eventually, wisdom. The Fool reminds us to recognize the path of personal development within ourselves — and the stage upon that path where we find ourselves — in order to energize our movement toward deeper self-realization.
Part of the Daily Insight Group ©2018
Love Tarot Card of the Day
The Tower
---
Hoping and wishing won't make it so. Quick and decisive action does. The Tower represents permission to get things moving in high gear, in the right direction. Invest yourself wholeheartedly in your long-term relationship. Start with straight talk with your partner. The Tower is a wake-up call to signs previously ignored. It heralds the idea that the truth sets you free and eases tension. It puts life back into the union.
Your Erotic Tarot Card of the Day
Strength
---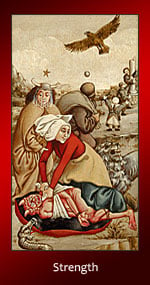 Your sex life gains some serious momentum today with the appearance of the Strength card. You have tremendous inner strength when it comes to getting what you want, and that includes sexual conquests. If you've been waiting for the right time to try out some new moves, the Strength card urges you to act now! There may be some obstacles in your way, but you welcome any and all challenges. Anyone playing hard to get right now is like putty in your hands.
Psychic Tip of the Day
LEAP OF LOVE
This is a day to dream big and seize the moment. Love is headed your way if you move in with a plan for seduction. Are you ready to leap?
Part of the Daily Insight Group ©2017
Your Daily Rune for Wednesday, 
Inguz
"Ing-guz" – Literally: "Seed" or "The god, Ing" – Esoteric: Process, space
Rune of isolation or separation in order to create a space or place where the process of transformation into higher states of being can occur. Rune of gestation and internal growth.
Psi: internal growth, personal development, the power of suggestion, the inner-child, wholeness
Energy: earth-god, stored energy, gestation process, male mysteries, subtlety, planned bursts
Mundane: male sexuality, agriculture
Divinations: Resting, gestation, internal growth, expectation, time for oneself; or impotence, scattering, movement without change, frivolity, immaturity.
Governs:
Storage and transformation of power for ritual use.
Stored Energy
Passive meditation and centering of energy and thought
Sudden release of energy
All forms of subtle, creative action
Your Animal Spirit Guide for

Crack the Cookie
The Wisdom of Buddha
Peace comes from within. Do not seek it without.
Save