Witches of the Craft's Daily Divination Digest for January 25th

Your Daily Tarot Card for January 25
The Moon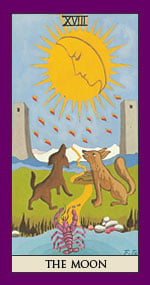 Keywords: imagination, dreams, emotion, competition (the dogs), illusion!
Astrological Correspondence: Pisces
The Moon in all its phases represents the world of dreams, illusions, and the subconscious. Traditionally the symbol of the feminine, the card's meaning encompasses the maternal, the Great Mother, womanhood, and cycles. The Moon is an ambivalent card, and its imagery signifies the difficulty to see things clearly: simultaneously inspiring and lacking courage, enchanting and bewildering, deceptive and receptive – all sides of the same coin. Signaling fluctuating moods and uncertainty we must pay attention to our dreams, confront our subconscious and deal with the issues that come to the surface in order to progress to a higher level of awareness. Being able to put our imagination and creative talents to good use is an added bonus. Negative qualities such as ambiguity, confusion, hidden fears, and deception can be causes for failure.
Your Daily Love Tarot Card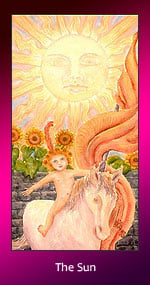 The Sun is an invitation to a supportive relationship in which you can be yourself around your significant other. You feel relaxed and loved, with a sense of peace of heart. You've struck gold and entered into a new realm. Keep looking if this is not how you feel because it is how things should be. You can't expect improvement in a long-term union if you do not take effective steps to create it.
Your Erotic Tarot Card
The High Priestess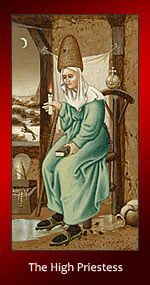 The High Priestess card is a sign that you've recently made a big decision in your life, and you finally feel like you've reached some level ground. Now that you can finally breathe a sigh of relief, your sex life will feel revitalized. Everything isn't perfect, but the positive factors far outweigh the negative ones, and you're feeling sexually free to explore new and exciting options. Sexual balance is high on your priority list, so go out there and find the erotic yin to your yang.
Your Weekend Influences
Tarot Influence:
Ten of Cups Reversed

Betrayal and failure. The loss of freindship and love
Astrological Influence

Virgo

Virgo denotes intelligence and a drive for perfection taking command–the dealing with all aspects of life honorably.
Element Influence
Water Reversed
Water reversed denotes secrets to which you are not privy. Approach all ventures with caution.
Your Ancient Symbol Card for Today
The Dove


Throughout history the Dove has symbolized peace and innocence in nearly all cultures. Dove's soft cooing and gentle nature bring a calmness to any situation. The Dove appears where peace has been attained or there is a need to bring events to a peaceful ending. It denotes a time to let lose of grievances and settle conflicts in a way that benefits all parties equally.
As a daily card, Dove suggests the need to put an end to conflict in your present life. The conflict may be yours or may be that of people close to you. Regardless of the parties involved, you have been called upon to bring the discord to an impartial end.
Psychic Tip of the Day
NEW FRIENDS
What you lack in intimacy you make up for in the feeling that the world might be conspiring in your favor, finally. Are you looking forward to new friends?
Tarot.com is a Part of the Daily Insight Group ©2019
Jera
Rune of harvest and reward for, or reaction to, right actions in a horizontal (naturally ordered) cyclical process. Rune of peace on the land and in the heart.
Psi: psychological time, patience, the measurement of time
Energy: good harvest, orbits, cycles, progress, biorhythms, right effort
Mundane: waiting, gardening, farming, the seasons, harvest
Divinations: Reward for positive action, plenty, peace, proper timing; or repetition, bad timing, poverty, conflict, regression.
Governs:
Fertility, creativity and harmony with the land
Peace, prosperity and plenty
Realization of the cyclical nature of the multiverse, invoking the power of time and cycles
Bringing other concepts gently into material manifestation
Initiating gradual and lasting change in flow of life
Your Animal Spirit for Today
Eagle
Eagle soars high enough to see the grand panorama of life, and yet has vision keen enough to spot a fish a mile away. How's your vision? Are you seeing the big picture or are you only concentrating on the fish? Eagle is asking you to take a step back so you can once again see the whole. You've gotten so lost in the trees you've forgotten the forest.
Crack the Cookie
The Wisdom of Buddha
You, yourself, as much as anybody in the entire universe, deserve your love and affection.