Your Personal Daily Tarot Card
The Hermit


The Hermit denotes a need to have some space between you and the everyday hustle and bustle of our busy world. The Hermit needs to retreat. Indeed, happiness for The Hermit requires seclusion, freedom from material wants, and time for intense introspection. The answers The Hermit needs cannot be found in our physical world. The truths he seeks are internal, spiritual, and the distraction of a well developed social life can only impede his quest for his personal truths. Still, although not anything remotely resembling extroversion, The Hermit does sometimes need to share time with others; so he can both learn and teach, guide and be guided. The Hermit's time spent amongst people depletes his energy rapidly. To avoid mental and physical overload he has to retreat from social settings quickly.
Your Personal Daily Love Tarot Card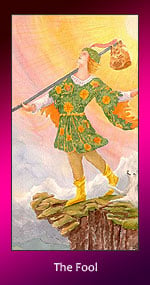 The Fool
You deserve a partnership that deepens as you get to know each other. Wait for the person who has risen above commitment immaturity if commitment is your desire. The Fool reminds us that dating someone is not a mistake. It is falling in love and marrying them if it is not right. If your long-term relationship is encountering a difficult patch, now is the time to work together to rebuild.
Your Personal Daily Erotic Tarot Card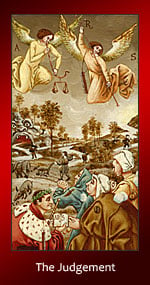 The Judgement
The Judgement card indicates that you've had some sexual hang-ups in the past, but you're working toward getting over them. This is a period of transition, and although you're doing the work, you may not be getting the exact results you desire. Forgive yourself for past missteps in order to take a sexual step forward today. Being afraid to express your true erotic self can even effect other areas of your life, so getting beyond your sexual inhibitions translates into a happier overall existence.
Psychic Tip of the Day
NEW SURPRISE
Your first big shock of the new year has arrived. It could be a welcome relief, but you may not know what to do with it. Were you expecting company?
Tarot.com is Part of the Daily Insight Group ©2017
Your Daily Rune for Thursday,
Laguz
"Log-uhz" – Literally: "Water" or Ocean – Esoteric: Unconscious, Collective Memory
Rune of the unconscious context of becoming or the evolutionary process. Rune of Life's longing for itself.
Psi: emotion, psychic powers, unconscious mental processes, love, dreaming
Energy: life energy, ocean spirit, origins of life, collective unconscious, the astral plane, love as unity, evolution
Mundane: water, imagination, occultism, dreams
Divinations: Life, passing a test, sea of vitality and of the unconscious growth, memory, dreams; or fear, circular motion, avoidance, withering, depression, manipulations, emotional blackmail, lack of moral fiber, fantasy, poison, toxicity
Governs:
Transpersonal powers
Mastery of emotion in order to shape wyrd
Guidance through difficult initiatory tests, ie. initiation into life
Increase in vitality and life force
Communication between your conscious mind to another's unconscious mind
Development of 'second sight' or prophetic wisdom
All powers of dreaming (lucid dreams, astral projection)
Your Daily Influences for Thursday, 
Tarot Influence
Eight of Coins
A time to learn the ways of an occupation. A viable venture may be beginning. Handling worldly affairs skillfully.
Astrological Influence
Cancer Reversed
Cancer reversed denotes a lack of creative energy and disregard for home-life
Element Influence
Water Reversed
Water reversed denotes secrets to which you are not privy. Approach all ventures with caution.
Your Animal Spirit for Today
Porcupine
Porcupine has appeared in your reading today to bring a message of innocence and trust. Although Porcupine can throw quills when cornered, he is gentle, loving, and non-aggressive. Is there an area of your life that need Porcupine energy? Have you lost the ability to trust??
Daily Karmic Number
Brace yourself. The number 3 as it appears for you today signals that your spirit guides are close by, eager to help you with your needs. You have been on a path of taking care of yourself and your efforts are being rewarded. They have always been there, but you are in a position to sense them more now. Ask them for help with anything. Your mind, body, and spirit are integrated into a seamless unit. You are one with the Universe. Let the Universe benefit you as you send out your own positive energy.
Your Daily Charm
Today's Meaning:
A course of events that cannot be altered has been set in motion within this aspect. Accept whatever happens in the near future and do not waste your time fretting about it–you can do nothing.
General Description:
This was a favorite charm in Egypt, worn in order to frustrate magicians, sorcerers and evil wishers from bewitching the wearer and stealing the soul from the heart; for it was the general belief that if the soul left the heart, the body would soon fade away and perish. The ancient Egyptians also believed that, after death, the heart was taken, in the underworld, and weighed against the symbols of the law; if found perfect, it was restored to the body, which at once came to life again and enjoyed everlasting felicity.