The Witches Daily Divination Journal for Monday, October 1
Tarot Card of the Day
Mother of Fires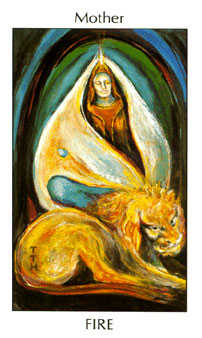 This suit, most often called "Wands" and sometimes called "Rods" or "Staves," represents initiative, ambition, drive and desire. This is the suit of enterprise and risk-taking.
Traditionally, representing the energy of a Queen, this woman represents the natural manager, whose gift is to inspire teamwork and divvy up tasks. She is the one who sees ensures everything runs smoothly. She'll be sweating in the sun along with her family or crew, inspiring everybody to keep up and supporting morale with her infectious energy.
She is the best kind of manager to have, because she is like a challenging but encouraging mother, who knows you have it in you. She believes in her charges and they work hard to please her. She is not, however, sentimental. Like a good farmer, she views her crops, her animals, even the people who work for her, as necessary resources for the achievement of the higher goal. If any aspect is no longer productive or cost-effective, she can let them go without a second thought. Do not look to her for sympathy.
Tarot.com is Part of the Daily Insight Group © 2018
Your Love Tarot Card
The Devil
_________________________________________

Do you feel caught between the 'Devil and the Deep Blue Sea?' This card represents insight and ability to rise above and to surmount obstacles in the way of love. The chains that bind the couple on the Tarot card are loose and symbolic of the ability to slip away if they want to. In this light, they are self-imposed limitations. Break free today if this sounds like your situation.
Your Erotic Tarot Card
The Sun
_____________________________________________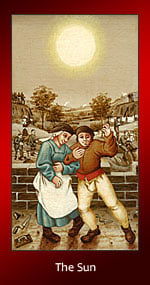 The Sun card shows that you may be feeling a little exposed and vulnerable as parts of your sex life are illuminated, but there is also an overwhelming feeling of warmth and positivity. Once you get over those self-conscious feelings, a wave of self-confidence replaces your fears. No one is out of your reach when the Sun is shining down on you. Embrace your power and don't be afraid to get naked both emotionally and physically!
Your Influences for the Week of October 1
Tarot Influence
The Seven of Wands
Courage will bring victory. Success seems certain
Astrological Influence
Capricorn
Capricorn denotes a drive to succeed through a pragmatic approach to life
Element Influence
Earth Reversed
Earth reversed denotes a lack of positive connection with the life spirit–a lost soul. If you are not careful you may miss much of what life has to offer you.
Your Daily Rune for Monday, October 1
Algiz
(or Elhaz)
"Al-jiz" – Literally: "Elk" – Esoteric: Protection, Highe
Energy: protective teaching force, the divine plan, Valkyries
Mundane: protection, safety, spirituality
Divinations: Connection with the gods, awakening, higher life, protection; or hidden danger, consumption by divine forces, loss of the divine link, fear.
Governs:
Strengthening of hamingja (personal gravity, 'luck') and life force through courageous deeds
Mystical and religious communication with non-human sentient beings
Communication with other worlds, especially Asgard
Protection/defense
Receiving instruction on the magical potential of the runes
Banishing the fear of death
Your Animal Spirit Guide for Today
Advice from a Raccoon
Your Monthly MahJong Tile for October
Summer
Symbol: The Woodcutter
The Woodcutter employs three of the 5 elements central to Chinese philosophy: Fire, Wood and Metal. He is ambitious and full of drive and energy. He represents gain and success through dedicated work.
Your Monthly Domino For October
Two/Five
Look to your inner-self for direction. It is in your dreams and fantasies that you will find the right path for you.
Your Karmic Number for Monday, October 1
The number 4 means that you are building a strong foundation for your new ventures. Good job! Keep going – build the frame, put up the walls, roof, and seed the yard. It may not be an actual building you are working on, but the structure for your goals is becoming a reality. Taking the time, step by step, means that you have a foundation, protection, and beauty. Use strong people and resources so that you don't have to rebuild from scratch. In time, you will have a sturdy place to call your own.
The Wisdom of Buddha
The wise ones fashioned speech with their thought, sifting it as grain is sifted through a sieve.
A Little Humor for Your Day

Remember for all your magickal needs, think Magickal Necessities….
Save