The Witches Daily Divination DIgest for Wednesday, June 27
Tarot Card of the Day
Seven of Swords
---
June 27, 2018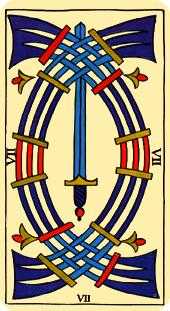 The Seven of this suit typically refers to mental preparedness, acquired through the use of imagination, including the rehearsing and visualizing of desired results. This card represents the positive mental habits of a natural winner. The image most often associated with this card is that of a canny warrior who has infiltrated into the enemy camp on the eve of a fateful battle, checking out their preparations and stealing their swords. Such a move is guaranteed to demoralize the enemy and undermine their performance in the upcoming confrontation.
Putting it in modern terms, one who draws this card needs to work smarter, not harder. Think long and deep, study all the angles and put yourself in the shoes of your competition. As a result, you will have such a thorough grasp of the whole situation that there will be no surprises — and no excuses for anything but success. Skillful preparation justifies the optimism of the natural winner.
Learn the Tarot: The Strength Card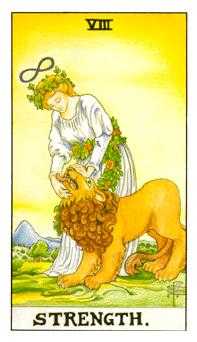 General Meaning
The Strength Tarot card represents nature, which, however wild in its primal form, is tamed by our subtler, finer self — our feminine side, our inner self. The will and passion of our instinctive nature does not need to be broken, but refined and brought to consciousness, so that all levels of creation may come into harmony.
The feminine soul-force contains a persuasive power that can nurture and induce cooperation from others, stilling disruptive energies by harmonizing differences in the spirit of collective good will.
In the Advice Position
Clearly distinguish between your ego and your intuitive self.
The card in the Advice position suggests a course of action which will harmonize what you want with what is currently possible.
The Strength card advises that you assertively discipline yourself and separate self interest from enlightened wisdom. Deliberately identify with your intuition, even if it works against the desires of your willful ego.
Demand and expect the same from others who have some power in this situation. You cannot challenge them to live to a higher standard if you, yourself, have not yet done so. Influence others by setting an example of integrity. Your self-esteem will increase to the degree that you succeed in your efforts.
Part of the Daily Insight Group ©2018
Daily Love Tarot Card
The Lovers
---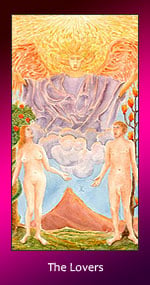 The Lovers
Today, The Lovers are fickle, promiscuous, or both. Because of that, they live for entanglements. Unless you are cautious, they can pull you in with them. Don't leave someone if your relationship has encountered a rough patch. Go only if you have tried everything and the relationship still isn't working for either of you. If you haven't tried, now is the time to give things another chance for either openness or for closure.
Daily Erotic Tarot Card
The Hanged Man
---
The Hanged Man
Acceptance is the keyword of the Hanged Man, and with this card showing up it means you're out of moves, so to speak, which is kind of nice because now the games can stop and you can get down to the real nitty-gritty. Your sexual partners aren't perfect and neither are you, but you can still have a lot of fun together. The Hanged Man may not be in the best position, but he certainly makes the best of it – and this card urges you to do the same when it comes to your sex life.
Psychic Tip of the Day
LOVE AND TRUST
While your lover's secrets are safe with you, make sure that trust is given freely, not earned. Will you be loved for who you are or what you have accomplished?
Part of the Daily Insight Group ©2018
Your Crowley Thoth Tarot Card for Today

Art


Art denotes balance and harmony. The forces behind Art are those that keep us from succumbing to temptation or over-indulgence; steer us away from developing unhealthy addictions or behaviors. The Art driven Spirit avoids extremes, spreads harmony and brings opposing sides together. They find a happy, healthy median between what they want and what they need. Art provides an environment in which most will thrive, and a haven where the injured may heal, reenergize. Through Art success and contentment are found by practicing self-restraint, and using balance to create your own "shelter from the storm.".
Your Daily Rune for Today
Fehu
"Fay-Who" – Literally: "Cattle" – Esoteric: Mobile Property, New Beginnings, Wealth
Key Concepts: Wealth, money, food, sustenance, Hamingja, luck, personal power, circulation of power, financial strength, prosperity
Psi: Beginner's Mind, presence, freedom, first impressions, young love
Energy: mobility, luck, charisma, dynamic power, liquid and mobile transferable energies, abundance, circulation, 'mana', sexual attraction
Mundane: money, recent purchases, reputation, freshness, fashionability
Divinations: New beginnings, social success, foresight, energy, travel, money, control; or greed, failure, atrophy, poverty, endings.
Governs:
Delegating your energy to another, power transference or projection; the sending rune
Drawing gravity into the personal sphere
Promotion of personal and social evolution, changing circumstances of importance
Increase in personal monetary wealth
Beginner's mind and presence as a tool for consciously creating a fresh start
Your Ancient Symbol Card for Today
The Western Dragon


Unlike the beneficent Easter Dragon, The Western Dragon is a symbol of totally unleashed destructive power that is set upon anyone who crosses the Dragon's path. The Western Dragon also hordes treasures that should rightfully be ours, and whose absence deprives us from being complete. The challenges set before us by the Western Dragon are truly prodigious, because they denote a force whose sole intent is not simply to keep us from moving forward in our lives, but to usurp all that we have previously gained as well. What is even more disturbing about the force behind the Western Dragon is that it may well indicate primal forces in ourselves so powerful that they do in fact turn us into our own worst enemy.
As a daily card, The Western Dragon is a powerful negative force intent upon thwarting your progress. In such a short time frame it is most likely you're being undermined by an external force–someone who wants what you have gained or gains your are near realizing. While formidable, this bellicose entity does have vulnerabilities. First, there is nothing subtle about the forces represented by The Western Dragon, so the source will be easy for you to identify. Secondly, The Western Dragon represents undisciplined, primal energies that aren't easy to control, so they are susceptible to logical responses steeped in self control. In short, don't panic, act deliberately and decisively, and you will weather this storm
Your Animal Spirit for Today
June 27, 2018
Fox
Fox medicine represents the ability to blend in. She can change colors to blend with the seasons—becoming almost invisible against a backdrop of snow or foliage. Fox also has an amazing sense of smell that enables her to sniff out dangerous situations. Be like a Fox—street smart and safety savvy—don't call attention to yourself as today is a day of watch and wait.
Your Charm for Today
Today's Meaning:
Guests and visitors will come calling. Their visit brings happiness and joy. This aspect will reflect these emotions for weeks after the visit.
General Description:
Crescents were worn by the ancients to safeguard them against witchcraft and danger. From the very early Eastern symbole, horseshoes came to be regarded by the Greeks and Romans as charms against sickness and the plague. In the middle ages horseshoes were used as amulets for witchcraft and even today are looked upon as lucky. When the representation of the hand of strength was worn with the crescent it signified hospitatlity and generosity. Hands of Might are painted on houses in Italy, Syria, Turkey and in the East to protect the buildings from misfortune and the inmates from death. The blue beads were worn to avert the evil eyes.
Crack the Cookie
The Wisdom of the Buddha
To enjoy good health, to bring true happiness to one's family, to bring peace to all, one must first discipline and control one's own mind. If a man can control his mind he can find the way to Enlightenment, and all wisdom and virtue will naturally come to him.
Always remember to forget
The things that made you sad.
But never forget to remember
The things that made you glad.
Always remember to forget
The friends that proved untrue.
But never forget to remember
Those that have stuck by you.
Always remember to forget
The troubles that passed away.
But never forget to remember
The blessings that come each day.