The Witches Columbus Day Digest
(Part 2 Horoscopes, Tarot, Runes & Much More)
October 2017 Energy Update – Lee Harris
Your Weekly Karmic Forecast: October 8 – 14, 2017
The Karmic Tools Weekly Forecast covers the current planetary transits which affect people in different ways and to various degrees of intensity. Take notice when it is a Personal planet (Sun / Moon / Mercury / Venus / Mars) interacting with a Social (Jupiter/Saturn) or Collective planet (Uranus / Neptune/Pluto). And pay extremely close attention when it is a Social planet interacting with a Collective planet because that means something *big* is brewing that will move large groups of people along their evolutionary paths. Tuning in to the energy and rhythm of the planets can serve as a useful *guide* as you move along your Individual Path. It also helps to understand your place within the context of the larger Social & Collective Story. Below, you will find out how these energies tend to manifest, as well as guidance and direction.
*NOTE* There are some days when there are NO CONTACTS (besides the Moon), please note that there are no missing entries, we just list the actual Activations of each week + the day they happen.  
Weekly Forecast: October 8 – 14, 2017
10/8 ~ Venus (values) ~square~ Saturn (foundation):
This energy can make you feel cool & detached with loved ones. It is time to 'take stock' of your relationships and really evaluate the level of balance between giving & receiving. Business or personal – relationships must have a balance of give & take. You may feel more aware of your true independence in life and start reevaluating the need for certain relationships in your life. This energy pushes you to dig for your own fortitude & determination to live according to your own values & priorities and corrections or adjustments may be necessary and fairly obvious at this time. You may feel lonely, depressed or disconnected but it's just the Universe forcing you to question or assess your current relationships, how you interact with others and how you allow them to interact with you. It's good to periodically evaluate even the strongest relationship and check the foundation. Don't give in to (ego-based) fears, focusing on the lack & limitation or what is not working, but instead, build on your strengths and honor the goodness you've created together, as well as in your Self. This is the best time to be alone and reflective because the insights you acquire through this process will help you in the future.
10/8 ~ Mercury (communication & self-expression) ~conjunct~ Sun (core essential Self):
This energy will compel you to express yourself on many levels. Communication will be a focus, just make sure it is reciprocated. You will have access to some powerful energy that can (and probably will) make quite an impression on others (if you need to). This is a good time to travel if possible too. However, if not physically, then mentally and certainly within your own area, you will take in more information per square inch than usual. Pay attention! You may even gain the much-deserved recognition from others that you have worked so hard for.
10/9 ~ Mercury (ideas, thoughts & concepts) ~square~ Pluto (rebirth & transformation):
This energy is a tough, yet powerful one. Its Highest expression would be to focus on your inner deep-dig, discovery & development. It enables you to look beneath the surface to some core drives and gain some valuable insights and thus, choose a plan of action based on your findings. You will want to know all the hidden meanings behind decisions you've made or want to make soon. Dig – you will find more than you think you're ready for, but apparently, the Universe thinks differently! Pay attention and try not to worry about what anyone else thinks or believes. This energy's flip-side is to make you obsess over one particular idea and try to force others to your way of thinking. That is a bottomless pit – you cannot truly change the way other people think – you can only change the way you think and hope it enlightens others along the way … and it will, for those who are tuned in to your level. Try to only focus on you and your direction.
10/9  ~ Sun (illumination) ~square~ Pluto (transformation):
This is a challenge to grow out of your comfort zone and into new territory. That said, with Pluto in Capricorn (2008-2024), twice a year for these 16-years, when the Sun is in Aries (Spring) and Libra (Fall), we get an opportunity to grow & change in fundamental departments of life: self vs other and home vs work. In this case, and during these years, we are literally changing how we do ALL of this. Each year builds on the previous and we are now 8-years into the 16-year process of transformation – that is the MidPoint, an incredibly potent point in time & space. It is here that you have the most information to consciously work with as you prepare for the next 8-years, and ultimately, what you would like to get out of your conscious efforts and dedication. Sun helps us clarify and when working with Pluto, it is usually what is NOT working, what has run its course and is ready to be composted into new Life, new growth and a new direction (for Self). Pluto is the Purifier, distilling things back to their true and original essence, fight that and it can be painful, work with it consciously and it can be transformative and will heal at the deepest root of any challenge. You can use this activation to honor that which has become obvious or is highlighted in the here & now and purge or purify this energy. You are deeply supported for releasing old patterns and setting new conscious practices into action. Tie up loose ends, close multiple chapters, mourn & move on. As you do that, you will feel lighter & brighter and more grounded in your true Self, your evolved Self.
10/11 ~ Mars (anger) ~square~ Saturn (restriction): 
This is the energy of action being restricted and the anger or frustration that follows. You can either be angry and feel restricted, limited and unable to move … or you can see this energy as an opportunity to define the right actions to take and strategically plan to take them when the Universe is more supportive. This energy requires us to slow down and double check The Plan. If you proceed consciously, your plan has a better chance of success than if you were reckless & impatient. You may experience a blockage of some sort, internal or external. You may feel this tremendous urge to change or move forward in your life but seem to find blockages and limitations with every effort. That is likely your perception, do you feel inadequate to the task at hand? What are you afraid of? Fear is False Evidence Appearing Real – release fear and choose to be responsible for creating your life. If you don't, your outer circumstance only becomes a reflection of your inner belief. You will attract criticism and repel support. Take your grand vision and figure out three small steps you can take on this restricted level that is still taking you in the direction of your goal. Don't try to initiate at this time, this is a time for cultivating, planning, working behind the scenes, doing the detail work and foundational (grunt work) that is NECESSARY to support the grand vision when the time comes to fully express it.
10/12 ~ Mercury (communication) ~sextile~ Saturn (responsibility):
This energy is really good for being able to objectively see what needs to be changed, fixed or stabilized in your life or environment. One expression of this energy is a tendency toward depression or apathy, but a better expression would be facing what needs to be done and following through on what you have begun. You may feel the need to organize things at home or work, or perhaps take a class or workshop of some sort that will help you attain your current goals. Either way, be focused but not too serious – balance in all things. It's when you focus on the lack and limitation that you feel overwhelmed and sometimes helpless. That's not the point of this energy. It's just time to do some serious thinking, tend to the details, take stock and make changes accordingly.
Your Love Horoscopes for the Week of October 9th
Sarah Bartlett, Astrologer

From The Astrology Room
This week, Jupiter moves into passionate Scorpio to influence the deeper trenches of our love life.
In fact as the planet of enlightenment now begins its journey through Scorpio over the next year, sparks may fly, electricity and sexual desire will be generated, but we will all begin to experience the dark and light side of our feelings too. We will also know which feelings are right and which are wrong. Welcome the transformation and dig deep for your own truth too.
ARIES
This week, you will begin to be noticed by someone special or someone is going to see you in a new light. From the heady heights of being in the spotlight, you will also begin to realize how to make compromises, and ones which will work in your favour and for your long-term benefit.
TAURUS
What all Taureans are experiencing at the moment is a sense of feeling lost, or of having to reluctantly let go of this or that.  But when something is lost, something is also usually found, and this week you begin to see exactly what that is and reclaim it for yourself.
GEMINI
Full of joie de vivre, you're chatting to everyone and loving yourself.  It's hard keeping up appearances and looking good too, isn't it? But you can begin to see your love life for what it is. And that means take the right steps to be true to your values and accept your need to be centre-stage.
CANCER
You've been a little slow in getting to grips with a love issue and you realise that denial is taking you nowhere fast. In fact, the more you ignore the voice of conscience, the more you are getting into tricky waters. Time to take a deep breath and say what's on your mind. Then you can get on with living an interesting life again.
LEO
It's timely to reflect about love and life and ask yourself where you're going next. These precious moments will lead you to the pot of gold which brings you the love you deserve. It's timely to see that your mission in life is to live it to the full, and to experience a new love affair as a magical mystery.
VIRGO
This time last year you were confused about a relationship. It may even have been clandestine, unexpected or not like you had wanted it to be. Yet now you're beginning to put the past behind you. There will be regrets and maybe a sense of loss, but what you know now, is how to love from your heart and soul.
LIBRA
You're beginning to be in control of your love life.  In fact, if single, if you'd like someone to to be right up close beside you, then all you have to do is ask. Or maybe, take a chance on going some place with your current partner? It will take you out of yourself, and into a love which will permeate all you do.
SCORPIO
You may already have built defensive walls around to stop you from getting hurt. Or, you may have just found a billion duties to keep you occupied. But either way, with Jupiter moving into your own sign, feelings take over a little but will bring you the love that you deserve. Let it all develop and be rewarded.
SAGITTARIUS
This week you have itchy feet, and you just long to get out of the house and on with a new romantic adventure. In fact, there will be more than just one outing, as you also set off to discover if your relationships are as reliable as you thought them to be. With enlightenment comes a new perspective.
CAPRICORN
Romance is a little fragile this week, and you really can't see any way to make it more solid. But at least you can plot, plan and see how to adapt or take a more laid back approach. Just take care, what you see isn't always what you get, and what you hear isn't always the truth.
AQUARIUS
A new-found wisdom about other means you can be realistic rather than idealistic. The reality is, that the things that drive us wild about someone when we first meet are usually what drives us up the wall a few years down the road. This week, you learn to balance ideals with reality and focus on how to make your love life work.
PISCES
Make the most of this week's energy to prove that what you have to offer is the true, loyal, and loving you. Tell someone your deepest thoughts. Express and share your warm and nurturing heart, and never give up on that need to belong to something, whether to a family, a lover or just to your own self.
*NEW* For the Singles Witches Amongst Us, Your Daring Dating Horoscopes for the Week of October 9th
David Wells, Astrologer
From The Astrology Room
ARIES (March 21st-April 20th)
You may still be buzzing from last week's full Moon in your sign, still full of energy that can be used to move on from a relationship block and seizing the day rather than harking back to your yesterdays. Good. Mercury and the Sun offer choice chat up lines. Use them.
TAURUS (April 21st-May 21st)
As Jupiter moves into your relationship sky, Tuesday, he starts a one year tenure as your go-to guy for all things relationship. As chance would have it, Venus and Mars are holding hands in your new love sky. A combo deal that says fate has this, step aside. New love incoming.
GEMINI (May 22nd-June 21st)
Nobody cares much what you had for breakfast, but put it on your social media anyway, something to do isn't it. Or you could get out of the house, lift your head from your phone and remember your heaven given gifts for flirting and communication.
CANCER (June 22nd-July 23rd)
I have nothing against choice, it's a good thing, but sometimes when there's so much choice nothing gets done. Jupiter is opening a love pic and mix, he wants you to see the choices, but also wants you to pick only the one that holds the greatest adventure. No rush.
LEO (July 24th-August 23rd)
You don't need someone to be a carbon copy of you, far from it, but some shared interests are good; right? Yes, but the challenge this week goes beyond a love of sports or all things leopard print. Moral code. Make no compromises, if there's a doubt, you are out.
VIRGO (August 24th-September 23rd)
The combo of Venus and Mars in your sign is what you might call amazing, if you were drawn to such sensationalist expression? If you're not feeling so exuberant maybe we could agree it's an interesting and encouraging thing for love? Go mad, lose the duffle-coat; get hot and bothered without it.
LIBRA (September 24th-October 23rd)
Not one to pass up the chance for some adoration it seems you're more than happy to get involved with some chit-chat with an ex, or maybe it's a friend of a friend? Good for you, just make sure you know what you want from that chit-chat going in.
SCORPIO (October 24th-November 22nd)
Jupiter is in your sign from Tuesday, for a year, he's the planet of good luck and all that but he's got nothing much to do with your love life, for now anyway. But. As other planets move around him look for second time around, ships that passed in the night finally get alongside.
SAGITTARIUS (November 23rd-December 21st)
If you can't see someone who fancies you like I fancy cake for breakfast, you might want to take a mate along just to act as observer on your next night out. Someone is being as clear as they can be without throwing themselves at your feet; take another look.
CAPRICORN (December 22nd-January 20th)
If you can get some time away this week, it may pay you to do some travelling, to re-asses what you want from love and to change your view, literally. Love waits overseas, but also in libraries and travel agents, anywhere your mind is broadened and your heart feels more at home.
AQUARIUS (January 21st-February 19th)
What's not so great about this week, for your love life, is an increase in how much time you're investing at work. But, you can still balance it all with some romance if you pay attention to very well hidden signals from a would be love interest. Why hide? They don't even know how into you they are. Yet.
PISCES (February 20th-March 20th)
Sitting opposite you are Venus and Mars, they're also out reach of your resident fog-maker Neptune, affording them some clarity. New love is waiting to be discovered, or rather waiting to discover you? Finally, someone sees that look in your eye. Hello sailor.
Your Daily Horoscopes for Monday, October 9th
Claire Petulengro, Astrologer
From The Astrology Room
ARIES (March 21st-April 20th)
Your life over the last twelve months did not turn out as you thought it would, but it has helped you to learn many lessons about yourself. This is about to pay dividends in your personal life. Both today and tomorrow prove this.
TAURUS (April 21st-May 21st)
You have fallen before and you have got up again, that I see. Doing so this month seems harder than before, but if you do so it will make you stronger. Younger faces prove the cause of much inspiration.
GEMINI (May 22nd-June 21st)
Your element of air brings out your gossipy side. You find it important to discuss others' lives. Could it be that this is helping you to avoid focusing on your own? Love discussions go better than you'd dreamed.
CANCER (June 22nd-July 23rd)
The pressure is on in your career and you may feel the need to tell some white lies in order to make yourself look more professional than you feel you are. Be true to yourself and don't make up facts. It's the real you who will draw the most supporters.
LEO (July 24th-August 23rd)
Don't make promises to family which you know you may not be able to keep. Those you will be dealing with will be relying on you far more heavily than you thought.
VIRGO (August 24th-September 23rd)
I can see you are finding it hard to tell the difference between fact and fiction but I also see that you have allowed yourself to be blinded by the sex appeal of a certain person. Step away and take a breath for clarity.
LIBRA (September 24th-October 23rd)
I know you have been confused and your feelings have been hard to work out, but give yourself more time. What I see that you don't is that time is on your side. Wear what you know you look good in tonight.
SCORPIO (October 24th-November 22nd)
If you wait any longer for all of the changes you want you're only going to get older! Time is of the essence in changes. You see today what needs to be done to get what and who you want. Do it!
SAGITTARIUS (November 23rd-December 21st)
Mistakes are the portals of discovery Sagittarius. There is plenty you need to get done today, but instead do what feels right inside. It's the key to you finding where your future should lead.
CAPRICORN (December 22nd-January 20th)
If you have nothing nice to say about those around you today then say nothing at all. Your element of earth brings out your need for security, but allow other people time to catch up with your ideas.
AQUARIUS (January 21st-February 19th)
You let go of what was not working and instead focus on what and who makes you feel good about your life. Media links in your work are to be enjoyed, not dreaded. Cancelled plans make way for better ways to spend your time.
PISCES (February 20th-March 20th)
If you love life, then life will love you back. Family have been hard to please but all they want to do is talk, so lend them your ear. News of pregnancies and babies is set to bring surprise.
If You Were Born Today, October 9
You are a study in contradictions. Although compassionate, humanitarian, and egalitarian at least in theory, you can also be domineering when the mood strikes you. Your moods and behavior swings can be frustrating for others (and for yourself!) at times, but they also help fuel your powerful creativity. You love to debate and you have a way with words. You are not tolerant of narrow-minded thinking. You possess considerable strength of character, and partnership is extremely important to you. You live by your own truth and you are responsible.  
Famous people born today: John Lennon, Sean Lennon, John Entwistle.
Source
Get A Jump On Tomorrow…..
Your Daily Horoscopes for Tuesday, October 10th
Claire Petulengro, Astrologer
From The Astrology Room
ARIES (March 21st-April 20th)
The secret of getting ahead is getting started Aries. These were the words of Mark Twain and they apply to your sign more than most today. You seem to have reached a feeling of existence rather than progress. Change that now.
TAURUS (April 21st-May 21st)
You're worried what the end result of a project will be. Try not to focus on the end, but on the stage you are at now. It's the key to success. An ex is on your mind for all the wrong reasons. Careful!
.
GEMINI (May 22nd-June 21st)
You've been trying so hard to put up a protective front and to pretend you don't care. Underneath it all you and I know you do! Time spent getting your head to talk to your heart is like gold dust. Use it!
CANCER (June 22nd-July 23rd)
The pressure is on for you to do what others think is right, but that may not sit well with you. Your ruling planet the Moon helps you to find your voice today. Although, know how far is too far to go my friend.
LEO (July 24th-August 23rd)
Your famous Leo pride is standing in the way of you doing what you know deep down inside is the 'right thing.' You can change the world and you will if you take action and follow the path of your dreams.
VIRGO (August 24th-September 23rd)
Try to show a little more consideration to close ones who you know have been going through a lot in recent days and weeks. You've been trying to act normal to make them feel normal. Heart to hearts tonight are the remedy they need.
LIBRA (September 24th-October 23rd)
The younger generation are on your mind more than normal. It would be worth remembering with today's very stubborn line up, that you can't help someone who doesn't want to help themselves.
SCORPIO (October 24th-November 22nd)
You seem to have backed yourself into a corner with something you've said or done. Whatever you do, don't tell more lies, or act more stubbornly just to try and convince them you are right. A simple apology works wonders today.
SAGITTARIUS (November 23rd-December 21st)
Your house of work is highlighted and many of your sign will be questioning if you're in the right career and which path is the right one for you. Don't rule out going back into the learning stream. It could be the key to your success.
CAPRICORN (December 22nd-January 20th)
For once I am encouraging you to bring out your more stubborn side. Certain influences in your life think they can talk you into what you know you don't want. Remember what happened in January? Stand by your dreams.
AQUARIUS (January 21st-February 19th)
Can you feel the tension in your chart? I can and I know if you give in to the help and support that's being offered, that it will subside. Plan something you know you enjoy. Letting go of guilt can prove someone has manipulated you.
PISCES (February 20th-March 20th)
New faces enter your life and stir your imagination. You begin to think outside the box and you also realise that with certain friends or even lovers you were 'making do.' That is no longer the case from here on in.
Tarot Card of the Day
Queen of Coins
---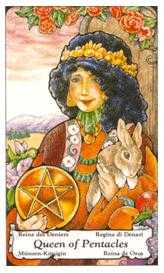 Traditionally, representing the energy of a Queen, this feminine guardian is endowed with enormous good sense and problem solving energy, but she is not particularly entrepreneurial. She loves to advise, encourage, and empower those she gets involved with, studying their problems with them and setting them up to solve them. Traditionally, she was pictured as the Sibyl or Oracle, perhaps a Tarot reader, who made herself available to people in need, no matter what their social class or situation. In modern times, she will be found educating, healing, managing disaster aid programs or a charitable drive of some sort.
In every case, she does not see the benefits that exist in her life as belonging solely to her. She feels the needs of her people and will spend freely of her time, energy, skills, money to see that nobody is left out. For this, and because she likes to work in an atmosphere of beauty, enjoyment and abundance, she is sometimes accused of being extravagant. But she works hard, and she sees no reason to deny herself the rewards of a job well done. Everyone who comes in contact with her feels enriched by her enjoyment in living.
Tarot.com is Part of the Daily Insight Group ©2017
This Week's Tarot Card Reading
A one-card reading gives you a glimpse at what's coming
---
For the week of October 9, I chose the Ten of Pentacles reversed!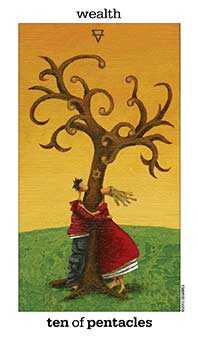 Last week's card, the Ten of Cups reversed, showed a need to re-evaluate your personal values and what truly makes you happy when it comes to family and your loved ones. This week, the Ten of Pentacles reversed takes that work further and asks you to look at the role in which money plays in your family life.
Are you placing too much value on money as a family? Are you working too much to save money, when really, if you simplified your lifestyle and reduced your living costs, you may not need to work so much and could enjoy your life more? Or perhaps money is slipping through your fingers and your living costs are far exceeding your income. It's time to check in on your family's money situation and look at how you can bring greater balance.
Ask the Tarot: "What role does money play in my family's life right now?"
Tarot.com is Part of the Daily Insight Group ©2017
Start a Daily Tarot Ritual
Learn what a daily Tarot reading ritual can do for you!
---
The things you do every day are the things that can impact your life the most. Through our daily rituals and routines, we create a sense of consistency and mindfulness that helps keep us centered when negative emotions, sudden developments, and surprise circumstances come up that could knock us off kilter. Yoga, meditation, prayer, cooking, exercise … these are all great rituals that, when done daily, can create a real sense of health, stability, and purpose for you. But perhaps one of the most beneficial daily rituals of all is a daily Tarot reading!
Any Tarot reading can provide an incredible amount of insight and understanding into whatever situation you're facing. But daily Tarot readings go even further — by identifying the cards and messages that come up for you on a regular basis, start to realize the patterns in your life, the things that affect you most frequently, and all the ways you tend to react. When you can identify these patterns, you have all the power to embrace them or change them!
5 Reasons to start a daily Tarot reading ritual
1. Set intentions
We've all had those days when we wake up late, throw ourselves together, and stumble into our routine unprepared and unfocused. The problem is, those days usually don't smooth out. The way you start your day — are you eager or are you exhausted? Optimistic or pessimistic? Open or closed off? — can totally dictate the day you have. You cannot control everything that will come up, but you can control the way you move through it. Pausing to set intentions for the day through a daily Tarot reading grounds your heart and mind so you enter every situation that arises with clarity and mindfulness.
2. See the patterns
It's easy to compartmentalize our days, taking everything that happens from morning to night and tucking it away, in order to start fresh the next day. But when we look at each day as isolated from all the rest, we limit our ability to see the big picture of what's happening in our lives. One little regret here, one little reward there may not seem like much. But when you start to realize a pattern of regret or a pattern of reward, you can start to see the reason these things recur, which gives you all the power to create more reward and less regret in the future.
3. Be present
Living in the moment is NOT easy. Fears, problems, and heartaches from the past — whether years ago or just days ago — are hard to ignore. Not to mention hopes and expectations for the future… But when you spend all your time in the past and the future, you miss everything that's happening in the present moment. A daily Tarot reading ritual establishes a time to reconnect with yourself every day, in this exact moment, and identify the things that are affecting you most NOW.
4. Make difficult decisions
When you draw the cards for your Tarot reading, be intentional and tune into your intuition. It is your subconscious that knows which cards to pull, because it knows which messages you need to be hear. Sometimes our conscious minds are so full of trivial matters that we cannot see what we really need to see, making it tough to make any healthy decisions for ourselves. A daily Tarot reading helps you clear out the clutter of your daily life so you see what lies before you with greater clarity.
5. Find peace
Whether you're experiencing a specific, heartfelt loss or change or you're just feeling totally crazed out of your mind, a daily Tarot reading helps you not just with a one-time piece of advice, but with regular, recurring help through your process of healing. By meditating on the wisdom you receive from a reading, you'll not only find clarity in your present situation, but a deeper sense of peace and calm in your daily life. And when the next issue arises — because you know it will! — you'll be able to face it head-on using your greatest weapon: a healthy, centered mindset.
Three readings a day keeps the stress away
Many people read their horoscope or do a Tarot reading first thing in the morning, to set the tone for the day. But have you ever had a day that started out one way, then took a serious turn? Of course you have … we all have! That's why not just one, but THREE Tarot readings a day can be so beneficial. You can not only set intentions for your day, but as circumstances arise throughout the day, you can check back in with another reading for more immediate, focused insight.
Tarot.com is Part of the Daily Insight Group ©2017
Shove off, Mates!
We headed for the Island of Runes & Other Daily Divination!