Columbus Day in the United States
Columbus Day, which is on the second Monday of October, remembers Christopher Columbus' arrival to the Americas on October 12, 1492. This holiday is controversial because the European settlement in the Americas led to the demise of the history and culture of the indigenous peoples.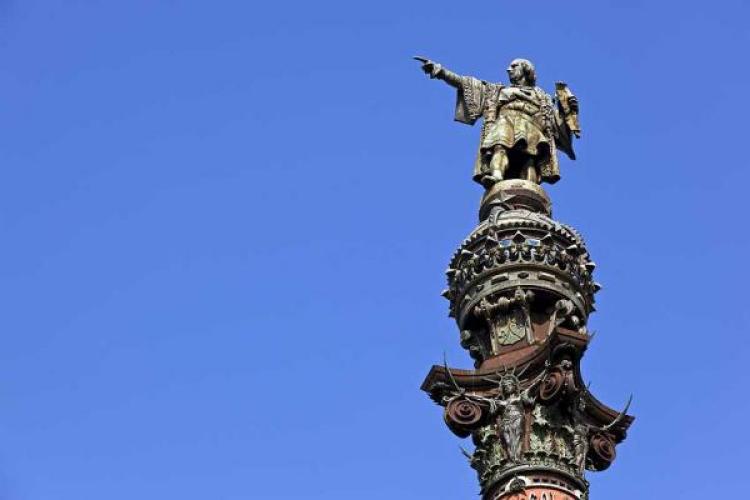 Observe Columbus Day
Some Americans celebrate the anniversary of the discovery of their country with church services and other activities. In some towns and cities, special church services, parades and large events are held. Many celebrations happen in the Italian-American community. The celebrations in New York and San Francisco are particularly noteworthy. In Hawaii Columbus Day is celebrated as Discoverers' Day, but it is not a state holiday.
Many states now celebrate Native Americans' Day/Indigenous People's Day instead of Columbus Day.
What's Open or Closed?
Columbus day is a public holiday in many parts of the United states, but is not a day off in some states. Some government offices are closed because Columbus Day is still a federal government holiday. The day is a legal observance in states like Florida.
Many businesses and shops are open in states that don't have Columbus Day as a public holiday. Schools are not required to close but check with your school district or school calendar on Columbus Day school holiday closures. The same goes for post offices – check with your local post office.
About Columbus Day
Christopher Columbus is often portrayed as the first European to sail to the Americas. He is sometimes portrayed as the discoverer of the New World. However, this is controversial on many counts. There is evidence that the first Europeans to sail across the Atlantic were Viking explorers from Scandinavia. In addition, the land was already populated by indigenous peoples, who had 'discovered' the Americas thousands of years before.
Columbus Day originated as a celebration of Italian-American heritage and was first held in San Francisco in 1869. The first state-wide celebration was held in Colorado in 1907. In 1937, Columbus Day become a holiday across the United States. Since 1971, it has been celebrated on the second Monday in October. The date on which Columbus arrived in the Americas is also celebrated as the Día de la Raza (Day of the Race) in Latin America and some Latino communities in the USA. However, it is a controversial holiday in some countries and has been re-named in others.
Columbus Day celebrations are controversial because the settlement of Europeans in the Americas led to the deaths of a very large proportion of the native people. It has been argued that this was a direct result of Columbus' actions. It is clear that the arrival of the European settlers led to the demise of a large proportion of the history and culture of the indigenous peoples of the Americas. It has also been argued that Columbus should not be honored for discovering North America, as he only went as far as some islands in the Caribbean and never got as far as mainland America.
Note: timeanddate.com states the facts and issues associated with this observance but does not disclose its opinion on the matter.
Source
Your Daily Sun & Moon Data for Monday, October 9th
The Sun
Sun Direction: ↑ 139.51° SE
Sun Altitude: 37.59°
Sun Distance: 92.836 million mi
Next Solstice: Dec 21, 2017 10:27 am (Winter)
Sunrise Today: 6:56 am↑ 97° East
Sunset Today: 6:25 pm↑ 262° West
Length of Daylight: 11 hours, 28 minutes
The Moon
Moon Direction: ↑ 287.56° WNW
Moon Altitude: 3.95°
Moon Distance: 228003 mi
Next New Moon: Oct 19, 20172:12 pm
Next Full Moon: Nov 4, 201712:22 am
Next Moonset: Today11:03 am
Current Moon Phase: Waning Gibbous
The Lunar Calendar
Moon Phase Tonight: Waning Gibbous
Third Quarter: Oct 12, 2017 at 7:25 am
(Next Phase)
Full Moon: Oct 5, 2017 at 1:40 pm
(Previous Phase)
Source
Your Astronomy for Monday, October 9th
The Moon is in Gemini.

The Moon is waning

and in its Waning Gibbous phase.
The

Full Moon

occurred on the 5th in the sign of Aries, and the

Last Quarter Moon

will occur on October 12th.
Moon in Gemini
The Moon is traveling through witty Gemini today. Call, text, send email, write letters. Visit someone you've missed. Watch a movie and talk about it at a coffee shop. Get out and about. Don't sleep in.
Our instincts are to communicate, think, and learn under the influence of Moon in Gemini. We are motivated by a desire for variety and by an instinctive curiosity. The Moon in Gemini is light-hearted, breezy, and curious, but it can also be restless and fickle.
The Moon in Gemini generally favors the following activities: Mental and communicative actions, and more than one activity at once. Reading, learning, letters and emails, errands, writing, teaching, making connections, short trips.
The Sky This Week for October 9 to 15
The Summer Triangle in fall, a meteor shower, and other beautiful things to look for in the sky this week.
Monday, October 9
Venus crosses the invisible border separating the constellations Leo the Lion and Virgo the Maiden today. The border crossing sets up a series of nice conjunctions between the bright planet and Virgo's stars in the coming weeks.The Moon reaches perigee, the closest point in its orbit around Earth, at 1:55 a.m. EDT. It then lies 227,953 miles (366,855 kilometers) from Earth's center.
Tuesday, October 10
Although autumn began a few weeks ago and the stars of winter's Orion now rule the morning sky, the Summer Triangle remains prominent on October evenings. Look high in the west after darkness falls and your eyes will fall on the brilliant star Vega in the constellation Lyra the Harp. At magnitude 0.0, Vega is the brightest member of the Triangle. The second-brightest star, magnitude 0.8 Altair in Aquila the Eagle, lies some 35° southeast of Vega. The asterism's dimmest member, magnitude 1.3 Deneb in Cygnus the Swan, stands about 25° east-northeast of Vega. For observers at midnorthern latitudes, Deneb passes through the zenith between 8 and 9 p.m. local daylight time, about an hour after the last vestiges of twilight disappear.
Wednesday, October 11
Uranus reaches opposition in just nine days, and it is already a tempting evening target. The ice giant world rises during twilight and climbs 30° above the eastern horizon by 9:30 p.m. local daylight time. The magnitude 5.7 planet lies in Pisces, 1.5° west-northwest of magnitude 4.3 Omicron (o) Piscium. Although Uranus glows brightly enough to see with the naked eye under a dark sky, binoculars make the task much easier. A telescope reveals the planet's blue-green disk, which spans 3.7″.
Thursday, October 12
Last Quarter Moon occurs at 8:25 a.m. EDT. It rose around 11:30 p.m. local daylight time yesterday evening, which gives North American observers a chance to see it almost precisely half-lit before this morning's dawn. Earth's only natural satellite appears among the background stars of southern Gemini.
Mars is hot on the trail of Venus, and crosses the border between Leo and Virgo today. Mars also will have some nice conjunctions with the Maiden's stars, but they'll occur at a slower pace thanks to the Red Planet's more sluggish orbit.
Venus appears 0.8° northeast of the 4th-magnitude star Beta (b) Virginis this morning.
Friday, October 13
The annual Orionid meteor shower is quickly ramping up toward its peak the morning of October 21. You already should be seeing a few shower members in the predawn sky, where the waning crescent Moon doesn't offer much interference. To tell an Orionid from a sporadic meteor, trace the path of the "shooting star" backward. An Orionid meteor will appear to radiate from the northern part of the constellation Orion the Hunter.
Saturday, October 14
Saturn remains a tempting target in this week's evening sky. The ringed planet stands nearly 20° above the southwestern horizon as darkness falls. Shining at magnitude 0.5, it appears significantly brighter than any of the background stars in its host constellation, Ophiuchus the Serpent-bearer. Of course, the best views of Saturn come through a telescope, which reveals a 16″-diameter globe surrounded by a spectacular ring system that spans 37″. But more significantly, the rings tilt 27.0° to our line of sight — the maximum angle possible — in mid-October. The rings haven't appeared this open since 2003 and they won't approach this tilt again until 2032. The steep angle offers superb views of ring structure.
Sunday, October 15
The variable star Algol in Perseus reaches minimum brightness at 1:25 a.m. EDT tomorrow morning. Observers on the East Coast who start watching around midevening can see the star's brightness diminish by 70 percent over the course of about five hours. Those in western North America will see Algol brighten noticeably from late evening until dawn starts to light up the sky, when the star stands high in the west. This eclipsing binary system runs through a cycle from minimum (magnitude 3.4) to maximum (magnitude 2.1) and back every 2.87 days.
Source
The Witches Moon Phase for Monday, October 9th
Waning Gibbous
Illumination: 82%
19 days old Moon is in Gemini
The Moon today is in a Waning Gibbous Phase. This is the first phase after the Full Moon occurs. It lasts roughly 7 days with the Moon's illumination growing smaller each day until the Moon becomes a Last Quarter Moon with a illumination of 50%. The average Moon rise for this phase is between 9am and Midnight depending on the age of the phase. The moon rises later and later each night setting after sunrise in the morning. During this phase the Moon can also be seen in the early morning daylight hours on the western horizon.
Phase Details for – Monday, October 9, 2017
Phase: Waning Gibbous
Illumination: 82%
Moon Age: 18.84 days
Moon Angle: 0.55
Moon Distance: 364,500.38 km
Sun Angle: 0.53
Sun Distance: 149,391,327.09 km
Source
Your Cosmic Weather Report for Tuesday, October 10th
Jane Lyle, Author
From The Astrology Room
Tuesday 10th October:
Glorious Gothic – Jupiter enters Scorpio
Jupiter expands. Mostly, this is good news – optimism, abundance, and the desire to learn and explore are all Jupiter's general concern.
In astrology, bountiful Jupiter rules travel and foreigners, religion, sport, the law, publishing, studying, gambling, and feeling good. The whole thing about luck and good fortune that's associated with the transits of Jupiter is born from its generous, upbeat energy. If you're open-minded and positive, you'll likely attract helpful people or recognise lucky opportunities when they come along. Certainly, while Jupiter aspects can be very beneficial, they cannot bring anything more than a cheerful (or greedy) mood if we don't choose to work with what's on offer.
Here in secretive, watery Scorpio until November 2018, Jupiter expands and explores what's hidden away in the locked rooms of Scorpio's house. One of the areas in focus is 'other people's money' – including legacies, insurance pay-outs, investments and initiatives such as crowd-funding. This can be a favourable time to improve personal finances, or get the financial support you need for a project. Many financial events and trends will relate to Jupiter's realms in some way – sport, religion, law, travel, gambling, and so on.
Scorpio also presides over sex and death – so real intimacy and deep emotions of both joy and sorrow are emphasised during the next twelve months. Our ideas and philosophies around sex, death, and money will be open for much-needed discussion.
If Jupiter in Scorpio's journey touches our natal horoscope we may get a bit obsessive or intense about sex, death, and other people's money. Jupiter can trigger the urge to over-do, waste energy, and tends to only see the vastly bigger picture. Is the devil in the details? Probably, the answer is yes.
Out in the world there could be more scrutiny of the sex trade, particularly secretive people-smuggling operations and hidden horrors. Sex tourism will also be highlighted in the news, and perhaps the thorny issue of the mass tourism industry in general.
Secretive financial affairs may come to light when Jupiter connects with Pluto in money-orientated Capricorn during 2018.
Jupiter in Scorpio also favours exploring and studying the paranormal, mysterious hidden histories, and all things witchy and woo-woo. This bewitching theme should really take off when Jupiter links with Neptune in Pisces in November and December – and onwards into 2018. And by the way, Jupiter in Scorpio has not made this flowing aspect with Neptune in Pisces since the 19th century. It's special.
Jupiter in Scorpio is not for the faint-hearted, the commitment-phobic, or the lazy.
But it invites us to experience new emotional depths in our relationships, following on from Jupiter in Libra's rather cooler, and simpler, desire for partnerships.
Jupiter was last in Scorpio between October 25th, 2005 and 24th November, 2006. Maybe this was a meaningful time for you? If so, dig into your archives and you'll discover some themes that are likely to resonate once more in your life during the months ahead.
Ahoy Mates!
Since we are running late and there is a lot of Divination to cover on Mondays,
We will now be sailing onto your Daily Horoscopes, Runes, Tarot and of course, much more.
Save
Save