The Witches Digest for Thursday, October 12, Part 3
(Daily Horoscopes & Divination)
Your Daily Horoscopes for Thursday, October 12
Aries
This can be another day when you'd prefer to stick close to home and stay out of trouble, dear Aries! It's a good time for accomplishing something practical, in fact, and for anything that involves counseling, consultation, or collaboration. Important or useful information can result. One-on-one communications can be quite successful and productive today. This is a strong time for prioritizing your long-term goals and gaining perspective. You might be considering other viewpoints with maturity and benefit from this willingness. Plans might be formed or fine-tuned and cemented now, particularly related to relationships, health, work, travel, or education. Loyalty and reliability are themes to emphasize and boost.
Taurus
While the morning is good for bringing an imaginative or creative spin to your work or projects, dear Taurus, as the day advances, you're in an excellent position to lock something down or deal with the practical side of things. Do your best to take advantage of this steady, methodical, traditional energy. This is a time for truly seeing the value of patience, small but effective efforts, and a step by step pace. Good things can take time, and you are instinctively tuning into this truth today. Focus on the details and show your strong work ethic now. This is a good day for making plans, mainly related to work or health, but it's also a time for gaining new and useful information that helps clarify these things for you. You might find yourself absorbed in a project or pursuit, especially if research or investigation is involved.
Gemini
You can be feeling playful and creative this morning, Gemini, but you're quick to tap into the steady, productive energy of a Mercury-Saturn influence as the day progresses. Teaming up with someone can be advantageous if you have a clear goal in mind or if you're focused on purposeful tasks. You can be especially focused on coming to a balance in a relationship, and negotiations are fair and fortunate. You're in particularly good shape with communications, and someone may recognize you for being a good friend. Be reliable with others for best results now. Relationships can benefit from a serious conversation or a clearer definition, or you feel stronger through your association with someone. The secret to happiness later today lies in balance and patience.
Cancer
The Moon spends another day in your sign, dear Cancer, and emotions are more colorful than usual. Even so, there is a decidedly practical bent to the day. You're in particularly good shape for organizing areas of your life related to the home, family, real estate, work and services, and habits or health, for which your thinking is especially clear. You're more interested than usual in tackling chores and duties. Efforts to shape up your work or body can be productive and invigorating now. Information you discover today can clarify matters and may even benefit you now and for years to come!
L
eo
While the morning inspires imagination and creativity, dear Leo, later today favors conservative moves and traditional methods. Activities related to commuting, teaching, writing, learning, and connecting can come into practical focus. People value your opinion and input even more than usual. Information coming in now helps clarify things for you, enables you to make a significant decision, or is otherwise especially useful to you. Projects benefit from attention to detail and an organized approach. Mental clarity feels great now! You also have a good eye for what's most valuable and viable. Some of you could make a special, quality connection.
Virgo
You can come up with wonderful ideas to boost your business or to enjoy your earnings today, dear Virgo, with Mercury, your ruler, in supportive aspect with practical, realistic Saturn. As the day advances, you're in particularly good shape for giving or receiving advice, learning something beneficial to you, and conveying your ideas to others. There is wonderful energy with you now for taking care of important business, especially if your finances, valuables, personal possessions, or home life can use some tidying and upkeep. Your eye for detail shines through now. People in your life are likely to notice and appreciate your spiritual maturity and intelligent viewpoint today. You could be focusing on organizing and straightening your home environment or routines with family, which can ultimately lead to improved inner clarity.
Libra 
You are a uniquely engaging speaker or communicator this morning, dear Libra. You can delight in your discoveries or imagination now. The second half of the day, on the other hand, is particularly suitable and fortuitous for doing virtually any kind of technical work or taking care of business. Good advice or useful information is circulating now, and you're tapping right in. In fact, your sense of what's valuable and useful is strong. Somebody may be putting in a good word for you. Serious conversations make sense now, and they can be comforting as well. You have a no-nonsense approach to your life at the moment, and this can indeed work to your advantage. It's a time to organize, sort, tidy, and prioritize in ways that improve your life and sense that you're on top of things.
Scorpio
While you can delight in freeform thoughts and a dreamy approach to the world this morning, dear Scorpio, as the day advances, you're in great shape for focusing on priorities. You're also in an excellent position to learn useful information or gain clarity and insight into a matter that feels great. Self-discipline improves. Look for a particular project that requires a narrow or precise focus and apply this energy to it, if possible. Tie up loose ends and focus on tidying up and organizing your life so that you can put an end to guilty feelings. Money matters or taking special care of personal possessions can figure strongly now. Your resourcefulness now can lead you to valuable conclusions.
Sagittarius
You're in a fabulous position to apply both imagination and common sense to a matter today, dear Sagittarius, and the support of or from friends is comforting. You gain clarity or insight about a friendship, goal, or project now that aids your decision-making process. Your self-discipline improves, and a steadfast, conservative approach wins points today. Socializing can be helpful and rewarding. Be moderate, steady, and reliable in your dealings with people and disciplined with your goals, planning ahead, to take full advantage of a Mercury-Saturn connection active now. You're able to tap into the necessary patience to get important duties and chores out of the way so that you can gain inner clarity.
Capricorn
Particularly as the day advances, it plays in your favor, dear Capricorn, with Mercury in harmony with your ruler, Saturn. This aspect generates practical, useful energy and a stronger inclination to draw upon common sense, even if the morning is a little hazy. You'll do best now in the areas of communicating and getting the job done. Interactions and information surfacing today can be exceptionally useful and an important point can be clarified for you. You're communicating with authority and coming across very well. You are likely to be leaned upon or admired from afar, particularly for your sound mind and trustworthiness. Tie up loose ends and tidy up areas of your life that may be causing you guilt or dread. The Moon is in your partnership all day, drawing out your desire for companionship.
Aquarius
You are feeling particularly inspired and imaginative this morning, Aquarius. As the day progresses, however, you're in excellent shape for getting serious and picking up truly handy information. This is a good time for assessing ideas and projects with a clearer head and a better feel for what's both valuable and viable. This is also an excellent time for uninterrupted, solid work, beginning a long-term project, or cementing a business alliance or connection with an associate. Good news may arrive about publishing, studies, legal affairs, or travel for some of you. Consider areas of your life that can do with concentrated focus and attention to detail, and use this steady energy to take care of business. Teaming up to get something accomplished or brainstorming with others can be productive.
Pisces
The Moon is in your creative sector all day, and Mercury forms a parallel with Neptune this morning, dear Pisces, encouraging imagination and flights of fancy. However, it would be wise to tap into the useful energy of a Mercury-Saturn aspect as the day advances, which is quite practical and realistic. You could be brainstorming with someone and coming up with very workable ideas and plans. You are primarily concerned with the details and practical side of conversations and projects or tasks now, and you may be reassessing or fine-tuning recent plans. Expressing your more responsible and competent or mature side can have tremendous benefits for you at the moment. You quite readily become absorbed in what you're doing, and research or digging deeper into a topic or idea is especially attractive. Order and predictability are themes now, and work issues seem to be coming together. It's a good day to benefit from mature or realistic advice and for speaking to superiors.
If You Were Born Today, October 12
You are a charming, enigmatic person with a dual personality. Sometimes extravagant, and at other times cautious, your contradictory nature often baffles others. However, overall, you possess personal charisma and others find you fascinating. You have an unusual intelligence and insight into human nature. You are not always successful in your attempts to use tact, however! Curbing your excesses is something you can spend a lifetime attempting to do, simply because although you are aware of the self-indulgent side to your nature, you are not always in control of it.
Famous people born today: Luciano Pavarotti, Aleister Crowley, Hugh Jackman, Josh Hutcherson.
Source
Get a jump on tomorrow…..
Your Horoscopes for Friday, October 13th
Aries
Aries
You're coming out of your shell with the Moon's move into your playful solar fifth house, Aries. This transit becomes you, as you feel more in your element with the Moon in a fellow Fire sign (Leo). This transit brings easy energy for emotional and creative expression. If you're not fighting the waves right now, you're in touch with this nice flow. This is also an excellent day to make up for lost time with someone or to forgive or better understand a person in your life. You enjoy collaborating with others these days, but you're also very focused on your work or projects, and it's not always easy to juggle the two, which may become evident today. However, there's no need to stress about this now. Tomorrow, Venus moves into your partnership sector, launching one of the best periods for close relationships in the year.
Taurus
Your mind is on your work or health and practical affairs, but your heart is with play and relationships right now, dear Taurus. Do watch for talking ahead of yourself. While you can feel a little divided, you're still in good shape today. The Moon moves into your home and family sector, and it's important to focus on strengthening your feelings of support and security at this time of the lunar cycle. This can happen on both outer and inner levels. Centering yourself makes sense now since inner assurance will go a long way towards meeting upcoming busier days with confidence. There can be a stronger need for close loved ones and family today, as well as familiar situations. For now, some self-pampering and nest building will do you good.
Gemini
Your mind is on fun and games these days, dear Gemini, and you want to share your ideas with others, but a good part of you would prefer to stick with the familiar. You're still in a stage of building your confidence, which can lead to some choppiness but shouldn't stop you from prospering today. The Moon's move into your communications sector increases your interest in reaching out to others, making connections, and keeping busy. Do keep in mind that you might experience remorse for sharing too much later on, but if kept in check, you can thoroughly enjoy the conversations you have now. This is a day for honoring your need for more variety and stimulation.
Cancer
You're not as ready to communicate or share as you're letting on today, dear Cancer, which can confuse a person or two! Possible mixed signals aside, however, this should be a good time for settling in or building something important to you with increased patience. You could be focusing on adding more comfort and padding to your life now. The Moon moves into the sign just ahead of yours which can have the effect of downplaying emotions enough to help you focus on practical priorities. Seek out earthy activities that help you feel present and grounded at this time in the lunar cycle for best results.
Leo
If allowed some personal space, aside from minor challenges, the day can play very much in your favor, dear Leo. The Moon enters your sign early on, bringing you out of an emotional slumber of sorts. Emotional needs take top billing now, and while it's an essential time for acknowledging them, be careful not to seek out too much in the way of instant gratification, as this can take power out of this part of the lunar cycle. Instead, aim to recognize and attach yourself to true emotions now. Aim to embrace your feelings rather than be under their control. As well, it's important to avoid talking ahead of yourself today.
Virgo
You're more action than talk these days, dear Virgo, which is not your usual state but is generally working for you right now. The Moon moves into your privacy sector today, and this can draw your attention to behind the scenes, background, and private matters. This is an integral part of the lunar cycle in which you find ways to rest, reflect, and regroup. Don't waste your time trying to prove to yourself that you're over something from the past. It's better to face it and jump right into the work on letting go. In fact, excellent energy is with you today for doing just that. Take time making decisions and time out for emotional recharging.
Libra 
Watch for talking ahead of yourself today, dear Libra. Be sure you're "all in" before revealing something or making a commitment. Part of you wants to spill all, and another part is more withholding or private, and you can't please both sides. With the Moon changing signs today, your emotional attention turns to friendships, social life, happiness, hopes, and happiness goals. Recognize your needs to mingle now for best results, as this is a natural part of the larger lunar cycle. Keeping an open mind and your options open can invite positive, interesting experiences.
Scorpio
You're more action than talk right now, dear Scorpio, with Mars in harmony with your sign and Mercury in your private solar twelfth house. This can work well for you these days, although today, you may throw someone off course by not speaking about something and doing it anyway! Also today, the Moon moves into your career and reputation sector, and with responsibilities strong in your mind, or new ones surfacing, it's probably best to tackle them promptly. It's a day for giving yourself a gentle challenge. Try not to waste time trying to convince yourself that you don't care what others think of you, and instead, jump straight into tasks that build your confidence in your performance or what you're currently doing.
Sagittarius
You're strongly motivated to achieve your goals these days, dear Sagittarius, but your mind just isn't on the same page today. The Moon's move into your adventure sector is a happy, easy one for you, however, which is a nice change from recent activity that has been somewhat limiting or challenging. You quickly find ways to enjoy a change of pace, however big or small. This can be quite an outgoing, adventurous day, in fact, if you go along with this flow, even if the settings you're currently in are pretty usual or routine fare. Venus is set to move into your social sector tomorrow, launching a quite excellent several-week cycle for enhancing or forming friendships.
Capricorn
You're drawn to exciting or non-routine activities and ideas these days, dear Capricorn, but you could find that your mind is stubbornly and squarely on your work or responsibilities! Part of you is devil may care, and the other is fretting over your performance. While you may not be able to satisfy either drive fully without feeling some level of restlessness or dissatisfaction, you may be able to divide your time just enough to get a bit of both. The Moon moves into an introspective area of your solar chart today, and this part of the lunar cycle is excellent for learning both about yourself and important people in your life through observation. You're looking to get to the root of problems, and you have much to discover.
Aquarius
Do your best to avoid talking ahead of yourself today, dear Aquarius. You may do the part of you that's busy strategizing and planning a disservice if you spill the beans impulsively! You're more excited and enthusiastic about your projects or interests these days than usual, but you'll also do well for yourself if you hold off on quick conclusions until you're truly on board. Also today, the Moon moves into your opposing sign for a couple of days. This part of the lunar cycle is excellent for gaining perspective and seeking out balance by considering your life from a different angle — and perhaps from a partner's point of view. The need for others emerges clearly now. Sometimes this transit prompts the seeking of advice or increased activity with a companion.
Pisces
Especially this morning, there are excellent influences with you for personal appeal and magnetism, dear Pisces. This can also translate to personalized attention, as others seem to value the very energy you radiate naturally. There is increased imagination and compassion with you now, and you're drawn to activities that reinforce your own sympathetic and caring nature. Even so, the Moon moves into the part of your solar chart that emphasizes the details and practical side of your life, and this can also be a great day for fixing problems and tying up loose ends. Enjoy the extra boost of motivation to get your life organized now.
Your Personal Daily Tarot Card
The Hermit


The Hermit denotes a need to have some space between you and the everyday hustle and bustle of our busy world. The Hermit needs to retreat. Indeed, happiness for The Hermit requires seclusion, freedom from material wants, and time for intense introspection. The answers The Hermit needs cannot be found in our physical world. The truths he seeks are internal, spiritual, and the distraction of a well developed social life can only impede his quest for his personal truths. Still, although not anything remotely resembling extroversion, The Hermit does sometimes need to share time with others; so he can both learn and teach, guide and be guided. The Hermit's time spent amongst people depletes his energy rapidly. To avoid mental and physical overload he has to retreat from social settings quickly.
Your Personal Daily Love Tarot Card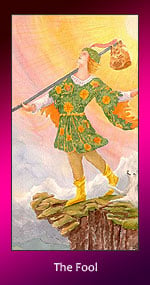 The Fool
You deserve a partnership that deepens as you get to know each other. Wait for the person who has risen above commitment immaturity if commitment is your desire. The Fool reminds us that dating someone is not a mistake. It is falling in love and marrying them if it is not right. If your long-term relationship is encountering a difficult patch, now is the time to work together to rebuild.
Your Personal Daily Erotic Tarot Card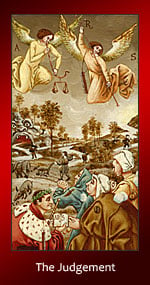 The Judgement
The Judgement card indicates that you've had some sexual hang-ups in the past, but you're working toward getting over them. This is a period of transition, and although you're doing the work, you may not be getting the exact results you desire. Forgive yourself for past missteps in order to take a sexual step forward today. Being afraid to express your true erotic self can even effect other areas of your life, so getting beyond your sexual inhibitions translates into a happier overall existence.
Psychic Tip of the Day
NEW SURPRISE
Your first big shock of the new year has arrived. It could be a welcome relief, but you may not know what to do with it. Were you expecting company?
Tarot.com is Part of the Daily Insight Group ©2017
Your Daily Rune for Thursday, October 12th
Laguz
"Log-uhz" – Literally: "Water" or Ocean – Esoteric: Unconscious, Collective Memory
Rune of the unconscious context of becoming or the evolutionary process. Rune of Life's longing for itself.
Psi: emotion, psychic powers, unconscious mental processes, love, dreaming
Energy: life energy, ocean spirit, origins of life, collective unconscious, the astral plane, love as unity, evolution
Mundane: water, imagination, occultism, dreams
Divinations: Life, passing a test, sea of vitality and of the unconscious growth, memory, dreams; or fear, circular motion, avoidance, withering, depression, manipulations, emotional blackmail, lack of moral fiber, fantasy, poison, toxicity
Governs:
Transpersonal powers
Mastery of emotion in order to shape wyrd
Guidance through difficult initiatory tests, ie. initiation into life
Increase in vitality and life force
Communication between your conscious mind to another's unconscious mind
Development of 'second sight' or prophetic wisdom
All powers of dreaming (lucid dreams, astral projection)
Your Daily Influences for Thursday, October 12th
Tarot Influence
Eight of Coins
A time to learn the ways of an occupation. A viable venture may be beginning. Handling worldly affairs skillfully.
Astrological Influence
Cancer Reversed
Cancer reversed denotes a lack of creative energy and disregard for home-life
Element Influence
Water Reversed
Water reversed denotes secrets to which you are not privy. Approach all ventures with caution.
Your Animal Spirit for Today
October 12, 2017
Porcupine
Porcupine has appeared in your reading today to bring a message of innocence and trust. Although Porcupine can throw quills when cornered, he is gentle, loving, and non-aggressive. Is there an area of your life that need Porcupine energy? Have you lost the ability to trust??
Daily Karmic Number
Brace yourself. The number 3 as it appears for you today signals that your spirit guides are close by, eager to help you with your needs. You have been on a path of taking care of yourself and your efforts are being rewarded. They have always been there, but you are in a position to sense them more now. Ask them for help with anything. Your mind, body, and spirit are integrated into a seamless unit. You are one with the Universe. Let the Universe benefit you as you send out your own positive energy.
Your Daily Charm
Today's Meaning:
A course of events that cannot be altered has been set in motion within this aspect. Accept whatever happens in the near future and do not waste your time fretting about it–you can do nothing.
General Description:
This was a favorite charm in Egypt, worn in order to frustrate magicians, sorcerers and evil wishers from bewitching the wearer and stealing the soul from the heart; for it was the general belief that if the soul left the heart, the body would soon fade away and perish. The ancient Egyptians also believed that, after death, the heart was taken, in the underworld, and weighed against the symbols of the law; if found perfect, it was restored to the body, which at once came to life again and enjoyed everlasting felicity.
Crack the Cookie
The Wisdom of Buddha
All that we are is the result of what we have thought. If a man speaks or acts with an evil thought, pain follows him. If a man speaks or acts with a pure thought, happiness follows him, like a shadow that never leaves him.
Earth Sky News for Thursday, October 12 – What bright star flashes red and green?
onight, check out one of the flashiest stars in the sky. Every year in northern autumn, we get questions from people in the Northern Hemisphere who see a bright star twinkling with red and green flashes, low in the northeastern sky as seen from Northern Hemisphere locations. That star is likely Capella, which is actually a golden star.
In fact, if you could travel to it in space, you'd find that Capella is actually two golden stars, both with roughly the same surface temperature as our local star, the sun . . . but both larger and brighter than our sun.
So here is a golden point of light that flashes red and green when it's low in the sky. Why does it do that?
The reality is that every star in the sky undergoes the same process as Capella, to produce its colorful twinkling. That is, every star's light must shine through Earth's atmosphere before reaching our eyes. But not every star flashes as noticeably as Capella. The flashes are happening because Capella is low in the sky in the evening at this time of year. And, when you look at an object low in the sky, you're looking through more atmosphere than when the same object is overhead.
The atmosphere splits or "refracts" the star's light, just as a prism splits sunlight.
So that's where Capella's red and green flashes are coming from … not from the star itself … but from the refraction of its light by our atmosphere. When you see Capella higher in the sky, you'll find that these glints of red and green will disappear.
By the way, why are these flashes of color so noticeable with Capella? The reason is simply that it's a bright star. It's the 6th brightest star in Earth's sky, not including our sun.
Capella is in the constellation Auriga the Charioteer, but since antiquity it has carried the name "Goat Star." Capella climbs upward through the night, and soars high overhead in the wee hours before dawn.
Bottom line: If you're in Earth's Northern Hemisphere, a bright star twinkling with red and green flashes, low in the northeastern sky on October evenings, is probably Capella.
Deborah Byrd created the EarthSky radio series in 1991 and founded EarthSky.org in 1994. Today, she serves as Editor-in-Chief of this website. She has won a galaxy of awards from the broadcasting and science communities, including having an asteroid named 3505 Byrd in her honor. A science communicator and educator since 1976, Byrd believes in science as a force for good in the world and a vital tool for the 21st century. "Being an EarthSky editor is like hosting a big global party for cool nature-lovers," she says.
Published on EarthSky
A Little Humor for Your Day
You Might be a Redneck Pagan If…
If any part of your invocation of the South Quarter includes any lines from any song by Lynard Skynard….
If chewing tobacco is considered a sacred herb…..
If part of your rite includes throwing shotgun shells on the fire….
If the bell on your alter was ever worn by an animal in a pasture….
If the cakes and wine are done with a bowie-knife, a can of Foster's, and a Little Debbie…..
If they chose their High Priestess at a wet t-shirt contest….
If when your priestess says "Blessed Be" in circle, you respond with "YEEE-HAW!"…
If you believe a pentagram is a Western Union message to 5 people….
If you bought your chalice at the Piggly Wiggly…..
If you buy your incense and candles at Wal-Mart….
If you call the God and Goddess by hollerin' "Hey, y'all! Watch me!"….
If you call the North Quarter, but what you call it is an inner court secret…..
If you can play the "Burning Times" on the banjo….
If you carry your ritual sword in your pickup's gun rack…..
If you found out your familiar is an oppossum — and still ate it……..
If you have combined Maypole Dancing/ Tractor Pull/ Turkey Shoot for Beltane….
If you have cast a love spell on livestock….
If you have ever called the National Enquirer because you raised a potato that resembled the Willendorf Goddess….
If you've ever cancelled a coven meeting to watch Pay-Per-View wrestling on TV….
If you've ever written a spell on the back of a Denny's menu…..
If you have ever refilled your chalice from a keg…..
If you invoke the spirits so that your beer lasts longer…..
If you pray nightly to the god of big tires…..
If you sacrifice BBQ and pork rinds on an alter made of old car hoods….
If you shoot guns into the air when the priestess says, "the circle is open but never unbroken"…
If you smoke Salem cigarettes for the historical significance….
If you think a "family tradition" is a dating club….
If you think the Wiccan Rede is good for making twig furniture….
If you worship the gods of cheap beer and Nascar….
If you've ever done a candle spell for your local high-school football team….
If you've ever harvested ritual herbs with a weed whacker…..
If you've ever meditated to "Dueling Banjos"…..
If you've reached the 3rd Degree but not the third grade……
If your God statue looks a little too much like Elvis Presley…..
If your Goddess picture says "Miss September" at the bottom……
If your Wand of Power is a cattle prod…..
If your altar cloth is vinyl……
If your altar cloth says "Holiday Inn" or "Howard Johnson's"….
If your altar has a spit cup…..
If your altar pentacle is a photo of John Wayne's star on the "Hollywood Walk of Fame"…..
If your annointing oil smells like Old Spice…..
If your athame is by Bowie…..
If your broom has 4 wheel drive and SC plates…..
If your ceremonial chalice says "Budweiser" on it….
If your ceremonial garb consists of cut-offs and a tube-top…..
If your circle dance contains the words "dosey-do"……
If your circle dance is a two-step….
If your coven chose its High Priest at a belching contest….
If your coven's secret names for the God and Goddess are "Cooter" and "Sweet Cheeks"….
If your coven-stead is propped up on cinder blocks…..
If your craft name starts with "Bubba"……
If your familiar can point quail….
If your familiar keeps mice out of the granary…..
If your favorite Great Rite partner is your first, second, and third cousin….
If your backyard ritual libation is brewed in an illegal backyard still……
If your favorite painting of the Goddess does her hair like Rheba McEntire….
If your maiden sweeps the circle with a weed whacker….
If your most sacred altar items include a hubcap, a velvet painting, and a half-empty can of chaw…..
If your outdoor circle has defunct washing machines for quarter altars….
If your pantheon includes Yukon Jack, Jim Beam and the St. Pauli Girl…
If your ritual music has ever included Johnny Cash singing "Ring of Fire"….
If your robes are made out of denim with Harley Davidson patches…..
Well, you might just be a redneck pagan!!
Blue Unicorn, Author
Originally published on Pagan Library
Till tomorrow, my sweets….
Have a very beautiful & blessed day,
Love ya,
Lady A & The WOTC Staff
Remember for all your magickal needs, think Magickal Necessities!