The Witches Digest for Friday, October 6th
(Part 3 – Daily Horoscopes & Divination)
Cosmic Weather Horoscopes for October 6th – 11th

by Jane Lyle
From The Astrology Room
Thought for October:
"After the keen still days of September, the October sun filled the world with mellow warmth…The maple tree in front of the doorstep burned like a gigantic red torch. The oaks along the roadway glowed yellow and bronze. The fields stretched like a carpet of jewels, emerald and topaz and garnet. Everywhere she walked the color shouted and sang around her…In October any wonderful unexpected thing might be possible."
– Elizabeth George Speare, 'The Witch of Blackbird Pond'
Friday 6th October – Wednesday 11th October:
An October Storm Warning
While it seems as if the world is always full of mayhem, there are times when astrology's planet patterns flag up periods of extra tension. This is one of those times – out in the world, and often in our own lives and psyches too.
Between 6th – 10th October the Sun in strategic Libra squares up to powerful Pluto in Capricorn, planet of all that's bubbling and boiling beneath the surface. Now, this happens twice a year, every year. But it does ratchet up the tension, stir up power plays and ploys, and above all it's not a great time to insist that might makes right. Sooner or later someone will have to find a diplomatic way out, back down, or wriggle out of a locked room somehow.
And this time there's more. During this phase, warrior Mars in Virgo is travelling towards squaring up to Saturn in Sagittarius. Their exact face-off is on 11th October at 23 degrees of those signs – but the days beforehand are often very tense.
Mars is about action and desire, while Saturn is about solidity, tradition, and restrictions. They don't have much common ground, and when they irritate each other like this it tends to foster an accident-prone, angry, all-round difficult and aggressive atmosphere. In Virgo and Sagittarius it's got a distinctly scorched earth feel about it, and suggests that travel – from small, everyday journeys to longer trips – will require special focus and care.
Basic astrological advice at this time is to drive very carefully, avoid sharp objects, and try to keep your temper or avoid anyone who's spoiling for a fight. These spiky aspects may not connect with your own natal horoscope, but they'll be rubbing someone near you up the wrong way – so just keep a low profile and take it easy.
This Weekend's Love Horoscope: The Highs and Lows of Love
Your love horoscope for the weekend of October 6-8, 2017
---
Start the weekend off steamy! You're feeling the electrifying embrace of Venus and Mars — Astrology's Lovers — meeting up in the sky, and it will feel natural to let your passions sizzle and scorch. You'll be radiating confidence and magnetism, and you'll be able to draw in healthy, romantic attention now.
But with all this adoration and love, be careful not to bite off more than you can chew. Tricky Mercury is making an irritating connection with elusive Neptune on Friday, so try not to make promises that you aren't able to deliver on. Do your best to keep your wits about you — keep things light and lively.
By Sunday, the flames simmer down, and instead of confident and sexy, you might find yourself feeling a little down in the dumps. Venus clashes with stodgy Saturn on Sunday, and you might be disappointed that certain love interests aren't taking off, or you might be frustrated with some difficulties you've been facing in your relationship. Even though it's tough as nails, you might need to muster up your strength and put some extra work into your love life now.
Tarot.com is Part of the Daily Insight Group ©2017
October 2017 Love Horoscope
Opening yourself up
The absolute headline news this month in terms of love and relationship has to do with the planet Jupiter. After spending 13 months in partnership-oriented Libra, he will move onto the bottomless terrain of Scorpio on October 10. For the last year you've had the opportunity to form a meaningful relationship with someone special in your life and learn about the true power of relating. Now, with Jupiter moving into Scorpio, it's time to take that relationship to the next level with true intimacy and intense sharing.
Think about the word intimacy. It's a word that terrifies some but excites others. We are searching for this incredible cosmic connection on some level, and on another level, we might fear it. Why? Because the prerequisite to intimacy is vulnerability, and that opens us up to the possibility of being hurt, scarred, or torn apart in the heart department. And yet, if we don't take that risk of being vulnerable, we'll never achieve the level of physical, spiritual, emotional, and sexual connection we yearn for in a partner. So, get ready. Jupiter will expand the potential for you to achieve this very cavernous and profound connection with a lover until November 8, 2018. If you break down the word 'intimacy' you get INTO-ME-YOU-SEE. Get ready to see and be seen in the most magnificent way possible — and to love deeper than you ever thought you could.
Tarot.com is Part of the Daily Insight Group ©2017
Your Daily Horoscopes for Friday, October 6th
Claire Petulengro, Astrologer

From The Astrology Room
ARIES (March 21st-April 20th)
Start where you are. Use what you have and do what you can. You have been your own worst task master lately my friend. You think you don't have what it takes but you're wrong. You have all the tools here and now.
TAURUS (April 21st-May 21st)
It's your choices that show who you truly are far more than your abilities Taurus. You have made mistakes, but who hasn't. It's time to stop letting the past stand in the way of what you want from your future.
GEMINI (May 22nd-June 21st)
Help you wanted from close ones doesn't seem to be as easy to find as you had hoped. Futile excuses have left you frustrated. Change that by using the communication skills Mercury is offering to explain your feelings today.
CANCER (June 22nd-July 23rd)
You seem to be getting mixed messages and you're not sure if those around you can deliver on all they've promised you. If you want something done today, then know that you have the power to do it yourself.
LEO (July 24th-August 23rd)
You need to be firm but fair with those you love, as you have been letting them get away with more than is advisable. Doing your sums sooner rather than later can also save you a small fortune and benefit your reputation.
VIRGO (August 24th-September 23rd)
I can see how much of a hard time you have been though Virgo. Now though, it's time to turn your face to the Sun. Do so, and the shadows will soon fall behind you. Travel plans loom and may open an important new chapter.
LIBRA (September 24th-October 23rd)
You know close ones won't approve of what you want to do, but who's life is it Libra? Try to focus on what you know feels right in your heart. Being true to yourself is what will give you the confidence you've been lacking.
SCORPIO (October 24th-November 22nd)
You've had as much as you can take of a close one, but you see from today what needs to be done to put some permanent distance between you. Will it take nerves? Yes. Will you feel empowered? Yes. This is your time.
SAGITTARIUS (November 23rd-December 21st)
There seems to be new found respect from a close one which makes it easier for you to forgive things that have transpired over the last six weeks. Checking forms you have already filled in can save you time and money.
CAPRICORN (December 22nd-January 20th)
Never underestimate your abilities Capricorn. You have come so far in recent days and week. You owe it to yourself to try again for the dreams and desires which are so strong in your heart. Scorpios link to a better social life.
AQUARIUS (January 21st-February 19th)
When you reach the end of your rope, tie a knot in it and hang on. You think something failed when in actual fact you have succeeded. Why? Because my friend, you've learnt exactly what not to do next time.
PISCES (February 20th-March 20th)
You have so many good qualities, but lately you've only been concentrating on the negative ones. Remember from today that the glass is most definitely half full. Doing so can attract all manner of exciting faces your way.
If You Were Born Today, October 6
You are an idealistic, warm, and family-loving person. When you aren't feeling confident, you are prone to withdrawing, sometimes appearing aloof. It's certainly not because you are unfriendly. Instead, it's due to a somewhat cautious nature. You crave a spiritual connection with another person–something that lifts you above and beyond the ordinary. Routine bores you, yet you are not attracted to crises or high-change situations either, as security is important to you. Highly creative, you need to express yourself in a few different avenues in order to derive the most satisfaction from life. Once befriended, you make a fabulously devoted companion, as you value quality over quantity in the people department. When you find people to adore, they are certainly well taken care of!
Famous people born today: Carole Lombard, Elisabeth Shue, Le Corbusier, Matthew Sweet, Jenny Lind.
Source
Get A Jump on Tomorrow….
Your Daily Horoscopes for Saturday, October 7th
Claire Petulengro, Astrologer

From The Astrology Room
ARIES (March 21st-April 20th)
You're the blacksmith of your own happiness. Create a future which you know you will enjoy and which won't involve you saying yes to things you know will make you unhappy. This is a day to reverse forced changes.
TAURUS (April 21st-May 21st)
I see from your stars that you've done a lot of soul searching in recent days and weeks. You may not know what you want, but you do know what you DON'T want now, don't you Taurus? Financial deals made today are successful.
GEMINI (May 22nd-June 21st)
You and I both know you've needed a life style change for some time, but putting it into action it has been harder than you thought, hasn't it Gemini? From today you learn what needs to be done and who you need to distance yourself from.
CANCER (June 22nd-July 23rd)
This would be a great time to look at your day to day living to see what can be done to make it more accommodating to your true needs and desires. Fellow Cancerians help take the weight off your shoulders.
LEO (July 24th-August 23rd)
It's time to let go of the anger which has been eating you up. If you don't move on, you will not get to see and enjoy the wonderful future which is waiting. Neptune brings new dreams to your sign. Grab them.
VIRGO (August 24th-September 23rd)
You felt as if you were taking two steps forward and one step back. Now though, you begin to see that if you get rid of who was advising you for their own needs, you will move ten times quicker.
SCORPIO (October 24th-November 22nd)
Let's not forget that you are the second most psychic sign in the zodiac. You will see with ease what needs to be done to get your 'house in order' so to speak. Don't let well-meaning but naive family members tell you otherwise.
SAGITTARIUS (November 23rd-December 21st)
Jupiter helps you to make sense of what did or did not happen in recent days and weeks. You start to realise that you were not the one at fault, but that someone was trying to pull the wool over your eyes.
CAPRICORN (December 22nd-January 20th)
You have been pushing a close one away for fear of them finding out how you really feel. However, you and I both know that it is only by facing the truth that you will see and feel if things can really work.
AQUARIUS (January 21st-February 19th)
I know you've had a lot to juggle with, but what I can see which you can't, is that you've done an excellent job of both facing your fears and overcoming them. Gemini's link to a work path you should follow if you want to take things up a level.
PISCES (February 20th-March 20th)
It's time to sit down and do some sums, so you can see with clarity what you can and cannot afford to do this month. October is forecast to be the month you find yourself. Don't look sideways, look head on today for the answers you need.
Tarot Card of the Day
King of Swords
---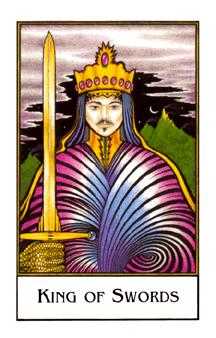 Traditionally, representing the energy of a King, this masculine energy form is The Adjudicator, the wise judge or mediator. He helps parties in conflict discover common ground and build upon it, and guides societies to see their greater good. His archetype is Solomon, ancient lawgiver and philosopher of the Old Testament. Sometimes appearing cool and detached, he can be misunderstood as not caring.
But emotional displays are just not his medium, nor is he moved by appeals to sympathy or pity. With the philosophical overview that comes from long experience, he listens deeply, watches closely and speaks last. In the end, his even-handedness and objectivity earn him the respect he receives from his community, and those who cannot work out their problems come to him voluntarily for advice.
Occasionally this man is subtly detailed to imply that he is a woman in male armor. If you notice this theme in your deck, it is a reference to Joan of Arc, the Maid of Orleans, archetype of a devout and inspired woman warrior, who was mystically led to abandon her social role to defend what she saw as the greater good. Although she was martyred young, her model crystallizes the message that sometimes the good of the whole is more important than the good of the individual, and in that case, even if you lose, you win just for being there.
Tarot.com is Part of the Daily Insight Group ©2017
Love Tarot Card of the Day
The Wheel of Fortune
---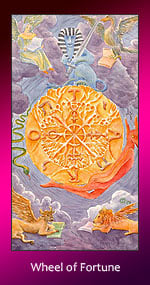 Today, the truth is told and clears up a situation that has hung on and on. Take direct action now to clear up something that should have been handled long ago. The Wheel of Fortune selected you because you need to know that some parts of the conditions were out of your control. Some events are not the result of something you did. You do have control over how you deal with matters now.
Erotic Tarot Card of the Day
The Chariot
---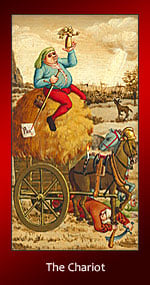 The Chariot shows that you're rolling toward a major sexual goal today, willing to forego just about anything and everything else to have that one big O! The thing is, who are you willing to trample over to get there? This card can be a sign to slow down just a bit, because while sex is fun, it shouldn't be your number one focus right now. You don't have to come to a complete stop, but pulling back on the reins just a bit will give you the clarity you need to make sure you're making wise sexual decisions.
Your Influences for the Weekend of October 6th
Element Influence
Earth Reversed
Earth reversed denotes a lack of positive connection with the life spirit–a lost soul. If you are not careful you may miss much of what life has to offer you

Astrological Influence
Pisces Reversed
Pisces reversed signifies a lack of positive thinking and creativity at this time
Element Influence
Earth Reversed
Earth reversed denotes a lack of positive connection with the life spirit–a lost soul. If you are not careful you may miss much of what life has to offer you
Your Daily Rune for October 6th
Nauthiz
"Not-this" – Literally: "Need-fire" or "Necessity" – Esoteric: Constraint, Friction
Key Concepts: Need, resistance, constraint, conflict, drama, effort, necessity, urgency, hard work, need-fire, life lessons, creative friction, distress, force of growth, the consequence of past action, short term pain for long term gain

Psi: resistance, need, effort
Energy: necessity, coming forth into being, urgency
Mundane: doing what must be done, chores, hard work
Divinations: Resistance (leading to strength), recognition of örlög (ultimate law, primal truth), innovation, need-fire (self-reliance), personal development and life lessons, achievement through effort; or constraint of freedom, distress, toil, drudgery, laxity, warnings, worry, guilt, moral cowardice, unfulfilled or unrecognized needs.
Your Animal Spirit for Today
October 6, 2017
Moose
Moose represents incredible strength and longevity, as well as the ability to see the future. Moose antlers are among the largest of the antlered animals, and are like psychic antennae—giving Moose amazingly developed hearing, smell, and depth perception. Moose is bellowing at you to open your third eye and stop pretending that you don't know what's about to happen.
Crack the Cookie
The Wisdom of Buddha
An insincere and evil friend is more to be feared than a wild beast; a wild beast may wound your body, but an evil friend will wound your mind.
Your Earth Sky News for October 6th – Watch after sunrise for a daytime moon
Tonight is October 6, 2017 – and the Northern Hemisphere's full Harvest Moon has passed. On this night, the moon is in a waning gibbous phase. That means it rises in the east later and later each evening … and it means you can catch the moon over your western horizon after sunrise in the next few mornings.
If you do catch the moon in the evening tonight or in the next few nights, notice the stars near it. On October 7, the moon is moving toward the famous dipper-shaped Pleiades star cluster, also known as the Seven Sisters, a major signpost in the constellation Taurus the Bull.
On October 8, the moon will be near the constellation Taurus' other major signpost, the bright star Aldebaran. In fact, the moon will occult or pass in front of Aldebaran from some parts of the world. Read more about the occultation of Aldebaran.
Sylvia asked:
When is the best time to see the moon in the sky during daylight hours?
The answer is that the daytime moon is up there much of the time, but, because it's pale against the blue sky, it's not as noticeable as the moon at night. But there are certain times of the month when the daytime moon is more noticeable. This upcoming week is an example of one of those.
The most noticeable moon at night is the one that stays out all night long. That would be around the time of full moon each month, when the moon is 180 degrees from the sun, or opposite the sun in our sky. The recent full moon was on October 5, 2017 at 18:40 Universal Time; translate to your time zone.
Every full moon rises around sunset and sets around sunrise. But now the moon is in a waning gibbous phase – rising later each night – and setting in the west later each day after sunrise.
So, in the several mornings after full moon – after sunrise – look for the waning gibbous moon in the west during the morning hours. At mid-northern latitudes in North America, the moon will set well over one hour after sunrise on October 7, 2017, and will set an one hour (or more) later each day thereafter.
These recommended almanacs can help you find the moon's setting time in your sky
By the way, the moon is up during the day half the time. It has to be, since it orbits around the whole Earth once a month. A crescent moon is hard to see because it's so near the sun in the sky. At the vicinity of last quarter moon about a week from now, you might have to crane your neck, looking up, to notice it after sunrise.
Ordinarily, we don't look up to see the waning last quarter moon and waning crescent after sunrise. That's one reason why people so often miss the moon during the day.
Day by day, the lighted portion of the waning gibbous moon will shrink and the half-lit last quarter moon will come on October 12. Watch for the daytime moon to climb higher and higher into the western sky after sunrise all this coming week!
Bottom line: Starting around October 7, 2017, look for the daytime moon in the west after sunrise.