Weekly Tarot Card Reading
A one-card reading gives you a glimpse at what's coming
---
For the week of April 10, I chose the Three of Swords!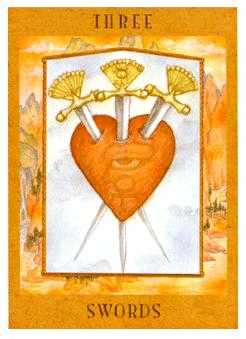 This week, you may find that you are easily hurt and you take others' words to heart. Perhaps you have a heated argument with a loved one, or you read a scathing email or social media post. It is as if the words are flying at you like swords and your heart is broken and the tears start flowing.
Be with the sadness and hurt for as long as it serves you. But also know that this pain is temporary and it will pass.
And if you want to avoid the hurt and pain altogether, then grow a thick skin this week and be ready to let those words fall away without inflicting any pain to your heart. Look for the blessing in the situation. (Yes, even nasty social media posts can be a positive — it's a clear sign about who is in your tribe and who is not.)
Ask the Tarot: "How can I heal my broken heart?"