For the week of Monday, Apr 10th, 2017
---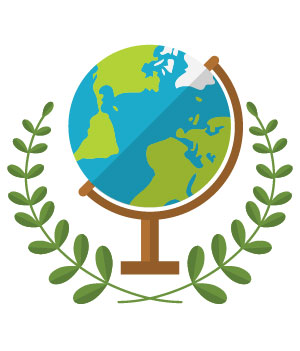 General Horoscope

A Full Moon in Libra on Tuesday will have everyone focused on partnership matters. Expect illumination, fulfillment, and in some cases, an ending. It doesn't have to be the end of an actual relationship; rather, it could be the ending to an outworn pattern of relating between you and your mate. This can be a good thing. In fact, love is quite promising this week thanks to Venus finally turning direct on Saturday after having been retrograde since March 4. Her sextile to Mars on Sunday is sure to make you realize she's feeling extra frisky, and ready to romp again.
---
Aries Horoscope

Mar 21 – Apr 19

At last, you and your sweetheart will be able to reach an understanding regarding your relationship and where it's headed. On Tuesday, A Full Moon in your partnership sector will wake the both of you up with a lightbulb moment that can catapult you two into extraordinarily fulfilling romantic potential. Expect a breakthrough after the breakdown you've gone through regarding your love life over the last few weeks. You can thank Venus turning direct on Saturday.
---
Taurus Horoscope

Apr 20 – May 20

There might be changes in the division of labor between you and your mate this week. Perhaps you're tired of doing certain chores and want to see your partner take over a few of them. Or, it's possible that you and your love will discard an old agreement regarding these matters in order to devise a new and more appropriate one. After Saturday, you'll also feel like your love life and social life are back on track. If single, wait until the weekend for a first date with someone you meet through friends or on the internet. You won't be disappointed.
---
Gemini Horoscope

May 21 – Jun 20

Romantic gratification is yours! This Tuesday, a Full Moon in your true love sector promises deep and fulfilling affection from your mate. You'll certainly feel the love if you're dating someone special. Your love life gets even better after Saturday when you notice that your mate is being much more supportive of your career goals. He or she might even help you pursue one of them in a behind-the-scenes way to ensure you receive all the accolades.
---
Cancer Horoscope

Jun 21 – Jul 22

Compromise between you and your love is finally possible. This week, the two of you may come to a joint realization about what is really best for your family, or what is best for the two of you domestically. You may also hear emotional news from a relative and lean on each other for comfort. If you're single, pay attention to anyone you meet this weekend. Someone from a different culture or religion may pique your interest. You might even meet this person through a friend.
---
Leo Horoscope

Jul 23 – Aug 22

A decision about your relationship will become final this week. On Tuesday, a Full Moon in your communication sector assures this. Happily, it's likely that you and your partner will be in total agreement, leading to a deepening of your partnership. This might have something to do with joint finances. A solution about money that has been plaguing the both of you for weeks is finally emerging. You both see the light at the end of the tunnel.
---
Virgo Horoscope

Aug 23 – Sep 22

Any uncertainty you've had about the state of your relationship is about to melt away. This week, on Saturday, Venus will finally turn direct after having been retrograde since March 4. Over the last few weeks you and your partner have worked through intimacy and financial issues, but also any disenchantment either one of you has felt with the other. If you have come out from this retrograde stronger as a couple, you'll certainly know it now. If, however, you realize the love has somehow dissipated, you'll be realistic about that as well.
---
Libra Horoscope

Sep 23 – Oct 22

Complications with an office romance will finally be on the road to resolution. Not only are you and your lover tired of any flack you've received on the job for your love affair, but you're also tired of the gossip — and judgment. Surprisingly, after Saturday, you might begin to receive apologies and blessings from others. Alternatively, you might not have an office romance; instead, you and your mate might have been focused on getting healthier together, or making changes in the routine of your relationship. By the weekend, you'll realize how far you've come.
---
Scorpio Horoscope

Oct 23 – Nov 21

You have finally come to a realization about your love life, and this week you'll be ready to share it. If an ex has come back into your life, it's possible that you've been pulled into a complicated love triangle — at least on a mental level. Now you'll know for sure if you want to remain with the person you're with, or give your old flame another chance. Alternatively, you and your sweetheart might also come to a resolution about whether or not to have a child. Either way, your hidden feelings come to the surface. If you've been trying to hide a certain emotion from your partner, you won't be able too much longer.
---
Sagittarius Horoscope

Nov 22 – Dec 21

A long-held dream or aspiration you've shared with your partner is about to be fulfilled. This can be any goal the two of you have in common and have been working towards, but one thing is certain — the gratification you'll feel will be tremendous! Another possibility is that the dream you've had is actually about a relationship. If you have been single, the ideal potential mate might come into your life this week. Be open.
---
Capricorn Horoscope

Dec 22 – Jan 19

A decision you and your sweetheart have stumbled over will finally be sorted out. Not only will compromise be easier to reach, but it's likely that your lover is finally understanding your inspired thoughts or dreams, and showing them more support. After Saturday, if you're single, you'll have the green light to begin dating someone new you may have recently met. The chemistry between you and this person will be palpable. Yes!
---
Aquarius Horoscope

Jan 20 – Feb 18

If you're traveling overseas, it's possible that you'll meet someone you share an instant attraction to. You might even feel like this person is your other half, and you will be compelled to explore the potential regardless of any geographic obstacles. Another possibility is that a legal matter between you and your partner will be coming to an end this week. This is most likely the case if you're going through a divorce, but it might also have to do with a court case you've both been in together. Either way, you'll be relieved that it's over.
---
Pisces Horoscope

Feb 19 – Mar 20

Although Venus has been retrograde since March 4, the period after April 2 has been most difficult for you. That's because Venus dipped back into Pisces on April 2. Her retrograde through your sign has forced you to look deeper at what personal changes you need to make in order to improve your current relationship, or ensure that your next romance is more successful. Most likely, this had to do with accepting where, in your love life, you tend to fool yourself. After Saturday, however, Venus will finally turn direct which allows you to put this newfound clarity to work.