Tarot Card of the Day
Ten of Wands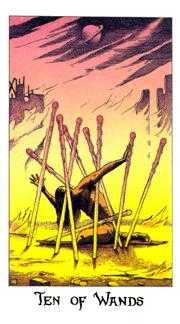 This suit, most often called "Wands" and sometimes called "Rods" or "Staves," represents initiative, ambition, drive and desire. This is the suit of enterprise and risk-taking.
The Ten of this suit represents an all-out effort, an obsessive commitment to a task which demands everything you've got. The person shown in decks with pictures is in no position to rest until he makes it inside the stout walls of the well-defended castle in the distance. If he fails, he will become prey for the highway robbers after dark.
It doesn't matter that he's overloaded and underfed. With this card, you have to do whatever it takes to get to completion — nothing can be allowed to interfere.
Part of the Daily Insight Group ©2019
Tarot Love Card of the Day
The Emperor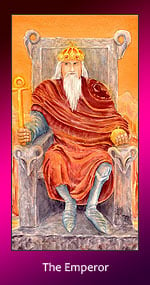 The Emperor card has selected you to let you know that you sow seeds of better things and more fulfilling times ahead. Give yourself permission to reach out for more, especially if you are dissatisfied. You create a solid foundation, built on a sense of higher purpose. If your current relationship suffers from stress, today let tender actions reveal what you may be unable to put into words. Rebuild, from the ground up.
Erotic Tarot Card of the Day
The Pope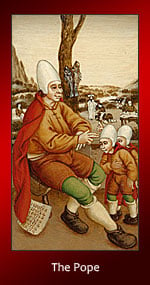 The Pope represents pure masculine energy, and even if you're female you're going to be identifying more with your male counterparts today. The Pope shows you that coming to terms with past mistakes and taking responsibility for them in the present eases sexual tension, so let go of the past to free yourself from your inhibitions. You actually have quite the skill set when it comes to making sexual moves, but waiting until the time is right before taking the plunge can be a real turn-on. Let the anticipation build until you can't take it anymore!