Daily Tarot Love Card for December 13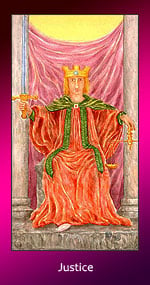 Justice
Justice is a love card. Justice selected you today because you need to know that you can advance dreams when you balance your needs with another's. Both people need to feel loved, because feeling loved is what it is all about. Today, promise to be there for each other and deliver on that promise. If single, do you need to return a favor with a favor? Does someone owe you an apology, or you owe one?
Daily Tarot Love Card for December 14
The Wheel of Fortune
No, this is not the Wheel of Misfortune, but it reminds you that even good happens in a difficult situation. Loss is not a bad thing. It can be an opportunity to find out, for example, why you chose the person you did. In addition, it brings home messages about whether we do too much mistaking of dysfunctional relationships for love. Thank the Wheel for today's advice.