FOR THE WEEK OF MONDAY, FEB 5TH, 2018
General Horoscope

Love goes from surprisingly hot and unpredictable to sweet and sentimental, all in the same week! Venus will be at a gorgeous sextile to Uranus this Tuesday, promising that just when you think you know what's going to happen in your love life, you'll be thrown for a loop. Fortunately, it'll be a happy event that makes your eyes wide and isn't anything that's too unsettling. Venus moves into dreamy Pisces on Saturday where she'll remain until March 6. Love takes on a decidedly romantic turn at this point. We'll all be interested in living the fairytale — even if we're only kissing frogs.
Aries Horoscope 

MAR 21 – APR 19

If you're single, you could easily meet someone online or through a dating app who completely electrifies you this Tuesday. Who cares if it's a work day? You don't want to waste the amazing energy of unexpected love vibes that are happening. Fit that lunch date in or meet up after work for cocktails — it'll be well worth your time. After Saturday, Venus edges into your private 12th house where she'll remain through March 6. If you're in a relationship, you and your sweetie will crave extra time alone together. Spa retreat, anyone?
Taurus Horoscope 

APR 20 – MAY 20

You might be paying more attention to an unexpected career opportunity early in the week, leaving little time for romance. But don't worry, love will be calling your name by the weekend! After Saturday, you'll have plenty of opportunities to mingle with friends at events that truly bring you pleasure. If you're in a relationship, then you and your sweetheart will enjoy all this time hanging out with your coupled friends. If you're single, it's possible that a romance between you and a pal will blossom or that you'll be ready to meet your next love while you're out and about. Prospects will be everywhere!
Gemini Horoscope 

MAY 21 – JUN 20

Spiritual wanderlust in your love life will not go unfulfilled this week. Your partner will explore new philosophical, religious, or metaphysical territory with you either through a workshop you attend, a book one of you is reading, or a conversation that takes an unexpected direction. After Saturday you'll start to receive serious career support from your significant other. He or she might brag around town to everyone about how fabulous you are at what you do. You'll be glowing! Single? It's possible that someone with a high level of influence in your professional world has his or her eye on you. Don't be surprised if you're asked out on a date. Say yes!
Cancer Horoscope 

JUN 21 – JUL 22

Don't be surprised if you benefit financially from your partner in some way. This is more likely if you're living together or married since you're probably already splitting the bills. Your sweetheart might give you happy news about a raise, bonus, or commission check that's extra generous. If so, he or she will want to splurge on something nice for you. Single? A mystical and sentimental person who has a strong psychic connection to you might come into your world after Saturday. Trust your intuition on this one. He or she might be your next soul mate.
Leo Horoscope 

JUL 23 – AUG 22

An electrical current of excitement will run through your partner's veins early in the week, prompting him or her to take the both of you out of any rut in your relationship. He or she wants to have a unique experience with you and this should be quite a sensational ride since you'll be up for anything. As if that weren't enough, you'll be exploring the depths of your erotic connection in a more loving, open way after Saturday. Sharing your innermost fantasies and fears will bring you closer than ever.
Virgo Horoscope 

AUG 23 – SEP 22

You and your lover are enjoying switching things up in your relationship this week. It might only be your routine, such as where you go food shopping or what restaurant you dine at, but it might also have to do with your mutual fitness goals. One of you may suggest a different type of workout such as CrossFit or hiking instead of your usual couple's jog. It'll be more fun than you think! You might start to become much more serious about someone you've been casually dating after Saturday. This deepening of your heart can even lead to a decision to go exclusive or move in together. Wow!
Libra Horoscope 

SEP 23 – OCT 22

A jumpstart to your heart in the most surprising way is likely this week. If you're in a relationship, your partner will do something to send those butterflies to your stomach in the way you felt when you first met. It'll be nice to know that he or she still has this magical power over you! If you're single, it's possible to meet someone as you pursue an unusual creative endeavor or recreational activity this Tuesday. This person will have a sense of adventure and just the right amount of weirdness to turn you on! Venus moves into your work sector after Saturday, making it easy for you and your sweetheart to share space and chores around the house diplomatically. Yes, that means you won't have to ask for your love to take out the garbage or pick up the dry cleaning. He or she will just do it.

Scorpio Horoscope 

OCT 23 – NOV 21

If you've been going through any rough patch in your love life, either feeling as if no one will ever want you again or struggling through a difficult situation with your current partner, then it'll all change after Saturday. That's because Venus, the planet of love and harmony, will move into your romance sector, helping you attract sweetness and light into your current relationship. At the same time, this will also bring supportive energy to attract new love if you're single. This is a win-win transit no matter what your current romantic status. Enjoy it!
Sagittarius Horoscope 

NOV 22 – DEC 21

An unexpectedly shocking conversation with your lover will leave you feeling liberated, yet somehow more deeply in love than ever before. It's likely that this dialogue will support your capacity to express your inner weirdo without being judged for it. In fact, you'll feel freer to be yourself than ever before, possibly more than with anyone else before in your life. This is huge, Sagittarius, and it's exactly the kind of stimulation that feeds your soul for romantic love to grow. Keep watering that plant because something magical is blooming.
Capricorn Horoscope 

DEC 22 – JAN 19

If you've been dating someone, there might be an unexpected twist in your relationship that makes you suddenly want to nest together. That's right, you might spontaneously decide that it's time to officially move in and share living space. This could be anything from a weekend arrangement to a more full-time situation, but whatever your personal details are, it will be a sudden and exciting move for both of you. Another possibility is that you'll unexpectedly meet each other's family in a context neither of you expected. Don't worry, it'll be a positive interaction, and you'll end up grateful for the unconventionality of it all.

Aquarius Horoscope 

JAN 20 – FEB 18

You'll have the edge of Venus moving through your sign until Saturday, so don't waste the final days of this spectacular boost to your love life! Not only does Venus in Aquarius help you look and feel more beautiful, but she also helps you attract harmony in your current love life situation with greater ease. If you're single, you'll have an easier time meeting someone because you're emanating love vibes without even trying. Pay close attention to what happens on Tuesday when Venus is at a gorgeous angle to Uranus. An unexpected conversation with a stranger can quickly turn into so much more.
 Pisces Horoscope 

FEB 19 – MAR 20

There's some kind of secret information about your love life that's boosting your ego in the most fascinating way. Perhaps you're indulging in a clandestine affair but that doesn't have to be the case. You might quietly become engaged or even get married Las Vegas style! It's equally possible that your lover is about to surprise you with a secret that will make your heart soar. Venus will move into your sign after Saturday, making you the "fairest of them all." Enjoy the beauty queen status through March 6. If you're single, make it work for you!
Tarot.com is Part of the Daily Insight Group ©2018
 Your Daring Dating Horoscopes for the Week of February 5
David Wells, Astrologer
From The Astrology Room
Aries
You're no stranger to the game, it's not your first rodeo, but someone is giving you the run around. That only serves to make him or her more interesting to you Aries, but is that a good thing? There's really no way of telling, other than running around after them and seeing what happens when you eventually catch up. Or they let you catch them more likely?
Taurus
What you can't see is the effort, the planning and the layers of body hugging elasticated underwear that goes into the way someone is presenting themselves, but then again, you're not supposed to. What you're supposed to see is wow! He or she is working it, and it's all for your attention. Maybe show a little appreciation; you think?
Gemini
If a new squeeze is offering you the chance to review where you're at, take it, listen to his or her assessment of the relationship and then give your state of the union address. No fake news thought Gem, tell it how you really see it and if that comes with some tough words, see it as a chance to clear the air for that's exactly what it is.
Cancer
When you're in the mood for some TLC who do you turn to? Is it your bestie, do you have a partner, maybe it's the cat or how about a tub of funky-clunky ice-cream? An observant sort has noticed you're a bit off and may offer nothing more than the extra coin you need for hideous machine-made coffee, but they' noticed. Notice the noticey-sort.
Leo
It's pretty full on in your relationship sky and now that Mars is in your new love sky too it's Hubba-Hubba time! Playing it cool is good, too cool may not work, and what definitely won't work is letting someone know how lucky they'd be to date you! Find the right temperature Leo, turn up the heat gradually and he or she won't be able to resist. Is it hot in here?
Virgo
Girls just want to have fun, boys too, and that's a good thing. No matter whether you're looking for the love of your life or someone who loves life with no expectations this week could bring a happy, shiny face your way. Smiley may not be your preference on your daily commute, but for this face you'll make an exception. Eye contact on public transport? Your outrageous!
Libra
When you have the chance to work with a lovely Venus you should do your best, especially as she's leaving your new love sky next week! Take what she has to offer, the social invitations, the flirting, the hi when you least expect and flirt right back Libra. One week, from the 10th she's rearranging your work schedules. Just saying.
Scorpio
What is going on with your love life Scorps? It's on, it's off, it's bit meh and then it's not what you were looking for, really miss him or her and isn't it great to be on your own. Right there! That's what's not happening. Focus. In order to help you find what you're looking for, first be clear about what you're looking for. Take a breath, take a chair, a coffee and donut. Whatever.
Sagittarius
Mars is moving closer to zapping Uranus into life, so it might be time to get off your complacency and see what you can do to bring some life back to your ardour. Eat more greens. Or maybe it's saying yes to those last-minute invitations, that sometimes-annoying change of plans or general ways you can shake up your routines. Meet more people.
Capricorn
Setting yourself free of the judgements of others isn't something you need to deal with Capricorn, to be blunt about you don't care what they think, that's not a cavalier disregard for folks, it's just the truth. That straightforward approach is what someone likes about you, really likes and he or she will be telling you that. A compliment holds more than you think.
Aquarius
Venus is in your sign for another week, then she's off to look at what you've been spending your money on. If you're looking for romance, clearly having Venus in your sign is a good thing Aquarius, she turns up the glamour for sure and with next week's new Moon in your sign maybe it could be a glamorous night out with someone new?
Pisces
Sacred thing a relationship, we don't stop to acknowledge that sometimes, but it's a position of great trust to be in a relationship with someone and when it doesn't work out, there's a lot to process. This week may be about processing the old to make way for the new, taking a walk someone lovely, spending time saying farewell to the old to make way for the new?
Your Daily Horoscopes for the Monday, February 5th
Aries
Good intentions can be behind a promise made or a new endeavor, particularly with friends, but if plans are not well laid out, this may very well be a burden later on, dear Aries. Moods can swing today, and it may be useful to remember that the higher you go, the harder you fall. This is not about restricting happiness, but instead distinguishing between a whim and a genuine desire. Cultivate emotional self-control for the essential things. Otherwise, indulge yourself! There can be increased enthusiasm for a partnership or a relationship today. Even so, you're not interested in connections that are restrictive or limiting, and you'll go out of your way to make sure others afford you enough freedom to be yourself and do your own thing as the Moon in your partnership zone opposes independent Uranus in your sign
.
Taurus
The inclination today may be to try to push a situation forward, dear Taurus, as you may be entertaining high expectations, or you could be tempted to make splashy, bold moves. However, conditions are such that overreaching and falling are more likely than usual today with Jupiter in your partnership zone challenging Juno at the top of your chart. Going a little overboard might be fun now, but for the critical things, it's better to respect your usual boundaries. Clashes of goals with a partner may seem glaring today, and it may be time to consider ways to see eye to eye. While you're enthusiastic about doing your share or making a dent in your "to do" list today, you can be wrestling with distractions and a bit of rebellion, too.
Gemini
It can be tough taking others' advice today, dear Gemini, so try to keep yourself in the position to manage your own resources. If you're worried about getting advice you don't want, you may decide to keep things quiet until you're more confident about your plans, for example. The day's energies make it rather difficult to gain understanding or to get a word in edgewise at times. Today is good for nurturing your desire to create, stand out for your unique qualities, or simply enjoying favorite pastimes with the Moon in your solar fifth house most of the day. Distractions and mixed feelings are highly likely now, but try not to let these things rule.
Cancer
Your nesting urges are stronger than usual today with the Moon spending much of the day in your home and family sector, dear Cancer. While you want to settle in now, the sense that you need to make changes to your projects, business, relationship, or life path can lead to some anxious feelings. Remind yourself that taking things one step at a time will work better for you in the long run. There is some tendency to focus on the differences in your relationships rather than the things that bond you together. Part of you is seeking something light and another equally insistent part wants to go all in. Until you get in touch with your true needs, you may feel a bit on edge today. Taking the pressure off makes sense now.
Leo
Mediation may be in focus today, dear Leo, although a little tricky with a Juno-Jupiter square active in the first half of the day. There is a tendency to take differences of opinion or chosen methods a bit too personally. Some of you could experience conflicts between the demands of family and partnership under this influence. Keep expectations of others and yourself reasonable for best results. Going all out now is not necessarily going to improve your life, even if it feels that way at the moment. You may need to watch for impatience in your communications. However, you have every chance to resolve problems. People are drawn to you for your ideas and intelligence today, and you may even grow a bond through your choice of words and unique perspective.
Virgo
There is a tendency to butt heads with others today, dear Virgo, over issues that don't mean very much at the end of the day. Watch for taking a disagreement too far now. Clashes tend to be most prominent with someone you work with or with whom you pursue your routines and daily affairs. It's a good time for connecting with the practical matters of your life with the Moon spending much of the day in your solar second house. Some indulgence may be precisely what you need now, but excesses should be avoided. Aim to get in touch with the actual source of any discontent you may experience today. Fortunately, a Moon-Venus angle reminds you of what's to love about your work and routines.
Libra 
The Moon is in your sign much of the day, dear Libra, and you tend to prioritize your emotional needs. There can be some frustration with family roles or a relationship if you feel pulled in many different directions, but it's just fine to put your needs first today, with moderation, of course. As well, you're in a great position to make changes and improvements through conflicts or tension emerging now. A square between Juno and Jupiter today echoes some of the themes of the recent Venus-Jupiter transit, making it especially important to avoid borrowing from your future through extravagance. What you crave today may not have much staying power. Keep expectations of others realistic, especially with matters of the heart. Clashing values and priorities are prominent now, but you can choose to focus on what's working instead. The Moon's trine to your ruler, Venus, helps this process.
Scorpio
Be kind to your mind and body today, dear Scorpio, by keeping expectations reasonable and by avoiding the tendency to go over the top. There is a tendency to clash with someone over differing values and priorities, but focusing on similarities may be the solution. Emotional judgment can be a little off, and moods can swing, but you're in great shape for seeking out easy, restful, and healing moments and activities. This might involve forgiving past wrongdoings or throwing out an attitude that's been working against you, which is a beautiful gift to yourself. This is a day for taking stock, staying in the background, and laying low.
Sagittarius
Benefits come from reaching out to others today with the Moon in your solar eleventh house much of the day, dear Sagittarius. For some of you, a friendship can blossom through a kind gesture or simple contact with the Moon's harmony with Venus in your communications sector. You may be feeling quite happy and relaxed in a group setting or with associates. Take care with your social calendar or the taking on of new projects, as there is a tendency to go over the top this week, with good intentions. Watch especially for taking on too many side projects. Take promises made with a grain of salt, try to weed out gossip and fluff, but pay attention, as you could learn something useful now. Relationships suffer today when we play tit for tat or try to score intellectual points instead of considering all sides.
Capricorn
On both social and financial levels, be on the lookout for hidden costs today, dear Capricorn. There is a tendency to go big and ignore important details now. However, bigger isn't always better, as you know well, and you might need to remind yourself of this today. The Moon spends much of the day at the top of your solar chart and harmonizes with Venus. You may be in a position to take the lead, to shine through meeting a responsibility, or simply to enjoy recent successes. You're coming across well on professional or public levels. There can be some disruptions on the home front or some inner rebellion to deal with, but otherwise, it's a fine time to take care of business.
Aquarius
You can find yourself rather hungry for experience and knowledge today as the Moon transits your adventure sector for much of the day, dear Aquarius. Excesses have a way of bringing about consequences going forward, however, and a major key to success is taming impulses to go overboard today as Jupiter forms a square to Juno in your sign, after doing the same with Venus in your sign just recently. Avoid turning to others to find your own happiness now, as may be the inclination under these influences, and aim to make it yourself. Watch also for taking on so much that you feel overwhelmed with things to do and confined by your own choices. Debates can turn into major events as we seem to be noticing what's different more than what's similar. Try to sidestep the temptation to do and say more, when keeping within reasonable boundaries is better for you.
Pisces
We're inclined to try to push something too soon today, dear Pisces, but because new endeavors tend to burn out quickly if they're merely whims, it makes sense to second-guess yourself to make sure desires are real. If you're feeling unusually good, you might be tempted to sign up for more than you can later deliver. You may be see-sawing between wanting some time to yourself and doing something new and brave, which can take up far too much of your time now! New insights into a partner, a relationship, or even your own behavior can arrive today if you're looking for them as the Moon in your intimacy sector harmonizes with Venus in your soul sector. However, you can be a little commitment-shy just for now as the Moon opposes Uranus.
Source
Your Horoscopes for the Month of February
Claire Petulengro, Asrologer
From The Astrology Room
ARIES (March 21st-April 20th)
Life isn't about finding yourself this month Aries, it's about creating yourself. News from far away gives you reason to be glad you made the decisions you did at the end of the year. Someone has learnt a very painful but valuable lesson thanks to you. A new attraction makes your working life a little awkward. It would be worth your while trying to find the numbers or e mails of some old contacts just in case. You may not realise it, but you earnt friends in high places last year.

TAURUS (April 21st-May 21st)
Things may not go to plan this month, but you will get to see an alternative way of doing things. Don't think things aren't possible my friend, you know they are. When you reach the end of your rope, simply tie a knot in it and hang on. If you can stay positive towards those you are dealing with, especially between the 10th and 16th, all those you meet will help you. I can see you suffered from a lack of confidence, but if you can focus on what can be done rather than what can't over the next few weeks, then the world really will be your oyster.

GEMINI (May 22nd-June 21st)
Be your own guide during February and think about how you want to spend your time leading up to Valentines Day. By allowing your heart to take the lead, you can make this one of your most romantic months in a very long time. A home 'problem' can and will disappear of its own accord if you give it more space. Your ruling planet Mercury often makes you a little pushier than you can afford to be. It would be worth your while slowing your pace, so you can enjoy life at a better pace and from a better view.

CANCER (June 22nd-July 23rd)
Jealousy is never a nice trait and yet its one which you can't help feeling at the moment, isn't it my friend? Try to use your time a little better this month. Arrange something for Valentine's Day with the person you want to spend it with, not who friends are pressuring you to be with. A work problem mid month offers you the chance to shine. Don't be afraid to pull old talents out of the bag. You think you turned your back on certain areas of your work, but 2018 would be the perfect time to bring them out and update them.

LEO (July 24th-August 23rd)
I know you've been hurt and I know you're not sure if you can trust again. Trust me though when I tell you that you can. Younger faces give you back your mojo. Help you give them will earn you the respect which I know is so important to a fire sign such as you. Saturn and Mars make it hard for you to understand financial discussions. The truth is that you haven't really been aware over the last few months of what your incomings and outgoings are. Working this out before the 10th will prove invaluable.

VIRGO (August 24th-September 23rd)
You can't use up creativity. The more you use the more you have. This is a really great month for you to work out the game plan for 2018 which you found impossible to sort out in the New Year. Don't feel bad, but recognise that you have had a lot on your plate in recent months. The pressure lifts from the 14th though, when you get to see with clarity who's on your side. You seem to be thinking more and more about someone you used to have feelings for. Try to realise and accept that you were too good for them then and you're too good for them now.

LIBRA (September 24th-October 23rd)
A job opportunity which you thought had passed you by, can be open to you again if you let those around know you are interested. This is a month of major news and changes for key figures in your life, but it makes your day to day living an easier place to be with less responsibilities. Make sure your passport is in date my friend as I can see that the coming months are going to be offering your best opportunities for travel that you've ever had. You don't want to miss out now do you?

SCORPIO (October 24th-November 22nd)
This is the month you finally realise you're ready to make some major commitments. You find peace with your thoughts as they no longer sway from one extreme to the other, but they all make perfect sense now. Just don't let a so-called friend unnerve you with their out of date opinions around the 10th. You know what you want out of life and you also recognise now when you are saying yes for the sake of it due to social pressures. Stand tall and remember that you're a Scorpio!

SAGITTARIUS (November 23rd-December 21st)
Do you know you have the power of happiness in your hands? Why do you insist on looking back to the past? You learnt your lessons, now use them to make this the month you make that change which is in your heart but has to be relayed to your head. An old friend re enters your life and brings the laughter back. It has been a while since I have heard that hearty laugh which we associate with your sign, but I'm glad to see that it will be coming back in abundance and about time too.

CAPRICORN (December 22nd-January 20th)
I can see your feelings have been hurt. I also see that you will get through this. You of course can't see the wood for the trees yet, but you can by the 2nd if you choose to sit in the driving seat instead of the back seat of your own life. Uranus makes you more perceptive than usual. Use the newfound power he gives you to feel your way to the right choices. Family seem to be placing unfair pressures on you from the 16th and it's important you learn to talk not shout at them so that you can be seen by others as the bigger person. You can do this!

AQUARIUS (January 21st-February 19th)
How can you get through your problems Aquarius? Well, you start by doing what's necessary, then you do what's possible and before you know it you are doing the impossible. Don't worry about what others think this February, but act from the view of what you think is right and wrong. It's how you will be able to live with upcoming dramatic choices. An ex wants to say sorry, but you're not sure you're ready to accept it. Remember hearing these words does not mean you have to let them back in, it can simply be a case of giving you closure.
PISCES (February 20th-March 20th)
I know you have been feeling negative because of the lack of help you've been getting from friends and family. It's fair to say that you've felt alone I know. Change your thoughts by the 12th and you can change your world. All you want can be yours if you can recognize the fact that you hold the power to make great things happen. Paperwork and the written word is more important than usual. You start to see that the future can be more special than you had dared dream. Ring now to hear how the past and present can be combined.
If You Were Born Today, February 5
You enjoy surprising people and whether you want to or not, you often remain a bit of an enigma to the people around you. You have a strongly intuitive side. Although you are actually quite accommodating and kind, you need to feel stirred and inspired in order to do something. You are following your own instincts and being true to your heart, and although it might seem like you are stubborn, you are also very original and honest. Famous people born today: Hank Aaron, Barbara Hershey, Christopher Guest, Jennifer Jason Leigh.
Your Birthday Year Forecast:
With the Sun and Moon in harmony in your Solar Return chart, the year ahead should be satisfying and balanced overall. You are in comfortable demand and personally popular, and you are able to achieve a decent balance between work and play; personal and professional life. For the most part, you are on top of your game this year, and positive connections with others can be made fairly easily. With the ability to handle your emotions successfully, there is less stress on both your mind and body. Your self-confidence and positive attitude will reward you!
Especially good energy is with you for debate or energetic mental work. You benefit from an active and clear mind this year. This can be a good year to eliminate wasteful activities. You may be involved in frequent lectures, debates, and discussions during the year. You can convey your ideas more powerfully than usual. You are quick to take the initiative and to put your thoughts into action. Adventuresome travel may be part of the picture. You may be more actively involved with young people.
You are seeking out equal, fair, and balanced relationships. There can be a stronger inclination towards togetherness and sharing, creating harmony, and sharing power now. You may gain an advantage in business or finances or by promoting harmony and beauty.
You're in a particularly good position for social meetings and events this year. You're inclined to happily embrace all that is new, unusual, and out-of-the-ordinary with regards to romantic involvements as well as financial undertakings. This could be a good year for financial undertakings involving electronics, technology, the internet, metaphysics, and the arts, as well as group activities. You have a taste for the offbeat this year, and this energy can bring sudden or unexpected romance into your life, perhaps a scenario that feels like love at first sight.
You have a stronger ability to direct your energies into meaningful activities. In some ways, you can be quite self-contained as you pursue passion projects.
The Sun conjuncts the South Node in your Solar Return chart, indicating that you are likely to be dealing with karma in your personal relationships. You may be feeling hesitant about pursuing your goals or "taking" what you want from life at times. Relationships always mirror our own inner conflicts, but this year, you are bound to find particular meaning in your relationship dynamics in terms of your own life path.
Cooperation with others brings rewards this year. This is an excellent period for enterprising endeavors and new interests. You're drawn instinctively to certain projects that have long-term value. It can be an especially creative, tuned-in year for self-expression, not only verbally but through hobbies, games, or sports. Even so, you're especially charming and diplomatic, investing much in your relationships.
2018 is a Number Nine year for you. Ruled by Mars. This is a year of completion and transition. It is a time when we need to let go of things that no longer serve their purpose, and hold on to things that have a future. It is a time of cleaning out dead wood, not necessarily for new beginnings. It can be a time when a burden has been taken off your shoulders, and it can be a year of giving of yourself. Advice – let go of things that are holding you back, give of yourself and express your sympathetic, compassionate side.
2019 will be a Number One year for you. Ruled by the Sun. This is a year of action. The seeds you plant now, you will reap later. Others might find you less sociable, as you are busier than ever and you focus on your activities and your needs. Still, you are outgoing and your initiative is stronger than ever. Advice – Stand alone, take action, start fresh, express independence.
Source
Get A Jump On Tomorrow…..
Your Horoscopes for Tuesday, February 5th
Aries
Both Mercury and Venus in your friendship and community sector form easygoing aspects today, dear Aries, and you can find yourself in a good position with a friend, network, associate, or regarding an enjoyable pursuit. Cultivating relationships, not only with friends and networks but also in partnership, can be as simple as trying something new together. A Venus-Uranus aspect can bring a pleasant element of surprise the mix. There is a good spirit of openness, adventure, and progress that becomes you. This can also be an active time for inventive new ideas, dreams, wishes, plans, and possibilities. Look to friends and group activities for opportunities to mingle with someone special. Inviting energy is with you for all things romantic and social, but also for shopping and finances. You are attracted to new-fangled, improved, and progressive objects, people, and ideas today! You're in a good position for sound choices and hard work related to publishing and communications projects, as well. It may be a good time to talk shop with associates or to run business ideas by friends.
Taurus
Your personality is more progressive and open than usual today, dear Taurus, and you may have a nice bounce in your step as you don't feel weighed down by problems. This is the nature of Uranus as it looks to the future and is anxious to grow, improve, and move on. Your ruler, Venus, forms a pleasing aspect with Uranus today, and is presently at the top of your solar chart, benefiting your professional or public life. You are in the position to charm superiors, and perhaps a few people in your personal life as well. There can be an opportunity to draw upon your inner wisdom to solve a problem. You're bringing inventiveness and unique insight to the day, and you may very well get credit for it. You're not abandoning traditional ways that have served you well, but you're trying out something new now, and it's working for you! Financially, your ideas can be golden right now. You might thoroughly enjoy pouring concentrated energy into some research or a special project.
Gemini
Experimenting with ideas can bring you opportunities now, dear Gemini, and so can networking. Learning, sharing, promoting, and publishing can be in good form today as Mercury and Venus, both in your sector of the higher mind, form harmonious aspects to Vesta and Uranus, respectively. You seem to intuitively know future trends, enabling inventive, timely ideas and solutions. New friendships are possible for some of you, and refreshing or renewing current connections can be in focus for others. In fact, this is one of the best times of the month for connecting and sharing. This can also be a time for putting substantial effort into your projects and making real progress. Intellectual exchanges are not only enjoyable, but they're even fruitful now.
Cancer
With a Venus-Uranus connection today, dear Cancer, people tend to move past problems more readily and embrace new attitudes. Take advantage of this for letting go of frustration or insecurity and trying something new, yourself. Negotiations can be successful. There can be a happy intimate connection, a financial advance, or a workplace or reputation improvement that puts a spring in your step. People on the job may be seeing and appreciating you for your unique input. Problems can be solved, not necessarily through great effort or focus, but through a general willingness to let things go and put things behind you. Some of you might enjoy surprise freedom from an obligation. However, with a Mercury-Vesta aspect also active today, you may very well enjoy pouring extra energy into organizing, working, or researching something important to you. You can be excited about finding solutions to problems or for making life a little better or more comfortable.
Leo
You're in a great position to see things more clearly and comprehensively if you take a partner's viewpoint into account today, dear Leo, as well as for advancing and growing a close relationship. It's a promising time to consult with someone special in your life or to put your heads together to come up with inspiring ideas. What emerges in a partnership or friendship today can be very productive, and if not, at the least you feel you can move past problems. This is a good time for connecting with others who inspire you mentally, or there may be a mind-expanding experience today. Relationships are enlivened and refreshed with an especially open approach to one another or sharing different experiences and activities. You may be attracted to someone with an interesting mind or drawing people to you who appreciate your unique way of thinking.
Virgo
This is an active period for work and health improvement, dear Virgo, with a strong showing in your solar sixth house. Today, Mercury and Venus in this sector connect well with Vesta and Uranus, respectively, facilitating tangible progress and a gently motivating spirit of looking forward and moving on. New methods and plans for self-improvement, work, wellness, or routines are exciting now. Solutions to problems are unlikely to be traditional ones, or they aren't arrived at from a conservative mindset right now. Positive vibes while pursuing your daily routines or in your work are likely today, and to some extent this week, and quite possibly, social opportunities can emerge. You may have new ideas — or discover alternative methods — related to health, nutrition, the organization of your daily life, or fitness. Relationships benefit from an open, accepting approach to desires and needs, and cooperation comes naturally today.
Libra 
Others are unlikely to turn you, or your plans, down today, dear Libra. You can make good headway in a creative or communications project, and studies are likely to go well, particularly if you apply yourself in a step-by-step, traditional manner. You are more focused and willing to put in the effort necessary to make substantial progress. At the same time, there is a cheerful spirit of growth to the day that feels good. Others are drawn to your quirkier, more unique qualities, which you're happy to share. There can be lively exchanges with a love interest, friend, or child. You can turn around most any problem or boring situation with a fresh and fun approach. This can be a day of a surprise invite for some. In some way, you are breaking out of an old pattern now, and new approaches to people and projects in your life bring rewards today.
Scorpio
You're in an excellent position for arriving at happy agreements with others today, dear Scorpio. A Venus-Uranus sextile adds a pleasant element of surprise and perhaps a bit of genius to your interactions. You instinctively know how to approach situations in the best way possible. Family, home, and work matters can move forward pleasantly, particularly if you are open to new ideas for improving your situation as well as trying out new and improved ways of relating and integrating. New or alternative methods of approaching health, domestic, and work matters are likely highly useful to you now, deserving a second look. Venus-Uranus is also helpful for getting over things or moving past grudges, insecurities, and resentment. Practically speaking, this is also a beautiful day for problem-solving. An organized, loyal, dedicated, and committed mindset helps you get through pretty much anything now.
Sagittarius
You're in excellent form today both socially and practically, dear Sagittarius thanks to Venus-Uranus and Mercury-Vesta sextiles. Vesta in your sign suggests a stronger ability to concentrate and focus on what means the most to you. While the Moon points to some need to keep a low profile to catch up on rest (or healing) today, whatever you do now tends to work out for the best. This is a good day for romantic matters, learning, sharing, and connecting in general. You feel freer and more spontaneous as you interact with others, whether in person or through writing. There can be interesting things to learn from a sibling, classmate, child, or friend. There can be much enjoyment derived from learning endeavors. Updated technology or new gadgetry can open up a new channel of communication for you. Even the most casual of mingling can lead to good things. You're making smart decisions and seeing your priorities. You are likely to give good advice and to be specially regarded as someone who knows what they're doing or is committed and focused.
Capricorn
With openness to new ways of doing the routine, dear Capricorn, you can have some fun and make progress today. Both Mercury and Venus in your finances and values sector receive harmonious aspects, pointing to opportunities. It's a good time for financial matters and even for shopping or acquiring new things. You might discover a fresh interest. Home improvement efforts can be successful now. You are a little more daring and willing to experiment with designs, ideas, and ways of relating to others. Practical, business, and financial affairs can benefit from some fresh thinking. Inventive solutions to problems are yours to discover. You can find yourself pleasantly committed to a money-making project or to enjoying and taking care of what you own.
Aquarius
This a potentially excellent day for personal plans and personal appeal, dear Aquarius, with both Mercury and Venus in your sign forming harmonious angles to Vesta and Uranus, respectively. Venus in your sign in harmony with your ruler, Uranus, increases your powers of attraction, mainly through your communications. People regard you well right now, appreciating your unique qualities more than usual. There can be good news received, but it's also entirely possible that something you communicate, or how you deliver your message, is helping you achieve what you desire. Using the power of words to attract what you want or for furthering your interests and goals can work well for you now. As well, your thinking is especially sound. There can be minor social blunders or mild misunderstandings to sort through, but excellent opportunities for getting organized emerge now. You're in a good position to speak with authority, focus on something important to you, and throw extra energy into a project you love.
Pisces
Energies today are both practical and freeing, dear Pisces. Through interactions with others or pleasurable pastimes, you can let go of some inhibitions and enjoy yourself more thoroughly. This is a time for growing and improving situations, relationships, attitudes, and projects through a spirit of openness and with a progressive approach. With increased freedom and respect, relationships flourish now. However, good things may come instead as the result of moving past something, letting it go, and moving on with Uranus involved. This is a great day in a strong week for thinking and processing, as well. Sound energy is with you today for doing some solo or quiet work. Reorganize or sort through something that requires concentration, or pour extra energy into an enjoyable hobby, some research, or a pet project if possible.
Source
Your Dark Stars Horoscopes for the Month of February
Jane Lyle, Astrologer
From The Astrology Room
ARIES
Working on joint projects and sharing ideas brings joy and inspiration this February. But keeping your options open would be a wise move. A lively solar eclipse on the 15th sparks the unusual and unexpected. There's fresh information and points of view, and everything shuffles around into new patterns. Some of this relates back to last summer – what seemed like a well-mapped route then could now turn out to need some fine tuning. Maybe you develop a crush on one of your workmates, or maybe you have a vivid dream that beckons you to explore faraway cultures and landscapes. Basically, if you expect the unexpected you won't be disappointed. After the 19th you're mulling over what you really want in the weeks before your astrological year begins in March. Give yourself time, and don't panic. Love, community, and friendship are massive themes for you this year. So why not make some space for things to unfold in their own way, and keep a wide open mind?
TAURUS
It's always disappointing when others let you down. But flaky individuals can be weeded out now, and your precious energy can be channelled into projects and friendships that enrich your life instead. Shake-ups inevitably accompany a bright and buzzy solar eclipse mid-month. It activates your career zone, and poses questions about your place in the world, and your secret hopes and dreams. There'll be one or two mysteries as well, and these will take time to unravel. This isn't a passing phase, it's part of an important longer-term reshaping of your life direction this year. Visionary moments blossom when Venus embraces dreamy Neptune between the 19th and 21st – you're inspired by music, beauty, female friends and the magic of love itself. Where this leads you becomes clear towards the very end of February and beginning of March. Keep a close eye on your cash – especially online –  but remain willing to consider all kinds of everything.
GEMINI
Enjoy the airy eccentricity of Mercury in Aquarius, and February's Aquarian eclipse too. They stir your free spirit, and even if you're stuck at home you'll be dreaming of the far horizons from time to time. Some of those distant shores can be reached via your imagination, while exploring new ideas or studies can also feed your sense of adventure. A spot of musing is now essential, for 2018 is looking very different from the past few years. Saturn left your opposite sign, Sagittarius, in December, but it takes time to absorb all the lessons you've learned – particularly when it comes to your partnerships and long standing associations at work. There's much to discuss. If something has ended, you should know that it had reached its limits and you are now free to move forwards, or choose to weigh up your options in your own time. Later this month you'll have some fascinating encounters and conversations that refresh your ideas, or open the door for a valuable new friendship or love affair. Money could be in limited supply, but satisfaction and inspiration are abundantly available.
CANCER
The lunar eclipse at the end of January revealed a whole raft of things for you to think about. Perhaps you got diverted by financial matters, but your instincts tell you that there's much more going on. Further food for thought arrives with a solar eclipse mid-month, which emphasises shared financial situations and also raises questions about the emotional and financial support you receive from others. What's truly valuable may surprise you, as how you really feel about certain issues and associations emerges from your subconscious. Endings and new commitments are both brewing up in 2018, but you must do some serious thinking first. Beautiful creative, spiritual and romantic energy builds as the weeks pass – so try not to worry too much. Jupiter in Scorpio is firmly on your side this year, expanding a playful and creative side of yourself you'd almost forgotten – or even suppressed. You'll attract luscious opportunities for love and self-expression once you allow yourself a little more imaginative freedom. Let go, and see what happens!
LEO
News from far-away places intrigues you, sparking your imagination and desire to learn more. Go your own way when you can, for others are in a restless mood and you may not be able to rely on them. Currently, as the Sun moves through your opposite sign of Aquarius, you're inclined to look back over the months since your birthday. You are half way through your personal zodiac year – how's it going? Questions about satisfaction and fulfilment arose in January, and now a crackling eclipse in Aquarius, plus Mars in flirty Sagittarius, stirs the pot still further. Perhaps you want to reassess your relationship, embrace a hot romance, or clear up some misunderstandings in a long-term professional partnership? Take it easy, and bear in mind that you won't have all the facts, indeed – certain vital information may remain hidden until later in the spring. Travel, or learning about something that fascinates you, brings more joy than endlessly chewing over difficulties in your relationships. Clarity will arrive eventually. Meanwhile, zen is the word.
VIRGO
Partners or neighbours seem keen to renovate both homes and gardens this month. You may find this quite stressful, since you prefer to do things at your own speed. Ignore them if you can, and focus on those groups of friends you really enjoy spending time with. If you can throw some exercise into the mix, so much the better, for February's vibrant solar eclipse spotlights your well-being. And part of feeling good is all about friendship and shared activities. Something you once enjoyed is on its way back into your life – and this could include a long-lost friend, lover, or acquaintance. When you stop to think about it, you'll see patterns of the past resurfacing in both your social life and your romantic partnerships. With Saturn now in Capricorn, time and karma are making themselves visible to you – with news and events from mid-February onwards bringing chance encounters and communications. Yes, there's much to ponder and probably some unfinished business to conclude. Stay flexible, and you'll learn a lot.
LIBRA
Heart-warming surprises are on their way for many Librans. You could reignite the passion in your long standing relationship, or find someone new if you're single. You may even be invited to create some new project with an old associate, or receive an intriguing offer from a former colleague. All of this is just the beginning, so why not enjoy feeling more creative or romantic and maybe even take a tiny risk or two? Preparation now will pay off later in the year. Just don't be put off if something seems unconventional or unusual in some way. Cautiousness is wise when it comes to your home and any financial or property matters, but a more open-minded attitude and sense of curiosity is what you need when it comes to your personal and social life. You can then choose what feels right for you, try something different, and take off in a new direction in a few months' time.
SCORPIO
Maybe you believe in karma, maybe you don't. But you'll be thinking about the phrase 'what goes around comes around' this February, for developments linked with your past are waiting to unfold. Now, this can be very good news as you benefit from all your hard work – which may sometimes have seemed like an endless, unrewarding slog. For many of you, it's high time you reaped some fabulous rewards, and the potent ongoing link between upbeat Jupiter in Scorpio and powerful Pluto, your ruler, holds much promise now, and for the year ahead. What might need more attention is your family, friends, or romantic partner. And this is where you'll see patterns and learn lessons that are rooted in past decisions. The solar eclipse mid February acts as a catalyst, throwing up all manner of questions about love and commitment for you to consider. What you've said or done in the past refuses to stay there, so you can expect to bump into people, or have conversations, that invite you to reassess. You may even get an apology from someone, or realise you should make amends yourself. All of this frees you to be yourself, and make the most of what life has to offer.
SAGITTARIUS
Mars in Sagittarius promises to boost your optimism and joie de vivre this February. Meanwhile, the Sun, Mercury, Venus plus a fizzy solar eclipse in Aquarius spark up all kinds of news, encounters, and your own urge to talk, write, and buzz about the place. If you want to promote yourself, spread the word on social media, or make new contacts – now's a positive time. Your sexy, magnetic qualities sparkle brightly, especially while Venus is in Aquarius from 1st – 10th February. Friendship and love make you smile, of course, but can also bring inspiration and unusual opportunities to explore new places and ideas. You may be keen to increase your earnings, or in the mood to gamble. Be uncharacteristically sceptical, and get advice before plunging into any get-rich-quick schemes – particularly in the run-up to the new Moon and solar eclipse on the 15th. Illusions abound from the 10th until the end of February, and while you may delight in the company of a seductive stranger, parting with hard cash could quickly lead to disappointment. Focus instead on nurturing your own wonderful ideas, and keep your sense of humour brightly polished.
CAPRICORN
Much became clear to you in January, when the planets gathered in Capricorn and underlined your sense of purpose and identity. Now there's a noticeable shift, and a restless atmosphere centred upon the lively solar eclipse on 15th February. It's focused on your values and finances, and what matters most to you. Home and family are at the top of this list, with changes, developments or important discussions cropping up all month long. Perhaps some radical changes are needed, or you're wondering about moving home? Others may have surprising news for you, or suggestions that will need careful thought. Conversations become less startling or spiky as the planets begin to gather in shape-shifting Pisces, beginning with lovely Venus on the 10th, followed by Sun and Mercury on the 18th. Each makes a supportive, productive link with your ruler, Saturn – making the second half of February the ideal time for you to say what you feel, or attract what you need. Pleasing news at the beginning of March is the result.
AQUARIUS
At some point this month your thoughts will be drawn back to last summer's events. What happened, or began, then has a role to play in your present and future decisions. But, just as you can't hurry love, you really can't move things along quickly now. Indeed, pushing for others to make decisions or do what you want isn't really a very good plan. February 15th's solar eclipse in Aquarius is full of surprises, and these ripple out on either side to fill the month with lively moments.  You may have to reconsider an important relationship or association, you may hear about an unlikely opportunity or chance to work in a new location. There's a carousel in your mind, whirling around and around, sparkling with potential. While you may fear losing out if you don't grab what's on offer, you'll do better to play it cool. The eclipse heralds change, but what's really going on will take time to emerge. You may not know all the facts until April, or even later. Trust yourself and your instincts – 2018 is a pivotal year for you, and this is just the beginning.
PISCES
What emerges from your dreams is vitally important this February. You're contemplating the past year, and looking forward to the start of your birthday month when the Sun enters Pisces on the 18th. So why not make time for yourself, and allow your amazing intuition, and those vivid dream images, to guide you? Wise advice and useful information is available, particularly when planets in Pisces connect with sensible Saturn around the 15th, 21st, and 24th of the month. Conversations or research offer wonderful insights, and these can lead you to attract good fortune, love, and admiration in March. All of this will take some will-power though, for feisty Mars is currently energising everything to do with your life direction and hopes for the future. There may be arguments with workmates, or partners who see things very differently from you. Hold tight. Planets in Pisces swoosh to your aid, and you'll be able to charm the birds from the trees with seductive ease before the end of the month.
Tarot Card of the Day
Temperance
---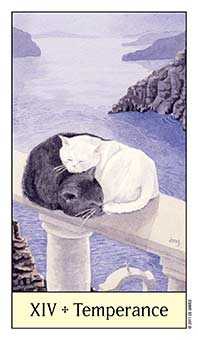 The Temperance card is a reference to the soul. Classically female, the woman or angel on the Temperance card is mixing up a blend of subtle energies for the evolution of the personality. One key to interpreting this card can be found in its title — a play on the process of tempering metals in a forge.
Metals must undergo extremes of temperature, folding, and pounding, but the end product is infinitely superior to impure ore mined from the earth. In this image, the soul volunteers the ego for a cleansing and healing experience, which may turn the personality inside-out, but which brings out the gold hidden within the heart.
Your Weekly Tarot Card
February 5-11: Eight of Pentacles (reversed)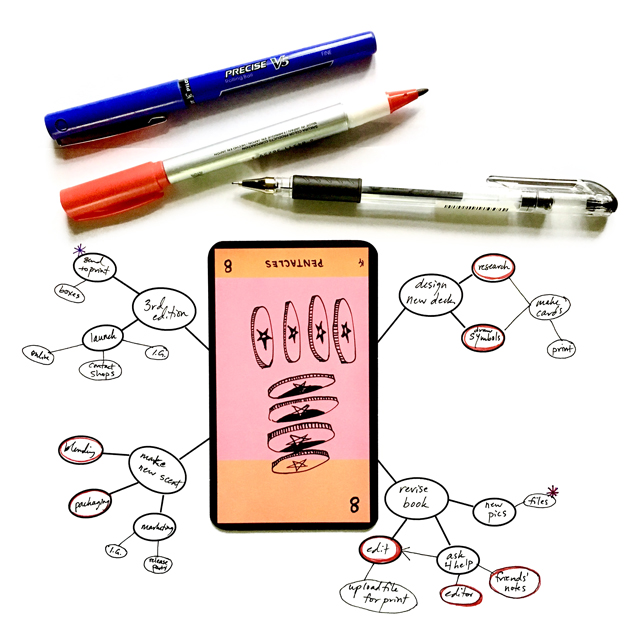 One of the key times to draw upon our reserves of inner strength is when we are feeling a lack of ambition and focus. Especially for creative people, this lack can feel defeating. We must remember that force is still alive inside us; it's just a matter of reconnecting with it. When our drive is weakened, it might also be worth considering how we got to this low point…
Sometimes we trap ourselves by taking on too much. We become exhausted and need extra time to recharge. This doesn't mean that our ability to complete projects has permanently expired, and after a time of rest, it might be beneficial to examine work habits and see if a more moderate but steady pace can be implemented. The Eight of Pentacles, at its best, is a card of consistent diligence and effort rather than a situation of burning the candle at both ends.
At other times, our intense desire to succeed can lead to spinning our wheels. We crave the reassurance of recognition but become trapped by doubt that our work is good enough. If this fear is only in the mind, this month's theme card, Strength, can help us be more reasonable. If we have received constructive criticism from others, now would be a good time to use relevant feedback to make improvements.
We may also become overwhelmed by too many ideas, tasks, or responsibilities, and in the jumble, lose sight of a way to approach any of them. Here's an exercise to corral all the ideas:
Project planning for the reversed Eight of Pentacles
In many versions of this card, the eight Pentacles are illustrated in an orderly fashion, stacked neatly in rows, as this card shows, or even hung up on display around a workbench with a figure actively finishing another piece. YOU are the figure missing from this scene! These Pentacles represent the work you have accomplished and will continue to accomplish if you are able to keep working steadily.
Map it all out with a simple brainstorming exercise. This quick planning session will help you take stock of your creative work. For each major idea or project, brainstorm all the components (actions, materials, etc.) necessary to make it happen. Include everything you've already done, marking those items in a different color. Use this chart to visualize progress and confirm next steps.
Don't consider yourself to be a "creative" person? Sure you are!! You might not be crafting abstract oil paintings in a studio, but you are crafting your life. Find the art in everything you do, and use it to enhance your existence.
Tarot.com is Part of the Daily Insight Group ©2018
Psychic Tip of the Day
REAL WORLD TIME
The chaos in the outside world could be bringing you two closer together. Is the relationship tension due to the economy as much as it is matters of the heart?
Tarot.com is Part of the Daily Insight Group ©2018
Your Love Tarot Card
The Devil
______________________________________________
February 5, 2018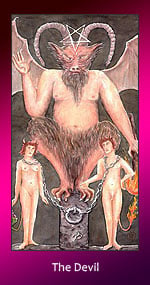 Do you feel caught between the 'Devil and the Deep Blue Sea?' This card represents insight and ability to rise above and to surmount obstacles in the way of love. The chains that bind the couple on the Tarot card are loose and symbolic of the ability to slip away if they want to. In this light, they are self-imposed limitations. Break free today if this sounds like your situation.
Your Erotic Tarot Card
The Sun
_____________________________________________
February 5, 2018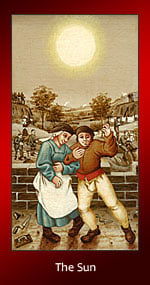 The Sun card shows that you may be feeling a little exposed and vulnerable as parts of your sex life are illuminated, but there is also an overwhelming feeling of warmth and positivity. Once you get over those self-conscious feelings, a wave of self-confidence replaces your fears. No one is out of your reach when the Sun is shining down on you. Embrace your power and don't be afraid to get naked both emotionally and physically!
Your Weekly Influences for the Week of February 5, 2018
Tarot Influence
The Seven of Wands
Courage will bring victory. Success seems certain
Astrological Influence
Capricorn
Capricorn denotes a drive to succeed through a pragmatic approach to life
Element Influence
Earth Reversed
Earth reversed denotes a lack of positive connection with the life spirit–a lost soul. If you are not careful you may miss much of what life has to offer you.
Your Daily Rune for Monday, February 5, 2018
Algiz
(or Elhaz)
"Al-jiz" – Literally: "Elk" – Esoteric: Protection, Highe
Energy: protective teaching force, the divine plan, Valkyries
Mundane: protection, safety, spirituality
Divinations: Connection with the gods, awakening, higher life, protection; or hidden danger, consumption by divine forces, loss of the divine link, fear.
Governs:
Strengthening of hamingja (personal gravity, 'luck') and life force through courageous deeds
Mystical and religious communication with non-human sentient beings
Communication with other worlds, especially Asgard
Protection/defense
Receiving instruction on the magical potential of the runes
Banishing the fear of death
Your Karmic Number for the Week of February 5, 2018
The number 4 means that you are building a strong foundation for your new ventures. Good job! Keep going – build the frame, put up the walls, roof, and seed the yard. It may not be an actual building you are working on, but the structure for your goals is becoming a reality. Taking the time, step by step, means that you have a foundation, protection, and beauty. Use strong people and resources so that you don't have to rebuild from scratch. In time, you will have a sturdy place to call your own.
The Wisdom of Buddha
The wise ones fashioned speech with their thought, sifting it as grain is sifted through a sieve.
Watch online as 2 asteroids sweep close this week
How to watch online this week as 2 newly discovered asteroids – 2018 CB and 2018 CC – sweep closer to Earth than the moon.
When an asteroid flew past at 10 times the moon's distance on Super Bowl Sunday, generating much interest, I commented to others here at EarthSky on how potentially misleading such stories are. After all, asteroids sweep past Earth all the time. For example, today (February 5, 2018) we hear news of two newly discovered asteroids called 2018 CB and 2018 CC, which will come closer to us than the moon this week. The Super Bowl Sunday asteroid was a relatively large object; these two are likely small, because they're newly discovered. The Virtual Telescope project has scheduled live, online coverage, to show them to you. More about that below.
Asteroid 2018 CC will be closest to Earth on February 6 at a distance of 0.5 lunar distances (~118,983 miles or 191,485 km). This is the 9th known asteroid to flyby Earth within 1 lunar distance since the start of the year, 8th since January 15 and first this month. Its closest point to Earth will be at 20:45 UTC; translate UTC to your time. Its speed (relative to the Earth) of is ~6.5 miles per second (~10.5 km/s).
Asteroid 2018 CB will be closest to Earth on February 9 at a distance of 0.17 lunar-distances (~39,970 miles or 64,327 km). It will be the 10th known asteroid to flyby Earth within 1 lunar distance since 2018 began. Its closest point to Earth will be at 09:47 UTC; translate UTC to your time. Its speed relative to the Earth is about 5 miles per second (~8 km/s).
Online coverage. The Virtual Telescope Project in Rome will host live events for both asteroids, in partnership with Tenagra Observatories in the U.S. state of Arizona. Click here to go to Virtual Telescope Project.
There will be two live events for 2018 CC:
– From Arizona, the live streaming will start on February 6 2018 at 10:00 UTC.

– From Italy, the live streaming will start on February 6 2018 at 20:00 UTC, covering the closest approach.
There will be one live event for 2018 CB:
– From Italy, the live streaming will start on February 9, 2018 at 20:00 UTC.
Both asteroids were found just days ago by the Catalina Sky Survey in Arizona, and both have been confirmed since then by other observatories.
Discovery announcement for 2018 CB
Discovery announcement for 2018 CC
This article will be updated as new information about these asteroids is obtained; for example, I haven't yet seen an estimate of their size, but – again – because they were just discovered, it's likely both are very small.
Bottom line: Information about two newly discovered asteroids – 2018 CB and 2018 CC – both of which will sweep within the moon's distance to Earth in the second week of February 2018. Plus, how to watch online.
Deborah Byrd created the EarthSky radio series in 1991 and founded EarthSky.org in 1994. Today, she serves as Editor-in-Chief of this website. She has won a galaxy of awards from the broadcasting and science communities, including having an asteroid named 3505 Byrd in her honor. A science communicator and educator since 1976, Byrd believes in science as a force for good in the world and a vital tool for the 21st century. "Being an EarthSky editor is like hosting a big global party for cool nature-lovers," she says.
Current Moon Phase for Monday, February 5th
Waning Gibbous
Illumination: 71% 
The Moon today is in a Waning Gibbous Phase. This is the first phase after the Full Moon occurs. It lasts roughly 7 days with the Moon's illumination growing smaller each day until the Moon becomes a Last Quarter Moon with a illumination of 50%. The average Moon rise for this phase is between 9am and Midnight depending on the age of the phase. The moon rises later and later each night setting after sunrise in the morning. During this phase the Moon can also be seen in the early morning daylight hours on the western horizon.
PHASE DETAILS FOR – MONDAY, FEBRUARY 5, 2018
Phase: Waning Gibbous
Illumination: 71%
Moon Age: 20.08 days
Moon Angle: 0.51
Moon Distance: 387,290.70 km
Sun Angle: 0.54
Sun Distance: 147,513,619.73 km
Source
Moon in Libra
Creating order is the focus, not necessarily through tidying or organizing as was the case while the Moon was in Virgo, but rather through pleasing interactions with others and aesthetics in our environment. We tend to solve problems through diplomacy, and we are more able to put aside our own emotions in order to achieve the peace we crave. The tendency now is to avoid direct confrontations. Decisions do not come easily. Seeing both sides to any given situation is the main reason for hesitation. Fear of losing others' approval is another.
The Moon in Libra generally favors the following activities: Relationship and partnership issues, activities involving teamwork and cooperation, activities that involve self-examination, activities related to beauty.
A Little Humor for Your Day

Till tomorrow, my sweets……
For All Your Magickal Needs, Think Magickal Necessities……