The Witches Digest for Thursday, October 19th
(Part 3, Horoscopes & Other Divination)
New Moon Leap
The 10/19 New Moon comes with an opportunity to make a big leap forward. Now is a perfect time to energetically prepare for this opening. Continue reading to understand your potentials at this juncture, and where to place your focus for optimal success.
Background
We are at a crossroads involving how we relate to one another and the Earth. That crossroads is coming more into focus at the Libra New Moon. Libra is associated with balance, and certainly, we have a lot out of balance at the moment.
Since the planet Uranus is involved with this New Moon, we're looking at electric and radical evolutionary change. It's as though the energies are arriving like a lightning rod – pushing us individually and collectively to reconsider our very old learned patterns involving power and love. Up for close examination is the dysfunction in relationships, as well as what we want from them.
This includes relationships with people, and also with the divine. Over the ages, humanity learned that the divine was somehow distant from the average person – even punitive.  In "Earth's Pivotal Years," I give some of the history of how we learned to feel separate from the divine. The result of that fundamental lie is mirrored in all other relationships that we have.
The juxtaposition of energies at this New Moon can help us to look more directly and more deeply at ourselves in relationship with others. As we do this, we have an amazing opportunity to transcend outmoded views and connect with our unlimited quantum nature. To the extent we can do this during the New Moon window of time now through 10/22, we connect more deeply with our spiritual heart.
Antidote of Spiritual Heart
The spiritual heart is the high or enlightened heart. It lies at the core of your being, just waiting to be tapped. When you connect with it, you have a divine antidote for relationship troubles of all kinds.
In fact, the spiritual heart is the antidote to the world's current crisis of fear, division, perpetual war, and manipulations of all kinds. Those energies cannot co-exist in the presence of the spiritual heart – embodied, accessed, and expressed by humanity as a whole.
Below are some tips to help you prepare for this New Moon opportunity.
3 Tips to Prepare for New Moon
FIRST, bring the theme of relationships into your meditations and inner work. Invite a knowing of key dysfunctional dynamics that block harmony with others. A good question to ask internally as you hone in on relationships: "What keeps me from being fully open and authentic with others?"
SECOND, consider a specific relationship which is like a barometer of your wholeness and ability to relate in an enlightened way with others. If you don't immediately get a specific example, invite a knowing of a dysfunctional pattern that you tend to repeat in many kinds of relationships.
THIRD, invite a knowing of the roots of your disconnection from the divine, your own divine power, and the wise voice of your inner wisdom. Consider asking: "What's an example of an earlier lifetime when I learned that I was separate from the divine – taught to fear and to expect punishment for wrongdoing?"
What's most important about these preparations is your presence and intent as you explore and ask the questions. It's not necessary to receive answers in a tangible way. The very process of inquiry – asking specific questions like those above – sets in motion a response. Trust this.
Know that a powerful alchemy can occur over this next week, helping you to identify what's out of balance in your relationships. Pay attention to seemingly random insights that come to you as you are focusing on something else. You may receive a word, for example, like distrust or boundaries.
In some cases you may intuit that a dysfunctional relationship issue with your partner has ancestral roots, and is something within your DNA akashic records to be cleared. Having this information is a key step forward.
Remember that spirit is always with you, lovingly and gently nudging you to address blocks in the way of your enlightenment.
New Moon in Libra Horoscopes: You Are Not Alone
Read your sign's New Moon in Libra Horoscope now
---
Between the onslaught of natural and man-made disasters occurring at what feels like an alarmingly intensifying rate, and the horror of ongoing violence and suffering of so many of our fellow humans, it is understandable to feel overwhelmed, hopeless, and a little lost. You might even be personally affected or know someone affected by one of these tragic events, and Astrology may seem trivial or of little use right now. Although Astrology can't turn back time, it can be an amazing tool for cultivating awareness and empowering positive change.
The New Moon in gracious Libra on October 19, 2017, plants seeds of peace and harmony. However, it is up to you to create an inner sanctuary that can withstand the elements of surprise and chaos while Uranus the Awakener opposes the willful Sun. Your desire to relate to others is intense, and one way you can do this is by reaching out to help those in need. Kindness is an underrated commodity, and is known to be extremely contagious.
The loss of rock icon Tom Petty earlier this month touched many hearts deeply; his songwriting magic, deep appreciation for music, and natural knack for collaboration are cosmic gifts evident in his "Super Libra" chart (Sun, Venus, Mercury, and Neptune all in Libra in his 7th House of Others). Although many of his most popular songs are defiant in tone, he was masterful at telling love stories and painting pictures with his music. These bittersweet revelations echoed in resonance to millions, allowing listeners to feel emotionally connected to his songs, and somehow, Tom knew their hearts too. This give-and-take is a classic Libra symbiotic approach to love.
This people-pleasing New Moon reminds you that relationships are reflections. The high-frequency notes of Libra call on you to build bridges, not walls. Equality and justice are not lofty ideals, but important priorities that demand discussion. Embrace the universal languages of music and art as both personal expression and as means to connect with others. Intentional acts of kindness are needed more than ever. Celebrate the beauty in everything and everyone, and your inner beauty will shine like a diamond in the light.
Saving grace
The diplomatic Libra Moon keeps the tone conversational vs. confrontational, but with Messenger Mercury and Giant Jupiter swimming in the subjective seas of Scorpio you might be treading in deep water before you know it. Vulnerability is the only boat that can successfully carry you through this transformative journey, as denial or delusion will leave you dog-paddling in circles. Trust that others can respect your feelings in the same fashion as you respect theirs. A sincere willingness to see things from another point of view is the key to establishing an emotional connection. Be the friend you wish to have and watch how others respond in return.
Free falling
Finding your balance in such an unstable world is a daily practice. Shocking Uranus and surreal Neptune take turns rattling this accommodating Libra New Moon's cage until you feel the urge to either fight or take flight. Try not to give in to either impulse, and engage in meaningful dialogue, instead. Communicating in a manner where you do more listening than talking is the first step to building bridges. Walking around in someone else's shoes widens your perspective and deepens your empathy. Healthy relationships make for a happier personal existence.
Sadly, the cosmos offers no promise of peace, and you can't expect anyone else to provide it either. Meditation, music, and the arts offer a variety of remedies for calming your spirit. Peace is not a destination or an ideal state of being, it is a spiritual path you commit to as an act of self-love and preservation.
________________________________________
Set intentions during this New Moon with these helpful tools:
Tarot Card for this New Moon:
Two of Swords
Swords represent the Air signs (also note the clouds), and the Two indicates Libra's need for relationships and reflection. The blindfold signifies the unseen, and the element of surprise is palatable with the electric Moon-Uranus opposition in the picture at this New Moon.
Crystals for this New Moon:
Celestite for peace & serenity
Hematite for grounding
Rhodochrosite for self-love and compassion
You may want to use one or more of the crystals listed above for your ritual work, meditation practice, or just as a talisman for your desk, under your pillow, or in your pocket.
Mixing metaphysical modalities opens the door to your intuition and deepens your connection to the cosmic energies at play. There are countless ways to blend divination methods so consider this as just one suggestion. The method that works best for you will be your own creation.
_______________________________________
A New Moon gives you the chance to clear your slate and state your intentions. Change is inevitable during this unconventional Libra New Moon, so be proactive and create transformation on your own. Plant your seed we've listed below, nurture it carefully over the next two weeks, and see what grows.
Aries Horoscope (March 21 – April 19)
Your restless spirit is itching to cut ties and hit the road if a current relationship isn't performing up to your expectations. The accommodating Libra New Moon graces your 7th House of Relationships, but rebellious Uranus is lurking in the background, preparing to strike. Fleeing for the promise of a greener pasture is the course of least resistance for you independent Rams, but if your heart is already invested in someone, your escape may be detrimental to your long-term happiness. Initiate a dialogue in which feelings can be freely discussed in a kind and respectful manner. Dare to do things differently; stick around and talk it out. Your seed to plant: Harmonious relationships
Taurus Horoscope (April 20 – May 20)
An associate or long-term ally might drop a bombshell, or perhaps you are the one with a surprising revelation, but in either case keep your ears and eyes wide open. The friendly Libra New Moon shadows your 6th House of Routine, inspiring you to choose cooperation over competition when given the chance. Authenticity counts when it comes to communication with co-workers and those you bump into on a regular basis. Move past the small talk and find out what makes others tick. Sharing your heart enables you to establish common ground. Your seed to plant: Productive collaborations
Gemini Horoscope (May 21 – June 20)
Your inner artist can't wait any longer — your thoughts are spinning mysteries and your dreams are invading your work. The graceful Libra New Moon dances in your 5th House of Romance, and you wish everyone could see the world through your colorful lens. You might be tempted to break free from a group project if you tire of the slow pace, thinking you will shock others with your creative masterpiece. But the real surprise occurs if you change your perspective from one of entitlement to one of service. The collective buzz of minds and hearts working for the same cause generates an electrical magic that's impossible to replicate alone. Your seed to plant: Artistic creations
Cancer Horoscope (June 21 – July 22)
Surprising news at work or out in the community can set your nerves on edge, and you wish you could head for the safe harbor of home before anything else happens. Change doesn't come easily for you Crabs, and you prefer a warning before someone rocks your world during this otherwise delightful Libra New Moon's visit to your 4th House of Roots. The good news is you have a cozy comfort zone at home where you can release your worries and rest your weary heart. But you can't escape reality now; your empathy skills are needed to help channel the change in a positive direction. However, you must honor your personal sanctuary and leave your stress at the door. Serenity starts from within. Your seed to plant: Inner tranquility
Leo Horoscope (July 23 – Aug. 22)
Your generosity blossoms in the company of like-minded friends who not only support your ideas, but add their own unique contributions to the party. The Libra New Moon shakes up your 3rd House of Communication, emphasizing the need for everyone to be on the same page. You may want to pack your suitcase as an unexpected opportunity to broaden your horizons either domestically or internationally is calling your heart. Casual connections are a catalyst for change, and building stronger relationship bonds paves the way for further cooperation and collaboration down the road. Learning keeps you young. Your seed to plant: Fruits of knowledge
Virgo Horoscope (Aug. 23 – Sept. 22)
You would rather reorganize your closets — or anyone else's — than engage in an intense conversation with someone who is challenging your values. However, the bridge-building Libra New Moon darkens the door of your 2nd House of Self-Esteem, and you may have no choice in the matter if you want to restore peace in your world. Chaos and confusion are likely when it comes to financial business or shared resources, so it is prudent to act proactively by discussing all the details with everyone involved. Don't let an unpleasant surprise ruin an otherwise harmoniously beneficial arrangement. Communication solves problems before they happen. Your seed to plant: Abundance and prosperity
Libra Horoscope (Sept. 23 – Oct. 22)
Happy Birthday, Libra! You are a true champion of justice and beauty, and the world needs your superhero powers now more than ever. This Libra New Moon sets off fireworks in your 1st House of Self, empowering you to polish your image and redefine your priorities. Use your creative flair for personal transformation and take your game to the next level. Start fresh by setting ambitious goals and communicating your needs to your support network. People are so used to you accommodating them that you might have to spell it out before they realize what you want. Your kindness is sweeter than the icing on your cake. Your seed to plant: Self-love
Scorpio Horoscope (Oct. 23 – Nov. 21)
You're walking around in a dream state, floating through your regular responsibilities and ghosting on social obligations when you can get away with it. Escaping the mundane is the only item on your agenda while the romantic Libra New Moon plays its song in your 12th House of Mystery. Tapping into your intuition is almost as natural as breathing now, if you can relinquish your attachment to the familiar routine and let yourself float out into nothing. Secrets are waiting to be discovered if you are willing to dive deep enough to find them. Meditation, metaphysics, and music are quick access points to the divine. Buried treasure is yours for the taking. Your seed to plant: Spiritual explorations
Sagittarius Horoscope (Nov. 22 – Dec. 21)
Your feelings intensify with no place to go, and your need to strike out on your own may be so fierce that you bolt without considering the consequences. Following a whim jeopardizes your stability in your social network, but sometimes listening to your heart means taking the unmarked path. The Libra New Moon's presence in your 11th House of Hopes and Dreams asks you to rethink your solo act for the benefit the group. Find a way to weave your unique thread into the larger quilt and you can have the best of both worlds. The truth is, what you create together is much better than anything you could make on your own. Your seed to plant: Faith in the future
Capricorn Horoscope (Dec. 22 – Jan. 19)
You like to think you've mastered the work/home balancing act, but this ambiguous Libra New Moon's emphasis on your 10th House of Career challenges your expertise at compartmentalizing. Disruptions on the home front spill over into your professional life and denial is not a viable option. Thankfully, proactive communication with your boss and co-workers establishes an atmosphere of cooperation and trust. Accessing a place of inner serenity allows you to regain control of the situation, and earns the appreciation of all those involved. Some foundations need to crumble before stronger ones can be built. Your seed to plant: Recognition and reward
Aquarius Horoscope (Jan. 20 – Feb. 18)
Running away rarely solves anything, but that might not stop you from jumping on a plane and testing that theory. The lovely Libra New Moon is knocking at your 9th House of Travel and the horizon is tugging at your wanderlust. Change is in the air, but it is unknown if the lightning will strike you before you have a chance to strike first. Be bold and claim what is rightfully yours; communicating your plans leaves the least collateral damage in your wake. A personal revolution comes at a cost, but stretching your wings is the only way you can learn how to fly. Your seed to plant: Amazing adventures
Pisces Horoscope (Feb. 19 – March 20)
You enjoy swimming with other like-spirited Fish, but you may find yourself questioning the dynamics of a close partnership if you sense an inequity of power or an unwillingness to share resources. This pleasure-seeking Libra New Moon in your 8th House of Intimacy is a harbinger of changes to come in your relationship world. Shine the light of self-awareness as you accept the invitation to dance with your shadow. Untangling your personal desires from someone else's needs is complicated but necessary as you sort out your goals from your dreams. In a sudden flash, your priorities become crystal clear if you are willing to bypass your fears and follow your heart. Your seed to plant: Personal transformation
Content written by Morgan Friday
Part of the Daily Insight Group ©2017
Moon Diary: Electric Moon New Moon in Libra, 26 degrees, 19th October, 2017
by Jane Lyle
From The Astrology Room
Snap and crackle – this Libran new Moon flicks a switch and offers an electrifying moment of illumination for the month ahead.
This could be a very positive, exciting time to get unusual ideas across to a wider audience, or to try something brand new and a little unconventional. The Moon's tight stand-off with revolutionary Uranus in Aries emphasises restlessness and rebellion, and is likely to symbolise upheavals in many relationships, alliances, and even governments.
With Libra and Aries, there's the me-and-you, us-and-them theme that's part of the current zeitgeist and the Jupiter-Uranus stand-off of 2017. With the Moon ruling the masses (that's all of us), crowds and groups will be extremely eager to express their feelings in this buzzy atmosphere.
On a personal level, there could be sudden attractions or sudden break-ups and disagreements. But when you look more closely, you'll realise that this pattern has been building up for quite a while – you may have met the 'sudden' attraction briefly some time ago, or been feeling unfulfilled and restricted by a relationship, friendship, or professional partnership.
Time, then, for a new Moon shake up and a sprinkling of surprises. A few lightning bolts may shock us, jolting us into awareness. Uranus often stirs up electrical storms – these can manifest quite literally sometimes. Watch the skies!
Sensible Saturn in fiery Sagittarius makes a helpful aspect with the Moon and Uranus. It may help to keep things from getting out of hand – at least, if we care to listen to wise advice, or proceed with some caution. The partnership between Saturn and Uranus has been a 2017 theme – it means that we can blend what's established with what's innovative in creative, imaginative ways. However, aspects like this require the patience and maturity to bring things down to earth, and Saturn rewards hard work – the vivid, disruptive ideas of Uranus are not enough on their own.
If this new Moon activates your personal horoscope do be open to fresh thoughts, quirky ideas, and unusual friendships that may come your way. They could lead on to some fascinating and successful outcomes.
Your Daily Horoscopes for Thursday, October 19th
Claire Petulengro
From The Astrology Room
ARIES (March 21st-April 20th)
You think you're lucky to have all the the positives in your life, but you deserve every single one of them. Try not to let new faces intimidate you. You have earnt your place in life and the respect that comes with it.
TAURUS (April 21st-May 21st)
Life isn't about finding yourself Taurus, it's about creating yourself. Being fair to family and admitting the truth rather than half-truths, can help you feel like a better version of yourself.
GEMINI (May 22nd-June 21st)
The relationship sector of your chart brings out the need in you to ask others what they want long term. This could be difficult for those of you in new relationships. Go easy on new situations or you could scare them off.
CANCER (June 22nd-July 23rd)
You can afford to believe that something wonderful is about to happen. You have worked so hard this year to learn from and to move on from the past. Phone calls and e mails bring an offer for a better future your way.
LEO (July 24th-August 23rd)
You won't be able to stop yourself from saying what you think or how you feel, which should make today one of your most interesting for some time. Expect those you care for to convince you of what they want.
VIRGO (August 24th-September 23rd)
That tired feeling begins to disappear and it is replaced by one of excitement. You know that memorable times are ahead and you're ready to trust in your dreams.
LIBRA (September 24th-October 23rd)
Try to listen when others speak. It will help you to gain the respect which I know is so important to a sign such as you. You don't have to put up with that person's rude behaviour.
SCORPIO (October 24th-November 22nd)
Venus the planet of love brings out your flirtatious side and you could find yourself being overly friendly just out of a sense of mischief. Work is where your energy is best directed as you can tie up something you lost control of last month.
SAGITTARIUS (November 23rd-December 21st)
Stop worrying so much about how things look to others and instead think about how they feel to you. Your sense of justice is brought to the fore by a lie you know has been told. Use Mercury to act as peacemaker.
CAPRICORN (December 22nd-January 20th)
The first step binds on to the second and so on you go my friend. Try to be careful telling new faces about your past. It doesn't hurt to leave a little to the imagination my friend.
AQUARIUS (January 21st-February 19th)
You open your eyes to what is really going on around you. No longer do you feel the need to turn a blind eye. You want all cards on the table. A split in your circle brings surprise.
PISCES (February 20th-March 20th)
In the end, we only regret the chances we didn't take Pisces. That is why it is important that you listen to your heart and try to communicate. Today could be your last chance to lay your heart on the line.
If You Were Born Today, October 19th
You are self-expressive and animated in speech. Your memory is outstanding when it comes to the "little things" that you pick up from others and when it comes to the past. You are curious and possess a dual nature–sometimes chatty and rational, and other times withdrawn and moody. You are quite determined and possess resolve. With good business sense and the ability to "read" people well, you are likely to enjoy much success in life as you age. You have the rare gift of the capacity to be assertive and charming at the same time. You are charming, creative, and personable.
Famous people born today: Evander Holyfield, John Lithgow, John Le Carre, Robert Reed, Jason Reitman, Desmond Harrington.
Get A Jump On Tomorrow….
Your Daily Horoscopes for Friday, October 19th
Claire Petulengro, Astrologer
From The Astrology Room
ARIES (March 21st-April 20th)
All great achievements require time. You have been trying to rush something that is better left to time to solve. Keeping your eye on what you want the final result to be can help you stay on the path to success.
TAURUS (April 21st-May 21st)
Saturn makes your life a more interesting place to be. You're able to work out with ease who is good for your life and who has been leading you up a very windy path. From today you realise who you no longer want in your life.
GEMINI (May 22nd-June 21st)
You still have a lot of work to do to get to where you want to be. Rather than rush your journey, why not try to stop and take in the view. There are some interesting paths to the side you have not noticed.
CANCER (June 22nd-July 23rd)
It's been hard for you to work out what your close ones want lately. You've both needed time to think with the dramatic aspects affecting us all. You're about to come to a series of decisions which make your life a better place to be.
LEO (July 24th-August 23rd)
People from your past are on your mind more than usual. You may even be thinking of getting in contact with someone you haven't seen in a long time. Think about where this could lead before you do.
VIRGO (August 24th-September 23rd)
Mars makes it hard for you to tell the truth. Honesty seems boring to you right now, but it's only by sticking the truth that you will find out if you and a certain person can really work.
LIBRA (September 24th-October 23rd)
You've got to start somewhere and you want to start over. Luckily for you the stars hand you the gift of charm. It will be easy for you to get others to give you what you want.
SCORPIO (October 24th-November 22nd)
Jealousy rears its head and is going to make it hard for you to see reason. Knowing how far is too far to go with your behaviour can make all the difference between a relationship continuing or ending.
SAGITTARIUS (November 23rd-December 21st)
That unsettled feeling which made for such a difficult start to the month, slowly but surely starts to disappear. You begin to realise that you haven't exactly been helping yourself. You can and you will though, now that Mars is on your side.
CAPRICORN (December 22nd-January 20th)
Your energy levels were low, but now they slowly and surely start to improve. Foreign countries, contacts and names all make for a more exciting end to the year than the beginning of it.
AQUARIUS (January 21st-February 19th)
More than one new attraction could be making life difficult for many of your sign. You're ready to explore life and to follow your heart. Don't repeat gossip you hear. It's more sensitive than you'll first realise.
PISCES (February 20th-March 20th)
You've said and done some things you now regret. You think you can't move on from this, but you can and will. In fact my friend, events which take place today give you more than one opportunity to do so.
Daily Tarot Card for the Day
The Lovers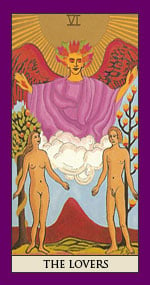 Keywords: choice, decision, love, communication, inspiration (ideas from above)!
Astrological Correspondence: Gemini
The Lovers card is representative not only of crucial life choices, but also of lovers, couples, and other partnerships, like business partners, siblings, and friends. The angel between a woman and a man, depicted on this card, symbolizes the struggle of deciding to follow one's heart versus one's temptation or obligation. The Lovers card symbolizes the choices that must be made to progress toward higher self-awareness; choices also reflect emotional values, indecisiveness, hesitation, and our fears about making wrong choices. This applies not only to love relationships – it is applicable to any relationship in which people are drawn together, even a casual one. It's the card of uncertainty!
Daily Love Tarot for the Day
The Emperor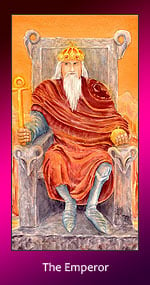 The Emperor card has selected you to let you know that you sow seeds of better things and more fulfilling times ahead. Give yourself permission to reach out for more, especially if you are dissatisfied. You create a solid foundation, built on a sense of higher purpose. If your current relationship suffers from stress, today let tender actions reveal what you may be unable to put into words. Rebuild, from the ground up.
Your Daily Erotic Tarot
The Judgement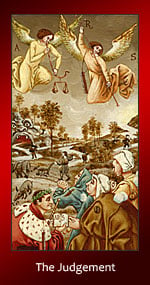 The Judgement card indicates that you've had some sexual hang-ups in the past, but you're working toward getting over them. This is a period of transition, and although you're doing the work, you may not be getting the exact results you desire. Forgive yourself for past missteps in order to take a sexual step forward today. Being afraid to express your true erotic self can even effect other areas of your life, so getting beyond your sexual inhibitions translates into a happier overall existence.
Your Daily Rune for Today
Hagalaz
"Hag-all-az" – Literally: "Hail" or "Hailstone" – Esoteric: Crisis or Radical Change
Key Concepts: hailstones, crisis and catastrophe, disruption, radical change, destructive elements of nature, severe weather, the uncontrollable, unavoidable unpleasantness, Jungian shadow, psychoanalysis, regression, acceptance of the unalterable
Psi: disruption, change, personal past

Energy: power beyond human ability to harness, perfect pattern, seed formation, objective confrontation, destructive natural forces, chaos
Mundane: bad weather, obstacles, surprises, shelter
Divinations: Change according to ideals, changes for the long-term good, controlled crisis, corrections, completion, inner harmony; or catastrophe, crisis, stagnation, loss of power, loss of property, short-term disappointment, victim-consciousness, obsession with the past, blame.
Governs:
Completeness and balance of power, integration of unconscious shadow elements
The inevitability of Fate, Wyrd, Orlog
Evolutionary progress and operations of becoming
The outworking of a perfect pattern
Protection through banishing or exorcising disharmonious patterns, protection
Awareness of the unconscious ideas for eventual processing
Causing discomfort in others by awakening their own subconscious 'garbage'
Your Daily Influences for Thursday, October 19th
Tarot Influence
Six of Coins
Material gain, charity and justice are at the forefront. That which is earned will be given.
Astrological Influence
Gemini Reversed
Gemini reversed denotes vacillation. Decisions are not made, because all side of the issue pull with the same strength.
Element Influence
Air
Air denotes freedom and the ability to transcent the mundane. You may be, or may soon experience a spiritual or secular liberation.
Your Animal Spirit for Today
September 11, 2017
Frog
Frog Rivet! Something in your life needs cleansing, and frog is here to help. Frog is traditionally associated with rain—that powerful force of Nature that can flood, nurture, heal, or drown. If Frog appears in your reading, you're being asked to examine what is stagnating in your life—then ask Frog to help you let it go. Need to cry? Jump in the shower and let Frog Medicine do its work.
The Words of Confucius
It does not matter how slowly you go as long as you do not stop.
A Little Humor for Your Day
You Might Be Giving Pagans A Bad Name If…
---
You insist that your boss call you "Rowan Starchild" because otherwise you'd sue for religious harassment.
(Score double for this if you don't let that patronizing bastard call you "Mr. or Ms. Starchild.")
You've ever confused the Prime Directive with the Wiccan Rede.
You've ever cast a spell with twenty-sided dice.
You said it was bigotry when they didn't let you do that ritual in front of city hall. It had nothing to do with the skyclad bit.
You picketed The Craft and Hocus Pocus, but thought that the losers who picketed The Last Temptation of Christ needed to get lives.
You've ever publicly claimed to be an elf, alien, vampire, faerie, or demigod, and been genuinely surprised when not everyone took you seriously.
You've ever publicly claimed to be the reincarnation of Gardner, Merlin, Aleister Crowley, King Arthur, Cleopatra, Morgana Le Fay, or Jim Henson, and been genuinely surprised when not everyone took you seriously.
You've suddenly realized in the middle of a ritual that you weren't playing D&D.
You've failed to realize at any point in the ritual that you weren't playing D&D.
You've suddenly realized that you are playing D&D.
Your Book of Shadows is a rulebook for Vampire: The Masquerade with notes in the margins.
You've ever effected an Irish or Scottish accent and insisted that it was real.
You talk to your invisible guardians in public.
(Score double if you save places for them in crowded restaurants)
(Score triple if you admit to having sex with them)
You've ever claimed to have met the Vampire Lestat or Dracula.
(Score double if you got into a fight and escaped)
(Score triple if it was no contest)
You own a ceremonial bong.
You've ever tried something you saw on Sabrina, The Teenage Witch
You've ever had to go along with someone's ludicrous story because it was twice as likely to be true than most of the crap you spout.
You expect your employer to exempt you from the random drug testing because of your religion.
You've won an argument by referencing Drawing Down the Moon, knowing damn good and well they haven't read it either.
You've ever referenced the Great Rite in a pick-up line.
Someone has had to point out to you that you do not enter a circle "in perfect love and perfect lust."
(Score double if you argued the point.)
You claim to be a famtrad (hereditary), but you're not.
(Score double if you had to tell people you were adopted to pull this off.)
You claim to be a descendant of one of the original Salem Witches.
(Score to a lethal degree if you don't get this one.)
Someone once lost their boat delivering your ritual incense from Mexico.
You've ever used tongue delivering the fivefold kiss.
(score double if you did it more than once.)
You've ever used reincarnation as the intro for a pick up line.
(You may deduct this point if it worked.)
You think it's perfectly reasonable to insist that, since every tradition is different, and no one tradition is right, there's no reason not to do things your way.
You request Samhain, Beltaine, and Yule off and then bitch about working Christmas.
The thing that drew you to the Craft was the potential to dance with naked members of the opposite sex.
You strip in a club like the one in Porky's under your craft name, and consider it highly appropriate.
You've ever been psychically attacked by someone who conveniently held a coven position you crave, and suddenly had a glimpse into their mind so you could see how evil they were.
You've ever achieved position or influence in a coven by sleeping with half of it.
You claim yourself as a witch because how early you were trained by the wise and powerful such-and-such. Of whom nobody has heard.
You complain about how much the Native Americans copied from Eclectic Wiccan Rites.
You're not a hereditary witch but you have a good disposition to it because your ancestors (the ones before your German parents) were Native American or Irish.
You don't know the difference between Irish and Scottish, and you alternately claim to be both.
You think it's your Pagan Duty to support the IRA, not because of any political beliefs you might share, but because, damn it, they're IRISH.
You think the number of Wiccan books you own is far more important than the number you have read, regardless of the fact that most of your books are for beginners.
You hang out with people who each match at least fifteen of these traits.
You recognize many of these traits in yourself, but this test isn't about you. But, boy, it's right about those other folks.
THE ANCIENT ART
Once upon a time, a long time ago, there were people who believed in laughter, joy and love. They believed in many deities, but the most important to them was their Great Mother Goddess. They believed in and lived with the powers of Nature. They reveled in the Wind, the Rain, the Snow and the Sunlight. They marveled at and revered the changing of the seasons and saw therein great excitement and wisdom to be gained. They knew that if they tended, cared for and loved the Earth, in return She would provide for, care for and love them. They saw that all around them the world was filled with Life, much as their own but in many different and wonderful forms. They felt the life of the flowers, plants and trees and respected them for that life essence. They looked about and observed all the many types of animals and saw that they were kindred to them and loved them. They felt and observed the great Love of the Goddess all about them and knew kinship with the Moon. They were practitioners of The Old Religion, worshipers of The Great Mother.
Witch! The very word instantly invokes visions for each of us, visions which vary greatly from individual to individual. Many of these visions, however, are quite false, brought about by many centuries of severe persecutions, misrepresentations, prejudice and, in recent years, lack of knowledge. Witchcraft! What is it really?
Witchcraft is the oldest, most irrepressible religion in the world because it stimulates the intellect, promotes a simple, practical way of life and, most
importantly, is emotionally satisfying. Its roots lie in the ancient Matriarchal systems of Goddess worship. A religion of Nature in which the primary deity is female (The Essence of Femininity, The Earth Mother, The Great Mother, etc.).
It was easy for the Wise Ones to look at the world around them and see the great importance of Feminine Principle. The female was, indeed, the one who bore the young, perhaps the most magickal of all events to ancient man. Then, she played by far the most important role in rearing the young, being totally responsible for feeding, for without her milk there was no life past birth. She was responsible for the teaching and early care of the young. In all youths the greatest comfort and nurturing love were connected with the mother. These revelations and experiences could hardly lead to any other choice than the total reverence and deification of the female.
Although The Great Mother is the most important deity, Witches do, generally, recognize many Goddesses and/or Gods and are, therefore, polytheistic. The tenets of Witchcraft are few but all-encompassing, for with three simple Universal Observations all of life can be explained and understood:
1) Reincarnation – Mortality
2) Cause & Effect – Magick
3) Retribution – Morality
Reincarnation enlightens the Witch to the fact that, as we come to this material world over and over in a series of learning periods, or lifetimes, we will eventually have to experience all things, be all things, understand all things. This creates a great tolerance for other viewpoints in the Witch.
Cause & Effect, and an understanding of it, allows the Witch to see what makes the world work and how to live most efficiently. It gives them a great advantage in that it explains the working of Magick.
Retribution shows the Witch, in graphic terms, that every thought one might have, every action one may take, is returned in like kind. This realization forms the basis of the Moral Code of the Witch.
The Patriarchal Societies which evolved in later times had no tolerance for the Goddess religions and systematically set out to destroy the material vestiges, kill or convert the adherents and wipe out all knowledge of them. They destroyed the temples and other places of worship, desecrated the sacred groves and magickal places, attempted to pervert the old deities, mutilated and totally suppressed sacred art, tore down libraries and burned books, tortured and killed the practitioners of the Old Religions, demeaned, persecuted and oppressed women in general and passed strictly enforced laws which made theirs the State Religion and forbade all other viewpoints.
Despite the centuries of insidious persecution, deliberate destruction and perversions at the hands of the Christian Conspirators, Witchcraft has survived.
*
Remember for all your magickal needs, think Magickal Necessities

Half Price Herb Sale is Going On RIght Now! Stock Up for the Winter Ahead!