Your Daily Tarot Card for Today
The Hermit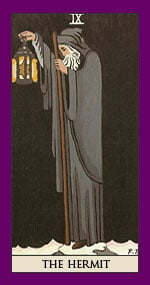 Keywords: awakening, enlightening, shedding light, the "key" to a situation, crisis, isolation!
Astrological Correspondence: Virgo
The Hermit card symbolizes meditation, reflection, and solitude. As one of the cards resembling old age it also represents bearing the light of wisdom, looking into the unconscious, observing dreams. There is an emphasis on peace and patience, by which maturity is reached, and a striving to connect to the higher spiritual self. The Hermit also depicts the spiritual leader, the taskmaster who leads with purpose, conscience, and wisdom. A mature person, the Hermit symbolizes deliberation about which path to follow, reassessment of achievements and goals, and taking the time to reflect and plan. In a negative environment this card can resemble excessive isolation, lack of communication, intolerance, crisis and doubt.
Daily Love Tarot Card for Today
The Sun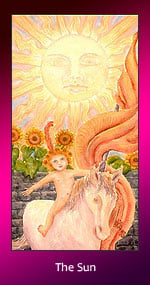 The Sun is an invitation to a supportive relationship in which you can be yourself around your significant other. You feel relaxed and loved, with a sense of peace of heart. You've struck gold and entered into a new realm. Keep looking if this is not how you feel because it is how things should be. You can't expect improvement in a long-term union if you do not take effective steps to create it.
Your Erotic Tarot for Today
The Judgment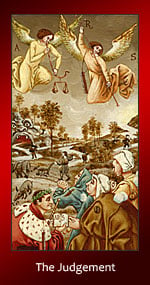 The Judgment card represents a sexual awakening, and now that you aren't afraid to move in a new direction, a whole new world awaits you. What sex positions do you want to try, and which fantasies have you been dying to act out? Being honest with yourself and potential partner(s) about the details of what you desire will help you get what you want faster, and the end result will be much more satisfying. And above all, enjoy your sexual liberation!