The Night Belongs to Us
As the world sleeps
We awake
We look towards the moon
She sends her power
Feeling the wind
We gather her strength
Our capes flap in the wind
Wind encircles us
Taking hold of our brooms
Control comes to us
We ride high this night
Our silhouettes against the moon
 Ride high my Sisters
The night belongs to us
–A Witch's Prayerbook
JoAnne Spiese
The Solar Almanac for Monday, November 26
Sun Direction: 263.70° W↑
Sun Altitude: -27.55°
Sun Distance: 91.744 million mi
Next Solstice: Dec 21, 2018 4:22 pm (Winter)
Sunrise Today: 6:43 am↑ 116° Southeast
Sunset Today: 4:39 pm↑ 244° Southwest
Length of Daylight: 9 hours, 55 minutes
The Lunar Almanac for Monday, November 26
Moon Direction: 60.84° ENE↑
Moon Altitude: -2.29°
Moon Distance: 227880 mi
Next New Moon: Dec 7, 20181:20 am
Next Full Moon: Dec 22, 201811:48 am
Next Moonrise: Today7:14 pm
Current Moon Phase: Waning Gibbous
Illumination: 89.6%
Moon Phase Calendar for November 26, 2018
Current Moon Phase: Waning Gibbous
Moon is Currently in Cancer
Moon in Cancer:
Your feeling of safety is now related to your home, family and related activities such as cooking and gardening. You may be prone to emotional fluctuations; you should learn to forgive and forget in order to avoid depression from thinking too much about things. Your perception of the world can be very subjective; try to create a certain distance without being bitter. Due to your rich emotional manifestation you can create a real sense of belonging in the world.
Organs influenced by Cancer Moon Sign:
Organs: Stomach, mucosa, ovary, womb, vagina, breast, pleura, peritoneum, lymph system, sternal bone.
These organs are now more sensitive so provide them with extra care.
Surgical operations:
Surgical operations are recommended during the Waning Moon.
However, avoid surgeries of organs under the influence of the Moon Sign.
Moon Lore
A Full Moon during Yuletide foretells in British lore an abundant harvest next year.
A halo around the moon foretells bad weather or an unwelcome guest.
Full Moons are good for divination and crystal-gazing.
Souls of the Dead, no matter where they have gone are able to make contact on the three nights of the full moon (the night before, the night of, of the night after).
Some folks say that the fifth night of a full moon is good for conceiving a child.
A red moon predicts a day of high winds.
Misty moons promise the coming of rains.
The moon clear and beautiful presages excellent weather to follow.
Lottery numbers dreamed or thought of during the New Moon are very lucky.
–The Enchanter's Almanac(First Edition)
Murray T. Paschal
Astronomy for Monday November 26
1:33 am – Sun conjunct Jupiter 03 56 gives a general feeling of well-being, happiness and optimism. Good luck at this time can be seen as an opportunity for growth, personal, professional and spiritual. You should feel this as an urge or strong desire to do all you can, experience everything to the fullest. Just as you may be the beneficiary of compliments, gifts or money, you will also be more generous and bubbly.
3:05 am – Mercury square Mars leads to rushed thinking which can make you short-tempered and aggressive. So you may jump to conclusions, rush your decision-making and say the wrong thing. All of this can then lead to disagreements, arguments and even open hostility. Your personal relationships can suffer under this influence but other areas of life can be problematic. When interacting with other people they key is to listen carefully and think twice before speaking.
Today is Monday, November 26
Monday is the sacred day of the moon, personified as the goddesses Selene, Luna, and Mani. The moon is ruler of flow, affecting the changeable and impressionable aspects of people. If a full moon falls on a Monday, then the powers of the moon are at their most potent.
Deity: Mani
Zodiac Sign: Cancer
Planet: Moon
Tree: Willow
Herb: Chickweed
Stone: Agate
Animal: Crab
Element: Water
Color: Green
Rune: Lagu (L)
Celtic Tree Month of Ruis (Elder) (November 25 – December 22)
The Runic Half Month of Nyd (November 13 – November 27)
Goddess of the Month of Cailleach/Samhain
—The Pagan Book of Days
Nigel Pennick
About the Celtic Tree Month of Ruis (Elder)
Elder – Ruis
Ogham letter R
Ruler of the 13th Lunar Month
25th November – 22nd December
Powers: Protection, Healing, Wisdom, Prosperity, Sleep, Blessings
Elder – a common sight on waste ground, in hedgerows and scrubby woodland all over the British Isles has one of the strongest reputations for faery and witch superstitions and magical protection of all the Ogham trees.
If it's growing near your house, don't cut it down without plenty of thought – especially if it chose your land and self-seeded there.
Traditionally, substantial protection for a home is granted by having a Rowan towards the front door and an Elder near the back. (And yes – I do!)
The tree grows best in slightly damp, fertile but neutral soil which is disturbed – so you often find it by roadsides and along banks where there are rabbits, badgers and foxes and in cemeteries. Wherever it once grew, the space was considered to be sacred as it is protected by the Elder Mother. It can grow to about 30ft, but to attain this rare size it needs plenty of light.
In late spring it is easily recognised for its huge saucers of white flowers, anything up to 9 ins across. This head is actually a cluster of tiny white petalled, yellow centred flowers which are much sort after, even in these days, for elderflower cordial syrup or champagne. They have a slightly odd scent which many people and animals don't like.
The trees have opposite, pinnate leaves about 9 inches long, again with an odd scent which is rumoured to be able to keeps rats and mice away if spread on the floor of storage barns! The bark is smooth and slightly notched on young stems, becoming rough and deeply etched on the trunk and was used for a black dye.
The wood polishes up to a high shine and can be made into pretty beads. The stems are hollow and filled with a white pith that's easily removed and have been used for centuries to make musical pipes and whistles – another proof of magic!
The pith, taken from bigger stems and sliced into rounds, was once soaked in oil and when lit could be floated in a dish of water.
On Monday, November 26th, We Celebrate…..
Gujeswari Jatra (Nepal)
GUJESWARI
Themes: Earth; Water; Abundance; Offering; Prayer
Symbols: A Bowl of Water
About Gujeswari: Gujeswari is a potent Nepalese goddess of earth and all its bounty, and today is her festival day. In many temples, the goddess's presence is represented by a simple bowl of water, the life-giving substance and purifier of body, mind, and spirit.
To Do Today: Buddhists and Hindus in this region honor the mother goddess Gujeswari today by giving her offerings, usually preceded by fasting and prayer. Follow this example, and put a bowl of fresh water on your altar or a special place where it won't be disturbed for the day. If physically feasible, abstain from eating one meal today to honor the earth and Gujeswari's goodness by returning (or preserving) some of that bounty. Otherwise, simply abstain from a favorite food for the day as a kind of sacred sacrifice.
At the end of the day, just before you go to bed, sprinkle the water from the bowl around your living space. First, go counterclockwise to banish negative energy that hinders free-flowing blessings. Then go clockwise, allowing Gujeswari's water to cleanse and renew the ambiance in every room. If you have some left over, sprinkle your pets (for health), your car (for safety in travel), and children's beds (to protect them from nightmares), and dab some on mechanical objects to keep them working smoothly.
—365 Goddess: A Daily Guide To the Magic and Inspiration of the goddess
Patricia Telesco
Monday's Magick
Monday – Is associated with the Moon
Colours – White, Silver, Grey and Pearl.
Monday is the best time to deal with such matters as: Psychic Pursuits, Psychology, Dreams, Astral Travel, Imagination, Women's Mysteries, Reincarnation, Short Trips, Women, Children, Public, Domestic Concerns, Emotions, Fluids, Magick, Spirituality, Nursing, Full moon magic, Purity, Protection, Truth, Meditation, Peace, Sincerity, Justice, Warding off Doubts and Fears, Anything to do with Water and Bodies of Water, Antiques, Trip Planning, Household Activities, Initiation, Astrology, New-Age Pursuits, Archetypes, Totem Animals, Shape-shifting and Religious Experiences.
Ritual Work Associated with Monday The Day of the Moon
Perfume: White Poppy, White Rose, Wallflower
Incense: Myrtle
Wood: Willow
Color: Silver, Grey-white
Influences: Agriculture, Domestic, Longlife, Medicine, Travels, Visions, Theft (new moon)
–-A Book of Pagan Rituals
Herman Slater
The Witches Almanac for Monday, November 26
Constitution Day (Indian)
Waning Moon
Moon phase: Third Quarter
Moon Sign: Cancer
Incense: Rosemary
Color: White
The Witches Spell for Monday, November 26th
Money Nail Spell
Items you will need for this spell are:
1 bottle of white nail polish
1 bottle of green nail polish
1 black, permanent marker or black nail polish
Visualize in your mind, getting lots and lots of money. Also, think of the different ways you can obtain this money. Then, get a bottle of white nail polish and paint all the nails of both hands white.
After doing this, wait until your nails are fully dry, and take a permanent marker, or black nail polish, and draw small money symbols on one, or all of your nails. Again, visualize about getting lots and lots of money. Once the black marker, or nail polish dries, paint your nails with a coat of green nail polish. If you want the money symbols to show through this coat, then, stop after this coat. However, if you want to completely cover the symbols, add more coats of polish, until you no longer see the symbols.
Leave the polish on your nails for, at least, three days. Every time you look at your nails, you will be reminded of the spell and the money you want. If you are satisfied with the spell after three days, you can remove the polish from your nails.
—A Witch's Week of Spells and Activities
Helga C. Loueen
Celebrating Legends, Folklore & Other Spirituality 365 Days A Year for Nov. 26 – 27
Gujeswari Jatra, Senegal Initiation Rites
On this date the Goddess Gujeswari Jatra is honored by the Hindus and Buddhists of Nepal. Activities fill the day beginning ning with prayers to the Goddess. These are usually followed by a musical procession through the streets where participants sing sacred songs to praise Gujeswari. The activities come to a close after sunset with more prayers and songs that are usually ally followed by a fast until the following evening.
It is around this time of the year in the Basari villages of Senegal that the young men are initiated into manhood. The elaborate rituals take months of preparation that test both the minds and bodies of the candidates. The initiates then compete against each other in village games to demonstrate their courage and masculine strength. The festivities are brought to a close with a feast and dance.
THE POWER OF LUCKY SYMBOLS
Wish upon a Magical Lucky Symbol to help manifest your innermost heartfelt dreams.
Magic symbols are used in everyday life, and sometimes even without thinking about it. For instance, some people have lucky shoes, colors or numbers. Some sporting teams also have lucky symbols like the Colts football team from Indianapolis who has a Horseshoe as their emblem, which is used as a talisman is thought to be good luck. From stars, hearts, or four-leaf clovers, lucky symbols can be traditional or something that is very dear to you and your life. See if any of the Lucky Symbols below feel right for you, and if not, create your own. Read on to learn how to care for and use your lucky symbol.
To spiritually energize and build your own magical energy with your lucky symbol, handle it with care and love. The energy will be at its strongest and most powerful if you don't allow others to touch it and as you focus and project positive energy into your lucky symbol it will become more effective as it aligns with your own personal energy. Use your lucky symbol to focus your intentions, wish upon, or send positive thoughts or a prayer out to the universe and God source for creation and completion.
How to use your Lucky symbol:
Create a sacred space where you won't be disturbed; somewhere you can connect with your inner self, where you can talk to the universe about your heart's desires.
Take three slow deep breaths in through your mouth letting the air out through your nostrils. Continue this circular breathing at a natural pace.
Imagine there's a luminous white light right around your body, in an egg shape, which gets stronger and brighter with every breath.
Close your eyes and think of a time when you felt joy and love in your life, a time when you felt happy. Hold this feeling and intensify it.
Open your eyes and look at your lucky symbol. While you are still in this open-heart space, place your left palm over the symbol.
While your palm is still on the lucky symbol, close your eyes and think of the dreams you want to come true. Ask the universe to help you create them.
Open your eyes. Thank yourself and the universe or God source for all you have in life now and for the future and all you have to be grateful for.
LUCKY SYMBOLS:
The Number 8 – When you turn the number eight on its side you get an infinity sign. This makes it lucky because everything is never-ending and your luck is forever changing, recycling, increasing and revolving. The Chinese consider the number eight to be lucky for wealth.
Laughing Buddha– The Buddha is the spirit of good fortune, happiness, laughter, and contentment. The laughing Buddha is said to bring you prosperity and success if kept in the comforts of your home.
Horseshoe- Horseshoes are thought to carry the first-class fortune when you hang them on the walls of your house or above an entryway. Open end up means you'll collect lots of luck, open end down is considered bad luck as the luck falls out.
The Rabbit Foot- A rabbit's foot is used for luck in a variety of situations where the end result is unsure. One of humanity's oldest superstitious icons, the rabbit's foot is thought to provide good luck, plenty of children and prosperity.
Nautical Star– This five-pointed star became a famous symbol for finding one's way home or also discovering ones destined path in life. Sailors would tattoo nautical stars on their forearms as a good luck emblem in hopes of returning home from sea. It also represents the term, wish upon a star.
Dream Catcher– Native American's believe Dream Catchers are good fortune because they catch the negative images from your dreams and have even been known to ward off bad dreams altogether.
Four Leaf Clover– Four leaf clovers do exist, however, they are extremely unusual, that's why if you find one, it's considered good luck! St. Patrick's Day has made the Four Leaf Clover vastly popular in the world of lucky symbols.
Sharks Tooth- A sharks pointed tooth is said to have protective and healing powers and are also thought to carry good luck. It is common for wear a sharks tooth as a necklace or keeps it stored away somewhere in the house.
Lucky Penny– Almost all forms of money have at least one lucky superstition attached to them. The most familiar one being the penny, "Find a penny, pick it up, and all day long you'll have good luck."
Wishbones- A tradition held over Thanksgiving or any other holiday feast; the rule is that the wishbone is saved from the turkey and left to dry out during the night. The next day, two people break it in half while making their own wish. After the bone has been pulled apart, the one with the larger piece is granted their wish.
Guardian Angels- Their guidance is thought to help you during the bumpy times in life as well as be there during the high times. Guardian Angels can bring you comfort in the hope and faith that someone above is watching over you and protecting you. These delicate angels are also said to sprinkle you with endless good luck and prosperity.
The Lucky Cat- The Maneki Neko Beckoning Cat is a common Asian sculpture that has at least one raised forepaw. It is believed that the left paw beckons for people (patrons) whereas the right paw attracts wealth and good fortune.
The Number 13- Whether 13 is actually an unlucky number or not it will forever remain a mystery, however, that doesn't stop people from making it their lucky or unlucky number of choice. From Friday the 13th to hotels leaving out the 13th floor, it is a fun fascinating number which brings endless entertainment to the table, and maybe some good luck!
MAKE YOUR OWN CLEANERS
Christine Halvorson and Kenneth M. Sheldon, Authors
Make your own cleaning products. Homemade cleaners are simple and a great way to save money.
WARNING: Never mix cleaning products containing bleach and ammonia, as dangerous fumes will result.
OVEN CLEANER
2 tablespoons dishwashing liquid
2 teaspoons borax
¼ cup ammonia
1–½ cups warm water
Mix the ingredients together, apply to oven spills, and let sit for 20 to 30 minutes. Scrub with an abrasive nylon-backed sponge and rinse well.
EASY SCRUB
¾ cup baking soda
¼ cup borax
dishwashing liquid
Combine the baking soda and borax. Mix in enough dishwashing liquid to make a smooth paste. If you prefer a pleasant smell, add ¼ teaspoon lemon juice to the paste.
JEWELRY CLEANER
¼ cup ammonia
¼ cup dishwashing liquid
¾ cup water
Mix all the ingredients well, then soak your jewelry in the solution for a few minutes. Clean around the stones and designs with a soft-bristle toothbrush. Buff dry. (Caution: Don't use this with gold-plated jewelry; with soft stones such as pearls, opals, or jade; or with costume jewelry, because it could ruin the plastics or loosen the glue.)
HEAVY-DUTY DISINFECTANT CLEANER
¼ cup powdered laundry detergent
1 tablespoon borax
¾ cup hot water
¼ cup pine oil, or pine-based cleaner
Slowly stir the detergent and borax into the water to dissolve. Add the pine oil (available at hardware stores and supermarkets) and mix well. For bathroom cleaning, use the mixture full strength. In the kitchen, dilute it with water.
WOOD FLOOR POLISH
½ cup vinegar
½ cup vegetable oil
Mix the ingredients well, rub on the floor, and buff with a clean, dry cloth.
RUG CLEANER
¼ teaspoon dishwashing liquid
1 cup lukewarm water
Combine the ingredients. Use a spray bottle to apply the solution over a large area, or use the solution to spot-clean nongreasy stains. (Don't use laundry detergent or dishwasher detergent in place of dishwashing liquid, as they may contain additives that can affect the rug's color.)
TOILET CLEANER
1 cup borax
¼ cup vinegar or lemon juice
Combine the ingredients to make a paste. Apply it to the inside of the toilet bowl, let sit for 1 to 2 hours, and scrub.
MILDEW REMOVER
1 tablespoon powdered laundry detergent
1 quart chlorine bleach
2 quarts water
Combine all the ingredients in a pail. Wearing rubber gloves, wash off the mildew.
FLOOR WAX REMOVER
1 cup laundry detergent
¾ cup ammonia
1 gallon warm water
Mix all the ingredients together and apply to a small area of the floor. Let the solution sit long enough for it to loosen the old wax, at least 5 to 10 minutes. Mop up the old wax (or scrape it up, if there's a lot of it, using a squeegee and a dustpan). Rinse thoroughly with 1 cup vinegar in 1 gallon water and let dry before applying a new finish.
FURNITURE POLISH
1 tablespoon vinegar or lemon juice
1 tablespoon boiled linseed oil
1 tablespoon turpentine
Combine the ingredients in a glass jar with a tight-fitting lid and shake until blended. Dampen a cloth with cold water and wring it out until it's as dry as you can get it. Saturate the cloth with the mixture and apply sparingly to a small area at a time. Let dry for about 30 minutes, then polish with a soft cloth. Note that this mixture gets gummy as it sits, so make just enough for one day's work.
GLASS CLEANER
2 tablespoons ammonia
½ cup alcohol
¼ teaspoon dishwashing liquid
a few drops blue food coloring
water
Combine the ammonia, alcohol, dishwashing liquid, and food coloring, then add enough water to make 1 quart. If you prefer a nonammoniated cleaner, substitute 3 tablespoons vinegar or lemon juice for the ammonia.
CARPET FRESHENER
1 cup crushed dried herbs (such as rosemary, southernwood, or lavender)
1 teaspoon ground cloves
1 teaspoon ground cinnamon
2 teaspoons baking soda
Combine all the ingredients in a large jar or other container with a tight-fitting lid. Shake well to blend. Sprinkle some of the mixture on your carpet, let it sit for an hour or so, and then vacuum it up. It will give the room a pleasant smell and neutralize carpet odors.
SCRUBBING HAND GENERAL-PURPOSE CLEANER
1 teaspoon borax
½ teaspoon washing soda
2 teaspoons vinegar
¼ teaspoon dishwashing liquid
2 cups hot water
Combine all the ingredients. If you don't have washing soda (generally found in the laundry section of supermarkets), use 1 teaspoon baking soda instead. For a more pleasant smell, use lemon juice instead of vinegar. Be sure to label the bottle accordingly.
–The 1999 Old Farmer's Almanac Home Library Series
The Daily Horoscopes for Monday, November 26
by Jennifer Angel
– Book an astrological life coaching consultation with Jennifer –
With Sun Jupiter energy still present focus your attention on what you want, not on what you don't want.
Aries
Try not to spread yourself too thin and let your own priorities suffer. If you have to tell someone you can't do something, try to be as diplomatic and sensitive as possible. And don't get lured in to deal with someone else's issue, which has nothing to do with you.
Taurus
You need to gather all the facts before you discuss a serious financial matter, especially if you are not in control of the purse strings. You don't want to have to back-paddle if you find that you've agreed to something too quickly because you didn't do your homework.
Gemini
Your personal life is affected by beneficiary planet Jupiter, and social activities as well as romance probably will be on your mind. But it is wise to attend to obligations before blowing off work to go out and play.
Cancer
If the relationship with a co-worker has not been all it should be, it's time to discuss it. The energy of the Sun and Jupiter combined will help you keep emotions out of a business discussion. This way you will feel more balanced and in control.
Leo
There'll be many distractions this week and you'll have to figure out what needs to be done by you and what you can delegate. Don't be forced into doing something that another person says is a good idea. Spend time on what you want to do for yourself and for your loved ones.
Virgo
When someone offers you some unsolicited advice concerning a family member, it could be more of a hindrance than help. Don't feel you have to accept what someone says or suggests, especially if it is about money. You've been able to make your own decisions all along; don't stop now!
Libra
To stay balanced, make sure you get enough rest. Mars in your area of productivity can send you in a spin trying to get everything accomplished. Work on your top priorities and if a situation needs to be dealt with, you are better of facing it and getting it cleared off your schedule.
Scorpio
Financial matters need your full attention. Whether it involves a friend or a work situation, deal with money issues in a professional manner. Once you put everything in writing right from the start, you prevent any misunderstandings in the future.
Sagittarius
Life never stays the same and, if it did, you'd probably be bored out of your wits. Change can occur in the blink of an eye, but right now, with the Sun and Jupiter as well as Mercury in your sign, you could decide on a course of action but then have to play a waiting game. Be patient.
Capricorn
This is a busy time, with plenty of work demanding your attention. And with Mars pushing you to accomplish even more with a creative venture, you could feel overworked. You like deadlines as they keep you on your toes, but it may be time to look at your schedule and cancel some arrangements.
Aquarius
Sometimes, it's impossible to have all the facts needed to make an educated decision, and you have to rely on your intuition. However, as an air sign, this can be difficult, so you need to build in some thinking time to get a better grip on what your next move should be.
Pisces
With Mercury retrograde, voicing your opinion at work before thinking it through could backfire. When asked, you want to share your idea or concept with those who have the power to make decisions, and you will want to be fully prepared. This way, you will have some level of control over what happens next
The Daily Horoscopes for Tuesday, November 27
by Jennifer Angel
– Book an astrological life coaching consultation with Jennifer –
The combined energy of the Sun and Mercury sharpens your thought process. Record your thoughts, ideas and concepts.
Aries
Love needs to be passionate for an Aries and can boost your confidence to be yourself and follow your heart's desire. And right now, don't be surprised if someone very attractive gets your attention. Those already in a relationship could find themselves feeling renewed love for their partner.
Taurus
Your perseverance will pay dividends this week but to stay on track you will need to get organized. If you have to prepare for an important presentation, postpone, for the time being, the demands of friends and others. And do your own research; it's your reputation that's on the line.
Gemini
People know you to be a problem-solver, no matter how complex, you can find a common sense solution. You may be flattered, but it does interfere with your schedule. This week, it may be time to concentrate on your own schedule and productivity.
Cancer
Life is full of challenges and, as difficult as they sometimes are, it's overcoming them that makes you grow. But you don't necessarily have to do anything to prove yourself to anyone else. At work, you can listen to others and learn from them, but you don't have to agree.
Leo
Nothing is impossible if you keep a positive attitude. If you stay optimistic and never lose sight of what you want in life, and also feel worthy of getting it, you will succeed. Set time aside to review this past year and reset your goals for now and long-term.
Virgo
When voicing your opinion about a family matter, don't be overly assertive. You may need to be the one who initiates a discussion, and makes sure it heads in the right direction, but for everyone to feel that they have been taken into consideration, take a step back.
Libra
Life's challenges are never-ending and, actually, they keep you trying to be and do your best. But no matter what you say or do, there's always someone who'll disagree. Since you have no power over how people react, smiling is sometimes the best way to get out of an awkward situation.
Scorpio
Venus in your sign inspires you to update your image. You may be knowledgeable in your field, but you need to also look the part and exude self-confidence to be noticed. And with a likely discussion around money, you want to feel as powerful and in control as you can be.
Sagittarius
As an independent fire sign you like the freedom to work alone, but you are smart enough to know that it is a team of people that bring a project to completion. Discussions this week can lead you closer to achieving a goal at work. Love and social arrangements are also in the stars; so, don't get too preoccupied.
Capricorn
Influential people can help both your business and personal matters this month, so get ready to self-promote. Find out who makes the decisions, and seek ways to spend time with them so you can highlight your specific skills and attributes. And don't underestimate your charm.
Aquarius
This week, don't be surprised if you do a turn around on something you thought you wanted and now don't. Give yourself permission to change your mind and not feel guilty about it.
Pisces
A situation at work can come through now, which can also be good for you financially. But with the holidays around the corner, it is wise not to overindulge; in the long run, it pays to be frugal. But if you have cash burning a hole in your pocket, by all means, treat yourself.
–Jennifer Angel Website

Your Daily Tarot Card for November 26th is The Moon

Keywords: imagination, dreams, emotion, competition (the dogs), illusion!
Astrological Correspondence: Pisces
The Moon in all its phases represents the world of dreams, illusions, and the subconscious. Traditionally the symbol of the feminine, the card's meaning encompasses the maternal, the Great Mother, womanhood, and cycles. The Moon is an ambivalent card, and its imagery signifies the difficulty to see things clearly: simultaneously inspiring and lacking courage, enchanting and bewildering, deceptive and receptive – all sides of the same coin. Signaling fluctuating moods and uncertainty we must pay attention to our dreams, confront our subconscious and deal with the issues that come to the surface in order to progress to a higher level of awareness. Being able to put our imagination and creative talents to good use is an added bonus. Negative qualities such as ambiguity, confusion, hidden fears, and deception can be causes for failure.
Your Daily Love Tarot Card for November 26th is Judgment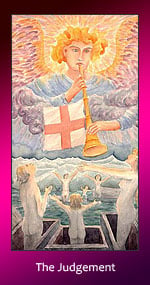 You made choices you regret and you think you are proven wrong? Did you misjudge the situation? You have too much experience and too much honesty not to have understood the situation at the time. If it eases your mind, do double check and ensure facts aren't hiding under the rug. If so, apologies help today. If not, trust that you will soon feel better because you did the right thing.
Your Erotic Tarot Card for November 26th is The Devil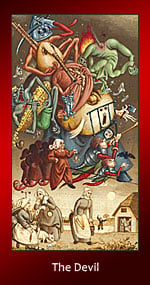 What is it that has a hold on you? A dark sexual desire, or an obsession with unrequited passion? The Devil card represents going against your better judgment and indulging in things that can be at the least challenging and at the most harmful to your well-being. Is it hard for you to have just one slice of cake, as in not pursue an affair or participate in other destructive sexual behavior even though you have healthier options? The best thing is probably to not indulge in them at all. Use your willpower. In other words, just say no.
Your Daily Rune for November 26 is Jera

Jera
Rune of harvest and reward for, or reaction to, right actions in a horizontal (naturally ordered) cyclical process. Rune of peace on the land and in the heart.
Psi: psychological time, patience, the measurement of time
Energy: good harvest, orbits, cycles, progress, biorhythms, right effort
Mundane: waiting, gardening, farming, the seasons, harvest
Divinations: Reward for positive action, plenty, peace, proper timing; or repetition, bad timing, poverty, conflict, regression.
Governs:
Fertility, creativity and harmony with the land
Peace, prosperity and plenty
Realization of the cyclical nature of the multiverse, invoking the power of time and cycles
Bringing other concepts gently into material manifestation
Initiating gradual and lasting change in flow of life
Your Daily Witches Rune for November 26 is
The Rings
Keywords: Love, relationships.
Meanings: The Rings is the rune of love and when it is the leading stone, it is a positive answer to your question. It is very much a rune of relationship and can indicate engagement, marriage or a new/renewed relationship. It can also indicate the need for a fresh approach to an existing relationship.
Your Ogham Reading for November 26 is Edhadh-Aspen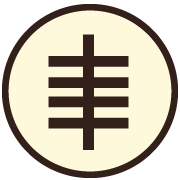 Aspens grow in large colonies, with the root system potentially up to 10,000's of years old. This tree can survive fires and other harmful conditions. Often this letter can be associated with death and the fear that comes from it. However it is better to see it for what the aspen really is. When one dies another aspen grows from the same root system. Death is not always a negative aspect of life; sometimes it is a necessary transition. The letter Edhadh will force us to look inward for what we need to "let die," so we can renew ourselves.
Fortune – A large part of your life will be gone, yet do not worry because another great part will stop. Edhadh never closes one door without opening another!
Your Animal Spirit Guide for Monday, November 26 is The Wolf
If a Wolf shows up, it means: Characteristics and behaviors that no longer serve your spiritual purpose are being culled from your consciousness. Make cooperation a priority over competition. Valuable insights, ideas and new teachings are coming your way so pay close attention. It is important to maintain your self-esteem and integrity and deeply trust your inner knowing even when you feel misunderstood. You are being spirituality and psychically protected at all times.
Crack the Cookie
A single kind word will keep one warm for years.
The Wisdom of the Buddha
You, yourself, as much as anybody in the entire universe, deserve your love and affection.
Daily Planet Tracker for Monday, November 26: Moon In Cancer
Sensitive, Nurturing, Loyal
November 24 – November 27, 2018
---
Before we get into talking about the Cancer Moon, let's start off with a little bit about the Moon itself. In Astrology, the Moon is considered a planet — and it's the fastest moving one at that! Because it moves so quickly, it moves through each of the 12 zodiac signs once every month.
When the Moon is in Cancer
Regardless of what your Sun or Moon signs are, for a couple of days a month we're all under the influence of the Cancer Moon. We'll feel a little bit more tender, and more vulnerable than we do during other times of the month. You'll have the urge to put up stronger walls between you and others in order to protect yourself. This is one of Cancer's tricks — living behind your castle walls so you can feel safe. So, during the Moon in Cancer transit, you'll feel more protective not only over yourself, but also those you love.
Cancer is the sign of mothering energy, so during this Moon you'll feel a stronger urge to nurture and care for everyone as if everyone was one of your children. Domestic matters will feel more important than usual, and you will find yourself wanting to be at home surrounded by your loved ones. This is a great time to invite people over to share stories over a meal, or gather friends for a night of games.
Emotions will be heightened during the Cancer Moon, and it's easy become moody if you don't express how you're feeling. But don't worry, this extra emotion doesn't have to be a bad thing. You'll have an easier time tuning into your emotional needs, giving you a better understanding of what you need in life to feel satisfied.
New Moon in Cancer
In the early summer when the Moon and Sun are both in the sign of Cancer, we have a New Moon in Cancer. This is a very special time because New Moons are all about new growth and the beginning of new cycles. Cancer likes to protect itself by holding things in, so during the Cancer New Moon, we want to think about planting the metaphorical seeds we've kept hidden. However, this doesn't mean we need to announce our plans to everyone if we don't want to. It just means we need to finally bring those seeds out of hiding and sow them with intention.
Full Moon in Cancer
Six months later, at the beginning of winter when the sun is in the sign of Capricorn, we have a Full Moon in Cancer. Capricorn is about the outer energy, and the mastery of our outer world. The Cancer Full Moon allows the energies of these two signs to counterbalance each other, and helps us bring to fruition those things that we held close during the New Moon. We're finally able to manifest these things, and create a sense of security in bringing our feelings and desires out into the world.
If you were born with the Moon in Cancer
Your Sun sign represents the person you show to the world. Your Moon sign (or natal moon sign) is about how you feel, and Cancerians have very powerful feelings. Although, you wouldn't know it with the thick shell they use to protect themselves! They only put up a hard exterior because they're incredibly sensitive, and can get hurt easily.
They're aren't just aware of their own feelings — they're also able to sense the feelings of those around them. Being a Water sign, they have the gift of intuition, and can easily pick up on how others are feeling or what they need. Rest assured, you can't fool a Crab because they'll see right through you!
Matters of the heart and home are incredibly important to those born with their Moon in Cancer. Deeply loyal, they take their relationships with others seriously, and love spending time with family and friends. Natural nurturers, they often go out of their way to make others feel loved. It's no surprise that Cancer has a reputation for being the "mother sign" of the zodiac.
A Little Humor for Your Day
Thou hast just received the Amish Virus
As we haveth no technology nor programming experience, this virus worketh on the honour system.
Please delete all the files from thy hard drive and manually forward this virus to all on thy mailing list.
We thank thee for thy cooperation.
---
— The Amish Computer Engineering Dept.
In case you are wondering why you are receiving your daily information in this format, it is because we have received several complaints about the amount of information we send out daily. We have several also tell us that we are spamming their inbox and have threatened to report us. In order to cater to those who have voiced their opinions on this matter, we are going to try to use this method as our daily delivery of our posts. If you don't like this format, please feel free to voice your opinion. If you like today's format, let us know that also.
Coming up, our final thought for the day.
Lady of the Abyss
"Walk barefoot, listen to the wind, drink in the moon…. BE MAGICK"