Your Daily Divination Journal for Wednesday, August 15th
Tarot Card of the Day
The Magician
August 15, 2018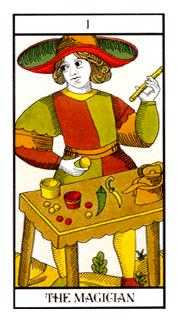 Traditionally, The Magician is one who can demonstrate hands-on magic — as in healing, transformative rituals, alchemical transmutations, charging of talismans, and the like. A modern Magician is any person who completes the circuit between heaven and Earth; one who seeks to bring forth the divine gold within her or himself.
At the birth of Tarot, even a gifted healer who was not an ordained clergyman was considered to be in league with The Devil! For obvious reasons, the line between fooling the eye with sleight of hand and charging the world with magical will, was not clearly differentiated in the early Tarot cards.
Waite's image of The Magician as the solitary ritualist communing with the spirits of the elements — with its formal arrangement of symbols — is a token of the freedom we have in modern times to declare our spiritual politics without fear of reprisal. The older cards were never so explicit about what The Magician was doing. It's best to keep your imagination open with this card. Visualize yourself manifesting something unique, guided by evolutionary forces that emerge spontaneously from within your soul.
Tarot.com is Part of the Daily Insight Group © 2018
Fear of Tarot Readings
Experts explain why Tarot cards are nothing to fear
---
Have you ever been scared to get a Tarot reading? Most people find the insight we can get from Tarot cards thrilling, but there are some who find the process intimidating or frightening. If you're one of those few, it's time to face your fear of Tarot so you can move past it.
We spoke with Tarot expert Jewels Edwards, a psychic and contemporary mystic in Portland, Ore., who has been using Tarot as a tool of insight for more than 20 years, to help explain why Tarot is frightening for some — and why it shouldn't be.
"Tarot is simply a tool for receiving messages from other dimensions," Edwards said. "It is not evil, harmful or tainted in any way. It's a method to bring the information through with clarity and integrity."
Edwards is able to use Tarot to "hear" messages from the spirit, higher consciousness or universal consciousness (whatever you choose to label it).
"Some people have heard or developed a belief that Tarot comes from the devil or is likely to bring in dark energy, but none of this is true," Edwards said. "Tarot is only a tool, like a hammer, for bringing through information for the benefit of the questioner."
You can change your future
But what if the information that comes through is something terrible you don't want to hear? That's the biggest fear for most when it comes to Tarot readings.
"The fear comes from being afraid that something horrific is going to show up, like a fatal disease, the death of a loved one, a divorce or breakup of some kind, or the ending of a job," Edwards said. "If people do receive this kind of information, what is truly fear-provoking is that they won't be able to change it and that they are stuck with that particular outcome."
However, that's not true. The whole point of doing a Tarot reading is so you'll have the insight and advice you need to change your life for the better. "People are afraid because they believe they are helpless to change some negative future outcomes, but nothing is farther from the truth, Edwards said. "While difficult potential futures do sometimes show up, Tarot is only to show the questioner what is most likely to happen so they have the opportunity to change it."
Tarot.com is Part of the Daily Insight Group © 2018
Love Tarot Card of the Day
The Wheel of Fortune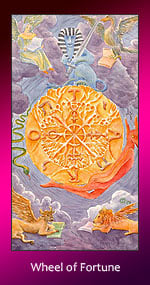 Today, the truth is told and clears up a situation that has hung on and on. Take direct action now to clear up something that should have been handled long ago. The Wheel of Fortune selected you because you need to know that some parts of the conditions were out of your control. Some events are not the result of something you did. You do have control over how you deal with matters now.
Erotic Tarot Card of the Day
The Chariot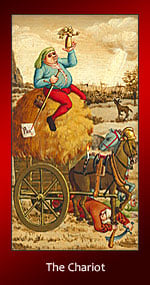 The Chariot shows that you're rolling toward a major sexual goal today, willing to forego just about anything and everything else to have that one big O! The thing is, who are you willing to trample over to get there? This card can be a sign to slow down just a bit, because while sex is fun, it shouldn't be your number one focus right now. You don't have to come to a complete stop, but pulling back on the reins just a bit will give you the clarity you need to make sure you're making wise sexual decisions.
Your Influences for Wednesday, August 15
Element Influence
Earth Reversed
Earth reversed denotes a lack of positive connection with the life spirit–a lost soul. If you are not careful you may miss much of what life has to offer you
Astrological Influence
Pisces Reversed
Pisces reversed signifies a lack of positive thinking and creativity at this time
Element Influence
Earth Reversed
Earth reversed denotes a lack of positive connection with the life spirit–a lost soul. If you are not careful you may miss much of what life has to offer you
Your Daily Rune for
Nauthiz
"Not-this" – Literally: "Need-fire" or "Necessity" – Esoteric: Constraint, Friction
Key Concepts: Need, resistance, constraint, conflict, drama, effort, necessity, urgency, hard work, need-fire, life lessons, creative friction, distress, force of growth, the consequence of past action, short term pain for long term gain

Psi: resistance, need, effort
Energy: necessity, coming forth into being, urgency
Mundane: doing what must be done, chores, hard work
Divinations: Resistance (leading to strength), recognition of örlög (ultimate law, primal truth), innovation, need-fire (self-reliance), personal development and life lessons, achievement through effort; or constraint of freedom, distress, toil, drudgery, laxity, warnings, worry, guilt, moral cowardice, unfulfilled or unrecognized needs.
Your Animal Spirit for Today

Pray to the Hummingbird Spirit Guide
Characteristics of the Hummingbird as a Spirit Guide
Crack the Cookie
The Wisdom of Buddha
An insincere and evil friend is more to be feared than a wild beast; a wild beast may wound your body, but an evil friend will wound your mind.