The Witches Daily Divination Journal for August 2nd
Your Daily Tarot Card for Today
Six of Swords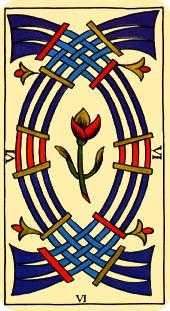 The Six of this suit has generally been associated with the objectivity of scientific method, employed through the generations to sift fact from superstition, build facts into theories, and theories into laws which we can trust and use to improve our lives. One early title for this card was The Navigator — one who has learned enough about the relation between the Earth and the heavens to be able to set a course across trackless oceans and arrive at a chosen spot on distant shores.
At the time of the first Tarot decks, this skill was considered akin to magic, so few were the individuals who understood the principles involved. So the person who draws this card is being typified as a person with special knowledge, an insight into sophisticated techniques that may be powerful enough to effect a rescue in a dangerous time. Other related titles that are common to this card are The Path (out of danger) and The Way Through.
Tarot.com is Part of the Daily Insight Group © 2018
Your Love Tarot Card
The Devil
______________________________________________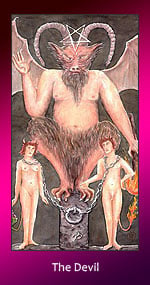 Do you feel caught between the 'Devil and the Deep Blue Sea?' This card represents insight and ability to rise above and to surmount obstacles in the way of love. The chains that bind the couple on the Tarot card are loose and symbolic of the ability to slip away if they want to. In this light, they are self-imposed limitations. Break free today if this sounds like your situation.
Your Erotic Tarot Card
The Sun
_____________________________________________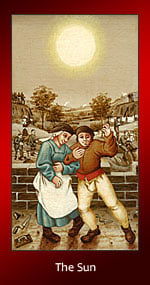 The Sun card shows that you may be feeling a little exposed and vulnerable as parts of your sex life are illuminated, but there is also an overwhelming feeling of warmth and positivity. Once you get over those self-conscious feelings, a wave of self-confidence replaces your fears. No one is out of your reach when the Sun is shining down on you. Embrace your power and don't be afraid to get naked both emotionally and physically!
Your Influences for Thursday, August 2
Tarot Influence
The Seven of Wands
Courage will bring victory. Success seems certain
Astrological Influence
Capricorn
Capricorn denotes a drive to succeed through a pragmatic approach to life
Element Influence
Earth Reversed
Earth reversed denotes a lack of positive connection with the life spirit–a lost soul. If you are not careful you may miss much of what life has to offer you.
Your Daily Rune for Thursday, August 2
Algiz
(or Elhaz)
"Al-jiz" – Literally: "Elk" – Esoteric: Protection, Highe
Energy: protective teaching force, the divine plan, Valkyries
Mundane: protection, safety, spirituality
Divinations: Connection with the gods, awakening, higher life, protection; or hidden danger, consumption by divine forces, loss of the divine link, fear.
Governs:
Strengthening of hamingja (personal gravity, 'luck') and life force through courageous deeds
Mystical and religious communication with non-human sentient beings
Communication with other worlds, especially Asgard
Protection/defense
Receiving instruction on the magical potential of the runes
Banishing the fear of death
Your Karmic Number for Thursday, August 2
The number 4 means that you are building a strong foundation for your new ventures. Good job! Keep going – build the frame, put up the walls, roof, and seed the yard. It may not be an actual building you are working on, but the structure for your goals is becoming a reality. Taking the time, step by step, means that you have a foundation, protection, and beauty. Use strong people and resources so that you don't have to rebuild from scratch. In time, you will have a sturdy place to call your own.
The Wisdom of Buddha
The wise ones fashioned speech with their thought, sifting it as grain is sifted through a sieve.
Earth Sky News for August 2nd: Arc to Arcturus and spike Spica
Tonight, or any night in the coming month or two, you can rely on the Big Dipper to star-hop to the bright stars Arcturusand Spica. Just remember this mnemonic: follow the arc to Arcturus, and drive a spike to Spica.
As late summer and autumn come to the Northern Hemisphere, the Big Dipper is found fairly high up in the northwest sky at nightfall. From middle-to-far northern latitudes, the Dipper is easy to spot in the August evening sky. It's tougher from the Northern Hemisphere tropics, where the Big Dipper sits lower in the sky as darkness falls and swings beneath the horizon relatively early in the evening.
Meanwhile, the Big Dipper isn't visible from far southerly latitudes in the Southern Hemisphere at nightfall, because it's below the horizon from that part of the world.
Luckily, in August 2018, you don't need the Big Dipper to find Spica at nightfall and early evening. Just look westward as darkness falls and you can't miss the dazzling planet Venus – the brightest starlike object in the evening sky. Then note the king planet Jupiter. From northerly latitudes, Jupiter is in the southwest at nightfall. From the Southern Hemisphere, it's closer to overhead as darkness falls.
All month long, look for Spica in between Venus and Jupiter. Although Spica ranks as 1st-magnitude star, it's nowhere as brilliant as Venus or Jupiter. Day by day, watch for Venus to move closer and closer to Spica on the sky's dome. By September 1, 2018, Venus and Spica will actually be in conjunction.
The Big Dipper may not be visible from the Southern Hemisphere, but it'll actually be easier to view Venus and Spica from southerly latitudes. That's because Venus and Spica stay out longer after sunset than they do in the Northern Hemisphere.
Arcturus should be fairly easy to view from the Southern Hemisphere as well. Look for this brilliant yellow-orange star in your northwest sky at nightfall and early evening.
Bottom line: Identify the star Spica between the brilliant planets Venus and Jupiter. Then use this identification to confirm the handy skywatching mnemonic "follow the arc to Arcturus and drive a spike to Spica."
Bruce McClure has served as lead writer for EarthSky's popular Tonight pages since 2004. He's a sundial aficionado, whose love for the heavens has taken him to Lake Titicaca in Bolivia and sailing in the North Atlantic, where he earned his celestial navigation certificate through the School of Ocean Sailing and Navigation. He also writes and hosts public astronomy programs and planetarium programs in and around his home in upstate New York.
A Little Humor for Your Day
Remember for all your magickal needs, think Magickal Necessities….
"Because Momma needs to furnish our new home"
Save