The Witches Divination Journal for Thursday, June 7
Your Daily Horoscopes for Thursday, June 7
Aries
You can start the day relatively withdrawn and happy in that state, dear Aries, but later today, you crave a connection with others with the Moon's move into your sign. Also today, you're in a good position to advance your money-making, work, or health projects. This can also be a good time for networking and the formation of interesting and unique friendships, particularly related to your work or business. Today's energies are particularly suitable for sharpening your mind or exploring new interests.
Taurus
You're able to do your own thing and lead the way today, dear Taurus, but you also manage to be constant and reliable, which is scoring you points with others. It's a good time to pick up the slack or otherwise make small improvements in your relationships, primarily, but also with work. However, it's essential that you avoid the temptation to fall back on work if you're doing it to avoid personal problems. You're in a particularly good position to clarify your thoughts on a matter today. Ideas are especially notable now.
Gemini
You're in a particularly strong position to understand your inner world, responses, and closest relationships today, dear Gemini. You're also in good shape for dealing with emotional attachments and dependencies. There are solutions, outlets, or breakthroughs for these things now, and it feels good! You're both practical and progressive now, and this aids decision making. A Mercury-Juno aspect today assists you to connect with people who are truly helpful, supportive, or otherwise in your corner. Teamwork can be especially fun and useful now.
Cancer
You are in good shape for strengthening a partnership or friendship today, dear Cancer, and especially for combining the old with the new or the exciting with the steady elements and making the most of your situation in this way. This can also be a good time for rewriting the "rules" in your relationships if things have become stale or challenging. You might experience a strong desire to finish up a project, and you're in an excellent position to gain insight into what you may need to cut out to go forward in a freer, lighter way. Information surfacing now tends to be helpful and even purging.
Leo
Today is strong for coming to a better balance, dear Leo, although you may need to avoid the temptation to blame someone else for your troubles. You can see the best of the traditional and progressive worlds and apply these things to your work, career, health, and partnerships. Relationships with co-workers, superiors, and associates can improve now. Communications, particularly with friends, are more rewarding and useful than usual, and might even lead to a solution to a problem or another form of an advance. Mental rapport with others can be satisfying and inspiring.
Virgo
You have good influences working for you today (and this week in general) for travel, publishing, creative projects, and romance, dear Virgo. You're coming to fairer expectations of these matters and yourself, and decision making benefits. You may be combining teaching and learning or work and play with great success right now, and ideas can emerge that help you have more fun but also get the practical things done. You are using your resources intelligently right now. You're in an excellent position to develop strategies and make plans. This can be an interesting time for discovering facts that give you an "in" where you thought there wasn't any.
Libra
It's a good time to make changes that stabilize your life in key ways, dear Libra, particularly related to relationships, living conditions, and family or domestic matters. Money matters or debts can be part of this. There can be excellent support at home or with family as you're willing to pour extra energy into making things work right now. Your focus on priorities helps since you have little interest in diversions, making it a great time for meaningful work and conversations. This is an excellent day for understanding the perspective of someone significant to you, even if you failed to empathize with it in the past.
Scorpio
You're in a fabulous position to update and improve your relationships, studies, or projects now, dear Scorpio, with a harmonious influence that helps you make changes that are ultimately stabilizing. You're taking the best from both the traditional and progressive and making things work. For some of you, this is a fantastic time for a collaboration with a partner on something that's important to you. You may need to avoid the temptation of spending too much time to yourself or avoiding your duties, though, as you can be procrastinating if you're dreading something. However, conversations can be highly motivating. Seeing a new layer of a situation can have you feeling good about yourself.
Sagittarius
This is a wonderful time for making changes that may be small but very useful, dear Sagittarius. You're in a great position to make minor updates, particularly in the areas of work, health, money, and habits, that result in significant improvements. Alternative approaches to work, living arrangements, or healing can be successful now, or changes in your current methods make life easier. Also today, you're in good shape for helpful conversations with a lover, child, or friend. Decisions related to creative projects and hobbies tend to be sound. Collaboration is highly favored today. Do watch for a tendency to focus on annoying details at the expense of the bigger picture.
Capricorn
With Vesta in your sign harmonizing with Uranus, dear Capricorn, you can have a heartening sense that the effort you're putting forth now will lead to a freer, more enjoyable state of mind. You might also benefit from balancing responsibility and recreation more evenly. Uranus, now in your solar fifth house, is bound to encourage you to pay more attention to fun, or at the very least, stimulate a desire for new ways to express yourself. It's easier than usual to see what can go today in the name of progress, although it may be the opposite when it comes to money and spending, so do watch for impulsivity along these lines.
Aquarius
You're benefiting from a pleasant aspect that encourages creative and practical ways to live, work, and settle in this week, dear Aquarius. The trick is to start working on putting a difficult situation or long-term problem behind you. Taking steps towards these ends makes sense now, and can be very worth it in the long run. You don't have to do everything all at once, fortunately, but starting the process makes sense now. You're also in a good position to collaborate, get an edge in a personal interest or hobby, or gain an advantage with new information today. Conversations can lead to fabulous ideas or might even spark up and rekindle an old interest in a project.
Pisces
Today is good for finding a balance between the traditional and unconventional, dear Pisces, particularly with communications, learning, connecting, and networking. Technological projects can be in focus and successful, too. This can be a time for finding a way to have fun and make money, teach and learn at the same time, or follow personal interests and connect with others. Friends might hook you up with satisfying projects, or you may be similarly helping others. Today's energies are good for getting to the heart of a matter, mainly related to money, security, and family. A conversation can help clarify an important topic or new ideas for making improvements can come in handy now. You hone in on the most valuable details of an issue now.
If You Were Born Today, Thursday, June 7
You have strong business instincts which can aid you in your worldly goals, but you also possess a distinct spiritual side which you share only with those very close to you. Some might call you lucky, but in truth, you make your own luck. You can be a tad stubborn and this quality can make relationships challenging, especially as you tend to attract the same quality in others. Famous people born today: Paul Gauguin, Dean Martin, Jessica Tandy, Liam Neeson, Prince, Anna Kournikova.
Your Birthday Year Forecast:
Your birthday occurs around a Third Quarter Moon this year, and you are reaching an important turning point in terms of personal growth. You may be more emotional this year and should watch for unnecessary conflicts and making hasty decisions as a result. Otherwise, this is a year of greater understanding and a strong desire to take care of business. This should be a busy, dynamic period in your life.
Neptune transits square to your Sun this year, and there can be times when you combat low energy and motivation levels. It's important to be selective when it comes to projects or answering demands. A noncommittal attitude in your personal life could leave people in your life feeling frustrated with you as you attempt to find yourself. Your self-image is being re-worked, and you are becoming more sensitive to a greater, perhaps more spiritual, sense of purpose.
This can be an exceptionally busy year on a mental level. At times, you may feel like the pace of your life is running ahead of you. You can be especially productive, however, in all types of communications–writing, speaking, learning, teaching, and so forth. Your reputation may be enhanced through word of mouth. Making new contacts through learning and mental pursuits figures strongly as well.
Certain relationships grow and expand this year or there can be the growth of a money-making pursuit or a satisfying hobby. Pleasing circumstances surrounding your love life, finances, and creative pursuits are in store this year. You are more generous, and others return the favor.
However, intensity characterizes your personal relationships and romantic attachments at times. Passions, feelings of jealousy, and possessiveness can run high, and these emotions are in direct proportion to fear of losing someone. You are likely to have to deal with these emotions in yourself, but you may also need to handle the jealousies and possessiveness of a partner. Relationships may be complicated or you seem drawn to complicated relationships. The need for deeper intimacy is present, but fear of this closeness may be just as strong. Something tiny can trigger all sorts of buried emotions, and this can be very revealing! Instead, there may be some tension over your personal finances, and/or need to make a large payment that necessitates changes in your spending habits. Finances may be complicated or there are power struggles with money this year.
Idealistic and humanitarian goals or impulses surface this year. Making connections with others from different backgrounds may figure strongly. Widening your mind through unusual or different experiences can be part of the picture. You more easily make personal sacrifices for what you believe to be the better good this year.
You're in an excellent position for personal interests, education, and projects, as you are more committed to these things than usual. Your social life can transform in wonderful and perhaps magical ways, although some relationships can be complicated. You're motivated regarding your personal interests and projects, and life can be very busy this year. Even so, until February, energy levels are up and down until you get in touch with what inspires you.
2018 is a Number Six year for you. Ruled by Venus. This is a year of relative contentment. It's a time when love is the easiest to attract, and partnerships formed under this vibration have a better chance for longevity. You are especially able to attract others–and material things as well–this year. This is a good year for establishing harmony in the family and the home. Advice – develop existing relationships, be positive and receptive because these kinds of energies help you to attract what you desire.
2019 will be a Number Seven year for you. Ruled by Neptune. This is a year of preparation, chance, and refinement. It is not a time of dramatic changes. Instead, it's a year when reflection on the past is helpful, and when refinements to your life path should be made. It's a good year to study, observe, research, and analyze. Unexpected twists to your life story and "chance" meetings are probable. Advice – take stock of your life in order to prepare for more exciting years to come, examine the past and plan for the future, get in touch with your deepest needs and uncover your personal power, don't strain yourself or actively try to expand.
Get A Jump On Tomorrow….
Your Daily Horoscopes for Friday, June 8
Aries
While you may have been keeping a low profile for the last couple of days, dear Aries, with the Moon in your sign today, you're seeking out more connections to the world around you. Mercury is in minor tense aspect to both Pluto and Mars today, which suggests communication challenges, especially since Mercury is currently in your sector of communications and mobility. You could be working under stress right now, feeling pressure to produce or to solve problems quickly. While conversations seem light on the surface, there can be some tense undercurrents. The root of tension may be concerns for the future or increasing ambitions or competition. There can be minor but marked conflicts of interest with someone. The tendency to be taken the wrong way is strong right now, but nothing that you can't handle! Mental restlessness can lead to positive experiences, particularly if it compels you to seek out new and exciting information or interests. Discipline, however, can be lacking if you are required to focus on dry or monotonous work.
Taurus
The Moon spends the day in your privacy sector, dear Taurus, encouraging you to keep a lower profile than usual as you need to take a break from the routine. While it can be challenging to do so now, try to get rid of rigid ways of looking at things, and if you find yourself acting out of your insecurities or fears, nip this in the bud as soon as possible. Tensions arising today are unlikely to be about what they appear to be on the surface. Convincing others to address the root of a problem may be tricky but not impossible! There can be a war of words over personal possessions, values, communications styles, or respect. Or, this can be a day when the ordinary doesn't satisfy, which can lead to interesting thoughts, but possibly some restlessness as well. Watch for impatience especially with people who are lacking a sense of decorum. Aim to be as flexible and adaptable as possible, and keep the bigger picture in perspective so that you don't let the little problems drag you down today.
Gemini
Mercury's minor challenging aspects today suggest some tension, dear Gemini. This morning, there can be two separate pulls – one towards light and easy thoughts and communications, and the other towards digging up the truth of a matter. This can leave you undecided, but if you let go of one, you'll be in a better place! Your voice is stronger than usual these days with Mercury in your sign, and your words have more impact in general, making it especially important to watch you don't communicate a little too impulsively or get overly fired up over a difference in opinion. Today can be strong, however, for feeling emotionally centered, particularly if you focus on work behind the scenes or get the private, quiet time you so need right now.
Cancer
With Mercury in minor challenging aspect today, dear Cancer, there can be a lack of flow and perhaps some misunderstandings to deal with, although nothing you can't handle! Communications can rather easily go awry, and there can be something emerging from your past that you'd prefer stays buried. Alternatively, your mind can be restlessly scanning the past for answers, and it can be difficult settling yourself. A disconnect with a partner can be an issue now. Something may feel out of sync, or you could be worried you missed something that will later surprise you. You may need to spend a little time sorting out your problems to clear your head. Attempt to keep things light and straightforward, but don't entirely avoid the deeper issues, particularly if they are the same old patterns that keep emerging. It may be better to discuss these things, though, when everyone is more receptive.
Leo
This morning, concerns about or ambitions related to health or work can impact your social activities, dear Leo, or play with your head a little, making it challenging to concentrate. It can be hard to enjoy yourself thoroughly, as well, with so much going on at the back of your mind. As much as you want to "do it all," you may benefit from some delegation of tasks or help from others. Later today, it's a good idea to try to stay centered and focused rather than to allow others' dramas to throw off decision making. You might feel like someone is overstepping bounds and this can cause you to feel quite self-protective. Wait things out, get rest, and aim to approach problems from a fresh perspective tomorrow.
Virgo
This morning, there can be an edge to the atmosphere around you that makes you feel that you should be accomplishing something substantial, dear Virgo. However, it can be hard to know where to put your energies. This can stimulate restlessness or needless arguments and drama. Your ideas may not go over as well as they would on another day, so you may want to hold onto them for now. Watch for impatient, impulsive communications, and tension related to changes of schedules. Today is better for troubleshooting and edits. There can be misunderstandings or poor timing that make relating to one another a little strained. Do your part by resolving not to take things too personally if things are slightly off. Be careful about what you communicate, especially professionally, as your words hold more weight than usual with Mercury at the top of your solar chart these days.
Libra
Others may be a little too self-absorbed this morning for communications to flow both ways, dear Libra. Aim to let things flow rather than maneuver them for best results now. Watch for power plays with others, particularly with those closest to you. You can be quite focused on a moral issue or a particular belief and perspective. While giving something further thought is just fine, try to shake it off if it's truly interfering with your day. Alternatively, you can find a way to act upon your feelings and beliefs, even in a small way, so that you can feel you're actually going somewhere with it. Later today, there can be impatient communications to contend with or frustrations with people who can't seem to express their ideas or opinions with consideration for others. Try to keep things in perspective. Watch for hasty actions and communications. It will be important to slow yourself down just enough to catch mistakes or to prevent unnecessary conflicts. Try to direct any excess energy into something you truly love doing.
Scorpio
This morning, Mercury forms an awkward angle with your ruler, Pluto, dear Scorpio, and this tends to complicate your communications and mental focus. Decisions revolving around ownership, money, or knowledge can be challenging to make. This is a time when what's below the surface of matters is more important to you than pretty much anything else! Find ways to know yourself and important people in your life more deeply, but watch for focusing on things that don't honestly matter in the long run to the detriment of your happiness. Later today, Mercury forms another minor challenging aspect, and you may feel some pressure to speed things up. Unfortunately, people are not inclined to take the time to listen, and frustrations can result. This is not a good time for bringing up tricky topics. Be easy on yourself by calming down and thinking of priorities.
Sagittarius
This morning, dear Sagittarius, watch for the tendency to bring worries about your practical affairs into interactions with others and try to separate the two. Energies for communicating are below par most of today, in fact, but you can find spots for expressing and enjoying yourself. Watch what you say and avoid rushing through paperwork and conversations, particularly as the day advances when Mercury and Mars are in challenging aspect, stimulating a sense that you should rush or push a matter. There can be quite a bit of energy available, but it's difficult to channel it. For some of you, there can be a disagreement over ideas or choice of words with a partner. Keeping yourself mentally stimulated and engaged, even with games, can be helpful.
Capricorn
This morning, watch for worrying too much, dear Capricorn, as it wastes your energy. Be kind to yourself and channel your energy into happier, more satisfying pursuits than overthinking things. Keep in mind that irritability or tension due to the stress of increased demands from others can be experienced now, so be sure not to add even more to your plate. Later today, there can be some tension of a different variety as a Mercury-Mars aspect can speed up your thinking or give you a sense that you should be doing more than you are. Irritations tend to stem from a lack of control over routines or work, or there can be some minor health concerns now. Watch for a competitive edge in your communications. You could feel impatient with people who seem to be taking too much time or who are otherwise blocking your progress. Do your best to center yourself or to direct excess mental energy into something productive.
Aquarius
With Mercury in minor challenging aspects with Pluto and Mars today, dear Aquarius, people may be harping on problem areas or scrambling to take control of situations but have trouble managing if and when they do! Interactions can be a little strained as a result. It can also be challenging to choose between playing it safe and taking a creative risk. Do your best not to take things too personally if interactions are awkward. Avoid staying in a state of limbo for too long, but don't rush decisions, either. Instead, aim to focus on productive pursuits. Later today, something (or someone) might test your nerves. Watch for excessive hastiness, which won't serve you well. People around you may be nitpicking or misunderstanding your desires and actions. Avoid pushing matters and find ways to soothe frayed nerves.
Pisces
This morning, problems or challenges related to your career and social life can weigh heavily on you, dear Pisces, and these can interfere to some degree with your personal or family life and even the words you use to express yourself today. It's better not to read too much into problem areas now unless they stick, so give things and people time. Later today, Mercury in a challenging aspect with Mars can point to some frustrations brewing, particularly with a family member or tension in your personal life. Consider both the benefits and challenges that impulsiveness brings to your life so that you are better equipped to deal with surprise elements coming your way. The Moon spends today in your resources sector, helping to ground you.
Tarot Card of the Day
The Fool
---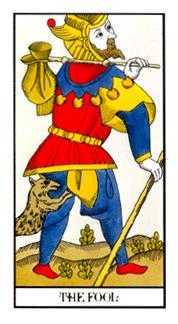 Pamela Coleman-Smith's artful rendition of The Fool in the Rider-Waite Tarot deck is often used to represent Tarot in general. Early classical versions of The Fool card, however, portray quite a different character — a person driven by base needs and urges, who has fallen into a state of poverty and deprivation.
In some earlier instances, The Fool is made out to be a carnival entertainer or a huckster. In others, he is portrayed as decrepit and vulnerable — as the cumulative result of his delusions and failures. Not until the 20th century do you see the popular Rider-Waite image of The Fool arise — that of an innocent soul before its fall into matter, untainted by contact with society and all its ills.
Modern decks usually borrow from the Rider-Waite imagery. Most Fool cards copy the bucolic mountainside scene, the butterfly, and the potential misplaced step that will send The Fool tumbling into the unknown. Don't forget, though, that the earlier versions of this card represented already-fallen humanity, over-identified with the material plane of existence, and beginning a pilgrimage toward self-knowledge and, eventually, wisdom. The Fool reminds us to recognize the path of personal development within ourselves — and the stage upon that path where we find ourselves — in order to energize our movement toward deeper self-realization.
Part of the Daily Insight Group ©2018
Love Tarot Card of the Day
The Tower
---
Hoping and wishing won't make it so. Quick and decisive action does. The Tower represents permission to get things moving in high gear, in the right direction. Invest yourself wholeheartedly in your long-term relationship. Start with straight talk with your partner. The Tower is a wake-up call to signs previously ignored. It heralds the idea that the truth sets you free and eases tension. It puts life back into the union.
Your Erotic Tarot Card of the Day
Strength
---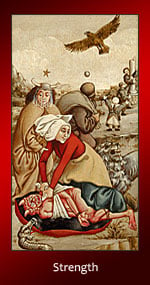 Your sex life gains some serious momentum today with the appearance of the Strength card. You have tremendous inner strength when it comes to getting what you want, and that includes sexual conquests. If you've been waiting for the right time to try out some new moves, the Strength card urges you to act now! There may be some obstacles in your way, but you welcome any and all challenges. Anyone playing hard to get right now is like putty in your hands.
Psychic Tip of the Day
LEAP OF LOVE
This is a day to dream big and seize the moment. Love is headed your way if you move in with a plan for seduction. Are you ready to leap?
Part of the Daily Insight Group ©2017
Your Daily Rune for Thursday, 
Inguz
"Ing-guz" – Literally: "Seed" or "The god, Ing" – Esoteric: Process, space
Rune of isolation or separation in order to create a space or place where the process of transformation into higher states of being can occur. Rune of gestation and internal growth.
Psi: internal growth, personal development, the power of suggestion, the inner-child, wholeness
Energy: earth-god, stored energy, gestation process, male mysteries, subtlety, planned bursts
Mundane: male sexuality, agriculture
Divinations: Resting, gestation, internal growth, expectation, time for oneself; or impotence, scattering, movement without change, frivolity, immaturity.
Governs:
Storage and transformation of power for ritual use.
Stored Energy
Passive meditation and centering of energy and thought
Sudden release of energy
All forms of subtle, creative action
Your Animal Spirit Guide for
Your Daily Karmic Number for Thursday, 
You are beginning a new cycle of doing the same thing over again. The hamster wheel will wear out soon. Will you buy a new one and continue on the same path to nowhere, or finally bust out of the cage? If you stay put the scenery will not change. Neither will the food, your sleeping pattern, or sense of style, much less bigger and more obvious things. You still need to learn lessons from the previous cycle, so reflect on the past so that you can release negative karma and move into a brand new, positive cycle.

Crack the Cookie
The Wisdom of Buddha
Peace comes from within. Do not seek it without.
A Little Humor for Your Day
Save