The Witches Divination Journal for Wednesday, March 14th (Part 2)
Tarot Card of the Day
Ten of Cups
---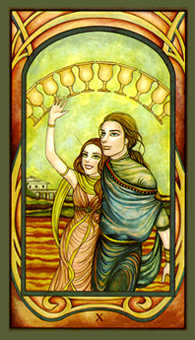 The Ten of this suit traditionally signifies family and community, often showing a celebratory scene including many generations, crowned by a rainbow signifying the end of hard times.
See this vision — love and support extending in all directions — a huge emotional safety net for everyone.
Tarot.com is a Part of the Daily Insight Group ©2018
Daily Love Tarot for the Day
The Emperor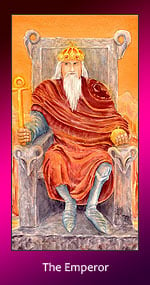 The Emperor card has selected you to let you know that you sow seeds of better things and more fulfilling times ahead. Give yourself permission to reach out for more, especially if you are dissatisfied. You create a solid foundation, built on a sense of higher purpose. If your current relationship suffers from stress, today let tender actions reveal what you may be unable to put into words. Rebuild, from the ground up.
Your Daily Erotic Tarot
The Judgement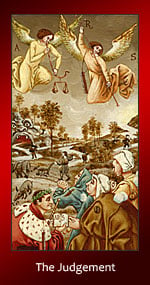 The Judgement card indicates that you've had some sexual hang-ups in the past, but you're working toward getting over them. This is a period of transition, and although you're doing the work, you may not be getting the exact results you desire. Forgive yourself for past missteps in order to take a sexual step forward today. Being afraid to express your true erotic self can even effect other areas of your life, so getting beyond your sexual inhibitions translates into a happier overall existence.
Your Daily Rune for Today
Hagalaz
"Hag-all-az" – Literally: "Hail" or "Hailstone" – Esoteric: Crisis or Radical Change
Key Concepts: hailstones, crisis and catastrophe, disruption, radical change, destructive elements of nature, severe weather, the uncontrollable, unavoidable unpleasantness, Jungian shadow, psychoanalysis, regression, acceptance of the unalterable
Psi: disruption, change, personal past

Energy: power beyond human ability to harness, perfect pattern, seed formation, objective confrontation, destructive natural forces, chaos
Mundane: bad weather, obstacles, surprises, shelter
Divinations: Change according to ideals, changes for the long-term good, controlled crisis, corrections, completion, inner harmony; or catastrophe, crisis, stagnation, loss of power, loss of property, short-term disappointment, victim-consciousness, obsession with the past, blame.
Governs:
Completeness and balance of power, integration of unconscious shadow elements
The inevitability of Fate, Wyrd, Orlog
Evolutionary progress and operations of becoming
The outworking of a perfect pattern
Protection through banishing or exorcising disharmonious patterns, protection
Awareness of the unconscious ideas for eventual processing
Causing discomfort in others by awakening their own subconscious 'garbage'
Your Daily Influences for Wednesday, March 14
Tarot Influence
Six of Coins
Material gain, charity and justice are at the forefront. That which is earned will be given.
Astrological Influence
Gemini Reversed
Gemini reversed denotes vacillation. Decisions are not made, because all side of the issue pull with the same strength.
Element Influence
Air
Air denotes freedom and the ability to transcent the mundane. You may be, or may soon experience a spiritual or secular liberation.
Your Animal Spirit for Today
March 14, 2018
Frog
Frog Rivet! Something in your life needs cleansing, and frog is here to help. Frog is traditionally associated with rain—that powerful force of Nature that can flood, nurture, heal, or drown. If Frog appears in your reading, you're being asked to examine what is stagnating in your life—then ask Frog to help you let it go. Need to cry? Jump in the shower and let Frog Medicine do its work.
The Words of Confucius
It does not matter how slowly you go as long as you do not stop.
A Little Humor for Your Day
You Might be a Redneck Pagan If…
---
If any part of your invocation of the South Quarter includes any lines from any song by Lynard Skynard….
If chewing tobacco is considered a sacred herb…..
If part of your rite includes throwing shotgun shells on the fire….
If the bell on your alter was ever worn by an animal in a pasture….
If the cakes and wine are done with a bowie-knife, a can of Foster's, and a Little Debbie…..
If they chose their High Priestess at a wet t-shirt contest….
If when your priestess says "Blessed Be" in circle, you respond with "YEEE-HAW!"…
If you believe a pentagram is a Western Union message to 5 people….
If you bought your chalice at the Piggly Wiggly…..
If you buy your incense and candles at Wal-Mart….
If you call the God and Goddess by hollerin' "Hey, y'all! Watch me!"….
If you call the North Quarter, but what you call it is an inner court secret…..
If you can play the "Burning Times" on the banjo….
If you carry your ritual sword in your pickup's gun rack…..
If you found out your familiar is an oppossum — and still ate it……..
If you have combined Maypole Dancing/ Tractor Pull/ Turkey Shoot for Beltane….
If you have cast a love spell on livestock….
If you have ever called the National Enquirer because you raised a potato that resembled the Willendorf Goddess….
If you've ever cancelled a coven meeting to watch Pay-Per-View wrestling on TV….
If you've ever written a spell on the back of a Denny's menu…..
If you have ever refilled your chalice from a keg…..
If you invoke the spirits so that your beer lasts longer…..
If you pray nightly to the god of big tires…..
If you sacrifice BBQ and pork rinds on an alter made of old car hoods….
If you shoot guns into the air when the priestess says, "the circle is open but never unbroken"…
If you smoke Salem cigarettes for the historical significance….
If you think a "family tradition" is a dating club….
If you think the Wiccan Rede is good for making twig furniture….
If you worship the gods of cheap beer and Nascar….
If you've ever done a candle spell for your local high-school football team….
If you've ever harvested ritual herbs with a weed whacker…..
If you've ever meditated to "Dueling Banjos"…..
If you've reached the 3rd Degree but not the third grade……
If your God statue looks a little too much like Elvis Presley…..
If your Goddess picture says "Miss September" at the bottom……
If your Wand of Power is a cattle prod…..
If your altar cloth is a Confederate flag…..
If your altar cloth is vinyl……
If your altar cloth says "Holiday Inn" or "Howard Johnson's"….
If your altar has a spit cup…..
If your altar pentacle is a photo of John Wayne's star on the "Hollywood Walk of Fame"…..
If your annointing oil smells like Old Spice…..
If your athame is by Bowie…..
If your broom has 4 wheel drive and SC plates…..
If your ceremonial chalice says "Budweiser" on it….
If your ceremonial garb consists of cut-offs and a tube-top…..
If your circle dance contains the words "dosey-do"……
If your circle dance is a two-step….
If your coven chose its High Priest at a belching contest….
If your coven's secret names for the God and Goddess are "Cooter" and "Sweet Cheeks"….
If your coven-stead is propped up on cinder blocks…..
If your craft name starts with "Bubba"……
If your familiar can point quail….
If your familiar keeps mice out of the granary…..
If your favorite Great Rite partner is your first, second, and third cousin….
If your backyard ritual libation is brewed in an illegal backyard still……
If your favorite painting of the Goddess does her hair like Rheba McEntire….
If your maiden sweeps the circle with a weed whacker….
If your most sacred altar items include a hubcap, a velvet painting, and a half-empty can of chaw…..
If your outdoor circle has defunct washing machines for quarter altars….
If your pantheon includes Yukon Jack, Jim Beam and the St. Pauli Girl…
If your ritual music has ever included Johnny Cash singing "Ring of Fire"….
If your robes are made out of denim with Harley Davidson patches…..
Well, you might just be a redneck pagan!
Originally published on Pagan Library
Remember for all your magickal needs, think Magickal Necessities