What's Up?
Let's do the Horoscopes & Find Out!
The Witches Digest for Saturday, January 20th
(Part 2, Horoscopes & More)
Your Cosmic Weather Horoscope for Year 2018
Jane Lyle, Astrologer
From The Astrology Room
Welcome to 2018!
2018's constructive potential reaches out to us amidst the chaos.
We can, if we choose, focus on building firm, new foundations in physical, creative, and soulful ways. And we can work on rebuilding or reinventing what's wobbling in our world – from love, sex, and friendship to money and meaning.
Our collective thinking about our significant responsibilities towards life on Earth itself can begin to develop in new, practical directions. Many of 2018's planet patterns invite us to act in positive ways, but of course it's ultimately up to all of us to not only embrace hope, but to roll up our sleeves, feed our imaginations, and get to work. Happy New Year!
Astrology's Five Big Signposts for 2018
1) Earthbound: Saturn in Capricorn, 2017-2020:
Old Man Saturn is strong and powerful in its home sign, Capricorn. The planet of time, structure, foundations and karma travels through serious Capricorn until December, 2020. Reality bites, reality rules, and we must all try to work with Saturn and become more down-to-earth and practical during these years.
*Saturn in Capricorn is one of several astrological signs that a critical financial sea-change is afoot. It favours banking regulations, tax initiatives, and restrictions of various kinds in the stock markets. Saturn in Capricorn is an old-fashioned banker who respects rules and structure. And Saturn in Capricorn is not impressed by cunning tax avoidance schemes – legal or otherwise – either.
*Saturn in Capricorn symbolises the rocks beneath our feet and the great mountain ranges of the world. So we could see more news – and more discoveries – about mining, minerals, fracking, caves, fossil fuels, and tectonic plates. Along with Uranus in Taurus, it represents a time when we move towards taking practical steps towards conserving resources, and taking care of the Earth itself.
*Saturn in Capricorn describes old age – and encourages a focus on older people and their care – and perhaps considers their ability to contribute to society as well.
*Saturn in Capricorn loves history and tradition, and is conservative and cautious by nature.
We'll all feel this shift. The cardinal signs of Aries, Cancer, Libra and Capricorn approach an important two-year phase. And if you have planets, angles, or points between 0 and 11 degrees in your own personal horoscope, you will experience a Saturn transit – or the start of one – this year.
People, organisations, and nations who were born with Saturn in Capricorn will be having, or approaching, their Saturn return – an important time of added responsibility, assessment of what's real, and often a leaving behind of what isn't working out.
Saturn was in Capricorn:
December 1929 – November 1932
January 1959 – January 1962
February 1988 – February 1991
Saturn in Capricorn will be active in many world horoscopes. Here's a few that will experience a visit from the down-to-earth Time Lord himself in 2018:
A Saturn return is coming up for:
Palestine
Thailand
Australia
Hungary
Latvia
And in 2018 Saturn sternly crosses the Sun in these horoscopes:
Libya
Indonesia
Lebanon
United Kingdom
Czech Republic
Australia
Slovakia
The European Union
The Euro
2) The Electric Earth: Uranus in Taurus 2018 – 2026
Uranus enters Taurus on 15th May, 2018.
A new era for invention, revolution, originality and science is dawning. And like an electrical storm, this theme will flicker at first. Between November 2018 and March, 2019 we get a re-run of late 2017 and early 2018 as Uranus backtracks for the very last time into Aries.
But the changes signalled by Uranus in Taurus begin this year. What's brewing?
Uranus in Taurus combines the stubborn, earthy, security-minded qualities of Taurus with Uranus, the eternal disruptor. What does security mean to us? We will be asking ourselves this question many times during the passage of Uranus through Taurus between 2018 and 2026.
There's much tension between freedom (Uranus) and security (Taurus) throughout this period. Some of this will manifest in questions about our possessions and what we value – Taurus tends to accumulate 'stuff', Uranus likes to feel unencumbered. Have we reached 'peak stuff'? Some of us will prefer to enjoy the pleasures of Taurean experiencesinstead – delicious food, sensuous scents, gardens and nature, colour and texture.
I think Uranus in Taurus means we'll see incredibly significant changes financially, for Taurus is a financial sign. Uranus favours revolution, so this signals a notable financial revolution – likely to include the growth and acceptance of cyber currencies, such as Bitcoin and others, yet to be invented.
Disruptions to the Earth itself may be dramatic – earthquakes and other natural upheavals, such as volcanic eruptions, could increase now, and onwards towards 2026. Green energy sources and inventions will gain in affordability and popularity.
Uranus in Taurus could signal amazing discoveries about our planet, it's structure and it's energy patterns – particularly electromagnetic energies within the Earth itself, and those beaming in from outer space. We'll learn much more about geomagnetic forces, cosmic rays, and natural radiation during Uranus in Taurus years.
Similarly, there will be exciting discoveries about our five – or even six – senses, our physical bodies, and more secrets about our DNA. Some of these discoveries are likely to relate to our own electromagnetic qualities, and how we respond to electricity and magnetism in all their forms in our environment. Everything is connected as we plug into our planet.
Art, music, and fashion will be disrupted and refreshed in original, unusual ways during the Uranus in Taurus era. The use of electricity and lasers in beauty treatments will gain widespread popularity.
Inventive ways to address the global housing crisis will arise. All kinds of original and eccentric community-based housing projects and independent movements will have an opportunity to develop. They will disrupt our ideas about what's possible and what's practical. We'll experiment with unusual building materials, too.
The last time Uranus was in Taurus (1934-1942) the UK saw a massive housing boom during the mid to late 1930's. Much of suburbia was created then. The UK itself (1st January, 1801) has active Mars in Taurus in the 8th house of legacies, trine sober Sun in Capricorn in the 4th house of home and roots. Uranus came along and stimulated taking much-needed action on housing. We live with that legacy today.
All these themes will develop between 2018 – 2026.  If you have planets, angles or points between 0 – 2 degrees in your own personal horoscope, you'll feel this restless, inventive influence this year. Late degrees, and birthdays at the end of a sign, are also stimulated again. This is the beginning of a pivotal period for all the fixed signs – Taurus, Leo, Scorpio and Aquarius.
Uranus was last in Taurus from June-October 1934, then April 1935-May 1942.
World horoscopes feeling the force of Uranus in Taurus in 2018 include:
France (1792)
The UK House of Commons
The office of President of the United States
The Vatican City
There are many more locations worth watching, with planets in Leo, Scorpio and Aquarius. Uranian unrest, disruption, and upheaval seems likely in Russia, Eastern Europe and the Baltic States in 2018, for example.
3) Power and Mysticism – Jupiter's 2018 journey
2018 is full of practicality and major financial themes and dramas. But there're also a bewitching, imaginative possibilities. Expansive Jupiter in mysterious, watery Scorpio is involved with both stories.
Finances loom large this year. And when Jupiter meets powerful plutocrat Pluto, we'll see a few more juicy secrets emerge. Follow the money! Pluto also rules the secret services, so major news featuring behind-the-scenes activities is more than likely.
This planetary pair are also very helpful for projects involving charities, regeneration schemes, recycling and cleansing operations, foreign trade and investments – and building up power and influence.
In your own horoscope, Jupiter sextile Pluto in 2018 offers a confidence boost, and possibility of increasing your success, influence, knowledge, and financial security. It's particularly helpful for the Earth and Water signs – Taurus, Cancer, Virgo, Scorpio, Capricorn and Pisces.
Jupiter in Scorpio and Neptune in Pisces are also opening up a portal – a gateway into a beguiling world of mystery, imagination, and spirituality. Some of us will seek out a less materialistic view of life, others will want to explore psychic awareness, use their intuition, or study what's unknown, and unseen in the world around us. Some of this may find a conventional religious outlet, some of it manifests in a more open-minded attitude towards the paranormal, supernatural, and the powers of the mind. This connection favours music, art, healing, film, magic, and fantastical bohemian designs.
To make the most of this influence, we'll have to decide to work with it. Otherwise we'll simply melt into some kind of delectable, blissed-out haze, and miss out on some glimmering inspirations. The elves and pixies are waiting!
The downside of Jupiter and Neptune manifests in confusion, deception, delusion, and disappointment. So when this potentially magical influence comes along, do be very aware of financial scams and bogus spiritual gurus or romantic admirers.
Jupiter and Neptune work beautifully on an expansive creative, spiritual level – but can denote massive financial bubbles, dubious investments, and dangerous false optimism when manifesting on a practical level.  Plus, I'm sure this pair of planets will delight in some steamy scandal mongering in 2018. Neptune, in particular, is always associated with scandals.
Jupiter in Scorpio is trine Neptune in Pisces:
3rd December, 2017 at 11 degrees
25th May, 2018 at 16 degrees
19th August, 2018 at 15 degrees
These are the days when the aspect is exact. The flavour and meaning are swirling about from December to autumn, 2018.
Jupiter in Scorpio is sextile Pluto in Capricorn:
16th January, 2018 at 19 degrees
14th April, 2018 at 21 degrees
12th September at 18 degrees
As you can see, this powerful duo is around for much of 2018. These dates are for the exact link, but the atmosphere and energy of this connection is around from January until October.
4) Lover, Come Back, and Other Stories: Mars and Venus Retrograde in 2018
Both Venus and Mars have retrograde phases in 2018. This highlights our relationships, finances, and ability to move things along. Between them, Mars and Venus vitalise the signs of Capricorn and Aquarius (Mars), and Libra and Scorpio (Venus). The big message seems to be about wanting to begin things, and to stabilise them – but our best-laid plans will turn out to have many twists and turns this year.
Mars, planet of action and desire, will slow us down and ask us to rethink our proposed actions in the summer of 2018.
Mars will spend a big chunk of time in humanitarian, geeky Aquarius and practical, ambitious Capricorn this year. Any planets you have in your own personal horoscope that meet up with Mars will be switched on in ways you'll likely notice more than usual, as Mars passes back and forth over them. Projects begun in the spring will need to be reviewed or stalled during the summer months. Progress can be made in the autumn.
Mars enters down-to-earth Capricorn on 17th March, 2018.
Mars enters Aquarius on 16th May, 2018.
Mars turns retrograde in early Aquarius on 26th June, 2018, backtracking into late Capricorn again on 13th August, 2018.
Mars turns forward in Capricorn on 27th August.
Mars returns to Aquarius once more on 11th September, 2018 – finally leaving for Pisces on 15th November, 2018.
When Mars is retrograde it's a positive and helpful time to reconsider things. Beginning a new project or intimate relationship can be slowed up by circumstances outside our control. Aggressive actions can backfire during a retrograde phase – traditionally, this would be a bad time to attack an enemy, and perhaps not a helpful time to begin divorce proceedings, or other legal actions. So take it easy, if you can, between late June and late August – this phase will need caution, patience, and a willingness to wait until the right opportunity appears.
Venus will be rewinding in early Scorpio and late Libra. Throughout the late summer and on into the winter of 2018we're thinking about sex, relationships, and alliances even more than usual. There'll be some fascinating love stories, reunions, and break-ups as the planet of love spends months expressing herself through Scorpio's sexual passion and Libra's deep need for partnerships.
Money, art, beauty, social life, and finances are also in high focus between August and January.
Venus enters Libra, her home sign, on 6th August, 2018
Venus enters Scorpio on 9th September, 2018
Venus turns retrograde in Scorpio on 5th October, 2018
Venus returns to late Libra on Halloween, 31st October, 2018
Venus turns direct in late Libra on 16th November, 2018
Venus returns to Scorpio on 2nd December, 2018, travelling through Scorpio until 7th January, 2019.
When Venus is rewinding between October and November, we want to revisit the past in love, art, and money matters. Sometimes the past decides to visit us, and old friends and lovers return or lost art and jewellery is discovered.
If you have planets at early degrees in the fixed signs – Taurus, Leo, Scorpio and Aquarius – or in the last degrees of cardinal Aries, Cancer, Libra and Capricorn – both Venus and Mars will be making their presence felt in your personal horoscope in 2018.  This could be a memorable year for your artistic side, and your romantic life.
5) Special dates for your Moon Diary in 2018
Super Moon: 2nd January at 11 degrees of Cancer.
A Super Moon, overflowing in its own sign, Cancer, promises a deeply emotional start to 2018. There's an oceanic feeling to this Moon – it flows with watery Neptune in Pisces and Mars in Scorpio – but is prevented from floating away completely by the Sun and Venus in Capricorn. Certainly we can expect high tides on the seas, and in our own hearts and minds too. This Moon's signature is definitely 'tears before bedtime'.
Micro New Moon: 17th January at 26 degrees of Capricorn.
This new Moon is at apogee – that is, at a point where it is farthest away from us here on Earth on its monthly journey. This could well be the most unemotional new Moon of 2018 – favouring practical intentions and New Year clear-outs.
Blue Moon, Super Moon: 31st January.
This Blue Moon is also a Lunar Eclipse at 11 degrees Leo. And it's a Super Moon, so those lunar vibes are intense.  High tides and stormy weather are very likely both out in our world, and inside our hearts and minds.
This eclipse is visible in North America, Eastern Asia, across the Pacific Ocean, and in Australia. These regions – where the eclipse is visible – are more likely to see manifestations of the eclipse and it's meaning, according to traditional astrology.
February:
There's no full Moon in February.
New Moon and Solar Eclipse: 15th February.
This partial Solar Eclipse is at 27 degrees of Aquarius.
This eclipse is visible in Chile, Antarctica, and Argentina.
Blue Moon: 31st March.
This full Moon rises at 10 degrees Libra.
Two Blue Moons in a year is unusual. A Blue Moon is the second full Moon to rise in one calendar month – this year we have Blue Moons in January and March, signalling an increase in emotions and volatility here on Earth.
Summer's Eclipse Season
When an eclipse stimulates your horoscope you can anticipate changes and important developments. Generally, a lunar eclipse brings inner shifts, while a solar eclipse flags up events in the world around you, or actions you take. Sometimes these changes begin to form at least a month beforehand. Eclipses both conceal and reveal. During eclipse season it's wise to keep options open whenever possible – you may not see the full story or have all the facts you need until later.
Summer 2018 has the planet of action and forward movement, Mars, reversing throughout eclipse season in July and August, and Mercury retrograde in August. So I think it's crystal clear that, one way or another, summer's astrology says – whoa! Revise, reverse, rethink, and dig about in the archives for best results at that time. It really does all look somewhat bonkers.
Super New Moon: 13th July.
This new Moon is at the closest point to the Earth in its monthly journey. Today we have a potent, brooding partial Solar Eclipse at 20 degrees Cancer.
This eclipse will be visible in South Australia and Antarctica.
A total Lunar Eclipse.
This rusty, blood-hued Lunar Eclipse is visible in Europe, Africa, western and central Asia, across the Indian Ocean, and in western Australia on 27th – 28th July. This eclipse is at 4 degrees of Aquarius. Given clear skies, it will be something worth seeing.
Super New Moon: 11th August.
This is a Partial Solar Eclipse at 18 degrees of royal Leo. It's the final eclipse of 2018.
This partial solar eclipse is visible in northern Russia, northern Europe, north-eastern Canada, Greenland, and northern and eastern Asia. Traditional astrology says that these regions are more likely to experience the manifestations of the eclipse and its meanings.
Your Daily Horoscopes for Saturday, January 20th
Aries
The Sun has begun its transit of your solar eleventh house, dear Aries, and will continue to influence this area of your chart until February 18th. While your career or life-plan goals continue to have significance in your life, you're increasingly interested in what makes you happy, what you're contributing, and your friendships or connections. This is a period for prioritizing the relationships in your life. You have more influence on friends and groups during this period, and friends may play a prominent role in boosting your self-esteem or increasing your confidence. Being a team player will bring the best rewards now. This is also a time for trying on new styles and ideas. You may be networking and socializing more than usual, or you could be asked to join an association or team. Today, however, you're best off seeking a little extra rest, privacy, or anonymity as a lunar cycle comes towards an end.
Taurus
The Sun has begun its transit of your solar tenth house today, dear Taurus, and will continue to influence this area of your chart until February 18th. Professional matters, responsibilities, and reputation are in stronger focus now. This is a time for mentally preparing for new beginnings in these areas, particularly as a Solar Eclipse will occur in this sector in mid-February. It's a time for taking charge and shaping matters in the ways you want them to take form. Letting these things slide will make you fret, so do what you can to get your affairs in order. Tend to your needs for approval. As long as they're balanced and moderate, these needs serve useful purpose. You also stand out more than usual at this time of year. This may be a time for taking on more responsibilities. You can come to a high point of the year with your career or reputation. Today, you can feel a little torn between duty and pleasure, and it makes sense to divide your time rather than overdo either end.
Gemini
The Sun has moved into your solar ninth house, dear Gemini, and will transit this area of your chart until February 18th. While this may be a period when you feel dissatisfied with the daily routine, this is an excellent time for you to nurture your mind, body, and spirit with different activities, books, courses, cultural activities, and connections with people who have different ideas and perspectives. It's a beneficial cycle in which to lift yourself above your usual routines, even in little ways, and consider the bigger picture. You are more adventurous, curious, and spontaneous. You might do more studying, learning, and venturing out and about. Your aspirations and ideals are stronger driving forces in your life at this time of the year. Today, you're in particularly good shape for communicating your intention. In fact, you're coming across well, even if you have a somewhat mysterious aura surrounding you.
Cancer
The Sun has begun its transit of your solar eighth house, dear Cancer, and will continue to influence this area of your chart until February 18th. This is a time of year when you crave a little more from life, and you might go through a self-transformation. For example, you may get rid of a bad habit or attitude and thus gain more personal power and a stronger sense of personal accomplishment. Changes, both inner and outer, tend to occur now that remind you that you're growing, not stagnating. There can be an increased focus on intimate connections and sharing, and for some of you, financial or emotional support are important topics in your life now. You might also feel driven to get to the bottom of complex matters, or you're seeking out a little more depth to a relationship or project. Today, you're in an excellent position to come to creative solutions for problems, particularly related to relationships.
Leo
The Sun has begun its transit of your solar seventh house, dear Leo, and will continue to influence this area of your chart until February 18th. It's a more social time of the year when there's a spotlight on close friendships and partnerships. You can learn a lot about yourself and your life through others now, as they can provide a mirror for certain aspects of yourself that you haven't been explicitly seeing — until now, that is! This is a time when compromise and negotiation tend to serve you best. This cycle brings your need for others to the fore, and particularly a partner in some shape or form. Personal goals and agendas may need to be put aside temporarily as you allow others to step into the spotlight. You're also challenged to find a balance between independence and accommodation, peaking around the Lunar Eclipse on January 31st. Today, you're in exceptionally good shape for solving work or health-related problems.
Virgo
The Sun has begun its transit of your solar sixth house, dear Virgo, and will continue to influence this area of your chart until February 18th. Health and fitness goals, as well as work and daily routines, can come into sharp focus during this cycle. Schedules, routines, and organization in your life assume more importance, making this a great time to take care of details that help get your life into smooth working order. Pride in these systems, your work, or your self-care programs is pronounced now, which of course can cause some troubles from time to time if immoderate, but which also can motivate you to make beautiful improvements to these areas of life. Today, you're in great shape for gently getting your message across subtly, gently, and effectively, particularly in your close relationships. There can be a nice feeling of rapport with someone you care about.
Libra 
The Sun has begun its transit of the sector of your solar chart that rules your individuality and creative expression, dear Libra, where it will transit until February 18th. Venus is already here in this "show and tell" house, and it's a time for celebrating and expressing your talents, abilities, and affections. Aim to go forward with as little emotional baggage. You may seek and thrive on others' feedback and good vibes, and you are more openly affectionate and playful at this time of year. A stronger urge is with you now to create, put talents to use, show others what you can do, experience and enjoy romance, and enjoy life's many pleasures. You are less cautious with your heart and more spontaneous in your actions during this pleasing cycle. The Solar Eclipse in this sector of your chart on February 15th will help clear the path for new beginnings on these fronts. Today, you're in great shape for enjoying conversations with loved ones and bonding over shared ideas or memories.
Scorpio
The Sun has moved to the lowest point of your solar chart, dear Scorpio, and will transit your solar fourth house until February 18th. This is a time of strong reminders of your roots, foundation, and closest ties. You're bringing healing and wholeness, as well as some refinement and organization, to your home life and family relationships. It's also a time for getting into close touch with what's in your heart and for anchoring and nesting on a psychological level. It's probably not the most adventurous or outgoing cycle in the Sun's journey through your chart, but it's vital for a sense of identity, comfort, and self-knowledge. While your life remains busy, increasingly, you're finding the time and satisfying ways to relax and get comfortable. Worldly ambitions tend to take a backseat now. Today's energies are similarly quiet and excellent for nurturing your imagination and dreams. Conversations can be eye-opening.
Sagittarius
The Sun has begun its transit of your solar third house, dear Sagittarius. Until February 18th, there can be an increased awareness of what needs to be repaired, healed, and improved in your environment, communications, and interactions with others. You may be looking to subjects of study or topics of interest as ways to expand your knowledge, but also as a means to define yourself more completely. You are more curious than usual and inclined to reach out and make contact with others. You could often find yourself in the position of go-between during this month-long cycle. This is a good time for putting your feelers out, learning new things, and connecting with people and information that help round out your life. Your daily life tends to pick up the pace, partly due to a search for more mental stimulation in your life. Today is great for communicating your intentions and solving problems around the home or with family.
Capricorn
The Sun has just finished its yearly, month-long transit of your sign, dear Capricorn, and has begun its transit of your solar second house. There has been a lot of attention on you and your plans, and while this is set to continue for a while longer, you're now coming down to earth just a little! Until February 18th, you enjoy a wonderfully grounding Sun transit. You can make the most of it by increasing activities that remind you of the importance and beauty of the "here and now," and by building and developing or putting to good use your natural talents and abilities. Taking charge of your finances and extra care of your valuables can also benefit you considerably now. You're taking more pride in your practical affairs and earning capacity or possessions. Your ability to provide for yourself is highlighted now, which motivates you to build your resources. Today is good for getting the right message across, not necessarily through careful selection of words but through genuine communications.
Aquarius
The Sun has just begun its transit of your sign, dear Aquarius, and will continue to move through Aquarius until February 18th. You are at your most resourceful, noticeable, and effective during this month-long yearly transit. This year, you have Venus in your sign concurrently, boosting your appeal further. If you've wanted to make positive changes to the image you project, then this is an excellent time for doing so. You have more impact and personal presence during this cycle. You, your goals, and your needs are up front and center. It's a time for seizing the day and shaping your life as you'd like it to be. You may feel as if you are coming out of the shadows in some ways now, although it may be only after the Solar Eclipse in your sign on February 15th that you genuinely feel you're turning over a new leaf. Today, you're in excellent shape for communicating your needs without having to say much! You're likely to feel understood now.
Pisces
The Sun has just begun its transit of your solar twelfth house, dear Pisces, and will continue to influence this area of your chart until February 18th. The Sun here shines a light on the past, the hidden elements of your life, and mental health matters. This is a time for tying up loose ends, putting an end to projects and attitudes that no longer serve your purpose, and getting in better touch with your inner world. You are more aware of the psychic undercurrents around you, and you're inclined to see things a little differently or pick up cues you missed in recent weeks and months. It's a good time for forgiving others and for letting go of those things you no longer need, if necessary. You may have a difficult time seeing yourself as others see you, and decisions may require more time than usual. However, this is a time of rest and reflection. You are gathering your strength for busier times to come. Today, you're still in good shape for discussions with friends or partners, as you have little or no reason to explain yourself.
If You Were Born Today, January 20
You are a responsible and reliable person who values security but doesn't always offer it! You have an unusual sense of humor, your own distinct style, and a real flair for handling money as well as for money-making ideas. In your lifetime, one of your biggest lessons is to develop faith in yourself and to trust in your intuition, which is strong and rarely steers you in the wrong direction. While it can take some time for your heart to be captured by another, once it is, you give a lot to the people you trust and love, and sometimes a little too much until you learn to ask that others meet you halfway. Famous people born today: George Burns, Bill Maher, Skeet Ulrich, David Lynch, Evan Peters.
Your Birthday Year Forecast:
With the Sun and Moon in a waxing semi-square at the time of your birthday this year, the period ahead is one of new initiatives and action. You possess quite a bit of energy, but you must be aware that emotions color much of what you do this year. It can be hard to be objective as a result.
This can be a year in which you experience important turning points, or you could begin new projects or goals that have a long-term impact on your life.
You crave and seek more freedom this year, and how you deal with this issue makes all the difference as to the overriding themes of this period of your life. If you recognize your need for changes in key areas of your life and adapt accordingly, this can be an exciting year of discovery. However, if you resist change and insist on keeping things status quo, you are bound to feel very restless, tense, and rebellious. Either way, making healthy changes should be the focus instead of change just for the sake of change. Spontaneity, not impulsiveness, is the key to success this year. Fortunately, you have a lot of cosmic support for this.
Personal magnetism is tremendous this year. You are playfully competitive and might win a major competition, if applicable. This is a good period for creative projects and joining with others in pursuing a common goal.
You have enterprising spirit this year, attracting strong opportunities on both professional and personal levels. You are able to see the "big picture", which helps you plan effectively. You have significantly more courage and gumption, making the year ahead a standout one in which you are ready to try new things and take on challenges.
Your ability to concentrate and focus is enhanced this year with Mercury conjunct Saturn in the Solar Return chart. This sometimes suggests a need for solitude when you work or a year in which you often retreat to work on specific tasks on your own. You might be required to travel for business purposes. It can also indicate that young people in your life are more mature or serious in their approach to life. Thinking in realistic and practical terms is your best bet, and the need for tangible results for your efforts is strong.
You have a stronger than usual desire to improve and learn this year, with opportunities emerging to match. Optimism and confidence are with you, and you are able to attract fortunate circumstances into your life as a result. Problems are easier to resolve. Your social life will likely increase and bring you in contact with helpful people. Travel opportunities are likely. Pinnacle successes can occur during this period – for example, publishing an important project, graduating, marrying, having a child, getting a promotion, and so forth. Matters related to universities, higher education, organized religion, publishing, legal affairs, and foreign interests proceed smoothly. It's a good time to seek out advanced training or to further your education. You are likely to enjoy good humor, optimism, and a larger perspective on matters that keeps you from getting lost in details or overly frustrated by everyday stresses and strains.
Some disruptions in your friendships and attachments are possible with Venus in hard aspect to Uranus in your Solar Return. Unusual attractions (to people and things) can have you acting on a whim. You may deal with freedom versus closeness issues in your relationships. This Uranian energy may play out on other levels related to socializing, spending, and pleasure. For example, vacation plans may go awry or agreements could be broken. Impulsive spending is something to watch for.
This can be a year in which you are bolder, more assertive, and energetic. You are especially interested in setting goals and challenges for yourself this year, and taking the necessary action to meet them. You may meet or interact with others who encourage or inspire you in some way to have more confidence in yourself.
You can feel as if you're beginning a new chapter of your life this year as you start fresh on some significant level. Your passions and enthusiasm run high in the period ahead, and you find it natural to channel this extra energy constructively. This is an excellent year for enterprising endeavors and new interests, even if there is also a strong focus on the past. You're drawn instinctively to certain projects that have long-term value. It can be an especially creative, tuned-in year for self-expression, not only verbally but through hobbies, games, or sports.
2018 is a Number Five year for you. Ruled by Mercury. This is a year of discovery and freedom. It's a time when exploration and reaching out to others brings opportunities. It's a good time to advertise, promote, and sell. Surprises are in store, and the routine is broken for the better. This is a year when exciting relationships can be formed; or, if you are already in a partnership, new life is breathed into the relationship. Advice – explore, look for adventure, keep your eyes open for opportunities, diversify, mingle.
2019 will be a Number Six year for you. Ruled by Venus. This is a year of relative contentment. It's a time when love is the easiest to attract, and partnerships formed under this vibration have a better chance for longevity. You are especially able to attract others–and material things as well–this year. This is a good year for establishing harmony in the family and in the home. Advice – develop existing relationships, be positive and receptive because these kinds of energies help you to attract what you desire.
Get A Jump On Tomorrow….
Your Horoscopes for Sunday, January 21st
Aries
The Moon spends another day in your privacy sector, dear Aries, and you need a break from the action. The Moon will enter your sign early tomorrow, and you're likely to feel readier to connect and share on an emotional level, but for now, you're in a more introspective frame of mind. Even so, you're in a beautiful position for harmonizing in your relationships today, as you can most effectively fill both your needs for intimacy and freedom or independence while on other days these can clash. Until April 1st, you're in a cycle in which you feel particularly committed to your beliefs, projects, or learning endeavors, and is quite excellent for developing your skills and arriving at a better understanding of your goals and beliefs.
Taurus
You're in a good position to harmonize with others today, dear Taurus, as the Moon spends another day in your social sector and reaches out to both Mars and Jupiter in your partnership zone. Being active or collaborating and arriving at bright ideas or solutions with others can be in focus and quite successful. This is a wonderful day for finding a way to combine divergent interests, particularly the need to enjoy companionship and get some peace and quiet, as you're not in an either/or frame of mind. Pallas is now in your sign and will transit Taurus until March 29th after an extended stay tucked away in your privacy sector. This move feels freeing but also pulls you out of your shell, particularly the warrior spirit side of you. This cycle is strong for standing out for your creative ideas or unique viewpoint. You're shining for your intelligence and insight. You're more inclined to assert your opinions and share your ideas at this time.
Gemini
This is a particularly good day for resourcefulness and making the best of situations, dear Gemini. It's rather easy for you to adopt a balanced approach to whatever you're doing. You're taking the bad with the good and quickly adapting to changes in moods and expectations. You can be especially productive without feeling overwhelmed by work today. Until April 1st, you're in a great cycle for developing partnerships or working relationships. Someone may be particularly helpful for getting things done or might motivate you to set important projects in motion. Alternatively, this is an excellent period for working very well in a partnership.
Cancer
Today is terrific for feeling natural and expressing yourself rather freely and confidently, dear Cancer. You're also in a good position to approach relationships, topics, and projects in a balanced way – attached but not overly so. Until April 1st, you're in an excellent cycle for bringing more value and efficiency to your daily routines, work, or pursuit of health and wellness. Mars will add even more punch to these areas from January 26th forward. This can be a pleasantly busy, dedicated period of your life. At the same time, you're becoming more involved with others through networking or collaboration, and you're likely to connect with fascinating people in the coming six weeks.
Leo
You're in a great position to solve problems or take positive action on a matter related to family, home life, or an intimate relationship today, dear Leo. Spending quiet time with someone can even be useful now, as you're craving both company and alone time! Until April 1st, you're in good shape for applying yourself to projects and hobbies and thoroughly enjoying yourself as you do. A more dedicated, committed approach to creative projects, love relationships, children, and hobbies can benefit you greatly, and can even be healing now. From January 26th forward, your motivation levels for these things increase even further.
Virgo
The Moon spends another day in your partnership sector, dear Virgo. You're in a great position to team up with someone to handle a problem or get things done. It can be a wonderfully productive day in little but useful ways. You've begun new cycles that bring boosts to your home, family life, and studies or personal interests until the end of March. Your love of learning is in full force now. Others can be finding your ideas especially unique and interesting. You'll find it easier to engage an audience if you're a writer or speaker. Extra attention to your home or nest can very satisfying and healing. You can feel less burdened by responsibilities and more excited about keeping order in your personal life.
Libra 
Today is excellent for taking care of business, dear Libra. You're in a great position to balance work and play as well as caution and risk-taking now in fruitful ways. Until the end of March, you're in cycles that boost your intimate relationships, personal interests, and projects. People are drawn to your intelligence or unique viewpoint as well as your commitment to your interests at this time. You'll have extra energy, particularly after January 26th, for your studies or daily affairs. As well, this is a time for straightening out problems in close relationships related to confusing power dynamics, possessiveness, or ownership matters.
Scorpio
Jupiter in your sign connects creatively to the Sun today, dear Scorpio, putting you in a highly favorable position to advance your interests without too much ado. There's a part of you that wants to play things safe, and you should honor this need at this time of the year, but you're also in need of fresh experiences and a stronger feeling of independence. Today, you may very well be able to satisfy both of these drives, and quite effortlessly at that! You're in cycles that give your partnerships and business, money, or practical affairs a nice boost until the end of March. You'll find it particularly easy or natural to pour extra and concerted energy into making money, doing business, as well as physical, earthy activities that are healing and replenishing. You'll also have help for getting your relationships to a better state of balance between give and take during this period.
Sagittarius
You're enjoying another day in which you crave simpler pleasures and comforting surroundings, dear Sagittarius, and you'd do well to honor these desires at this stage of the month. Vesta has just recently entered your sign and Mars will do the same on January 26th. Vesta here encourages you to focus your energies and dedicate yourself to a particular project or mission. Independent work may be in focus now, and taking extra time to concentrate on your work or pursuits can be rewarding. This cycle lasts until April 1st. Mars will fuel motivation and energy levels. Also now, a cycle resumes that turns your attention to imbalances in our work or with your working relationships, and perhaps even in your body or with your health pursuits. You're in a fabulous position to straighten things out.
Capricorn
This can be another busy, connected day for you, dear Capricorn, except more focused and productive than yesterday. It's a creative time, but it's also a time for hands-on activities. You've begun a cycle, lasting until the end of March, that tends to bring out the artist in you in a very practical way. You're thoroughly into planning, designing, or structuring your activities now, and your creations or heartfelt pursuits may stand out from the crowd during this period. You're also in a good position for learning, thinking, sharing, and believing in yourself, your ideas, and your work. You may be working quite diligently by yourself or behind the scenes — and quite happily so.
Aquarius
With the Sun newly in your sign, dear Aquarius, you may already be getting some extra attention or feeling on top of the world, ready to make changes. Today, you get some creative support from Jupiter, and you're in particularly good stead with bosses, parents, managers, and the like. You are radiating warm and happy vibes that others pick up quickly. You're also in new cycles, lasting until the end of March, which connect you very well with friends or the right people to advance your personal interests or causes. Working with others or on your own towards a cherished goal can be very beneficial, healing, and satisfying at this time. You're also in an excellent position to reorganize or redesign your home or work environment for increased productivity and comfort.
Pisces
The Moon spends another day in your sign, dear Pisces, and you're in a fresh, spontaneous mood. While the Sun and Venus are now in your privacy sector, signaling the need to slow a few things down, you have some other cycles going for you that boost career efforts and personal interests until the end of March. Patience for the energy required for achieving your ambitions leads to a more organized and fruitful approach. You're in an excellent position to organize your work and daily affairs, which also supports your more worldly goals. Your communications are a little more orderly at this time, and, with a bit of planning, your unique ideas will come across more clearly and competently. Reaching out can bring interesting people into your life.
Classic Zodiac Chat-up Lines
Ever wondered how to spot a star sign from what they say? Here's your rough guide to the zodiac chat-up lines based on daily horoscopes .
Here are the chat-up lines each star-sign is most likely to use on you based on their daily horoscopes
ARIES
Shall we go on?
TAURUS
I think you're great. Let's go eat.
GEMINI
Why don't we dump these losers and you and me take off?
CANCER
Let's go somewhere private.
LEO
I'd love to take you out, do you have anything smart to wear?
Or: Do you want to do your makeup before we leave?
VIRGO
I think I could really improve your life.
LIBRA
I love you for your mind as well as your body.
SCORPIO
Let's change the world!
SAGITTARIUS
Fancy a bonk?
CAPRICORN
I think we'd work well together. I have a window on Thursday if you'd like to go for dinner.
AQUARIUS
Talk to me.
PISCES
Tell me everything about yourself.
Source
Tarot Card of the Day
The Moon
---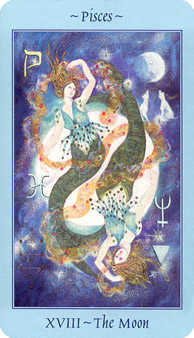 The Moon card refers to a deep state of sensitivity and imaginative impressionability, developed within a womb of deep relaxation. Here we dream and go into trance, have visions and receive insights, wash in and out with the psychic tides, and experience deep mystical and/or terrifying realities beyond our ordinary senses. In a state of expanded consciousness, we cannot always control what happens. The Moon card represents the ultimate test of a soul's integrity, where the membrane between the self and the unknown is removed, and the drop of individuality re-enters the ocean of being. What transpires next is between a soul and its maker.
Daily Love Tarot for the Day
The Emperor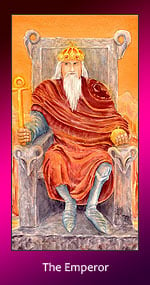 The Emperor card has selected you to let you know that you sow seeds of better things and more fulfilling times ahead. Give yourself permission to reach out for more, especially if you are dissatisfied. You create a solid foundation, built on a sense of higher purpose. If your current relationship suffers from stress, today let tender actions reveal what you may be unable to put into words. Rebuild, from the ground up.
Your Daily Erotic Tarot
The Judgement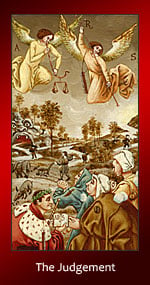 The Judgement card indicates that you've had some sexual hang-ups in the past, but you're working toward getting over them. This is a period of transition, and although you're doing the work, you may not be getting the exact results you desire. Forgive yourself for past missteps in order to take a sexual step forward today. Being afraid to express your true erotic self can even effect other areas of your life, so getting beyond your sexual inhibitions translates into a happier overall existence.
Your Daily Rune for Today
Hagalaz
"Hag-all-az" – Literally: "Hail" or "Hailstone" – Esoteric: Crisis or Radical Change
Key Concepts: hailstones, crisis and catastrophe, disruption, radical change, destructive elements of nature, severe weather, the uncontrollable, unavoidable unpleasantness, Jungian shadow, psychoanalysis, regression, acceptance of the unalterable
Psi: disruption, change, personal past

Energy: power beyond human ability to harness, perfect pattern, seed formation, objective confrontation, destructive natural forces, chaos
Mundane: bad weather, obstacles, surprises, shelter
Divinations: Change according to ideals, changes for the long-term good, controlled crisis, corrections, completion, inner harmony; or catastrophe, crisis, stagnation, loss of power, loss of property, short-term disappointment, victim-consciousness, obsession with the past, blame.
Governs:
Completeness and balance of power, integration of unconscious shadow elements
The inevitability of Fate, Wyrd, Orlog
Evolutionary progress and operations of becoming
The outworking of a perfect pattern
Protection through banishing or exorcising disharmonious patterns, protection
Awareness of the unconscious ideas for eventual processing
Causing discomfort in others by awakening their own subconscious 'garbage'
Your Daily Influences for Saturday, January 20th
Tarot Influence
Six of Coins
Material gain, charity and justice are at the forefront. That which is earned will be given.
Astrological Influence
Gemini Reversed
Gemini reversed denotes vacillation. Decisions are not made, because all side of the issue pull with the same strength.
Element Influence
Air
Air denotes freedom and the ability to transcent the mundane. You may be, or may soon experience a spiritual or secular liberation.
Your Animal Spirit for Today
The Words of Confucius
It does not matter how slowly you go as long as you do not stop.
A Little Humor for Your Day
The Truth Will Set You Free
---
A clergyman was walking down the street when he came upon a group of about a dozen boys, all of them between 10 and 12 years of age.
The group surrounded a dog. Concerned lest the boys were hurting the dog, he went over and asked "What are you doing with that dog?"
One of the boys replied, "This dog is just an old neighborhood stray. We all want him, but only one of us can take him home. So we've decided that whichever one of us can tell the biggest lie will get to keep the dog."
Of course, the Reverend was taken aback. "You boys shouldn't be having a contest telling lies!" he exclaimed. He then launched into a ten minute sermon against lying, beginning, "Don't you boys know it's a sin to lie?" and ending with, "Why, when I was your age, I never told a lie."
There was dead silence for about a minute. Just as the Reverend was beginning to think he'd gotten through to them, the smallest boy gave a deep sigh and said, "All right, give him the dog."
—Author Unknown
Published on Pagan Library
A WITCHES MANIFESTO
Adapted from The Wiccan Bardo by Paul Beyerl)
I DEMAND THESE THINGS OF MYSELF AS A WITCH:
I must pursue my highest ideals
I must aspire to the highest of ethics
I must demand integrity of myself
I must always keep my word
I must cultivate self-discipline
I must LIVE the Hermetic Principle
I must seriously contemplate the ramifications of Reincarnation & Karma
I must respect the astral realms
I must approach ritual with reverence and care
I must respect ritual work as an act of love and beauty.
I must take sole responsibility for all the events and circumstances in my life, in the knowledge that I have created them all for my own development.
I must strive to cultivate a sense of humour and of humility.
I must avoid all negativity, firstly in my thinking and as a consequence, in my life.
I must live in harmony with the Earth Goddess – Gaia.
I must cultivate a global perspective.
I must serve my community, both locally and globally, being of help to all people.
I must be willing to defend my religion.
I must provide for the safe future of my ritual tools, should I be taken by death
Remember for all your magickal needs, think Magickal Necessities