The Witches Digest for Friday, January 5th
(Part 3)
Your Daring Dating Horoscopes for the Weekend of January 5th
David Wells, Astrologer
From The Astrology Room
ARIES (March 21st-April 20th)
You know that thing where you see someone and you just know, you know! Not that. It's more a case of slowly, slowly catchy fun-times as someone who may not even interest you grows in confidence and in your heart. Ahh, how lovely. Really.
TAURUS (April 21st-May 21st)
When love opportunity knocks don't have your head in the fridge looking for leftover holiday treats. You're hiding away T, I get it, I feel the same but you won't find true love chasing an eat by date. Head out, Mars and Jupiter have some hot love offers on.
GEMINI (May 22nd-June 21st)
Until Thursday your ruler Mercury is in your relationship sky, there he is, asking you to say hello, to let someone know if you're in or out of a new relationship perhaps? Be honest about it all Gemini, show your true colours or wear false ones for longer than you wanted to.
CANCER (June 22nd-July 23rd)
Of all the signs in the zodiac you're the one most likely to have a week full of relationship goings on. Goings on? What on earth does that mean? It means single sorts inundated with offers, newly hooked up have some choices to make, been in it a while have commitments to commit to. Get on.
LEO (July 24th-August 23rd)
If you like the look of that bloke on the bus, that young lady on the tube or maybe you can't decide which one appeals most? Travel and romance mix until Thursday, if there is someone who gains your attention of a morning say hi, before it's bye-bye from Mercury.
VIRGO (August 24th-September 23rd)
It's an effective strategy, getting out and about, mixing and mingling with lots of folks and where you're having fun you're more likely to meet someone who is interested in the same things as you. Five out of ten planets and luminaries would agree with you.
LIBRA (September 24th-October 23rd)
What if your mum told you she'd found the perfect partner for you? You'd run a mile, right? What if your sibling suggested it, any better? How about a best mate? Picky aren't you. Someone close has some golden introductions, don't dismiss them.
SCORPIO (October 24th-November 22nd)
Can you see out of that fog you're in? It's all consuming Scorps but I can promise you it will clear, this week I would guess, and when it does you'll know if it's stay or go with someone who may be very nice and all, but is nice what you're looking for?
SAGITTARIUS (November 23rd-December 21st)
Mercury and Uranus are making a last-ditch attempt to help you see someone who has been under your nose all this time, not literally to be clear. Someone who's been around, someone who may have been challenging in a conversation of two, someone who's not your type. Turns out they are.
CAPRICORN (December 22nd-January 20th)
Are you sure you want to step out the door? You're a magnet for many things and in amongst them is the presence of Venus asking around, finding someone who may suit you. Find some space amongst the noise Capricorn, Venus gets what she wants, always.
AQUARIUS (January 21st-February 19th)
Seeing is believing, a good philosophy to live by Aquarius, but what about the unseen, what about believing in forces that are conspiring to bring you and someone closer together; just not this week? Relax, cosmic strings are being pulled.
PISCES (February 20th-March 20th)
Getting to know someone better is a good idea, taking your time, finding out what they like and what they don't; Facebook is good for that, right? Well, it's useful for finding out what face they like to show to the world. Your job is to asses if it's a true on, or not?
If You Were Born Today, January 5
Extremely versatile, you are multi-talented, clever, and imaginative. You are highly compassionate and sensitive, sometimes to the point of despondency, and it can take time in your life to find effective ways to manage this trait. Emotional impulsiveness is something you are likely to struggle with in your lifetime. When focused, you have strong leadership skills and a strong will as well. You are independent and unique, very perceptive, and highly original. Famous people born today: Robert Duvall, Diane Keaton, Marilyn Manson, Walter Mondale.
Your Birthday Year Forecast
Neptune transits in harmony with your Sun this year, and a higher purpose to your life is something you seek. You rely more heavily on your intuition in order to achieve it. You could find that your intuition is subtly enhanced and that you're often in the right place at the right time, probably because your hunches are more likely to be correct. This aspect softens your disposition somewhat, as you tune into your imaginative and artistic side.
This is a good year for self-improvement programs or efforts. A more sensitive, even mysterious, persona is projected this year, and this can attract pleasantly unusual circumstances (and people) into your life. Career and life path matters may seem to magically fall into place, taking you in a direction that fits.
With the Sun and Moon in harmony in your Solar Return chart, the year ahead should be satisfying and balanced overall. You are in comfortable demand and personally popular, and you are able to achieve a decent balance between work and play; personal and professional life. For the most part, you are on top of your game this year, and positive connections with others can be made fairly easily. With the ability to handle your emotions successfully, there is less stress on both your mind and body. Your self-confidence and positive attitude will reward you!
You have tremendous enterprising spirit this year, attracting strong opportunities on both professional and personal levels. You are able to see the "big picture", which helps you plan effectively. You have significantly more courage and gumption, making the year ahead a standout one in which you are ready to try new things and take on challenges.
You're also quite driven to make improvements and effect positive change in the year ahead. This positively impacts many areas of your life beyond the personal, including relationships and work.
This can be a good time for updating your electronics and technology in ways that open up new avenues for communication or ease. Wonderfully creative ideas can fill your head this year.
Again this year, powerful energy is with you for exploring various hobbies related to dancing, swimming, photography, arts, and entertainment (as was last year). If you are an artist, this could be an especially inspired, imaginative, and productive year. Pay attention to your gut feelings, which will, more often than not, give you valuable information. If you are involved in sales, you will be able to tune into your client's inner desires and motivations. Your hunches are often right on target.
You are imaginative, creative, and communicate warmly and considerately. This is a good time for both teaching and learning, and for expressing feelings. Researching cooking, health, and nutrition can be fruitful now. It's also a strong time for marketing.
You are attuned to the world of beauty and romance in the year ahead. Gentleness with others is a wonderful approach for attracting what you want into your life. There could be truly magical times on a romantic and social level. You are especially romantic or idealistic this year, and you might expand a relationship through sensitive interactions and a giving approach. Benefits come from paying attention to your dreams and intuitions, as well as through creativity.
This is an excellent year for enterprising endeavors and new interests, but equally as potent for relationships and creativity. You're drawn instinctively to certain projects that have long-term value. It can be an especially creative, tuned-in year for self-expression, not only verbally but through hobbies, games, or sports.
2018 is a Number Eight year for you. Ruled by Saturn. This is a year of power and accomplishment. Actively seeking to expand, taking educated risks, and moving forward are highlighted. This is a year of opportunity, particularly in the material and business world, and opportunities need to be seized. It's generally not a year to find a new love partner, simply because the focus is on the material world and your place in the world. This is a problem-solving year in which you can expect real, tangible results. Advice – take action, plan ahead, seize opportunities.
2019 will be a Number Nine year for you. Ruled by Mars. This is a year of completion and transition. It is a time when we need to let go of things that no longer serve their purpose, and hold on to things that have a future. It is a time of cleaning out dead wood, not necessarily for new beginnings. It can be a time when a burden has been taken off your shoulders, and it can be a year of giving of yourself. Advice – let go of things that are holding you back, give of yourself and express your sympathetic, compassionate side.
Source
Get A Jump on Tomorrow….
Your Daily Horoscopes for Saturday, January 6th
Claire Petulengro, The Astrologer
From The Astrology Room
ARIES (March 21st-April 20th)Do the best you can until you know better Aries. And then, when you know more, do more. You have been trying to move to the pace others set for you. Don't be a follower but be a leader. Ring now so I can tell you your best points.
TAURUS (April 21st-May 21st)
You feel that the atmosphere between you and a close one has changed. You're no longer so sure you can tell them anything. Follow your instincts as the Sun is filling you with enough psychic energy to solve your own problems.
GEMINI (May 22nd-June 21st)
There is a feeling of urgency to your chart. Just be careful you are not pushing things which are not yet ready. You've done that before remember. Time is your new best friend this month.
CANCER (June 22nd-July 23rd)
Have you said things you now regret? Do you want to take back your words? You can and should as today gives you the perfect opportunity to do so. Be nice to new faces in business, especially the ones you think don't hold the power.
LEO (July 24th-August 23rd)
Try to take more time when making important decisions. It would be far better for you to think of every aspect that could go wrong as well as right before you commit. Remember last year?
VIRGO (August 24th-September 23rd)
A scatty mind could see you getting all manner of things wrong. Try to think before you act and before you speak. An important friendship in your life can't take much more pressure Virgo.
LIBRA (September 24th-October 23rd)
Having fun is top of your list, but careful you don't belittle those trying to get the job done. Have respect for those you know have been working hard on projects. There are hidden opportunities for you if you do.
SCORPIO (October 24th-November 22nd)
For once you hold all the aces. You can afford to ask for what you want with confidence. You also see the error of your ways over festive dramas and are willing to take responsibility.
SAGITTARIUS (November 23rd-December 21st)
Jupiter knocked your confidence last week so you're feeling a little more sensitive than usual. You want to do what others deem is 'the right thing', but you also know you have to follow your heart.
CAPRICORN (December 22nd-January 20th)
Try not to speak badly about those you've only just met. You may not realise it, but you're unlikely to have all the facts. If you can allow others to move at their own pace this week, then you'll find out all not just some of the facts.
AQUARIUS (January 21st-February 19th)
Having goals is what life is all about. Knowing how to achieve those goals is not as easy as you thought, but could be if you can hold your head up high and talk with confidence my friend.
PISCES (February 20th-March 20th)
Why are you saying what others want to hear, rather than what is in your own heart? You of all signs should know that true happiness comes from being one's true self. News from far away gives you peace over a worry you've had.
Psychic Tip of the Day
TWO BEING ONE
Push for more common ground in your relationship. Love will find a way when you know and respect your partner and the feelings are mutual. Is there anything in common?
Part of the Daily Insight Group ©2018
Tarot Card of the Day
Ten of Wands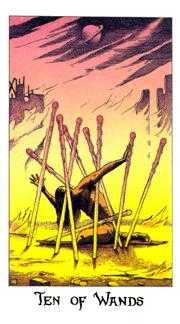 This suit, most often called "Wands" and sometimes called "Rods" or "Staves," represents initiative, ambition, drive and desire. This is the suit of enterprise and risk-taking.
The Ten of this suit represents an all-out effort, an obsessive commitment to a task which demands everything you've got. The person shown in decks with pictures is in no position to rest until he makes it inside the stout walls of the well-defended castle in the distance. If he fails, he will become prey for the highway robbers after dark.
It doesn't matter that he's overloaded and underfed. With this card, you have to do whatever it takes to get to completion — nothing can be allowed to interfere.
Part of the Daily Insight Group ©2018
Tarot Love Card of the Day
The Emperor
---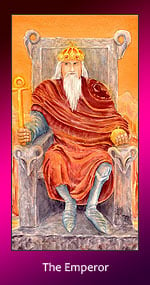 The Emperor card has selected you to let you know that you sow seeds of better things and more fulfilling times ahead. Give yourself permission to reach out for more, especially if you are dissatisfied. You create a solid foundation, built on a sense of higher purpose. If your current relationship suffers from stress, today let tender actions reveal what you may be unable to put into words. Rebuild, from the ground up.
Erotic Tarot Card of the Day
The Pope
---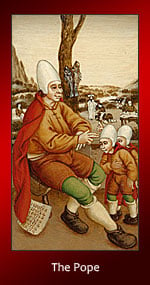 The Pope represents pure masculine energy, and even if you're female you're going to be identifying more with your male counterparts today. The Pope shows you that coming to terms with past mistakes and taking responsibility for them in the present eases sexual tension, so let go of the past to free yourself from your inhibitions. You actually have quite the skill set when it comes to making sexual moves, but waiting until the time is right before taking the plunge can be a real turn-on. Let the anticipation build until you can't take it anymore!
Your Daily Rune For
Isa
"Iss-ah" – Literally: "Ice" – Esoteric: Stasis, Stillness
Rune of concentration of things in a static or frozen state. Rune of stillness and the Ego-Self.

Psi: mental faculties, focus, ego, self-image/self-identity

Energy: stillness, contraction, stasis
Mundane: cold, self-preservation, harsh reality
Divinations: Concentrated self, ego-consciousness, self-control, unity of being; or egomania, dullness, blindness, dissipation, immobility, self-centeredness, lack of change, psychopathy.

Governs:
Development of concentration, will and focus
Halting of unwanted dynamic forces as an act of self-defense (ard against demonic influences)
Basic ego integration within a balanced multiversal system
Power of control and constraint over other wights (entities), emotional outbursts
Focus of the will into single-minded action
Your Ancient Symbol Card for Today
The Magus
The Magus is the physical embodiment of decisive action based upon knowledge and aimed squarely at specific goals. Thoroughly Yang by nature and firmly set in the material world, he none-the-less has a powerful spiritual connection as well. His knowledge, wisdom and skill are all encompassing. He is complete. His power as a creator is unmatched on our earthly plane. He is self-aware and unafraid to act. His enormous strength gives him the freedom to act as he chooses. However, responsibility comes with that freedom. Because he is not bound to the restraints of others he must choose how to act. The question that always lies before him is should he act morally, or forsake ethics for personal gain.
As a daily card, The Magus suggest you currently possess a tremendous power and freedom to move your life in any direction you choose. In short, you can make things happen. Your true challenge at the moment is to move forward without trampling the dreams of others. Fortunately your moral fiber is strong as well, and will guide you down the right path.
Your Animal Spirit for Today
Your Karmic Number for Friday, January 5th
You are a natural leader today. People will look to you to clear a path for them to follow. You may be asked to take the reins of a project or situation because of your ability to listen and provide clear communication. Don't be shy or doubt your abilities – you have unique talent that only your own self-doubt can hide. Abundance flows to you when you step into the role of leading others. If you aren't offered an opportunity, look for one as a volunteer or even start writing a blog.
Crack the Cookie
The Wisdom of Buddha
It is a man's own mind, not his enemy or foe, that lures him to evil ways.
Feng Shui for a New Year
Attract positive energy to start the New Year right
---
CHARMED, I'M SURE




The Ethics of Love Spells


by Mike Nichols
---
To gain the love of someone:  On a night of the full moon, walk to a spot beneath your beloved's bedroom window, and whisper his/her name three times to the nightwind.
–Ozark love spell
---
It seems to be an immutable law of nature.  You are interviewed by a local radio or TV station, or in some local newspaper.  The topic of the interview is Witchcraft or Paganism, and you spend the better part of an hour brilliantly articulating your beliefs, your devotion to Goddess and nature, the difference  between Witchcraft and Satanism, and generally enlightening the public at large.  The next day, you are flooded with calls.  Is it people complimenting you on such a splendid interview?  No.  People wanting to find out more about the religion of Wicca?  Huh-uh.  People who are even vaguely interested in whatyou had to say???  Nope.  Who is it?  It's people asking you to do a love spell for them!
This used to drive me nuts.  I'd take a deep breath and patiently explain  (for the thousandth time) why I won't even do love spells for myself, let alone anyone else.  This generally resulted in my caller becoming either angry or defensive, but seldom more enlightened.  'But don't you DO magic?', they ask.  'Only occasionally,' I answer.  'And aren't most magic spells love spells?', they persist.  That was the line I really hated, because I knew they were right!  At least, if you look at the table of contents of most books on magic, you'll find more love spells than any other kind.  This seems as true for the medieval grimoire as for the modern drugstore paperback.
Why?  Why so many books containing so many love spells?  Why such an emphasis on a kind of magic that I, personally, have always considered very negative?  And to make matters even more confusing, the books that do take the trouble of dividing spells between 'positve' and 'negative' magic invariably list love spells under the first heading.  After all, they would argue, love is a good thing.  There can never be too much of it.  Therefore, any spell that brings about love must be a GOOD spell.  Never mind that the spell puts a straightjacket on another's free will, and then drops it in cement for good  measure.
And that is why I had always assumed love magic to be negative magic.  Years ago, one of the first things I learned as a novice Witch was something called the Witch's Rede, a kind of 'golden rule' in traditional Witchcraft.  It states, 'An it harm none, do what thou will.'  One uses this rede as a kind of ethical litmus test for a spell.  If the spell brings harm to someone — anyone (including yourself!) — then don't do it!  Unfortunately, this rule contains a loophole big enough to fly a broom through.  It's commonly expressed, 'Oh, this won't HARM them; it's really for their own good.'  When you hear someone say
that, take cover, because something especially nasty is about to happen.
That's why I had to develop my own version of the Witch's Rede.  Mine says that if a spell harms anyone, OR LIMITS THEIR FREEDOM OF THOUGHT OR ACTION IN ANY WAY, then consider it negative, and don't do it.  Pretty strict, you say?  Perhaps.  But there's another law in Witchcraft called the Law of Threefold Return.  This says that whatever power you send out, eventually comes back to you three times more powerful.  So I take no chances.  And love spells, of the
typical make-Bobby-love-me type, definitely have an impact on another's free will.
So why are they so common?  It's taken me years to make peace with this, but I think I finally understand.  The plain truth is that most of us NEED love.  Without it, our lives are empty and miserable.  After our basic survival needs have been met, we must have affection and companionship for a full life. And if it will not come of its own accord, some of us may be tempted to FORCE it to come.  And nothing can be as painful as loving someone who doesn't love you back.  Consequently, the most common, garden-variety spell in the world is the love spell.
Is there ever a way to do a love spell and yet stay within the parameters of the Witch's Rede?  Possibly.  Some teachers have argued that if a spell doesn't attempt to attract a SPECIFIC person into your life, but rather attempts to attract the RIGHT person, whomever that may be, then it is not negative magic.  Even so, one should make sure that the spell finds people who are 'right' for each other — so that neither is harmed, and both are made happy.
Is there ever an excuse for the make-Bobby-love-me type of spell?  Without endorsing this viewpoint, I must admit that the most cogent argument in its favor is the following:  Whenever you fall in love with someone, you do everything in your power to impress them.  You dress nicer, are more attentive, witty, and charming.  And at the same time, you unconsciously set in motion some very powerful psychic forces.  If you've ever walked into a room where someone has a crush on you, you know what I mean.  You can FEEL it.  Proponents of this school say that a love spell only takes the forces that are ALREADY
there — MUST be there if you're in love — and channels them more efficiently.  But the energy would be there just the same, whether or not you use a spell to focus it.
I won't attempt to decide this one for you.  People must arrive at their own set of ethics through their own considerations.  However, I would call to your attention all the cautionary tales in folk magic about love spells gone awry.  Also, if a love spell has been employed to join two people who are not naturally compatible, then one must keep pumping energy into the spell.  And when one finally tires of this (and one will, because it is hard work!) then the spell will unravel amidst an emotional and psychic hurricane that will make the stormiest divorces seem calm by comparison.  Not a pretty picture.
It should be noted that many spells that pass themselves off as love spells are, in reality, sex spells.  Not that there's anything surprising in that, since our most basic needs usually include sex.  But I think we should be clear from the outset what kind of spell it is.  And the same ethical standards used for love spells can often be applied to sex spells.  Last year, the very
quotable Isaac Bonewits, author of 'Real Magic', taught a sex magic class here at the Magick Lantern, and he tossed out the following rule of thumb:  Decide what the mundane equivalent of your spell would be, and ask yourself if you could be arrested for it.  For example, some spells are like sending a letter to your beloved in the mail, whereas other spells are tantamount to abduction. The former is perfectly legal and normal, whereas the latter is felonious.
One mitigating factor in your decisions may be the particular tradition of magic you follow.  For example, I've often noticed that practitioners of Voudoun (Voodoo) and Santeria seem much more focused on the wants and needs of day-to-day living than on the abstruse ethical considerations we've been examining here.  That's not a value judgement — just an observation.  For example, most followers of Wicca STILL don't know how to react when a Santerian priest spills the blood of a chicken during a ritual — other than to feel pretty queasy.  The ethics of one culture is not always the same as another.
And speaking of cultural traditions, another consideration is how a culture views love and sex.  It has often been pointed out that in our predominant culture, love and sex are seen in very possessive terms, where the beloved is regarded as one's personal property.  If the spell uses this approach, treating a person as an object, jealously attempting to cut off all other relationships, then the ethics are seriously in doubt.  However, if the spell takes a more open approach to love and sex, not attempting to limit a person's other relationships in any way, then perhaps it is more defensible.  Perhaps.  Still, it might be wise to ask, Is this the kind of spell I'd want someone to cast on me?
Love spells.  Whether to do them or not.  If you are a practitioner of magic, I dare say you will one day be faced with the choice.  If you haven't yet, it is only a matter of time.  And if the answer is yes, then which spells are ethical and which aren't?  Then you, and only you, will have to decide whether 'All's fair in love and war', or whether there are other, higher,
A Little Humor for Your Day
13 Commandments
---
Thou shall not turn thy ex into a frog
Thou shall not meddle in the affairs of dragons, thou are crunchy and taste good with ketchup
Thou shall not laugh at nekked snow sprites
Thou shall not get drunk with thy Goddess's wine
Thou shall not sacrifice thy little sister
Thou shall not go running around proclaiming thy witchhood if thy are in times of burning.
Thou shall not question the word of thy High Priestess – She is God
Thou shall not laugh at being nekked at coven – thou shall be killed
Thou shall not commit to signing anything that declares any single person as thy lord and savior
Thou shall not invoke thy Watchtowers only to say "never mind"
Thou shall not burn enough candles to burn thy house down
Thou shall not have the magickal name "Sir Stinky Fartsalot"
Thou shall not call coven only for laughs
Published on Pagan Library
For all your magickal needs, think Magickal Necessities….
Remember the store is still open and running for all your magickal needs. Proceeds from the sales go to Lady A's recovery fund. Thank you.
Save