Your Daily Tarot Card for May 1
The Sun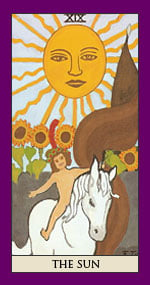 Keywords: joy, friendship, union, stability, brotherly love!
Astrological Correspondence: Sun
The Sun card stands as a symbol for the paternal, masculine energy, the cosmic father, and brotherly love. Being regarded as the primary source of life, light, and warmth, the Sun banishes the darkness so that we may see our path clearly and are enlightened within. As a result, we can see the truth and understand its impact. The Sun card is representative of energy, good health, virility, opportunity, generosity, self-confidence, success, marriage, children, and material wealth. These positive elements provide us with the confidence that we will be successful in all our endeavors, be it in the spiritual, material, or emotional realm. We need to be aware of the negative elements such as boisterousness, arrogance, vanity, and false appearance that can induce failure or uncertainty.
Your Love Tarot Card for May 1
Strength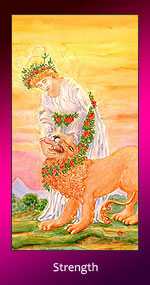 This card is your permission to reveal your strength. You can show someone that you can deal with a situation with confidence today. If necessary, this card reassures you of your own power. If single, the Tarot's Strength selected you to let you know that 'next time' you will enter into a new union as an equal partner. As one-half of a couple, you are an equal partner.
Your Daily Egyptian Tarot Card for May 1
The Star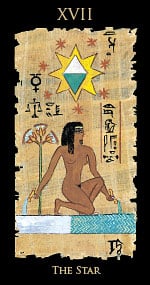 The Star has risen above the masses and shines down upon you from above. It is what you dream on and whisper your hopes to. This is why the Star card can denote success coming to as an artist, because the artist in you is what can make your dreams come true. When your dreams come true, you immediately forget most of the pain you have suffered getting here. The Star card says keep on dreaming, because dreams really do come true.
Your Egyptian Love Tarot Card for May 1
The Hanged Man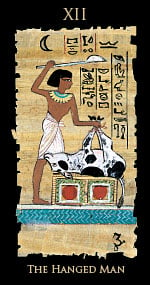 The Hanged Man card can sometimes make you feel like you are at the mercy of outside forces. If you feel like a victim in regard to love and romance in your life right now, be assured that these feelings won't last forever. In the short-term, meditation, prayer, and spending time in reflection will help you move through this period more gracefully and in a more open frame of mind.