Tarot Card of the Day
Prince of Wands 
August 4, 2018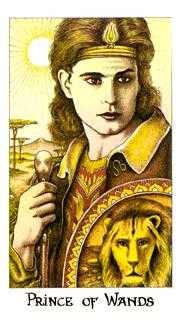 This suit, most often called "Wands" and sometimes called "Rods" or "Staves," represents initiative, ambition, drive and desire. This is the suit of enterprise and risk-taking.
This character is traditionally called the Knight, but in some modern decks appears as the Prince. Traditionally, this card indicates the energy of an instigator, a fire-starter, a feisty and easily provoked character who is liable to attack first and ask questions later. This energy is quick to anger and enjoys a fight — so much so that the thought of a diplomatic solution can provoke a secret disappointment! Nevertheless, he sees himself as trying to help, rescuing the world from its madness by imposing his sense of order upon it.
His vices are bossiness, paranoia and a tendency towards overkill. Nevertheless, there are times when his energy is perfectly appropriate, like when his assertively protective nature is defending threatened treasures or interfering with dark forces. The trick is to keep a sense of proportion when this Knight unleashes his fire, because he enjoys intense experiences and is always ready to take it to the next level. Once in awhile, this kind of intensity is called for, but on a daily basis it is exhausting.
Tarot.com is Part of the Daily Insight Group © 2018