The Witches Digest for Monday, January 29th
(Your Daily Horoscopes, Tarot, Runes & Much More)
Your Weekly Karmic Forecast: Jan 28 – February 3, 2018
The Karmic Tools Weekly Forecast covers the current planetary transits which affect people in different ways and to various degrees of intensity. Take notice when it is a Personal planet (Sun / Moon / Mercury / Venus / Mars) interacting with a Social (Jupiter/Saturn) or Collective planet (Uranus / Neptune/Pluto). And pay extremely close attention when it is a Social planet interacting with a Collective planet because that means something *big* is brewing that will move large groups of people along their evolutionary paths. Tuning in to the energy and rhythm of the planets can serve as a useful *guide* as you move along your Individual Path. It also helps to understand your place within the context of the larger Social & Collective Story. Below, you will find out how these energies tend to manifest, as well as guidance and direction.
*NOTE*There are some days when there are NO CONTACTS (besides the Moon), please note that there are no missing entries, we just list the actual Activations of each week + the day they happen.  
Weekly Forecast: Jan 28 – February 3, 2018
1/28 ~ Mercury (lower mind & ideas) ~square~ Uranus (Higher Mind & awakening):
This energy challenges you to expand your mind or consciousness in a way, pushing you to think differently and respond to information in new ways. Uranus brings sudden ah-ha moments, personal awareness and radical new ideas, which is great for you adventurous souls who thrive on change and new ideas. However, if you are personally attached to your routine and things 'going as planned', then this energy can cause aggravation and tax your nervous system because things will seem sudden (even though it is more likely that they have already been brewing under the surface for some time now). You will have to adjust and be more open & mentally flexible than usual. You may not be able to control the excessive mental activity or information-overload coming in, but hopefully you can direct it a bit. It's good to activate or clean your personal filters by taking some time in nature to process things at your own pace and generally clear your head. This can be a very inspiring & creative time, so try to tune into that, while keeping in mind that anything you begin or get into, may require a review later so you can check over the details of your revelations (or creations). You're just cracking the surface, this is all about the revelation or awakening, you will eventually have to figure out the logistics or effective actions necessary to bring your ideas into form.
2/3 ~ Mercury (expression) ~sextile~ Mars (passion): 
This is a healthy selfish energy (aka self-preservation). Do not hold back this week. If you have a big dream or serious goal you have been working toward, then this is the time that may attract the assistance you need from the Universe. This is definitely a "work" energy, however, it brings with it the caveat that it is best if you work alone on something important to you. No one else is (or ever will be) as dedicated to your goal as YOU will be, nor should you expect them to be. You are now connected to the extra energy it takes to push your goals to the next level, bringing you a sense of accomplishment while outlining the next tasks to be done. Opportunities present themselves all the time, all you have to do is be ready!! If you are given the opportunity to make a presentation, go for it! Your clarity, energy & enthusiasm will be unmatched and that's what people respond to. Don't choose this time to be "shy" or doubt that you're ready – you are definitely ready … otherwise you wouldn't be here!! One of my favorite sayings is: "At the moment of commitment, the Universe conspires to assist you!" It's time to decide if you are committed and how truly committed you are, to your own success.
Your Weekly Love Horoscopes for January 29th
by Sarah Bartlett, Astrologer
From the Astrology Room
With a lunar eclipse in Leo this week, we will all be trying to put the past behind us and move on. Yet, what lunar eclipses bring up for us all, is that there are still issues that may need resolving.
It's not about avoiding, denying or repressing our feelings, but realising that we have to carry them with us without blame, shame or fear for the future. Move on yes, but take your past gently with you.
ARIES
What you're going to be counting in the months to come is your blessings – for very soon, your long term goals for happiness will come true. So go discover a place where you can get excited about a new lifestyle, a new love or simply discover your spiritual home.
TAURUS
When you first fell in love, the text messages were non-stop. You weren't sure if you wanted to keep your space or end up like everyone else and settle down. This week, the planets unleash a realisation that you will never be ordinary, but simply be at one with the one you love.
GEMINI
Now, the problem with romance, is that it doesn't come bottled like a love potion. For a start, it requires two people and some chemistry. But with your ability to do the most surprising yet practical things on earth, this could be the week when your romantic streak is put to the test.
CANCER
Stop chasing the very thing which constantly eludes you: happiness. In fact, the more you stay true to your own values of spiritual harmony and intelligent thinking, the more you will find that love becomes a joyful rather than just a 'happy' experience.
LEO
With a lunar eclipse in your own sign, you can relinquish the difficulties of the past and enjoy passion for what it is. At last you know that if you don't feel that kind of desire in your soul, then you're not living your life to the full.  So if you're not excited about something or someone, then this is a week to find that very trigger. It's your right, and neither is it wrong to feel it.
VIRGO
You're having to come to terms with the side of yourself which would secretly like to be more adaptable. Yes, you're up for commitment, but you're also up for a more laid-back approach to life. In fact, whatever comes to mind this week seems worth exploring. So let spontaneity take precedence and enjoy yourself.
LIBRA
This week, your partner seems to be on another planet. They talk less of what you will do together and more of their own future. Once this would have worried you, but now you're beginning to realise there is always a gap. The love you seek is within yourself, and if you accept your separateness, mutual love will truly grow.
SCORPIO
Right now, you have the chance to make impressive changes in your life. And you're hardly the person to give up on yourself for the sake of approval, are you?  Remember, true love doesn't rely on a set of conditions, but on being loved for who you are. Let someone know this now.
SAGITTARIUS
The planets are giving you a taste for self-love, self-starting and any other positive 'self' word.  Make the most of this potent energy to get your relationship right or establish a new one. Be honest and logical, but also put your message across with real belief.
CAPRICORN
Someone special recently captured your heart. But you've felt a little frustrated that you may have lost your romantic touch. Now with renewed energy, it's time to go out and revitalise all those ideals about love and make them real.
AQUARIUS
If you want to create more romance in your relationships, then why not? This week, thanks to Mercury's move into your own sign, time to get out and about with the one you love. What price trying so hard to make it happen, when your own desire nature will invite the passion to you?
PISCES
Intelligent love isn't finding justification for not fancying someone, or panicking you haven't met the right one. It's all about understanding your own individual needs. Yet this week, is the beginning of new, transformative and electrifying relating.
Your Daily Horoscopes for Monday, January 29th
Aries
You're in the mood to get comfortable today, dear Aries. There can be a connection with an old friend or strong memories of someone from your past, and you're in a more sentimental mood than usual. This is not the time to give up on a matter, but to attend to duties that will help clear up delays and set the ball rolling to make progress. You can be somewhat distracted today, but your mood is good overall. Watch for fuzzy thinking and absent-mindedness, and use the day instead for imaginative pursuits, networking, and romance if possible. Taking a relaxed, creative approach can be very worthwhile and in fact a great strategy now.
Taurus
This can be a time for doing an inventory of sorts of your feelings, dear Taurus, as you're in a better position than usual to see which attachments may be holding you back from growing and thriving. It's a good time to clear up old projects. This is also an excellent day for rest and healing activities, but you may have to do some meditation in motion, as the Moon in your communications sector can have you on the go. This is not the best day for clarity in a friendship or with directions and instructions. However, you can find many channels for expressing yourself today, mainly through a partner or significant someone. Charitable acts can be especially satisfying now. Dreams and fantasies can be nice conversation points.
Gemini
Today is good for reflecting, dear Gemini. You're inclined to want to get comfortable now. In fact, it can be a somewhat lazy day for thinking, and there can be a tendency to skip steps as a result. Even so, it's a good time for considering which habits or attachments in your life may be holding you back from growing and thriving, particularly on a mental level or regarding attitudes and mindsets. You may want to let go of the desire to get definite answers to your questions, as this reduces frustration. It can be difficult to focus today, as your mind can take you on different tangents. Use your diplomatic talents in your dealings, but do watch for a tendency to please and appease that might later come back to haunt you!
Cancer
The Moon is in your sign all day, and with some support from Jupiter and Neptune, you're in a good mood and positive frame of mind, dear Cancer. Even so, you're likely to deal with small annoyances or misdirection and perhaps a tug of war with a partner. Look for opportunities to clear up debts or settle accounts now. Avoid entering long-term agreements, particularly related to shared assets and finances in general, and instead, consider letting go of unnecessary attachments or find ways to pay off debts or recover loans. Your extra sensitivity to others' moods may put you on a bit of an emotional rollercoaster if you're not careful. You may need to tune people out, at least some, in order to take better care of yourself. Sometimes taking in too much information can leave you feeling insecure and unbalanced, and today could very well go that way. Look at the bigger picture for comfort now.
Leo
Practical matters may not be exceptionally straightforward today, dear Leo, and it's probably best you avoid taking on responsibilities that others should be handling themselves, and vice versa. Watch carefully for relying too heavily on others when you'd be better off getting things done independently with Venus opposing the North Node in your sign. Extra tact should be in place with others, in general, but particularly with a partner. You might benefit from looking to the past for answers to problems in the present. Tying up loose ends may be necessary before you're able to go forward with confidence. Consider that misunderstandings today can lead to interesting and creative ways of relating, but avoid putting something in stone for the time being.
Virgo
The Moon is in your friendship sector all day, encouraging you to seek out like-minded people, dear Virgo. Avoid risk-taking with work and health today, and aim to be a little more vigilant than usual with communications, which can be misunderstood. Look to the past for answers to work or health concerns just for now, but consider whether you're holding onto something that no longer serves you good purpose. Today is favorable for looking within for answers, as well as for running errands and settling accounts. It can be hard to distinguish between your own needs and those of a significant person in your life right now, as you may be taking on others' wants and needs and telling yourself that their needs are yours! Drawing boundaries is essential now.
Libra 
The Moon is in your sector of reputation, status, and career all day and connects well with other planets, dear Libra, suggesting a rather smooth flow to your work and connections. Even so, the Moon's opposition to Pluto points to some tendency to pull into yourself rather than reach for the stars. As well, your ruler, Venus, aligns with the South Node today, and your inclination is to fall back on quick fixes or the easy route instead of moving in the direction of challenge, reward, and growth. Avoid carelessness with creative projects and romantic relationships, particularly. There can be a meeting with an old love interest or friend today for some of you or much sentimentality about an old love or pet project. You can benefit from looking to the past now, as you may reawaken a worthwhile pursuit. However, it's better to tie up loose ends than to make any new long-term commitments or agreements today.
Scorpio
There is a tendency to fall back on comfortable behaviors today, dear Scorpio, rather than challenge yourself or aim to grow and learn. Old habits seem to have a strong pull on you now. Today's energies are pleasant but tricky for attention to hard facts and details, and it may be wise to either take some time out or focus on the vision rather than the details of a plan or project just for now. When the mental fog clears, plans may not seem quite as viable or practical, but some may simply need some refinements before taking off. The Moon in your adventure sector all day helps you see the bigger picture.
Sagittarius
There is a tendency to feel a little lazy on a mental level today, dear Sagittarius, which could lead to missed steps or the need to do something over again. As grand as your goals may be, it's the kind of day when you're disinclined to really put yourself out or challenge yourself, which can be okay once in a while. However, it's vital to avoid careless communications or appeasing others in ways that might come back to haunt you later. Aim to be as tactful as possible with people around you in general, but particularly relatives, neighbors, and classmates, but avoid promises or deferrals. Today can be quite fine for daydreams and detours from the usual routine and less than ideal for schedules and tasks that require close attention.
Capricorn
This can be an important time for settling accounts, dear Capricorn, and for clearing away obstacles related to money and business. There is a tendency to want to do it all yourself these days, but sharing, trusting, and pairing up to accomplish something is the way to go for the rewards, even if it seems the more challenging route to take at the moment. Today is good for applying wisdom and past experiences to a current problem, as well as letting go of things you don't need. Be a little more cautious than usual with your money and valuables today, but also with what and how you communicate, as misunderstandings can be an issue now. Mercury in your sign points to a sharper mentality, but a minor challenging aspect to Neptune can indicate a tendency to be distracted and to misread some situations.
Aquarius
Today is not ideal for making practical decisions, dear Aquarius, mainly related to money, although it's perfect for dreaming up new ideas and plans where the details can be filled in later. There is some tendency to fall back on doing things on your own when pairing up or sharing the load would be much better for you. Today is good for going over past projects and drawing upon wisdom and experience to handle current problems. You may be dealing with loose ends or settling accounts for the time being, and while you may not feel the progress, you're busy clearing the pathway for smoother endeavors and activities in the future. This is not an ideal time for shopping, sharing a secret, or anything that involves making a judgment call over something with significance. It is strong for creative activities, however.
Pisces
The Moon is in your playful solar fifth house all day, dear Pisces, and harmonizes with Neptune in your sign and Jupiter in your spirit sector. This, along with a Venus-South Node connection, helps you let go of stress and tension. However, this can also be a day in which you tend to take the easy way out. Sometimes you simply need a break, but other times, you miss opportunities to grow and learn if you back away from a challenge, and the latter may be the case today. Additionally, there may be some disconnects with others due to crossed wires. You may expect others to understand you, and they may feel the same way, but nobody seems to be making the extra effort now! Misunderstandings can result. Try to tune out distractions.
Source
If You Were Born Today, January 29
You are extremely likable and quite brilliant. You love a good debate, friendly challenge, and stimulating conversations, and always have something unique to share. Although you seem wiser than your years while young, you have a youthful quality that is with you throughout your life. There is a gentle and caring quality about you that others love. While you could get away with a whole lot just because you are so easy to like, you are fair to an extreme and will always end up doing your share. Famous people born today: Oprah Winfrey, Tom Selleck, Adam Lambert, W.C. Fields, Heather Graham.
Your Birthday Year Forecast:
You have a stronger ability to direct your energies into meaningful activities this year. You're in a fabulous position to pour concentrated energy into the pursuit of your desires or special ventures and activities.
You're particularly charming in the year ahead, and you're particularly proud of your relationships. It's a strong year for strengthening your connections with others, both partnerships and friendships.
You are seeking out equal, fair, and balanced relationships. There can be a stronger inclination towards togetherness and sharing, creating harmony, and sharing power now. You may gain an advantage in business or finances or by promoting harmony and beauty.
There can be a stronger tendency toward, or desire for, commitment and deep involvement in your relationships — you're taking love seriously. There can be a willingness to make sacrifices if it seems the best way to make improvements in relationships and with money matters. You can be quite particular in your taste and good with money and savings.
Your ability to express yourself and to solve problems is enhanced this year. You may have opportunities to travel, and matters related to publishing, teaching, and writing should go especially well. You may find that you have the right information at the right time. You could also have big ideas and plans, as your mind is filled with ideas. Work, especially in communications, goes well. Relationships with young people may be particularly rewarding and positive. An optimistic attitude serves you very well, and the desire to expand your mind is strong. With greater receptivity to new ideas and perspectives, you are more likely to attract positive energies.
You are likely to be popular with others when it comes to your ideas and communications, especially as you are communicating with enthusiasm and cheerfulness, and this can bring rewarding experiences and opportunities into your life.
There may be a project, idea, or person that demands much of your attention or occupies much of your thoughts. It's a strong year for any project or studies that require concentrated effort. You are especially resourceful.
You're expressing and asserting yourself more naturally and confidently this year, which benefits all areas of life. Suppressed anger is more effectively released in creative ways. It is easier than ever to express your individuality in a manner that is true to you.
Your passions and enthusiasm run high in the period ahead, and you find it natural to channel this extra energy constructively. This is an excellent year for enterprising endeavors and new interests. You're drawn instinctively to certain projects that have long-term value. It can be an especially creative, tuned-in year for self-expression, not only verbally but through hobbies, games, or sports. Even so, you're especially charming and diplomatic, investing much in your relationships.
2018 is a Number Five year for you. Ruled by Mercury. This is a year of discovery and freedom. It's a time when exploration and reaching out to others brings opportunities. It's a good time to advertise, promote, and sell. Surprises are in store, and the routine is broken for the better. This is a year when exciting relationships can be formed; or, if you are already in a partnership, new life is breathed into the relationship. Advice – explore, look for adventure, keep your eyes open for opportunities, diversify, mingle.
2019 will be a Number Six year for you. Ruled by Venus. This is a year of relative contentment. It's a time when love is the easiest to attract, and partnerships formed under this vibration have a better chance for longevity. You are especially able to attract others–and material things as well–this year. This is a good year for establishing harmony in the family and in the home. Advice – develop existing relationships, be positive and receptive because these kinds of energies help you to attract what you desire.
Source
Get A Jump On Tomorrow…..
Your Daily Horoscopes for Tuesday, January 30th
Aries
The morning can find you uncertain or wavery on a matter, dear Aries. Perhaps you are wrestling with whether to put your faith in something. However, as the day progresses, Lunar Eclipse energy builds. The eclipse will occur tomorrow morning and points to the awakening or illuminating of feelings and matters surrounding friends, romance, and personal goals. There can be an epiphany, fruition, or final word on a subject as well as a powerful urge to create, share, and express yourself. A big turning point can happen in your social life, or with a creative project, in the coming days and weeks. Listen to your heart, but take your time before jumping into action.
Taurus
The Moon spends time in your communications sector and then your zone of home and family today, dear Taurus, and you might begin the day feeling a little scattered, but end it more directed and focused. We're moving to a Lunar Eclipse occurring tomorrow morning that brings emotions to the surface and illuminates previously hidden issues, affecting your career and family life. There can be some level of chaos or state of flux now, but an important revelation about security, family, and how to manage your personal life. Once you acknowledge and face those things that you've ignored or brushed aside, you have a stellar chance of moving on. A Solar Eclipse will occur in two weeks and prompt a new start along career or reputation lines, and now, it makes sense to sort out your home life. This can mean house repairs, family drama, and possibly even career changes that affect home life.
Gemini
We're building towards a Lunar Eclipse that occurs tomorrow morning, dear Gemini, influencing your sector of communications and your immediate environment. Your senses are stimulated to the max right now! You can experience a revelation of sorts now or this week, a writing or learning project can come to completion, there may be stress over meeting deadlines, or there can be publicity or promotion playing a significant role in your life now. Try not to be too hasty with your speech or motions Whatever reveals itself or new developments happening now are meant to push you forward, even if at first they slow you down. Avoid sensory overload by tuning out distractions and instead tuning into your intuition.
Cancer
The Moon continues to transit your sign for part of the day, dear Cancer, after which it moves into your resources sector, and your focus changes from expressing yourself to considering your practical needs. The Lunar Eclipse occurring tomorrow morning happens in this sector of your chart that rules finances and values. Lunar Eclipses are potent Full Moons and tend to mark important turning points in our lives, and for you, this can be about your money, valuables, values, and talents. You might make discoveries along these lines, or there can be an illumination of matters that were previously brushed aside or hidden. Whether it's an important revelation about business or a situation that calls for standing up for yourself, this is a time that demands you make changes.
Leo
This morning, you may feel a little out of sorts, dear Leo, but as the day advances, you're encouraged to come out of your shell, and quite boldly, at that! A Full Moon Lunar Eclipse occurs in your sign early tomorrow, bringing a personal matter to a head, perhaps in the form of an epiphany. Emotions seem to want to rule your day, particularly by midday forward. Today and in the weeks ahead, you're likely to experience significant epiphanies, personal triumphs, and incredible discoveries about your life plan, body, and attitude or outlook. This can also be a time when a close relationship makes headlines in your life. Some of you may be putting an attachment behind you and embracing the joys of independence or discovering yourself through the help of a significant other. Others are finding ways to break out of old patterns and exploring new ways of expressing yourself.
Virgo
This morning may find you doubting your abilities to handle all that's happening in your life, dear Virgo, but the feeling is temporary, and a Lunar eclipse can guide you. This eclipse occurs tomorrow morning and stirs a revelation about your feelings, or it might point to a culmination of work or health matters. Events are such that you recognize the need for extra time to rest or to attend to your spiritual, emotional, and mental health needs. Your feelings about a past matter become undeniable, or a previously hidden or secret issue reveals itself. This is a time for deciding to either embrace or let go of a situation, relationship, or powerful feeling. Revelations occurring now have the power to push you forward with less psychological baggage. This is particularly useful with a Solar Eclipse happening only two weeks from now and paving the way for new beginnings with work and routines.
Libra 
While you begin the day with a sense that you need to take care of business, dear Libra, the Moon moves into your social sector and builds towards Full, pulling up strong feelings and possibly a significant epiphany. The Lunar Eclipse occurring tomorrow morning affects your sector of aspirations, dreams, ideals, community, and friendships, and there can be a sudden need for your help or support. There might also be a culmination or turning point of a friendship matter, group project, or romantic relationship. Whatever comes to light now and this week provides you with valuable insight into an old or brewing problem, and you are likely to feel purged and empowered as a result. Love affairs, children, friends, and teams are areas of life that can involve revelations, unveilings, and important discoveries. Significant shifts in your social life are likely in the coming months.
Scorpio
The Moon moves to the top of your solar chart today, dear Scorpio, and you can feel the desire — or need — to take charge. There are building emotions today as something seems to want to emerge or release. This is due to a Lunar Eclipse that's exact tomorrow morning, and that illuminates a matter related to your career or a major life goal. You may experience an epiphany about where you want to head in your life, or a project culminates or reaches a turning point now. You may be in the position to show off your professional and responsible side. The weeks ahead are particularly keen for revelations about your career and responsibilities, mainly as this relates to your increased focus on home and family. For some, there can be a meaningful reward or announcement or even a change in a career path or life direction. Some of you could discover your true calling or come in better touch with your goals and ambitions through your revelations now.
Sagittarius
The day can begin quietly and perhaps not very confidently, dear Sagittarius, but as it advances, you're encouraged to embrace your feelings boldly. The Moon moves into your spirit sector and builds towards a Full Moon. The Lunar Eclipse that occurs tomorrow morning stimulates your senses and illuminates a matter of spirit, adventure, or learning. There can be the fruition of a significant project or a turning point reached in your studies. Some of you might question a course of study or belief system now. Epiphanies can be substantial enough to change your perspective or even your life path. Announcements, awards, or completed projects can generate quite a bit of attention. Keeping in mind that feelings are a little overblown around this time, it's best to welcome whatever insight you have now, but wait a little before taking action.
Capricorn
The Moon moves into your intimacy sector today, dear Capricorn, and will reach full by tomorrow morning. This is, in fact, a powerfulFull Moon as it's a Lunar Eclipse that we're building towards, and this one can point to significant turning points or revelations related to financial, sharing, and ownership matters for you. Money owed or shared can involve some drama now. There can be new money coming into your life or a significant shift in money sources. You can have epiphanies regarding issues of sharing, give and take, power dynamics, ownership, emotional support, dependencies, and intimacy now and this week. You may be dealing with inflated feelings about a person, relationship, or situation that help you see something that you've avoided or missed in the past. Realizations made now can be powerful motivators for making lifestyle changes, particularly related to your close relationships, independence, and finances.
Aquarius
The day may not begin very confidently, dear Aquarius. In fact, you may find yourself questioning certain projects or decisions. However, as the day progresses, it asks you to be bold, and you're up to the task! The Moon moves into your partnership sector and reaches full there by tomorrow morning. This Full Moon is a Lunar Eclipse and occurs in your opposing sign, bringing to light relationship or personal matters. Undeniable feelings rise to the surface now and this week. Feelings that have gone unacknowledged might surface and can be game-changing. Others might learn something about you now, or you may decide to make a significant announcement, and it's a good time to be open and forthcoming, to the right people, of course! Eclipses in your sign and your opposite sign will continue to occur until January 2019, making this period a time of major discoveries about your independence and close relationship needs. A Solar Return in Aquarius will happen in just two weeks so that any work you do now on understanding your feelings will help you tremendously for your fresh start in mid-February.
Pisces
The day can begin without a strong sense of purpose, dear Pisces, but as it progresses, you're likely to feel more directed. The Moon moves into your work and health sector today and will reach full early tomorrow. This Full Moon is a Lunar Eclipse and it's likely to bring illumination, a turning point, or culmination of a significant venture related to your work, services, or health and wellness. Discoveries made now can be substantial and perhaps even game-changing. For some of you, information surfacing now and this week helps to push your life forward. Keep in mind that decision-making should be a process, not a quick thing right now, even if you feel a lot of pressure today and tomorrow, so take your time. Knowing your heart about a matter will always help, and that's what this eclipse helps reveal.
Source
Lunar Eclipse in Leo Horoscopes: Less Drama, More Love
See what February's Blue Moon Lunar Eclipse in Leo means for your sign
---
The Leo Full Moon Eclipse on January 31, 2018, basks in the extra worldly attention it receives by being a Blue Moon — which is the astronomical phenomenon of a second Full Moon in a calendar month. But more importantly from an astrological perspective, the Leo Lunar Eclipse is the sequel to the August 2017 Leo Solar Eclipse. This is a cosmic reverberation that will powerfully impact the global community, leaving individuals to sort out where they fit in the bigger picture. Eclipses shake, rattle, and roll. Leo Full Moons magnify feelings and stir up mischief. Combine these cosmic energies, and you're ready to roar.
The polarizing light of this Leo Lunar Eclipse intensifies your urge for self-expression, creative or otherwise. The subtle vibe of the eclipse inspires a more self-reflective introversion. You jump up and down, wanting the spotlight and then suddenly you wonder why everyone is looking at you, expecting you to perform. Relinquish the need to be admired and adored by your audience so that you can focus on giving others the love and appreciation they deserve. Exercise your heart muscle as often as possible. And while you're at it, leave the drama at the door and your past in the past.
The mix of the fiery Leo Moon and airy Aquarius Sun reminds you to put the unity in community. Get out of your own little bubble and see things from a global perspective. Acquiescing a little individuality for a noble cause might be necessary in these tumultuous times, and using your talents to help make this world a better place boosts your star power. Thinking for yourself enables you to access brilliant solutions to future problems. Practicing the art of detachment allows your spirit of generosity to shine.
This dramatic Leo Lunar Eclipse demands that you let go of something from your past, so you can step boldly into your future. Be proactive and consciously choose what needs pruning from your life before the universe does it for you.
Aries Horoscope (March 21 – April 19)
Creative sparks are flying, and you need to channel your passion into your art now or you might self-combust. Your drive is strong and your intentions are noble, especially if you can drop your pride at the door and consider the bigger picture. Utilizing your natural talent and charisma for the sake of a worthy cause is a win-win proposition during this flamboyant Leo Lunar Eclipse. Your emotional satisfaction grows in proportion to the value of your contribution to the community. Plugging into the needs of your village instead of chasing personal fame or fortune gives you a chance to express your heart.
Taurus Horoscope (April 20 – May 20)
Drama is brewing in your personal life during this Leo Lunar Eclipse, but work is calling and your unique talents are required to tackle an unexpected project. You may feel like nursing your pride and sitting this one out, but you could miss an amazing opportunity to make a difference on the job. Draw from a deep well of courage and shake off any self-doubt. Assume the leadership role and dazzle everyone with your brilliant ideas. Keeping one foot in the future and one foot in the present enables you to envision the steps needed to reach your goals.
Gemini Horoscope (May 21 – June 20)
Your curious mind is like a squirrel always gathering more nuts, never satisfied with sitting still for too long when there may be more nuggets of information just waiting to be uncovered. But during this Leo Lunar Eclipse you might want to stop your search mission long enough to synthesize all the facts into a tangible plan of action. Release the need to know everything so your clever brain can focus on innovation and originality. Share your brilliant insights with a group of like-minded folks to magnify the impact of your ideas. Creating the future of your dreams calls for heroic measures.
Cancer Horoscope (June 21 – July 22)
You can't help but be moody during a Leo Lunar Eclipse, but the less you allow your fluctuating feelings to dictate your interactions with others, the better. Letting go of your security blanket to embrace the unknown requires a special brand of courage. Show up and demonstrate your commitment to a relationship or a passion project dear to your heart, but keep in mind that trust takes time to cultivate. Don't be afraid to talk about the big picture as you determine what each person can contribute to the cause. Remain as open to receiving love as you are to giving it.
Leo Horoscope (July 23 – Aug. 22)
Taking things too personally is completely understandable during this proud Leo Lunar Eclipse, and the urge to dance in the spotlight is a natural expression of your spirit. But if you can change your internal filter from selfie mode to a panoramic perspective, you might realize how much your current happiness depends on the happiness of others. Letting go of your need to be right frees you to focus on cultivating healthier relationships. Allowing a partner or friend to step into the starring role gives you a deep sense of gratification, and your support means the world to those who think the world of you.
Virgo Horoscope (Aug. 23 – Sept. 22)
Manifesting your dreams is as simple as putting your imagination to work. There is no time to waste wandering around in your fantasies when your pragmatic ingenuity is in high demand in the mundane world. Finding unorthodox solutions to the same old problems is likely during this Leo Lunar Eclipse, so keep your intuition channels open for incoming epiphanies. Recognize your need to control every detail and then consciously choose to let go. Shake up anything that feels stale in your daily routine with an unconventional twist. Free your mind and anything is possible.
Libra Horoscope (Sept. 23 – Oct. 22)
Getting lost in the crowd isn't in your best interest during this Leo Lunar Eclipse, especially if your creative muscles need stretching. Relinquish your habit of pleasing others at the cost of your individuality. Be radical and rebellious in your self-expression, and let your freak flag fly. Experimenting with unconventional sources for your inspiration boosts your confidence and feeds your ingenuity. Reconsider if your insatiable desire for harmony keeps you from rocking the boat. Following the whims of your heart doesn't preclude you from being an integral part of the community. Your authenticity shines like a beacon in the dark.
Scorpio Horoscope (Oct. 23 – Nov. 21)
Change is in the air and you have two choices during this Leo Lunar Eclipse: waste your energy by resisting the inevitable or spend your time figuring out how to make this directional shift play to your advantage. Perhaps you have outgrown your current job or find yourself yearning for a profession that honors your idealistic convictions. Your passionate nature does not suffer mediocrity or boredom for very long. Mapping out a plan for your future includes equal parts of quiet self-reflection and loud brainstorming. Utilize your impressive talents to make a positive impact in your community. Transformation is your game.
Sagittarius Horoscope (Nov. 22 – Dec. 21)
Your desire to acquire knowledge intensifies during this Leo Lunar Eclipse, as does your craving for epic adventures. But there is serious mental exploration to do before you can launch yourself off the nearest cliff. Let go of old assumptions and previous justifications if you really want to discover the unvarnished truth. Communicate your concerns with those you trust and listen closely to their advice. You might find that your aspirations are more closely intertwined with others than you once thought. Your endless enthusiasm is contagious, so pass it on.
Capricorn Horoscope (Dec. 22 – Jan. 19)
Your money is on your mind as you re-evaluate who you are willing to trust with your resources. But the truth is it might be your own self-worth that you are wrestling with during this Leo Lunar Eclipse. Although you rationally understand that your true value is not tied up in your material possessions, it is tough to disconnect worldly success from personal fulfillment. Relinquishing your attachment to the tangible gives you the chance to treasure the priceless intangibles more. Be outrageously generous with your love and compassion, but make sure to save some for yourself. Make your life rich in all the ways that count.
Aquarius Horoscope (Jan. 20 – Feb. 18)
Separating your emotions from illusions is no easy feat during this theatrical Leo Lunar Eclipse. Untangling your needs from the desires of your partner is the first step to sorting out what you want from a serious relationship. Putting someone else first demonstrates your commitment, but might not honor the wishes of your heart. Acknowledging that your feelings matter inspires you to re-examine your priorities and adjust your trajectory. Letting go of past hurts or self-sabotaging patterns allows you to make room for love and laughter. Creating your future starts by believing you can.
Pisces Horoscope (Feb. 19 – March 20)
All your best ideas originate from the infinite halls of your imagination. Interweaving various elements of your spiritual practice into your daily routine is likely to be successful during this creative Leo Lunar Eclipse. But if you truly want to perform random acts of service then you must let go of your wish to be acknowledged and appreciated. Anonymously giving of your time and energy might mean little recognition but the warm glow in your heart. Your dreams offer you a magnificent glimpse of your future, but you will need to fully trust your intuition to build the world you see in your mind.
Content written by Morgan Friday
Part of the Daily Insight Group ©2018
Tarot Card of the Day
The Fool
---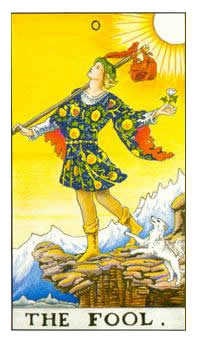 Pamela Coleman-Smith's artful rendition of The Fool in the Rider-Waite Tarot deck is often used to represent Tarot in general. Early classical versions of The Fool card, however, portray quite a different character — a person driven by base needs and urges, who has fallen into a state of poverty and deprivation.
In some earlier instances, The Fool is made out to be a carnival entertainer or a huckster. In others, he is portrayed as decrepit and vulnerable — as the cumulative result of his delusions and failures. Not until the 20th century do you see the popular Rider-Waite image of The Fool arise — that of an innocent soul before its fall into matter, untainted by contact with society and all its ills.
Modern decks usually borrow from the Rider-Waite imagery. Most Fool cards copy the bucolic mountainside scene, the butterfly, and the potential misplaced step that will send The Fool tumbling into the unknown. Don't forget, though, that the earlier versions of this card represented already-fallen humanity, over-identified with the material plane of existence, and beginning a pilgrimage toward self-knowledge and, eventually, wisdom. The Fool reminds us to recognize the path of personal development within ourselves — and the stage upon that path where we find ourselves — in order to energize our movement toward deeper self-realization.
This Week's Tarot Card Is the Eight of Swords!
Read your monthly and weekly Tarot readings for January 2018
---
This January's focus is on relationships, both a harmonious relationship within the self, and how that impacts our relationships with others. The cards drawn ask us to take an active approach to enhancing balance and communication this month.
This month's featured deck is the World's Tiniest Tarot Card Set, symbolizing how even the smallest positive change can make a difference. This vintage deck, a Waite-Smith clone, measures just 1″ x 1.5″, but includes the complete imagery and wisdom of a full-size deck. Basic interpretation information is printed on each card face, so if you find a copy of this out-of-print deck, you might also want to pick up a magnifying glass.
Your Personal Daily Love Tarot Card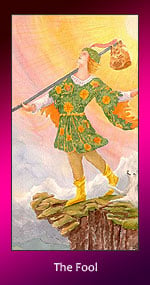 The Fool
You deserve a partnership that deepens as you get to know each other. Wait for the person who has risen above commitment immaturity if commitment is your desire. The Fool reminds us that dating someone is not a mistake. It is falling in love and marrying them if it is not right. If your long-term relationship is encountering a difficult patch, now is the time to work together to rebuild.
Your Personal Daily Erotic Tarot Card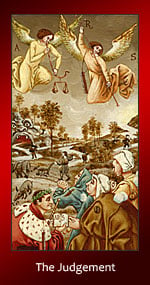 The Judgement
The Judgement card indicates that you've had some sexual hang-ups in the past, but you're working toward getting over them. This is a period of transition, and although you're doing the work, you may not be getting the exact results you desire. Forgive yourself for past missteps in order to take a sexual step forward today. Being afraid to express your true erotic self can even effect other areas of your life, so getting beyond your sexual inhibitions translates into a happier overall existence.
Psychic Tip of the Day
NEW SURPRISE
Your first big shock of the new year has arrived. It could be a welcome relief, but you may not know what to do with it. Were you expecting company?
Tarot.com is Part of the Daily Insight Group ©2018
Your Daily Rune for Monday, January 29th, 2018
Laguz
"Log-uhz" – Literally: "Water" or Ocean – Esoteric: Unconscious, Collective Memory
Rune of the unconscious context of becoming or the evolutionary process. Rune of Life's longing for itself.
Psi: emotion, psychic powers, unconscious mental processes, love, dreaming
Energy: life energy, ocean spirit, origins of life, collective unconscious, the astral plane, love as unity, evolution
Mundane: water, imagination, occultism, dreams
Divinations: Life, passing a test, sea of vitality and of the unconscious growth, memory, dreams; or fear, circular motion, avoidance, withering, depression, manipulations, emotional blackmail, lack of moral fiber, fantasy, poison, toxicity
Governs:
Transpersonal powers
Mastery of emotion in order to shape wyrd
Guidance through difficult initiatory tests, ie. initiation into life
Increase in vitality and life force
Communication between your conscious mind to another's unconscious mind
Development of 'second sight' or prophetic wisdom
All powers of dreaming (lucid dreams, astral projection)
Your Weekly Influences for Monday, January 29th, 2018
Tarot Influence
Eight of Coins
A time to learn the ways of an occupation. A viable venture may be beginning. Handling worldly affairs skillfully.
Astrological Influence
Cancer Reversed
Cancer reversed denotes a lack of creative energy and disregard for home-life
Element Influence
Water Reversed
Water reversed denotes secrets to which you are not privy. Approach all ventures with caution.
Your Animal Spirit for Today
Advice from a Deer
Daily Karmic Number
Brace yourself. The number 3 as it appears for you today signals that your spirit guides are close by, eager to help you with your needs. You have been on a path of taking care of yourself and your efforts are being rewarded. They have always been there, but you are in a position to sense them more now. Ask them for help with anything. Your mind, body, and spirit are integrated into a seamless unit. You are one with the Universe. Let the Universe benefit you as you send out your own positive energy.
Your Daily Charm
Today's Meaning:
A course of events that cannot be altered has been set in motion within this aspect. Accept whatever happens in the near future and do not waste your time fretting about it–you can do nothing.
General Description:
This was a favorite charm in Egypt, worn in order to frustrate magicians, sorcerers and evil wishers from bewitching the wearer and stealing the soul from the heart; for it was the general belief that if the soul left the heart, the body would soon fade away and perish. The ancient Egyptians also believed that, after death, the heart was taken, in the underworld, and weighed against the symbols of the law; if found perfect, it was restored to the body, which at once came to life again and enjoyed everlasting felicity.
Crack the Cookie
The Wisdom of Buddha
All that we are is the result of what we have thought. If a man speaks or acts with an evil thought, pain follows him. If a man speaks or acts with a pure thought, happiness follows him, like a shadow that never leaves him.
Moon Diary Eclipse Special: The Total Lunar Eclipse in Leo, January 31st, 2018
by Jane Lyle.
From The Astrology Room
January's total lunar eclipse in Leo is quite something. It's our second full Moon this month – making it a rare Blue Moon.
Plus it's the second supermoon in a month, meaning it's a full Moon at a point closest to us here on Earth, or perigee.
Stormy weather, geo-physical upheavals, and high tides accompany such powerful Moons. More turbulence rises as human emotions peak, and we're generally not in a good position to make sensible decisions. That's because not only are we more impulsive and emotional than usual, but also the information we need to make decisions can be unstable, hidden, or even surprising. Eclipses reveal and conceal, so it's wise to wait at least a few days, if at all possible, before doing anything final.
The astrology of this total Leo lunar eclipse emphasises the tension between our own individual needs and concerns (Leo), and the needs, opinions, and desires of the wider population (Aquarius). It's an ongoing theme that began in 2017, with eclipses falling in Leo and Aquarius this year too.
Leo eclipses tend to highlight events around famous people, leaders, royalty, and matters connected with children, creativity, romance, and entertainment. This eclipse has a strong, female edge to it, for the Moon is exactly aligned with Ceres and the Aquarian Sun is close to Venus. Female scientists, social campaigners, and humanitarians could be in the eclipse spotlight.
Ceres is a dwarf planet, named for one of the ancient grain goddesses of the Mediterranean. So, in astrology, she rules over crops, grains, and the seasonal cycles of nature. Ceres aligned with this eclipse asks us to think about how we take care of our environment, or fail to take care of it – and the consequences of that. Wild weather around this time may help to focus global attention on our often-overlooked symbiotic relationship with nature.
Ceres says 'to everything there is a season' – you can extend that idea to include love, and the cycles of our relationships – romantically, and amongst our families, children, and friends.
Ceres in Leo has a very queenly vibe – who's 'queen' of your own social circle, workplace, or extended family? That person could be the focus of attention or changes over the next few months. Ceres is also a 'mother goddess', although her power in this role goes beyond any sweetly mystical 'yummy mummy' persona. She rules over death and decay, alongside fertility and birth. So this full Moon brings certain emotional relationships to a head – there's generous potential for growth, endings, or chaos.
Neptune's awkward aspect to the Leo eclipse offers further confusion. Watch out for news about big pharmaceutical companies, plus other drugs-related issues such as legal marijuana, or the use of psychedelic drugs to treat mental health conditions. Neptune always promises glamour, gossip, and scandal too – in Pisces, this includes news about the film, music, and fashion industries, as well as medical organisations and those who work in them. A Leo eclipse puts our bosses, leaders, and prominent people in the spotlight – more than usual, that is.
This Leo lunar eclipse is most likely to trigger your own horoscope if you have planets or points at around 8 -12 degrees of Leo, Aquarius, Taurus, or Scorpio.
The generation of people, like Donald Trump, who all have Pluto at this degree of Leo, are affected – some more than others, depending on their personal horoscope. When Pluto is triggered, powerful experiences are flagged up – either in deeply emotional, personal ways, or in stunning outer events that shape an individual's future path.
Other famous people whose horoscopes are energised include Barack Obama and Meghan Markle, with their natal Suns at 12 Leo; Queen Elizabeth II, with her Moon at 12 Leo; Madonna, with Uranus at 12 Leo; and Sharon Stone – another Uranus in Leo generation individual – with Uranus at 8 Leo. Uranus was in Leo from August 1955 – November 1961.
And what's worth watching out for in the world? Horoscopes for Iran, Qatar, and the UK House of Commons are all stimulated by the Aquarian side of this eclipse – groups of people may find themselves opposing a leader, or losing a leader or figurehead.
Israel, India, Pakistan, and the United Nations represent a small number – amongst many – of world horoscopes whose Leo planets – and leaders – are affected.
This eclipse will be visible in North America, Eastern Asia, across the Pacific Ocean, and in Australia. Regions where an eclipse is visible are, according to traditional astrology, more likely to see obvious manifestations of the eclipse's meaning.
Events linked with this eclipse will unfold over the next six months, until summer 2018's eclipses appear in July and August.
Once in a Blue Moon
Learn about the Blue Moon and its meaning
---
Have you heard the expression, "once in a Blue Moon," and wondered what it means? Does the Moon really turn blue? Does this only happen once every couple of hundred or thousand years? Well, the answer is no and no. But it IS happening in 2018 … not just once, but twice!
The term "Blue Moon," which people have adopted as a way of describing something rare, is more or less an "extra" Full Moon. Most years have 12 Full Moons, which occur approximately every month. But once every two or three years, there's an extra Full Moon — and that is what we call a "Blue Moon."
So why is there an extra Full Moon? It's simply because the solar calendar has about 11 more days than the lunar calendar, and after a few years all those extra days build up to the point where there's an extra Full Moon.
And why the color blue, if the Moon doesn't really turn blue? It's believed the word comes from an old Middle English word, "belewe" — which actually means "betray." In other words, they used to call it the Betrayer Moon, because this extra Full Moon didn't fit into the normal lunar cycle. Over the years the word "belewe" evolved into "blue" — hence, we give you the "Blue Moon."
In 2018 there are TWO Blue Moons, one on January 31 in Leo, and another on March 31 in Libra. Full Moons are emotionally charged, so any time there are two Full Moons in one month it means that month could be an emotional roller coaster for some people. Thank goodness it only happens once in a Blue Moon!
Part of the Daily Insight Group ©2018
A Little Humor for Your Day
Even Witches Text and Drive…..

Remember for all your magickal needs, think Magickal Necessities!