The Witches Digest for Wednesday, November 29th
(Daily Horoscopes & Divination)
Full Moon in Gemini: A Kaleidoscope of Dreams
Read your sign's horoscope for the Full Moon in Gemini
---
The surreal winds of the Gemini Full Moon on December 3, 2017, oppose the idealistic rays of the Sagittarius Sun, sparking burning curiosities, fickle flirtations, and endless conversations. The cosmic noise factor is amplified by Mercury turning retrograde the same day, leaving everyone a bit dazed and confused for the next three weeks. Also during this Full Moon, a blurry Moon-Neptune square plus a fuzzy Jupiter-Neptune trine magnify dreams, adding a wide-angle distortion filter to the picture; it's almost impossible to see the truth even when it is staring back at you. This is a metaphysical showdown — facts vs. beliefs, spiritual vs. superficial, and clarity vs. illusion. Dancing with a myriad of dualities can be an entertaining and enlightening experience if emotional flexibility, mental agility, and a swift wit are always within reach.
Time warp
Time travel may seem like a viable option while the Gemini Full Moon lights up the galaxy, and mystical Neptune weaves enchanting threads from the past, present, and future into a cosmic tapestry where memories intersect with dreams. Mental Mercury's standstill during this busy Full Moon tosses a monkey wrench into an already overpacked calendar, warning you to doublecheck packages and plans as you prepare for the holidays ahead. Alleviate Mercury's distracting influence by exercising the retrograde remedies of discernment, discretion, and discipline. Observing the "rule of re" allows you to harness the true power of this often-misaligned planetary cycle. Steer clear of new business while you realign your priorities, reassess your finances, re-evaluate your relationships, review your achievements, reconnect with friends, and recommit to your dreams. Personalize this list to fit your needs and you will have a master plan for conquering the extra stress of this holiday season.
Infinite realities
This perpetually curious Gemini Full Moon casts variety as the spice of life and a plethora of possibilities sparkle in its illuminating light. Talking seems to be all the rage with everyone having their own cause to promote or philosophy to espouse, but it all starts to sound like radio static if everyone is speaking at once. Repeating past stories or forgetting significant details is pretty much guaranteed now, but the distraction ratio is off the charts so it's easy to overlook mistakes. Resist the temptation to fill up the space with lots of words if your message is tired or of little substance. Exercise your creativity by adding an intelligent voice to the debate. Tap into your spiritual side for new answers to old questions.
Neptune, the planet of magic and illusion, squares off with this flighty Gemini Full Moon, prompting you to wonder what is real and what is imagined. Permissive Jupiter's presence in the picture encourages you to explore your world with relish and abandon, but extreme measures must be taken in moderation. Embarking on an adventure is a logistical nightmare now, but you can travel anywhere you wish in your mind. Stepping out into the great wide open may feel frightening at first — which is why so many reach for an easy escape. Resist the temptation to give in to your fears and stretch your spiritual muscles, instead. All that glitters isn't gold but your dreams are a priceless resource. With so many worldly distractions at your feet, consciously choosing a path of enlightenment sets an inspiring example. Experiment with the concept that energy flows where attention goes by centering your focus on what matters most. Your imagination is the doorway to your heart.
Full Moon Tools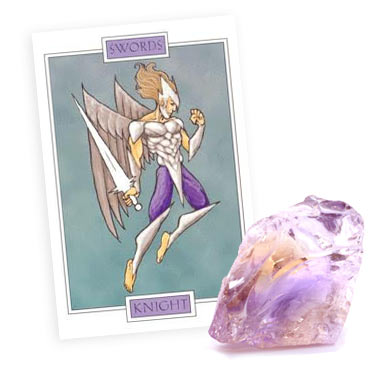 Tarot Card of this Full Moon:
Knight of Swords 
Mischievous Mercury plays a starring role in this Gemini Full Moon feature film. The Greek god Hermes (pictured in this Knight of Swords from the Winged Spirit deck) was later named Mercury by the Romans. The winged messenger is the original superhero, shuttling messages between the material world and other dimensions. The fearless Knight's love of adventure and pursuit of knowledge correspon with the idealism of the Sagittarius Sun. Be courageous and clever as you expand your mental, physical, and spiritual horizons.
Crystals for this Full Moon:
Ametrine (pictured): a combination quartz containing amethyst and citrine. This sweet stone alleviates stress, clears mental fog, offers spiritual clarity, sharpens intuition, enhances learning, and unleashes creativity
Clear apophyllite: boosts brain power, encourages truth-telling, facilitates journeys, fosters inter-dimensional communication, and strengthens the connection to one's higher self
Watermelon tourmaline: instills patience, assists one in expressing intentions clearly, cultivates serenity and synchronicity, and shifts the consciousness from the brain to the heart
---
This inquisitive Gemini Full Moon stretches your mental agility, emotional flexibility, and spiritual limits. How far are you willing to go? Read your sign's horoscope now…
Aries Horoscope (March 21 – April 19)
The temptation to share every bright idea is strong, but sometimes a plan takes on a life of its own once it is under the light of public scrutiny. You can talk all you want but most folks are going to tune out and just nod their heads while you run your mouth. Your enthusiasm is palpable, but your thoughts are scattered all over the map near this Full Moon in Gemini. Consider a solo expedition or choose someone who is truly invested in your dreams to accompany you on a spiritual adventure. A deep well of compassion and a powerful connection to the divine are two of the many treasures you might discover if you are willing to explore the trails of your own imagination.
Taurus Horoscope (April 20 – May 20)
The noise of the holiday season is amplified by everyone's expectations, and clear communication is essential if you want to maintain relationship harmony around this Full Moon. You may think an epic shopping spree is mandatory now, so you can shower gifts on your loved ones and impress them with your generosity. Or you might get lost in a fairytale left over from your childhood as you follow the crowd in pursuit of your happily-ever-after. There's nothing wrong with wandering around in a dream as long as you remember what is real and what is fantasy when you wake up.
Gemini Horoscope (May 21 – June 20)
A familiar call for freedom rings in your head as you find yourself overbooked, overcommitted, and overwhelmed at this Full Moon in your sign. Old patterns of filling every inch of your mental bandwidth with a thousand distractions are keeping you from working more efficiently, both in your personal and professional spheres. Your charm is tough to resist as you flirt without even trying, but re-evaluating your priorities may mean you don't lead anyone on in the process. Objectivity is your saving grace, but it's nowhere to be found now as you wear your dreams on your sleeve for the whole world to see. Follow your heart but don't leave home without your common sense.
Cancer Horoscope (June 21 – July 22)
Your dreams might be keeping you up at night as you replay your joys and your regrets, leaving you slightly sleep-deprived and extremely sensitive during the waking hours. Paranoia could creep in as you rush around trying to catch up on a long list of chores, and you may start to fear that people are hiding critical facts from you. The truth is you are the one with the big secrets now, and you are not obligated to share them until you are ready. Translate the symbols of your imagination into your next creative masterpiece.
Leo Horoscope (July 23 – Aug. 22)
Your charisma lights up the stage, and others are drawn to you like moths to a flame. You cherish your position in the community and rarely disappoint your adoring fans. Naturally, you aim to please your audience, but you are afraid of missing your private meeting with your muse if you get lost in the crowd now. Fulfilling the expectations of others can be a seductive trap, limiting you from releasing your true potential. Create for the sole sake of passionate self-expression and set your soul on fire.
Virgo Horoscope (Aug. 23 – Sept. 22)
You wish you could merge your personal and your professional worlds for the sake of productivity, but not everyone is on the same page near this Full Moon in Gemini. A fog of confusion permeates the atmosphere and you may find it easier to talk to strangers than friends. An overall lack of clarity regarding your most important relationships might even have you wondering who you can trust. Turn off the endless mental chatter and reassess your priorities with an objective eye. Expecting perfection sends you down a path of disillusion and disappointment. Find your center and your faith in people will return.
Libra Horoscope (Sept. 23 – Oct. 22)
The urge to escape the holiday hustle is irresistible and you're packing your bags before you even know your destination. It's easy as pie to convince yourself that you deserve a break, even if it's just a working vacation or a change of scenery. Truth be told your daily routine is stale and overdue for a healthy rearrangement. Stretching your mental and physical boundaries empowers you to thrive in your immediate environment and act as a positive inspiration for everyone around you. Spell out your intentions to keep confusion to a minimum, but don't expect immediate validation for your life choices. All you can really do is listen to your heart.
Scorpio Horoscope (Oct. 23 – Nov. 21)
The safe thing to do is to smile and keep moving now; but real growth is only possible if you shut out the external interference and push past the internal remnants of resistance regarding the topic of intimacy. Flirting is more fun than fighting, and skating around a relationship conversation might be your first preference near this Full Moon. However, sinking into your vulnerability invites more meaningful interactions where hearts and minds connect on a new playing field. Your imagination is operating on overdrive, tricking you into thinking your dreams are real. Interdimensional dancing isn't for everyone, but you are in your element as you search for your next source of inspiration. A word of warning: If you start to believe you are a character in your creation, you may need to call for assistance.
Sagittarius Horoscope (Nov. 22 – Dec. 21)
The dichotomy of independence versus relationship is palpable as you struggle to find the right balance between freedom and commitment. Mixing and mingling is impossible to avoid near this holiday Full Moon, and why would you evade the spotlight when you are loved everywhere you go? But all the superficial chit-chat and flirtatious banter can leave you feeling bittersweet when you are secretly craving a deeper connection with yourself. Give the gift of self-love by taking the time to figure out what your heart truly wants. Honoring your needs encourages others to do the same. The roots of compassion start within.
Capricorn Horoscope (Dec. 22 – Jan. 19)
You may go through the motions of performing your regular routine, but it is clearly obvious that your mind is not on the work at hand. Your family and friends do their best to keep you grounded, but your brain continues to run a full-length film of epic proportions in your imagination. Mistakes and misunderstandings happen when your head isn't in the game. The truth is, the more you try to drown out this cosmic distraction with pragmatism and chores, the louder and bigger it gets. Stop pretending everything is normal and your perspective will start to take a philosophical turn. Meandering down a spiritual path allows you to discover treasure beyond your wildest dreams.
Aquarius Horoscope (Jan. 20 – Feb. 18)
Opportunities are knocking on every door around this Full Moon, but you can only answer so many at once. Knowing when to say no is critical now, but knowing when to say yes is even more important when it comes to love affairs or creative pursuits. Romance is on your mind, but commitment isn't; be clear about your intentions right from the start. A foot-loose and fancy-free lifestyle might be loads of fun now, but it can also keep your heart from getting invested. Overindulgence and overexpansion may send you wandering down the wrong path if you're unwilling to follow your moral compass. Choose quality over quantity and meaningful over more.
Pisces Horoscope (Feb. 19 – March 20)
You are experiencing the cosmic-twin energy in a very personal way as one half of you wants to remain curled up at home watching your fantasies, while the other half of you thrives on being needed at work or in the community. An irrepressible yearning for variety may clash with previously scheduled commitments, but fun can be found in cleverly rearranging your plans to accommodate fickle tastes and inquiring minds. You delight in making others smile, but in the process of spreading glee your feelings might get misplaced in all the glitter and lights. Give yourself the gift of solitude when your heart requests it.
Content written by Morgan Friday
Part of the Daily Insight Group ©2017
Your Daily Horoscopes for Wednesday, November 29th
Aries
The Moon in your sign brings attention your way, dear Aries, and allows you to express yourself more spontaneously. Even so, it can also bring out your impatience, especially with Mars, your ruler, in challenging aspect with Chiron and approaching an opposition with Uranus. The next couple of days can be a little tense, particularly in close relationships. You can be impatient with diffidence or indirectness. Today, there can be a tendency to push when someone backs away or to retreat when someone pushes you. This is not an intentional game, but rather a reflection of uncertainty about what you want. It's not the best time for healthy relating patterns so you might consider that even though you crave company more than usual these days, you might need some personal space right now.
Taurus
You're in a retiring mood again today, dear Taurus, or perhaps a little emotionally distant. There can be quite a few distractions, however, and a general lack of direction, so that it's better to avoid detail-oriented work or activities, if possible. This way, dreamy states of mind can serve as pleasing detours from the strains, pressures, or monotony of daily life. However, try not to sign anything or commit yourself to what appear to be amazing plans now, as they may turn out to be impractical ventures down the road. This is not the time to get clear answers from others, and perhaps even yourself, as motivation levels may be temporarily down. If there's been unrest at work or in your personal life, the next two days can see you pushed to deal with it.
Gemini
You're seeking out pleasant company again today, Gemini, but there can be some tension brewing in your social life. If so, it's likely to reach a head tomorrow or the next. For now, feeling a little off may be the first sign. You might struggle with a decision, as there is a sense that you need to give something up in order to gain something else. There might also be a dilemma between responsibility and pleasure today. Do your best to relax so that you can envision things more clearly and weigh the pros and cons. This way, you'll more readily come to a compromise rather than an extreme. A relaxed attitude is essential now, not only for yourself but with others as well. Pushing can lead to mistakes or social blunders today.
Cancer
With the Moon at the top of your solar chart, you can feel some pressure to do your best, dear Cancer. You're aware of extra pairs of eyes looking your way with the Moon in this highly visible part of your chart! There can be some tensions brewing between your personal and public or professional lives which can reach a head tomorrow. For now, hints are happening around you, so take notes! Mars and Chiron in an awkward angle can stimulate a subtle feeling of imbalance, and you can feel at once pressured to make decisions revolving around family or your personal life and confused about your next step. You are definitely not in the mood to be pushed or prodded. Hesitation and doubt are not bad words – sometimes they are necessary delays that allow ourselves to catch up with what's going on around us, and this may be what's happening now.
Leo
You're once again seeking out-of-the-ordinary activities and experiences today, dear Leo, even if this merely happens on the mental plane. However, there can be tension brewing regarding differences of opinion or about having too much on your plate. While this is likely to reach a head tomorrow, today you can sense some unrest. In fact, essential clues and hints may drop now that better prepare you for any standoffs or big revelations that might occur later. Financial or intimate matters can be confusing or worrisome, or you may be at a loss at how to broach a tricky subject. Not knowing where you stand in these areas of life may be subtly undermining your current interests and projects.
Virgo
Tensions with money, ownership, or workload and shared responsibilities are mounting now, Virgo. While this may take another day or two to play out, you're likely to confront some of these matters today, even if this happens indirectly. An awkward angle between Mars and Chiron points to the need to make adjustments rather than bold moves. Others may not be clear with you today, but consider that they may not be in touch with what it is they truly desire. Try not to worry about mixed signals and instead wait until others have sorted things out. Asserting yourself may have awkward results since this is not the best day to understand your own desires, either. This also applies to material desires, so you might want to put off making larger purchases just for now.
Libra 
The Moon is in your opposing sign all day, dear Libra, and while you may not be at a peak energetically speaking, you're more invested than usual in your close relationships. With Mars in your sign in an awkward angle to Chiron, however, there can be some difficulty fulfilling your desires, possibly because you know you want something but you can't entirely define what that something is! You might also struggle with some self-doubt. Treat any hesitance you feel now as a chance to slow down and make adjustments. Solutions to problems may not be immediately apparent. There can be a feeling of being delayed or blocked, and patience is necessary. Asserting yourself feels complicated today. Plans may need some reassessment, and you might want to look within to find answers to what it is that is holding you back. Mars is building to an opposition with Uranus, and self-reflection now can pay off later.
Scorpio
The Moon in your work and health sector again today keeps you interested in solving problems and ironing out details, dear Scorpio. Even so, a small storm is brewing related to your work-rest balance, and it's best to think of ways to improve the situation. Confidence may not be above-average, particularly when it has to do with any recent concerns in your love life, with children, or a creative project, so it is still better to wait things out before pushing forward. Hesitance may be your friend now as it gives you a chance to think things through. However, emotional energy can drive you later today, and you can feel invigorated.
Sagittarius
While the Moon in your creative sector is energizing, Sagittarius, some signs are pointing to the need for extra rest today, so aim for balance. A Mars-Uranus clash is brewing, and while it'll only reach a head tomorrow and the next day, you're likely to feel something is a little off today. It's not an appropriate time for pushing personal plans ahead with this kind of uncertainty hanging over the day. There can be some feelings of being unsettled in your social or romantic life. If you have doubts about a matter today, it may be a sign that you need to wait or delay important decisions. Take the time to consider ways you may be holding back from pursuing your social goals.
Capricorn
The Moon spends another day in your home and family sector, dear Capricorn, and you need a little extra rest. Decisions can be difficult to make today. There can be doubts about your next step even though a feeling of being unsettled or unsatisfied is clear. It's unlikely to be a day of bravery and confidence, but rather one of adjustments. Be clear in communications today, especially in a formal or official capacity, as misunderstandings can be costly now. Look for ways that you may be shooting yourself in the foot when it comes to advancing your goals, as fear of going your own way or asserting yourself may be holding you back from thriving.
Aquarius
There can be a strong desire to get away from it all today, dear Aquarius, or to break the routine in some significant way, but you may not feel you have the means to do so, or you could be indecisive about where you want to go or what you want to do. Restlessness is likely, particularly if you've felt tied down or overwhelmed by studies or mundane paperwork in recent days. Consider, also, whether fear of stating your beliefs is holding you back from a healthy conversation. Find small ways to settle yourself today, as Mars and Uranus will meet in opposition in just two days, and self-reflection and understanding will help any future revelations feel far less abrupt.
Pisces
While the Moon in your comfortable solar second house encourages you to seek out predictability today, dear Pisces, you can feel a little off-center with a Mars-Chiron aspect in play, especially as the day advances. Confidence levels may not be up to par. Situations and people might leave you feeling drained or confused. Try to get in touch with what it is you truly want, as not knowing can, in fact, be the source of restlessness. Look for clues that you may be holding on too tightly to a particular attitude, person, or thing, and what you might do to correct this imbalance. Watch for a tendency to hold onto anger in an effort to show you care.
If You Were Born Today, November 29
You are charismatic, warm, articulate, and extremely intuitive. You love to make people laugh, and come across as fun and charming, if a little sarcastic. You have a strong sense of responsibility and worry about the future more than is typical of a Sagittarius personality. However, your sense of fun always comes shining through. You like to stay informed and on top of things. When you're not "in the know" you are a lot less confident. Learning about anything and everything is a life-long hobby. Famous people born today: C. S. Lewis, Howie Mandel, Chuck Mangione, Andrew McCarthy, Garry Shandling, Anna Faris.
Your Birthday Year Forecast:
With the Sun and Moon in harmony in your Solar Return chart, the year ahead should be satisfying and balanced overall. You are in comfortable demand and personally popular, and you are able to achieve a decent balance between work and play; personal and professional life. For the most part, you are on top of your game this year, and positive connections with others can be made fairly easily. With the ability to handle your emotions successfully, there is less stress on both your mind and body. Your self-confidence and positive attitude will reward you!
Something big is in the works regarding your love or social life. You'll have a chance to heal old wounds with regards to love and friendship this year. You're also bound to find new ways of making money. Relationships are mutually beneficial and naturally equal, fair, and balanced during this period of your life. There can be a stronger inclination towards togetherness and sharing.
Your ability to concentrate and focus is enhanced this year. You may, in fact, have a lot of work to do in relative solitude or you might often retreat to study, work, or think. You might be required to travel for business purposes. Thinking in realistic and practical terms is your best bet, and the need for tangible results for your efforts is strong.
You may be actively involved in teamwork and collaboration with others this year. Passions are stirred and you're in a good position for connecting with others to accomplish your goals. There can be the beginning of a significant new relationship or the intensification of an existing romance.
You express yourself more clearly and you can be excellent at guiding and instructing others. There is a pronounced ability to order your thoughts and ideas, come up with designs, and recognize patterns. You can especially enjoy making plans, lists, and connections this year.
However, this can be a year when bursts of restlessness, rebellion, and impatience figure prominently. You have a tendency to take risks and to act on sudden impulses without considering consequences. You assert your will and individuality powerfully, and you are ready to fight for freedom. There may be changes in work schedules, or life's circumstances could challenge you in such a way that you need to change your goals or actions. This can also be a time when you tend to resist others and challenge them if they are trying to hold you back. Arguments and confrontations are likely. Technology may be a source of irritation, and electrical appliances may break down or not work up to par.
Energy fluctuates this year. Anger can erupt seemingly from nowhere and it gives you the chance to deal with it. If you aren't too rash or impulsive, this can be an excellent year in which to free yourself from restrictive circumstances. You could also have more courage than usual to do things that break the routine, and confrontations engaged in this year could clear the air and help you to move forward.
This can be a good time for updating your electronics and technology in ways that open up new avenues for communication or ease. Wonderfully creative ideas can fill your head this year.
Making connections with others from a different background is likely to figure in the year ahead, or widening your mind through unusual or different experiences can be part of the picture. Generosity and compassion increases and your faith is boosted. You more easily make personal sacrifices for what you believe to be the better good.
Advances in intellectual and mental pursuits are likely this year, as you make steady progress that has long-lasting results. The year is good for enjoying social or love opportunities. Your love or social life grows and satisfies. You're in good shape for staying on track and meeting your responsibilities. Cooperation brings rewards more than usual.
2017 is a Number Five year for you. Ruled by Mercury. This is a year of discovery and freedom. It's a time when exploration and reaching out to others brings opportunities. It's a good time to advertise, promote, and sell. Surprises are in store, and the routine is broken for the better. This is a year when exciting relationships can be formed; or, if you are already in a partnership, new life is breathed into the relationship. Advice – explore, look for adventure, keep your eyes open for opportunities, diversify, mingle.
2018 will be a Number Six year for you. Ruled by Venus. This is a year of relative contentment. It's a time when love is the easiest to attract, and partnerships formed under this vibration have a better chance for longevity. You are especially able to attract others–and material things as well–this year. This is a good year for establishing harmony in the family and in the home. Advice – develop existing relationships, be positive and receptive because these kinds of energies help you to attract what you desire.
Get A Jump On Tomorrow….
Your Daily Horoscopes for Thursday, November 30th
Aries
Today is far more intense than yesterday, dear Aries, and you can use this to your advantage with meaningful work or projects. Even so, today and tomorrow bring rebellious themes as Mars, your fiery ruler, opposes Uranus. This influence occurs approximately every two years and is a time for releasing frustrations if we've been feeling restricted, but how you express yourself now is what makes or breaks the day. You may feel offended or blocked. An issue that's been brewing in your life can come to a head. This may take the form of a conflict in a relationship. There can be some tension as something pushes for a resolution. Asserting your independence is your knee-jerk reaction with Uranus in your sign. However, it's important to avoid dramatic actions until the dust settles. Impatience is a liability now. Pace yourself and avoid recklessness to prevent accidents or arguments. Your energy, though up and down, might be harnessed to do something creative or productive, and if you manage, you could move mountains.
Taurus
Mars in your solar sixth house has been helpful and challenging at once, dear Taurus, as you can get through your work with enthusiasm, but you might also take costly shortcuts or display impatience with others. Today and tomorrow, this latter tendency is very strong. Anger can erupt seemingly from nowhere but is rooted in issues that you've buried and haven't yet confronted — or haven't yet resolved. Watch for a tendency to act out in ways that get you in trouble, as you may unwittingly take on the role of instigator. You could find yourself fixated on an unresolved, frustrating matter from the past, and pressured to put it behind you. People can be a little temperamental today, and it's probably better if you remain flexible when it comes to schedules and plans, as they may not be running smoothly. You could be tempted to take shortcuts with your work, but instead of saving time, they're inclined to cost you in the long run. Take a breath and don't let impatience rule the day, even if the pace around you is hectic or you're frustrated with co-workers or routines. Avoid pushing your body too hard, but do release frustration through creative channels such as safe exercise.
Gemini
People in your life may be unreliable right now, dear Gemini, or your social life can feel like a bit of a rollercoaster today and tomorrow. It's also possible that you're undecided about a friendship and you're sending or receiving mixed signals. Stubborn or rebellious behavior is a strong possibility now, whether it's you or a friend who's the instigator! Aim to be assertive rather than rebellious — that way, you're living your life on your terms rather than living life in reaction to others. Also, strive to avoid short-sighted decision making, which is a strong inclination under today's astrological weather. There is undoubtedly a tendency for people to be on a short fuse if they are feeling blocked or restricted. Feelings and desires can emerge abruptly, but you can choose to express them calmly for better results. If something is building inside you that needs a release, finding healthy ways to communicate it can be cleansing.
Cancer
A Mars-Uranus opposition influencing the day brings "enough is enough!" energy to your life, dear Cancer, particularly related to family, home, work, and responsibilities. Something that's been brewing inside of you needs a release, and you're not putting up with it any longer. There can be a conflict involving family or work-family balance. Responsibilities are strong on you, and you may be vying for particular freedoms. It's important to know yourself and what anger or resentment is brewing inside of you, as these things can be triggered today. Free yourself of things that are holding you back from success, but do so prudently. While it may seem that you can hitch a free ride today, this is likely an illusion. Assess risks carefully, and aim to be as tolerant as possible. Do your best not to react from a place of rebellion, which can be a knee-jerk reaction, and avoid abruptness or a defiant attitude for best results. Seek out creative or productive ways to release pent-up frustrations.
Leo
This can be a time for experiencing new and exciting changes, dear Leo, but there can be some stress today as your needs for variety, independence, and freedom can dominate. Mundane tasks capture your attention, but the urge to get out and about is bound to grab hold of you as well. Finding a balance can be difficult, but necessary to regain peace of mind. Avoid letting others force a change on you; instead, be as honest as you can with yourself and identify what you need to do to move forward. Holding on too tightly to a specific method, belief, or point of view may not be worth the tension. Know when to let go, and avoid pushing. Short-sightedness can be a problem today and tomorrow. However, energies presiding now can also stimulate a strong desire to put something behind you. Sitting on anger might invite mishaps, accidents, and arguments. Sounding off or rushing out angry messages can cause real damage. As such, a middle ground should be sought. Make room for the possibility of real breakthroughs now.
Virgo
You're more inclined than usual to stand your ground and assert your desires these days, dear Virgo, as well as defend your honor! If others are not doing their share or if you can't entirely rely on someone or a source of support, you're likely to express your frustration now. You may feel you've been shouldering far too many responsibilities and people around you are in and out as they please. Today, a Mars-Uranus opposition can bring tension to a head. The temptation is to react quickly and perhaps rebelliously, and while the shock value of this might have a few desirable effects, a more mindful approach to frustrations has better odds. While you can feel a strong desire for a change of scenery, there may be part of you that is worried or fearful of breaking new territory and making changes. This is a time to think carefully about your life and consider ways to free yourself of restrictions that are holding you back from happiness. A fresh start can only happen after clearing out resentment and other negatively-charged energy. Try not to be dependent on others for answers and resolutions, however as this keeps you in a state of unrest. Look for ways to manage your outlook instead.
Libra 
Conflicts with a partner, special friend, or advisor may present themselves now, dear Libra, with Mars in your sign facing off against Uranus. This can be a time when you feel you're putting in all the effort and others are in and out as they please or not as committed, and it can be frustrating. You may be in reaction mode, but it's better to keep your head rather than act impulsively or out of anger. Others may seem unreliable today, or they could bring surprises that feel off or unsettling. If someone tries to box you in or shows displays of independence, you are likely to make it known that you are going your own way! You could be quite ambitious about cutting out difficult situations from your life and wanting to put them behind you. Try not to put unrealistic pressure or time limits on something that doesn't need to be rushed. This is a time for clearing the decks so that you can go forward with more confidence and less burden. Use self-restraint as much as possible today, but if you need to clear the air, aim to do so mindfully.
Scorpio
Today, you may lack the energy, time, or desire needed to achieve your goals, dear Scorpio, and facing a chaotic schedule can pull up all sorts of frustration. Something could trigger buried anger or resentment, and this can very well be a change of –or overloaded– schedule. If you're not certain about being direct with others, then impatience can be a byproduct. Pushing yourself beyond your limits can lead to a variety of health complaints, so do your best to learn what those limits are. If you can manage it, try to work independently or arrange things so that you can work at your own pace. There is a tendency now to act or react without considering the consequences, but behind all of this is an important issue that has been building and needs some release. How you clear the air determines whether this is disruptive or helpful. Express yourself in some way, but try to do so constructively. Don't be an agitator, but you shouldn't be a doormat either. Find a balance, and deal with issues so that they don't negatively impact your health, energy, and work.
Sagittarius
Restlessness and discontent are likely today, dear Sagittarius, but they can push you to make positive changes and improvements, or to release adverse situations or frustrations and put them behind you. Getting to this positive place today and tomorrow may mean navigating a bumpy road. For some of you, the grass looks greener elsewhere. There can be erratic behavior in others or sudden events that take you by surprise. A clash or conflict can arise now related to romance, the pursuit of pleasure, or friends. Energy in your social life is strong today, but it can also be excessive and a little volatile. However, if impatience and impulsiveness are resisted, it can be a good time for discovering, likely through relationships with others, what you can no longer tolerate and need to put behind you. Act with self-control today as much as possible for best results. It would be wise to guard against gambling and taking risks. Be patient with yourself and others. However, if something has been building within and can no longer be accepted, do release it in as positive a way as possible, as clearing the air may be just what's needed for a fresh start.
Capricorn
There may be obstacles or people standing in the way of your path to your goals these days, dear Capricorn, and it can be challenging to keep your temper today. You may become too focused on the way you think things should be, and too impatient for these things to materialize right now. Double check that you're not expecting too much too soon. Crankiness tends to come from inner restlessness and a desire to break free from restrictive circumstances, even though you have been highly motivated to reach your goals. This may be a signal to release pressure. As well, frustrations today can alert you to the need to understand yourself and your desires better. If you've been hotly pursuing something but aren't honestly sure in your heart that you want it, then you're likely to feel a little off kilter now. Watch for impulsive or hot-headed moves and short-sighted decisions, and listen to your heart instead. Be honest about what's bothering you, but keep things cool. Recently buried and building frustrations can surface, but if handled well, they help clear a path for you to start again feeling fresh and unburdened.
Aquarius
Consider that freeing yourself from certain problems that have been weighing you down can be liberating this week, dear Aquarius. A Mars-Uranus opposition occurs now, and it comes every two years or so, encouraging you to release pent-up frustrations. Inner discontent is possible if you want to branch out but find it difficult to get where you want to go, possibly due to disorganization in your daily life or upset schedules. Disagreements can put you in the position that you'd rather go your own way, and others may be challenging your independence or freedom, or you perceive things this way. While frustrations are real and probably have been building, it's how you handle them at this critical time that will determine whether you go forward refreshed or bothered. Be a little more cautious than usual with mechanical things, driving, walking, and the like, as impatience can trip you up, sometimes literally. Haste makes waste when it comes to paperwork and communications, so try not to miss important steps. Watch for the temptation to sound off if something that's communicated frustrates you. However, if you need a push to make a change, and you're confident it's coming from the heart and not from pride or a whim, then this can be a time to break free.
Pisces
Patience is in short supply with a Mars-Uranus opposition influencing today and tomorrow, dear Pisces. Someone who is in the position to affect your income can frustrate you now, or you feel tense about being dependent on someone's support or approval. Some of you are craving more financial freedom. Taking a calculated risk is one thing, and jumping into something blind is another. If the stakes are low, not much can be lost, except perhaps a bit of pride. If the stakes are high, wait for a day when your judgment and patience are improved. Whatever the case may be, essential changes that put you back into the driver's seat are imminent, with respect, of course, for important others' contributions and input. The temptation may be to take quick action, and this can be great if you're in touch with your heart, but may not be wise if you haven't given something enough thought or if you're acting from a place of ego. Watch or impulsiveness related to personal finances or an intimate relationship. Listen to any buried desires that emerge now, but try not to act on sudden impulses that seem to come out of nowhere. Clear out the junk now, carefully and respectfully, so that you can begin attracting enlightening, fresh, and positive experiences.
Tarot Card of the Day
Three of Wands
---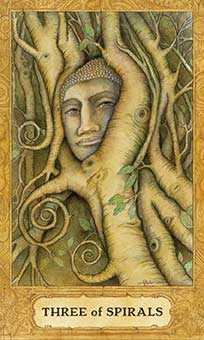 This suit, most often called "Wands" and sometimes called "Rods" or "Staves," represents initiative, ambition, drive and desire. This is the suit of enterprise and risk-taking.
A Three in this suit symbolizes an inner balance that allows you to feel more optimistic about new endeavors you are committed to, or want to commit to. In the illustrated Tarots, the human character is standing on his balcony, watching ships leave the harbor, loaded with his goods for far-off ports, dreaming of the fortune he will reap if all goes well. Summon the optimism within you.
This energy must be patient and trusting, because he or she will have to wait some time to find out how the ships have fared. Meanwhile, a lot of resources are tied up until they return with the bounty. Only those truly confident in their ideas and abilities would undertake such a risk. This card represents the energy a person needs to take on great adventures and accomplish noble (and remunerative) deeds.
A detail that sometimes appears in the more esoteric Tarots is a winged wand with two snakes twining around it, called the Caduceus, which is Mercury's wand. This is an ancient symbol of the healer or shaman, one who can travel between the worlds to rescue souls from death or possession. Perhaps the feeling of empowerment this card represents points to the internal mechanisms of self-healing. Perhaps it refers to the courage it takes to be an entrepreneur or an inventor, which is in itself a magical process — bringing not only opportunity for success, but also an awakening to higher potentials.
December 2017 Tarot Forecast
Read your monthly and weekly Tarot readings for December 2017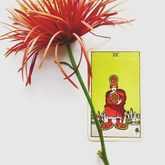 ---
Before we get started with the reading, here's a note on the deck pictured in this month's spread. These cards are from the Albano-Waite deck, a Rider-Waite clone first produced in 1968 by Frankie Albano and his company Tarot Productions. The deck, also released in miniature size and giant size (majors only), features extremely saturated, almost psychedelic coloring to the classic imagery and a beautiful gold sun stamp on the card backs. Unfortunately, this deck went out of print shortly after its creation. Years later, U.S. Games picked the deck back up for reproduction. You can tell the difference between versions in the image clarity and the box design; the vintage box front has no deck title, just an image of the Sun card.
Here's a quick look at the overall spread for December: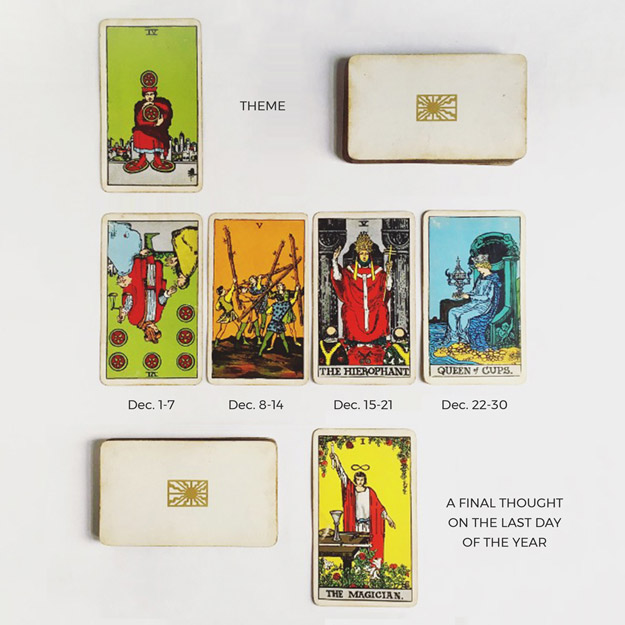 Theme for the month: Four of Pentacles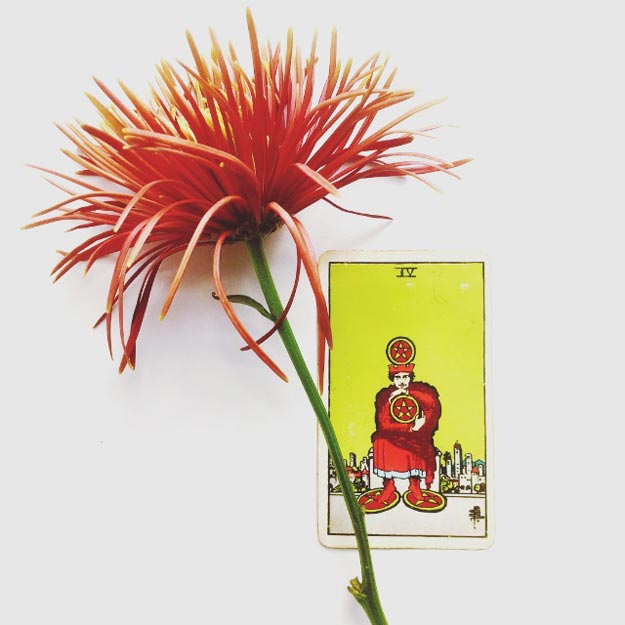 The Four of Pentacles is such an interesting card to pull for this month's theme. This can be a card of frugality, expressing concerns about holding on to the wealth and resources that have been amassed. That seems relevant in a month of holidays when many people are spending their hard-earned money on elaborate celebrations and travel. It is also a time when we traditionally show our love for others through gifts of material goods, additionally fitting for this card that is also concerned with identity, and how we humans express that identity through material possessions. These meanings are clearly illustrated in this deck's imagery — the suit symbol is connected to each part of the figure's being: head, heart, and foot. The central Pentacle is tightly gripped in the figure's arms.
Expressing identity through tangible objects is very natural, and is not automatically the same thing as materialism, though that is a caution of the Four of Pentacles. While it is true that things we own can demonstrate our values and personalities to others, if we measure who we are and how we are doing solely by what we possess, other aspects of existence are left underdeveloped. This externalization of self-worth can also lead to stinginess and hoarding. What might really be at play here is a fear of loss. This sort of behavior often manifests when we feel powerless or out of control. If we hold tightly to what we have, it seems like we might be able to control our circumstances better. When other aspects of self-concept have been ignored, we have nothing else to rely on should we suffer a loss, making it harder to recover and resulting in a crisis of identity.
Meditation on the Four of Pentacles:
For those of us who celebrate gift-giving holidays, December is a month of giving but also often anticipation of getting. Kids make lists for Santa weeks in advance, and these lists often include extravagant items that strike fear into the hearts of parents on a budget. Relationships seem made or broken by the expression conveyed through the presents we give each other.
How do you balance expectation and fear of disappointment with a very different fear of living beyond your means?
Weekly Tarot card
December 1-7: Six of Pentacles reversed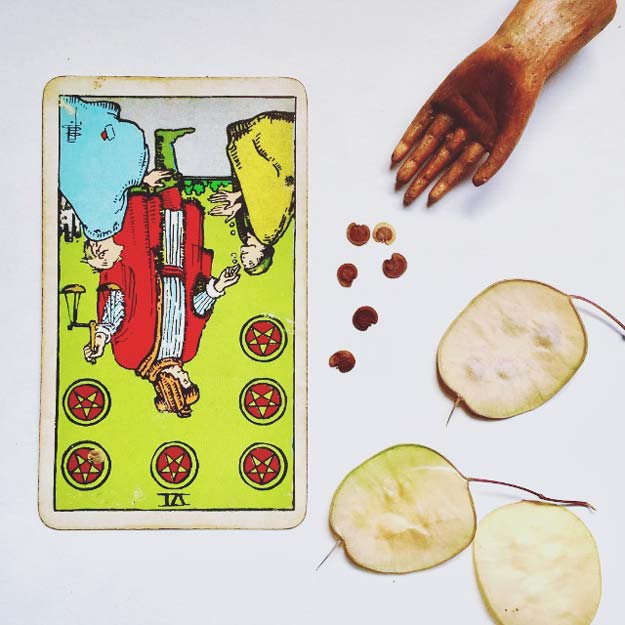 Here's this card again! We saw the Six of Pentacles last month as well, and it does seem that some of the lessons or struggles present in November are still with us currently. This is not unexpected. November marked the start of a chain of busy holidays; this year a number of stores where I live started merchandising for Christmas even before Halloween, and now are in full-swing with decorations and many additional products. In our spread, we have the Six of Pentacles positioned in reverse, which seems in direct alignment with this month's theme card. I can't help thinking about the fine line between holiday spirit and holiday pressure — pressure to find the perfect present for everyone on my list, pressure to get everything done on time… By some people's standards, I'm already late if I'm still doing my holiday shopping now! And as noted above, if you're operating on a budget, and many of us are, including everyone you care about and finding just the right thing for each of them can be tough.
When this card is reversed, it often indicates mishandling of resources, so I'm taking its appearance here as a warning. What sort of creative solutions might we find to honor those we love with clever gifts that don't have to drain our resources? Last month's appearance of this card asked us to think about different ways we could serve others. Generosity does not have to be financial, even though Pentacles are the suit of tangible concerns. There are many ways to show love. We can give others our time and energy to help improve the quality of their tangible existence. We can use our time and skills to make something for loved ones. People often say that it's the thought that counts, but this is usually meant to excuse a lack of effort. If we put care into what we make, these gifts will be seen as both thoughtful AND enjoyable.
This card in reverse can also suggest greed, but in the current context, I would interpret that a little differently. Pressure to perform as expected can cause many of us to withdraw. I sense fear of a sort in this card, too. Perhaps we fear that others will not return our efforts of generosity. Giving to get or giving only because we received is a strangely deceptive cycle. Overall, this card is a reminder that how we treat others is important. A balance of the material and spiritual is essential for our well-being, and the act of giving supports that balance.
Considerations for the reversed Six of Pentacles:
1. What actions by others make you feel loved?
2. How do you typically show your love for others?
3. Think about those closest to you, people you would want to demonstrate your care for with a gift of some sort. What do you think makes each of them feel loved? How could you tailor your gift to match this?
Part of the Daily Insight Group ©2017
Should You Start a Daily Tarot Ritual?
Learn what a daily Tarot reading ritual can do for you!
---
The things you do every day are the things that can impact your life the most. Through our daily rituals and routines, we create a sense of consistency and mindfulness that helps keep us centered when negative emotions, sudden developments, and surprise circumstances come up that could knock us off kilter. Yoga, meditation, prayer, cooking, exercise … these are all great rituals that, when done daily, can create a real sense of health, stability, and purpose for you. But perhaps one of the most beneficial daily rituals of all is a daily Tarot reading!
Any Tarot reading can provide an incredible amount of insight and understanding into whatever situation you're facing. But daily Tarot readings go even further — by identifying the cards and messages that come up for you on a regular basis, start to realize the patterns in your life, the things that affect you most frequently, and all the ways you tend to react. When you can identify these patterns, you have all the power to embrace them or change them!
5 Reasons to start a daily Tarot reading ritual
1. Set intentions
We've all had those days when we wake up late, throw ourselves together, and stumble into our routine unprepared and unfocused. The problem is, those days usually don't smooth out. The way you start your day — are you eager or are you exhausted? Optimistic or pessimistic? Open or closed off? — can totally dictate the day you have. You cannot control everything that will come up, but you can control the way you move through it. Pausing to set intentions for the day through a daily Tarot reading grounds your heart and mind so you enter every situation that arises with clarity and mindfulness.
2. See the patterns
It's easy to compartmentalize our days, taking everything that happens from morning to night and tucking it away, in order to start fresh the next day. But when we look at each day as isolated from all the rest, we limit our ability to see the big picture of what's happening in our lives. One little regret here, one little reward there may not seem like much. But when you start to realize a pattern of regret or a pattern of reward, you can start to see the reason these things recur, which gives you all the power to create more reward and less regret in the future.
3. Be present
Living in the moment is NOT easy. Fears, problems, and heartaches from the past — whether years ago or just days ago — are hard to ignore. Not to mention hopes and expectations for the future… But when you spend all your time in the past and the future, you miss everything that's happening in the present moment. A daily Tarot reading ritual establishes a time to reconnect with yourself every day, in this exact moment, and identify the things that are affecting you most NOW.
4. Make difficult decisions
When you draw the cards for your Tarot reading, be intentional and tune into your intuition. It is your subconscious that knows which cards to pull, because it knows which messages you need to be hear. Sometimes our conscious minds are so full of trivial matters that we cannot see what we really need to see, making it tough to make any healthy decisions for ourselves. A daily Tarot reading helps you clear out the clutter of your daily life so you see what lies before you with greater clarity.
5. Find peace
Whether you're experiencing a specific, heartfelt loss or change or you're just feeling totally crazed out of your mind, a daily Tarot reading helps you not just with a one-time piece of advice, but with regular, recurring help through your process of healing. By meditating on the wisdom you receive from a reading, you'll not only find clarity in your present situation, but a deeper sense of peace and calm in your daily life. And when the next issue arises — because you know it will! — you'll be able to face it head-on using your greatest weapon: a healthy, centered mindset.
Three readings a day keeps the stress away
Many people read their horoscope or do a Tarot reading first thing in the morning, to set the tone for the day. But have you ever had a day that started out one way, then took a serious turn? Of course you have … we all have! That's why not just one, but THREE Tarot readings a day can be so beneficial. You can not only set intentions for your day, but as circumstances arise throughout the day, you can check back in with another reading for more immediate, focused insight.
Part of the Daily Insight Group ©2017
Your Love Tarot Card of the Day
The Devil
---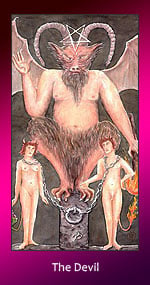 Pulling the Devil card does not mean that bad things are about to happen. What it does mean is that you have stooped to a level of thinking that is all about your ego. You have to look closely at what is driving you to be this way. You are in a wonderful relationship with an individual who adores you. You do not want to ruin the bond that is evolving between the two of you. You need to do some self-reflection in order to figure out what is going on with you under the surface.
Your Erotic Tarot Card of the Day
Strength
---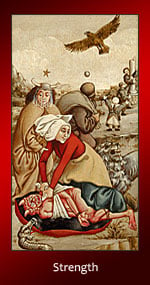 Your sex life gains some serious momentum today with the appearance of the Strength card. You have tremendous inner strength when it comes to getting what you want, and that includes sexual conquests. If you've been waiting for the right time to try out some new moves, the Strength card urges you to act now! There may be some obstacles in your way, but you welcome any and all challenges. Anyone playing hard to get right now is like putty in your hands.
Psychic Tip of the Day
FLIRTING DAYS
A romantic entanglement is changing the very nature of how every one sees you and who you truly are. Could you see any of this coming during that first flirtation?
Your Daily Rune for Today
Thurisaz
"Thor-is-as" – Literally: "Thurses" or "Giants" – Esoteric: Strong one, Resistance
Key Concepts: Unconscious forces, sociological forces, Thor, Loki as giant, chaos, destruction by natural forces, complexities of aggression, conflicts, disputes, psychological problems,  lightning, breakthrough, aggressive male sexuality, battering down barriers, thorn of awakening, trouble, enthusiasm

Psi: enthusiasm, struggle against unconsciousness, male sexual prowess
Energy: enthusiasm, self-empowerment, chaos, active defensive force, breaker of resistance, destructive storms
Mundane: storms, tools, weapons, conflict

Divinations: Reactive force, directed force, vital eroticism, regenerative catalyst, constructive conflict; or danger, defenselessness, compulsion, betrayal, dullness, disease, explosive violence, annoyance, strife
Governs:
Destruction of enemies, curses binds and fetters
Awakening of the will to action
Breaking resistance of blockages in body, mind and spirit
Increased potency and prowess in romantic relationships
Understanding of the division and separation of all things
Aiming the use of psychic force
The combination of right/left brain processes for generating powerful realization
Your Animal Spirit Guide for Today

Crack the Cookie

The Words of Confucius
By three methods we may learn wisdom: First, by reflection, which is noblest; Second, by imitation, which is easiest; and third by experience, which is the bitterest.
Earth Sky News for November 29th:  Moon near Uranus
Tonight – November 29, 2017 – as the moon travels in front of the constellations of the zodiac, it'll appear in the general direction of the planet Uranus. Tonight is a good night to locate the constellation Pisces, which is behind the moon and Uranus now. Then you can search for the stars of Pisces again – and maybe find Uranus, too – in a dark country sky during the second and third week of December, after the moon has dropped out of the evening sky.
What will you see of Pisces on this moonlit night? You might at least pick out the Circlet, which is a noticeable asterism within Pisces. (See the sky chart of the constellation Pisces below.)
Most stargazers need binoculars, a moon-free night and a detailed sky chart, like the one here via Sky & Telescope to see Uranus. This world is bigger than Earth, but it's also 20 times farther from the sun than Earth is from the sun.
If you're familiar with the Great Square of Pegasus and the Circlet of Pisces, make use of these star patterns to map out the general vicinity of Uranus. Uranus resides in front of the constellation Pisces and near the ecliptic.

This detailed sky chart is your ticket to finding the planet Uranus.
Uranus is the seventh planet outward from the sun. Even on a moonless night, Uranus appears no brighter than the faintest visible stars.
The moon – presently in front of the constellation Pisces – is waxing toward full and will be in front of the constellation Taurus on the night of the full moon.
Bottom line: On the night of November 29, 2017, the moon is located along our line of sight to the faint planet Uranus. But don't expect to see Uranus in the moon's glare.
Bruce McClure has served as lead writer for EarthSky's popular Tonight pages since 2004. He's a sundial aficionado, whose love for the heavens has taken him to Lake Titicaca in Bolivia and sailing in the North Atlantic, where he earned his celestial navigation certificate through the School of Ocean Sailing and Navigation. He also writes and hosts public astronomy programs and planetarium programs in and around his home in upstate New York.
Published on EarthSky
A Little Humor for Your Day
You Know It's Been One of Those Days When…..