The Witches Digest for Monday, November 13th
(Daily Horoscopes & Divination)
Your Weekly Love Horoscopes for Monday, November 13th
Sarah Bartlett, Astrologer
From The Astrology Room
With the sun, Venus and Jupiter all in transformative Scorpio, we are all hoping for a better time ahead.
And if we reflect for one moment, we may well realise that starting something new, changing our perception and looking at life from a different angle, maybe is what we all need to do to secure a very loving future.
ARIES
Now most of us 'react' to other people's behaviour rather than 'respond'.  Reaction is emotionally driven. Response is to reflect objectively, rather than take it personally. So your response this week will be to be observant, sexy and amused.  It's called being alive and not being overwhelmed by anyone's issues, not even your own.
TAURUS
You're beginning to feel that you're getting your life right, and that it's time to move on, if need be. You've met people, or seen things over the past few months which have not only changed your perception of the world, but also of yourself. This week, you begin to realise that a romantic change for the better is coming your way.
GEMINI
It's hardly surprising you're feeling frustrated about romance. So why are these feelings so powerful at the moment? What is it about this exaggerated sense that is getting to you? Frankly, you're ready for a challenge. Soon, you will be able to calm your restless longings with rewards of the sexiest kind.
CANCER
This week, it seems that clarity about your future is needed. And you will see that for all your belief in doing things by the book, there is something deeply mysterious about the universe and love. What's more, you realize that commitment to self-understanding means you can also truly love from your heart. And what is that, if not the truest love of all?
LEO
Right now, you're waking up to the fact that you're worth a million times more than those past feelings of being inadequate or unwanted. You have passion in bucket-loads, and it's time to ring the changes. So instead of weeping for what has been and cannot be again, it's time to laugh not only at the world, but with yourself.
VIRGO
It's nice to know you can now make some life-changing decisions. Yes, remember that word change? Time to start expressing those desires to yourself and if attached, then share those words with the one you love. You will be surprised what a dynamic and enriching love life you are about to experience. Start loving what you once feared; yourself.
LIBRA
Someone is not only bringing you down to earth, but also opening your eyes to how mysteriously love moves. But you have little choice but to air your feelings and generate a few deeper truths.  What do you fear so much? Is it perhaps that deep down inside you feel really vulnerable in the face of love? Step outside the ring of fire, and enjoy!
SCORPIO
With a renewed sense of self-esteem, you decide to take a deep breath and tell someone special what you really want and need in a relationship. Wants and needs are often very different, make sure they're not incompatible and you can start to truly live that dream.
SAGITTARIUS
Some of us think we can gain confidence by being with someone one who permanently boosts our ego. Alternatively, if what you 'think' you want, might be someone to clear up your emotional mess, remember that what you 'really' want, is to to be able to do so yourself. Time to clean up your feelings maybe?
CAPRICORN
Social acceptance seems to be a problem for you this week. But why worry what others think, when if you love yourself, universal love will be all around you too? Time to step out in style, and either meet the partner of your dreams or dance with a loved one and glow in your mutual warmth.
AQUARIUS
Just for one moment think of what you secretly desire. Isn't it to be a bit wild and free? Isn't it to be more romantic, unaffected by what other people think of you? Don't deny passion in your life, for in the months to come, the planets will be bringing you the chance to discover the real fire in your heart
PISCES
You still have this idea that you must either keep the love of your life on their toes, or permanently be responsible for their happiness. But this week, it seems the game is about to be played another way. Love begins to be less of a neat stairway to heaven and more a series of leaps and exciting bounds.
Single? Your Daring Dating Horoscopes for the Week of November 13th
David Wells, Astrologer
From The Astrology Room
ARIES (March 21st-April 20th)
As the working week begins, the Moon coasts into your relationship sky for an up close and personal that brings her alongside your ruler Mars. It could be emotional, it could go over the top but it's going to show the truth of how a new squeeze feels about you. And you about them.
TAURUS (April 21st-May 21st)
What if you were right all of the time, I know you think you are but I would guess there are moments when you may not be. You'd never grow, never learn anything and never have a reason to cuddle up, to kiss and make up? Kiss and make out.
GEMINI (May 22nd-June 21st)
If you don't think someone is telling you the truth, you can ask them more questions. What you see as a fact-finding mission, they may see as flirting; would they be wrong? Someone has found the way to your heart; a good argument and a hearty charm offensive.
CANCER (June 22nd-July 23rd)
With three planets in your new love sky, your chances of meeting someone meet the same odds; increased threefold. So, what's the plan Cancer? Is it a night out with mates, swiping right, or left or turning up at a buffet and mingle with your best smile and attractive optimism?
LEO (July 24th-August 23rd)
You know you're in the right place when someone challenges you to be funny. Not directly you understand, in that 'my friends tell me you're wonderful, let's see it' kind of way. A stony-faced doubter may not be all that attractive, but he or she will grow on you, and you on them.
VIRGO (August 24th-September 23rd)
What you're about is getting to know someone better, what you're about is only leaving the house if you think you're going to have a good time, get something from the conversation and maybe enjoy a decent meal whilst you're at it. What you're not about is a fly by. Make it clear.
LIBRA (September 24th-October 23rd)
As the Moon and Uranus meet for their monthly face off you're offered a chance to clear the air with Miss. Natural-Deodorant or Mr. Halitosis; someone who you'd like to get you close to but first you have to get personal. Tackle it, or call it a day. Mint?
SCORPIO (October 24th-November 22nd)
You can't tell if you're in love, in lust or in-between a rock and hard place if you decide to go ahead with chatting up the ex of a mate? Clouding the issue is the job of the Moon, not for fun you understand but to cause you to look again before making a commitment.
SAGITTARIUS (November 23rd-December 21st)
There's nothing wrong with listening to your intuition over any other body part, heart for example? Where you may come unstuck is if you listen to your intuition and go with said body part as the morning after will be a whole heap of told you so. You know if it's right; or not?
CAPRICORN (December 22nd-January 20th)
What do you do with a drunken sailor early in the morning? Much the same as you did with him all night; check he's breathing and keep an eye on his fluid levels. A good deed, someone in need, someone who you could have ignored; fate puts love there. Probably not a drunken sailor TBH; poetic license.
AQUARIUS (January 21st-February 19th)
The universe is shining a very, very bright light on your love life. It's the sort that shows up a love interest but it may be so bright that you can't see who it is, and yet everyone else can? Be guided by your friends, they've noticed a would be love interest.
PISCES (February 20th-March 20th)
I know it's not easy for you to trust when you've had anything but in the past, someone saying you can trust them isn't going to cut it Pisces. And so, you must decide if love is and adventure or you want guarantees? You know the answer to that I am sure.
Your Daily Horoscopes for Monday 13th November

Claire Petulengro, Astrologer
From The Astrology Room
ARIES (March 21st-April 20th)
Should you trust your instincts today? Of course you should Aries! Saturn hands you the gift of clarity and you will be able to see through a lie before it's even told. You'll also know whether you should call an ex!
TAURUS (April 21st-May 21st)
Why are you allowing others to interfere in your life Taurus? Only you can know what and who will make you happy. Try to bring that stubborn nature you are known for to the fore. This will be a great day to kick bad habits and influences.
GEMINI (May 22nd-June 21st)
If you play games in love then of course you're going to get your fingers burnt. What you need is some downtime so you can remember what's important to you in life. Sales and purchases go well, if you hold out for what you want.
CANCER (June 22nd-July 23rd)
The Sun brings out the need for you to see those who are important to you in life. You want their advice to make decisions about your life and who you should venture into your future with.
LEO (July 24th-August 23rd)
If you tell a lie to cover a lie then of course it's going to get out of hand. Come clean Leo, as close ones already know far more than you think anyway. Honest talking and respect bring a new and improved bond.
VIRGO (August 24th-September 23rd)
You discover new and improved ways to climb the career ladder. Just be careful of saying bad things about those you've worked for or with, as paths of past and present may cross more than you think.
LIBRA (September 24th-October 23rd
Don't give in to the pressure which close ones are trying to place on you. Stand your ground, or you will never forgive yourself. Also remember that you don't have to scream and shout like others to get your own way.
SCORPIO (October 24th-November 22nd)
Listen to your inner voice today, for it will lead you well. If only you had followed your feelings two weeks ago, then you would not feel so cornered today. Rumours in the workplace are not to be listened to.
SAGITTARIUS (November 23rd-December 21st)
Why are you allowing the past to influence what you do in the future? You of all signs should know that you feel so much better when you wipe the slate clean and let events explain themselves.
CAPRICORN (December 22nd-January 20th)
Trying to work out what your next move should be is not easy. It would be though, if you thought more about what makes you happy and what makes you feel anxious.
AQUARIUS (January 21st-February 19th)
Don't take too much time to decide whether you are going to say yes to what a close one is asking. They may take your deliberation as a sign of disinterest. Make peace with that family member today, while you still have the opening to do so.
PISCES (February 20th-March 20th)
Finances are your priority at this time as you try to sort out how to increase your incomings. Think of what you know you enjoy doing and you'll soon be in the black and not the red my friend.
If You Were Born Today, November 13
You are wise beyond your years, and your eyes reflect this wisdom. The outward expression of your personality is strong and determined, although this hides a very emotional and sensitive nature. Success may come later in life, simply because in youth, you are inclined to more daydreaming than action. You may come across as sarcastic and even tough, but you are a thoughtful and kind person with a love of knowledge, justice, and truth. You also have a well-developed sense of humor. Famous people born today: Whoopi Goldberg, Richard Mulligan, Robert Louis Stevenson, Jimmy Kimmel, Chris Noth, Garry Marshall, Gerard Butler, Frances Conroy.
Your Birthday Year Forecast:
With the Sun and Moon in harmony in your Solar Return chart, the year ahead should be satisfying and balanced overall. You are in comfortable demand and personally popular, and you are able to achieve a decent balance between work and play; personal and professional life. For the most part, you are on top of your game this year, and positive connections with others can be made fairly easily. With the ability to handle your emotions successfully, there is less stress on both your mind and body. Your self-confidence and positive attitude will reward you!
Jupiter transits conjunct your Sun this year, expanding your opportunities and boosting your confidence. This transit brings more awareness of moral issues and long-term goals, as well as a stronger than usual desire to improve and learn. This is a feel-good transit that boosts your popularity. Optimism is with you, and you are able to attract fortunate circumstances into your life as a result. Problems are easier to resolve this year. You are more sociable and might meet especially helpful people during this period. Travel opportunities are more likely. Your broader perspective on matters this year keeps you from getting lost in details or overly frustrated by everyday stresses and strains.
Pluto transits sextile your Sun this year – another empowering transit. What used to satisfy you may not continue to do so, particularly if your goals have been superficial or a poor reflection of your inner desires. You are no longer willing to make compromises in the important areas of your life, particularly with regards to career and your life path. You are more determined this year, and it's an excellent time for getting rid of bad habits. This is a year in which to get your life back on track, as you have the willpower to do so. Others are bound to recognize your leadership skills and talents, or, at the very least, your potential. You want your life path and your objectives to reflect what you're really about. You benefit from being more decisive than usual, and your ability to concentrate and focus help you to achieve what you set out to do. A new project or goal begun this year has a good chance of being successful and long-lasting.
Pleasing circumstances surrounding your love life, finances, and creative pursuits are in store this year. You are more generous, and others return the favor. You might receive financial backing or special gifts in the period ahead. You seek a little more from your love life and you are likely to receive it. Some of you could fall in love this year, or existing relationships are enhanced. Adventure-seeking is a theme.
The year ahead is strong for energetic mental work. You may be involved in frequent lectures, debates, and discussions during the year. Your daily life is busier than usual and you convey your ideas more powerfully. You are quick to take the initiative and to put your thoughts into action. Do be aware that you are more inclined towards pie in the sky thinking. You could be led astray by others or by our own unrealistic expectations. Err on the side of caution if offers arrive that seem too good to be true. Some confusion or possibly deception could arise in communications this year, and you may be skipping important details without even realizing it.
There can be helpful interactions with superiors or with older or more experienced people during this period, and benefits can come as a result. There can be a choice to structure, limit, or simplify your life in a significant way that leads to major improvements in your life.
Developing existing businesses is highly favored this year. Long-term alliances can be made this year. This is a potentially excellent year for making prosperous connections.
This is an excellent period for enjoying new opportunities, experiences, and perspectives, as well as wonderful social or love opportunities. Your faith increases and you seek out more meaning from your life. You're in good shape for staying on track and meeting your responsibilities as well. Useful contacts can be made during this period. Your love or social life comes alive this year.
2017 is a Number Seven year for you. Ruled by Neptune. This is a year of preparation, chance, and refinement. It is not a time of dramatic changes. Instead, it's a year when reflection on the past is helpful, and when refinements to your life path should be made. It's a good year to study and analyze. Unexpected twists to your life story and "chance" meetings are probable. Advice – take stock of your life in order to prepare for more exciting years to come, examine the past and plan for the future, get in touch with your deepest needs and uncover your personal power, don't strain yourself or actively try to expand.
2018 will be a Number Eight year for you. Ruled by Saturn. This is a year of power and accomplishment. Actively seeking to expand, taking educated risks, and moving forward are highlighted. This is a year of opportunity, particularly in the material and business world, and opportunities need to be seized. It's generally not a year to find a new love partner, simply because the focus is on the material world and your place in the world. This is a problem-solving year in which you can expect real, tangible results. Advice – take action, plan ahead, seize opportunities.
Get A Jump On Tomorrow…..
Your Daily Horoscopes for Tuesday 14th November

Claire Petulengro, Astrologer
ARIES (March 21st-April 20th)
It doesn't matter how many times you fail, as long as you succeed in the end and you will! Keep on trying Aries, as influences are around in the stars to make the impossible possible. A family member who wasn't on your side, soon will be.
TAURUS (April 21st-May 21st)
Be the best version of yourself Taurus. Letting jealousy force you into acting in a way you know you will regret, is letting it win. You're a fighting sign and you're better and stronger than that.
GEMINI (May 22nd-June 21st)
You feel you've lost the trust of a close one, but Mercury is on hand to help you make things right. Kind words can unlock iron doors. All you have to do is use the words I feel you know are necessary. Ring so I can tell you your future.
CANCER (June 22nd-July 23rd)
The moon helps you make sense of what last weekend really meant. I hope you see now how you are too good for certain faces who have been playing games with you my friend.
LEO (July 24th-August 23rd)
Don't let pride or nerves stand in the way of you saying how you really feel. For too long now, you have been trying to do the right thing, when in actual fact you have been a victim of emotional blackmail.
VIRGO (August 24th-September 23rd)
Others may accuse you of playing hard to get, but you and I know that you are just raising the bar and trying to achieve high standards. Your element of earth tells me you are ready to settle more.
LIBRA (September 24th-October 23rd)
The way you see recent events and the way close ones do, make for two very different stories. Try to give them the air time to talk as aspects suggest there is much that went on that you are both unaware of.
SCORPIO (October 24th-November 22nd)
Take on today's challenges. They are all ones you can excel in. You begin to find yourself interested in new things which could turn out to be new career paths if you put enough time and effort into them.
SAGITTARIUS (November 23rd-December 21st)
Lots of people want to know what's going on in your life, but I see you are playing your cards very close to your chest. You start to work out who you can team up with for your most exciting project yet. Ring now for a preview of work and love.
CAPRICORN (December 22nd-January 20th)
There's so much more to you than first meets the eye. This is proven by the loyalty new faces in your life are beginning to show you. Your element of earth brings out your need in for commitment.
AQUARIUS (January 21st-February 19th)
Life isn't a matter of milestones, but of moments. Taking a moment to take a breath can help you to realise this fact today. Someone you thought would not come back into your life, makes contact.
PISCES (February 20th-March 20th)
Try not to fall out with those you've only just made up with. You've come so far and I know you will only be angry with yourself if you do. The younger generation show you a new found respect.
Moon Sign Compatibility
Discover which Moon signs are most compatible with yours
---
Your Daily Tarot Card for November 13th
The Moon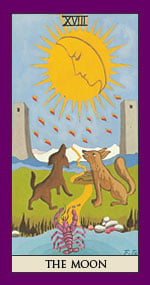 Keywords: imagination, dreams, emotion, competition (the dogs), illusion!
Astrological Correspondence: Pisces
The Moon in all its phases represents the world of dreams, illusions, and the subconscious. Traditionally the symbol of the feminine, the card's meaning encompasses the maternal, the Great Mother, womanhood, and cycles. The Moon is an ambivalent card, and its imagery signifies the difficulty to see things clearly: simultaneously inspiring and lacking courage, enchanting and bewildering, deceptive and receptive – all sides of the same coin. Signaling fluctuating moods and uncertainty we must pay attention to our dreams, confront our subconscious and deal with the issues that come to the surface in order to progress to a higher level of awareness. Being able to put our imagination and creative talents to good use is an added bonus. Negative qualities such as ambiguity, confusion, hidden fears, and deception can be causes for failure.
Your Daily Love Tarot Card for November 13th
The Sun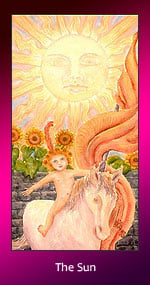 The Sun is an invitation to a supportive relationship in which you can be yourself around your significant other. You feel relaxed and loved, with a sense of peace of heart. You've struck gold and entered into a new realm. Keep looking if this is not how you feel because it is how things should be. You can't expect improvement in a long-term union if you do not take effective steps to create it.
Your Erotic Tarot Card for Monday, November 13th
The High Priestess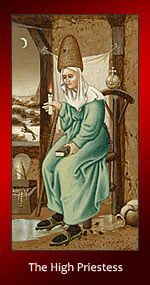 The High Priestess card is a sign that you've recently made a big decision in your life, and you finally feel like you've reached some level ground. Now that you can finally breathe a sigh of relief, your sex life will feel revitalized. Everything isn't perfect, but the positive factors far outweigh the negative ones, and you're feeling sexually free to explore new and exciting options. Sexual balance is high on your priority list, so go out there and find the erotic yin to your yang.
Your Weekly Influences for November 13th
Tarot Influence:
Ten of Cups Reversed

Betrayal and failure. The loss of freindship and love
Astrological Influence

Virgo

Virgo denotes intelligence and a drive for perfection taking command–the dealing with all aspects of life honorably.
Element Influence
Water Reversed
Water reversed denotes secrets to which you are not privy. Approach all ventures with caution.
Your Ancient Symbol Card for Today
The Dove


Throughout history the Dove has symbolized peace and innocence in nearly all cultures. Dove's soft cooing and gentle nature bring a calmness to any situation. The Dove appears where peace has been attained or there is a need to bring events to a peaceful ending. It denotes a time to let lose of grievances and settle conflicts in a way that benefits all parties equally.
As a daily card, Dove suggests the need to put an end to conflict in your present life. The conflict may be yours or may be that of people close to you. Regardless of the parties involved, you have been called upon to bring the discord to an impartial end.
Psychic Tip of the Day
NEW FRIENDS
What you lack in intimacy you make up for in the feeling that the world might be conspiring in your favor, finally. Are you looking forward to new friends?
Tarot.com is a Part of the Daily Insight Group ©2017
Your Daily Rune for November 13th
Jera
Rune of harvest and reward for, or reaction to, right actions in a horizontal (naturally ordered) cyclical process. Rune of peace on the land and in the heart.
Psi: psychological time, patience, the measurement of time
Energy: good harvest, orbits, cycles, progress, biorhythms, right effort
Mundane: waiting, gardening, farming, the seasons, harvest
Divinations: Reward for positive action, plenty, peace, proper timing; or repetition, bad timing, poverty, conflict, regression.
Governs:
Fertility, creativity and harmony with the land
Peace, prosperity and plenty
Realization of the cyclical nature of the multiverse, invoking the power of time and cycles
Bringing other concepts gently into material manifestation
Initiating gradual and lasting change in flow of life
Your Animal Spirit for Today
November 13, 2017
Eagle
Eagle soars high enough to see the grand panorama of life, and yet has vision keen enough to spot a fish a mile away. How's your vision? Are you seeing the big picture or are you only concentrating on the fish? Eagle is asking you to take a step back so you can once again see the whole. You've gotten so lost in the trees you've forgotten the forest.
Your Karmic Number for November 13th
Do you remember the story of Dr. Frankenstein and his monster? This 9 says that you might be losing control of what you created. Save the drama for Hollywood producers. It may seem too late to remove yourself from the madness, but it's not. There is a glimmer of hope, if you want it. Think about what was going on in your life before you created your own soap opera. Did you feel a pang in the center of your stomach? Good, you are off to a fresh start. Remember that feeling. That's your inner guidance helping you. Listen and let this cycle end.
Crack the Cookie
The Wisdom of Buddha
You, yourself, as much as anybody in the entire universe, deserve your love and affection.
Your Earth Sky News for November 13th: The 15 days of darkness hoax is back
Hahahaha! The 15 days of darkness hoax is back
Are you ready for 15 days of darkness, November 15-30, 2017? Don't be. It's a hoax. Earth will not experience 15 days of darkness this month.
We at EarthSky are receiving questions about the so-called days of darkness supposedly announced by NASA and supposedly coming up November 15-30, 2017.
Did NASA announce it? No.
Will it happen? No.
YouTube videos are suggesting the event will be caused by "another astronomical event, between Venus and Jupiter." Yes, Jupiter and Venus – the sky's two brightest planets – had a conjunction low in the east before dawn on November 13. See photos here. It was beautiful! It's just so wrong to use this conjunction – which has happened countless times in Earth history, to the wonderment of all privileged to observe it – to perpetuate a hoax.
As for the idea that NASA has issued a "1,000-page document" on the event for the White House. Well. That's just entirely fake.
Think about it. What would have to happen for Earth to experience 15 days of darkness? Our day-night cycle stems from Earth's rotation on its axis around our local star, the sun. The sun shines on half of Earth for part of its 24-hour period; that's daytime. Nighttime is simultaneously occurring on the opposite side of Earth.
For the whole Earth to undergo 15 days of darkness … what would have to happen? The sun would have to go out for 15 days? Or something would have to shroud the sun? Or pass between us and the sun?
All of those scenarios are unlikely to the point of ridiculousness, when you consider the vast size of our sun. That's why zero days of all-Earth darkness have occurred in human history so far.
Let me say it again. It's never happened. It's not going to happen.
This same hoax has been rearing its head every few years, since at least 2011, when the erstwhile Comet Elenin was supposed to pass between us and the sun and cause three days of darkness. In 2014, the number of supposed "dark days" increased to six in this article from Hutzlers.com.
In 2015, an article at Newswatch33 suggested NASA comfirmation for 15 days of darkness between November 15 and November 29 of that year. The article said that – according to NASA – such an event hadn't occurred in over 1 million years. I couldn't find Newswatch33 online anymore; maybe it's gone.
There were zero days of all-Earth darkness in November, 2015.
So. It didn't go dark in 2011, 2014, or 2015, and it's not going to go dark for 15 days in November this year.
I think it's interesting that these "days of darkness" rumors all spring up around November and December, when the northern half of Earth is edging toward its winter solstice and shortest day of the year. Let's face it, there are more hours of darkness out there now, for us on this half of the globe. Just remember … it's a natural kind of darkness, a resting kind of darkness.
In fact, for the Northern Hemisphere, the earliest sunsets of the year come in early December. After the solstice, for sure by early January, the longer days will be returning very noticeably as we move toward spring and rebirth.
That's nature's cycle, and we can depend on it!
Bottom line: NASA did not issue a "blackout warning" for November 15 to 30, 2017. There will be zero days of total darkness for Earth this month. Day and night will continue as usual. Sigh.
Deborah Byrd created the EarthSky radio series in 1991 and founded EarthSky.org in 1994. Today, she serves as Editor-in-Chief of this website. She has won a galaxy of awards from the broadcasting and science communities, including having an asteroid named 3505 Byrd in her honor. A science communicator and educator since 1976, Byrd believes in science as a force for good in the world and a vital tool for the 21st century. "Being an EarthSky editor is like hosting a big global party for cool nature-lovers," she says.
Published on EarthSky
A Little Humor for Your Day
Ten Ways to Piss Off a Pagan
1.Ask them if they are Satan worshippers.
2.Be considerate, rearrange their altar so it will look neat.
3.Blow out their altar candle if it is still day light.
(No need to waste a good candle!)
4.Pick up their gems for a closer look.
5.Sharpen their dull black-handled knife.
6.Witness to them about the "true religion".
7.Untie the knots in their cord.
8.Take hold of their jewelry for a closer look.
9.Play card games with their Tarot cards.
10.Ask them if they are Satan worshippers.
– by Grey Mantle 
Ten More Ways to Piss Off a Pagan
1. Ask them if they talk to their crystals.
2. Ask them if they have accepted Jesus Christ as their personal savior.
3. Exorcise them, their home, or their personal belongings.
4. Ask to see their witch marks.
5. Give them a copy of the Necronomicon "because I know you're into that stuff."
6. Bring the plate of food they left out inside so it won't spoil.
7. Leaf through their Book of Shadows.
8. Open all the doors and windows of their house to get rid of "that nasty smoky smell".
9. Call them "acorn worshippers".
10. Ask them if their crystals talk to them.
– by Honeyblossom
Till tomorrow, my sweets…..
Lady A & The WOTC Staff