Welcome to the Witches Digest for Saturday, November 25th
(Part 2, Horoscopes)
This Weekend's Love Horoscope: Light and Bright
Your love horoscope for the weekend of November 24-26
---
Just this week the Sun shimmied its way out of the depths of Scorpio and into something a little more fun and flirty — the Fire sign Sagittarius. While Sagittarius may not be a super sexy sign, this will be a perfect time for singles to mingle. You'll have a greater sense of adventure and open-mindedness, so put yourself out there!
Sagittarius knows how to have a good time, but isn't just another bro looking to party. It's a progressive sign with a spiritual awareness and a philosophical understanding. This is the season of "woke bae" rising — the opportunity to be or meet an enlightened significant other who's full of wisdom and intellect. So take advantage of any social gatherings you can this weekend! You never know when you'll spark a connection with someone who shares your same worldview.
On Saturday, zippy Mercury (also in Sagittarius) will be making an exciting trine with spontaneous Uranus. This could offer you and your sweetie the energy to take a quick weekend trip! For singles, this is a chance to reinvigorate your social life — the more people you meet now, the better your chances of finding love!
Tarot.com is Part of the Daily Insight Group ©2017
The Good and Bad of Dating Your Same Sign
Explore the ins and outs of inner-sign dating
---
Aries (March 21 – April 19)
This can be a tough match. You're both hot-headed, want your way, and tend to blame the other person when things go wrong. On the other hand, you spark each other's passionate nature, and will have lots of active fun together. Fighting fairly is the key to your success … as there will be fights! "Never go to bed angry" should be your mantra.
Taurus (April 20 – May 20)
The Bull is stubborn, with a one-track mind. If you're on the same track, great! If not, you'll both need to expand your comfort zones — not an easy task for either one of you. You're both passionate about your own ideas and opinions, so if one of you is conservative and the other liberal, you're in for trouble. Sports and sensual enjoyment can keep you together.
Gemini (May 21 – June 20)
Twins never bore each other. In fact, there may be too much unpredictability in this match. One of you will have to become the "stable one" and cultivate a home life, or you may not stay together long enough or go deep enough emotionally to put down roots. At least you can talk through whatever comes up, and enjoy a diverse social life.
Cancer (June 21 – July 22)
This is one of the best same-sign matches. You're both nurturing and love to snuggle up at home. So what if you don't go out much? The biggest drawback, once you learn to tolerate each other's moods (and not take them personally!), is that your tendency to mother each other can smother the sexual spark. You make great parents, though.
Leo (July 23 – Aug. 22)
This is a volatile match! You both need a lot of attention, and tend to pout if you don't get it — so you'll need to trade off making the other person feel special. Passions run high, which is great for sex, but take care you don't say or do something in the heat of a fight that fatally damages the relationship. Mutual respect is the key to this union.
Virgo (Aug. 23 – Sept. 22)
If you're both dedicated to the higher goals of health and service, this could be a match made in heaven. Just don't try to improve the other person or criticize their behavior — which kills the passion. Overanalyzing the relationship can also make it wither on the vine. Plant a garden or do yoga together and you'll bring out the best in each other.
Libra (Sept. 23 – Oct. 22)
This can be a lovely union — you're both attuned to pleasing the other person and cultivating balance and fairness. The danger, though, is that you'll stay too superficial — projecting a beautiful image of love while resentments seethe below the surface. You'll have to be willing to rock the boat a bit so this match can come into its full potential.
Scorpio (Oct. 23 – Nov. 21)
Passion, danger, intrigue … two Scorpios have it all! Maybe too much so. Trust is the crucial ingredient that makes this match work. If one or both partners are suspicious or jealous, you're in for a rocky ride. It's essential to share your deepest feelings in this union, but don't bonk the other person over the head with them, or you'll spur resentment.
Sagittarius (Nov. 22 – Dec. 21)
Here's a fun match! You'll be kayaking and motorcycling together to your hearts' content. Your strong opinions can lead to spirited discussions, but you're both okay with that. Real trouble looms when one of you wants a commitment and the other prefers to stay footloose. A higher spiritual purpose can keep you together.
Capricorn (Dec. 22 – Jan. 19)
You might not think this would be a great romantic match, since both of you are hard-headed realists. Yet that very practical nature lets you appreciate who the other person really is, devoid of illusions. You can be yourself in this relationship. Just don't let your worldly ambitions or need for status take precedence over a nurturing home life.
Aquarius (Jan. 20 – Feb. 18)
Aquarians are very open-minded, and can tolerate (or even enjoy!) each other's eccentricities. And, you make the best of friends. However, the emotional realm is not your forte — so you both may shy away from declaring your feelings and taking things into deeper waters. To cultivate passion, you'll have to venture out of your comfort zone.
Pisces (Feb. 19 – March 20)
You're both dreamers — which works both for you and against you. Two Fish can float around endlessly in a lovely fantasy, never casting anchor into a secure reality. You tend to wear rose-colored glasses, and that means your sweetheart can do no wrong — which is great, unless that person has serious problems. Get a third party to handle your finances.
Tarot.com is Part of the Daily Insight Group ©2017
Your Daily Horoscopes for Saturday, November 25th
Aries
With Mercury in your adventure sector these days, dear Aries, you're more often than not letting your mind wander and wonder. Today, the right energy is available for detaching yourself just enough to enjoy a detox of sorts on a mental level – a mental detour can be most welcome now! A helpful conversation, invitation, or piece of news may be part of the picture. You're in a great position to come up with exciting ideas now. You're also communicating with added panache. Today is active for thinking outside the box regarding education, communications, travel, projects revolving around technology and new-thought topics, as well as for work and health matters. Branching out on a mental level can help you feel free and optimistic.
Taurus
This is an excellent time for exploring the depths of a topic or subject, dear Taurus, or for absorbing yourself in new thinking about an old problem. Inspiring conversations can happen in intimate settings. Something that is communicated or news coming in today can help you let go of a past matter and move forward in a positive direction. You feel detached just enough that you're bringing more objectivity to a usually tricky or emotional topic, and you can break new ground as a result. You might even have the opportunity to rid yourself of a nagging problem or a secret. There is the ability to see right down to the core of a situation. It's a great time to observe others and look for possible reasons for their behavior. The same type of analysis can be quite successful applied to yourself!
Gemini
There can be a wonderful a meeting of the minds today, Gemini, or you might have a thinking or talking breakthrough with a partner or about a relationship. Open conversations or better communication may be just the ticket to move forward. Ideas that come to you now probably have quite a bit of merit. The freer you feel, the more likely you'll welcome positive new energy into your life, so use the open spirit of the Mercury-Uranus energy today and find ways to let go of burdening attitudes or situations. Networking can lead to useful or pleasant discoveries. Aim to make changes on the fly rather than stick entirely to a schedule today.
Cancer
With Mercury in your work and health sector harmonizing with Uranus at the top of your solar chart, dear Cancer, you're bringing fresh ideas to your work and your daily life. You're seeing a way forward and have your eye on making improvements. You are primarily interested in making progress now, and if you can find ways to keep things fresh and non-routine, you'll enjoy a greater feeling of freedom and optimism. Open your mind to new ideas and methods for best results today. There can be exciting information that fuels your optimism about health matters, or that inspires you to brush up your skills. The work or effort you're putting in today engages your emotions.
Leo
This can be a strong day for advancing a project or coming up with progressive new ideas about your next step, dear Leo. You are anxious to move something forward, and you're entertaining ideas or new methods for doing so. Creative projects or romantic relationships may receive a nice boost. There is progressive energy with you today that inspires you to look forward with more confidence. It can be a great time to show others that you care through granting them more freedom or offering your time to listen to them, brainstorm with them, or help guide them.
Virgo
Today's energies are fabulous for putting your worries behind you and focusing on what's ahead of you, dear Virgo. You are feeling just enough emotional detachment to enjoy yourself without self-consciousness. There can be inventive solutions to home-related matters for some of you, or real conversations about making improvements, particularly with family, loved ones, or an intimate partner. You can enjoy sharing creative ideas and memories with people close to you, and there can be a focus on opening up the lines of communication, and even education, in the home environment. This may also be a time for exciting personal revelations that also have the effect of moving you forward or detaching you from staid situations.
Libra 
This is a good day for finding inventive ways to advance your personal interests and projects, dear Libra, or for enjoying others' perspectives and putting them to good use. In fact, you can benefit from brainstorming tremendously right now. Unusual ideas or different perspectives lead to fabulous plans. Socializing and conversing is a breeze today. You are in the mood for something different or unique, finding it challenging doing the same old routine, and you may be pushing boundaries a little in your conversations as a result, perhaps to stir the pot and keep things exciting. This can have impressive effects. Petty problems may be seen as tiny hiccups in a much bigger plan.
Scorpio
The Moon spends the day in your home and family sector, Scorpio, and the need for familiarity and comfort is strongly stimulated. Even so, the day favors new ideas and novel approaches. Information you uncover today can be helpful or a pleasant surprise. You could find that finances, health, or work matters move forward, or you feel more optimistic about the direction in which these things are heading. Follow your inner guide now, but keep your mind open to new perspectives for best results. Your ability to find innovative solutions to practical problems increases today. Being especially open and forthcoming with family can be rewarding now.
With Mercury in your sign in harmonious aspect to exciting Uranus in your creative sector, dear Sagittarius, you're likely to feel quite free and courageous about expressing yourself in unique and spirited ways today. Your more unique qualities, particularly related to the mind, are emphasized and appreciated. People are attracted to your personal convictions. There is a high ability to express yourself in positive and even inspiring ways now. Open and honest conversations with others, particularly a partner, lover, or child, can be in focus. Looking ahead rather than dwelling on the past is your preference now and serves you well for the time being.
Capricorn
A lot is going on under the hood in your life these days, dear Capricorn, with the Sun, Mercury, and Saturn in your privacy sector. Today, Mercury harmonizes with Uranus, opening you up just a little and encouraging you to reach out, particularly to family or those you hold dear, however. Family matters are in good form, and progressive ideas about how to make yourself feel secure can be easy to come by. The atmosphere is open and honest. Inner restlessness can sometimes lead us down the wrong path, but today, it may motivate you to make a positive change or to improve your life somehow. Trying something new can be refreshing, and it can also lead to fresh ideas.
Aquarius
The Moon is in your sign all day, dear Aquarius, and it also harmonizes with Mercury, Uranus, and Saturn. You have a stronger need to feel connected with others and for your emotions to be validated, and nice channels are available for you to express yourself. You are magnetic today, particularly in your communications. Good ideas are flowing freely around you. There can be a wonderful feeling of being in sync with friends and a love interest. Look for ways to move forward, open up the lines of communication, and to put dysfunctional elements of your life behind you.
Pisces
The Moon spends another full day in your privacy sector, Pisces, signaling an emotional need for more time to yourself so that you can recharge. Getting extra time to think and muse is especially helpful with a Mercury-Uranus aspect occurring now that stimulates creative, progressive thinking. With business, money, and your practical affairs, you're finding it easier to identify the things that are working for you and the things you need to discard or improve. You're in a good frame of mind to see where you can excel by taking a small risk or making a change. Information that comes in or ideas you generate pull you out of any thinking rut you may have been in. Communicating frankly and with transparency can be very rewarding now.
Courtesy of Cafe Astrology
If You Were Born On Today, Saturday, November 25th
You are exceedingly charming–and some of that charm is quite kooky and endearing. You are a magnanimous person with a big heart. You're fun-loving, yet you are success-oriented at the same time. People trust you. Your jovial disposition makes you a pleasure to be around. Broad-minded, you seek truths without fussing over the details. Facts don't impress you as much as broader truths do. There is a spiritual side to you that is not immediately apparent. Famous people born today: Ricardo Montalban, John Larroquette, Amy Grant, Joe DiMaggio, Christina Applegate, John F. Kennedy Jr.
Your Birthday Year Forecast:
The Sun in a waxing sextile to the Moon in your Solar Return chart has a fortunate influence on your year ahead. You can be especially productive this year, as in many ways you are starting fresh, but you have a rather clear vision of what you want to accomplish. Your inner needs tend to be mirrored by external events, and vice versa, which helps to boost your confidence and happiness levels. You more readily accept that challenges are part of the natural cycle in life, which in turn helps you to meet them with confidence and to worry less. You are likely to be on top of your game this year for the most part, and positive connections with others can be made fairly easily. A comfortable level of personal popularity helps keep conflict to a minimum. With the ability to handle your emotions successfully, there will be less stress on both your mind and body.
Something big is in the works regarding your love or social life. You'll have a chance to heal old wounds with regards to love and friendship this year. You're also bound to find new ways of making money. Relationships are mutually beneficial and naturally equal, fair, and balanced during this period of your life. There can be a stronger inclination towards togetherness and sharing.
Your ability to concentrate and focus is enhanced this year. You may, in fact, have a lot of work to do in relative solitude or you might often retreat to study, work, or think. You might be required to travel for business purposes. Thinking in realistic and practical terms is your best bet, and the need for tangible results for your efforts is strong.
You may be actively involved in teamwork and collaboration with others this year. Passions are stirred and you're in a good position for connecting with others to accomplish your goals. There can be the beginning of a significant new relationship or the intensification of an existing romance.
With the Mars-Pluto energy in your Solar Return, channeled positively, you could move mountains when it comes to pushing your projects ahead. If mishandled, however, you could be argumentative, stressed, and hell-bent on having your way! The bottom line is a tendency towards obsessive or compulsive behavior. Avoid taking extreme measures to make things happen your way, and avoid people who might be doing same. Deliberately trying to maneuver things in order to get the upper hand will be a lesson in frustration.
Developing existing businesses is highly favored this year. Long-term alliances can be made. This is a potentially excellent year for making prosperous connections.
This is an excellent year in which to advance projects revolving around communications – writing, speaking, selling, and so forth. Your reputation may be enhanced through word of mouth. Making new contacts through learning and mental pursuits figures strongly as well.
This can be a good time for updating your electronics and technology in ways that open up new avenues for communication or ease. Wonderfully creative ideas can fill your head this year.
Advances in intellectual and mental pursuits are likely this year, as you make steady progress that has long-lasting results. The year is good for enjoying wonderful social or love opportunities. Your faith increases and you seek out more meaning from your life. You're in good shape for staying on track and meeting your responsibilities as well. Useful contacts can be made during this period. Your love or social life grows and satisfies.
2017 is a Number One year for you. Ruled by the Sun. This is a year of action. The seeds you plant now, you will reap later. Others might find you less sociable, as you are busier than ever and you focus on your activities and your needs. Still, you are outgoing and your initiative is stronger than ever. Advice – Stand alone, take action, start fresh, express independence.
2018 will be a Number Two year for you. Ruled by the Moon. This is a year of potential companionship. It is a quiet, gentle, and mostly harmonious year that is less active than other years. Instead, you are more responsive to the needs of others. If you are patient and open yourself up in a gentle manner, you will attract both things and people. This is an excellent year in which to build and develop for the future. Advice – be patient, be receptive, enjoy the peace, collect.
Get A Jump On Tomorrow…..
Your Daily Horoscopes for Sunday, November 26th, 2017
Aries
You're entering a slightly less sociable phase early today, dear Aries. This phase is only two and a half days long when it's natural to need to recharge your emotional batteries. It's not the best time for visibility, but some level of withdrawal is necessary for busier days to come. Intensity, passion, and emotional attachment are more prominent themes in your love life with Venus transiting your intimacy sector these days, and today's Venus-Chiron aspect gives you a boost. Attracting resources from outside sources comes more easily. It's an excellent time to work out money problems or other issues of sharing with a partner. It's also great for repairing relationship woes, if necessary, or of coming to a better understanding of your relationship situation. You also have great influences with you for making sound, intelligent plans and mapping out a creative project, publishing effort, or educational plan.
Taurus
Ideally in the last couple of days, you have become clearer about what is expected of you, and what you can expect from yourself, dear Taurus. Now, it's time to absorb what you've learned but also to release some of the pressure. You're in a great position to socialize or network. Venus has been moving through your partnership sector, warming up close relationships or brings pleasant people into your experience. Today is excellent for naturally gaining respect without having to prove yourself. You are especially relatable, and your ability to connect with others enhanced further.
Gemini
With the Moon moving into your public sector early today, Gemini, it's that time of the month when you should be on your best behavior. It's also time to take care of business, attend to professional priorities, and keep your cool (unless you want something private to come to light). A Saturn-Pallas aspect today suggests excellent opportunities to clarify a long-term goal, lay down plans, and collaborate. Teamwork is favored, particularly if you're mapping out future projects and plans or working on a design. Today also brings warm energy for putting faith in and learning from someone. You can be especially productive with work or health pursuits. You are working smarter, not harder now.
Cancer
This can be a time when attractions and desires are sudden, dear Cancer, but it's experimental and sudden attractions don't necessarily settle in for the long term. Rebelliousness or impulsiveness are tendencies now if you're feeling stressed. Despite some fickleness, overall it's a good — even excellent — day for strengthening a love bond. Venus in your romance sector is supported by Chiron today, helping you to open up your heart courageously. A relationship can bump up to a new level today.
Leo
You value familiarity in love with Venus in your sector of home and family these days, dear Leo, and you can sometimes feel a little off center if schedules change or plans are disrupted. Today, expect the unexpected and aim to be flexible. You may be unsure whether you want to play it safe or go out on a limb. Even so, bringing peace, harmony, and beauty to your home environment can be a compelling need, and you should find it easier to do so today. It's also a time for healing and better understanding your feelings and affections.
Virgo
You can learn a lot about your relationships today, dear Virgo, and also about your own needs, wants, and desires. Read too much or dig too deeply and you will only get yourself into ambiguous territory, however. This can be revealing if you're in the right frame of mind, but perhaps a little disruptive if you're avoiding deeper issues. These days, verbal rapport and open lines of communication are especially vital to engage your heart. Today is, in fact, strong for showing support of important people in your life, particularly verbally. It can also be a good time for making a decision about finances or making significant purchases. You enjoy talking about what interests you, and you see great value in the exchange of ideas.
Libra 
You might experience a compelling desire to spend on clothes, furniture, and entertainment, or anything that makes you feel comfortable, secure, and pampered today, dear Libra. You experience this more often with Venus in your solar second house, and today it's unusually active. Of course, it's important to consider the future if making significant outlays, as comfort in the present may not be worth longer-term feeling of insecurity or worry over resources. If you move past your fears and look within, you can take fuller advantage of a lovely Venus-Chiron aspect that rounds everything out quite nicely. This is a time for opening your heart and putting fears behind you. Others may be putting faith in you under this influence, and they especially appreciate your more unusual and unique qualities. This is also a good time for work or practically-oriented relationships.
Scorpio
The Moon moves into your romance and creativity sector, dear Scorpio, and you have a stronger sense of fun today. There can be some minor struggles with seemingly at odds needs for closeness and intimacy and your desire for independence which can throw others for a loop. This energy can also be felt through desires for unusual things, activities, and pleasures that are different or reflect your inner unrest and need for change. Insecurities are likely to dissipate dramatically once you get in touch with your heart and a Venus-Chiron aspect active today helps you along. You are more courageous in love and putting your faith in someone tends to encourage them to do right by you. You are also in great shape for making progress on your practical affairs, particularly regarding building plans and designs.
Sagittarius
This is a good time for opening up to someone special, dear Sagittarius. It doesn't have to be a commitment or a statement if you're not ready to make one; it can simply be current feelings or stories about the past. An epiphany of sorts along romantic and creative lines related to private matters of the heart is likely to happen. You may wrestle with whether to get close or to keep a bit of distance with someone, but it's a good time to be honest with yourself about how you feel. This can also be an excellent time for firming up plans and working diligently on a pet project. You have a unique sense of what others want.
Capricorn
While you've been quite delighted with comfortable activities in the past couple of days, Capricorn, you're more inclined to reach out and communicate today. There can be some feelings of unrest experienced now, likely due to an unacknowledged need for a small change of pace in your relationships or patterns of relating. However, divine energy is with you now for bonding and enjoying good company. You might derive particular pleasure and satisfaction from groups of like-minded individuals, or with friends and associates. There can be healing powers to your words. Opening up to warm feelings brings rewards now. Also today, Saturn forms a harmonious aspect with Pallas, and you're in an excellent position to make practical and intelligent plans or designs, mainly related to your home and family life. Others appreciate your patience and wisdom now.
Aquarius
Early today, the Moon leaves your sign, and this tends to take emotional pressure off, Aquarius. Even so, you remain a little more sensitive than usual today. Try not to speak too soon of unrest, as you may only need a change of pace. You also benefit from a Venus-Chiron aspect that generates good energy for understanding a business or financial matter or the motives of a person you work with or for. It's important to be open to learning from and through others and to share your own expertise as well for best results. Social opportunities can come through business or career connections. Some of you could enjoy a pay increase.
Pisces
The Moon enters your sign very early today, and this brings your emotions to the surface, Pisces. You could have a feeling of urgency when it comes to filling your emotional needs. Look for inspiration from a loved one, as someone could awaken a new perspective or way of thinking in you. You fare best when you are reaching out beyond your usual bounds these days, and it makes sense for you to aim to deal with fears of change so that you can move past them. Insecurities are understood and managed well now. This is a good time for personal charm and attractiveness. You are especially likable and relatable today.
Tarot Card of the Day
Ten of Wands
---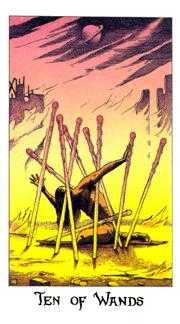 This suit, most often called "Wands" and sometimes called "Rods" or "Staves," represents initiative, ambition, drive and desire. This is the suit of enterprise and risk-taking.
The Ten of this suit represents an all-out effort, an obsessive commitment to a task which demands everything you've got. The person shown in decks with pictures is in no position to rest until he makes it inside the stout walls of the well-defended castle in the distance. If he fails, he will become prey for the highway robbers after dark.
It doesn't matter that he's overloaded and underfed. With this card, you have to do whatever it takes to get to completion — nothing can be allowed to interfere.
Part of the Daily Insight Group ©2017
Tarot Love Card of the Day
The Emperor
---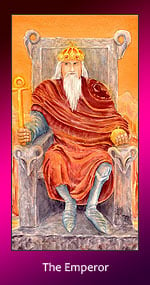 The Emperor card has selected you to let you know that you sow seeds of better things and more fulfilling times ahead. Give yourself permission to reach out for more, especially if you are dissatisfied. You create a solid foundation, built on a sense of higher purpose. If your current relationship suffers from stress, today let tender actions reveal what you may be unable to put into words. Rebuild, from the ground up.
Erotic Tarot Card of the Day
The Pope
---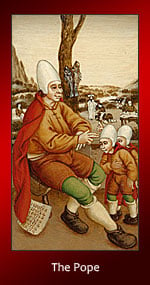 The Pope represents pure masculine energy, and even if you're female you're going to be identifying more with your male counterparts today. The Pope shows you that coming to terms with past mistakes and taking responsibility for them in the present eases sexual tension, so let go of the past to free yourself from your inhibitions. You actually have quite the skill set when it comes to making sexual moves, but waiting until the time is right before taking the plunge can be a real turn-on. Let the anticipation build until you can't take it anymore!
Psychic Tip of the Day
TWO DREAMING
This is a great day for the two of you to begin again. Discuss your plans for the year ahead and grow together as you plan your growth. Are you excited about the future?
Part of the Daily Insight Group ©2017
Your Daily Rune For
Isa
"Iss-ah" – Literally: "Ice" – Esoteric: Stasis, Stillness
Rune of concentration of things in a static or frozen state. Rune of stillness and the Ego-Self.

Psi: mental faculties, focus, ego, self-image/self-identity

Energy: stillness, contraction, stasis
Mundane: cold, self-preservation, harsh reality
Divinations: Concentrated self, ego-consciousness, self-control, unity of being; or egomania, dullness, blindness, dissipation, immobility, self-centeredness, lack of change, psychopathy.

Governs:
Development of concentration, will and focus
Halting of unwanted dynamic forces as an act of self-defense (ard against demonic influences)
Basic ego integration within a balanced multiversal system
Power of control and constraint over other wights (entities), emotional outbursts
Focus of the will into single-minded action
Your Ancient Symbol Card for Today
The Magus


The Magus is the physical embodiment of decisive action based upon knowledge and aimed squarely at specific goals. Thoroughly Yang by nature and firmly set in the material world, he none-the-less has a powerful spiritual connection as well. His knowledge, wisdom and skill are all encompassing. He is complete. His power as a creator is unmatched on our earthly plane. He is self-aware and unafraid to act. His enormous strength gives him the freedom to act as he chooses. However, responsibility comes with that freedom. Because he is not bound to the restraints of others he must choose how to act. The question that always lies before him is should he act morally, or forsake ethics for personal gain.
As a daily card, The Magus suggest you currently possess a tremendous power and freedom to move your life in any direction you choose. In short, you can make things happen. Your true challenge at the moment is to move forward without trampling the dreams of others. Fortunately your moral fiber is strong as well, and will guide you down the right path.
Your Animal Spirit for Today

Wolf
Wolf can survive either as a loner or as part of a pack, and he howls to remind you that you have to balance the needs of others with the needs of the self. If you're giving yourself away to your own detriment, you are living in opposition to Wolf medicine. Return to balance—and begin feeding your emotions, your mind, and your body.
Your Karmic Number for Saturday,
You are a natural leader today. People will look to you to clear a path for them to follow. You may be asked to take the reins of a project or situation because of your ability to listen and provide clear communication. Don't be shy or doubt your abilities – you have unique talent that only your own self-doubt can hide. Abundance flows to you when you step into the role of leading others. If you aren't offered an opportunity, look for one as a volunteer or even start writing a blog.
Crack the Cookie
The Wisdom of Buddha
It is a man's own mind, not his enemy or foe, that lures him to evil ways.
Your Earth Sky News for Nov. 25th: Orion the Hunter now easy to view
Tonight, watch for Orion the Hunter – perhaps the easiest-to-identify of all constellations – rising at mid-evening. It's around late November and early December that people begin to notice Orion in the evening sky, and to comment on it. Orion will climb over your eastern horizon by around 9 p.m. tonight. You can find this constellation and watch it for months to come.
The most noticeable part of Orion is the pattern called Orion's Belt: three medium-bright stars in a short, straight row. As seen from mid-northern latitudes, Orion appears to be lying on his side – with his Belt stars pointing upward – when he first ascends into our eastern sky in mid-evening at this time of year. Orion's two brightest stars — Betelgeuse and Rigel — shine on opposite sides of the Belt.
This shift in Orion's location is due to Earth's movement in orbit around the sun. As we move around the sun, our perspective on the stars surrounding us shifts. At the same hour daily, all the stars in the eastern half of sky climb up a bit higher, whereas all the stars in the western half of sky sink a bit closer to the western horizon.
Are you familiar with the W- or M-shaped constellation Cassiopeia the Queen? Or Polaris, the North Star? As Orion rises in the east this evening, look for Cassiopeia to soar to her highest point for the night, above Polaris in the northern sky.
Bottom line: The famous constellation Orion the Hunter is rising at mid-evening in late November and early December.
Bruce McClure has served as lead writer for EarthSky's popular Tonight pages since 2004. He's a sundial aficionado, whose love for the heavens has taken him to Lake Titicaca in Bolivia and sailing in the North Atlantic, where he earned his celestial navigation certificate through the School of Ocean Sailing and Navigation. He also writes and hosts public astronomy programs and planetarium programs in and around his home in upstate New York.
Published on EarrthSky
A Little Humor for Your Day
Twenty Sure-Fire Ways to Tell If Your Next-Door Neighbor is a Pagan
How many of the following does your neighbor exhibit?
1. Never puts garbage out on the curb…I mean, recycling and compost are fine, but you can take it too far!
2. You casually mention the moon's phase, and s/he replies with the exact number of days, hours, and minutes of rising, position on horizon, and current angle of declination.
3. All the stray cats in the neighborhood congregate in her/his garden.
4. A screech-owl has chosen the lamppost outside her/his house as it's favorite perch…just when it's getting warm outside at night and you want to sleep with your windows open.
5. Doesn't mow down the weeds in his/her garden and lawn…in fact, it sort of looks like s/he's cultivating them!
6. The abundance of black garments drying on the clothesline out back.
7. Local kids whisper and stare as they pass his/her house, then start running if they spot movement in the house or yard.
8. Nobody trick-or-treats at his/her door–not since the year that his/her costume was scarier than any of theirs!
9. Footprints on the roof…and the trees near the house look as if they've been pruned for a flight-path!
10. S/he can't make a sandwich without adding fresh herbs to it…and don't accept that offer of a cup of tea unless you want something yellow-colored and smelling like flowers!
11. S/he never gets junk mail…you idly wonder why, and s/he confides that she just returns it to sender after writing something on it in strange curly script.
12. When you drop in for a chat, the coffee pot or tea kettle is already starting to perk.
13. Jehovah's Witnesses never knock on his/her door anymore…not after the last time…
14. Keeps the local candle shop solvent.
15. Has a pond out back full of frogs…and you haven't seen that pesky storm-window salesman in a while.
16. S/he's always smiling peacefully!
17. Went to a Halloween costume party dressed normally, and won first prize!
18. Her/his house always smells like incense and herbs.
19. Has cats named Kali, Diana, Loki, and Pele.
20. Bumper-sticker on his/her car reads, "I brake for toads".
—–Author Unknown
And don't forgot today is small business Saturday, remember your small business Stores also………..
Save