The Witches Digest for Monday, November 20
(Daily Horoscopes & Divination)
Your Weekly Karmic Forecast: November 19 – 24, 2017
The Karmic Tools Weekly Forecast covers the current planetary transits which affect people in different ways and to various degrees of intensity. Take notice when it is a Personal planet (Sun / Moon / Mercury / Venus / Mars) interacting with a Social (Jupiter/Saturn) or Collective planet (Uranus / Neptune/Pluto). And pay extremely close attention when it is a Social planet interacting with a Collective planet because that means something *big* is brewing that will move large groups of people along their evolutionary paths. Tuning in to the energy and rhythm of the planets can serve as a useful *guide* as you move along your Individual Path. It also helps to understand your place within the context of the larger Social & Collective Story. Below, you will find out how these energies tend to manifest, as well as guidance and direction.
*NOTE* There are some days when there are NO CONTACTS (besides the Moon), please note that there are no missing entries, we just list the actual Activations of each week + the day they happen.  
Weekly Forecast:  November 19 – 24, 2017
11/19 ~ Mars (lower will) ~square~ Pluto (Higher will):
This is a test of what you are made of, on the deepest core level, and will require surrender as well as focus. This energy challenges you to evolve and will make you want to push through all obstacles but you must be careful not to be so aggressive that you are stepping on anyone to get where you're going. This is a potent energy that can facilitate major transformation in your life if you know who you are, what you want and what you are willing to sacrifice to get there – that includes parts of your Self that may need to shift to be more effective. This energy can bring power struggles, within or without, so be mindful because this energy is affecting everyone at this time. This is the time to tie up any loose ends if you are close to beginning anew. If you do not finish what you already have in the works, it may get in the way of things you want to do in the future. It is time to align your true inner power with balanced outer actions & choices.
11/21 ~ Venus (relationships) ~sextile~ Pluto (transformation):
This energy deepens all emotions and strengthens bonds & attachments. Friendships & love relationships become much deeper and, sometimes more intense, not to mention any physical (sexual) experience. Being fake or superficial is never possible when Pluto is involved, and because Venus is involved, we're talking relationships or how you relate in general, so if you are needing to dig a little deeper with someone, you are supported. This energy can facilitate positive transformation in your relationships, partnerships or collaborations. It will give you added power to help you change what needs changing or at least get it on the table for deeper discussion or a clearing conversation. Your emotional intensity may be at an unusually high level, so be sure to surround yourself with people who love you unconditionally or try to be alone and just reflect on what you're feeling.
11/25 ~ Mercury (voice) ~trine~ Uranus (individuality):
This activation gives you access to your Higher Mind and opens the way for new, deeper insights that can guide & direct you at this time. Business as usual will not work, it's time to open up to the unusual, do something different, look at things from another angle and watch the ah-ha's start pouring in. Your intuition will be firing on all cylinders, giving you access to unprecedented clarity. While your thinking may lack discipline, your ability to access solutions to any recent (or long-standing) challenges will be off the charts. This energy will not be contained, even though it is generally all mental, you really will have a hard time keeping up with the ideas, thoughts, concepts & intuitions that come to you under this influence so try to take notes that you can refer to later when the grounding will be necessary. Pay attention to the messages that come through/from others as well since you never know how the Universe will show up. This alone is an indication that whatever your consciousness may not have been previously ready to assimilate or process is awakening now to that which is just for you!
Cosmic Weather Horoscope for the Week of November 20th
Jane Lyle, Astrologer
From The Astrology Room
Wednesday 22nd November:
Something Magic This Way Comes…
Neptune turns direct today in fishy Pisces, and something shifts in our dreams. We're drawing closer and closer to a time filled with deeply magical potential.
Jupiter and Neptune both rule the mysterious sign of Pisces, a slippery sign that somehow moves between sacrifice and bliss, charity and extravagance, victim-hood and philanthropy.
Neptune and Jupiter both rule religious experiences and beliefs. We can always widen this out to include faith in a philosophy of life (Jupiter) and an attraction to hidden worlds, dreams and visions (Neptune).
Jupiter in Scorpio is now flowing beautifully with Neptune in a trine aspect. Together they release all sorts of smoky, translucent, ethereal things into the atmosphere, and work with delicacy and beauty on a creative, musical, and spiritual level. Yet when channelled into materialism, this pair are prone to symbolise fat, oily bubbles of delusional financial greed, bubbles that will inevitably burst. Here comes the snake oil salesman and the guru with feet of clay.
There'll be more to say about Jupiter and Neptune's partnership, for it's one of astrology's themes for 2018. If it touches your own natal horoscope, it's something bewitching to work with this November, and during the year ahead.
This magical partnership is around until September 2018.
It will be exact on 3rd December at 11 degrees
25th May 2018 at 16 degrees
19th August at 15 degrees.
So, as you can probably tell, the season of the witch has escaped from its flimsy, contemporary Halloween container. To celebrate, here's a delightfully quirky vintage ghost-hunting TV documentary. It stars the inimitable Dame Margaret Rutherford, her husband, and a famous society clairvoyant. It's called 'The Stately Ghosts of England' (1965):
Your Weekly Love Horoscopes for November 20th
by Sarah Bartlett, Astrologer
From the Astrology Room
With the sun moving into debonair Sagittarius, we can all expect some exciting loving. Although we will still be graced with normality, we may wonder, what is all this passion about?
But ironically, the great news is, that we can become truly aware of acting out those passions, rather than simply imagining them.
ARIES
Things seem so inconsistent right now. Sometimes people love you, sometimes they don't, and if you don't feel special this week, then you're going to run away and have an adventure all alone. But remember that happiness is a bit like a butterfly. The more you chase it, the more it will elude you. But if you turn your attention to other things, it comes and softly sits on your shoulder.
TAURUS
It's entirely understandable that you feel like you're being pushed hard by a few irritating people. In fact all the anger is welling up inside you, perhaps generated by low self-esteem?  Luckily, by the end of the week, you can drop the self-sabotage and start to be nice to yourself. Maybe even realise you are as loveable as anyone else?
GEMINI
You know that you have to be more accepting, more understanding and be able to give as much as you receive. But with the sun moving int your opposite sign this week, you will also experience a burst of vitality. You're coming alive, no longer armed with a set of conditions about how love should be. Instead, at last you can engage in the boundless, abundant thing that love is.
CANCER
Don't make assumptions about how your partner feels, or what an admirer wants. Whether you're newly in love, or a long-term couple, nothing is cast in stone.  But if you don't think before you act, then thoughtless words will probably be the outcome. Instead, maintain a balance, especially now the pendulum is swinging in your favour.
LEO
It's time to be more serious and reflect on what exactly your reality of love is? Does it have to be shown through action or deeds, does it have to be spoken or just felt? There may be a few ups and downs, broken promises, and indecision this week, but it's time to adjust to your true perception of love and welcome it into your world.
VIRGO
Take the plunge into passionate loving. This week, the cosmic line-up confirms your true needs, reveals your wilder dreams, but most importantly give you the chance to either start all over again with the one you love, or throw yourself into a passionate embrace with someone new.
LIBRA
We often think we 'fall' for someone who represents everything that we are not. 'They're my opposite, that's why we get on like a house on fire!' Yet this week, I think you're beginning to realise that the qualities of your lover or those you look for in a partner, are part of who you are.  Enjoy being attracted to yourself.
SCORPIO
What you're feeling this week, is for once very good about yourself. This in turn, is a sign to partners or admirers that you're in touch with your deepest desires. But a run of bad feeling between you and someone special needs to be dissolved, so let off a little steam by all means, then see what you need to change in your emotional armoury.
SAGITTARIUS
Honesty can sometimes get us into more trouble than we bargained for. And this week, it does seem that every time you open your mouth, whether to say sweet nothings or to suggest some useful changes, all you get back is defensive reactions. In fact, if you can 'do,' rather than 'say,' the challenging energy can be put to more physical delights..

CAPRICORN
This week's planetary line-up gives you a sudden urge to travel, or just to change your lifestyle. And even though you won't tolerate anyone else's opinion, truths have to be told. If it all seems odd, it will create long-term joy rather than long-term pain, leading you to fantastic changes in the months to come.
AQUARIUS
You've become quite restless and bored with your routine existence. So if you're not experiencing the light-hearted, fun-loving spontaneous side of love this week, then be golly you're going to do something about it. The sun's influence may put a spring in your step, so if you're in one of those extrovert moods, then just be daring, it's your right.
PISCES
This week, if single, there are some dark horses out there who suddenly become highly desirable. Attached, you wish your partner would take you on a surprise trip away. You change your look, but will they notice? You resolve to get on with your own career, but will they notice? Notice if they notice. Feel the faith you have in yourself, feel it and most of all, act upon it now.
Your Daily Horoscopes for Monday, November 20th
Claire Petulengro, Astrologer

From the Astrology Room
ARIES (March 21st-April 20th)
The struggles of your normal routine start to vanish and you slowly but surely start to realise you are in control of your life. Don't accept first offers financially. There are better deals to be done with a little investigation. .
TAURUS (April 21st-May 21st)
You are finally comfortable with a decision you made last month, but have not really had chance to put into action. Friends could turn into lovers for some of your sign. You're beginning to realise what you need to be happy.
GEMINI (May 22nd-June 21st)
You enter the next few days with a feeling of excitement and it's not for nothing. Shock announcements and surprise visits make for a week which sees you entering a better phase of your life.
CANCER (June 22nd-July 23rd)
If you had all the time and money in the world, what would you do Cancer? Aspects tell me you can do it all with a little planning and foresight. Confidence is the key to impressing important faces.
LEO (July 24th-August 23rd)
When you're true to who you are, amazing things will happen Leo. You may not realise it, but you hold the power to open the doors which were shut to you this time last month.
VIRGO (August 24th-September 23rd)
One way to get the most out of your current situation, is to look upon it as an adventure. You can do this sooner rather than later, if you work on ignoring those who only ever bring negativity to your heart and mind.
LIBRA (September 24th-October 23rd)
As soon as you start to pursue your dreams, your life wakes up and everything has a meaning. Today Neptune gives you the power to excel and to find the confidence which I see was lacking earlier this month.
SCORPIO (October 24th-November 22nd)
Life is a rollercoaster. Enjoy the ride, but don't forget to buckle up, as the coming days are sure to prove memorable, if a little bumpy along the way. An old friendship is given the chance to be rekindled.
SAGITTARIUS (November 23rd-December 21st)
Mars makes it hard for you not to accuse close ones of things they may not have done. Know how far is too far to go, or you could end up losing a friendship you only just got back. Geminis link to a better social life.
CAPRICORN (December 22nd-January 20th)
A touch of fame beckons within your career and you begin to feel more confident about the support of those close to you. This is good day to do your sums and figures. You may discover something is in your reach.
AQUARIUS (January 21st-February 19th)
So how do you get through the very sensitive few days you've had? Believe and act as if it is impossible for you not to succeed. Romance is well starred and you finally get back your self-confidence.
PISCES (February 20th-March 20th)
There's someone you need to say thank you to and to show appreciation for, but Mars is stopping you from finding the right words. Come on, fight back and show you can be the bigger person.
If You Were Born Today, November 20th
The year ahead is one of new beginnings as you feel you're beginning a new chapter of your life. It's good for enjoying new opportunities, experiences, and perspectives, as well as wonderful social or love opportunities. Your faith increases and you seek out more meaning from your life. You're in good shape for staying on track and meeting your responsibilities as well. Useful contacts can be made during this period. Your love or social life comes alive this year.
You are a dedicated, family-loving person who is loyal to loved ones. Your personality is highly intuitive and receptive, and the quiet strength that sits just under the surface forms some of your considerable charm. Desirous and passionate, you sometimes over-indulge in the pleasures of life. Because you value partnership so strongly, you must guard against smothering your loved ones. There is a fine line for you between caring and possessiveness. Your strong character is apt to propel you into a leadership position in your career. If so, you are what might be considered a benevolent leader, as you are very big-hearted.
Famous people born today: Bo Derek, Richard Dawson, Gene Tierney, Robert F. Kennedy, Joe Walsh, Edwin Hubble.
Source
Get A Jump On Tomorrow….
Your Horoscopes for Tuesday, November 20th
Claire Petulengro, Astrologer

From the Astrology Room
ARIES (March 21st-April 20th)
With the Sun behind you at the moment, every day holds the possibility of a miracle. This is the time to have another try at the things that didn't work out earlier in the year. New work avenues beckon via e mails.
TAURUS (April 21st-May 21st)
Surround yourself with positive people only, Taurus. You have allowed yourself to be emotionally blackmailed by those who don't have your best interests at heart. With the help of Mars, know where to draw the line.
GEMINI (May 22nd-June 21st)
Why are you so worried about how things look to others. Shouldn't how you feel be more important? After all, you are the one who has to live your life and with the decisions you make.
CANCER (June 22nd-July 23rd)
Your time is limited this week, so don't waste it doing things which can't bring results. It's time to tie up those loose ends you've left for yourself. New career openings beckon and could see many of you crabs changing vocation.
LEO (July 24th-August 23rd)
You're ready and willing to put down some roots, but you don't seem sure who will support you through this. Go to those who are directly involved, or you may make them think you are not capable.
VIRGO (August 24th-September 23rd)
There's an immature feel to your chart, which could see you saying and doing all manner of things you may come to regret. Make a mental note of how far is too far to go, or you could end up with a lot of apologising to do.
LIBRA (September 24th-October 23rd)
The less you say about other people's lives this week, the better. You see Libra, there is a secretive feel to the stars, which will see many of the signs wanting to keep their private life private.
SCORPIO (October 24th-November 22nd)
You've got to have a dream Scorpio and you've got to grab it and never let go. Your ruling planet Mars helps you sweet talk anyone into anything. Use this opportunity well. Ring now to hear why this is the perfect time to negotiate home circumstances and affairs.
SAGITTARIUS (November 23rd-December 21st)
Try not to accuse people of things they may not have done. Mercury is preventing your judgement from being at its best my friend. Stick to plans today, as those around you are relying on you more than you may realise.
CAPRICORN (December 22nd-January 20th)
Arrange to see old friends who can give you the confidence boost I know you're in need of. You've found it hard to have faith in your own ideas and opinions recently, but they're the ones who can give it back to you.
AQUARIUS (January 21st-February 19th)
The most effective way to do things, is to actually do them. A better relationship with a member of family evolves as you all agree to meet each other half way. Patience with paperwork is essential for its successful completion.
PISCES (February 20th-March 20th)
You are the CEO of your life. Don't allow others to take control, or you will regret it for a very long time to come. Be ready to say yes to impromptu plans tonight. It can and will make your life a more interesting place to be.
Tarot Card of the Day
Seven of Coins
---
November 20, 2017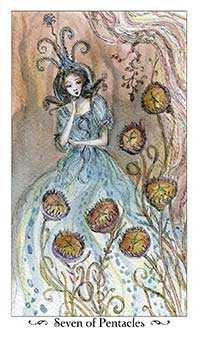 The Seven of this suit is typically a paean to the humble laborer who is willing to show up every day and sweat in the sun for next season's bounty. The traditional concept is cultivation, with an attitude that slow and steady wins the race, with faith in nature's assistance. The protagonist of this card doesn't make excuses, isn't whimsical or moody, but is dedicated and sees the job through. Of course, it's no good to count your chickens before they hatch, but there's no question that the person who is vigilant over a project is more likely to get the desired result.
Someone who works with nature, cooperating with her ways, will waste less energy and time than the person who works against her. As a side meaning, we sometimes see this normally humble farmer in a moment of frenzy, betting the crop on a roll of the dice. This represents a moment of dementia, addiction or desperation which hopefully will not last long enough for the farmer to lose everything!
Daily Love Tarot
The Sun
__________________________________________
November 20, 2017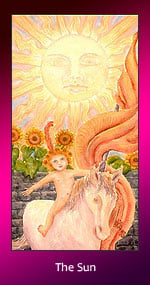 The Sun is an invitation to a supportive relationship in which you can be yourself around your significant other. You feel relaxed and loved, with a sense of peace of heart. You've struck gold and entered into a new realm. Keep looking if this is not how you feel because it is how things should be. You can't expect improvement in a long-term union if you do not take effective steps to create it.
Your Erotic Tarot
The Judgement
_________________________________________________
November 20, 2017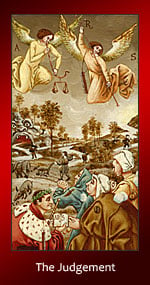 The Judgement card represents a sexual awakening, and now that you aren't afraid to move in a new direction, a whole new world awaits you. What sex positions do you want to try, and which fantasies have you been dying to act out? Being honest with yourself and potential partner(s) about the details of what you desire will help you get what you want faster, and the end result will be much more satisfying. And above all, enjoy your sexual liberation!
Your Daily Rune for November 20, 2017
Mannaz
"Man-az" – Literally: "Mankind"
Esoteric: Humankind, awareness
Rune of the Divine structure of intelligence in the human soul or psyche. Rune of the horizons of human existence and collective potential.
Psi: mind & memory (Hugin & Munin), the difference between human and all other life, development of the intellect, rational mind, perfected intelligence
Energy: psychic order of the gods reflected in humankind, projection of Self into time
Mundane: thinking, planning, analysis, the human condition, people at large (contemporary: the masses)
Divinations: Divine structure, sustainability, intelligence, awareness, social order, divine influence in life; or depression, mortality, blindness, self-delusion, collective suicide, bigotry, elitism, intellectual arrogance.
Governs:
Self-Actualization
Realization of the divine structure in humankind
Increase in intelligence, memory and mental powers (passing tests)
Unlocking the third-eye hvel, the "mind's eye"
Activating the dynamics of your own inner Christus, or Higher Self
Awareness of our roles as co-creator with the gods and nature
Mental and spiritual potential
Your Animal Spirit Guide for November 20, 2017
The Falcon

The Wisdom of the Budda
To be idle is a short road to death and to be diligent is a way of life; foolish people are idle, wise people are diligent.
Earth Sky News for Monday, November 20th: Watch for the moon and Saturn
Tonight – November 20, 2017 – finds the slender lunar crescent pairing up with the planet Saturn after sunset. As dusk gives way to darkness, look in the southwest sky, and rather close to the sunset point on the horizon, for the lovely celestial couple, the moon and Saturn. Start your search no later than an hour or so after sundown. These two worlds will follow the sun beneath the horizon at or around nightfall.
You might – or might not – see the planet Mercury below the moon and Saturn tonight. Mercury is rather difficult to catch from northerly latitudes, but is easier to spot from the Southern Hemisphere. Several people did catch Mercury Sunday evening, near the very young moon, and sent us photos.
Click here for recommended almanacs; they can provide the setting times for the sun, moon, Saturn and Mercury in your sky.
Our sky charts above and below are for mid-northern North American latitudes, where the waxing crescent moon and Saturn appear especially close together after sunset on November 20, 2017. From the world's Eastern Hemisphere – Europe, Africa, Asia, Indonesia, Australia and New Zealand – tonight's moon appears more to the west of Saturn (and closer to the planet Mercury). See the sky chart below.
On the same date in the Eastern Hemisphere, the moon is more offset to the west of Saturn (and closer to Mercury) than it is in North America. Moreover, the farther east you are in the Eastern Hemisphere (far-eastern Asia, Australia and New Zealand), the more the moon is offset toward the previous date on the sky chart. For instance, from far-eastern Asia, Australia and New Zealand on November 20. 2017, the moon appears closer to Mercury than to Saturn as darkness falls on November 20.
Of course, when we say the moon is close to Saturn or Mercury, we're really saying that the moon resides close to Saturn or Mercury on the sky's dome. The moon is actually nowhere close to these planets in space. Tonight's moon is only around 252,000 miles (406,000 km) distant from Earth. But Saturn and Mercury lie much father away, at about 4,000 and 400 times the moon's distance from Earth, respectively.
Click here to find out the moon's present distance from Earth and click here to find out the present distance of Saturn and Mercury from Earth in astronomical units (AU). One astronomical unit = Earth/sun distance.
Day by day, watch for Saturn to slowly but surely sink downward and closer to Mercury on the sky's dome. Look for these two worlds to be in conjunction (near the same line of sight) on November 28, 2017.
Bottom line: This evening after sunset – November 20, 2017 – look for the moon and Saturn in the southwest sky. You might – or might not – spot Mercury beneath the moon and Saturn.
Bruce McClure has served as lead writer for EarthSky's popular Tonight pages since 2004. He's a sundial aficionado, whose love for the heavens has taken him to Lake Titicaca in Bolivia and sailing in the North Atlantic, where he earned his celestial navigation certificate through the School of Ocean Sailing and Navigation. He also writes and hosts public astronomy programs and planetarium programs in and around his home in upstate New York.
Originally published on EarthSky

A Little Humor for Your Day
The Valkyrie Song
Tune: Wagner's "Flight of the Valkyries"
---
We fly through the night skies
Flashing our fat thighs,
Picking up dead guys;
You call this a job?
You take the blond guy,
I'll take the redhead!
Wait, he's not dead yet;
Let him go…splat!
Chorus:
Woo-oop! Woo-oop!
Woo-oop! Woo-oop!
Woo-oop! Woo-oop!
Woo-oop! Woo-oop!
Oh-h-h-h-h-h!
We're hunting the Wabbit!
We're hunting the Wabbit!
We're hunting the Wabbit!
We're hunting the Wabbit!
A Little Thought from Me to You…….
I pledge allegiance
to the Earth
Of our Beloved Solar System
and to all
of Her creatures
for here they dwell
One planet
united in harmony
with universal love
and compassion for all.
—2016 livingsky.org
For all Your Magickal Needs, Think Magickal Necessities….
e