The Witches Digest for Thursday, November 9th
(Daily Horoscopes & Divination)
Energy Gateway Tools – 11/11 Activation at Mystic Journey
Energy Gateway Tips for Chaotic Times  Connecting with the Sacred
In these chaotic and often intense times, it's helpful to remember that positive transformation energies exist alongside the challenging ones. Example: many things in our outer world are in turmoil and uncertain. Despite this, we have an opportunity to regroup our energy and access a higher view with meditation and connecting with the sacred at the core of all things. When we do this, we bring wisdom and perspective to our experience.
On some days, like the upcoming 11/11 energy gateway and 11/18 new moon, we can benefit from additional spiritual openings and insights. New awareness can come to the surface, allowing us to see ourselves more clearly. In those moments, solutions for longstanding issues can come to light. Letting go of the old may be easier too, once we have recognized we are ready to move on and embrace new adventures.
The Sacred and Lightness of Being
Key to your progress now is staying present and conscious to what you are creating. There are many distractions and situations that could get you off track and unfocused – like dramas with people you know and on the world stage. Do your best to self-monitor where you put your energy. The more present you are, the easier it will be to pull yourself back from dramas so you can go within and connect with the sacred. A daily connection with the sacred helps you to bring a lighter energy into everyday things and interactions with others. Your life flows better, you feel more connected, and you have the inner resource to face difficulties.
Intend now that you will use the energies of this month to deepen your connection to the sacred and discover expanded ways to express your higher purpose for this life.
11/11 Next Weekend
Since it's November with 11/11 next weekend, consider exploring sacred numbers and the symbolic importance the ancients applied in spiritual rituals and in the architecture of temples and pyramids. Chances are, you or your ancestors were alive during one of the great civilizations of Egypt or Greece, having utilized sacred symbols to mark a special day. Invite a knowing of this.
Meanwhile, trust that there is a reason for everything that unfolds, and that you can learn and grow even when you feel stuck and immobile. Use the vast amount of love and light
11:11 Gateway into Full Embodiment
Dear Ones,
From the beginning of time there have been clear moments when the Portals of Awakening open for those who are called. The 11:11 Gateway is a collective, high-vibrational opening to assist the evolution of consciousness on the Earth at this time. The new Light frequencies are enabling this 11:11 Gateway to open for you to move into your original blueprint, your most divine essence, represented through your Light Body, in oneness with All That Is.
We will offer suggestions and visualizations at the end of the message so your own guidance system can empower a Light-filled 11:11 Ceremony if you are unable to join with others. It is highly encouraged that you work with at least one other person in sacred ceremony to honor the 11:11 Portal in Time.
You have been coded within for this awakening moment. It is another step in your evolution, one with great power and support. The Archangels stand at the 11:11 Gateway to hold you in strength and courage. Those who are attracted to this time of Grace, can avail themselves of the opportunity to soar, greatly empowered by the Angelic Realms. This conscious dedicated action, in harmony with Divine Light, will accelerate the evolution of consciousness within your own life and on the planet now.
The powerful energies you have been experiencing in your lives and on the Earth since August have led to activations within your Light Body Field. The Archangels have been diligently involved and are creating greater awareness within you of the field of Light around your heart. As you know, there is a magnetic field around your heart that is in the shape of a Torus.
This sacred geometry creates a regenerating field of energy which you can purposely integrate into your heart chakra. Because of the auspicious nature of the frequencies the Earth is moving into, we have activated your Torus regeneration field to include Divine Love as the main tool of awakening your new life.
This field is the beginning point for your new Merkaba – the light body field that works for your spiritual growth and ascension. This activation strengthens your awareness of the freedom that is possible when you expand your heart energy and open these new high frequencies into the cells of your body.
Divine Union
The 11:11 Gateway opens the way to Divine Union within yourself. The Archangels stand ready to welcome you into the new creative power of exalted awareness. Retraining and guiding the fearful thoughts that may plague your days are only a prayer away. Each prayer raises your vibrational frequencies and could be the one that unleashes the critical mass for Spontaneous Evolution within your life and on the planet. Imagine that your prayer is the turning point – the key that fits the codes for your newly evolved Self.
For the past few months, the downloads of Light have been working to empower your light body. With the 11:11 gateway the integration of that Light Body will now be fully possible. The intentions you hold for this time of your life are paramount.
Remember that at your true core, you are a radiant being of Divinity. This connection is key for your new life unfolding. It is the expanding field that activates the corresponding codes which allow your light body to come into manifest form.
Regardless of the energetic manifestations, you have witnessed in your own life or in the world, this field has been developing. You are literally growing your divine human body from the inside out.
Anchor Love
Before walking through the 11:11 Gateway, know that the love you anchor in your heart is key to the activation of the light body field. Fully integrating Divine Love within your being is creating the resonance that opens the way to fully activating your Divine Human Form.
As you walk through the Archangel's 11:11 Portal, you will be synchronizing both the higher and lower expressions of yourself to bring forth your most authentic, blended and empowered Divine Self. This is a connection to your Soul that will allow you to more fully access and express yourself with Grace and Ease, to bring forth your highest Soul's Destiny.
Call in your Angelic support and know that you are being inspired, guided and led through the 11:11 Gateway with full honor and respect for all the work you have given to the world during this time of massive change.
A ritual prayer offering for your own personal ceremony of the 11:11
Divine Presence and the Archangels of Light:
As I prepare to be guided through this 11:11 portal of time, I ask that the Light of Divine Love clear any disharmony within my energy field. I willingly let go of the burdens of old beliefs so I may stand tall and move freely through the gateways to Unity Consciousness and into my new Light Body Field.
Within the spaciousness of my cleared energy field, I ask that it be filled with the power of Divine Love, Harmony and Unity Consciousness. I ask to receive and radiate the strength and courage to embody this Divine Light and ground the presence of Love and Healing energy into the Earth to assist its evolution.
I join with the Angelic forces and the millions of those who work in the Light of God, as we are led through the 11:11 Gateway. I know that as one is lifted up, all are uplifted. I allow new patterns of exalted Light frequencies to engage my human structure in the completion of my crystalline light body – Union within my being with the Divine.
I dance through the Light-filled gateways, feeling your guidance and knowing that loving awareness for new possibilities in my life is being provided in every moment, with every heartbeat. I awaken in your Light and embrace my Soul's gifts being offered to me now with supreme gratitude. You are giving me the Divine Connection to greater life and I gratefully receive this. I am honored to anchor this Light into the Earth as the presence of Nature awaits my awareness.
Hold me with Love and guide me as I step through this gateway into the higher dimensions, where my most Divine Self awaits me. May I bring greater Life, Peace and Joy through my being and be a blessing for the Earth.
For these and all your blessings, I say Thank you. Thank you. Thank you.
So be it, Be it so.
Your Cosmic Weather Report for Saturday, November 11th
Jane Lyle, Astrologer
From The Astrology Room
Thought for November:
'Even if something is left undone, everyone must take time to sit still and watch the leaves turn'.
Elizabeth Bury Lawrence (1644-1720)
There's A Lot Going On!
Without doubt, it's a busy time in the cosmos. Here are three significant astrological signposts this weekend:
1) Saturn in Sagittarius trines Uranus in Aries for the final time
This refreshing and constructive link between sensible, mature Saturn and lively, inventive Uranus has been a key pattern during 2017. Its first exact appearance was on Christmas Day, 2016.
Saturn and Uranus are dancing around all month long, making this a potentially positive phase for new ideas, product launches, coming up with fresh, imaginative ways to look at old problems, or bring cutting edge ideas into practical reality.
Saturn and Uranus meet at 25 degrees, slowly moving apart until November's end. If you have planets or points between 24 – 28 degrees in your own horoscope, you're likely to be in a good place to blend old and new, or traditional and modern in some way that benefits you and others.
2) November's Moon Wobble
Today, 11th November, we have a Moon Wobble, which is  – technically – when the Sun aligns in one way or another with the Moon's Nodes. This time, the Sun is in Scorpio, squaring off with the Nodes in Leo and Aquarius.
Moon Wobbles signal upheavals, dramas, and turbulence – emotions can feel stronger, and logical thinking weaker in the days before, and for several days afterwards. So the wobbly window to watch is from around 8th November – 15th November.
It's not really the right time for taking important decisions that will have a lasting impact on our lives. Our thinking may be out of synch with what's favourable in the long run. Resolving to stay calm and open-minded is a helpful way to negotiate this bumpy phase. This could require some effort.
And, just as during eclipse seasons, a Moon Wobble also signifies stormy weather, wild weather events, and often highlights the awesome, dramatic powers of nature.
The Moon's Mean Nodes are currently at 20 degrees of Leo and Aquarius.
3) Big Love – Venus conjunct Jupiter in Scorpio
It's always a special moment when the goddess of love dances with the king of the skies. Here is Venus in Scorpio, meeting with Jupiter for a glimpse of graceful hope and joy in all our romantic and social relationships. And perhaps a little smouldering passion in the shadows too.
Yet, with planets in Scorpio there could be a sting in the tail, jealousy can expand as easily as affection – but not if we're trying our best to be aware of what's going on.
This can be a delightful time of serendipity, so do watch for little opportunities or chance encounters – what develops from these could be very favourable to you, or even offer ways to increase your income. Scorpio is a financial sign, and Venus rules money – sometimes Venus in Scorpio likes to say 'ker-ching'.
Financial affairs linked to foreign investments, overseas projects, or foreign business partners should thrive at this time.
Venus and Jupiter can also be giddily extravagant and hedonistic, so possibly this isn't the ideal time to go shopping. Why not enjoy some sumptuous art, a pleasurable experience, or a stunning landscape instead?
Venus and Jupiter align between 5 – 7 degrees of Scorpio. If you have planets, points, or angles at those degrees in Taurus, Virgo, Capricorn or Cancer, Scorpio, and Pisces in your own personal horoscope you may sense this seductive energy more than most.  If you have planets in Leo or Aquarius, this could be a pivotal moment for you.
Venus and Jupiter align in Scorpio between 11th and 13th November.
Your Daily Horoscopes for Thursday, November 9th
Aries
There is pleasant intensity in your relationships and interactions today, and there may be helpful resources coming your way, dear Aries. It's an excellent time to investigate a matter further. However, as the day advances, your focus tends to diffuse. Be wary of giving off mixed signals. The temptation may be to push when someone backs away or to retreat when someone pushes you. This is not the best time for healthy relating patterns, but consider that you might only need some personal space to get in better touch with what you actually want. Plans may not move ahead just ahead, and that's okay now. You're in a good headspace overall.
Taurus
The morning is excellent for getting to the heart of a matter, dear Taurus. Pluto helps to boost your sense of purpose as it forms a harmonious aspect to the Sun in your partnership sector. You may very well feel more purposeful through a significant other now. As the day advances, you need some rest or a break from action. Uncertainties with a friend or co-worker can be vague yet on your mind. While in a general sense you should watch that friendships don't dissolve through unintentional neglect, if some friendships are changing or ending, this may be due to evolving interests. And, some ups and downs are not something to worry about unless the "downs" are growing to disproportionate levels. Watch also for slip-ups on the job due to distraction or daydreaming.
Gemini
Relationships are mutually beneficial this morning, dear Gemini. You're in good shape for applying wisdom and experience to manage a situation. As the day advances, while it's likely to get busier, it can also be less decisive or clear. This is due to a Mars-Neptune influence that has us questioning our actions. It's, in fact, a useful slowdown moment – it's a good time to reassess things or merely take a bit of time to understand what it is you truly want. Consider that it can be all too easy to believe what you want to believe (or fear) about a career or romantic matter today. It is also possible that you're on the fence about an issue. Even if it's uncomfortable, try to stay on that fence for the time being. You may very well need some time to process things before moving on.
Cancer
When it comes to a close relationship, if appreciation is due, it's a great time to show it this morning, dear Cancer. Through a relationship or accomplishment, you can enjoy a nice confidence boost now. The Moon moves out of your sign this morning and into your resources sector, and you begin to seek out some order and predictability. As the day advances, clarity can fall by the wayside, however, and it's best to accept this rather than fight it. Sometimes we benefit from some reassessment or slowing down, and this can be the time for doing so. Family or a home matter may involve confusing elements which can undermine your confidence or your overall happiness temporarily. Do what you can to uncomplicate your life by clearing your mind and possibly your schedule.
Leo
The Moon in your sign from the morning onward gives you visibility today, dear Leo, and a Sun-Pluto aspect this morning adds extra depth. It can also serve to boost your confidence. It's a good time for new ideas and accomplishing more than usual. You might decide to rid yourself of something that's outlived its usefulness since it's easier to part with things now than it is on another day. As the day advances, you'd benefit from letting go a little, however. Uncertainty is likely, and this tends to heighten the more we push something that can't be pushed. Money or intimate matters can be confusing now, and it's best not to bank on something (or lend and borrow) until you have a better sense of what's happening.
Virgo
You could discover a project that genuinely absorbs your attention this morning, dear Virgo, and you can make significant progress. Don't be afraid to show your creative side now. While you're decisive and clear this morning, as the day advances, you may want to let go of overthinking or, temporarily, of ambitious projects. However, acting on a whim may not have especially desirable results, either, as you may not be entirely in touch with your desires and timing is slightly off. In addition, others may not be clear with you today. Whether deception is intentional or unintentional, or if it involves self-deception, there is a confusing element now that may require a slowdown. It may also be best to avoid significant purchases. The Moon moves into your introspective solar twelfth house this morning, which gives you another hint to take things easy – relax, decompress, and have back at it tomorrow.
Libra 
This morning, you may come across information that helps you feel more comfortable, respected, or secure, Libra. Continuing from yesterday, you see your priorities clearly. You're in good shape to adjust your plans so that they more accurately reflect who you are today. As the day advances, you may want to slow down and allow for some uncertainty. A Mars-Neptune aspect suggests that you don't have all the answers just for now, and you may have been pushing your desires a little too hard. Energy levels may be below par quite suddenly, but this could also be a signal that you are not as sure as you think you are, and you need to keep things simple for the time being. Taking a short breather can help clarify things for you.
Scorpio
There is continued good energy for you to straighten out your life in some way this morning, dear Scorpio, as you feel compelled to take action to correct things that have been making you unhappy. Improvements made now are likely to be significant and lasting. Later today, take a sudden lack of energy or delay as a sign that your plans need refining, however. Life can feel more complicated, or you may feel a little drained and lacking purpose temporarily. Adjustments may need to be made to a creative project, or delays in a romantic relationship need to be dealt with and accepted. This is a time for reflecting a little before moving your plans forward.
Sagittarius
This morning, you enjoy continued sharp focus, dear Sagittarius. You might gain new and valuable insight into a money or business matter, or you get a fresh look at an old problem that empowers you. Later today, however, a Mars-Neptune aspect points to the need to let some things go. You could feel a little frustrated with stop-and-go energy that doesn't suit your style. You prefer to have everything out in the open, but the day asks you to adopt a "wait and see" approach. You might find it challenging to depend on others' actions or words, or some insecurity might keep you at home or in limbo instead of out and about. Allow yourself the extra rest you need, if this is possible, as you simply require a breather.
Capricorn
You can be quite persuasive early today, dear Capricorn. You have more influence than usual. You're in a good position to feel stronger through your connections as well as for investigating a matter further and gaining some critical insight. As the day advances, things seem less certain, and this suggests it's better to rest and reflect than to push ahead. Be more precise than usual in any business or even personal communication to avoid overcommitting. Take advantage of a Saturn-Uranus aspect coming into influence that helps you feel more confident about bringing your ideas to fruition, particularly related to home and family.
Aquarius
The morning is excellent for investigating a matter further, dear Aquarius, and it makes sense, as a result, to tackle the harder jobs or to manage an issue that requires more focus than usual. You have a compelling desire to resolve problems and little patience for waiting things out. However, as the day advances, some uncertainty is likely, and it's best to avoid pushing forward against resistance. Some reflection is in order. Money matters can be unclear or complicated temporarily, particularly those connected to travel or educational pursuits. Avoid signing contracts or making solid travel plans just for the time being. Indecision about where you are going in a general sense is likely now. However, you benefit from a Saturn-Uranus influence active this week that gives you a general sense of progress.
Pisces
If you've traveled a little off course in pursuit of a long-term goal or dream, dear Pisces, circumstances are such this morning that you clearly see what you can improve, and you're on it! As the day advances, it's best to take your foot off the accelerator as a Mars-Neptune challenge favors slowing down and getting in better touch with our desires before going forward. You may, in fact, all too easily draw and attract situations, people, or things that drain you or leave you feeling confused. It can be challenging to feel purpose or direction for an extended period now. Just when you possess the drive to go towards something, it either becomes elusive, or you question whether you want it. Use this time for creative instead of practical activities as much as possible.
If You Were Born Today, November 9
You are an articulate, sensitive, and intuitive person. You can also be quite stubborn! Your mind is such that you absorb a lot of diverse information and you can be a jack of all trades. You are a true problem solver. Your sarcastic sense of humor can be biting at times. Not everyone knows that it hides a sensitive, self-protective soul. You can easily get yourself into a rut because of your rather fixed, stubborn nature. Famous people born today: Lou Ferrigno, Carl Sagan, Dorothy Dandridge, Spiro Agnew, Anne Sexton, Analeigh Tipton, Scottie Thompson.
Your Birthday Year Forecast:
With the Sun and Moon in harmony in your Solar Return chart, the year ahead should be satisfying and balanced overall. You are in comfortable demand and personally popular, and you are able to achieve a decent balance between work and play; personal and professional life. For the most part, you are on top of your game this year, and positive connections with others can be made fairly easily. With the ability to handle your emotions successfully, there is less stress on both your mind and body. Your self-confidence and positive attitude will reward you!
Jupiter transits conjunct your Sun this year, expanding your opportunities and boosting your confidence. This transit brings more awareness of moral issues and long-term goals, as well as a stronger than usual desire to improve and learn. This is a feel-good transit that boosts your popularity. Optimism is with you, and you are able to attract fortunate circumstances into your life as a result. Problems are easier to resolve this year. You are more sociable and might meet especially helpful people during this period. Travel opportunities are more likely. Your broader perspective on matters this year keeps you from getting lost in details or overly frustrated by everyday stresses and strains.
This is a strong period for strengthening and supporting others as well as for building trust. Mutually beneficial relationships are in focus. This can be a pleasantly ambitious period.
There can be helpful interactions with superiors or with older or more experienced people during this period, and benefits can come as a result. There can be a choice to structure, limit, or simplify your life in a significant way that leads to major improvements in your life.
Pleasing circumstances surrounding your love life, finances, and creative pursuits are in store this year. You are more generous, and others return the favor. You might receive financial backing or special gifts in the period ahead. You seek a little more from your love life and you are likely to receive it. Some of you could fall in love this year, or existing relationships are enhanced. Adventure-seeking is a theme.
Developing existing businesses is highly favored this year. You're in excellent shape for editing, refining, and overhauling your work and projects. Long-term alliances can be made this year. This is a potentially excellent year for making prosperous connections.
This is an excellent period for enjoying new opportunities, experiences, and perspectives. Your faith increases and you seek out more meaning from your life. You're in good shape for staying on track and meeting your responsibilities as well, but you need to make extra time for downtime. Useful contacts can be made during this period.
2017 is a Number Three year for you. Ruled by Jupiter. This is a year of sociability. It is a friendly time when you find it natural and easy to enjoy life and other people. The focus is on personal freedom, reaching out to others, making new friends, and exploration. You are more enthusiastic and ready for adventure than you are in other years. It's likely to be a rather lighthearted year when opportunities for "play" time are greater than usual. It's also a favorable year for expressing your creativity. Advice – reach out and connect but avoid scattering your energies.
2018 will be a Number Four year for you. Ruled by Uranus. This is a year of work and development. It's "nose to the grindstone" time. It's a time to pay special attention to practical matters, and it's not a time to be lazy or especially gregarious. Sometimes, it can be a year that feels hard, monotonous and routine, and/or lonely. Positive new relationships are often not formed in a Four personal year. However, it can be a wonderful year for building, development, and laying a solid foundation for future successes. Advice – get yourself organized, work to build your resources, keep busy.
Get A Jump on Tomorrow…..
Your Daily Horoscopes for Friday, November 10th
Claire Petulengro, Astrologer
From The Astrology Room
ARIES (March 21st-April 20th)
Close ones are pressuring you because they can see that a certain situation is making you unhappy. All you can see and feel is the anxiety it is causing. Use today to step away and look at the bigger picture.
TAURUS (April 21st-May 21st)
The way you look at life is changing and many of you bulls may in fact be thinking of making some of your most dramatic moves you've made in years. You won't be doing it alone though, which makes this week's events all the more interesting.
GEMINI (May 22nd-June 21st)
Some of the signs really do seem to be speaking for the sake of it. Try not take what others say too much to heart, especially if you know it has been said on impulse. Group events make your career a more interesting place to be.
CANCER (June 22nd-July 23rd)
Try distressing your life by de-cluttering. Many of you Cancerians have been gathering things you don't really need in the home. Getting rid of them can help you see what you really need materially and emotionally.
LEO (July 24th-August 23rd)
You have gone through so many emotions that you are finding it hard to know which are real and which you are imagining. Children bring clarity and wise words. Sometimes it takes a fresh mind to see what older faces can't.
VIRGO (August 24th-September 23rd)
You may not realise it, but subconsciously you have been building a base and it's a good one. You didn't know why you felt more secure, but when you look around today you will see why. You will also see what you no longer need.
LIBRA (September 24th-October 23rd)
Could a friendship be something more? This is something your sign is likely to have asked themselves before in the past. Take your time. Patience will give you true answers.
SCORPIO (October 24th-November 22nd)
You say you want changes, but do you know what these changes are? You've been listening to what others tell you that you need. Use the wise attitude of Saturn, he is offering to help you find the answers in your own heart.
SAGITTARIUS (November 23rd-December 21st)
There's an urgent need in your chart to make extra funds. You are trying to find ways to make your options more flexible. You can and you will, you just have to relax if you want to convince others you are worth trusting in.
CAPRICORN (December 22nd-January 20th)
I know you are a sign who needs to be loved unconditionally. However, your communication skills need working on. Listening when others talk is the best starting point you will find.
AQUARIUS (January 21st-February 19th)
Do you think you have been acting spoilt? Or do you think you needed to be this dramatic to get the attention of those around you? I think you need to stop and wait for others to make the next move.
PISCES (February 20th-March 20th)
Positive anything is better than a negative nothing. Stay away from people and situations that give nothing back, before you become addicted to this pain.
Your Personal Daily Tarot Card
The Hermit


The Hermit denotes a need to have some space between you and the everyday hustle and bustle of our busy world. The Hermit needs to retreat. Indeed, happiness for The Hermit requires seclusion, freedom from material wants, and time for intense introspection. The answers The Hermit needs cannot be found in our physical world. The truths he seeks are internal, spiritual, and the distraction of a well developed social life can only impede his quest for his personal truths. Still, although not anything remotely resembling extroversion, The Hermit does sometimes need to share time with others; so he can both learn and teach, guide and be guided. The Hermit's time spent amongst people depletes his energy rapidly. To avoid mental and physical overload he has to retreat from social settings quickly.
Your Personal Daily Love Tarot Card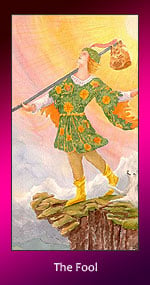 The Fool
You deserve a partnership that deepens as you get to know each other. Wait for the person who has risen above commitment immaturity if commitment is your desire. The Fool reminds us that dating someone is not a mistake. It is falling in love and marrying them if it is not right. If your long-term relationship is encountering a difficult patch, now is the time to work together to rebuild.
Your Personal Daily Erotic Tarot Card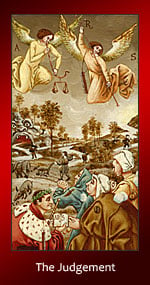 The Judgement
The Judgement card indicates that you've had some sexual hang-ups in the past, but you're working toward getting over them. This is a period of transition, and although you're doing the work, you may not be getting the exact results you desire. Forgive yourself for past missteps in order to take a sexual step forward today. Being afraid to express your true erotic self can even effect other areas of your life, so getting beyond your sexual inhibitions translates into a happier overall existence.
Psychic Tip of the Day
NEW SURPRISE
Your first big shock of the new year has arrived. It could be a welcome relief, but you may not know what to do with it. Were you expecting company?
Tarot.com is Part of the Daily Insight Group ©2017
Your Daily Rune for Thursday,
Laguz
"Log-uhz" – Literally: "Water" or Ocean – Esoteric: Unconscious, Collective Memory
Rune of the unconscious context of becoming or the evolutionary process. Rune of Life's longing for itself.
Psi: emotion, psychic powers, unconscious mental processes, love, dreaming
Energy: life energy, ocean spirit, origins of life, collective unconscious, the astral plane, love as unity, evolution
Mundane: water, imagination, occultism, dreams
Divinations: Life, passing a test, sea of vitality and of the unconscious growth, memory, dreams; or fear, circular motion, avoidance, withering, depression, manipulations, emotional blackmail, lack of moral fiber, fantasy, poison, toxicity
Governs:
Transpersonal powers
Mastery of emotion in order to shape wyrd
Guidance through difficult initiatory tests, ie. initiation into life
Increase in vitality and life force
Communication between your conscious mind to another's unconscious mind
Development of 'second sight' or prophetic wisdom
All powers of dreaming (lucid dreams, astral projection)
Your Daily Influences for Thursday, 
Tarot Influence
Eight of Coins
A time to learn the ways of an occupation. A viable venture may be beginning. Handling worldly affairs skillfully.
Astrological Influence
Cancer Reversed
Cancer reversed denotes a lack of creative energy and disregard for home-life
Element Influence
Water Reversed
Water reversed denotes secrets to which you are not privy. Approach all ventures with caution.
Your Animal Spirit for Today
Porcupine
Porcupine has appeared in your reading today to bring a message of innocence and trust. Although Porcupine can throw quills when cornered, he is gentle, loving, and non-aggressive. Is there an area of your life that need Porcupine energy? Have you lost the ability to trust??
Daily Karmic Number
Brace yourself. The number 3 as it appears for you today signals that your spirit guides are close by, eager to help you with your needs. You have been on a path of taking care of yourself and your efforts are being rewarded. They have always been there, but you are in a position to sense them more now. Ask them for help with anything. Your mind, body, and spirit are integrated into a seamless unit. You are one with the Universe. Let the Universe benefit you as you send out your own positive energy.
Your Daily Charm
Today's Meaning:
A course of events that cannot be altered has been set in motion within this aspect. Accept whatever happens in the near future and do not waste your time fretting about it–you can do nothing.
General Description:
This was a favorite charm in Egypt, worn in order to frustrate magicians, sorcerers and evil wishers from bewitching the wearer and stealing the soul from the heart; for it was the general belief that if the soul left the heart, the body would soon fade away and perish. The ancient Egyptians also believed that, after death, the heart was taken, in the underworld, and weighed against the symbols of the law; if found perfect, it was restored to the body, which at once came to life again and enjoyed everlasting felicity.
Crack the Cookie
The Wisdom of Buddha
All that we are is the result of what we have thought. If a man speaks or acts with an evil thought, pain follows him. If a man speaks or acts with a pure thought, happiness follows him, like a shadow that never leaves him.
A Little Humor for Your Day
You Might be a Redneck Pagan If…
If any part of your invocation of the South Quarter includes any lines from any song by Lynard Skynard….
If chewing tobacco is considered a sacred herb…..
If part of your rite includes throwing shotgun shells on the fire….
If the bell on your alter was ever worn by an animal in a pasture….
If the cakes and wine are done with a bowie-knife, a can of Foster's, and a Little Debbie…..
If they chose their High Priestess at a wet t-shirt contest….
If when your priestess says "Blessed Be" in circle, you respond with "YEEE-HAW!"…
If you believe a pentagram is a Western Union message to 5 people….
If you bought your chalice at the Piggly Wiggly…..
If you buy your incense and candles at Wal-Mart….
If you call the God and Goddess by hollerin' "Hey, y'all! Watch me!"….
If you call the North Quarter, but what you call it is an inner court secret…..
If you can play the "Burning Times" on the banjo….
If you carry your ritual sword in your pickup's gun rack…..
If you found out your familiar is an oppossum — and still ate it……..
If you have combined Maypole Dancing/ Tractor Pull/ Turkey Shoot for Beltane….
If you have cast a love spell on livestock….
If you have ever called the National Enquirer because you raised a potato that resembled the Willendorf Goddess….
If you've ever cancelled a coven meeting to watch Pay-Per-View wrestling on TV….
If you've ever written a spell on the back of a Denny's menu…..
If you have ever refilled your chalice from a keg…..
If you invoke the spirits so that your beer lasts longer…..
If you pray nightly to the god of big tires…..
If you sacrifice BBQ and pork rinds on an alter made of old car hoods….
If you shoot guns into the air when the priestess says, "the circle is open but never unbroken"…
If you smoke Salem cigarettes for the historical significance….
If you think a "family tradition" is a dating club….
If you think the Wiccan Rede is good for making twig furniture….
If you worship the gods of cheap beer and Nascar….
If you've ever done a candle spell for your local high-school football team….
If you've ever harvested ritual herbs with a weed whacker…..
If you've ever meditated to "Dueling Banjos"…..
If you've reached the 3rd Degree but not the third grade……
If your God statue looks a little too much like Elvis Presley…..
If your Goddess picture says "Miss September" at the bottom……
If your Wand of Power is a cattle prod…..
If your altar cloth is vinyl……
If your altar cloth says "Holiday Inn" or "Howard Johnson's"….
If your altar has a spit cup…..
If your altar pentacle is a photo of John Wayne's star on the "Hollywood Walk of Fame"…..
If your annointing oil smells like Old Spice…..
If your athame is by Bowie…..
If your broom has 4 wheel drive and SC plates…..
If your ceremonial chalice says "Budweiser" on it….
If your ceremonial garb consists of cut-offs and a tube-top…..
If your circle dance contains the words "dosey-do"……
If your circle dance is a two-step….
If your coven chose its High Priest at a belching contest….
If your coven's secret names for the God and Goddess are "Cooter" and "Sweet Cheeks"….
If your coven-stead is propped up on cinder blocks…..
If your craft name starts with "Bubba"……
If your familiar can point quail….
If your familiar keeps mice out of the granary…..
If your favorite Great Rite partner is your first, second, and third cousin….
If your backyard ritual libation is brewed in an illegal backyard still……
If your favorite painting of the Goddess does her hair like Rheba McEntire….
If your maiden sweeps the circle with a weed whacker….
If your most sacred altar items include a hubcap, a velvet painting, and a half-empty can of chaw…..
If your outdoor circle has defunct washing machines for quarter altars….
If your pantheon includes Yukon Jack, Jim Beam and the St. Pauli Girl…
If your ritual music has ever included Johnny Cash singing "Ring of Fire"….
If your robes are made out of denim with Harley Davidson patches…..
Well, you might just be a redneck pagan!!
Blue Unicorn, Author
Originally published on Pagan Library
Till tomorrow, my sweets….
Have a very beautiful & blessed day,
Love ya,
Lady A & The WOTC Staff
Remember for all your magickal needs, think Magickal Necessities!