Posted by Eleanor

The Witches Digest for Wednesday, January 10th
(Part 2)
Ready for 2018?
My dear friends, we love you so very much,
Celebrate! You made it through an extremely tumultuous year upon your planet earth! It was a year of extreme movement upon your planet. It was a year of birthing selves and souls. It was a year when everyone and everything came uncorked and love was attempting to flow more freely than ever before.
There was movement in human hearts! No longer can you easily stuff your feelings or keep your words to yourself. There was movement in the electromagnetic field of your planet earth, causing earth changes – earthquakes, fires, floods, and more. There was movement in the spinning and gravitation field of the earth that caused a bit of a wobble as old patterns are being shaken off, making room for new and higher order to emerge.
There is movement in the sense that your soul is rising up within you wanting more than ever before to express and experience the love that you are! There was movement in the masses who left your earth either because they wanted to help in the heavens or they simply didn't want to stick around for these exciting times. It is becoming extremely difficult to remain stagnant upon your earth. As we see it, that is good news indeed!
You may find yourself craving big change. You may find yourself suddenly content where you thought you had to change before. You may find yourself looking around at your life saying, "Who's life is this? Where is my real life?" You may want to clean out and clear out what no longer serves – things, activities, relationships, you name it! You do not want anything inauthentic in your lives anymore. You don't want stuff that represents the "old you." You can no longer deny your own hearts.
As you move into 2018, ask yourself, "Who do I want to be at the end of this year?"
To help you answer that question, ask yourself, "How would I like my life to look at the end of 2018?"
Then ask, "What kind of person has that life? How do they act? How do they speak? How do they treat others? How do they treat their finances, their stuff? How do they treat themselves?"
Resolve then, to BE the person you want to BECOME, because who you are BEing now will dictate what COMES to you in the future.
If you are BEing a person who experiences an abundant reality no matter what the circumstances around you, then abundance must come!
If you are BEing a person who is grateful for love in every form it is found, then more love must come.
If you are BEing the kind of person who gives generously from your own heart, the ability to give more will come.
If you are BEing the kind of person who receives and acknowledges even the smallest kindness, more gifts will come.
If you are BEing the person who does what you love – art, music, cooking, birdwatching – even in small ways, then larger opportunities will come.
You see dear ones, if you BE the person you want to BEcome, then the reality in your outer world must COME to match your BEing!
Who do you want to be in 2018? Start adjusting your character to embody that reality. Start behaving that way now… and you will soon BE attuning your spirit to the life you truly want to Come!
Happy New Year! Happy New You!! We support all you want to BEcome!
God Bless You! We love you so very much.
— The Angels
Message From Ann
Hi Everyone,
Woo hoo! It was a wild ride this year. I spoke at two conferences, worked full time, visited my family, got shingles, learned to heal myself quickly, deepened my ability to gaze and channel energy, and perhaps most importantly, made huge strides in learning to master my thoughts.
I'm playing with new techniques to help us all quickly shift realities, and am in discussions about possibly being in a documentary within the next year or so! More on that when I know more!
I've scheduled two more classes in Sedona for 2018, and learned that the one in the fall will be live streamed. I was taken out of body to work with the angels in natural disasters, gave a dying friend a "sneak preview" of heaven, and did my utmost to help thousands of people with their life challenges while doing my utmost to maintain my own balance.
So who do I want to be? The angels got me thinking. I want to be a woman who loves unconditionally. I want to be a beacon of light and inspiration. I want to live in balance, be vibrantly healthy, and have time for creativity. I want to surrender so profoundly to Divine love in the gaze that I allow that love to catalyze miracles and transformations for all who wish.
How can I become more of that? I can practice loving even while running errands. I can love those who challenge me more. I can act like a person who values my heath by meal planning and making a point to keep exercising every day. I can surrender more deeply in my gaze practice each night on behalf of those who ask me to send energy. I can imagine I am already the woman I want to be.
I want to finish my website too and resume my writing... Ah now I'm sliding into what I want to do… Who would that woman be whose website is finished and who is a writer once again? How do I become that person now? I can feel it. I can remember what it feels like to write and journal more often. I can imagine myself already there.
When I have had physical challenges I ask myself, "What does it feel like to be a healthy woman?" When I get concerned about money I ask myself, "What does it feel like to be abundant?" When I am flustered with the mountain of work, I ask myself, "What would a calm, collected woman act like?" Then I make myself BE that woman, right her, right now. Sure enough, the outer reality around me begins to readjust!
Here are a few tips to help you BE the person you want to BEcome:
1. Fake it till you make it…
If you had the perfect relationship, a full bank account, and lived joyously, how would you act? Would you be more gracious, more confident? Would you try on clothes you can't even look at now? Would you do something you've put off. Would you declutter your closets because you know you could get more if you miss something you gave away? Would you be gracious and loving because you feel loved? Would you walk with your head held high and speak more strongly? Be that man or woman now.
2. Seek out role models
Seek out people who have what you want already, ones you can admire. Study them. How do they act? What do they believe? What resonates with you as authentic. Learn from your role models.
3. Try out the situations you long for…
Maybe if you had the money you want you'd buy a nice house. Go look at houses. Maybe if you were loved you'd be more confident? Do what you would do if you were confident! Maybe if you were organized you'd have nice closets. Go to an organizational store or website and get ideas. Maybe if you were healthy you'd engage in activities you can't quite now. Imagine every day that you are. You can always dance in your own mind. And when you do you send your body healthy signals that say, "Yes I can!"
I have a little mantra for next year…
No more waiting.
Start Creating.
Dreams come True
in 2018!
They will… if we all chose to BE who we want to BEcome!
Love you all!
Ann
Your Astrology of the Day for Wednesday, January 10th
The Moon is in Scorpio.

The Moon is waning

 and in its 

Last Quarter

 phase.
The 

Last Quarter Moon

 occurred on the 8th and the New Moon will occur on January 16th.
Mercury ends its post-retrograde shadow today.
Today's Love Horoscopes
FOR WEDNESDAY, JAN 10TH, 2018
General Horoscope
The cosmic plot veers off course today as complicated aspects open portals to other levels of reality. Romantic relationships are entangled with unexpressed assumptions and expectations. Financial pressures highlight uncomfortable dynamics that must be addressed. Although we might find ourselves entrenched in a discussion about a difficult topic, the transformational Scorpio Moon requires us to stick with it until the energy feels resolved.
Aries Horoscope 
MAR 21 – APR 19
You're not sure which way to turn because there are too many variables in the equation. Perhaps you thought that everything would fall into place, but instead, those things that were already handled yesterday may need additional attention today. The good news is that you have greater freedom of movement now, which is something you like. Nevertheless, if your behavior is too drastic your friends may abandon the ship before you actually need their help. Wield your power lightly for the best results.
Taurus Horoscope 
APR 20 – MAY 20
You may be caught up in a net of fantastic illusions today, but they are so convincing that you can't discern your dreams from reality. Just as you start to make progress and think you have a handle on your world, something might go awry. But it's hard to tell whether your concern is justified now. Many people would take this uncertainty in stride, but you are not happy when your senses are unreliable. Instead of working yourself into a state of anxiety, rest assured you'll be back in the real world tomorrow.
Gemini Horoscope 
MAY 21 – JUN 20
You are not ready to set aside unrealized personal goals in order to concentrate on growing responsibilities. But you're getting tired of fighting against the inevitable, especially if others are expecting you to show up and do your fair share of the work. Fortunately, you can turn this into a win-win situation once you realize that you don't have to shut down your fantasy world to be a success in the real world. Meeting your obligations gives you a foundation from which to grow into the person of your dreams.
Cancer Horoscope 
JUN 21 – JUL 22
You could be fighting an uphill battle today as you try to keep your attention on the present moment. But each time you settle into a relaxing state of mind, you drift off into the future where your dreams have already come true. Ironically, you have more potential than ever to achieve the success you imagine, but it requires you to put in a one-hundred-and-ten percent effort on whatever you're doing now. You must decide if you will be satisfied living in your fantasies or if you want to manifest them in your real life. Anything is possible once you realize that the choice is yours.
Leo Horoscope 
JUL 23 – AUG 22
You might feel stuck in a routine that is limiting your true expression of happiness. Although there may be many reasons to keep you in your present situation, you're not as trapped as you think. You have a choice to make today that will influence your future. You can resign yourself to your fate, suppress your frustration, grit your teeth and get back to work. Or, you can joyfully fulfill your commitments while imagining your perfect life and all the steps required to make it happen. You're not restrained by your circumstances, only by your thoughts.
Virgo Horoscope 
AUG 23 – SEP 22
You are torn between being the practical person others think you are or shocking your friends with your wildest dreams. You long to live a life where you can show up as you are, rather than as you're supposed to be. Nevertheless, there is a vast gulf between your inner and outer worlds now. Fortunately, your adaptable nature allows you to keep one foot in each of them. Don't worry about bridging the gap yet; your chance to do that will come. It may take a while to see progress, but your future self will thank you for feeding your dreams with the attention they deserve.
Libra Horoscope 
SEP 23 – OCT 22
You may appear to be supportive as ever to those around you. You can put on a happy face and move through your day without stirring any suspicion that something is awry. Meanwhile, you are fed up with others who aren't as nice to you as you are to them. Instead of amplifying your unexpressed annoyance or anger, honor your inner voice. Explore your desires for a more balanced life and paint mental pictures of what that might look like. Harboring your fantasies is not an escape. Instead, you are setting the stage for the next act in your play.
Scorpio Horoscope 
OCT 23 – NOV 21
You could be so attuned to your emotions today that they flow into your environment without having to say a word. Those close to you will probably know what you are feeling, but just in case they are in denial, you tell them in no uncertain terms. You're not one to sugarcoat your message; for you, it's either all or nothing. Nevertheless, speaking your piece while being kind doesn't cost anything extra, plus it improves your chances of resolving an existing problem and getting what you want. Linda Poindexter wrote, "Never mince words, for everyone deserves the whole truth."
Sagittarius Horoscope 
NOV 22 – DEC 21
Your creativity might not be obvious to anyone else today, but that's fine with you. You're not seeking attention now because you have important goals to focus on. Your innovative approach to tasks as mundane as finances will probably meet resistance and you don't want to waste time defending your strategy. Your unorthodox ideas confuse others and their advice won't be constructive. Plus, it's better to show your work once it's further along. J.R.R. Tolkien wrote, "Go not to the Elves for counsel, for they will say both no and yes."
Capricorn Horoscope 
DEC 22 – JAN 19
The weight of the recent cosmic shift may finally be dawning on you. Your drive to make an impact on your world is not just a fleeting thought. Your desire to reexamine your goals, establish priorities and achieve success is part of the new you. But today might bring you a very short holiday that encourages you to temporarily set aside your real-world ambitions. Cut the ties to rational thought. Do something just for the fun of it. Ultimately, a brief escape now is not wasted energy. Jaime Lyn Beatty wrote, "Jobs fill your pocket, adventures fill your soul."
Aquarius Horoscope 
JAN 20 – FEB 18
You are not one to be trifled with at work today. In fact, if someone gets on your case now, they might wish they never disturbed the hornet's nest. Unfortunately, you may not possess as much self-control as you wish, especially if a sensitive button is pushed. It doesn't matter if the offender is a friend or your boss; your emotional rant will send them packing. Thankfully, there is a comfortable halfway point if you are cognizant of your feelings. Your response doesn't need to be an all-or-nothing one. Gandhi said, "In a gentle way, you can shake the world."
Pisces Horoscope 
FEB 19 – MAR 20
You are at home in the cosmos today while the planets draw your attention to your all-too-familiar dream world. Fortunately, you have little problem loosening your ties to logic as you drift through the distant reaches of inner-galactic space. Your imagination is the source of your creative power, and this is a chance to recharge your batteries. Don't stop to explain your process to others now unless you can do it in a few words. The less distracted you are from your visit to the magical realms, the more inspired you will be upon your return.
Part of the Daily Insight Group ©2018
Your Daily Horoscopes for Wednesday, January 10th
Aries
The Moon spends the day in your intimacy sector, dear Aries, and you feel the need to connect more deeply to your innermost feelings, to a person, or to a project. It's a time of the lunar cycle for pouring concentrated energy into something relevant or meaningful to you. You're in a particularly good position to see a project or relationship more clearly today. You're likely to get news on a matter that pushes things forward after a long wait.
Taurus
This can be a particularly relationship-focused day for you, Taurus, and those things that have come out of balance can be set right, as you see them more clearly. You are inclined to seek out harmony and peace now, and you'll go to great lengths to achieve these things. This is also a time for catching up on matters related to loans, debts, and relationships, as new information comes in or blocks are released. Thinking is clear.
Gemini
You're inclined to want to put things into order today, dear Gemini. It's a good time to deal with the details of your plans or the daily routines that keep your life in smooth working order! Also today, there is good energy for seeing a relationship matter more clearly. You may get word or a clear sign that things are moving forward now. Conversations can also clear the air or bring better definition to current affairs in your life.
Cancer
This is a good time to feel confident about your plans or to have a sense that things are moving forward, dear Cancer. Decisions that were a long time coming might be made now with a clearer mind or all the right information. Delays on a matter, mainly related to work or health, may finally lift. The Moon spends the day in your fun and creativity zone, however, and this transit encourages a playful approach to the day. You're in an excellent position to create something unique or simply to enjoy some extra leisure time. You're likely to feel more decided than usual now.
Leo
You're taking your duties and chores a little more seriously today, dear Leo, making it quite excellent for straightening out an area of your life that needs attention or for setting goals for health and wellness. Today's thinking is unusually clear and realistic, and a matter related to fun, romance, or children may be clarified. Decisions feel easier to make than usual now. The Moon spends the day in your home and family sector, and this inclines you to play it safe and familiar, in a good way!
You're in a good position to harmonize with someone special or to feel good about your relationship choices or situation, dear Virgo. You're also communicating exceptionally well now, and thinking on a home or family matter is much brighter or clearer than it has been. In fact, you may finally have the information you need to make an informed decision, or an endeavor moves forward, and you no longer feel stuck in a place of limbo. This is also an excellent day for clarifying or defining your feelings about a person or project.
Libra 
The Moon in your resources sector all day can have the effect of steadying you and your emotions, dear Libra. You're in a good position to see your life in a clear, realistic way, and this is especially the case when it comes to money, resources, talents, capability, family, and home affairs. A communication block or a delay is likely to lift, and this may involve communications or transportation equipment as Mercury returns to its position in the zodiac where it turned retrograde back in early December. You may be working with more information that aids decision-making now.
Scorpio
The Moon entered your sign yesterday and spends the day in Scorpio today, dear Scorpio, and this can serve to excite your emotions and senses. You tend to play things by ear today, and you're more inclined than usual to trust your intuition. Even so, there is some serious energy surrounding your projects, interests, or studies today, and this may mean you have a conversation that helps you define things or aids in decision-making. Your thinking is practical and realistic today. Finances or a business matter are likely to move forward after a delay or a period of uncertainty.
Sagittarius
The Moon spends the day in your privacy sector, and you need a break from the usual, dear Sagittarius. This can be an anonymous time in some manner – you're operating under the radar, and this is good for you at this point in the lunar cycle. Activities that refresh and heal are the most satisfying and useful right now. Even so, today is excellent for your practical affairs, especially for seeing the true value of things. Your judgment with money is particularly sound.
Capricorn
The Moon spends the day in your friends and wishes zone, dear Capricorn. While the day holds lighter astrological traffic than the past several days overall, you're still in a good position to connect with others and with your own needs, desires, and wishes. This is a particularly good time for seeing yourself and your capabilities more clearly. Judgment is excellent now, and others tend to find you valuable and mature.
Aquarius
The Moon spends the day at the top of your solar chart, dear Aquarius, and it's a more visible time of the lunar month for you. Even so, generally speaking, you're in a more retiring or quiet, low-key mood as you gear up for your new birthday year. Today feels a little lighter than recent days, but you're taking something quite seriously nevertheless. In fact, it's an excellent time to set goals and make plans, as your vision is crystal clear.
Pisces
The Moon spends the day in your sector of growth, spirit, and expansion, dear Pisces, and you're in an excellent mood for gaining perspective on your life. You're not inclined to worry too much about the details or practical side of your life just for now, and instead, you think about the bigger picture, which is helpful. Today is particularly strong for seeing matters clearly, particularly those related to long-term goals, career, and education.
Source
If You Were Born Today, January 10th
You are exceptionally hard working, organized, intelligent, and efficient. Some of you can be accused of being workaholics, and sometimes this comes from a fear of being poor or needy. You are a friendly person and you carry yourself especially well so that others easily and readily respect you. People generally appreciate your straightforward approach to life, as well as your practical and sound mind. You don't always make a lot of fuss, but your personal presence is undeniable. Famous people born today: Rod Stewart, Linda Lovelace, Pat Benatar, Ronnie Hawkins, George Foreman. 
Your Birthday Year Forecast:
With the Sun and Moon in harmony in your Solar Return chart, the year ahead should be satisfying and balanced overall. You are in comfortable demand and personally popular, and you are able to achieve a decent balance between work and play; personal and professional life. For the most part, you are on top of your game this year, and positive connections with others can be made fairly easily. With the ability to handle your emotions successfully, there is less stress on both your mind and body. Your self-confidence and positive attitude will reward you!
Transiting Pluto transits in conjunction with your Sun this year, marking a period in which you are redefining your basic personality and life path. Your personal goals come up for evaluation, and you may find that you are becoming a "new" person in many ways. There may be some event that leads you to uncover a stronger "you." Frustrations on the job or in your personal life are likely to enforce some kind of positive change. This is an extremely creative and dynamic period in your life when you should expect to make some significant changes in your life. Some struggles are more than likely as you forge a new identity and life path. Something has to change, and change it will! Your best bet is to avoid resisting change, simply because resistance tends to attract chaos.
Jupiter transits in harmony with your Sun this year, and you have a stronger than usual desire to improve, grow, and learn. This is a fortunate aspect that helps boost optimism and confidence, and you are able to attract fortunate circumstances into your life as a result. Problems are easier to resolve. Matters related to universities, higher education, organized religion, publishing, legal affairs, and foreign interests can be especially strong. It's a strong time to further your education. You are likely to enjoy a larger perspective on matters that keeps you from getting lost in details or overly frustrated by everyday stresses.
You have tremendous enterprising spirit this year, attracting strong opportunities on both professional and personal levels. You are able to see the "big picture", which helps you plan effectively. You have significantly more courage and gumption, making the year ahead a standout one in which you are ready to try new things and take on challenges.
You're also quite driven to make improvements and effect positive change in the year ahead. This positively impacts many areas of your life beyond the personal, including relationships and work.
This can be a good time for updating your electronics and technology in ways that open up new avenues for communication or ease. Wonderfully creative ideas can fill your head this year.
You have a stronger than usual desire to improve and learn this year, with opportunities emerging to match. Optimism and confidence are with you, and you are able to attract fortunate circumstances into your life as a result. Problems are easier to resolve this year. Your social life will likely increase and bring you in contact with helpful people. Travel opportunities are likely. Pinnacle successes can occur during this period – for example, publishing an important project, graduating, marrying, having a child, getting a promotion, and so forth. Matters related to universities, higher education, organized religion, publishing, legal affairs, and foreign interests proceed smoothly. It's a good time to seek out advanced training or to further your education. You are likely to enjoy good humor, optimism, and a larger perspective on matters that keeps you from getting lost in details or overly frustrated by everyday stresses and strains.
Personal magnetism is tremendous this year. You are playfully competitive and might win a major competition, if applicable. This is a good period for creative projects and joining with others in the pursuit of a common goal.
This can be a year in which you are bolder, more assertive, and energetic. You are especially interested in setting goals and challenges for yourself this year, and taking the necessary action to meet them. You may meet or interact with others who encourage or inspire you in some way to have more confidence in yourself.
Your passions and enthusiasm run high in the period ahead, and you find it natural to channel this extra energy constructively. This is an excellent year for enterprising endeavors and new interests, but equally as potent for relationships and creativity. You're drawn instinctively to certain projects that have long-term value. It can be an especially creative, tuned-in year for self-expression, not only verbally but through hobbies, games, or sports.
2018 is a Number Four year for you. Ruled by Uranus. This is a year of work and development. It's "nose to the grindstone" time. It's a time to pay special attention to practical matters, and it's not a time to be lazy or especially gregarious. Sometimes, it can be a year that feels hard, monotonous and routine, and/or lonely. Positive new relationships are often not formed in a Four personal year. However, it can be a wonderful year for building, development, and laying a solid foundation for future successes. Advice – get yourself organized, work to build your resources, keep busy.
2019 will be a Number Five year for you. Ruled by Mercury. This is a year of discovery and freedom. It's a time when exploration and reaching out to others brings opportunities. It's a good time to advertise, promote, and sell. Surprises are in store, and the routine is broken for the better. This is a year when exciting relationships can be formed; or, if you are already in a partnership, new life is breathed into the relationship. Advice – explore, look for adventure, keep your eyes open for opportunities, diversify, mingle.
Source

Get A Jump on Tomorrow….
Your Daily Horoscopes for Thursday, January 11th
Aries
Mercury moves to the top of your solar chart early today where it will transit until the last day of the month, dear Aries. This cycle stimulates a lot of mental energy and increased involvement with career, reputation, and goal-setting activities. You already have a lot of planetary action in this area of your solar chart, and Mercury here now can help you make a lot of sense of it all. Communications are a little more studied or guarded during this cycle, and this can be necessarily so as you're taken more seriously than usual. Your thinking is especially goal-oriented and practical under the influence of this transit. There may be decisions to make about your life direction, major life transitions, business, or career path. There is much information to absorb, learn, and take in that will assist you in making choices and furthering your goals, and it makes sense to pay close attention, but going too far with this can lead to fretting. Also today, you're in a good position to uncover a resource you didn't know about or to dig deep and come up with a fabulous strategy. You may be particularly drawn to understanding a relationship, a mystery, or a subject at a deeper level with the Moon meeting Mars in your intimacy sector. This can be a continued good time for success professionally as a bit of competition can motivate you to do your best.
Taurus
Mercury enters your solar ninth house early today, dear Taurus, and will transit this sector of your chart until the 31st. You already have a lot going on in this area, and Mercury brings a need to make sense of everything. You might frequently think about ways to enjoy a change of pace and experiences beyond the ordinary and mundane during this cycle. There is a greater hunger for learning, but not of the rote kind. You want instead to expand your knowledge. This transit stimulates your curiosity, or mental restlessness if you're not feeding your curiosity. You're less interested in details than you are the overall picture, which, of course, can lead to problems from time to time, but it's also excellent as a refresher. Today, the Moon spends another day in your partnership sector, this time activating all the themes you've had in your life in recent days. A partner or special someone can help stir up your enthusiasm and build your confidence. Your desire to unite or pair up is stronger than usual.
Gemini
Mercury enters your solar eighth house early today, dear Gemini, and will influence this area of your chart until the last day of January. Currently, this is a very active area of your solar chart. This transit places further emphasis on your intimate life, mysteries, psychology, investigations, long-term strategies, and an attraction to all that is taboo or hidden. You're looking for deeper meanings or the hidden agenda now. Mercury here helps bring more objectivity and rationality to complicated and deep-rooted emotions and circumstances. Discussions can intensify quickly, yet you can detach yourself from topics enough to keep things rational, logical, and fair. You have a lot of thinking to do in the few weeks ahead, and you may very well engage in some intense talks. Today, the pace is quick but engaging. You feel strongly about getting things done, and while you should avoid rushing things, do take advantage of your motivation to resolve problems and make improvements.
Cancer
Talking and making decisions with a close partner appeals most with Mercury now transiting your partnership sector, dear Cancer. This transit lasts until the 31st and offers up opportunities to learn much through your interactions with others. It also encourages you to look at crucial areas of your life from a different perspective, through the eyes of another. You may experience increased popularity on a mental level or in intellectual circles. This position could also mean others have a lot to say, or a lot of input, in your life at this stage. Today, there is continued daring and spontaneity in your life, primarily related to your relationships. The Moon spends another day in your creative, romantic, expressive solar fifth house, and you have a compelling desire to enjoy yourself now, with plenty of channels to do so.
Leo
Mercury enters your solar sixth house early today, dear Leo, where you already have a strong showing. During this cycle that lasts until the 31st, you are very focused on, or caught up in, the details of your everyday life. You may be dissecting problems, working on solving tricky matters, and finding solutions to practical problems. Although Mercury performs well in this sector of the chart, there can be a little too much in the way of mercurial characteristics now, and this can produce some nervous inclinations, possibly digestive problems, and a tendency to excesses, especially on mental levels (over-thinking and over-analyzing situations). However, it's a great time for putting effort into organizing your work and workspace, and for seeking out information that helps you improve your health, habits, and daily routines. Today brings good and animated energy surrounding family or home life. There can be the desire to rearrange or reorganize your setup or living arrangements in some way.
Virgo
Mercury enters your solar fifth house early today, dear Virgo, and will continue its transit here until January 31st. This is a busy, active area of your solar chart, and Mercury's energies here add a stronger desire to make sense of your feelings. You may be going out on a limb with self-expression, but not so far that it's unnatural. You may be analyzing your love life, verbalizing your affections, or pouring more mental energy into games and creative pursuits. It's easier than usual to get others on board with your ideas and plans, not to mention getting your message across clearly without disclaimers. Today can be particularly active on mental planes. You're more courageous and have a stronger voice now. This can also be a time of great excitement about your ideas, studies, and projects. For some, updating technology or new equipment can open up channels of communication and transportation now.
Libra 
Mercury enters your solar fourth house early today, dear Libra, and will continue to influence this busy area of your chart until January 31st. This transit brings further interest to family, domestic life, support systems, your roots, and the past. Conversations and thoughts more often revolve around these things now. Activity increases in your home for many of you, and this can include work, learning or studying. Today, the Moon continues its transit of your resources sector, meeting Mars and Jupiter there, and stimulating your desire to take action on business or financial matters. Your desire to come out on top is strong and is likely to motivate you to make improvements or go after what you want. You may be moved to defend someone or something now.
Scorpio
Mercury enters your solar third house early today, dear Scorpio, and it will stay in this busy, active area of your chart until the 31st. This extends and ramps up a theme of a mentally busy time when you're inclined to do a lot of connecting, calling, writing, and sharing. This can be a good time for picking up all sorts of information, although it's not an ideal time for in-depth study. Frequent outings and short trips can figure strongly now. You have a greater need for movement and variety. There can be more fluency when writing and speaking. You're putting out feelers and learning a lot of diverse but useful things this month. Today, you are eager to handle a matter or take action that gets results. You are taking the lead and embracing your feelings and desires bravely. Your enterprising spirit is in full force today, and you're inclined to attract quite a bit of attention.
Sagittarius
Mercury enters your solar second house early today, dear Sagittarius, where you already have a lot of activity. This cycle lasts until the last day of January, and during it, your thinking often centers around practical affairs and matters of security and comfort. It's a great time for focusing on priorities as you are less likely to be distracted. In fact, this is an excellent cycle for focus, deliberation, and concentration. You are drawn more to concrete facts and certainties than dreams and visions just for now. This simplifies your life on some levels, although you could be missing critical spiritual considerations when making decisions and drawing conclusions. Today, the Moon spends another day in your privacy sector, and your imagination is powerful and very active as the Moon aligns with Mars and Jupiter. Emotionally speaking, you tend to want to withdraw or to be in your own little world.
Capricorn
Mercury moves into your sign today, dear Capricorn, and will stay in Capricorn until the last day of January. You more readily express your ideas and talk about yourself or your plans during this cycle. You are communicating your personal experiences more often, and your thoughts and opinions tend to be more interesting to others. However, you're also making your choices and decisions independently, seldom bouncing ideas off others. You might benefit from doing some self-teaching during this period. In fact, you may not find it easy to listen to others these days, and reading or investigating on your own can be the best use of your time during this cycle. Today, continued good energy is with you for pursuing a dream or enjoying friendships. Be open and willing to look at matters from an honest and positive perspective today.
Aquarius
Mercury moves into your solar twelfth house early today, dear Aquarius and will transit there until the last day of the month. You've had a lot of activity in this area of your chart, and now Mercury can help you sort everything out. While this can be a cycle of limbo when it comes to certain decisions, this is a good time for reflection. Your thoughts might often turn to the past when you seek answers to current problems, or even when your mind is merely drifting. Sorting through recent experiences is likely. Ideas are in fact in the developmental stage, and you intuitively sense that you shouldn't share them until they–and you–are ready. Today, you continue to feel more ambitious or driven. You are bound to bring out strong feelings and reactions in others whether or not you intend to. You quite naturally take the lead or act independently today.
Pisces
Mercury moves into your solar eleventh house today, dear Pisces, where it will transit until the last day of January. You already have a significant showing of cosmic activity in this area of your chart, and Mercury's appearance here brings more attention to teams, friendships, networking, groups, community, and causes, particularly on mental levels. It also serves to extend the whole theme a little longer, as the Sun and Venus will leave this sector in about a week and Mercury will stay until the 31st. This is an inventive period for ideas, although it's not always the most practical time. You are particularly interested in enjoying yourself, fulfilling happiness goals, making contact, and reaching out to like-minded people. Group activities and friendships can be more involving. You're likely to keep abreast of current affairs and the goings-on with friends or in your community and networks. Feedback from others or your own explorations of others' work and activities may inspire you. Today brings continued energy for competitive play as well as for exploring new ideas and subjects.
Source
Astrology: It's Elementary
Learn about Astrology elements Fire, Earth, Air and Water
---
Seeing the world in terms of elements is a tradition that goes back thousands of years throughout many cultures. The elements represent the basic principles of life, and different systems have delineated the elements in various ways. Western Astrology uses four elements — Fire, Earth, Air and Water — and each of the 12 zodiac signs falls into one of these categories. (Chinese Astrology and Feng Shui, on the other hand, work with five elements: Wood, Fire, Earth, Metal and Water.)
In your birth chart, the elements represent your fundamental qualities and temperament — the "stuff" you are made of. The element of your Sun sign will certainly be a big part of who you are, but it's the whole chart — the Moon, Ascendant and other planets — that reveals your elemental emphasis.
While all four elements come into play to some degree for each individual, often two are predominant, while the other two require more effort to express.
For example, let's say an individual has an elemental emphasis in Earth and Air. This person might be very adept at taking care of pragmatic, material-world tasks (Earth) and have a gift for thinking logically and viewing situations objectively (Air). However, she might find it challenging to get in touch with and feel her emotions (Water) and could struggle with summoning the initiative and courage to take action (Fire).
Because all four elements are necessary to live a balanced and fulfilling life, we are compelled to compensate for those elements we are naturally lacking in our birth chart. We often attract people into our lives who are strong in our weak elements, and vice versa. Of course, these partnerships work out best when, instead of relying on the other person to make up for what we're lacking, we learn to develop these qualities, inspired by the other person's example.
Just by understanding one's elemental make-up you can learn a lot about a person. If you only know your (or someone else's) Sun sign, that's an excellent place to start. Even without knowing the rest of your birth chart, you'll probably have a sense of which elements are stronger or weaker for you. As you'll see, no element is "good" or "bad" in itself — they are neutral energies that can be expressed in positive or negative ways, depending on an individual's level of awareness.
Fire signs: Aries, Leo, Sagittarius
Fire has traditionally been associated with Spirit — the primal force of animation. Fire represents the desire for life, the will to be and become. It's no mistake that a Fire sign — Aries — launches the cycle of the Zodiac, as Fire signs often embody leadership, initiative and courage. People with a fiery emphasis tend to be impulsive, spontaneous, creative and enthusiastic. Ideally, Fire signs serve as an inspiration to others, stimulating creative action based on high ideals.
When negatively expressed, there can be an over-emphasis on self-expression without consideration for others' feelings, resulting in selfishness, egotism or fanaticism. Fire can "burn itself out" when it lacks a practical outlet for its high-voltage energy. If someone is lacking in Fire, they may need to cultivate self-confidence, vitality, courage and passion.
Earth signs: Taurus, Virgo, Capricorn
Earth represents manifestation in the physical world. With their feet firmly planted on terra firma, Earth people are the builders and producers of the zodiac, possessing the gift of bringing dreams into reality. Earth signs provide the physical necessities of life and establish structures and systems to increase security and comfort. Pragmatism, endurance, ambition and sensuality are typical Earth-sign qualities.
In its negative expression, an unbalanced Earth emphasis can lead to materialism, greed, over-indulgence, stagnation and fear. The Earth signs get in trouble when they forget that there is more to life than the five senses, and that the inner world is as "real" as the physical plane. People lacking in Earth may have to work hard at bringing their ideas into form and dealing with the everyday tasks of life.
Air signs: Gemini, Libra, Aquarius
Air signifies the mind and communication. Individuals with an airy emphasis are the connectors of the zodiac, linking up diverse people with each other and with new ideas and information. Air signs are typically intellectual, objective, curious, socially-oriented, cooperative and communicative. Air signs bring the gift of detachment and perspective — the ability to step back from a situation and see it from different points of view, with neutrality.
When negatively expressed, Air signs take impartiality to the extreme and become cold and aloof. There can also be the "all talk, no action" phenomenon — a lot of words without meaning or substance to back them up. When Air is lacking in a person's chart, they are challenged to develop a greater awareness of other people's perceptions and the ability to think logically.
Water signs: Cancer, Scorpio, Pisces
Water, representing the realm of emotions, is perhaps the least understood element. Watery individuals are the feelers of the zodiac — a role that is generally not held in high regard in our contemporary culture. Extremely sensitive to their environment, Water signs are in touch not only with their own deep feelings, but with everyone else's as well, and may even be psychic. Typical Water signs are intuitive, nurturing, compassionate, resourceful, creative and imaginative.
The down side to this sensitivity is the potential for absorbing other people's emotions to the point of feeling overwhelmed — this is why Water people need time alone to recharge. Excess Water in a person's chart can also lead to emotional over-reaction, paranoia and escapism. People lacking in Water may have a hard time accessing their emotions, and be insensitive to others' feelings. They are learning to develop compassion and intuition.
Part of the Daily Insight Group ©2018
Daily Tarot Card for the Day
The Lovers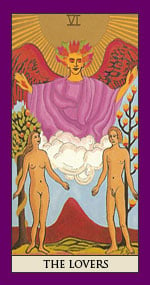 Keywords: choice, decision, love, communication, inspiration (ideas from above)!
Astrological Correspondence: Gemini
The Lovers card is representative not only of crucial life choices, but also of lovers, couples, and other partnerships, like business partners, siblings, and friends. The angel between a woman and a man, depicted on this card, symbolizes the struggle of deciding to follow one's heart versus one's temptation or obligation. The Lovers card symbolizes the choices that must be made to progress toward higher self-awareness; choices also reflect emotional values, indecisiveness, hesitation, and our fears about making wrong choices. This applies not only to love relationships – it is applicable to any relationship in which people are drawn together, even a casual one. It's the card of uncertainty!
Daily Love Tarot for the Day
The Emperor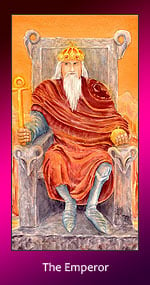 The Emperor card has selected you to let you know that you sow seeds of better things and more fulfilling times ahead. Give yourself permission to reach out for more, especially if you are dissatisfied. You create a solid foundation, built on a sense of higher purpose. If your current relationship suffers from stress, today let tender actions reveal what you may be unable to put into words. Rebuild, from the ground up.

Your Daily Erotic Tarot
The Judgement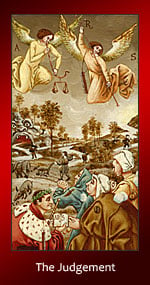 The Judgement card indicates that you've had some sexual hang-ups in the past, but you're working toward getting over them. This is a period of transition, and although you're doing the work, you may not be getting the exact results you desire. Forgive yourself for past missteps in order to take a sexual step forward today. Being afraid to express your true erotic self can even effect other areas of your life, so getting beyond your sexual inhibitions translates into a happier overall existence.
Your Daily Rune for Today
Hagalaz
"Hag-all-az" – Literally: "Hail" or "Hailstone" – Esoteric: Crisis or Radical Change
Key Concepts: hailstones, crisis and catastrophe, disruption, radical change, destructive elements of nature, severe weather, the uncontrollable, unavoidable unpleasantness, Jungian shadow, psychoanalysis, regression, acceptance of the unalterable
Psi: disruption, change, personal past

Energy: power beyond human ability to harness, perfect pattern, seed formation, objective confrontation, destructive natural forces, chaos
Mundane: bad weather, obstacles, surprises, shelter
Divinations: Change according to ideals, changes for the long-term good, controlled crisis, corrections, completion, inner harmony; or catastrophe, crisis, stagnation, loss of power, loss of property, short-term disappointment, victim-consciousness, obsession with the past, blame.
Governs:
Completeness and balance of power, integration of unconscious shadow elements
The inevitability of Fate, Wyrd, Orlog
Evolutionary progress and operations of becoming
The outworking of a perfect pattern
Protection through banishing or exorcising disharmonious patterns, protection
Awareness of the unconscious ideas for eventual processing
Causing discomfort in others by awakening their own subconscious 'garbage'
Your Daily Influences for, JAN 10TH, 2018
Tarot Influence
Six of Coins
Material gain, charity and justice are at the forefront. That which is earned will be given.
Astrological Influence
Gemini Reversed
Gemini reversed denotes vacillation. Decisions are not made, because all side of the issue pull with the same strength.
Element Influence
Air
Air denotes freedom and the ability to transcent the mundane. You may be, or may soon experience a spiritual or secular liberation.
Your Animal Spirit for Today

The Words of Confucius
It does not matter how slowly you go as long as you do not stop.
Remember for all your magickal needs, think Magickal Necessities

$14.95 Journal Sale