The Witches Digest for Friday, September 8th
As we begin this day, I would ask you to remember our brothers & sisters in Florida and Texas. Keep them all in your thoughts & prayers in the days ahead.
We will be bright and fierce
Like the flame that burns
In the candle hot
We will be strong and grounded
Like the tumbled stone
That once was earth
We will be flexible and resilient
Like the water that flows
Always to return
We will be the essence of potential
Like the seed that waits
And grows when needed
We will endure
We will survive
We will triumph
And rise like the Phoenix
At the dawn of another day
With the help of the Gods
And our own determination
We will endure
And rise like the Phoenix.
So Mote It Be
—Everyday Witch A to Z Spellbook: Wonderfully Witchy Blessings, Charms & Spells
Deborah Blake
Your Daily Sun & Moon Data for Friday, September 8th
The Sun
Sun Direction: ↑ 95.84° E
Sun Altitude: 16.78°
Sun Distance: 93.639 million mi
Next Equinox: Sep 22, 2017 3:01 pm (Autumnal)
Sunrise Today: 6:31 am↑ 82° East
Sunset Today: 7:12 pm↑ 277° West
Length of Daylight: 12 hours, 41 minutes
The Moon
Moon Direction: ↑ 265.38° W
Moon Altitude: 8.35°
Moon Distance: 234092 mi
Next New Moon: Sep 20, 201712:29 am
Next Full Moon: Oct 5, 20171:40 pm
Next Moonset: Today8:48 am
Current Moon Phase: Waning Gibbous
Illumination: 94.0%
Lunar Calendar
Moon Phase Tonight: Waning Gibbous
Third Quarter: Sep 13, 2017 at 1:24 am
(Next Phase)
Full Moon: Sep 6, 2017 at 2:02 am
(Previous Phase)
Source
Your Astrology for Friday, September 8th
The Moon is in Aries.
The Moon is waning and in its Full phase.
The Full Moon occurred on the 6th in the sign of Pisces, and the Last Quarter Moon will occur on September 13th.
Mercury is in its post-retrograde shadow until September 19th.
Moon in Aries
We're motivated by a strong desire to start fresh. A gut instinct to start something new is with us now, as well as the gumption to do so. Our pioneering impulses are strong, and we feel energetic, spontaneous, and enthusiastic. We may also be tactless and impulsive now. Excess energy is best channeled into physical activity.
The Moon in Aries generally favors the following activities: Quick actions that yield immediate results. Undertakings that involve the self and the personality. (Staying power may be lacking). Self-assertion, taking on challenges, beginning short-term projects.
The Sky This Week for September 8 to 10
An asteroid passing by Earth, Neptune at peak visibility, and other amazing things to look for in the sky this week.
Friday, September 8
Although Saturn reached opposition nearly three months ago, it remains a tempting target in the evening sky. The ringed world stands some 25° high in the south-southwest as twilight fades to darkness and doesn't dip below the horizon until midnight local daylight time. Saturn shines at magnitude 0.4 against the backdrop of southern Ophiuchus, a constellation whose brightest star glows six times fainter than the planet. When viewed through a telescope, Saturn's globe measures 17″ across while its spectacular ring system spans 38″ and tilts 27° to our line of sight.
Saturday, September 9
The constellations Ursa Major the Great Bear and Cassiopeia the Queen lie on opposite sides of the North Celestial Pole, so they appear to pivot around the North Star (Polaris) throughout the course of the night and the year. In late August and early September, these two constellations appear equally high as darkness falls. You can find Ursa Major and its prominent asterism, the Big Dipper, about 30° above the northwestern horizon. Cassiopeia's familiar W-shape, which currently lies on its side, appears the same height above the northeastern horizon. As the night progresses, Cassiopeia climbs above Polaris while the Big Dipper swings below.
Sunday, September 10
A week ago, Mercury was a binocular object low in the east during morning twilight. It now appears much more conspicuous — shining at magnitude –0.1 and climbing 10° high 30 minutes before sunrise. This morning, the innermost planet passes 0.6° due south of the 1st-magnitude star Regulus, while ruddy Mars stands 3° to the pair's lower left. All three objects show up nicely in a single binocular field.
Source
Just When You Thought We Were Through Talking About the Eclipse of 2017…..
Donate your used eclipse glasses!
by Nicole Kiefert
Maybe you were one of the people scrambling at the last minute to find eclipse glasses for the Great American Eclipse on August 21, or maybe you were prepared and preordered your glasses.
But now that the eclipse has come and gone, are you wondering what to do with that coveted protective eyewear?
An eclipse is coming to South America and Asia in 2019 and now Astronomers Without Borders, along with their corporate partner Explore Scientific, is collecting those used eclipse glasses to donate to schools so children can safely view the eclipse.
Every pair of glasses donated will be inspected thoroughly to make sure they are not damaged or fake and meet safety certifications.
To find out more about the donations and where you can send them, visit the Astronomers Without Borders website.
Source
Today Is Friday, September 8th
Friday is the day of Venus. It takes it name from Frigg, the Goddess of love and transformation. She rules the spiritual side of a person that manifests in the physical. Because of this, Friday is often thought of as dangerously unpredictable. This is expressed in an old East Anglian adage:
Friday's day will have its trick
The fairest or foulest day of the week.
Deity: Frigg
Zodiac Sign: Taurus/Libra
Planet: Venus
Tree: Apple
Herb: Vervain
Stone: Sapphire/Chrsolite
Animal: Bull/Serpent
Element: Earth
Color: Yellow/Violet
Number: 7
Rune: Peorth(P)
Celtic Tree Month of Muin (Vine) September 2 – September 29
Runic Half-Month of Rad (August 29 – September 12)
Goddess of the Month of Mala (September 6 – October 2)
Reference
The Pagan Book of Days
Nigel Pennick
On Friday, September 8th, We Honor the Goddess Iris
Iris
The Rainbow Goddess
Areas of Influence: Iris Goddess of the rainbow and messenger to the Gods.
As Goddess of the rainbow she joined the human realm to the place of the Gods. She restored calm and balance to the forces of nature after a storm.
She was the handmaiden to Hera and served nectar to the Gods.
She was one of the few Olympians who was able to travel to the underworld. Where It was the rainbow Goddesses job to collect for the swearing solemn oaths.
This Goddess had no specific myths of her own or temples dedicated to her.
Origins and Genealogy: Her father was the Titan Thaumas and her mother was Electra.
The cruel and fearsome Harpies were her sisters.
In some myths she is said to be the mother of the God Eros.
Strengths: Faithful, loyal and a shape – shifter.
Weaknesses: Defined by her role in life. No distant personality
Symbolism
Often depicted as a winged Goddess, holding a pitcher full of nectar.
The Rainbow is her main symbol.
Sacred Plant: The flower the Iris was named after her.
Iris's Archetypes
The Servant:
A Servant is paid to look after other people, performing their menial tasks.
This role can be chosen or enforced as circumstances and issues of self-worth prevent the servant from having the same status as the master.
Shadow Servant fails to be of service to herself. She has no sense of her own powers and abilities, becoming a slave to the social system.
The Greek Goddess of the rainbow was a faithful servant to her mistress Hera and the other Olympian Gods.
The Shape shifter
The Shape Shifter has the ability to change her physical appearance. They are also able to adapt easily to different environments by altering there behaviour.
Shadow Shape Shifter is fickle, lacking conviction and constantly reinventing themselves, like politicians to appeal to more people.
This Goddess uses her ability to Shape Shift when she delivers messages, turning into the image of the sender.
Source
Friday's Conjuring
Friday – is associated with Venus
Candle colors – Green, Red, Blue, White, Purple
Spellwork for the Day: Love, Marriage, Money, Attraction, Luck, Healing, Prosperity, Change, Road Opening work, Bring Peace, Relationships, Power and Success
—Old Style Conjure Wisdoms, Workings and Remedies
Starr Casas
The Magickal Day of Friday
Friday falls at the end of the work week for many of us, and that means we get a chance to relax for a little bit! Mark your Fridays with colors like pink and aqua, and metals such as copper. This is a day ruled by the planet Venus, so it should be no surprise that Venus and Aphrodite – goddesses of love and beauty – are associated with Fridays. This is a day named for the Norse goddess Freyja, so be sure to take a moment to honor her as well.
Gemstones associated with Friday include coral, emerald and rose quartz, and plants like strawberries, apple blossoms and feverfew are also related. This is a good day to do spellwork associated with family life and fertility, sexuality, harmony, friendship, growth. Take advantage of Friday's correspondences and plant a seed, make something grow, and enjoy your blessings
*Note: There are a lot of disputes as to the origins of the word Friday, because there is still a great deal of discussion as to whether it was named for Freyja or Frigga, and whether they were the same deity or two separate ones. Some scholars believe that while they may have eventually become two distinctly different goddesses, they could have had their origins in a single, common Proto-Germanic deity.
Author
Patti Wigington, Paganism/Wicca Expert
Article published on & owned by ThoughtCo
The Witches Guide to Friday
Ruler: Freya, Venus
Colors: Emerald green or pink
Power Hours: Sunrise and the 8th, 16th, and 24th hours following.
Key Words: Love, money, health
It is easy to spot the ruler of this day by its name. In the word Friday, we see the roots of the name of the Norse goddess Freya, a goddess of love and fertility, and the most beautiful and propitious of the goddesses thus the verse "Friday's child is loving and giving."
In Spanish this day of the week is called Viernes and is derived from the goddess Venus. Matters of love, human interaction, the fluidity of communication, sewing and the creation of artistic garments, household improvement, shopping, and party planning all fall under the aspects of Friday and its ruling planet, Venus.
Friday's angels are Ariel/Uriel, Rachiel, and Sachiel. Rachiel also concerns himself with human sexuality and is a presiding spirit of the planet Venus.
On Fridays, the hour of sunrise and every eight hours after that are also ruled by Venus, and that makes these times of the day doubly blessed. These four hours are the strongest four hours for conducting ritual.
Check the local newspaper, astrological calendar, or almanac to determine your local sunrise.
Source
Friday's Witchery
Love magick is a perennial popular topic. However, there is more to this topic than meets the eye. There are many enchanting layers here for us to explore on this day of the week. What about creating a loving home, or producing a loving and nurturing family? What about keeping your intimate relationships vital and on track? How about promoting happy, healthy, and enduring friendships? See, there is more to be considered than just the "You shall be mine…" type of fictional love spell.
Don't forget that many of the deities associated with Fridays are also parents. So, yes, while this is the day to work on romance, sex, and love spells, there is additional magick to be considered here, which makes Fridays a more well-rounded and bigger opportunity for witchery than many folks ever truly realize. The truest, strongest magick always comes from the heart.
Source
Book of Witchery – Spells, Charms & Correspondences For Every Day of the Week
Ellen Dugan,
Magickal Applications for Friday
Fridays are days of loving enchantments and passionate emotions.
See how many ways you could add a little loving enchantment into your life and the lives of your loved ones. If you wish to explore the topic of love and romance witchery even further, then check out my book How to Enchant a Man: Spells to Bewitch, Bedazzle &Beguile. If cat magick has tickled your fancy, then for further study read my book The Enchanted Cat: Feline Fascinations, Spells &Magick.
In the meantime, try sharing red berries with your partner some enchanted evening. Work that meditation, and see what other mysteries Freya has to teach you. Wear a Venus planetary color and call on the Goddess for a little inner sparkle. Burn some floral incense, light up some rosy candles, and set a romantic mood. Try wearing a little copper jewelry, and see how it affects you and your Friday magick. Get those potpourri and philter recipes going, and see what you can conjure up.
Advancing your magickal skills takes drive, ambition, and passion. Work with Eros to discover just how much enthusiasm, inspiration, and drive he can bring into your days, for the imagination is a place where dreams flourish and ideas come to fruition.
Call on these fertile and romantic powers, and create your own unique spells and charms. Just think of all the magickal information that you can now add to your repertoire of witchery. Lastly, remember this: when you combine imagination and a loving heart with magick, you'll succeed every time.
Source
Book of Witchery – Spells, Charms & Correspondences For Every Day of the Week
Ellen Dugan
The Witches Almanac for Friday, September 8th
International Literacy Day
Waning Moon
Moon Phase: Third Quarter
Moon Sign: Aries
Incense: Orchid
Color: Coral
Waning Moon Protection Charm
Items needed:
One tsp. each patchouli, sandalwood, and clove, an incense brazier, self-igniting charcoal, and a small white stone inscribed with the following protection sigil
When the moon is no longer visible, place a piece of charcoal in your brazier and light it. Mix the herbs together and sprinkle them over the glowing coal. As the mixture begins to burn, pass the stone through the smoke, as you chant:
Within this stone I pass my plight,
Banished forever From this night.
Take the stone to the nearest body of moving water. Toss the stone in and walk away.
FRIDAY CORRESPONDENCES
Venus/Water/East/West/South/Dawn/Female/Libra/Taurus
Magickal Intentions: Love, Romance, Marriage, Sexual Matters, Physical Beauty, Friendship and Partnerships, Strangers, Heart
Color: aqua, blue, light blue, brown, green, pale green, magenta, peach, pink, rose, white, all pastels
Number: 5, 6
Metal: copper
Charm: green or white garments, scepter
Stone: alexandrite, amethyst, coral, diamond, emerald, jade, jet, black moonstone, peridot, smoky quartz, tiger's-eye, pink tourmaline
Animal: camel, dove, elephant, goat, horse, pigeon, sparrow
Plant: apple, birch, cherry, clematis, clove, coriander, heather, hemlock, hibiscus, ivy, lotus, moss, myrtle, oats, pepperwort, peppermint, pinecone, quince, raspberry, rose, pink rose, red rose, rose hips, saffron, sage, savin, stephanotis, strawberry, thyme, vanilla, verbena, violet, water lily, yarrow, and all flowers
Incense: ambergris, camphor, mace, musk, myrrh, rose, saffron, sage, sandalwood, sweetgrass, vanilla, violet, all floral scents
Goddess: Aphrodite, Asherah, Baalith, Brigid, Erzulie, Freya (Passionate Queen), Frigg, Gefion, Harbor (Beautiful One), Hestia, Inanna, Ishtar (Lady of Passion and Desire), Lakshmi, Lilith, Mokosh, Nehalennia, Nerthus, Ostara, Pombagira, Sarasvati, Shakti, Shekinah, Sirtur, Al Uzza, Venus (Queen of Pleasure), Vesta
God: Allah, Bacchus, Bes, Cupid, the Dagda, Dionysus, El, Eros (God of Love), Freyr, Frit Ailek, Shukra
Evocation: Agrat Bat Mahalat, Anael, Hagiel, Mokosba, Rasbid, Sachiel, Uriel, Velas
Source
Friday Is Ruled By Venus
Friday belongs to Venus, both the planet and its namesake Roman goddess of love. This day is sacred to many other gods and goddesses of love such as Eros, Venus, Aphrodite, and the Norse goddess that gave the day its name, Freya. This day of the week is for magical topics such as love, birth, fertility, and romance. Colors for today include pink and aqua.
Some suggestions for Friday enchantments would include:
Carrying a rose quartz with you today to send out some gentle and loving vibes to those crabby co-workers
Working a loving Tarot spell to charm a friend's pregnancy with good health and safety
Working a little flower magic to enchant a single pink rose for friendship and inner beauty, and setting it on your desk. Or try empowering a red rose for passion and placing it in your bedroom
Burning rose-scented candles to encourage the same effect. Call on Eros to "bring a passion for life" to your days.
Sharing a romantic snack with your partner. Feed each other ripe, red strawberries. Those strawberries are love-inducing food, and are sacred to many love goddesses, including today's patroness, Freya.
Planetary Correspondences of Venus
Symbols Mirror, girdle, shell
Deity Venus, Aphrodite, Ishtar, Lakshmi, Bast
Archangel Anael
Day Friday
Colors Green, turquoise, luminescent greenish white
Number Seven
Metal Copper Stone Emerald, jade, lapis lazuli, chrysocolla, coral Incense Rose, lilac, violet
Plants Rose, iris, orchid, orris, passion flower, vanilla Trees Apple, cherry, avocado, fig
Animals Lynx, cat, rabbit, dove, sparrow
Venus is the epitome of the feminine mystique, the queen of love and beauty. Venus offers what others cannot, the quality of simple abundance. All of nature responds to Venus and the pleasures she affords. Passion, peace, affection, money, success, and friendships all come under the rule of Venus. Use Venus to arouse the passions of a loved one, create a peaceful environment, acquire money, become successful, and gain new friendships.
The Triple Goddesses – Hecate
The triple Goddess can be found in almost all mythologies. She was at once virgin, mother, and crone; the waxing, full, and waning moon. All that was feminine, enchanting, ripe, and wise. One of the most popular triple goddesses was the Greek Hecate, who reigned over heaven, earth, and the underworld, where she controlled birth, life, and death.
To demonstrate her triple nature, Hecate carried three magick symbols, the key, rope, and dagger. The key unlocked the door to the underworld—opening the way to the mysteries and secrets of knowledge and the afterlife. The rope symbolized the umbilical cord of rebirth and renewal—the connection between humanity and the Goddess. The double edged dagger symbolised her power to cut through delusion.
Hecate was the giver of visions, magick, and regeneration, the guardian at the gates of the underworld. As a guardian, she was associated with crossroads and the ability to see beyond death. This is because when you stand at a crossroads, you can view the past from whence you came, as well as the future, your destination.
INVOCATION OF HECATE
(To ask for Hecate's blessing or help)
Items needed: One large black candle, censer, church charcoal, Hecate incense (three oz. black incense base mixed with one pinch patchouli leaves, one tsp. granulated myrrh, three drops patchouli oil, and three drops jasmine oil), black cloth, altar, chalice of red wine, plate of moon cakes (sugar cookies cut into crescent moons), piece of rope, old fashioned door key, and your athame.
For optimum effectiveness, perform this invocation at a crossroads and as near to midnight as possible. Before the ritual inscribe your name and desire on the black candle. Gather together all the items called for, along with something to serve as an altar, and proceed to the crossroads. Set the altar on top of the crossroads, where all four paths meet.
Arrange the altar with the black candle in the center; the athame front center, the rope right center, the key left center, and the censer center back. Light the charcoal and some incense. Take several deep breaths. Relax. Focus on your desire. When you feel the time is right, light the black candle, pick up the wine and hold it in offering as you invoke Hecate.
Thou who whispers, gentle and strong,
Thou for whom my soul doth long,
By most men you are seldom seen
You are the virgin, mother, and queen.
Through the veil you pass with pride,
I beckon thee now to be at my side, Hecate.
Thou who knows, thou who conceals
Thou who gives birth, thou who feels,
For you are the Goddess and mother of all
Pray thee now— come as I call.
Now through the mist I hear your voice,
I invoke the gracious goddess by choice, Hecate.
Thou who suffers as all men die
Doth with her victim in love lie.
You are the goddess and crone of despair
And with you our ending we must share.
I feel thy passion, I feel thy presence,
I rapture in your vital essence, Hecate.
I pray thee dancer of eternal bliss,
Bestow upon me thy wondrous kiss,
Let now thy light, love, and power
Become as one with me this hour.
For you are the creatress of heaven and Earth
So to my dreams and wishes give birth, Hecate.
Ask for your desire and Hecate's blessing. Drink some of the wine and eat one of the cakes in her honor. Allow the candle to burn for one hour and then extinguish it. Leave a libation of wine and the rest of the cakes on the crossroads. Pack up all your magickal items and leave the area as you found it.
The Witches Current Moon Phase for September 8th
Waning Gibbous
Illumination: 94%
The Moon today is in a Waning Gibbous Phase. This is the first phase after the Full Moon occurs. It lasts roughly 7 days with the Moon's illumination growing smaller each day until the Moon becomes a Last Quarter Moon with a illumination of 50%. The average Moon rise for this phase is between 9am and Midnight depending on the age of the phase. The moon rises later and later each night setting after sunrise in the morning. During this phase the Moon can also be seen in the early morning daylight hours on the western horizon.
Phase Details for – Friday, September 8, 2017
Phase: Waning Gibbous
Illumination: 94%
Moon Age: 17.04 days
Moon Angle: 0.53
Moon Distance: 375,956.36 km
Sun Angle: 0.53
Sun Distance: 150,683,543.87 km
Source
September 2017 Energy Report
Emphasis, Contemplation, REALization, Immense Integration and Increased Reflecting Fractals
September started off showing us what is possible and still existent within. It opened a Gateway for each to SEE and EXPERIENCE the "Result of Consciousness" "faster" now. Continual Convergence has expedited in a magnanimous way.
August was a huge month of integration, a POWERFUL month of activations, veil removal, clearing physical density, re-structuring cellularly & REALities like never before, and this will continue as the constructs of the old crumble, collapse, dissolve, dismantle (intentionally or unconsciously) – INSIDE – for any linear constructs to be replaced with nonlinear, vibrational ones. The more unconscious, the more this appears to happen outside first, while in fact, inside is already doing this and outside is just reflecting this back.
What does this mean? Many things. Mostly that all is vibrational and dictated by feelings, beliefs and thoughts and the only "control" each has, is through inner-connection with/as PURE SOURCE LIGHT and by way of holding PURITY LOVE and UNITY CONSCIOUSNESS as our Core Existence, otherwise there is no "glue" to hold anything together, as the glue is Vibrational ENERGY and deep sacred love and respect now.
Polarities become more vast and extreme, yet how polarity presents is different, based upon the dimension physically occupied. The more unconscious, the more physical all of this is. An unconscious program will play out within a physical reality for as long as there is any energy that keeps it going. The more conscious, the less a physical experience is necessary, because the polarity is visible before the reality is created, therefore, through "Quantum Expanded Consciousness", it's never created to materialize or play out. If it does, then each has the opportUNITY to see it/realize it and stop it, immediately, and shift to a much higher vibration within self and with their whole body, to shift to a different timeline, concluding the old one immediately for activating and anchoring a new one in its place.
On a grander scale, the greatest polarity is the vast difference between physical Heaven on Earth and physical Hell on Earth now, as these are polar opposites as well. Deep into "the Rapture" (Ascension is the same thing, just the 5th Dimensional word instead of the fear based 3rd-dimensional word, yet I use it to make a point here). The lower timelines now play out what was inconceivable before, prophesied, spoken of as "what was to come", providing each an opportUNITY to intentionally choose Physical Body Ascension, which is the Embodiment of each's Soul and eventually OverSoul/Monad here.
Responsive Physical Realities:
To experience Heaven, each must hold PURITY as a way of existing, continually anchoring photonic light/encodements from within, hold the absolute highest state of consciousness and honor this vast evolutionary process of transitioning from all of the old unconscious matrix programs/programmings to RETURN to an existence that is PURE. NEW Earth Heaven becomes visible differently along the way. First in dreams and visions, then holographically, then in all things physical…. for vibrational density-shifting processes are intricate ones, where every molecule, cell and particle of our StarDust/Earthly/Heavenly Bodies are completely re-worked/re-coded, de-densified and raised vibrationally through cosmic photonic frequencies bombarding daily so that each can fully become Conscious to REMEMBER again. Placing responsibility on anything outside for how any of this came to be created is an unconscious program as well.
Separation/Duality plays out in Extremes:
Heaven or Hell, awesome or not awesome, intense or immense, suffering or ease, hard or easy, aligned or non-aligned, flow or complicated, begin with mindsets and beliefs. Each now resides in their own Universe/Galaxy, connected through "like-vibrations" (collectives). Each must choose to EXIST AS LOVE and stop playing in the old games of unconsciousness again for the extremes to diminish. These extremes are the balancing of polarities within. You/we are returning to existences forgotten, as each holds realities in place according to NEW EARTH ENERGIES and no longer compromises or supports the old anymore. Realizations, in the beginning, are mind-blowing and beyond challenging, because a complete reversal of all unconsciousness is required.
August was a precursor
Emphasis: All will show you where your focus (energy) has been, where you place importance and how what you place your importance on creates your physical reality here. With the emphasis shifting to UNITY/CHRISTED CONSCIOUSNESS in very big ways, anything "not this" will become more visible/play out for you to see this and choose to shift vibrationally/expand your consciousness yourself. Many expansions are "spontaneous" for awhile and your human won't understand, try to go to fear/control/resist or "label" this as something else….
Contemplation: Observe and decide what represents Heaven or Hell in your own reality world. Opening your heart/mind fully will allow you to sit with all and process easier, for new understandings/clarity to come through. Your physical reality is not going to be like you thought it was "supposed to be". Unconscious Earth was realities built on fake, pretend, selfishness, not caring, not respecting, not coming together, not sharing and perceptions that you were alone/the only one, which could not be furthest from the truth. Yes, it will be all up to you, to decide, because as long as you are avoiding, trying to "not do" what your higher self/Universe is trying to show you, trying to "not listen" to what you know is "right", holding out for yourself, not willing to come together, then you will suffer, for separation from your own SOURCE YOU is what creates your suffering here. The physical is not what you "think" it is….
FOCUS on what inspires, supports, unifies and creates/anchors highest consciousness new. Shift your focus off of attachment to others/things,  realize what you already have access to, the gifts you have/are, the gifts that you took for-granted, the opportunities that you turn down because they don't fit into your "way of thinking" or what you "thought" reality was supposed to look like. Connect DEEP on a SOUL Level with all that you come into contact with. No more hiding, fake, BS, pretending…. everything is visible vibrationally… hiding is from yourself.
Expand your heart & mind, open completely up. Observe where you still hold resistance to ease and keep struggling inside with what challenges your human. This is a huge sign that provides you with the opportUNITY to dissolve resistance easily, for the Light of your Soul to integrate within you easier.
Love, Respect & No More BS: You, your body, each other. Kindness. Consideration. Support each other. Get over your chit. Move through things, process those emotions, get them out of your body, so that you can return to peace and love and to activate more Heaven New Earth to come forth faster again.
See your own divisiveness, see your own stuff. Stop judging, as this will keep you spinning in a loop cycle until you get tired/done.
Bring those walls down yourself. Dissolve anything you've still got going on. See the patterns in your own reality, your habits…
SEE what needs to be resolved, returned and merged back into/through UNITY CONSCIOUSNESS LOVE in order to shift into a vibrational timeline of Our NEW Earth now.
Continual REALizations occur by observing all through our hearts/higher mind consciousness and the depths of our Soul. Much contemplation is necessary when observing and realizing that a choice must be made …. to keep struggling to hang onto/keep the old or move on/let it go to be ready for the next awesome thing that's been waiting for you.
When you realize that you are ready to be free, you will start to treat yourself with love and respect. As you do this, you gain the capacity to do this for all around you. Loving you comes first. Kindness for you comes first. Respecting you comes first. THEN you can share this love, this kindness, this self-respect through your FIELD OF CONSCIOUSNESS….
You are creating a new way of being and doing things. You are creating all new realities. You are anchoring realities through light. They come to fruition as you integrate this light within you and express it, share it, transmit it through your BEing and DOing… in everything that you are & do.
Dreams and Ideas: These higher realm "visions" and thoughts are your new realities floating around in your ethers (field) just waiting for you to grab them and do something with them. Your alchemist and you as a Divine Mother/Father will give birth, nurture and grow/raise these creations (your babies/Divine Children) to release them out into the ethers, out into the world, out into the hearts and souls of all that they touch to inspire, awaken and assist as love too. These dreams & ideas are important, yet cannot be ifyou continue to sit in fear, keep minimizing yourself, wasting what you already have, keep talking yourself out of all, keep making excuses for why you cannot yet. Your dreams are ACTIVATED as you open up, as you believe, as you dedicate your time/energy/money/reSOURCEs/things to bring these things into PHYSICAL REALITY here.
You/WE are the one that opens/closes portals: These abound in every moment, yet your human is not ready, makes excuses, turns all away. Everything just floats around in your field until you expand your consciousness into all to activate it as an actual reality here. There are many things that cannot come to fruition until all the pieces & parts have occurred. Sacred Geometrics are made up of pieces and parts. When you do the first piece, the next piece activates. When you do that one, the next one does… each piece you do/activate, creates a bigger part of the picture, the bigger piece of the puzzle until every piece has been activated/done. Each part comes together (converges) in the physical, as you achieve the vibration inside for materialization to occur. If you are not doing any of the "pieces" then the whole picture cannot come together for you. The whole reality is like this. Every piece of reality is constructed as you activate/DO it. Realities are constructed geometrically, by way of Quantum Creation, where each thing creates the whole. A reality is this. The conclusion/conversion of all of the pieces. Change the vibration of the piece, the picture/reality changes. This is how vibrational realities work. The ENERGY that you CREATE WITH dictates the vibrational reality that takes form. Your Quantum Energy transmits across all dimensions/timelines to activate ENTIRE REALITIES. Your ability to expand your own consciousness gives you the ability to "look across dimensional timelines" (galaxies/universes) and activate realities at will. You do this vibrationally, through your own abilities that you gain as you transcend unconsciousness from within. Where you are not ready yet, where you let your limited human dictate, then those portals/doors/opportUNITIES can close and you'll have to wait until you achieve the vibration fully before another portal/door/gateway opens back up. You can also close portals yourself, as you see that things cannot fully align. You can close out realities that no longer serve highest purposes and represent an old timeline that's collapsed because something was not ready…. and what this is, shifts/changes in every moment when we exist as Quantum BEings. (Humans don't do well with this, as they want to "think" first. Here, there is no "thinking". There is observing, seeing, knowing & doing. This collapses timelines instantly as we do!
Our Heaven on Earth will change all along the way. What brings us joy, happiness, peace and inspires will be different as we step further into fulfilling our own Soul's Purposes/Galactic Missions while enriching all of our own lives by RECEIVING in RESPONSE to how much we are willing to do whatever is necessary to anchor our highest timelines in the physical here. Once we have achieved "that", then that will be easy and the next thing will become our focus. Stepping stones, building blocks of a whole new "future" (vibrational reality)… from within this ZERO POINT FIELD NOW here.
Immense Instant Integration is required for ease "after" to occur. This ultra-high frequency light (waves & particles) will re-code the DNA of your body & your physical reality (yes your Physical Reality has DNA too). Integration is challenging to our human aspect, yet our bodies require this to function with greater ease, to continually ascend in the physical and clear the dense/unconscious programs held deep within our physical body structures keeping us from experiencing our highest timeline and purest existences together here.
The rest of 2017 (and into 2018) is dedicated to anchoring these unity frequencies & new timelines in. Gauge all based upon higher consciousness awareness, instead of lower consciousness judgments, re-actions, limits and fixed beliefs. Listen to your feelings, keep opening up fully to communicate, to support, to share, to step-up and into those shoes that allow you to walk on NEW Earth with greater ease. Embrace what you might not understand yet, yet somewhere inside already know. Release those things you held onto out of fear, cut those cords of attachment, let go of expectations, making promises or committing to things you can't fulfill, as the way you feel & what you see continually changes here. Your capabilities will also change constantly, as your Universal Body works very different than your human body did. Let go of the need to save, protect and convince anyone else of anything (because it's you, you are trying to convince). Let go of what other's think/say, for this is their reality, not yours unless you take it on as your own/have an emotional reaction. REALize that a higher dimensional reality means you are going to do the INNER WORK and whatever contributes in the physical, you are going to have to do this too. Understand that you will receive VIBRATIONALLY, non-linearly, however, is appropriate as a RESPONSE TO ALL OF THE VIBRATIONS you are transmitting out continually and that if everything you hold/be/do is fully aligned, then the reality you receive will be too!
Get ready for more magic, see all not love and intentionally shift this yourself. Maintaining your Ascended Christed/God/Source Self means that your reality is always aligned, and where it is not, you decide what is appropriate in each moment based upon the presence of love, which often means standing in your POWER and saying "not acceptable" and letting all outside resolve itself/go figure it out (often somewhere else). This is YOUR reality…. September is to anchor more of your highest everything here… for all of us… it takes us all…. REMEMBER… ♥
I love you! Happy September… this powerful Equinox Gateway is another huge transition for us all! ♥
Lisa Transcendence Brown ☼
Calming Renewal, A Time of Inspiration and Empowerment – September 2017
My friend,
It's a blessing for me to connect with you this way every month. Your presence is helping to raise the consciousness of the planet, and for that and so much more, I am grateful.
We have much to catch up on, so let's get right to it.
What an eventful summer it has been! So many internal and external shifts have taken place in our lives and in the world over the past three months.
For many empaths, these shifts felt like being in the high spin cycle of a washing machine, especially with everything coming at us in such a scattered way.
Focused and Inspired
Over the next few weeks, the scattered energies will alchemize themselves into a more focused energy.
This focused energy will help to stimulate inner feelings of empowerment, passion, and inspiration, which will help get things moving again in our lives in a way that feels productive and progressive.
These focused energies will awaken something within us that have long been dormant.
The image that keeps coming up is that of a golden lioness/lion that has been fully awakened from a deep sleep.
The physical feeling that keeps coming up is passion in every cell and fiber of the body.
A big part of this new, focused energy has to do with the effects of the two eclipses that we moved through recently, in addition to Saturn going direct at the end of August, after being in retrograde since April 6.
Add Mercury going direct on September 5 to this celestial cocktail mix, and we find that a new inner flame is being lit.
That inner flame will help us move past any stagnancy rooted in victim consciousness, supporting our return to our powerful, majestic selves. From there, we can move forward with greater joy, intention, and ease.
Something to note: During a Saturn retrograde, we are given the opportunity to renegotiate and review any past activities or commitments that have been a source of frustration for us.
We get the opportunity to tie up loose ends, and finish uncompleted tasks in our immediate environment.
The Saturn retrograde is also about quickly learning lessons from old karmic patterns that have not fully resolved yet. This has probably felt bumpy at times, because we can feel stuck and unmoving about an issue, while our emotions are all over the place.
Saturn retrograde is a pause for responsibility. It creates a type of disruption in the process of engaging our awareness and energy in something. This often creates a sense of incompleteness.
But that is all about to change now.
Long-range goals and projects can progress smoothly again. Delays can clear up, and moving forward will feel much easier.
Things that felt like a standstill will start expanding again. If there's an idea, project, or opportunity that you have been sitting on for a while, now is the time to go for it! Just make sure it's something that feels joyous, expansive, and in alignment with your most positive self.
If it does, then that is your confirmation to go ahead and move forward with it. The electricity in the air now is in full support of the manifestation of your greatest visions!
Over the next few days and weeks, you may notice feelings of being more inspired, free, active, blessed, motivated, excited, joyful, open, energized, and loving.
This is all a confirmation that things are moving forward for you, and that you've worked through much of the karmic lessons that can come with Saturn retrograde.
This focused intention will be with us for the rest of the year. It will allow us to be more productive, both in our personal lives and in the larger sense, on the world stage.
Stable and Grounded
The energies of September will also support us in feeling more stable and grounded.
When we are grounded and stable, we operate at our most powerful, which is always found in the present moment.
Becoming present allows us to transcend the illusions of time. It's from this space of no-time (a place of nonattachment) that our greatest, most desired intentions can manifest.
Here are some simple things we can do to feel more stable and grounded:
Walk or stand on the Earth (soil, grass, or sand) with bare feet
Express gratitude daily
Spend more time in Nature
Have compassion and love for the thoughts our mind has, without needing to judge them
Get connected fully to our five senses, taking quiet moments to notice the sounds, shapes, colors, tastes, textures, and scents all around us
Look into the eyes of everyone we meet, remembering that they are a reflection of the Universe
To the mind, and to those who identify more with being free spirits, the idea of being grounded may seem limiting. This usually stems from the idea that the word "grounded" implies being fixed or inflexible.
However, the opposite is true.
When we choose to be stable and grounded, we instantly bring ourselves into the flow of the present moment. Again, it's in the present moment where we operate from our most powerful state.
It's in the present that most of our freedom is experienced, because we are no longer bound to the past or the future.
Being grounded in the present moment allows us to fully enjoy our lives, while being open to all the new blessings life has available to us.
Support and Community
This is an excellent time to get clear on what we desire to bring into our lives.
Here are some helpful questions we can ask ourselves to get more clarity on what we want to create more of:
"What excites me?"
"What are some things I loved doing as a child that I can integrate into my present reality?"
"What feels expansive and good to me?"
These questions can help us get clear on what we really want to experience more of.
Once we have that clarity, it becomes easier to take action and to ask for support.
Most of us have shied away from asking for support from others, either because we were not clear on where we truly needed their support, or because we had been conditioned to believe that getting what we want takes something from someone else, as if we are creating a burden for them.
Life is about being part of the human experience. One of the main components of the human experience is being part of a community.
We are here to share our blessings with one another. If you are surrounded by people who do not want to support or help you, it's usually a reflection of how you have been treating yourself or others.
Are you generous with your support towards yourself and others? Do you offer support without expecting anything return? Does it feel easy and fun for you to share your blessings with the world?
When you can fully answer "yes" to these questions, you will notice abundantly available support in your life.
When we share and express what we desire with the Universe and those around us by asking for support, we open ourselves up to receiving opportunities we may not have otherwise had a chance to experience before.
The Universe wants to give us everything we've ever desired for ourselves. It's just a matter of how open we are to receiving it.
If you are ever feeling unsupported, find an opportunity to support someone else, even if it's someone you don't know very well.
This act of kindness will shift the energies for you, and open your mind, eyes, and heart to knowing that life is much more than separating ourselves and hiding from others.
It's about living, loving, and sharing our gifts and our presence openly.
The next few months will nudge us to open ourselves up to receiving and giving support.
It's time to release the pride or old patterns that we've allowed to hold us back from living our most desired reality.
Till next time,
Miraculously yours,
Emmanuel
This Weekend's Love Horoscope: Take the Leap
Your love horoscope for the weekend of September 8-10, 2017
---
You just might get everything your heart's been desiring this weekend! On Friday the Moon in Aries lights a fire in your heart and encourages you to take a risk and chase whatever you desire. The pace slows down on Saturday when the Moon enters comfortable Taurus. Taurus loves to bask in physical pleasure, so be sure to make plenty of time for enjoyment, and don't be afraid to satisfy your sensuality. Thankfully Mercury, the planet of communication, is finally picking up speed and moving forward again, so you'll have no trouble asking for what you want this weekend! Take a leap, and you could reap big rewards
Part of the Daily Insight Group ©2017
Youe Horoscopes for Friday, September 8th
Aries
The Moon in your sign all day animates your emotions, Aries. The desire is strong to feel free, fresh, and spontaneous. However, Pluto is heavy today, in some ways pulling up doubts or insecurities, but also working doggedly in your favor as priorities become clearer and ways to feel empowered open up. Financial and/or love or social matters can be worrisome on the one hand, but your determination to improve your health or work and habits is so strong now that you turn negatives into positives. You can make significant headway in your projects and, for many of you, this can be day one of a new fitness or nutrition program that holds great promise. Look for ways to reform, renovate, upgrade, and reorganize your work instead of giving in to the lure of brand new projects. This can be a good time to clarify a matter or clear the slate with your reputation, as well.
Taurus
The Moon spends the day in your soul sector, Taurus, encouraging your introspective side. You may want to hide away on some level now, and if you can pull it off, it's good for you just for now. A Venus-Pluto aspect today can throw you off center a little. You may feel that you need to choose between two equal alternatives, and this puts you in a tight spot. Emotionally, this is not the most adventurous of times, but your desire to grow is dominant right now, and you instinctively recognize that if you stick with the familiar, you won't have learning opportunities. Fortunately, a Sun-Pluto influence that grows in strength as the day advances encourages you to connect more deeply with personal interests, hobbies, and possibly even a person. This is invigorating, serving as a tonic or refresher for your spirit. It's clearer to you today what is hindering your progress. Problems seem more resolvable with the determination you feel now. People you meet or ideas you come across have you looking at the world in new and exciting ways.
Gemini
You're seeking out cooperation today, dear Gemini, but you could feel a little out of step with others at times now. This may have to do with a tendency to want two very different things, and you can be giving off mixed signals as a result. On the one hand, you're seeking light, easygoing friendliness, but on the other, this can leave you wanting more or feeling a little empty! Overthinking is possible now and can complicate things. Doubts can also throw you off track. However, a Sun-Pluto influence encourages you to take charge of your emotions and turn negatives into positives today. Especially as the day advances, you can see your personal priorities, and you're able to hone in on what truly matters. Emotional or financial support could be in the offing for some of you. Rehauling and improving something can be attractive, particularly related to home and family or other intimate relationships.
Cancer
The Moon in your public sector all day inclines you to want to take care of business, Cancer. However, you can feel pressure to come to decisions that you don't feel entirely ready to make. Love can seem unreasonably complicated at the moment, but feelings emerging now can bring insecurities to light, allowing you to learn from them. In fact, a Sun-Pluto aspect active today helps you find the right path. Discrepancies between core values with someone can be frustrating, but can ultimately lead to greater understanding. Often, arguments over superficial things mean something much more. For example, if a partner were to criticize what you bought, you could have a strong reaction because you feel that they don't think you can manage your life and make wise choices, and this is how something small can lead to something big! Seeing problem areas more clearly or facing significant truths can lead to a restructuring of activities and massive improvements to your projects and possibly also your relationships. Communication is the key today. You may be connecting with people and information that helps you get closer to your goals.
Leo
The Moon in your adventure sector all day sets your sights high from the get-go, Leo. However, today's energies aren't quite so breezy, but they're handy! Doubting a project or even a person can temporarily seem to undermine your confidence, but you're quick to come back from any minor setback today. You have a Sun-Pluto trine working in your favor, and while it's directly affecting your practical affairs, it helps you personally as well since the Sun is your ruler and Pluto's influence adds a little more clout to what you already have going for you. You may very well discover activities and projects that make full use of your talents and skills, and these can be showcased quite beautifully today and tomorrow. Your desire to improve, grow, and develop is strong now, and this is especially true when it comes to income, work, and health. This is a time for self-improvement through better attention to finances, work, and health.
Virgo
Your desire to get on top of emotional matters is strong with the Moon in your solar eighth house all day, Virgo. Do watch for overthinking things, however, as you're so often inclined to do! Frustrations can bubble to the surface at unexpected moments, but if you pay attention to the cues, you can learn a tremendous amount about what is truly behind your fears and insecurities, particularly about a relationship. A Sun-Pluto aspect occurring now is particularly empowering, however, as the Sun is currently a guest in your sign and Pluto, the planet of transformation, encourages you to grow and improve. This is a time for feeling very determined to give a particular project, relationship, or endeavor your all. Status quo simply won't do today. Your resourcefulness helps you turn something old into something new, or turn a negative into a positive. This is also a time for riding on the hurt of a rejection or a personal slight and using it to improve your life.
Libra 
You're a little more invested in your relationships today, dear Libra, but you could have some concerns or worries about a friendship or partnership. You could be dealing with pressures related to home and family and perhaps some challenges keeping up with friends or groups now. Do your best to push past your fears. It can be difficult to take a step back and allow others space when you're feeling insecure, but it's important to let go from time to time. In fact, this can be a great time to learn from missteps. Excellent energy is with you, however, for recognizing the need to make changes in your personal life, at home, or within. You can find useful ways to improve your emotional life and domestic world today. You may be sitting on an important idea or project, and it's probably wise to keep things under wraps for the time being. Strategy pays off for financial and home-related endeavors today.
Scorpio
The Moon spends the day in your practical, work-oriented sector, Scorpio, and you can feel some nice enthusiasm for your work or for taking care of business. On an emotional level, concerns about falling behind in a project or with your personal interests and projects can interfere with work. You are sensitive to your reputation or professional image, but you should watch for communicating something that stirs the pot, or that's likely to receive backlash. Be a little more vigilant about what you say now. Fortunately, you're in a particularly good position when it comes to group-related or social matters, personal influence, persuasion, and effecting changes. It can be an excellent time to repair bonds or clarify your position, as well as to put something to rest that is no longer serving your needs to grow, evolve, and thrive.
Sagittarius
The Moon spends the day in your playful, creative sector, dear Sagittarius, but relationships are a little more complicated today than you'd like! At the very least, feelings are complex, and you may be wrestling with a fear of letting go and a simultaneous desire to be free or to grant others freedom. Doubts may be raised. What you don't know about a situation can quickly become an obsession, but that's precisely where you're inclined to make the wrong move today, so do your best to rise above it. Helping you to find your center is a Sun-Pluto trine that encourages you to see your priorities. This trine falls along your career, talents, money, and reputation sectors. You can completely transform a difficult situation into an opportunity to grow and improve. There can be financial gains for some of you, a chance to showcase your talents, or increased ambition to improve your financial picture. It's your determination to overcome obstacles that gets you places now.
Capricorn
The Moon in your home and family sector draws you into your inner world, Capricorn, and quiet activities suit you especially well today. Relationships or feelings are complicated today, and there can be some missteps and a lack of flow in your interactions. Recognize the need to make changes but avoid obsessive thinking that only serves to take you in a mental circle. Try to make peace with the idea that you can't read a person or situation right now and try to tap into the divine energy of the Sun-Pluto trine of the day. Personal priorities become clearer. This is a great aspect for making renovations — deep, lasting changes that refresh your life, and this isn't only about cosmetic changes. Emotional renovations include getting rid of bad habits, situations, and attitudes. This is also a good time to take a chance or two through learning and exploring beyond your usual bounds. Push your limits and explore ideas that you normally wouldn't. This can also be a time when you're especially persuasive.
Aquarius
The Moon spends the day in a very light area of your chart, dear Aquarius, inclining you towards easygoing situations and people. However, feelings are complicated today and interactions can be a little off or difficult to read. Consider the possibility that you're overthinking things, but if you feel a strong call for action, this can be a good time to rework a challenging situation into an empowering one. Making some waves now can be awkward at first, but ultimately a learning experience as a Sun-Pluto aspect encourages you to grow, improve, and prioritize. You may be feeling stronger through your intimate connections now. On an emotional level, this is a great time to take charge and tap into your inner courage. You may be facing a fear, kicking a bad habit, or vowing to improve your close relationships now. You are bound to see self-destructive patterns or tired, old habits in your relationships that could use some renovation.
Pisces
The Moon spends the day in your solar second house, Pisces, and you're particularly comfortable in the practical world. You have wonderful energy with you for focus and concentration, although your relationships can be on the tricky side now. Insecurities about your performance or your usefulness or worth to others can emerge. However, you can truly learn from them and get yourself on the right track. In fact, better relationships can be a powerful motivator for self-improvement. Pushing boundaries just a touch can work well for you now, even if it's a little messy. Counseling, organizing, negotiating, and networking can be in focus. You might experience a strong attraction to someone today as you're drawn to strength, or this can be a time for strengthening an existing bond.
If You Were Born on Friday, September 8th
You are not only creative, you are able to channel your vision into practical avenues of expression. You are not well-suited to routine work. Your mind is always busy, and if you're not using it productively, you are given to worrying and overanalyzing. Some worrying is good–you are strong at organizing. Too much, and you fret over the small stuff. Overall, however, you are hopeful and fresh, and you have a wonderful spin on life that intrigues others. You are hard-working, inventive, and talented. Your ideas are gold–you can generally turn a brainchild into something lucrative.
Famous people born today: Pink, Peter Sellers, Patsy Cline, David Arquette, Martin Freeman, Jonathan Taylor Thomas.
Get A Jump On Tomorrow…..
Your Daily Horoscopes for Saturday, September 9th
Aries
Energies continue to be good for devising strategies to get your daily routines, including health, into better order, Aries. This is a time to concentrate on reform, updates, and upgrades. Also today, Mercury returns to your solar sixth house where the Sun and Mars are currently guests. Further emphasis lies on daily routines, work, health, and self-care or self-improvement programs now. You can be successful at organizing your work and workspace as well as seeking out information that helps you improve your health. During this cycle that lasts until the 29th, you're in great shape for tending to details, lists, tables, charts, and anything that gets your life – and your mind – tidy and organized. You might also do a lot of small services for others, but watch for doing so at the expense of your own.
Taurus
A stronger sense of purpose sticks with you again today, Taurus, and this can boost your relationships with others, and with yourself! This is a time for digging deep and committing to making long-term changes and improvements to your life rather than relying on band-aid fixes. You're inclined to want to fix what you already have rather than seek out something new. Also today, Mercury returns to your creativity sector for an almost three-week stay. The Sun and Mars are already guests here, and the addition of Mercury brings in a mental or verbal element to your creative and romantic worlds. Activities through which you can have fun, impress, create, and share are in strong focus. You're taking even more interest in love, art, and self-expression. You are more playful and spontaneous in your communications during this cycle.
Gemini
Again today, Gemini, you're in a practical frame of mind that helps you see what is truly valuable and worth your effort – and what isn't. Today is strong for facing a matter that you've avoided in the past, leading to improvements. Also today, Mercury returns to your solar fourth house. The Sun and Mars are already guests in this family and home sector, and Mercury brings a mental or verbal theme to the mix. Mercury's transit that lasts until the 29th can find you more frequently thinking about and discussing family, domestic life, your support system, your roots, and the past. Activity increases in your home, and this can include work and learning/studying. This transit can also have the effect of decreasing interest in your worldly affairs. You may return to recent decisions or stalled initiatives now with a new perspective or new information.
Cancer
This is another good day for successfully pruning or refining areas of your life so that you can improve them, Cancer. This applies in particular to recent learning endeavors and mental projects. Also today, Mercury returns to your solar third house and will transit here until the 29th. This is a great place for Mercury to be as Mercury rules communications, and so does the third house. The only possible downside is that you get too caught up in small matters and details. However, this is a generally good time for learning, transportation, making contact and connections, and getting out and about. Your social life can improve, your mind is even sharper than usual, and keeping/getting in touch with others can lead to valuable opportunities. Recent decisions and conversations may be revisited now, and this time around, you're armed with new information.
Leo
Personal magnetism is strong again today, Leo. Without much effort, you're showing others just how capable and competent you can be. This continues to be a time for self-improvement through better attention to finances, health, and services. Also today, Mercury returns to your solar second house, reinforcing a developing theme of sticking with the status quo, cultivating patience, and working on building your resources. The Sun and Mars are already guests here, and now Mercury adds a mental theme to the mix. Until the 29th, you put far more thought than usual into business and finances. Thinking is good for your practical affairs and security. This is also one of the best Mercury cycles for building and growing your natural talents.
Virgo
There is good energy for creative matters today, Virgo. Your resourcefulness can lead you to transform something old into something new, creatively speaking or practically speaking. Mercury returns to your sign today, where the Sun and Mars are currently transiting. This brings further attention to your personality and your personal plans. The weeks ahead are excellent for some healthy self-focus! With Mercury's transit, which lasts until the 29th, you are more inclined to talk about your plans, to draw attention to yourself or your observations and ideas, and to speak out about things you care about. You might benefit from doing some self-teaching during this period. You'll be revisiting recent problems, now with new information. You are more talkative, communicative, involved, curious, and responsive. Decisions come far more easily than they have in recent weeks.
Libra 
This morning continues the theme of inner strengthening, Libra. You're feeling more in charge of your life when it comes to family and domestic matters. Mercury returns to your privacy sector today, where the Sun and Mars are currently guests. During this Mercury transit, which lasts until September 29th, you'll be doing a lot of thinking and analyzing the recent past, more frequently than usual. You're focused on where you are in your journey. You're more impressionable and sensitive now, and there can be an inclination to keep your ideas, observations, and thoughts to yourself. There can be a stronger focus on your private world and a tendency to keep things — including the decision-making process — to yourself during this cycle in preparation for when Mercury enters your sign, and you're ready to share your ideas with the world, from the 29th forward.
Scorpio
This can be a time for beginning a long-term project that involves special dedication and devotion, dear Scorpio, or for making powerful refinements to a current endeavor. Career and reputation matters are favorable now. As well, Mercury returns to your solar eleventh house today, where the Sun and Mars are currently transiting, bringing further attention to networking, social affairs, and goal-setting until the 29th. This is also a time for revisiting recent decisions, now with new information. You are extra concerned about — and giving a lot of thought to — enjoying yourself, fulfilling happiness goals, making contact, and reaching out to like-minded people. Group activities and friendships can pick up pace or involve you more often. Tap into your more progressive and unique ideas for future projects and enjoyment during this enchancing cycle.
Sagittarius
This can be a productive time for you and your work, Sagittarius. You may be finalizing a long-term project or cementing a business alliance. It's easier than usual to see your professional or financial priorities right now. Also today, Mercury returns to your career sector where the Sun and Mars are already guests. Today and in the coming almost three weeks, your thoughts often turn to career or life-plan matters, and what you say or write has more impact than usual. You're giving a lot of thought to your life plan, structures, business, career, performance, and the setting of goals. Until the 29th, communications are a little more studied or guarded, probably for good reason since your "voice" seems a little louder or is more impactful than usual.
Capricorn
Now and until September 29th, you are especially into expanding your mind, dear Capricorn. While you're an organized person by nature, Mercury in your solar ninth house now points to some level of aversion to routines which can be seen as particularly dull. This theme is reinforced by both the Sun and Mars already in this area of your solar chart. Mercury's transit stimulates your curiosity and mental restlessness as well as your desire to learn and share ideas. Also today, you're in a good position to identify areas of your life that should be updated or upgraded! You are expressing your strength of character today, and you benefit from a stronger sense of purpose.
Aquarius
You continue to benefit from a Sun-Pluto influence that can make you feel invigorated and refreshed today, Aquarius. You can feel in charge of your life through the control of impulses that no longer serve you well. Today is about making deep, lasting changes. Also today, Mercury returns to your solar eighth house for a transit that lasts until September 29th. You may be going over recent decisions, but now you have new information to go on. This transit places further emphasis on your intimate world, long-term strategies, work on the self, investigations, and attraction to that which is hidden. During this cycle, you communicate with more intensity or passion, and/or your focus becomes more singular. You tend to be more deliberate and strategic.
Pisces
With the Sun and Pluto supporting one another today, you continue to have good energy working for you in your relationships, dear Pisces. Particular attention to details make a big difference now. Also today, Mercury returns to your partnership sector in direct motion, where it will transit until the 29th. You have a stronger need for intellectual stimulation through others and might often seek out someone with whom to share your ideas and decision-making processes. During this cycle, you might require a little coaxing to get to decisions and conclusions, and you might frequently take your cue from others. This hesitancy is not a weakness, however, as it can benefit you greatly to consider the perspective of others at this time, whether or not you take it! Your best ideas seem to come through conversations.
Fall 2017 Love Horoscopes
Exploring the depths
---
This fall the potential for deeply intimate connections will surely intensify! This is mainly due to the planet Jupiter moving out of Libra and into Scorpio on October 10. Jupiter in Scorpio will expand our desire to merge deeply with another person, body and soul.
On November 13 Venus in Scorpio will embrace Jupiter, offering your heart a reward if it's willing to sit in that complex and passionate place. A New Moon in partnership-oriented Libra on October 19 is opposite wildcard Uranus. This promises an unexpected twist in your love life, so buckle up!
Aries Horoscope (March 21 – April 19)
A seismic shift is likely to occur in your love life this fall. Starting October 10 it's possible that you'll begin to benefit more from your partner's resources. He or she might receive a generous raise, bonus, or a windfall that is sure to put a smile on your face.
You're ready to have the type of relationship that blends your need for love with your urge toward individuation. A New Moon on October 19 might challenge you to figure out how this can be balanced. While Mars is in your partnership sector from October 22-December 9, however, you'll surely be motivated to try.
Taurus Horoscope (April 20 – May 20)
This fall you have officially won the jackpot in matters of the heart. On October 10 Jupiter, the planet of expansion and abundance, will move into your relationship sector for the first time in 12 years. Until November 8, 2018, you'll have extraordinary cosmic support to make a commitment to someone you love.
If you're single, the universe is about to grant you several opportunities to meet someone special. Venus will tour this same area of your chart from November 7-December 1, and Mars takes over from December 9-January 26. You'll end this season knowing someone loves you, truly, madly, and deeply.
Gemini Horoscope (May 21 – June 20)
For most of this fall you might feel like you're the star of a steamy romance film. If you're single, expect major possibilities to open up in your love life starting October 19. In fact, from October 22-December 9, you might declare that you're having the best sex you've had in years. If you are going into this season under a dry spell in the romance department, you're sure to be out of it by winter. If you're in a relationship, expect extra harmony between December 1-24. You might even become engaged or get married.
Cancer Horoscope (June 21 – July 22)
If you've surrendered to the single lifestyle after ages of trying to find the perfect mate, you might be surprised how much life changes for you this fall. On October 10 Jupiter, the planet of blessings, will move into your romance sector for the first time in 12 years. This is one of the most auspicious cosmic indicators for true love coming into your life. Jupiter will remain here until November 8, 2018, so don't think these blessings are only for the fall. Making them sweeter this season, however, is the fact that love planet Venus will also join the same part of your chart from November 7-December 1. Venus and Jupiter embrace on November 13. Open your heart to love … it's coming your way.
Leo Horoscope (July 23 – Aug. 22)
Communication between you and your sweetheart will certainly be lively this fall. Expect more heated discussions as well as vital decisions to happen in your love life from October 22-December 9, while Mars in relationship-oriented Libra tours your message sector.
If you're single, the best time for romance this season will happen from December 1-24. This is when Venus moves through your true love sector, and you can easily meet someone with the power to capture your heart. If you're already taken, expect romantic sparks to fly between you and your lover. You'll surely feel those butterflies in your stomach!
Virgo Horoscope (Aug. 23 – Sept. 22)
The very best of your romantic potential happens early in the season. As fall begins you'll be blessed to enjoy both Venus and Mars in your sign. These cosmic lovers are not only helping you look more radiant and sensual, but it also supports other people feeling a stronger pull toward you. Your magnetism reaches a peak on October 5 when Venus and Mars exchange a heated embrace. Expect an ultra-sexy day! There will be a domestic frustration near October 8, though, that threatens to ruin your romantic vibes. Don't let it get you down.
Libra Horoscope (Sept. 23 – Oct. 22)
You have so much to look forward to this season in matters of the heart. Although expansive Jupiter will leave your sign on October 10, it doesn't mean your blessings will end. Instead, they'll begin to focus on your finances.
The reason relationships look so wonderful for you this season, however, is due to several celestial events. First, Venus moves through your sign from October 14-November 7, granting you extra magnetism and beauty. Then, a New Moon in your sign on October 19 supports new relationships if single, and a positive change if you're taken. Mars travels through your sign from October 22-December 9, giving you the courage to go after who you're attracted to.
Scorpio Horoscope (Oct. 23 – Nov. 21)
This fall you are truly coming into a golden period in your life — one that will surely extend to matters of the heart. It all begins on October 10 when Jupiter, the planet of luck and abundance, enters your sign for the first time in 12 years. Until November 8, 2018, you'll be the cosmic favorite and will have remarkable support for love and relationships.
Venus will also move through Scorpio from November 7-December 1, adding confidence and beauty to your vibe. On November 13 you can expect an ultra-lucky day in life and love when Venus and Jupiter embrace. You are blessed!
Sagittarius Horoscope (Nov. 22 – Dec. 21)
Your social life will be hopping this fall. If your heart has been feeling lonely lately, all you need to do is accept more of the invites from friends to attend gatherings and other events. You might join a new group or organization after October 19 — one that exposes you to a potential love interest.
Between October 14-November 7 you are under extraordinary support to find love either through or with a friend. Don't waste this remarkable time! Venus then moves through your sign from December 1-24 granting you more confidence and allure. Work it!
Capricorn Horoscope (Dec. 22 – Jan. 19)
You crave social connections that invite mystery, depth, and real substance. Fortunately for you, this season the universe is ready to bless you with this in a major way. Starting October 10 and lasting until November 8, 2018, Jupiter will move through your friendship sector, making sure that friends benefit you in a myriad of ways.
Venus moves through the same area of your chart from November 7-December 1, and on November 13, Venus and Jupiter will embrace in a super fortunate connection. You might find the love of your life on the internet or through a friend's introduction. This could even happen at a party, meeting, or other social event.
Aquarius Horoscope (Dec. 22 – Jan. 19)
For most of this season your love life might resemble a snooze fest. But don't despair — it's not going to bring you down in the least bit. In fact, it appears you are completely focused on dazzling career opportunities that will begin to surface after October 10. You'll be so busy climbing up the ladder of success that you'll make peace with the fact that right now, romance simply must take a backseat. One notable exception to this will occur on October 5 when Venus and Mars make a steamy embrace in the most erotic zone of your chart. You can anticipate something extra sexy to happen at this time. Then, get back to work!
Pisces Horoscope (Feb. 19 – March 20)
You and your mate will start off the season with a bang! Venus and Mars, the cosmic lovers, will be moving through your relationship sector, bringing plenty of attention to sweet romance. In fact, you'll enjoy an unforgettable day on October 5 when Venus and Mars embrace. Those first few days of fall will be quite memorable for you and your love, so don't waste it!
You might find that your joint finances get a lovely boost from October 14-November 7. Your partner may receive a raise or other type of financial compensation that you benefit from as well.
Part of the Daily Insight Group ©2017
Tarot Card of the Day
Three of Swords
---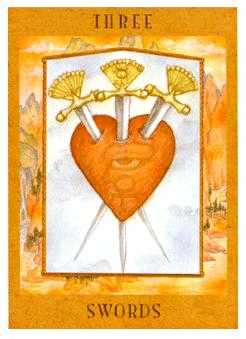 Traditionally, the Three of Swords signified separation or the breakup of a significant relationship, including the tragic emotions that come along with such an event. Some cards show the horizon filled with storm clouds and flashing lightning.
The positive side of this card would be the ending of draining or frustrating associations, to become free again. One message this card brings is to cut some things loose. In spite of sentimental memories and emotional attachments, we need to let go of relationships that either cannot live up to their promise or have outlived the pleasure and support we once found in them.
Part of the Daily Insight Group ©2017
Learn the Tarot 101:  The Hierophant
---
Expand your inner knowledge and share it with others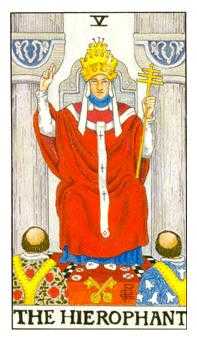 General Meaning
The Hierophant Tarot this card refers to a master and the learning of practical lessons from the study of natural law. This energy of this card points to some agent or resource that can reveal the secrets of life, the cycles of the Moon and tides, the links between human beings and the heavens.
Because monasteries were the only places a person could learn to read and write in the Middle Ages, a Hierophant was one to whom a student would petition for entry. He was the one to set the curriculum for the neophyte's course of study.
Often pictured with the right hand raised in blessing, the Hierophant is linked with the ancient lineage of Melchezidek, initiator of the Hebrew priestly tradition, the one who passes on the teachings. All shamans of any tradition draw upon this archetype.
In the Advice Position
Develop your expertise, and have faith that you are a master in the making.
The card in the Advice position suggests a course of action which will harmonize what you want with what is currently possible.
The Hierophant advises that you return to the role of a meticulous student. Learn everything you can about your chosen area. Let that knowledge become a part of you and an operative influence on your day-to-day awareness. In this way, you can slowly and steadily establish real credibility in your field or chosen subject.
Earn respect and recognition by completing your education and broadening your experience. If you already have all the necessary experience you need, then rewrite your resume so others can appreciate who you are and what you can bring to a situation. Focus on your goal and be determined. You may be destined to be a master in your realm.
Part of the Daily Insight Group ©2017
Daily Love Tarot
Temperance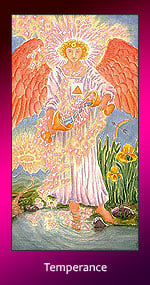 The Temperance card selected you today to tell you that you transform current conditions into something different by your thoughts and actions. You have the ability to bring about the results you desire. Be optimistic. Through the power of positive thinking, the optimist knows something is only incurable until they find a cure. The pessimist thinks everything is incurable. The caveat is always to be careful what you wish.

Erotic Tarot
The Wheel of Fortune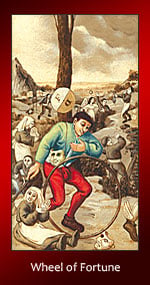 As good luck would have it, the Wheel of Fortune card has appeared, which is a symbol of advancement and things taking an unexpected turn for the better. Have you noticed your friends saying "you're so lucky" lately? Well, this is what they're thinking! The Wheel of Fortune shows that everything in your sex life is going your way (or is about to), and although it also indicates a lot of growth and transformation could occur, the main thing you probably wanted to know is, yes, you're probably about to get lucky!
Your Influences for the Weekend of September 8th
Tarot Influence
Eight of Swords Reversed
Fresh starts are possible.
Astrological Influence
Aquarius Reversed
This card signifies the closing of both heart and mind, which leads to stagnation.
Element Influence
Fire Reversed
Fire reversed denotes calamity that may be on a catastrophic level. Prepare to deal with changes you do not want.
Psychic Tip of the Day
INSPIRING THEM
You can get a lot of work accomplished simply by taking control and letting others know what needs to be done. Is your lover hanging on your every word or are you the complaint one?
Part of the Daily Insight Group ©2017
Your Daily Rune for Today
Nauthiz
 "Not-this" – Literally: "Need-fire" or "Necessity" – Esoteric: Constraint, Friction
Key Concepts: Need, resistance, constraint, conflict, drama, effort, necessity, urgency, hard work, need-fire, life lessons, creative friction, distress, force of growth, the consequence of past action, short term pain for long term gain

Psi: resistance, need, effort
Energy: necessity, coming forth into being, urgency
Mundane: doing what must be done, chores, hard work
Divinations: Resistance (leading to strength), recognition of örlög (ultimate law, primal truth), innovation, need-fire (self-reliance), personal development and life lessons, achievement through effort; or constraint of freedom, distress, toil, drudgery, laxity, warnings, worry, guilt, moral cowardice, unfulfilled or unrecognized needs.

Governs:
Overcoming distress or negative örlög
Acceptance of the unchangeable
Development of magical will, the manipulation of wyrd
Understanding the dynamic force of "resistance" in the process of creating
The generation of creative energy for problem solving
Protection of one's own needs
Recognition of personal need
Love magic; especially to obtain a lover
Your Ancient Symbol Card for Today
The Key

The Key indicates the existence of a powerful tool capable of favorably influencing your future. The Key may be an idea, physical entity, an action, a mentor, or the combination of a number of things. While readily available to you The Key may not be all that obvious. You might have to search for it, and it may take a fair dose of courage and faith to actually use it.
As a daily card, The Key indicates the presence of an idea or entity that can positively effect your life at this time. The advantage The Key will give you may concern a single element of your life such as your career, or it may have an impact on your life as a whole. The trick for you is to identify your Key and have the courage to use it.
Your Animal Spirit for Today
September 8, 2017
Badger
Badger is a ferocious opponent, unwilling to back down over any issue. Unfortunately, this unwavering stance leads some Badgers to their demise. If Badger has dug into your reading, he is asking whether you are fighting the right fight. Is this issue the hill you're willing to die on, or are you fighting for no other reason than pure stubbornness? Think about it.
Your Charm for Today
Today's Meaning:
This aspect of your life will be strongly influenced by a person who is determined, forceful, emotional, intuitive, powerful, passionate, exciting and magnetic. This person is probably an acquaintance you made at work.
General Description:
Eighth sign of the Zodiac, Oct. 24th to Nov. 23rd. Ruling by the planet Mars; correct metal, Iron. Those born under Scorpio were believed to be energetic, strongly determined, persistent, and thorough in their undertakings, with inflexible will-power, of magnetic personality, affable, just, affectionate, and powerful convicting speakers. The Scorpio gems are the Aquamarine and Beryl. The Aquamarine has always been reverenced in the East as all emblem of purity, and was given at marriage for increasing mutual love. In Rome worn for cheerfulness, curing distempers and internal complaints; by mariners to protect them from sickness and danger at sea.
Crack the Cookie

The Wisdom of the Buddha
Even death is not to be feared by one who has lived wisely.
Your Earth Sky News for September 8:  Moon and Uranus in Pisces
Tonight – September 8, 2017 – the waning gibbous moon and Uranus, the seventh planet outward from the sun, are near each other on the sky's dome, in front of the constellation Pisces the Fishes. Although Uranus will remain within Pisces' borders for the rest of this year, the moon will leave Pisces after a day or two. Around the world, the moon and Uranus will rise over the eastern horizon by around mid-evening, though you can find out a more specific time from an astronomical almanac.
With the moon so bright and so close to Uranus on the sky's dome, you're not likely to glimpse Uranus with the unaided eye. But keep reading. We give you an idea of its location, and links to detailed charts, in this post.
Uranus was the first planet to be discovered by the telescope, by William Hershel on March 13, 1781. At a distance of about 19 astronomical units from Earth at present, this world is pretty easy to see through binoculars – if you know exactly where to look.
People with good vision – and good charts (scroll to bottom of page) – can see Uranus with the unaided eye on dark, moonless nights.
In your quest to locate Uranus, first make friends with the constellation Pisces after the moon leaves the evening sky, starting in a few more days. Familiar with the Great Square of Pegasus? If so, jump off from there to the constellation Pisces the Fishes. Then with a good sky chart and binoculars you just might catch Uranus, the seventh planet from the sun.
Bottom line: The moon and the planet Uranus both reside in front of the constellation Pisces the Fishes on September 8, 2017.
Bruce McClure has served as lead writer for EarthSky's popular Tonight pages since 2004. He's a sundial aficionado, whose love for the heavens has taken him to Lake Titicaca in Bolivia and sailing in the North Atlantic, where he earned his celestial navigation certificate through the School of Ocean Sailing and Navigation. He also writes and hosts public astronomy programs and planetarium programs in and around his home in upstate New York.
Astronomy Picture of the Day
Discover the cosmos! Each day a different image or photograph of our fascinating universe is featured, along with a brief explanation written by a professional astronomer.
2017 September 8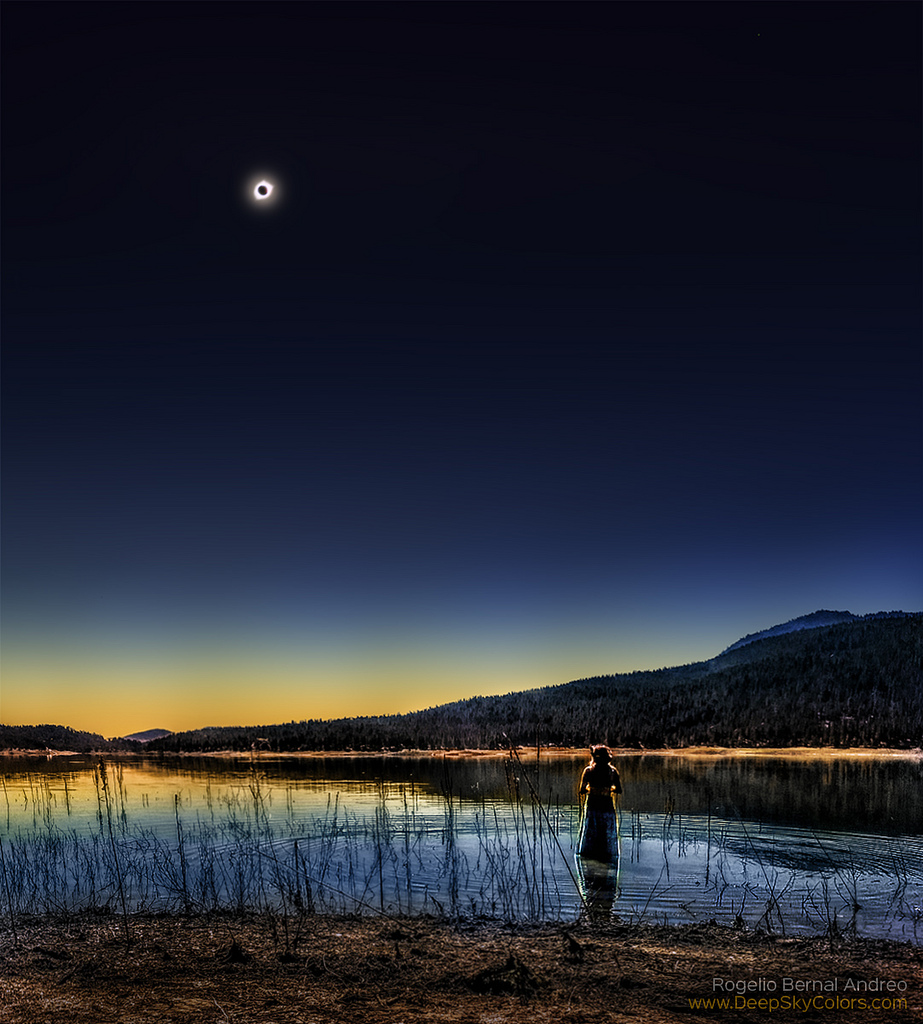 The Great Gig in the Sky
Image Credit & Copyright: Rogelio Bernal Andreo (Deep Sky Colors)
Explanation: There were no crowds on the beach at Phillips Lake, Oregon on August 21. But a few had come there to stand, for a moment, in the dark shadow of the Moon. From the beach, this unscripted mosaic photo records their much anticipated solar eclipse. In two vertical panels it catches the last few seconds of totality and the first instant of 3rd contact, just as the eclipse ends and sunlight faintly returns. Across the US those gathered along the path of totality also took pictures and shared their moment. And like those at Phillips Lake they may treasure the experience more than any planned or unplanned photograph of the total eclipse of the Sun.
A Little Humor for Your Day
You Might Be Giving Pagans A Bad Name If…
You insist that your boss call you "Rowan Starchild" because otherwise you'd sue for religious harassment.
(Score double for this if you don't let that patronizing bastard call you "Mr. or Ms. Starchild.")
You've ever confused the Prime Directive with the Wiccan Rede.
You've ever cast a spell with twenty-sided dice.
You said it was bigotry when they didn't let you do that ritual in front of city hall. It had nothing to do with the skyclad bit.
You picketed The Craft and Hocus Pocus, but thought that the losers who picketed The Last Temptation of Christ needed to get lives.
You've ever publicly claimed to be an elf, alien, vampire, faerie, or demigod, and been genuinely surprised when not everyone took you seriously.
You've ever publicly claimed to be the reincarnation of Gardner, Merlin, Aleister Crowley, King Arthur, Cleopatra, Morgana Le Fay, or Jim Henson, and been genuinely surprised when not everyone took you seriously.
You've suddenly realized in the middle of a ritual that you weren't playing D&D.
You've failed to realize at any point in the ritual that you weren't playing D&D.
You've suddenly realized that you are playing D&D.
Your Book of Shadows is a rulebook for Vampire: The Masquerade with notes in the margins.
You've ever effected an Irish or Scottish accent and insisted that it was real.
You talk to your invisible guardians in public.
(Score double if you save places for them in crowded restaurants)
(Score triple if you admit to having sex with them)
You've ever claimed to have met the Vampire Lestat or Dracula.
(Score double if you got into a fight and escaped)
(Score triple if it was no contest)
You own a ceremonial bong.
You've ever tried something you saw on Sabrina, The Teenage Witch
You've ever had to go along with someone's ludicrous story because it was twice as likely to be true than most of the crap you spout.
You expect your employer to exempt you from the random drug testing because of your religion.
You've won an argument by referencing Drawing Down the Moon, knowing damn good and well they haven't read it either.
You've ever referenced the Great Rite in a pick-up line.
Someone has had to point out to you that you do not enter a circle "in perfect love and perfect lust."
(Score double if you argued the point.)
You claim to be a famtrad (hereditary), but you're not.
(Score double if you had to tell people you were adopted to pull this off.)
You claim to be a descendant of one of the original Salem Witches.
(Score to a lethal degree if you don't get this one.)
Someone once lost their boat delivering your ritual incense from Mexico.
You've ever used tongue delivering the fivefold kiss.
(score double if you did it more than once.)
You've ever used reincarnation as the intro for a pick up line.
(You may deduct this point if it worked.)
You think it's perfectly reasonable to insist that, since every tradition is different, and no one tradition is right, there's no reason not to do things your way.
You request Samhain, Beltaine, and Yule off and then bitch about working Christmas.
The thing that drew you to the Craft was the potential to dance with naked members of the opposite sex.
You strip in a club like the one in Porky's under your craft name, and consider it highly appropriate.
You've ever been psychically attacked by someone who conveniently held a coven position you crave, and suddenly had a glimpse into their mind so you could see how evil they were.
You've ever achieved position or influence in a coven by sleeping with half of it.
You claim yourself as a witch because how early you were trained by the wise and powerful such-and-such. Of whom nobody has heard.
You complain about how much the Native Americans copied from Eclectic Wiccan Rites.
You're not a hereditary witch but you have a good disposition to it because your ancestors (the ones before your German parents) were Native American or Irish.
You don't know the difference between Irish and Scottish, and you alternately claim to be both.
You think it's your Pagan Duty to support the IRA, not because of any political beliefs you might share, but because, damn it, they're IRISH.
You think the number of Wiccan books you own is far more important than the number you have read, regardless of the fact that most of your books are for beginners.
You hang out with people who each match at least fifteen of these traits.
You recognize many of these traits in yourself, but this test isn't about you. But, boy, it's right about those other folks.
Originally published on Pagan Library
Save