The Witches Digest for Wednesday, September 13, 2017
Children of the Goddess are we
Central to our family tree
Maiden, Mother, Crone and all
On this morn,' to you we call
Bless the families from which we spring
Ease the tortured hearts that sting
Aid forgiveness, ease all pain
Make the broken whole again
Help us see the hearts of others
Children, siblings and our mothers
Forgiveness grant to those in need
And reward the selfless deed
Heal the bonds that family bind
Heal the heart, the soul, the mind
Bring peace to troubled hearts at last
With this prayer said by Witches.
So Mote It Be
Your Sun & Moon Data for Wednesday, September 13
The Sun
Sun Direction: ↑ 101.63° ESE
Sun Altitude: 20.73°
Sun Distance: 93.520 million mi
Next Equinox: Sep 22, 2017 3:01 pm (Autumnal)
Sunrise Today: 6:35 am↑ 85° East
Sunset Today: 7:04 pm↑ 275° West
Length of Daylight: 12 hours, 29 minutes
The Moon
Moon Direction: ↑ 231.16° SW
Moon Altitude: 63.60°
Moon Distance: 229822 mi
Next New Moon: Sep 20, 201712:29 am
Next Full Moon: Oct 5, 20171:40 pm
Next Moonset: Today2:15 pm
Current Moon Phase: Waning Crescent
Illumination: 46.8%
Lunar Calendar
Moon Phase Tonight: Waning Crescent
New Moon: Sep 20, 2017 at 12:29 am
(Next Phase)
Third Quarter: Sep 13, 2017 at 1:24 am
(Previous Phase)
Source
Your Astronomy for Wednesday, September 13th
The Moon is in Gemini until 6:12 PM, after which the Moon is in Cancer.
The Moon is void from 2:35 PM to 6:12 PM.
The Moon is waning and in its Waning Gibbous phase until 2:24 AM, after which the Moon is in its Last Quarter phase.
The Last Quarter Moon occurs today at 2:24 AM.
Mercury is in its post-retrograde shadow until September 19th.
Moon in Gemini
The Moon is traveling through witty Gemini today. Call, text, send email, write letters. Visit someone you've missed. Watch a movie and talk about it at a coffee shop. Get out and about. Don't sleep in.
Our instincts are to communicate, think, and learn under the influence of Moon in Gemini. We are motivated by a desire for variety and by an instinctive curiosity. The Moon in Gemini is light-hearted, breezy, and curious, but it can also be restless and fickle.
The Moon in Gemini generally favors the following activities: Mental and communicative actions, and more than one activity at once. Reading, learning, letters and emails, errands, writing, teaching, making connections, short trips.
The Sky This Week for September 13 to 17
The Big Dipper, a crescent Moon, and other cool things to look for in the sky this week.
By Richard Talcott
Wednesday, September 13
Last Quarter Moon arrives at 2:25 a.m. EDT. It rose in the east-northeast late yesterday evening (shortly before midnight) and climbs high in the east before dawn. During this period, our half-lit satellite lies among the background stars of eastern Taurus the Bull.
The Moon reaches perigee, the closest point in its orbit around Earth, at 12:06 p.m. EDT. It then lies 229,820 miles (369,860 kilometers) from Earth's center.
Thursday, September 14
Any clear evening during the first half of this week is a good time to explore the constellation Sagittarius the Archer. This star group lies due south and at peak altitude around 8:30 p.m. local daylight time, near the time twilight ends. The brightest stars within the constellation form a distinctive asterism in the shape of a teapot. The central regions of the Milky Way pass through Sagittarius, so it's always worth exploring the region through binoculars or a telescope.
Friday, September 15
Although Saturn reached opposition three months ago today, it remains a tempting target in the evening sky. The ringed world stands some 25° high in the south-southwest as twilight fades to darkness and doesn't dip below the horizon until close to midnight local daylight time. Saturn shines at magnitude 0.5 against the backdrop of southern Ophiuchus, a constellation whose brightest star glows six times fainter than the planet. When viewed through a telescope, Saturn's globe measures 17″ across while its spectacular ring system spans 38″ and tilts 27° to our line of sight. As you gaze upon Saturn from afar this evening, it's the first time in more than 13 years that the Cassini spacecraft is not observing the ringed planet from up close. The robotic probe burned up in the gas giant's atmosphere earlier today.
Saturday, September 16
Mercury and Mars have appeared near each other in the predawn twilight all week, but they make their closest approach this morning. For North American observers, they slide just 0.25° (half the Full Moon's diameter) apart and lie in the same low-power field through a telescope. (Mercury spans 6.4″ and is about two-thirds lit; Mars is 3.6″ across and full.)
Sunday, September 17
The waning crescent Moon points toward three planets and a star this morning. The slim crescent stands 6° above Venus with Leo the Lion's luminary, magnitude 1.4 Regulus, 3° below the planet. Mars and Mercury huddle 11° below Venus.
This evening provides a nice opportunity to see Saturn's seven brightest moons through a telescope. The toughest to spot normally are the two inner ones — Mimas and Enceladus — which never stray far from the rings' glare. But tonight, the two satellites reach greatest western elongation within two hours of each other. Tethys, Dione, Rhea, and Titan show up more clearly because they glow brighter and lie farther from the planet. Distant Iapetus rounds out Saturn's "magnificent seven" satellites on display. If you draw a line from Saturn to 8th-magnitude Titan and extend it an equal distance, 11th-magnitude Iapetus will be right there.
Source
Today is Wednesday, September 13th
Wednesday is the day of the Teutonic deity known as Wodin or Odin, an aspect of the Allfather, god of knowledge, wisdom, enlightenment and combat, the parallel of Hermes, the planet Mercury.
Deity: Woden
Zodiac Sign: Gemini & Virgo
Planet: Mercury
Tree: Ash
Herb: Cinquefoil
Stone: Emerald & Sardonyx
Animal: Raven & Cat
Element: Air
Color: Red & Blue
Number: 6
Rune: Odal(O)
Celtic Tree Month of Muin (Vine) September 2 – September 29
Runic Half-Month of Ken (September 13 – September 27)
Goddess of the Month of Mala (September 6 – October 2)
Reference
The Pagan Book of Days
Nigel Pennick
Pagan Calendar of the Days for Wednesday, September 13th
The Roman festival of the Lectisternia was held in honor of Jupier, Juno, and Minerva. The rune Ken represents the flaming torch within the royal hall the time of the creative fire—the forge where natural materials are transmuted by the actions of the human will into a mystical third, an artefact that could not otherwise come into being. The positive aspects of sexuality immanent in the goddess Freyja and the god Frey come into play at this time.
Reference
The Pagan Book of Days
Nigel Pennick
On Wednesdasy, September 13th, We Honor the Goddess Rhiannon
IN ENGLAND, THERE IS a huge impression of a horse carved in the chalk on the side of a Berkshire hill. This enormous white carving, dating from the first century bce, suggests the importance of the horse to people of that time. Horses were used for traveling, plowing fields, and transporting heavy loads. Their strength made it possible for humans to support themselves from the land.
Like this horse carved within the earth, the British horse goddess Rhiannon was said to appear to her followers riding an unearthly white horse. Dressed in royal robes of gold, Rhiannon was always accompanied by three birds from the Happy Otherworld, where gods and goddesses live in eternal happiness. The magical song of these birds could lull the living to death, restore the dead to life, and heal all sadness and pain. The beauty of their song suggests the otherworldly beauty of this goddess.
Rhiannon's name is derived from rigantona, which means "great queen goddess." In an earlier period, Rhiannon was known as Epona. Many statues have been found of Epona, most of which depict her with a mare on one side and a bundle of grain on the other, symbolizing her connection to the harvest. Other statues depict a mare, foal and goddess. They represent the Goddess's ability to create food to sustain life.
Source
The Book of Goddesses: Expanded Anniversary Edition
Kris Waldherr
Wednesday's Conjuring
Wednesday – is associated with Mercury
Candle colors – Purple
Spellcrafting Influences – Mastery, Domination Work, Wisdom, Healing, Dealing with Legal problems.
—Old Style Conjure Wisdoms, Workings and Remedies
Starr Casas
The Magickal Day of Wednesday
Wednesday is named for Woden himself, although the Romans called it dies Mercurii. This is a day associated with the color purple, the planet Mercury, and the metal quicksilver – which is also called mercury. See a pattern here?
When it comes to deities… yes, Mercury! However, there are a few other gods associated with Wednesday, including Odin and Hermes, Athena, and Lugh. Gemstones like adventurine and agate come in handy as well, as do plants such as aspen trees, lilies, lavender and even ferns.
Business and job-related issues, communication, loss and debt, traveling, and journeys are all tied in to Wednesday. This is a good day to do a working to open up lines of communication – especially if your own actions are preventing you from being an effective speaker or listener. Go someplace new or return to an old favorite stomping ground, step up your game, and settle up your accounts.
Source
Patti Wigington, Paganism/Wicca Expert
Article published on ThoughtCo
The Witches Guide to Wednesdays
Ruler: Wodin, Mercury
Colors: Orange, light blue, and gray
Power Hours: Sunrise and the 8th, 16th, and 24th hours following
Keywords: Success, creativity, communication
The word Wednesday is reminiscent of the Norse wind god Wodin, which is referenced in the popular rhyme verse "Wednesday's child is full of woe." This does not mean that those born on this day are full of sorrow or trouble. To be full of Woden (Wodin) means to be full of wind, to be spirited. Woden was such a powerful pagan god that the German church fathers changed the name of his day to Mittwoch, meaning midweek, in an attempt to exorcise his influence.
In the Spanish word for Wednesday, miercoles, we clearly see its connection to Mercury. Under the guidance of Mercury; Wednesday is a day of swift activity, communication, correspondence, and phone calls. This is a good day for journalists, writers, poets, bargaining, hiring employees, and visiting friends.
On Wednesdays, the hour of sunrise and every eight hours after that are also ruled by Mercury, making these times of the day doubly blessed. These are the strongest four hours for ritual work. Check your local newspaper, astrological calendar, or almanac to determine when sunrise occurs.
Source
The Witches Almanac for Wednesday, September 13th
The Gods' Banquet (Roman)
Waning Moon
Fourth Quarter 2:25am
Moon Sign: Gemini
Moon enters Cancer 6:12 pm
Color: Brown
Incense: Lilac
Wednesday's Correspondences
Dedicated to the Teutonic god Woden or Odin, an aspect of the "All-Father" god of knowledge wisdom enlightenment and combat, the parallel of Hermes.
Element : Air
Planet: Mercury
Zodiac Sign : Virgo / Gemini
Angel : Raphael
Metal : Mercury
Incense / Perfumes : Jasmine, Lavender, Sweet Pea
Oil: Benzoin, Clary Sage, Eucalytus, Lavender
Color : Red, Orange, Light Blue
Stones : Bloodstone,Garnet, Aventurine, Hematite, Moss Agate and Sodalite
Plants/Herbs : Almond, Anise, Cherry, Clover, Dandelion, Dill, Fern, Hazel, Hyssop, Lavender, Lemongrass, Lilac, Mace, Peppermint, Rosemary, Vervain
Magick to Work: the conscious mind, study, travel, divination, consulting oracles, wisdom, communication ,cleverness, contracts, creativity, information, intellect, memory, perception, science, wisdom, writing
Wednesday Is Ruled By Mercury
Wednesdays are wild and wacky days. They are for communication, change, cunning, and the arts. This is a Mercury day, and just its patron god this day is full of contradictions, change, and excitement. Some suggestions for Wednesday enchantments would include:
Pulling a little Wednesday color magic into your life by wearing purples or orange
Carrying a multipurpose agate with you and tapping into its various charms
Working with magical plants such as the fern for protection. This plant will also boost the power of any other magical plants with which it is arranged.
Incorporating lavender into charms and spells for transformation
Using the charming scent of lily of the valley to improve your memory, or working with the aspen tree for communication
Calling on Athena, patron of arts and crafts, for inspiration for a new project
Fanning out a Tarot spell to increase you creativity
Calling on Hermes on a Wednesday night to bring movement and good luck into your life
Mercury's Energy
*Notes: perform on a Wednesday and/or during the waxing Moon with the Full Moon being strongest. An orange or violet candle is associated with any magick cast on this day.
Day: Wednesday
Color: Orange, violet, multicolored, pale yellow
Metal: Quicksilver, alloys.
Stones: Carnelian, fire opal, agate
Plants: Anise, caraway , cassia, club mosss, dittany of Crete, lavender, licorice, parsley, sandalwood, storax
Rules: Gemini, Virgo
Oils: Lavender, lemon, lily of valley, nutmeg, sandalwood, styrax, vervain
Rituals Involving: Intellect, memory, science, creativity, business, magickal conjuration, divination, prediction, eloquence, gift of tongues, speed, speech, writing, poetry, inspiration, improvement of mind power, healing of nervous disorders.
Physical Chant for Mercury:
Magick, the Arts, success on my trade,
Business wisdom and divination,
These gifts I would gain for my physical growth
And to help in my conjurations.
Source
Dancing with Dragons, Invoking Their Ageless Wisdom and Power
D. J. Conway, Author
Let's Talk Witch – Tasseography
Tasseography (or tasseomancy) is the art and practice of divination by the reading of tea leaves. Known in Scotland as "reading the cups," it is a popular method of prognostication among many Gypsy fortunetellers and modern Witches alike.
Tasseography is quite ancient in its origin. First practiced in China, it was eventually introduced to Europe and other parts of the world by nomadic Gypsies, who, in exchange for money, food, or favors, could read the fortune and future in the tea leaves of any woman or man who sought their counsel.
During the 19th century, teacup readings were all the rage throughout England and the United States, which, during that period, was experiencing an influx of Gypsy immigrants.
To interpret the future through tea leaves, you will need any type of loose tea and a white (or light-colored) teacup with a wide brim and no pattern on the inside. Any ordinary cup can be used; however, many diviners have a special cup that is used only for tea leaf readings.
Traditionally, a spoonful of tea leaves is placed in the cup, and, before the hot water is added, the person whose fortune is to be told stirs the dried tea with a finger or a spoon while concentrating on a specific question that he or she would likeanswered. Boiling water is then poured into the cup. After it has cooled, the querent drinks all but one spoonful of the tea.
He or she then takes the cup in his or her left hand and thrice swirls the leaves in a clockwise direction before quickly turning the cup upside down onto a white napkin resting on top of the saucer. After counting to seven (or sometimes nine, depending on the diviner's personal preferences), the cup is returned to its right side up position. The various patterns formed by the wet tea leaves clinging to the bottom and sides of the cup are then interpreted. Some diviners feel that a reading is not complete unless the tea leaves on the napkin are interpreted as well.
Traditionally, a teacup is read clockwise. According to Eva Shaw's Divining the Future, "the handle represents the day of the teacup reading and the cup is divided into a years time, with the side directly across the handle indicating six months into the future."
Most readers feel that the closer the tea leaves are to the brim of the cup, the greater their significance. Tea leaves on the bottom of the cup are believed by some to "spell tragedy," and by others to indicate events of the distant future. In many cases, the clockwise or counterclockwise facing of a tea leaf pattern indicates a particular event about to happen or about to draw to a close, respectively.
Examine the tea leaves carefully for any symbols, pictures, letters and/or numbers that are made, for each one possesses a divinatory meaning. For instance, if the leaves take on the shape of a heart, this indicates future happiness. If two hearts are seen, this is said to be a sure sign that wedding bells will be ringing for you (or someone close to you) in the near future. News of a marriage proposal or a wedding will be forthcoming should the symbol of a church, a wedding ring, or a bride and groom be seen.
A dagger is generally perceived to be a warning of impending danger, while a coffin is said to be an omen of death. A moon represents a change soon to take place in one's life, and a ring a change for the better. (However, some tea leaf readers interpret a circular symbol to mean failure!)
Animal symbols are commonly seen in teacup readings. A snake is said to warn against treachery and betrayal. A bird portends good news or perhaps a journey soon to be embarked upon. A dog represents a faithful friend, and a cat a friend who is false.
Dots or dollar signs represent money soon to be received, and a broom traditionally portends a change of residence. A star is always a fortunate sign, and a horseshoe indicates good luck. A triangle or the symbol of a pyramid is one of the best omens to receive. Whenever one appears in a reading, it generally foretells great success.
According to Welsh Folklore by J. C. Davies, a good sign is portended if the tea leaves are scattered evenly around the sides of the cup, but an extremely bad one if "the bottom of the cup appears very black with leaves."
The meanings that lie behind the designs and shapes created by the tea leaves can be highly symbolic in their nature, or they can be exactly as they appear. Symbols may hold different meanings for different people; therefore, as with all other methods of divination, the success of a reading rests heavily upon how finely tuned the intuitive powers are of the person conducting the reading.
If you are new to the art and practice of tasseography, do not despair if your first few attempts at reading the tea leaves are unsuccessful. Many readers see only vague shapes in the beginning. But, as the old saying goes, "practice makes perfect." This applies to all skills, including magickal and metaphysical ones as well.
A list of tea leaf symbols and their meanings can be found in the books Divining the Future by Eva Shaw (Facts on File, 1995) and Tea Leaf Reading Symbols by Harriet Mercedes McCrite (McCrite, 1991).
Source
Herbal Magick, A Witch's Gude to Herbal Folklore & Enchantment
Gerina Dunwich
WOTC Extra – Tea Spells & Superstitutions
In addition to its role in divination, the tea plant (Camellia spp.) has long been linked to folk magick and superstition. Burned by Chinese sorcerers to attain wealth, the leaves of the tea plant are often added to money-attracting potions and sachets. Various parts of the tea plant are also used in spells for increasing one's courage and strength, and some modern Witches have been known to use infusions of tea as a base for mixing drinks designed to provoke lust.
A magickal method to keep evil spirits from invading a house or barn calls for tea leaves to be sprinkled upon the ground in front of the building's main entrance. This old Pagan custom is said to be still practiced in some parts of the English Midlands.
Numerous superstitions surround the brewing of tea. For instance, the accidental spilling of tea while it is being made is said to indicate good luck for the mother of the house. However, brewing tea in any teapot other than your own invites bad luck, while forgetting to put in the tea indicates that misfortune is on the horizon. To accidentally make the tea too strong means that you will make a new friend. But to accidentally make it too weak means that you will end up losing one. In England, where the drinking of tea is a national pastime, it is still believed that the arrival of a stranger is portended whenever someone accidentally leaves the lid off his or her teapot.
Take care to always put your sugar into your tea before adding the milk or cream, otherwise you will find yourself quarreling with your husband or wife before the day is done. However, in some parts of England it was once believed that if a young girl added milk or cream to her tea before putting in the sugar, she would never wed.
It is extremely unlucky for two people to pour out of the same teapot, according to an old superstition, which can be found alive and well in many parts of the world. And never pour tea with another person unless you wish to become a magnet for bad luck.
Bubbles or a circle of foam on the surface of a cup filled with tea is said to be a sign that money will soon be received. Some folks believe that money is indicated only if the bubbles or foam appear in the center of the cup. If they appear near the sides, this is a sign that you will soon be kissed!
If a piece of tea stem (known as a "stranger") should float to the top of your cup of tea, this is said to be a sign that a visitor will arrive. If the stem is hard, this indicates that the visitor will be a man. If it is tender, the visitor will be a woman.
To determine which day of the week your visitor will come to call, place the stem on the back of your left hand and then slap it with the palm of your other hand. Each time you do this, recite one of the days of the week (starting with the current day). The day of the week that is recited when the stem either sticks to the palm of your right hand or falls off indicates which day it will be.
A similar divination method, which was popular in Victorian-era England, was carried out to determine the fidelity of one's lover. A wet tea stalk or long tea leaf would be placed in the palm of the right hand, and then both hands would be clapped together once. If the tea stalk or leaf remained stuck to the palm of the right hand after being clapped, this indicated a faithful lover. However, if it adhered to the other palm, this indicated one who was fickle.
To avoid bad luck, always be sure to stir your tea in a clockwise direction, and never stir the leaves in a teapot prior to pouring. To stir your tea with a fork, a knife, or anything other than a spoon is to invite bad luck. And never stir another person's tea, for to do so will stir up strife.
In addition to the numerous good and bad luck omens associated with tea, there are many tea-based superstitions concerning human fertility. For example, if a man and a woman pour a cup of tea from the same teapot, they will end up having a child together. If a young lady permits a man to pour her more than one cup of tea, she will be unable to resist his sexual charms. A woman who pours tea in another woman's house will soon find herself pregnant (or, according to another superstition, the recipient of very bad luck). Some folks believe that if two women should take hold of the same teapot at once, this will cause one of them to give birth to red-haired twins before the year reaches its end! And if more than one person pours you a cup of tea, this is also believed to result in the birth of twins (though not necessarily red-haired).
Regardless whether your tea leaves are used in the casting of a spell, the divining of the future, or simply the brewing of a cup of hot tea, you should never throw them away after you are finished using them. To do so is said to bring bad luck, according to some superstitious folks. Disposing of your used tea leaves by casting them into a fire not only prevents bad luck, but keeps poverty away.
Source
Herbal Magick, A Witch's Gude to Herbal Folklore & Enchantment
Gerina Dunwich
Celebrating 365 Days of Legends, Folklore and Spirituality for September 13 and 14 – All Souls' Day/Festival of Jupiter Optimus Maximus
All Souls' Day/Festival of Jupiter Optimus Maximus
All Souls' Day in Egypt was a festive occasion. Held in honor of the Goddess Nephthys, Mistress of the Palace, it honored the spirits of the dead. There most certainly would have been a royal procession among the common people, followed by a public ritual and the Ceremony of Lighting the Fire. All the other activities would have taken place in the temple that was accessible only to the priesthood of Nephthys and the royal family.
Jupiter Optimus Maximus ("Jupiter Best and Greatest") is the supreme Roman God. He was worshiped above all other Gods. The Ludi Romani games took place in September, with a special festival on September 13. The farmers' harvested fields and orchards demanded little attention, the military campaigns paigns would be coming to a close with the soldiers coming home, and the populace was in a serious mood for "fun." On the Ides of September 13, Jupiter received a sacrifice of a white ox in gratitude for an abundant harvest and successful battle. This would have been followed by notorious Coliseum games that somehow seem to eclipse the significant religious character of the Roman Empire.
Magickal Activity for September 13th & 14th, All Souls' Day/Festival of Jupiter Optimus Maximus
Jupiter Prosperity Talisman
Items Needed:
The fourth pentacle of Jupiter
Pine incense
Clove oil
One orange candle
Four $1 bills
A round box painted dark blue
Begin by placing all the items on a small table or altar. Pick up the blue candle. Inscribe on it your name and the amount of money-be reasonable-you would like to have. Anoint the candle with the clove oil as you chant:
Success and prosperity come to me, This I will so mote it be.
Place the candle in its holder and light it. Gaze into the flame and visualize your desire.
Pick up the Jupiter pentacle, hold it in both hands, and chant the following to energize it with your thoughts and feelings:
Honor, wealth, and prosperity, Are what this talisman shall bring to me.
Place the talisman under the blue candle. Take down the circle and leave the candle to burn for two hours. Repeat this spell four consecutive times. Each time, anoint the candle and repeat all of the steps just as you did the first time. On the last day, place the talisman in the box along with the money. Redo the spell whenever you have need of money.
Home & Hearth Magick for Wednesday, September 13
On Wednesdays, cast for communication matters and to improve good life.
Planetary Influence: Mercury
Household Symbol: Phones, televisions, computers, letters, silver coins
Color: Orange or purple
Kitchen Spices: Dill and celery seed.
Source
Cottage Witch, Natural Magick for Hearth & Home
Ellen Dugan
The Witches Current Moon Phase for Wednesday, September 13
Last Quarter
Illumination: 47%
The Moon today is in a Third Quarter phase. Sometimes called a Last Quarter Moon, this phase occurs roughly 3 weeks after the New Moon when the earth is three quarter of the way through it's orbit around the earth. If you live in the northern hemisphere the Moons left side will be illuminated and the right side dark. For thoughts of you in the southern hemisphere it will be the opposite with the right side illuminated. On the day of the Third Quarter phase the Moon will rise around midnight on the eastern horizon and set in the west around noon the next day. In the days following the Third Quarter Phase the Moon's illumination will decrees each day until the New Moon.
Phase Details for – Wednesday, September 13, 2017
Phase: Last Quarter
Illumination: 47%
Moon Age: 22.38 days
Moon Angle: 0.55
Moon Distance: 363,298.41 km
Sun Angle: 0.53
Sun Distance: 150,487,270.04 km
Source
Current Cosmic Quantum Energy Report
Advanced Intelligent Life Forms DNA Activations
Delivery for Integration into all Earthly Physical Bodies of Matter 
After weeks of Light Waves and Crystalline/Christed Consciousness flooding our evolving bodies and planet (both being referred to as "Planetary Bodies"), powerful cleansing processes, powerful integration phases, which continue to increase as we move further into our Photonic Age of Existence, we've now entered into increased StarGate Alignment and Advanced Rapid DNA Enhancements again.
These are focused on activating all Higher Intelligent Life Forms to come further online with our Crystalline Grid Matrix Programs here to evolve all on this planet earth and further contribute to Galactic/Solar System existence within a Multi-Dimensional Matrix System replacing the old "Human Experience" Matrix programs of unconsciousness, amnesia and forgetting through incarnation here. Walk-ins incarnated differently than birthing incarnations, therefore the experiences are a bit different, yet for the same purposes for bringing humanity through to a whole new existence here.
These Intelligent DNA upgrades activate the visible and invisible, the microscopic, super-charging Photonic Light Energy to re-code at an exponential rate. What was dormant is no longer, what was sleeping wakes, what was suppressed emerges, what was waiting is excited, what was hidden becomes visible, what was out of alignment is aligned, what was out-of-tune is tuned, what was missing the linkage of geometric and mathematical codes now receive these codes to link-up and so very much more.
All matter brought to life to thrive, flourish and experience infinite abundance, there is a death/dying phase that must occur in order for evolution (returning) to occur. These death cycles will be in many forms as well. Physically, emotionally, mentally and with whole body structures, where life cannot be sustained because HIGHER INTELLIGENCE LIGHT of each's Soul/Star Systems is unable to integrate fully, which IS the re-coding process that brings all over (transitioning phases) from Old Earth to NEW.
Each's cellular body is working hard, where unconsciousness was strong/deep. Each cell must continually activate and re-code itself and be able to communicate easily, without interference, resistance or blocks. The typical sleeping human body stored unconsciousness in every cell/part, which built up over the separation of time, therefore it takes "time" for the deconstruction/re-coding process to occur to REVERSE the POLARITY of all held and create a whole new ZERO POINT RANGE, which tells every body part, every organ, the brain, the heart, the skin, the glands, the eyes, the senses, the neural pathways & network system what to do, how to function. At the center of this are your nervous system, your heart and brain. These appear to undergo the vaster amount of work because these are the ones that appear to affect your functioning more, yet when in fact, it's every organ/cell of your body that has to work cohesively/in unison for your body to function at its highest capability for pristine. Every part of your body goes through immense re-writing/re-coding/re-working itself, depending on your current part of this immense evolutionary process that continually brings all into higher dimensional existence and out of lower dimensional/density existence now.
These Advanced DNA Codes go straight to what you are ready to experience (whether your human is ready or not). All of this is on a Soul Level, your SOUL dictates this experience here. Everything you experience is directed by way of this. Only as you connect to your own PURE SOURCE LIGHT/YOUR SOUL will you truly start to understand how vast and important all of this is. Your experiences assist you with this.
These Codes carrying/deliver UPGRADES for:
Your NEW Nervous Systems
Your NEW Auditory Systems
Your NEW Viewing Systems
Your NEW Operating & Processing Systems
Your NEW Bio-Electric Transmitter/Receiving Systems
Your NEW Cellular Communication Systems
Your NEW Connection Systems
Your NEW StarGate Linkage Systems
Enhancing Your Crystalline LightBody Structures & Earthly/Planetary Link-Up Capabilities
These higher-dimensional-intelligence codes resolve vibrational mismatches faster, making all visible faster/instantly, increasing the rapid release of all unconscious realities that can no longer align with the overall frequency of our Increased Ascension Earth's Trajectory. The strength at which each experience this is relative to conscious/unconscious states/programs housed within the physical body and what's necessary to move each into a much higher vibrational existence now.
Each is gaining greater capacity to CARE on a much deeper level than ever before. This CARING is for yourself, therefore allowing you to truly CARE about each other, to truly care about your Earth, to truly CARE about UNITY, LOVE, RESPECT, KINDNESS, INTEGRITY through ACTIONS of how you TREAT each other, the Earth and your Selves. All higher light frequencies "shine the light" on all that is UNCONSCIOUS and not PURE for each to SEE it and physically experience it, if this is what it takes to open/activate each's Higher-Heart-Soul-Mind more. Those old focal points that were distractions will become "loud" and for the really strong ones each was holding onto out of resistance/judgment/fear, these are often "removed" so that inward focus and purification/cleansing can easier occur.
This multi-collective awakening means a substantial increase in collective experiences of REALities being re-worked. This re-working process is called re-alignment with each's SOUL, instead of with the ego-human self. REALities are created out of ENERGY and VIBRATIONAL FREQUENCIES and lower dimensional/density earth was created out of the ENERGY of unconsciousness (Separation from Self as SOURCE/Pure Source Light), which is the lowest possible cellular vibration there is. These unconscious mentalities/beliefs are what is being "broken down/through" to awaken each to a whole new existence that does not derive from separation/fear/survival instincts of "self-preservation" first.
Unconscious Earth operated by MAINTAINING fear-based programs/programming, where each "lost/forgot" what PURE EXISTENCE is. By each maintaining INSISTENCE of what REALity is, instead of truly opening up fully to honor, listen, respect, care, support, have compassion, hold kindness and actually contribute in a way that is beneficial to the GREATER Good, the whole, the bigger picture and each other as important, loved and appreciated through gratitude and a love that must be REMEMBERED to understand. This REMEMBERING is a process that can only be done through the heart/higher heart and observing higher consciousness mind self. This REMEMBERING RETURNS each to an existence that is a compilation of all existences merged into this one right here. Each existence also had distortions that must be purified and cleansed. Each aspect does too. These processes and gateways move each further through this.
By choosing/deciding/agreeing to ENTER the REALMS OF AMNESIA, you agreed to forget, you agreed to disconnect so much that many are "struggling" to "find their way back". (Technically this is not true, as everything is occurring exactly as it's supposed to/meant to be, all in Divine Timing, on the "schedule" that your own Soul pre-determined before every choosing this planet as a destination (Point of Origin) for your awakening/service work/experiences here. To Exit the Matrix/Realms of Amnesia, certain events must occur, to shake/startle/collapse each of your old belief systems that kept you in those dimensional timelines that no longer have any support for sustaining, which is why many are feeling/experiencing "urgency" in their own lives. This URGENCY is your own Wake-Up Call (Clarion Call/Message) from your own SOUL.
IF your realities are not full of JOY, LOVE, INSPIRED, EASY & SIMPLE and able to align FOR YOU with great ease, then YOU are HOLDING ON and allowing the perpetuating of old programs in your own etheric/energetic/physical reality here. Your E-motions (Energy in Motion) are the release of old victim/dis-empowered states that you created/allowed before, that you believed, due to a program/fear located in your Root Chakra/Core/Root Systems throughout your body and your "Shaking Cells" are your LightBody (Cells speeding up), your Soul Body activating and "bumping into/triggering/activating" those programs wherever they are in your body to purify/release/cleanse/clear, which also affect your nervous system/breathing/vision/hearing and more. Your whole body/system is affected more and more and more, because it's 'OUT OF TUNE' and those old unconscious programs hold a vibrational frequency that can no longer "live" in your higher dimensional body trying to bring you ONLINE and OVER TO THE OTHER SIDE, where UNITY CONSCIOUSNESS LOVE rules your entire reality world. Your cells start to vibrate and move inside of you, they start communicating as your Intelligent DNA transmits NEW MESSAGES throughout you for how to re-work/re-code/re-wire itself electrically, creating a whole new networking system inside of you that communicates new coded messages on how your body needs to be re-worked… yet your unconscious human cannot "hear" or "see" this, only your fully in-tune present Expanded Conscious Quantum Soul Self can, which does understand and KNOW what your human cannot. You are the one that CHOOSES which one you allow to be present in every moment here, which therefore DICTATES your entire experience as well.
The "problem" for many (not really, yet I need a word to describe), is that these "invisible realities" are not real yet, not believable and not important enough to honor/respect/allow. They do not "fit into" "what reality is" or what is perceived as important, and everything else/other things are put first, because of the "strong hold" of what is important/needed to survive is distorted, because there is no comprehension level yet regarding "the integration of Higher Dimensional/SOLar (Soul) Light". It's not yet understood that integration is HOW our lives get easier, how our lives take new shape, how infinite everything comes forth, because it's "not tangible" and can't be touched, soooooooooooo, in order to get the linear-minded human's attention, THIS must TOUCH their lives BEFORE the heart/mind will OPEN to listen/respect/honor/do what makes no logical sense….
These encodments RESTRUCTURE ENTIRE REALITIES, often from scratch. They are for BUILDING ALL NEW FOUNDATIONS through UNITY and LOVE and where we are not yet open to this, our resistant, non-believing human aspect often "requires" an experience to accomplish this. Where the "soft way" doesn't work, the alternative is a "strong way". WE did have a bazillion opportunities to awaken/open up, yet it was not time…. now it is… for every LIVING BEING ON EARTH.
The only Earth that will remain will be a FULLY CONSCIOUS and UNITED ONE
If you look at this statement, then what does this tell you? What does this mean for you and what's truly important now?
While we are functioning on a multi-dimensional earth right now, the lower dimensions will dissolve, disintegration, deconstruct, dismantle and be obliterated in various ways. ALL EXPERIENCES are to OPEN THE HEART & MIND so that each's SOUL and GALACTIC SELF can emerge fully from within and INTEGRATE INTO THE BODY, for walking physically in Heaven on Earth, so each will live out/work through all things that represent "Hell" until "Hell" is no longer a desired experience. Each's focus, actions, each's energy… this is what creates/supports. NO REALITY CAN FLOURISH if you do not support it, do not allow it, do not keep creating it, do not keep participating in it and KEEP IT GOING…..
Your BELIEFS and MENTALITIES dictate HOW PHYSICAL MATTER TAKES FORM…. your vibrational transmission, so if you deconstruct and dismantle your own mentalities and beliefs, see the distortions yourself and HONOR YOUR EMOTIONS that are a cellular cleansing process until they are all depleted/gone (to be replaced with the PURITY OF LOVE), then the CONSTRUCTS that held those REALities collapse too. The moment you REALize your reality is your reflection of your own programming, the moment you have the CHOICE to change the VIBRATIONAL TRANSMISSION to activate a whole new program/timeline to play out for you.
Your human believes the physical, instead of understanding how the physical comes into form. Your Consciousness forms matter, not the other way around. Your beliefs take shape, your actions solidify them…. only you can shift the vibration/change the reality…. AS A SOUL. Your human aspect does not have these simple capABILITIES, only your Soul/Highest Self/Aspects do. Your Soul is INFINITE and spans every dimension simultaneously. As you EVOLVE as a SOUL you re-gain the capability to do all with great ease. Your life is SIMPLE, full of love, joy and peace. You align realities, you create them…. you hold great Responsibility for your Creations, as do all others. It's just the more unconscious one is, the less they understand/comprehend this. They fear taking their power back, they fear opening up to be seen, they fear the physical, they fear LOVE, because of immense distortions/stories that they still have going on within them.
You are here to RE-EDUCATE through LOVE Consciousness, through Unity/Christed/Crystalline Consciousness, through PURITY/LeMUrian/Arcturian Consciousness, through Higher Intelligence Consciousness (Sirian/Atlantean/Lyran) and more… You are here to BE THE EXAMPLE, to be the PROOF that UNIFIED EXISTENCE is REAL and that we can all come together, work together, co-exist together through Peace, Kindness, Compassion, Consideration and more. You are here to bring forth ALL OF YOUR ASPECTS & EXISTENCES and Embody these fully, by way of clearing all distortions as they present, yet you cannot do this if you are not observing, seeing, recognizing and actually DOing highest alignment in HOW YOU LIVE YOUR LIFE…. which STARTS with you honoring you and integrating/holding this vastness from within you — all of the time (not just when it benefits you or when you want/need something).
You are here as an ANCHOR POINT as a Crystalline Gridkeeper and Light Frequency Holder, without any ego in the way. Where there is any separation, duality (struggle/suffering/discord) will play out in your own reality world for you to hear/see/feel/experience so that you can shift all yourself (which is a part of you RETURNING TO POWER AS LOVE again).
These NEW CODES are going straight to whatever needs to be upgraded/ re-calibrated/recoded and re-worked. You do not have to fully understand everything to honor this process and these integration processes, you just have to open up to actually listen and care. This opening up means your heart is open/your mind is open and you are not fighting your own evolution process that your Soul decided to have here. Your resistant human is the one that causes your own suffering. It's up to you to CHOOSE WHICH YOU you are going to BE, which determines how you experience all now. ♥
StarGates prepare to activate fully for higher timeline synchronization to occur. This is an "always occurring" process now. The influx of PURE CHRISTED/CRYSTALLINE frequencies running 24/7 now, the charging up, the density clearing, re-alignment, re-coding, re-calibrating, re-synchronizing, re-everything… we just cycling in/out/through different frequencies constantly so that the actual evolutionary process can expedite faster/more now.
Your actual experience will show you which dimension you are currently in with your body, and your ability to MAINTAIN your expanded state will dictate this. What you surround yourself with (physical matter things and others) will also dictate this. Where you flood your own consciousness with all things of the absolute highest vibration there is, all things that activate/open your own hear, bring through more happiness, honor your own dreams, honor you, then you will find it easier to maneuver, because you will be honoring when your body tells you it needs to shut down/sleep/integrate, honoring how you feel, respecting/loving/showing kindness and consideration to yourself, which gives you the capability to do this for/with others too. If you allow yourself to deplete (integration with deplete to re-write your template all along the way), give all of your energy away, over compensate, try to save/fix everyone out, allow others to impose/overstep their boundaries or you keep overstepping yours, then you will find yourself experiencing realities to show you not to do this anymore. This will correlate to your physical reality, physical world abundance, physical world things, situations…. YOUR BEHAVIOR dictates the experience you have here.
You are FULLY RESPONSIBLE for your own behavior, how you treat all….. where you come from (fear or unity-love) will dictate whether your reality flourishes or appears to fall apart. This collapse or falling apart is the re-structuring of your reality for you. When all of that separation energy dissipates/dissolves, then the cellular structure can take new shape. This occurs for you faster now. If you have taken an active role in integrating and being fully conscious of yourself, then you will have a much easier (and in-JOYable) experience than if you are not. This process occurs REGARDLESS of your conscious participation, for this process was pre-determined before ever incarnating/walking into the body you chose that held the DNA/Genetics necessary for your whole experience here. First your human (separation/ego/duality/unconscious one), which you must completely cleanse/clear/transcend from within, then your higher timeline ones, where you walk in HEAVEN ON EARTH, birthing yourself on NEW Earth to "learn" how to do everything all over again, from scratch, building/creating all new realities that are fully aligned with NEW EARTH PRINCIPLES, PRACTICES and UNIVERSAL COSMIC LAWS that precede everything else. As you "learn" how all works, as you start to contribute, as you open up to share, support and become an integral part of OUR NEW HUmanity, you establish your RESIDENCY on NEW EARTH, which becomes permanent as you accomplish the tasks, fulfill those roles/purposes/missions that you came here to DO, which is how you CHANGE EARTHS and no longer have to go back….
Your consciousness/unconsciousness determines the Earth you live on. You establish your RESIDENCY VIBRATIONALLY, by way of your contributions, energy, openness and connectedness fully here. ♥
I love you. Happy integrating these light codes into your own physical form/reality here! ♦
Lisa Transcendence Brown ☼
Your Daily Horoscopes for Wednesday, September 13th
Aries
A Sun-Saturn square today can bring your attention to a flaw or problem that temporarily discourages you, dear Aries. However, these are simply roadblocks, and sometimes delays can help you batten down the hatches and make yourself or your projects much stronger. Changing your strategy or approach may be all that it takes to get things back on track. You may get a reminder of rules or practical details that you overlooked in the past, or where you may have tried to cut corners. If you feel overburdened, unduly criticized, or unappreciated for all that you do, take a small break and gain some perspective. Then, come back to things and work for yourself rather than for others for best results now. If you can tune out what others are doing (or not doing), you'll find you can take care of your business very well.
Taurus
There can be a lot of excitement and forward movement in your life these days, Taurus, but today's Sun-Saturn square asks you to slow down or make some adjustments. You might experience temporary blocks or doubts about a recent endeavor or relationship. Filling your heart's desire is not straightforward just for now. Getting back on track may require a rest or some tweaking of expectations. This is not the time to rush things! What you think you should do and what you want to do can be at odds right now, but cutting corners won't help, as you're likely to be accountable if you do. As well, if you're feeling insecure, remind yourself that what you think you're lacking is probably exaggerated in your mind's eye. Aim to work on improving those things that you can and forget about the rest.
Gemini
It can feel like someone is putting a damper on your plans or is overly critical today, dear Gemini, but don't let this drag you down. It does help, however, to work on patching up areas where you feel a little too vulnerable. Even if life lessons come in annoying packages as they're wont to do when the Sun and Saturn form a square, you are likely to learn something valuable from missteps today. Family and partnership pressures can be in focus. There may be a previously neglected area of your life that now seems necessary to revisit. Paring things down will allow you to move forward more quickly, eventually. Today, however, take it easy.
Cancer
With the Sun and Saturn forming a square today, dear Cancer, you may need to set or face limits. Daily responsibilities or problems can be magnified or simply feel harder to deal with than usual, but flaws can also magnify, providing you with the chance to resolve problems. What appear to be setbacks may very well be opportunities to make vital changes before moving forward. It may very well be that you're overdoing your studies or personal interests to the detriment of your work or health, and if this is the case, look for a balance and do the catch-up work now to get back on track. The Moon enters your sign this evening, bringing added color to your emotional world.
Leo
Twice a year, the Sun forms a square to Saturn, and we reach a checkpoint with a particular endeavor, dear Leo. This aspect occurs today and can have the effect of magnifying flaws, limits, obstacles, and responsibilities, and these may revolve around a love relationship, a relationship with a child, or a creative project. Circumstances or people seem to be disapproving or unhelpful today, and you may be left to your own devices. While you could feel temporarily discouraged, the work you do to make adjustments can help you tremendously in the long term. If others are unsympathetic, this gives you the extra room to discover resources you didn't know you had. Forego short-term excitement and work towards long-term satisfaction.
Virgo
Twice a year, the Sun and Saturn form a square aspect as they do today, dear Virgo, and it can be a time for checking in with your limits and the rules. Domestic chores and problems in the family dynamic can weigh heavily on your mind right now since Saturn is still influencing this sector of your solar chart (until December). It can be challenging to satisfy both your need for independence and your desire for security and assurance. As you pursue personal goals, you might feel that you're letting someone down. Fill your responsibilities to the best of your abilities so that you can go forward without guilt. Blocks today may serve as an important reality check, and might later be considered blessings in disguise. Slow down, follow the rules, and discipline yourself. Patience has its rewards.
Libra 
A Sun-Saturn square aspect in effect today can serve to magnify flaws or blockages, dear Libra, and you could be feeling left to your own resources. You could be feeling without a voice, misunderstood, or overworked, but this is temporary. Indulging in some self-pity is understandable now and is good if it motivates you to make changes. There may be criticisms, delays, or other roadblocks to your plans. The best way to respond to these kinds of annoyances is to adjust your speed, follow the rules, exercise patience, and avoid pushing things forward until they're absolutely ready. Prioritize today. Invest in your future rather than pursue immediate gratification. Conserve your energy for best results.
Scorpio
A Sun-Saturn square occurring today serves as a reminder to be patient, follow some of the rules, and conserve your energy or resources, dear Scorpio. A monetary delay or limit can be part of the picture now. There can be a break in the flow now as you face an obstacle. You may be dealing with people who are on edge, cranky, or unduly critical. Tread with care now since you are sensitive, and so are others! However, if you resolve to make adjustments and work hard today, you'll be in better shape than most. Focus on long-term benefits instead of instant gratification. Keep expectations simple. Fortunately, the Moon moves into your adventure sector this evening, and we move towards a creative aspect between Venus and your ruler, Pluto, which can help turn your attention to something positive that you've previously overlooked.
Sagittarius
The Sun forms a square to Saturn in your sign today, Sagittarius, and this can pull your attention to flaws in your plans or obstacles in your way. You may feel temporarily misunderstood, unduly criticized, or left to your own resources under this influence. The best way to "fight back" is not to push things but to work hard for your own benefit. Otherwise, it's a time for conserving your energy or prioritizing your responsibilities. It can also be helpful to focus on small ways to rebuild your confidence if you feel it's dipping. Avoid any temptation to go against the grain, just for the time being. Walk the line until you feel you're back on track, particularly with so many eyes on you at this time of the year.
Capricorn
A Sun-Saturn square today can temper your enthusiasm, dear Capricorn, which may not be a bad thing if you need to get yourself back on track. However, don't push this so far that you waste time on feeling discouraged. It's important to pick yourself up and work to iron out differences and fix flaws now. This can be a time when you need to revise plans or something you said. Watch for self-limiting attitudes now, but do consider ways to bring more self-discipline into your life. This is especially important as Saturn prepares to enter your sign in December — a transit that will ask you to straighten out your life in fundamental ways. Look for the means to maximize long-term success or happiness rather than focusing on the short term. If you're feeling some waning energy, get extra rest until strength returns.
Aquarius
Twice a year, the Sun and Saturn form a challenging square as they do today, dear Aquarius, which can act as a checkpoint for your plans and goals. If you're off track, this is a time for reorienting yourself. Part of you is seeking out a bit of drama or intensity from your projects and relationships, but another part is happier to keep your distance. You could feel disappointed or limited by a friend or lover, but this can prompt a reevaluation or clarification of your needs. Going forward, you might consider ways to draw boundaries or ask for what you want. Today, however, is not an ideal time to address problems because people can be more defensive than reasonable! Wait things out if you can. This is a day for catching your breath and looking for improved strategies for pursuing your goals.
Pisces
Career or other responsibilities and limitations, or the pressures of others' expectations, can weigh on you rather heavily today, Pisces. This is due to a Sun-Saturn square that has the effect of reminding you of the rules, and with Saturn at the top of your solar chart, you're especially conscious of what's expected of you these days. Keep in mind, though, that slowdowns or blocks experienced today offer you the chance to refocus your attention on those things that make a difference to your life in the long term. For some of you, someone in your life may be vying for your attention, but this can be a distraction from your duties. If people are expecting far too much from you or coming down on you too hard, aim to be clearer about your need for positive attention. Others may need a reminder to show their appreciation for all that you do.
Source
If You Were Born Today, September 13th
Extremely creative, you are also able to turn your creations into something practical. A born entrepreneur, you seem to have endless new ideas. A tendency to over-analyze your relationships should be watched. You are fully capable of taking the lead; nevertheless, you enjoy serving in some manner, whether it's through teaching or simply finding joy in tending to others' needs. You are clever, witty, and your sense of humor is mischievous. Sarcasm comes easily to you, but be careful it's not too biting. Overall, you have the sense that you can win others over with your wit, and you usually can! Your ability to solve problems is next to none.
Famous people born today: Ben Savage, Jean Smart, Mel Torme, Roald Dahl, Jacqueline Bissett, Nell Carter, Fiona Apple.
Source
Get A Jump on Tomorrow…..
Your Daily Horoscopes for Thursday, September 14th
Aries
Family activities, home life, and endeavors that remind you of the need for comfort and familiarity are in focus today and much of tomorrow, dear Aries, and after busy days, this can be a welcome change. However, making some contact can be beneficial as well! You may be meeting up with people who make you feel good about yourself or who encourage you to express your more affectionate, romantic, or creative side. You're likely to enjoy advances in the areas of creativity, romance, or hobbies today and tomorrow. Connections might be made that promote your interests, and especially the more heartfelt ones, whether they're for work or play. Even with some excitement to the day, a fair-sized part of you needs to settle in, relax, and enjoy the familiarity of people you love or home surroundings.
Taurus
With the Moon in your solar third house until tomorrow night, dear Taurus, you're likely to be busy although not especially focused! That's just fine, however, because the purpose of this Moon transit is for you to put your feelers out and collect information rather than hunker down. Emotional satisfaction comes from mental stimulation, reaching out and connecting with others, and learning new things. You seem to need change, movement, and variety today. There is one area that grabs your attention more than most, however, and that is family or home matters, as you can feel inspired as you make plans for the future in these areas. New information or contacts can motivate you to make improvements and positive changes.
Gemini
You'll find it rather easy to gain the cooperation and support of others today and tomorrow, Gemini, which is a welcome change now. However, you're also in the position where settling and relaxing is very seductive on an emotional level! The Moon is in your resources sector turning your attention to some of the more practical details of your plans, as well. The day holds much promise when it comes to making connections with others, particularly mental ones. You are communicating in a particularly positive manner, and others are taking note of what you say. People you meet or news you read today can help point you in the direction of positive growth and change related to transportation, learning, and studies. Things that keep you connected, such as phones, computers, or even bicycles and cars, can also figure strongly or enjoy improvements now.
Cancer
The Moon is in your sign until tomorrow night, Cancer, and this brings your emotions out of hiding and into the light. Your craving for a feeling of connectedness with others does leave you a little more emotionally vulnerable than usual, but you're also braver about going after what you want. You can feel inspired by your dreams, visions, and plans related to travel, spiritual, or educational matters. Plans may come together with finances, work, or other practical matters today, or you meet people and connect with information that furthers your goals along these lines. Advice about money or business can be valuable today.
Leo
The Moon spends time in the sign just behind yours today until tomorrow night, dear Leo, and this transit encourages some extra time for emotional healing and renewal. Taking a timeout from a busy pace or demanding situations can be in order now as the current lunar cycle draws to a close. This way, when you do emerge as the Moon enters Leo, you're in the right frame of mind, possessing a strong understanding of your needs. Even so, today and tomorrow hold incredible promise for positive experiences and connections with others, so don't hide away completely. Your personality shines, and others may especially enjoy being around you. You may be guiding or steering others in the right direction through the sharing of helpful information or advice.
Virgo
The need to feel connected to a group, friend, or cause is high today and tomorrow with the Moon in your solar eleventh house, Virgo, but a lot is going on under the hood, so it's best to divide your time. Supporting others with helpful advice or specialized knowledge can be enjoyed now. You're looking within, but you're also staying in touch, and this balanced approach will serve you well. This is a good time for seeing the benefits of putting certain bad habits behind you, as well as for healing and efforts to renew mental health and energy. You'll benefit from some time to get in touch with your intuition and your true feelings about matters. You might connect with the right people or information — or your inner wisdom — giving you ideas about how to resolve long-standing problems that have been dragging you down.
Libra 
You are more emotionally invested in your reputation, status, career, or performance than usual today, dear Libra, and this will continue until tomorrow night. If you're feeling secure, this transit gives you a gentle push to do your best, but if you're not, you could be wavering or anxious at times today. Be productive, but avoid setting expectations of yourself that are too high. With Venus and the North Node of the Moon joining in your sector of friends and groups today, a fortunate connection may be made now. Positive energy is with you for networking, communicating and sharing ideas, and learning from others and your experiences. Something or someone could inspire you to move forward on a personal goal, dream, or plan, and you are beginning to see that these things are doable.
Scorpio
Your idealistic side emerges strongly today and tomorrow, Scorpio, and you can feel inspired to dream, plan for the future, and think in broad terms. You are in need of some level of escape from the mundane or ordinary now, as these things could make you feel caged or boxed in. A breath of fresh air is important for your emotional well-being. Even so, you can make a meaningful connection — with a person or information — that aids the pursuit of your more worldly goals. People in high places may be looking on you especially favorably today. Fortunate connections could be made, particularly through business. Work may be more pleasurable now.
Sagittarius
You're a little more introspective today, Sagittarius, and interested in getting to a place of better understanding about yourself, close relationships, and your current path. Your powers to observe are through the roof now, and you're likely to gain important insight or intel today and tomorrow. Although in many ways you are living inside yourself today, this is also a good day for connecting with others and the information you need. You can be quite excellent at teaching, guiding, and sharing ideas with people right now. There can be good feelings stimulated by individuals in your life who encourage your new ideas and beliefs or a positive attitude.
Capricorn
Until tomorrow night, the Moon moves through your solar seventh house, Capricorn, and it's a good time for leaning on someone or putting more energy and heart into your relationships. This can also be a time of the month for some wheeling and dealing, as well. You're in greater need of peace and harmony now, but don't allow this to compromise your principles. Today can bring you the right information at the right time as Venus connects with the North Node. This is a good time to make contacts who contribute something valuable to your life. You may be able to draw upon resources you never knew you had. Some of you could be bringing a deeper level of intimacy into your relationships or attracting people who open you up to new ways of relating.
Aquarius
You're in the frame of mind for taking care of business today, dear Aquarius. Prioritizing practical matters is a rather useful thing from time to time, and handling necessary details now can lead to a stronger sense of emotional satisfaction. Be sure to come up for air from time to time as connections with others can be supportive and meaningful, as well as a rich source of ideas. Collaborating with others or partnering up can be very productive now. With Venus in your relationship sector in alignment with the Moon's Node, you may attract loving people into your experience or enhance an existing bond. People or information you come into contact with tend to point you in the direction of growth and improvement.
Pisces
Until tomorrow night, the Moon harmonizes with your sign, Pisces, providing easier channels for expressing your feelings. It's a good day for creating, sharing, and enjoying yourself. You're a little more playful, which is great energy after some tense or inhibited days. You're likely to feel more positive, confident, active, and forward-focused. This can be a good day for finding exactly the information you need or bumping into the right person that helps you further your work or health interests. Or, you might get the opportunity to meet someone through the pursuit of your health and work or daily routines.
Source
Tarot Card of the Day
Seven of Coins
---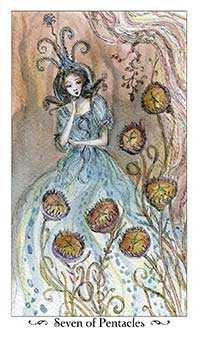 The Seven of this suit is typically a paean to the humble laborer who is willing to show up every day and sweat in the sun for next season's bounty. The traditional concept is cultivation, with an attitude that slow and steady wins the race, with faith in nature's assistance. The protagonist of this card doesn't make excuses, isn't whimsical or moody, but is dedicated and sees the job through. Of course, it's no good to count your chickens before they hatch, but there's no question that the person who is vigilant over a project is more likely to get the desired result.
Someone who works with nature, cooperating with her ways, will waste less energy and time than the person who works against her. As a side meaning, we sometimes see this normally humble farmer in a moment of frenzy, betting the crop on a roll of the dice. This represents a moment of dementia, addiction or desperation which hopefully will not last long enough for the farmer to lose everything!
Part of the Daily Insight Group ©2017
Your Love Tarot Card of the Day
The Wheel of Fortune
---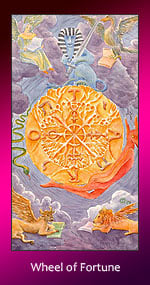 The Wheel spins and – voila! – you get a second chance at love that requires making long-term plans for the future. Where this love surfaces is a pleasant surprise. If you are in a long-term relationship the card symbolizes the peacemaker. A couple experiences a breakthrough when they rediscover each other.
Your Erotic Tarot Card of the Day
The Fool
---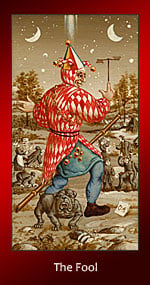 Has something silly or ridiculous happened recently in your sex life that you're feeling a little sheepish or embarrassed about? The appearance of the Fool card says that may very well be the case for you or a love interest, but it isn't anything you can't get over. We all make mistakes and although sex-related blunders can be more embarrassing than others, it's time to forgive, forget, and move on. Learn from your sexual misadventures and make the passionate encounters you have today better than yesterday's!
Psychic Tip of the Day
ROUTINE BREAK
Someone has been fixing on a particular subject and always coming back to it as a topic of discussion. Today is about breaking out of the rut. Can you talk your way out of it?
Part of the Daily Insight Group ©2017
Your Rune for Wednesday, September 13th
Raidho
"Ride-ho" – Literally: "Ride" or "Wagon" – Esoteric: Journey
Key Concepts: the journey of Life, stories, heroism, means of transportation, right action, movement, motion, taking charge, being in control, initiative, adventure, decision-making, direction, counsel, the right path, the inner compass, leadership, kingship, nobility held by merit, moral responsibility, integrity, respect for the rights of others, innate knowledge of right and wrong, celestial procession, rituals
Psi: the story 'form' in the psyche, freedom from imprisonment, self-mastery
Energy: cosmic cyclical law, rhythm, presence (active)
Mundane: street-smarts, common sense, travel, movement, taking action
Divinations: Rationality, sound advice, action, justice, ordered growth, journey; or crisis, rigidity, stasis, injustice, irrationality, control freak, hypocrisy, wrongful imprisonment, restlessness.
Governs:
Living in the present
Access to "inner advice" and our inner compass, following the heart
Movement within one's natural limits
Blending with personal and world rhythms, consciousness of right and natural processes
Mastery of circumstance and control of situations, taking the lead
Establishment of creative rhythm in activities
Protection while traveling
Decision-making followed by immediate action

The Tower
The Tower is perfect card for the revolutionary or iconoclast or anyone who flourishes in rapidly changing environments. What The Tower brings to the mix is sudden, usually unexpected change. With that change there will be a period of disorder, and there may be loss. However, the loss is probably not yours, since you may well be the agent that created the change to begin with. Many positive things can occur from the change The Tower indicates: Truths will be laid bare, revelations and breakthroughs are not just possible but likely, and nothing spurs creativity like a good dose of chaos and confusion. In the end it is likely that what replaces what was lost in the fall of The Tower will be worth the loss.
Tarot Influence
The Magus
This card represents the force of your will, the mastery of skills and your creative talents.
Astrological Influence
Aries Reversed
Aries reversed denotes a lack of energy and will.
Element Influence
Fire
Fire denotes the unleashing of raw energy and change. The status quo may be about to crumble, but will be replaced something better. Fire also provides light to those in the dark and warmth for a cold body and spirit.
Polar Bear
Has Polar Bear lumbered into your reading? If so, he's reminding you of the value of being flexible. Polar Bear instinctively knows how to conserve his energy and will observe a situation before he takes action. Once he decide it's the appropriate time to move forward, however, he has the strength, energy, and fortitude to face whatever dangers lie ahead. Having problems making a change? Polar Bear is here to help, and his message to you is: Take heart, have courage, build your strength, then MOVE!
Crack the Cookie
The Wisdom of Buddha
Better than a thousand hollow words, is one word that brings peace.
Your Earth Sky News for Wednesday, Sept. 13th:  Hazy light pyramid in east? False dawn
For the Northern Hemisphere, these next two weeks present a chance to catch the zodiacal light before dawn's first light. If you're in the Southern Hemisphere, watch for the zodiacal light in the west, beginning about an hour after the sun goes down.
From temperate latitudes, the zodiacal light is most easily seen around the time of the equinoxes. The morning zodiacal light prevails around the the time of the autumn equinox, and the evening zodiacal light around the time of the spring equinox. The upcoming September equinox is the Northern Hemisphere's autumn equinox and the Southern Hemisphere's spring equinox
This light can be noticeable and easy to see from latitudes relatively close to Earth's equator, for example, like those in the southern U.S. I've seen it many times from the latitude of southern Texas, sometimes while driving a lonely highway far from city lights, in the hour or so before true dawn begins to light the sky. In this case, the zodiacal light can resemble the lights of a city or town just over the horizon.
Meanwhile, skywatchers in the northern U.S. or Canada sometimes say, wistfully, that they've never seen it, although in recent years we've seen many photographs of the zodiacal light taken from those northerly latitudes.
You need a dark sky location to see the zodiacal light, someplace where city lights aren't obscuring the natural lights in the sky. The zodiacal light is a pyramid-shaped glow in the east before dawn (or after twilight ends in the evening, if you're in the Southern Hemisphere now). It's even "milkier" in appearance than the starlit trail of the summer Milky Way.
It's most visible before dawn at this time of year because, as seen from the Northern Hemisphere, because the ecliptic – or path of the sun, moon and planets – stands nearly straight up with respect to the eastern horizon before dawn now. As seen from the Southern Hemisphere, the same is true of the western horizon after true darkness falls.
The zodiacal light can be seen for up to an hour before true dawn begins to break. Look for it about 120 to 80 minutes before sunrise. Unlike true dawn, though, there's no rosy color to the zodiacal light. The reddish skies at dawn and dusk are caused by Earth's atmosphere, and the zodiacal light originates far outside our atmosphere.
When you see the zodiacal light, you are looking edgewise into our own solar system. The zodiacal light is actually sunlight reflecting off dust particles that move in the same plane as Earth and the other planets orbiting our sun.
Bottom line: The September equinox is coming. No matter where you are on Earth, your local autumn is the best time to see the zodiacal light before dawn. Your local spring is the best time to see it in the evening.
Deborah Byrd created the EarthSky radio series in 1991 and founded EarthSky.org in 1994. Today, she serves as Editor-in-Chief of this website. She has won a galaxy of awards from the broadcasting and science communities, including having an asteroid named 3505 Byrd in her honor. A science communicator and educator since 1976, Byrd believes in science as a force for good in the world and a vital tool for the 21st century. "Being an EarthSky editor is like hosting a big global party for cool nature-lovers," she says.
Originally published on EarthSky.org
A Little Humor for Your Day
For all your magickal needs, think Magickal Necessities
Now offering free shipping on all orders place in the States
Save
Save
Save