Your Daily Rune
Jera
Rune of harvest and reward for, or reaction to, right actions in a horizontal (naturally ordered) cyclical process. Rune of peace on the land and in the heart.
Psi: psychological time, patience, the measurement of time
Energy: good harvest, orbits, cycles, progress, biorhythms, right effort
Mundane: waiting, gardening, farming, the seasons, harvest
Divinations: Reward for positive action, plenty, peace, proper timing; or repetition, bad timing, poverty, conflict, regression.
Governs:
Fertility, creativity and harmony with the land
Peace, prosperity and plenty
Realization of the cyclical nature of the multiverse, invoking the power of time and cycles
Bringing other concepts gently into material manifestation
Initiating gradual and lasting change in flow of life
Your Daily Witches Rune
The Wave
Meaning: This rune symbolizes your friends and family and their influence upon you. Its meaning is usually derived from the other stones closest to it. This rune is also associated with travel. A journey abroad is indicated especially if the Sun rune is nearby, but a journey for someone close to you if the Moon stone is closest. If it is near to the Rings it foretells a holiday or long distance relationship.
Your Dily Tarot Cards
Your Daily Tarot Card for Today is Strength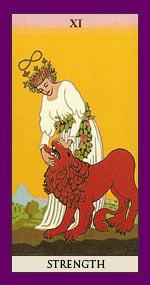 Keywords: inner strength, vision, self control!Astrological Correspondence: LeoThe Strength card, depicting a gracious queen-like figure and a wild lion, shows that real strength has to be combined with graciousness and gentleness to become a force. It symbolizes inner strength, determination to overcome obstacles, self-knowledge and self-discipline, as only when we know ourselves and act in a responsible manner will we be able to deal with challenging situations and overcome difficulties successfully. Yet this card not only represents physical strength; moral and emotional strength are also included in the meaning. Patience, compassion, dealing with frustration, accepting of others, and tolerating imperfection (in oneself and in others) all leads to being a complete person. The negative qualities of Strength include misuse of power, aggressiveness, and intolerance.
Your Daily Tarot Love Card for April 30th is The Hermit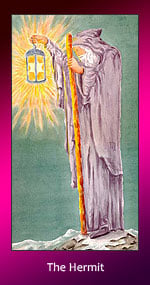 The reversed Hermit asks you to think about whether you miss appropriate partnerships because you place yourself in inappropriate relationships. Mismatched relationships represent little common ground, but they often become battlegrounds. When we are lonely, we are more likely to make poor love choices. If you are in a union, do you feel lonely and misunderstood? It is time to correct that situation. Talk about it with your partner.
Your Tarot Power Card for Today is Strength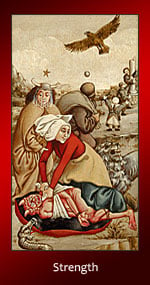 You have always been a strong person, as would quickly be seconded by your friends and family. However, strength without control is meaningless. Your biggest enemy is not drive, but direction. If you forget what is truly important in your life, such as love and faith, then you can find yourself using brute strength to get through the day just scraping by at work and in your relationships. Be aware of how your efforts align with your values in life.
Your Daily Career Tarot Card for Today is The Star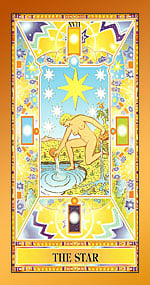 When you get the Star card in a reading, you can look forward to a time of rest and rejuvenation in regard to your work and career. You may have the opportunity now to take a vacation or, at the very least, you can get a break from your regular routine. Take full advantage of this time, soaking up whatever healing, nourishing, and enlivening opportunities come your way.
Your Daily Ogham Reading
Beith-Birch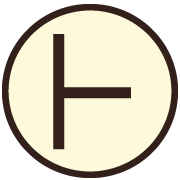 The Birch tree is known as a pioneering species, which means it is often first to colonize open ground following a disturbance or fire. Because of this natural fact Beith is the first letter of the Ogham alphabet. It symbolizes birth, renewal, and new beginnings. The Beith symbol appearing is a true sign that a change has occurred or will occur.
Fortune – Drawing this Ogham is a way of telling you to look for a new path, a necessary change is on the way!
Quert-Apple
In many religious traditions the apple is a mystical or forbidden fruit. Yet to the Celts it was the food of the Gods. Despite it's often bad reputation it is clear that the apple is a source of nutrition, health, and sustenance. That is why we read this ogham letter has having to do with life, health, and healing… a Quert a day keeps the bad vibes away!
Fortune – Take a good look at your mental and physical health. This Ogham is a warning to be mindful of nutrition and healing, take care of yourself!
Straif-Blackthorn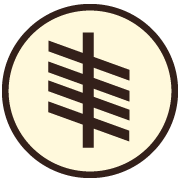 This thorny tree is known for it's negative uses over the years. It has been used for cattle proofing with its thorns, the berries have been turned into alcohol, and the thorns were once dipped in poison as a weapon. Drawing this letter brings forth ideas of pain, negativity, pessimism, and potential conflict. If Straif comes up in your reading it is very wise to pay attention to any warnings.
Fortune – This Ogham can denote very bad signs ahead. Pay very close attention to matters in life that way you can avoid the warning that you were given