The Witches Digest for Thursday, December 28th
(Part 2)
The Current Moon Phase for Thursday, December 28th
Waxing Gibbous
Illumination: 72% 
The Moon today is in a Waxing Gibbous phase. This phase is when the moon is more than 50% illuminated but not yet a Full Moon. The phase lasts round 7 days with the moon becoming more illuminated each day until the Full Moon. During a Waxing Gibbous the moon will rise in the east in mid-afternoon and will be high in the eastern sky at sunset. The moon is then visible though most of the night sky setting a few hour before sunrise. The word Gibbous first appeared in the 14th century and has it's roots in the Latin word "gibbosus" meaning humpbacked.
PHASE DETAILS FOR – THURSDAY, DECEMBER 28, 2017
Phase: Waxing Gibbous
Illumination: 72%
Moon Age: 9.55 days
Moon Angle: 0.53
Moon Distance: 373,372.66 km
Sun Angle: 0.54
Sun Distance: 147,109,170.66 km
Source
The Astrology for Thursday, December 28th
The Moon is in Aries until 1:23 AM, after which the Moon is in Taurus.

The Moon is void

 until 1:23 AM (since yesterday at 3:57 PM).

The Moon is waxing

 and in its 

First Quarter

 phase.
The 

First Quarter Moon

 occurred on the 26th and the 

Full Moon

 will occur on January 1, 2018.
Mercury is in its post-retrograde shadow until January 10, 2018.
Your Daily Horoscopes for Thursday, December 28th
Aries
Venus newly at the top of your solar chart receives support from the Moon today, dear Aries. You're looking good now, and you're inclined to make smart moves with business and money, as well. You're less focused on emotional whims and more interested in getting comfortable and settling in today. Your money situation, valuables, and comfort needs assume more importance now. While the inclination with this brief transit is to stick with safe, familiar, and comfortable settings and tasks, try to keep the lines of communication open with others today, as there can be valuable things to learn. There can be an exciting connection made with information or a person that illuminates your way on a creative or romantic pursuit.
Taurus
There is a fresh feeling to the morning, dear Taurus, as the Moon moves into your sign and pulls you out of your shell. This transit can bring a pleasant rush of energy to your life and a desire to begin anew or to enjoy a new experience. Emotions are more transparent than they have been in recent days. You incline to go your own way with this transit, but today is excellent for sharing ideas with others, so be sure to let others in. There can be connections made that help further home and family-related goals today, and links can be with people or information that point you in the right direction. The Moon reaches out to the Sun, Saturn, and Venus in your adventure sector, further stimulating a desire to look forward and move on. In fact, you recognize the practical benefits of focusing on the future.
Gemini
The Moon moves into your solar twelfth house early today, dear Gemini, arousing a desire to tuck yourself away. You now begin a short (two-day) cycle that demands some form of withdrawal, retreat, or extra time carved out for rest and reflection. It's not the best time to "go hard" in your life, so aim to take things easy, contemplate matters, and process recent feelings and events. Nevertheless, the energies of the day put you in a prime position to learn something exciting or valuable about a friendship or cherished project today, so be sure to open up some lines of communication with others. You may very well feel far more in sync than usual with a partner or special friend now.
Cancer
Very early today, the Moon moves into your social sector, dear Cancer, and you begin to more deeply connect with the need for undemanding situations and people around you. You're seeking light, happy company now, or you're in a particularly forward-looking mood, and you're inclined to focus on plans and goals related to personal fulfillment. This positive emotional orientation helps you stay alert to possible opportunities to advance your interests that may arise with Mercury and the North Node in harmony. This can be a time for connecting with the right people or information that support your income, financial state, or current business interests. It's also a time when helpful clarifications related to work or health are more likely to arrive.
Leo
The Moon moves to the top of your solar chart very early today, dear Leo, and this can put you in a rather earnest, serious, or responsible frame of mind. Career matters, life-path plans, responsibilities, and long-term goals come into stronger focus at this time of the lunar month. You're also getting noticed, and it's what you do or what you've done that gets the most attention now. As a result, you're doing some checking in with the rules or your own goals, which in turn can motivate you to push a little more, up your game, and do your best. Today is solid for clarifying a relationship or creative matter. Connections may be made to people or information that help you push your personal plans forward.
Virgo
Very early today, the Moon moves into harmony with your sign and into your house of spirit, dear Virgo. The past couple of days have been valuable for much-needed introspection, but now you're very interested in what's to come. You may be seeking some form of escape from the regular. There is more spontaneity in your approach to the day. Even so, you're in a practical frame of mind. This is one of the clearer times that you've had for some time, and family projects or discussions can begin to really move forward – at least, you start to feel that you're making a whole lot of progress. Conversations may very well lead to important discoveries about yourself and the people you love today.
Libra 
The Moon leaves your partnership sector and enters your intimacy sector very early today, dear Libra. You're looking at the world a little differently now, taking on an observer's role. You may find yourself in the position to play detective, and this can be quite welcome and pleasant! It can be a time of valuable — or at the very least, enjoyable –investigating, researching, and analyzing. You gravitate towards projects, relationships, and situations that pull you in and demand your full attention. It's a good time for making connections, however, so be sure to tear yourself away from your explorations from time to time today. Or, keep your ear to the ground as there can be the inspiration for new ideas, dreams, and goals incoming through news you hear or people you meet today and tomorrow.
Scorpio
The Moon moves out of your routine sector and into your partnership sector very early today, dear Scorpio, kicking off a more social phase. This is a good time of the lunar month for giving close relationships special attention. It's also a time when you seek out others for company, feedback, and companionship more than usual. While you're leaving a work-focused phase behind, don't entirely ignore business or career-related news and ideas, as this can be a day for discovering valuable information that can further your professional goals. In fact, you may gain refreshing clarity along these lines now.
Sagittarius
The Moon settles into your health and work sector very early today, dear Sagittarius. While it's only for two days, it's a fine time of the lunar month to get cracking on duties, chores, work, or health routines. This can be particularly refreshing if you've been putting these things off. You want to be useful or productive now, and you can make a serious dent in your "to do" list. You'll find it easy, much of the day, to tuck away your emotions enough to take care of business, although this can change tonight when you're quick to react. Also today, there can be news or incoming information about courses and opportunities that are likely to benefit you, so tune in to the rest of the world here and there!
Capricorn
Very early today, the Moon pulls you out of your shell, dear Capricorn, as it moves into your colorful, playful solar fifth house after spending a couple of days in your sector of home, family, nurture, and sustenance. You drop some of your inhibitions and fears at this point in the lunar cycle, and you're ready to share some of your unique self with others. As playful as you may be feeling, certain conversations and connections deserve your undivided attention today. A matter that was recently up in the air may clear up now, helping you clear the path for new beginnings. A conversation about private issues, a secret, or a matter of the past can be significant and perhaps even quite liberating.
Aquarius
The Moon leaves your communications zone very early today, dear Aquarius, and enters your home and family sector for a couple of days. This is a time for a hiatus of sorts, whether it's merely about unplugging for a bit or getting extra time to sleep in. Honor your needs for familiarity, comfort, and rest away from the demands and concerns of the outside world when possible now, but do allow some of it in with a Mercury-North Node connection today that points to clarity and a sense of forward movement on a matter. It may take the form of a renewed or second-chance conversation, stumbling upon information, or a chance meeting with an old friend that gives you more clarity in the relationship department.
Pisces
Very early today, the Moon moves into your communications sector, dear Pisces, and you're likely to experience an increased need for stimulation, especially of the mental variety. This cycle is a brief one, only lasting for just over two days, but it's useful for putting your feelers out, information gathering, making contact, and getting out and about. A Mercury-North Node influence today helps connect you with people or information that further your career or health goals, so your inclination to include others and network helps you even more than first meets the eye. This can be a time for gaining increased clarity about a life-path goal, project, or job that feels like growth and improvement.
If You Were Born Today, Thursday, December 28th
Others find your way of expressing yourself especially intriguing and charming. You are forever curious about people and their relationships, and you have an intuitive understanding of relationship dynamics. You are an idealistic person, even if you come across as savvy or possibly sarcastic. It never fails to surprise you when people fail to act with good intentions, even if you can predict it will happen in advance! Somewhat of a worrier, you are often over-thinking matters. Although you are a bit on the dominant side, you can also be very considerate and peace-loving at heart.Famous people born today: Denzel Washington, Woodrow Wilson, Johnny Otis, Peter Finch, Noomi Rapace, Joe Manganiello, Maggie Smith.
Your Birthday Year Forecast:
The Moon is in its Balsamic phase in your Solar Return chart, marking this year the end of an important cycle, or stage of growth, in your life. You take more down time than usual, and this is natural, even good for you. This is a year when you are likely closing important projects or "chapters" in your life. This is an important year for reorienting yourself – discovering what you want, and identifying what you need to do in order to move forward more positively.
This can be a year in which you are building faith and confidence in your personality, skills, and talents. You can experience a stronger desire to seek out meaning, wisdom, and mental stimulation in your life during this period. Others might frequently turn to you for guidance.
You are more sensitive artistically, your imagination is stirred, and you have an increased appreciation for subtleties. You are inspired and could even inspire others with your words. Some of your hunches could be prophetic. You are thinking more creatively, and express yourself with more sensitivity, compassion, and warmth.
You are likely to establish connections and/or relationships with people that help forward your own personal growth. Teamwork and camaraderie, as well as meaningful connections, are themes. You feel your life has a definite purpose this year. Through your contacts with others, you are encouraged to grow.
Pleasing circumstances surrounding your love life, finances, and creative pursuits are in store this year. You are more generous, and others return the favor. You might receive financial backing or special gifts in the period ahead. You seek a little more from your love life and you are likely to receive it. Some of you could fall in love this year, or existing relationships are enhanced. Adventure-seeking is a theme.
You listen more carefully to others and you're more thoughtful than usual, which helps to enhance your relationships. Your social life enlivens but also stabilizes, as you're finding a wonderful balance between the old and the new. Circumstances may be such that you need to handle money more carefully this year, or this may simply come naturally to you now. Support from older people or authority figures may come by way of solid advice or more tangible help. Renewed ties to old friends are possible, or a new sense of responsibility in existing friendships, are also highly likely.
This is a powerful year for design and balance in your creative life. You can feel energized and inspired creatively at this time, ready to fight for something you believe in. You find it easier to assert yourself and your desires.
You have a freer attitude towards expressing your affection this year. Your open heart is likely to attract easygoing friendships or love opportunities into your life. Relationships are mutually beneficial and naturally equal, fair, and balanced. Power dynamics are improved. There can be a stronger inclination towards togetherness and sharing.
You are enterprising and able to visualize larger goals, but you are also ready to work hard to achieve them. You are dynamic and energetic, but also very realistic.
This year is a period of constructive accomplishment. You are practical and realistic, and your judgment is especially sound. You also derive much satisfaction from practical achievement. It would behoove you to identify and focus on finding pleasure in the simple things that make you happy.
This is a potentially excellent period for your social and romantic life. The period ahead is one of greater consideration for others, self-understanding, enterprise, and engaging projects. You easily find extra energy to pour into your pursuits. Your ability to pace yourself leads to greater happiness and health. Business and ideas are both practical and innovative.
2016 is a Number Four year for you. Ruled by Uranus. This is a year of work and development. It's "nose to the grindstone" time. It's a time to deal with practical matters, and it's not a time to be lazy or especially gregarious. Sometimes, it can be a year that feels hard, monotonous and routine, and/or lonely. Advice – get yourself organized, work to build your resources, keep busy.
2017 will be a Number Five year for you. Ruled by Mercury. This is a year of exploration and freedom. It's a time when exploration and reaching out to others brings opportunities. It's a good time to advertise and sell. Surprises are in store, and the routine is broken. This is a year when exciting relationships can be formed; or, if you are already in a partnership, new life is breathed into the relationship. Advice – explore, look for adventure, keep your eyes open for opportunities, mingle.
Get A Jump on Tomorrow…..
Your Daily Horoscopes for Friday, December 29th
Aries
Today's energies are primarily peaceful, dear Aries, and you're in a good position to slow down and enjoy the moment. Mind you, this morning you could be battling a bit of restlessness or indecision, as part of you might feel you should be more involved than you are. Priorities may be hard to decide upon, but if you examine things carefully, you'll get to the right decision. Excess spending or borrowing can be an issue now. Take steps to wind down, which gets easier and, in fact, quite natural as the day advances.
Taurus
This is a great day for taking some extra "me time" and pampering yourself, dear Taurus. While this morning's energies tend to find you a little restless, it's best to avoid the temptation to overdo or overindulge. Others' demands on you may feel a little excessive. Or, you may be attempting to please someone and at the same time striving for independence. However, you'd do yourself the biggest favor by pacing yourself. Excess has a price even if the payment is deferred. You're better off keeping things even and smooth now so that you don't start off at a disadvantage tomorrow.
Gemini
The day is best used to unwind, take things easy, and release tension, dear Gemini. The Moon continues to spend time in the sign just behind yours, pointing to a need for reflection and a bit of anonymity before busier days ahead. This morning, a dichotomy or difficult choice can lead you to consider imbalances in your life. Something has to give in order to balance your life better, particularly when it comes to working and resting, or tending to physical needs and tending to emotional/mental needs. Today also holds the potential for better understanding a complex relationship or your own complicated feelings, once you get past the early morning restlessness.
Cancer
The Moon spends the day in your sector of dreams, hopes, happiness, and friendship, dear Cancer, and is void most of the regular waking hours, pointing to a real need — or excuse — to unwind and treat yourself to light activities. It's not an ambitious time today, and it's best to treat the day as a time for catching your breath. A Full Moon will occur in your sign in just three days, and in fact, will happen on the first day of the new year, and personal epiphanies are likely to be significant. For now, give yourself a break! Relationships also deserve a light touch.
Leo
The day's energies encourage and reward simplicity, dear Leo. Even so, early today can find your undecided or restless. While the Moon at the top of your chart usually keeps you on your toes, the Moon is void for most of the day's regular waking hours, and taking it easy makes the most sense now. You can nevertheless muse about your goals and keep your responsibilities in mind, but avoid pushing yourself or projects that could have a rough time of it if you went ahead with them. You'll be in the best shape if you take time to relax and center yourself now and pursue your ambitions later.
Virgo
The Moon spends the day in your sector of spirit and in harmony with your sign, dear Virgo. It's also void for much of the day, giving you the license to enjoy yourself without pressure or guilt. The trick will be allowing yourself to take this time! As well, this morning could find you a little tense or in a situation of "too much information." Too many choices can be overwhelming. You have a bigger than usual appetite for taking on new interests or developing existing ones, but the temptation may be to go overboard with this. Try to focus on releasing tension now. Give yourself a break today.
Libra 
It can be a little too easy to overdo spending or other indulgences now, dear Libra, but as the day moves forward, you're in a great position to simplify. In truth, if you want to treat yourself, streamlining is the route to take – it comes with less guilt and consequences. As well, focusing on your inner goals and values will do much more for your happiness than too much focus on external signs of success. The Moon spends another day in your intimacy sector, and you're inclined to embrace your deeper feelings rather than push them to the side. It's an excellent time to enjoy family or home life, or domestic activities, as well.
Scorpio
Mars and Jupiter are both in your sign, dear Scorpio, and they're heading towards an alignment that will be exact on January 6th. Even though it's more than a week away, these planets are very close to one another now, and there can be a building sense of excitement and enterprise as you end the year and begin a new one. You can feel increasingly motivated to do something special, and you have all the courage and resourcefulness to make your mark. Pay particular attention to your urges and hunches as you can be heading towards great things. Today, the Moon is in your opposing sign, however, and is void most of the day, suggesting it's best not to push yourself, anyone, or anything. Let your imagination go.
Sagittarius
Today's energies are easygoing as long as you keep things simple, dear Sagittarius. If you try to push things, however, you can feel the resistance! Early today, you may be doing battle with yourself. There's the part of you that just wants to tuck yourself away and the other part that is super motivated to shine in your routines, work, or daily affairs. Seek out a balance for best results now. Today doesn't support ambitious or bold moves, so aim to take it easy and go with the flow. Conserve your energy for opportunity periods.
Capricorn
The Moon spends the day in harmony with your sign, dear Capricorn, and this tends to make things easy for you. Even so, there is a stubborn quality to the day's energies, and if you're feeling raring to go and ready for action, you may very well meet some resistance. It may be best to enjoy some release of ambitions, tension, or pressure, and take things easy now. The trick is to allow yourself the luxury! Brand new endeavors are more likely to face obstacles, anyhow, and you're likely to benefit from a slower, reasonable pace.
Aquarius
The Moon spends another day at the bottom of your solar chart, dear Aquarius, encouraging you to take it easy. This morning, the Moon does brief battle with Jupiter at the top of your chart, and Jupiter is motivating you to grow, improve, and perform. As big as a draw this may be, you're unlikely to get very far today with the Moon's void that spans most of the regular waking hours. The energies of the day reward the easygoing, and it's a good idea to honor your need to wind down and play it safe just for now.
Pisces
You have both Mars and Jupiter in your solar eleventh house motivating and exciting you about new projects, initiatives, causes, and social events or friendships these days, dear Pisces. As they move closer to alignment this week and next, your enterprising side is alive and well. You may be on the verge of a brand new and innovative endeavor. Today, however, is better for rest and comforting, emotionally centering activities, even if you need to enforce this frame of mind. You could benefit from a break to get your bearings, and you'll be happy you took it!
Tarot Card of the Day
The Star
---
The Star Tarot card is about reconnecting one's soul with the divine — the transcending of personality, family, community, and reputation. It has to do ultimately with the freedom to be one's self. The soul is responding to celestial influences — forces that can provide the personality with a stronger sense of purpose. The Star card helps us to remember our exalted origins and our attraction to a higher union.
This card could also be called The Celestial Mandate — that which refers us back to our reason for being, our mission in this lifetime. The Star reminds us that, in a sense, we are agents of divine will in our day-to-day lives. If we let go of the idea that we are supposed to be in control, we can more easily notice and appreciate the synchronicities that are nudging us along. In this way, we become more conscious of the invisible helping hand, and we better understand our place within — and value to — the larger cosmos.
How to Do a Year-Ahead Tarot Reading
A Tarot spread for a year … and for any long-term goals!
---
This 7-card Tarot spread is a powerful tool to see where you've been and where you're going on your personal journey. Here's the layout and the positions for your very own yearly Tarot reading. This Year Ahead Tarot spread is actually extremely versatile — you can use it to get a deeper look at the new year, or anytime you want to look at long-term goals! Use the power of this Year Ahead Tarot reading to gain insight, get clarity, find resolution, and make a transformation! It's time to reveal your year ahead!
Position 1: Your Sunset Card
Lessons from the previous year
This first card in the spread looks at what you've accomplished (or not) in the past year. For this card, focus on the past — but with an eye toward using that energy for the future. There is always something to be learned from the past, and it shapes who you are, so let this card take you back for a moment before we move forward.
Position 2: Your Horizon Card
What you can expect in the next year
What do you want to achieve in the next year? What are your biggest hopes and aspirations? Choose your second card, and focus your mind on what you'd like to see happen in your life — whether that's finding a new relationship, tackling a new career goal, or even just spending more time relaxing. Search inside yourself to determine your highest purpose for the year.
Position 3: Your Obstacle Card
A challenge you'll face this year
Let's face it — everything worth having comes with challenges. The important thing is to face them with thoughtfulness and poise. This third Tarot card will give you a glimpse at the type of challenge you may encounter as you strive to achieve the objective you set with the Horizon card.
Position 4: Your Strength Card
How to harness your inner power
Now that you've seen your challenges, how are you going to resolve any issues that arise? Let the Tarot cards reveal that in this fourth position. What inner talents and strengths do you possess that can help you? What untapped energies exist that you can use this year? Let this Tarot card guide you and free you from doubt as you find the confidence to succeed.
Position 5: Your Advice Card
Lessons you learned last year
Now that you've looked back and determined where you want to go in the future, take a second to examine what you have learned so far. This lesson, whatever it is, will inform your next steps. What is this Tarot card telling you to do now? What happened last year that you want to avoid this year or what happened that you want to repeat? Ask yourself these types of questions as you look at the Tarot card to help yourself understand the lesson it's trying to impart.
Position 6: Your Navigation Card
Guidance for the year ahead
This is the card you have been waiting for. Look at the Tarot card and ask, "What do I feel right now is the very best action for me to take?" The card's character should help you focus your mind and your energy. You might want to write down your thoughts, or compile a list of the next steps you want to take on your journey. It's hard sometimes to see how to reach large milestones, but life is full of small moments that we can use to our best advantage — if we take the time to plan and prepare ourselves now.
Position 7: Your Clarity Card
Your personal theme for the year
Even though you have examined the lessons of the past, chosen your aim, and even looked at how to reach it, you may still need to find clarity. In this case, maybe focus on the big picture — how does all of this fit into your overall life plan? What type of person are you hoping to become? What does this mean for your higher purpose? Use that energy to set your intention for the year to come, and tell yourself exactly what that is, say it out loud and imprint it in your heart and mind.
There you have it! A quick 7-card Tarot spread that will allow you to determine your heart's desire and achieve your highest goals for the upcoming year.
Part of the Daily Insight Group ©2017
Psychic Tip of the Day
PUSHING HARD
Now is the time to push hard for a romance to become a more permanent relationship. Do you have him or her right where you want them?
Part of the Daily Insight Group ©2017
Tarot Love Card of the Day
The Emperor
---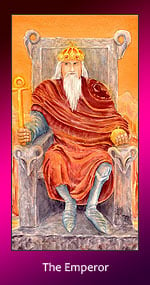 The Emperor card has selected you to let you know that you sow seeds of better things and more fulfilling times ahead. Give yourself permission to reach out for more, especially if you are dissatisfied. You create a solid foundation, built on a sense of higher purpose. If your current relationship suffers from stress, today let tender actions reveal what you may be unable to put into words. Rebuild, from the ground up.
Erotic Tarot Card of the Day
The Pope
---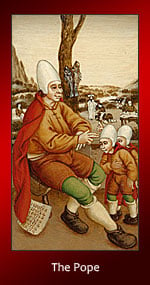 The Pope represents pure masculine energy, and even if you're female you're going to be identifying more with your male counterparts today. The Pope shows you that coming to terms with past mistakes and taking responsibility for them in the present eases sexual tension, so let go of the past to free yourself from your inhibitions. You actually have quite the skill set when it comes to making sexual moves, but waiting until the time is right before taking the plunge can be a real turn-on. Let the anticipation build until you can't take it anymore!
Your Daily Rune For
Isa
"Iss-ah" – Literally: "Ice" – Esoteric: Stasis, Stillness
Rune of concentration of things in a static or frozen state. Rune of stillness and the Ego-Self.

Psi: mental faculties, focus, ego, self-image/self-identity

Energy: stillness, contraction, stasis
Mundane: cold, self-preservation, harsh reality
Divinations: Concentrated self, ego-consciousness, self-control, unity of being; or egomania, dullness, blindness, dissipation, immobility, self-centeredness, lack of change, psychopathy.

Governs:
Development of concentration, will and focus
Halting of unwanted dynamic forces as an act of self-defense (ard against demonic influences)
Basic ego integration within a balanced multiversal system
Power of control and constraint over other wights (entities), emotional outbursts
Focus of the will into single-minded action
Your Ancient Symbol Card for Today
The Magus


The Magus is the physical embodiment of decisive action based upon knowledge and aimed squarely at specific goals. Thoroughly Yang by nature and firmly set in the material world, he none-the-less has a powerful spiritual connection as well. His knowledge, wisdom and skill are all encompassing. He is complete. His power as a creator is unmatched on our earthly plane. He is self-aware and unafraid to act. His enormous strength gives him the freedom to act as he chooses. However, responsibility comes with that freedom. Because he is not bound to the restraints of others he must choose how to act. The question that always lies before him is should he act morally, or forsake ethics for personal gain.
As a daily card, The Magus suggest you currently possess a tremendous power and freedom to move your life in any direction you choose. In short, you can make things happen. Your true challenge at the moment is to move forward without trampling the dreams of others. Fortunately your moral fiber is strong as well, and will guide you down the right path.
Your Animal Spirit Guide for Thursday, December 28, 2017
Your Karmic Number for Thursday, December 28, 2017
You are a natural leader today. People will look to you to clear a path for them to follow. You may be asked to take the reins of a project or situation because of your ability to listen and provide clear communication. Don't be shy or doubt your abilities – you have unique talent that only your own self-doubt can hide. Abundance flows to you when you step into the role of leading others. If you aren't offered an opportunity, look for one as a volunteer or even start writing a blog.
Crack the Cookie
The Wisdom of Buddha
It is a man's own mind, not his enemy or foe, that lures him to evil ways.
Your Earth Sky News for Nov. 25th: Bellatrix, in Orion, means Female Warrior
Tonight, look for Bellatrix, the third-brightest star in Orion. Although often overlooked in contrast to Orion's two brightest stars – Betelgeuse and Rigel – Bellatrix is a wonderful star. You can see it tonight, despite the evening moonlight.
The classic book on star names is Richard Hinckley Allen's Star Names: Their Lore and Meaning. The book suggests the Latin name Bellatrix means Female Warrior, and that some find that name odd since the original Arabic title translates as Conqueror. But women understand. Bellatrix represents Orion's left shoulder. Although it appears only as the 22nd brightest star in our sky, in reality it's a hot, blue giant some 240 light-years away.
Also look for the the star Saiph. The four stars Betelgeuse, Rigel, Bellatrix and Saiph form the familiar rectangle of Orion. The name Saiph comes from the Arabic name meaning the Sword of the Giant. Saiph is a blazing hot supergiant star 720 light-years away.
The constellation Orion takes center stage this month and rightly so. With so many bright stars, it's one of the most prominent constellations in the sky. You'll find Orion climbing over the eastern horizon around 7 to 8 p.m. local time.
Bottom line: Rigel and Betelgeuse are Orion's brightest stars. We briefly describe 2 more bright stars in Orion, Bellatrix and Saiph.
EarthSky lunar calendars are cool! They make great gifts. Order now. Supplies limited.
Explore Richard Hinckley Allen's book Star Names: Their Lore and Meaning
A Little Humor for Your Day
Last Request
---
A man is struck by a bus on a busy street in New York City. He lies dying on the sidewalk as a crowd of spectators gathers around.
"A priest. Somebody get me a priest!" the man gasps. A policeman checks the crowd – no priest, no minister, no man of God of any kind.
"A PRIEST, PLEASE!" the dying man says again.
Then out of the crowd steps a little old Jewish man of at least eighty years of age.
"Mr. Policeman," says the man, "I'm not a priest. I'm not even a Catholic. But for fifty years now I'm living behind St. Elizabeth's Catholic Church on First Avenue, and every night I'm listening to the Catholic litany. So maybe I can be of some comfort to this poor dying man."
The policeman agreed and brought the octogenarian over to where the dying man lay. He kneels down, leans over the injured and says in a solemn voice,
"B-4. I-19. N-38. G-54. O-72. . ."
—–Author Unknown
Snowed in or just bored, stop by the store. We have some new jewelry in toe, rings, anklets,  Voodoo charms and a lot more just added new items.
Remember for all your magickal needs, think Magickal Necessities!
Save</spa