The Witches Digest for Tuesday, December 12
(Part 3)

Weekly Karmic Forecast for December 10 – 16, 2017
The Karmic Tools Weekly Forecast covers the current planetary transits which affect people in different ways and to various degrees of intensity. Take notice when it is a Personal planet (Sun / Moon / Mercury / Venus / Mars) interacting with a Social (Jupiter/Saturn) or Collective planet (Uranus / Neptune/Pluto). And pay extremely close attention when it is a Social planet interacting with a Collective planet because that means something *big* is brewing that will move large groups of people along their evolutionary paths. Tuning in to the energy and rhythm of the planets can serve as a useful *guide* as you move along your Individual Path. It also helps to understand your place within the context of the larger Social & Collective Story. Below, you will find out how these energies tend to manifest, as well as guidance and direction.
*NOTE*  There are some days when there are NO CONTACTS (besides the Moon), please note that there are no missing entries, we just list the actual Activations of each week + the day they happen.  
Weekly Forecast: December 10 – 16, 2017
12/10 ~ Mercury (voice) ~trine~ Uranus (individuality):
This activation gives you access to your Higher Mind and opens the way for new, deeper insights that can guide & direct you at this time. Business as usual will not work, it's time to open up to the unusual, do something different, look at things from another angle and watch the ah-ha's start pouring in. Your intuition will be firing on all cylinders, giving you access to unprecedented clarity. While your thinking may lack discipline, your ability to access solutions to any recent (or long-standing) challenges will be off the charts. This energy will not be contained, even though it is generally all mental, you really will have a hard time keeping up with the ideas, thoughts, concepts & intuitions that come to you under this influence so try to take notes that you can refer to later when the grounding will be necessary. Pay attention to the messages that come through/from others as well since you never know how the Universe will show up. This alone is an indication that whatever your consciousness may not have been previously ready to assimilate or process is awakening now to that which is just for you!
12/10 ~ Venus (love, finances & relationships) ~square~ Neptune (illusions & delusions):
This energy is great for creative flow. If you are artistically inclined in any way, you will have access to an energy that will allow you to create something amazing. Dig deep and allow your Self to free-flow! This energy can also challenge relationships (personal or professional) to 'keep it real' in some way and ones which are not on a true, solid foundation are likely to dissolve under this influence. When Neptune is involved, we see life through a completely different kind of lens, often seeing the potential rather than the reality of the situation. Detach & Trust. This activation is just helping you align your true values & priorities with the vision in your mind & heart, but you will have to expand your consciousness in some way, follow your inner compass and take practical steps going forward.
12/12 ~ Mercury (communication & self-expression) ~conjunct~ Sun (core essential Self):
This energy will compel you to express yourself on many levels. Communication will be a focus, just make sure it is reciprocated. You will have access to some powerful energy that can (and probably will) make quite an impression on others (if you need to). This is a good time to travel if possible too. However, if not physically, than mentally and certainly within your own area, you will take in more information per square inch than usual. Pay attention! You may even gain the much-deserved recognition from others that you have worked so hard for.
12/15 ~ Mercury (ideas, thoughts & concepts) ~conjunct~ Venus (values, priorities & resources):
This energy encourages you to see the Divine Order or the unifying theme running through the events of your life ~ good, bad & indifferent as well as past, present & future. This is an initiation of new values around communication, self-expression and the value of your ideas. You may finally be able to express ideas that have been percolating in your head, some people say "I love you" at this time, or articulate their feelings in deeper, more expressive ways. It's really *juicy* for your Inner Artist, this is the beginning of expressing your creative ideas in altogether new & different ways than ever before. Allow your Imagination to free-flow. Play with ideas with no attachment to outcome. Take advantage and explore all that this energy stirs within you, but don't give in to over-thinking/processing things. These connections are richer, giving you access to deeper personal growth & development through a new understanding of how all the events of your life work together for good, ultimately. You can see the necessity of certain challenges and clearly see your own personal mastery thus far. Celebrate and choose to create some new thought patterns that integrate and reflect more beauty throughout your life.
12/16 ~ Sun (core identity) ~trine~ Uranus (individuality):
This energy is wonderful for a little self-examination and taking action on your own behalf. Look at your habits, home situation, work or anything else that is important to you and look at how you've gotten to where you are. What kind of choices led here? This is a good time to look around and see how you can conserve what is useful and release that which is no longer relevant for you going forward. It's also a good energy for organizing & clearing the decks, so to speak, of things that have piled up but still need to be dealt with (or released altogether). You may be feeling very practical, possibly selfish, but it's actually self-preservation.
Weekly Love Horoscopes for December 11 thru 16, 2017
With Mars moving into passionate Scorpio dark horses abound or clandestine romance gets even more secretive, if single.
If attached, the desire to scrutinise and probe the depths of your partner's feelings brings to light more than one expected answer. In fact, right now, transformative loving is the key to long-term happiness.
ARIES
What comes to mind this week, is that maybe you need to be more compassionate with yourself? For however hard you search for that 'special someone' out there, perhaps it's your own inner richness which needs to be discovered? This is the week to bravely liberate the wealth of who you are, so others can find it too.
TAURUS
This week, thanks to Mars in your opposite sign, you're thinking some pretty deep thoughts. So count your blessings and realise that perhaps it's time to enjoy who you are, and what you have. Whether single or attached, be the down-to-earth, laid-back person that you are meant to be. Bless yourself, as well as the rest of the world.
GEMINI
Have you glimpsed a new romantic beginning? Take care. Throughout life, we have many pathways to follow, and quite simply they are all right for the given moment that we chose to go down them. This week, be realistic and don't give in to some fantasy future; give life to your true beliefs, and most of all, follow your instinct.
CANCER
There's a great feeling of relief when we come full circle to a place we know, whether it's a literal home, or the 'home' of ourselves. And that's the point you've finally reached. In the past weeks you've started to enjoy a sense of harmony in your romantic life, and now you can see how comfortable you can be with someone special in the future.
LEO
Saturn's influence may be holding you back, but there's no going back either. Your sensual charisma is irresistible and you're ready to throw all caution to the wind. It's not often you feel this certain about someone, but deeper reflection gives you the insight to see their true potential.
VIRGO
With a deeper understanding of your needs, you attract the right kind of attention at last. Don't let a moment of self-doubt take you by surprise or make you behave out of character. This week, stay focused, speak from the heart, and it may well be one of the best weeks you've experienced for a long time.
LIBRA
OK, so you've been a little wrapped up in yourself, and haven't had much time to think about someone else. This week, nurture others too. Once you show you care, then they'll give you enough time to run around the world and back. Just a few kind words and your life will change for the better.
SCORPIO
Your need for security and a sense of belonging is what drives you on, underpinning all your hopes, romantic yearnings and attitude to life. With Mars plunging into your own sign this week, it's time to see how to actually make this work for you. And if single, you know now what you didn't know a few years back: that you need to be in control of your life, and no-one else can do it for you.  At last, everything will start to fall into place.
SAGITTARIUS
Enlightening moments abound concerning your independent spirit.  No longer do you see commitment as giving up your freedom, but of gaining something better. So make this a week to be with someone who shares your deepest thoughts and your most exciting hopes and dreams.
CAPRICORN
You're always there when needed: reliable and resourceful. And this week, you might wonder why it is that others are being a little distant and independent. In fact, so confident are they in their plans and schemes, they don't seem to fall back on your good advice. Time to make it clear you need to be heard again.
AQUARIUS
It may be that you're listening to what's good for you, and what's not. But there's something else that needs to come to light, and that's your own take on love.  What makes you feel good to be alive, and how can you live with someone and still have the freedom you need? This week, you will find the answers.
PISCES
This week, it feels like your survival in the love stakes is literally, at stake. Do you reveal your frustrations, or your need for more romance? And if single, do you leap into a new relationship for the sake of it, because secretly you don't want to be alone? Questions aside, you will find your way at last.
Reference
Sarah Bartlett, Astrologer
Published on The Astrology Room
For The Singles, The Daring Dating Horoscopes for December 11 thru 16, 2107
ARIES (March 21st-April 20th)
Your ruler Mars is settling into his new home, looking at deep, intense emotions and secretive love affairs; hubba-hubba! Ok, it's maybe less hubba-hubba and more furtive glances and wondering if you can really be bothered, but it's passionate, powerful, even obsessive. Yummy. Get into it.
TAURUS (April 21st-May 21st)
There's nothing wrong with living a little, nothing wrong with picking the wrong sorts every now and again. How will you know who is right if you don't see who is wrong? Get your defences down Taurus, new romance is on its way and it needs to be lived.
GEMINI (May 22nd-June 21st)
When you've sorted through three years of Saturn in your relationship sky and had Mars chasing someone new your way, you know your stuff. If someone has made it this far he or she is going to be worth the hassle. Relax, enjoy a new intimacy Gemini.
CANCER (June 22nd-July 23rd)
When you look through any window at any time of day you'll see people going about their business, getting on with it. How about getting on the other side of that window and do a bit more yourself? Mars wants to show you a good time, put that mince pie down and go find it.
LEO (July 24th-August 23rd)
You can try and try, flirt and flirt, smile and laugh at his or her terrible jokes; or you can trust in Saturn's last days in your new love sky and realise he's been working up to something special. The Sun, Mercury and Venus agree with him. Shine, that's more the enough.
VIRGO (August 24th-September 23rd)
Neptune is fogging up the love lens, you can't quite see if someone is all in or wishing they were somewhere else? Where are you Virgo? Are you all in or do you think it's ok for now, but maybe not for new year? Signals are confused, lead the way. Have that chat.
LIBRA (September 24th-October 23rd)
As you lose your relationship planet Mars, from the 9th, it's a lot quieter. That may not sound like much fun Libra, but maybe it's just what you need; if not what you want? It's surprisingly liberating, and we all know what happens when you're truly not all that bothered.
SCORPIO (October 24th-November 22nd)
Mars is in your sign, he's energetic, bold and passionate and he's got plans. Ok, so maybe they're not all about your love life but Jupiter and Neptune's plans most certainly are. Romance is up, energy to get on with it is up, make of that what you will Scorps.
SAGITTARIUS (November 23rd-December 21st)
Hello Venus! She's getting some extra attention from Neptune, a romantic planet, but this seems to be more about nagging from family about your current single status and that's maybe not so exciting. However. Don't ignore their attempts at fixing you up with a hot date. They may get it right this time.
CAPRICORN (December 22nd-January 20th)
When you know you've had enough, when you know it's not for you, you're one of the better signs calling it, saying it's done. The same goes when you know he or she is the one, undeniably yours. Truth is truth, be it about love, money or calories; honour your truth.
AQUARIUS (January 21st-February 19th)
Some of these so called social events are drearier than a dreary thing, hopeless when all you want is a hot water bottle and an early night. Go along Aquarius, show your lovely face and let Venus single out someone who will be glad you did. Sparkle.
PISCES (February 20th-March 20th)
When other people can see what you can't it's a good idea to listen to them. If mates are telling you that bloke from accounts fancies you, they know it. If they suggest someone isn't doing you any favours, listen to them. Watch-keepers on duty.
Reference
David Wells, Astrologer
Published on The Astrology Room
The Daily Horoscopes for Tuesday, December 12, 2017
ARIES (March 21st-April 20th)
Today marks the halfway mark in a personal project which last month you were ready to give up on. Now you know you have the talent and the know how to succeed. Keep going Aries, you're nearly there!
TAURUS (April 21st-May 21st)
Today will be forever marked in your mind as a turning point. A time when you realised what and who wasn't working for you. Start to make a promise to yourself that you will live life to the full.
GEMINI (May 22nd-June 21st)
Speak from the heart and don't worry what others think of your dreams and desires. This is your life to live as you see fit. You may have to make a large outlay, but aspects suggest it will pay back tenfold.
CANCER (June 22nd-July 23rd)
Your earning potential is well starred and if you want to ask for more money, then this would be the time to do it. Look out for loose talk losing you a friendship tonight. Let others divulge their own news Cancer.
LEO (July 24th-August 23rd)
Your finances don't seem to be your own and indeed, many of your sign may be waiting for money to come in which was expected to have arrived before now. Breathe and stay calm. Your first reaction will dictate how others help you.
VIRGO (August 24th-September 23rd)
You can and should make life fun for yourself again. How do you do this? By cutting contact with those you know have been bringing you down. Your element of earth sees you finally willing to commit to something you resisted last year. Ring now for honest talking.
LIBRA (September 24th-October 23rd)
Are you over analysing what's going on, or do you really know that the path you are on is one you have to push others to help you walk down? Or could it be a case of you wanting what you cannot have.
SCORPIO (October 24th-November 22nd)
Don't rush what you are doing, or you'll give others the impression that you don't really care about the path you are on and that you are only reacting for effect. You and I know that's not true, so pay attention to detail.
SAGITTARIUS (November 23rd-December 21st)
Mix ups earlier in the week left you feeling as if life had escaped your control. That is not true, even though it may seem so. Show you are in control by putting your own time into professional matters today.
CAPRICORN (December 22nd-January 20th)
Recent events saw you let down by a face you thought you could trust. This would all be very well if you had shut them out of your life, but they still seem to be a secure part of your routine.
AQUARIUS (January 21st-February 19th)
Someone you thought was not your ally is in fact very much on your side. You'd see this if only you would give them a chance Aquarius. Hear others out when they speak to you today. It can turn a financial problem into an advantage.
PISCES (February 20th-March 20th)
A delicate personal issue reaches a head, as you decide to make others' decisions for them. Try to keep your manner a calm one, or you will only make those concerned think you are acting out of malice.
Reference
Claire Petulengro, Astrologer
Published on The Astrology Room
If You Were Born Today, Tuesday, December 12, 2017
You have a distinctly dual nature that, at your best, makes you versatile, and at your worst, downright confused (and confusing!). While a great lover of peace and harmony, you are also determined and fiery. While idealistic, you mostly have your feet on the ground. In relationships, the need for partnering and cooperating is strong, but freedom also matters to you. You are a natural counselor, offering excellent advice. There is usually quite a bit of drama and colorful emotion in your relationships, whether it's because you bring this to the table or attract these kinds of people. Famous people born today: Frank Sinatra, Edward Koch, Connie Francis, Jennifer Connelly, Bridget Hall, Bob Barker, Dionne Warwick.
Your Birthday Year Forecast:
With the Sun and Moon in harmony in your Solar Return chart, the year ahead should be satisfying and balanced overall. You are in comfortable demand and personally popular, and you are able to achieve a decent balance between work and play; personal and professional life. For the most part, you are on top of your game this year, and positive connections with others can be made fairly easily. With the ability to handle your emotions successfully, there is less stress on both your mind and body. Your self-confidence and positive attitude will reward you!
The year is good for motivation levels regarding work or projects and personal interests. There can be opportunities to pursue absorbing topics and projects of interest. More joy and meaning can be found in your work or obligations.
Your ability to concentrate and focus is enhanced this year. You may, in fact, have a lot of work to do in relative solitude or you might often retreat to study, work, or think. You might be required to travel for business purposes. Thinking in realistic and practical terms is your best bet, and the need for tangible results for your efforts is strong.
You are likely to establish connections and/or relationships with people that help forward your own personal growth. Teamwork and camaraderie, as well as meaningful connections, are themes. You feel your life has a definite purpose this year. Through your contacts with others, you are encouraged to grow.
You express yourself more clearly and you can be excellent at guiding and instructing others. There is a pronounced ability to order your thoughts and ideas, come up with designs, and recognize patterns. You can especially enjoy making plans, lists, and connections this year.
This is a strong year for spirituality and commitment to spiritual or metaphysical goals. Higher learning, mind expansion, or travel can also be in focus and very rewarding.
Helping ground you is a Mars-Saturn sextile that gives you a sense of responsibility and a feeling of directedness and purposefulness. Traditional methods work again this year, and thoroughness brings rewards. Practice or refining a technique is favored. The approach that seems to work best with this aspect is a step-by-step one, with modest ambitions and the appreciation of slow but steady progress. This is particularly true of mental projects and special interests. You can be prolific when your heart is engaged in what you're doing.
This can be a good time for updating your electronics and technology in ways that open up new avenues for communication or ease. Wonderfully creative ideas can fill your head this year.
Making connections with others from a different background is likely to figure in the year ahead, or widening your mind through unusual or different experiences can be part of the picture. Generosity and compassion increases and your faith is boosted. You more easily make personal sacrifices for what you believe to be the better good.
This is an excellent year for new ideas and projects. You're in good shape for staying on track and meeting your responsibilities, but also for tuning into new and progressive ideas. This is also a great period for connecting with people and projects who/that inspire you.
2017 is a Number Seven year for you. Ruled by Neptune. This is a year of preparation, chance, and refinement. It is not a time of dramatic changes. Instead, it's a year when reflection on the past is helpful, and when refinements to your life path should be made. It's a good year to study and analyze. Unexpected twists to your life story and "chance" meetings are probable. Advice – take stock of your life in order to prepare for more exciting years to come, examine the past and plan for the future, get in touch with your deepest needs and uncover your personal power, don't strain yourself or actively try to expand.
2018 will be a Number Eight year for you. Ruled by Saturn. This is a year of power and accomplishment. Actively seeking to expand, taking educated risks, and moving forward are highlighted. This is a year of opportunity, particularly in the material and business world, and opportunities need to be seized. It's generally not a year to find a new love partner, simply because the focus is on the material world and your place in the world. This is a problem-solving year in which you can expect real, tangible results. Advice – take action, plan ahead, seize opportunities.
Get A Jump on tomorrow
The Daily Horoscopes for Wednesday, December 13
ARIES (March 21st-April 20th)
Double check any figures you have to deal with today, as aspects suggest you may have got your sums wrong. Your need to see a certain person could see you telling lies to those who trust you.
TAURUS (April 21st-May 21st)
Gossip may get the better of you and you'd be wise to follow the advice that if you have nothing nice to say, say nothing at all. Boredom could well see some of your sign doing things which you know will get you in trouble.
GEMINI (May 22nd-June 21st)
A relationship which developed a stale taste, can and will be rectified once you admit where you went wrong. Your element of air has made you more of a gossip than usual and if you owe an apology this is the day to make it.
CANCER (June 22nd-July 23rd)
The need to spend more time in the company of someone you care for could see you cancelling things which others were relying on you for. Try to be fair and work out a compromise. You and those involved will feel better if you do.
LEO (July 24th-August 23rd)
You may be forced to change your plans because of others dragging their feet. What you don't realise, but you would if you tried, is that you hold the power to complete all that is ahead alone.
VIRGO (August 24th-September 23rd)
The stars line up to make you the centre of attention, so be prepared to have to answer for all you say and do today. You'll be asked direct questions and giving honest answers helps you to gain back respect you recently lost.
LIBRA (September 24th-October 23rd)
Always listen to your heart. It will save you a lot of time and energy and will ensure that you end up with a life you want to live. Contacts signed now make your life a better place to be.
SCORPIO (October 24th-November 22nd)
Work you were dreading doing will actually turn out to be a challenge you will enjoy and excel at. Find time to call the person who has been on your mind. They will feel lifted by your contact and you'll feel glad you made the effort.
SAGITTARIUS (November 23rd-December 21st)
There is a really sentimental feel to your chart today. You find yourself telling stories of your past to new faces you meet. You have unfinished business with something which if settled today, will never need to worry you again.
CAPRICORN (December 22nd-January 20th)
A softer side to your character is emerging and you find it easy to admit what you want without feeling the pressure just to say what others want to hear. You've come a long way and I'm proud of you.
AQUARIUS (January 21st-February 19th)
You have been looking at your problems from the wrong angle. Deal with your worries one at a time, and bit by bit you will build up your confidence and see that you can change your destiny to be a happy one.
PISCES (February 20th-March 20th)
You're growing in so many ways and although I know your journey has been a painful one, it has also been a very learned one. Your element of water helps you connect to those who have been closed off lately.
Reference
Claire Petulengro, Astrologer
Published on The Astrology Room
Tarot Card of the Day
Seven of Coins
---
December 12, 2017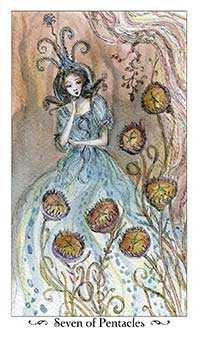 The Seven of this suit is typically a paean to the humble laborer who is willing to show up every day and sweat in the sun for next season's bounty. The traditional concept is cultivation, with an attitude that slow and steady wins the race, with faith in nature's assistance. The protagonist of this card doesn't make excuses, isn't whimsical or moody, but is dedicated and sees the job through. Of course, it's no good to count your chickens before they hatch, but there's no question that the person who is vigilant over a project is more likely to get the desired result.
Someone who works with nature, cooperating with her ways, will waste less energy and time than the person who works against her. As a side meaning, we sometimes see this normally humble farmer in a moment of frenzy, betting the crop on a roll of the dice. This represents a moment of dementia, addiction or desperation which hopefully will not last long enough for the farmer to lose everything!
Daily Love Tarot
The Sun
__________________________________________
December 12, 2017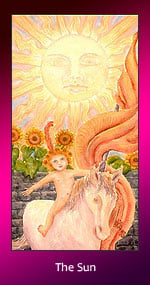 The Sun is an invitation to a supportive relationship in which you can be yourself around your significant other. You feel relaxed and loved, with a sense of peace of heart. You've struck gold and entered into a new realm. Keep looking if this is not how you feel because it is how things should be. You can't expect improvement in a long-term union if you do not take effective steps to create it.
Your Erotic Tarot
The Judgement
_________________________________________________
December 12, 2017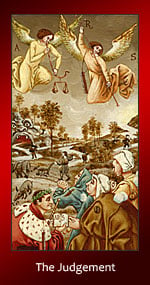 The Judgement card represents a sexual awakening, and now that you aren't afraid to move in a new direction, a whole new world awaits you. What sex positions do you want to try, and which fantasies have you been dying to act out? Being honest with yourself and potential partner(s) about the details of what you desire will help you get what you want faster, and the end result will be much more satisfying. And above all, enjoy your sexual liberation!
Your Daily Rune for December 12, 2017
Mannaz
"Man-az" – Literally: "Mankind"
Esoteric: Humankind, awareness
Rune of the Divine structure of intelligence in the human soul or psyche. Rune of the horizons of human existence and collective potential.
Psi: mind & memory (Hugin & Munin), the difference between human and all other life, development of the intellect, rational mind, perfected intelligence
Energy: psychic order of the gods reflected in humankind, projection of Self into time
Mundane: thinking, planning, analysis, the human condition, people at large (contemporary: the masses)
Divinations: Divine structure, sustainability, intelligence, awareness, social order, divine influence in life; or depression, mortality, blindness, self-delusion, collective suicide, bigotry, elitism, intellectual arrogance.
Governs:
Self-Actualization
Realization of the divine structure in humankind
Increase in intelligence, memory and mental powers (passing tests)
Unlocking the third-eye hvel, the "mind's eye"
Activating the dynamics of your own inner Christus, or Higher Self
Awareness of our roles as co-creator with the gods and nature
Mental and spiritual potential
Your Animal Spirit Guide for Tuesday, December 12
The Falcon
The Wisdom of the Budda
To be idle is a short road to death and to be diligent is a way of life; foolish people are idle, wise people are diligent.
A Little Thought from Me to You…….
I pledge allegiance
to the Earth
Of our Beloved Solar System
and to all
of Her creatures
for here they dwell
One planet
united in harmony
with universal love
and compassion for all.
—2016 livingsky.org
Currently Taking Donations for Lady A
Currently Taking Donations for Lady A
All donations are greatly appreciated and needed. Even a dollar makes a huge difference.
Thank you for your love and support of our Lady.
 Magickal Necessities if open & with new merchandise. Proceeds from sales go to Lady A to help her rebuild her life.
For all Your Magickal Needs, Think Magickal Necessities….
Save