Your Celtic Tarot Card for Today
9 of Wands
A Pause
A man holding a wand stands between two large Air dragons. His expression is on of tiredness but triumph. The magician has moved through many trials and tribulations to reach this moment of rest and success. Behind him is dark, twisted wood, the frightening and mysterious depths of the subconscious, where malicious faces of past lives or past experiences in this life may rise to haunt him. To succeed in his journey, he had to acknowledge past errors and build upon that experience. A steep stair leads back from where he stands into the woods, symbolizing that his journey through this life is not yet finished. However, at this moment he and the dragons stand in full sunlight, representing spiritual power. In a semi circle above the man's head are eight wands, their tips flashing in the sunlight. If he can keep his willpower bright, he can ascend the steps without worry.
Divinatory Meaning
There is a pause in a difficult lifecycle, giving you a much needed rest. This is a time when you must carefully plan your next step. Success is in sight but more effort is needed.
Your Ogham Reading for Today
Beith-Birch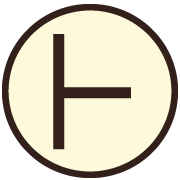 The Birch tree is known as a pioneering species, which means it is often first to colonize open ground following a disturbance or fire. Because of this natural fact Beith is the first letter of the Ogham alphabet. It symbolizes birth, renewal, and new beginnings. The Beith symbol appearing is a true sign that a change has occurred or will occur.
Fortune – Drawing this Ogham is a way of telling you to look for a new path, a necessary change is on the way!
Quert-Apple
In many religious traditions the apple is a mystical or forbidden fruit. Yet to the Celts it was the food of the Gods. Despite it's often bad reputation it is clear that the apple is a source of nutrition, health, and sustenance. That is why we read this ogham letter has having to do with life, health, and healing… a Quert a day keeps the bad vibes away!
Fortune – Take a good look at your mental and physical health. This Ogham is a warning to be mindful of nutrition and healing, take care of yourself!
Straif-Blackthorn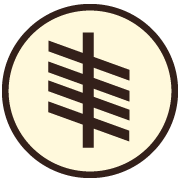 This thorny tree is known for it's negative uses over the years. It has been used for cattle proofing with its thorns, the berries have been turned into alcohol, and the thorns were once dipped in poison as a weapon. Drawing this letter brings forth ideas of pain, negativity, pessimism, and potential conflict. If Straif comes up in your reading it is very wise to pay attention to any warnings.
Fortune – This Ogham can denote very bad signs ahead. Pay very close attention to matters in life that way you can avoid the warning that you were given
Your Witches Rune for Today
The Wave
Meaning: This rune symbolizes your friends and family and their influence upon you. Its meaning is usually derived from the other stones closest to it. This rune is also associated with travel. A journey abroad is indicated especially if the Sun rune is nearby, but a journey for someone close to you if the Moon stone is closest. If it is near to the Rings it foretells a holiday or long distance relationship.
Your Earth Magick Oracle Card for Today
This card tells me that something will happen that will effect your Karma or someone's close to you. Be careful of what you do and say today because it will effect your Karma in this lifetime. So keep positive thoughts that will bring positive actions while you go about your day.