The Daily Tarot Card
The Pope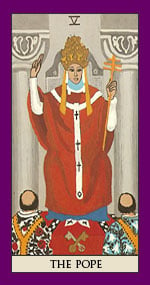 Keywords: teaching, school, blessing, ritual, marriage, acting!
Astrological Correspondence: Taurus
As a priest, the Pope, or Hierophant, represents traditional values and moral development. He is the wise teacher or counselor guiding groups or collectives on their path in search for spiritual truth or meaning. Depicted as a religious figure in ceremonial vestments he interprets secret mysteries, divine law, and theological doctrine. Although this card implies that he is linked to the church, the Pope signifies not only organized religion but also focus on groups in general, such as schools, teams, companies – any group with fixed roles and assigned responsibilities. The Pope is a symbol for rules, procedures, structure, and ritual, creating harmony within groups and staying their course so they can find identity and progress as a whole. The negative imagery symbolizes dogmatism and inflexibility, extreme conformity, or conventionalism.
The Daily Tarot Love Card
The Emperor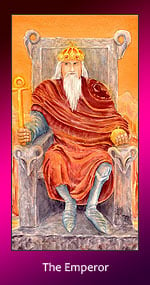 Today is perfection, in a good way. Why? Today represents someone's advancement and growth in the ability to love. Someone, perhaps even the two people you are one-half of, grasps the realization that love is friendship intensified. If you're dating and you want love, it is yours. The trick is to avoid being swept off your feet. Instead, grasp the idea of slowing down, knowing that time is on your side.
The Daily Erotic Tarot Card
The Pope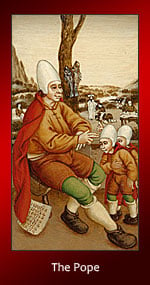 The Pope represents pure masculine energy, and even if you're female you're going to be identifying more with your male counterparts today. The Pope shows you that coming to terms with past mistakes and taking responsibility for them in the present eases sexual tension, so let go of the past to free yourself from your inhibitions. You actually have quite the skill set when it comes to making sexual moves, but waiting until the time is right before taking the plunge can be a real turn-on. Let the anticipation build until you can't take it anymore!
The Daily Past Life Tarot Card
The Sun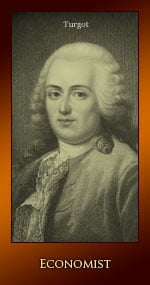 Sometimes numbers fill your head and although you do the math, the equations just keep coming. This could be a sign that in a past life you were an economist. You might not understand it exactly, but there is just something in your genes that has always attracted you to numbers. Your past life as an economist is probably still on the treadmill of reincarnation. You follow numbers through the journey of your many lives, finding solutions that create new numerical questions.