The Witches Digest for Tuesday, August 22nd
~*~Dark Goddess~*~
As the darkness spreads over the land,
A queen arises…
She is perfection at its peak.
She is the earth,
She is the sky:
Son wailing winds,
Bringing me to my knees.
She wraps me in a blanket of shadow,
And infuses my soul with her wisdom.
The very breath I breathe is icy cold,
And burns my lungs with every inhale.
Her awesome presence
overwhelms my mortal body,
making me tremble Under her power.
My heart, Pounding in my chest,
Screams her name
In the pale moonlight.
By The Light Of The Crystal Moon: A Book of Pagan Poetry and Short Stories
Elizabeth Gardiepy
Your Daily Sun & Moon Data for Tuesday, August
The Sun
Sun Direction: ↑ 83.16° E
Sun Altitude: 10.38°
Sun Distance: 94.014 million mi
Next Equinox: Sep 22, 2017 3:01 pm (Autumnal)
Sunrise Today: 6:17 am↑ 75° East
Sunset Today: 7:36 pm↑ 285° West
Length of Daylight: 13 hours, 19 minutes
The Moon
Moon Direction: ↑ 79.55° E
Moon Altitude: 1.17°
Moon Distance: 233071 mi
Next Full Moon: Sep 6, 20172:02 am
Next New Moon: Sep 20, 201712:29 am
Next Moonset: Today8:23 pm
Current Moon Phase: Waxing Crescent
Illumination: 0..8%
Lunar Calendar
Moon Phase Tonight: Waxing Crescent
First Quarter: Aug 29, 2017 at 3:12 am
(Next Phase)
New Moon: Aug 21, 2017 at 1:30 pm
(Previous Phase)
Source
Overview for Tuesday, August 22nd
The Moon spends the day in the sign of Virgo, encouraging us to focus on making things work. Helping us with this goal is a trine between Mars and Saturn that stimulates productivity, attention to traditional or tried and true methods, pacing ourselves, and moderation. We feel more directed and purposeful, which is particularly useful and grounding after an eclipse. We're inclined to pay attention to details and to be thorough in our efforts under this influence. The Sun enters Virgo this afternoon, where it will transit for one month, until September 22nd. Our focus shifts to the pieces of the puzzle–the little details of our lives. It's now time to take care of practical concerns. Tending to the details of daily living helps free us from the unnecessary stress resulting from "collecting" odds and ends of unfinished business. This is an ideal month to get organized, do detail work, and improve communications on the job.
Your Astrology for Tuesday, August 22nd
The Moon is in Virgo.
The Moon is waxing and in its New phase.
The New Moon (Solar Eclipse) occurred yesterday in the sign of Leo, and the First Quarter Moon will occur on August 28th.
Mercury is retrograde (Mercury is retrograde from August 12-September 5).
The Sun enters Virgo today (the Sun transits Virgo from August 22-September 22).
Moon in Virgo
We instinctively gravitate towards practical activities under the influence of a Virgo Moon. In order to set things right, we might easily find ourselves re-organizing and rethinking plans. Emotional satisfaction comes from solving problems, making order out of confusion, and helping others. Health matters might come into focus. We notice the smaller parts that make up the whole, and instead of letting nagging details bother us, we might work on ironing them out so that we can feel more confident moving ahead.
The Moon in Virgo generally favors the following activities: Mental pursuits, work activities, services, and routines. Activities that would benefit from tending to details.
The Sky This Week for August 22 to 27
The total solar eclipse, Comet PANSTARRS, and other exciting things to look for in the sky this week!
By Richard Talcott
Tuesday, August 22
Distant Neptune reaches opposition and peak visibility in two weeks, but the view now is essentially the same. The ice giant planet rises during evening twilight and climbs nearly halfway to the zenith in the southern sky by 2 a.m. local daylight time. The magnitude 7.8 planet lies in Aquarius, 1.5° east of 4th-magnitude Lambda (l) Aquarii. You'll need binoculars to spy Neptune and a telescope to see its blue-gray disk, which spans 2.4″.
Wednesday, August 23
Although Saturn reached opposition more than two months ago, it remains a tempting target in the evening sky. The ringed world stands highest in the south an hour after sunset and doesn't dip below the horizon until after midnight local daylight time. Saturn shines at magnitude 0.4 against the backdrop of southern Ophiuchus, a constellation whose brightest star glows six times fainter than the planet. When viewed through a telescope, Saturn's globe measures 17″ across while its spectacular ring system spans 39″ and tilts 27° to our line of sight.
Thursday, August 24
Uranus' visibility continues to improve week by week. It now appears nearly 25° high in the east by midnight local daylight time and climbs highest in the south as morning twilight commences. The magnitude 5.7 planet lies in Pisces, 1.1° north of magnitude 4.3 Omicron (o) Piscium. A telescope reveals Uranus' blue-green disk, which spans 3.6″.
Friday, August 25
Following its meeting with the Sun earlier this week, the Moon has now climbed into view in the evening sky. Be sure to catch the 20-percent-lit crescent this evening, when it forms a pretty triangle with magnitude –1.8 Jupiter and 1st-magnitude Spica. All three objects lie in the constellation Virgo and stand well clear of the west-southwestern horizon during evening twilight. And don't pass up an opportunity to view Jupiter through a telescope. The giant planet's disk spans 33″ and shows a wealth of atmospheric detail.
Saturday, August 26
Venus appeared among the background stars of Gemini the Twins yesterday morning, but you'll find it against the backdrop of Cancer the Crab today. This border crossing sets up a pretty conjunction a week from now, when the gleaming planet appears 1° south of the Beehive star cluster (M44).
Mercury reaches inferior conjunction, passing between the Sun and Earth, at 5 p.m. EDT. The innermost planet will return to view before dawn in early September.
Sunday, August 27
The constellations Ursa Major the Great Bear and Cassiopeia the Queen lie on opposite sides of the North Celestial Pole, so they appear to pivot around the North Star (Polaris) throughout the course of the night and the year. In late August and early September, these two constellations appear equally high as darkness falls. You can find Ursa Major and its prominent asterism, the Big Dipper, about 30° above the northwestern horizon. Cassiopeia's familiar W-shape, which currently lies on its side, appears the same height above the northeastern horizon. As the night progresses, Cassiopeia climbs above Polaris while the Big Dipper swings below.
Source
Astronomy Magazine

Today is Tuesday, August 22
Tuesday is dedicated to the powers of the planet Mars, personified in Ares, Tiwaz, Tiw, Tuisco and Tyr. Tuesday rules controlled power, energy and endurance.
Deity: Tiwaz
Zodiac Sign: Aries
Planet: Mars
Tree: Holly
Herb: Plantain
Stone: Agate
Animal: Crab
Element: Fire
Color: White
Number: 2
Rune: Tyr (T)
Celtic Tree Month of Coll (Hazel) – August 5 – September 1
Runic Half-Month of As (gods) – August 13 – August 28
Goddess of the Month of Hesperia – August 9 – September 5
Source
The Pagan Book of Days
Nigel Pennick
On Tuesday, August 22nd, We Celebrate….
Virgo Begins (Various Locations)
ASTRAEA
Themes: Excellence; Learning; Purity; Justice; Knowledge; Reason; Innocence
Symbols: Stars
About Astraea: This Greek goddess motivates fairness and virtue within us. She empowers our ability to "fight the good fight" in both word and deed, especially when we feel inadequate to the task. According to lore, she left earth during the Golden Age because of man's inhumanity to man. She became the constellation Virgo.
To Do Today: In astrology, people born under this sign, like Astraea, strive endlessly for perfection within and without, sometimes naively overlooking the big picture because of their focus on detail. Astraea reestablishes that necessary perspective by showing us how to think more globally. To encourage this ability, draw a star on a piece of paper and put it in your shoe so that your quest for excellence is always balanced with moderation and sound pacing.
To meditate on this goddess's virtues and begin releasing them within, try using a bowl (or bath) full of soapsuds sprinkled with glitter (this looks like floating stars) as a focus. Light a candle nearby and watch the small points of light as they dance; each one represents a bit of magical energy and an aspect of Astraea. Tell the goddess your needs and your dreams, then float in her starry waters until you feel renewed and cleansed.
Source
365 Goddess: A Daily Guide To the Magic and Inspiration of the goddess
Patricia Telesco
Ritual Crafting for Tuesday
Ruling Planet: Mars
Perfume: Hellebore, Carnation, Patchouli
Incense: Lignum Aloes, Plantain
Color: Red
Influences: Destination, War, Courage, Surgery, Physical Strength
Source
A Book of Pagan Rituals
Herman Slater
The Magickal Day of Tuesday
Named for the Norse god Tyr, who was a deity of heroism and combat, Tuesday is a very martial sort of day – color associations include bright red and oranges, as well as warrior-like metals such as iron and steel.
The ancient Romans called this day Martis, after the warrior god Mars – other deities associated with Tuesday include Ares, the Morrighan, and other gods of battle and glory. Red gemstones like rubies and garnets come into play on Tuesdays, as do herbs and plants such as thistles, holly, coneflowers and cacti – you'll notice these are all sharp, prickly plants!
One of the interesting – and more than a little amusing – aspects of Tuesday magic is that in addition to war and conflict against your enemies, this is a day also associated with marriage. You can also use this day of the week for magical workings connected to protection and initiation. Use Tuesday to assert yourself, make a mark and stake your claims
Source
Patti Wigington, Paganism/Wicca Expert
Article originally published on & owned by ThoughtCo.
The Witches Guide To Tuesdays
A god, goddess, or planet governs each day of the week. It is usually easy to spot the ruler of the day by its name. The word Tuesday, however, is not so easy, but if we look at the word in Spanish, Martes, we clearly see its connections to Mars.
Because Tuesday revolves around the energy of Mars, Tuesdays are good for business, mechanical things, buying and selling animals, hunting, beginning studies, gardening, sexual activities, and confrontation. This is a day for sex magick, energy, stamina, and health. As in the old saying, Tuesdays child is full of grace, is also good for success magick and defense against enemies.
Angels of Tuesday are Camael, Samael, Satael, Amabiel, Friagne, and Hyniel. When invoked, Camael takes the form of a leopard. In Druid mythology he is a god of war, which is why we see him associated with Mars. Camael is said to be a member of the "Magnificent Seven" in some circles. Camael is another "terminator" angel.
Samael walks both worlds as a magician and sorcerer. some see him as the angel of death, others as "the bright and poisonous one." Many consider him more of a demon, and accuse him of being Satan. However, there is reference to the satans (plural) as enforcers of the law, a sort of angelic police, if you will. Supposedly, when Samael is around, dogs howl in the night. On one hand, he is the ruler of the fifth heaven and in charge of two million angels; on the other, he is the one who changed into a serpent and convinced Eve to partake of the forbidden fruit of knowledge.
Satael is an angel of air invoked in magic rites and is the presiding spirit of the planet Mars. Amabiel is another spirit of the planet Mars; however he spends his energy on issues of human sexuality. Friagne, also an angel of this day, is invoked from the east. He is a member of the fifth heaven. Hyniel also belongs to this day and is subject to the east wind.
On Tuesdays the hour of sunrise and every eight hours after that are also ruled by Mars, and that makes these times of the day doubly blessed. These four hours are the strongest ones to do ritual in. Check your local newspaper, astrological calendar, or almanac to determine your local sunrise.
Source:
Witchery of the Day
Tuesday is the day to work any magick that falls in the category of increasing strength, courage, bravery, and passion. All of these intense emotions are linked to this day's energies, and spells designed around these themes will have extra punch when performed on this magickal day
So, let's add a little passion and conviction into your life! Break out the daring red pieces of your wardrobe, and put a little pizzazz into your day. Work with Lilith, and see what she has to teach you about personal power and sexuality. Meditate onTiw/Tyr and Mars, and see what those ancient warrior gods will show you about new tactics, strategies, and claiming personal victories in your life. Practice conjuring up that astral weapon from the meditation and use it wisely for protection and for courage.
Create a philter for courage and protection or handcraft your own Witch's jar to remove negativity from your home. See what other Witch crafts you can conjure up with Tuesday's magick. Create some kitchen magick on this Tuesday by whipping up a spicy stew-add in a few Mars-associated ingredients such as carrots, peppers, and garlic. Empower the stew for success, and then treat yourself and your family to a good, hearty meal. Try working with a little aromatherapy and burn some spicy or coffee-scented candles to increase your energy level.
Check the sky at night, and see if you can find the reddish planet Mars up in the heavens. Not sure where to look? Check an astronomy magazine or search the Web for more information. Become a magickal warrior and move forward in your life with strength, courage, and compassion. Embrace the side of yourself that loves a good challenge and that is passionate and daring! Banish fear, and face your future with strength and conviction. Believe in yourself and in your dreams, work hard, and you will win every time.
Source
Book of Witchery: Spells, Charms & Correspondences for Every Day of the Week
Ellen Dugan
Witches Almanac for Tuesday, August 22
Feast of the Queenship of Mary (English)
Waxing Moon
Moon Phase: First Quarter
Moon Sign: Virgo
Sun enters Virgo 6:20 pm
Incense: Basil
Color: Scarlet

Sun enters Virgo
Sun is in Virgo from August 22-September 22. Our focus shifts to the pieces of the puzzle–the little details of our lives. It is now time to take care of practical concerns. Tending to the details of everyday life may not sound like loads of fun, but it can certainly free us from unnecessary stress that results from "collecting" odds and ends of unfinished business. This is an ideal time to get organized, to do detail work, and to improve communications on the job.
Tuesday's Correspondences
Tuesday (Tiw's-day)
Planet: Mars
Colors: Red and Autumn Shades
Crystals: Bloodstone, Ruby, Garnet, Flint, Rhodonite, Iron and Steel
Aroma: Basil, Ginger, Black Pepper, Mars Oil, Dragon's blood and patchouli
Herb: Basil
The day of Mars. This day could only ever symbolize the sheer power of the god of war! The ideal spells to be cast on this day are that of force, power war and protection.
Dedicated to the powers of the planet Mars, personified as Ares, Tiwaz, Tiw, and Tyr.
Magical aspects: controlled power, energy, and endurance, passion, sex, courage, aggression, and protection.
This is the proper day of the week to perform spells and rituals involving courage, physical strength, revenge, military honors, surgery, the breaking of negative spells, dynamic energy, matrimony, war, enemies, prison, hunting, politics, contests, protection, victory, and athletics.
Tuesday Is Ruled By Mars
Tuesday is a Mars day, and just like the god of war, this is the time to tap into magicks to call for strength and courage. This day of the week is for rebels and warriors. If you are facing a challenge of any kind, need a boost to your courage, or want to enhance your passions, Tuesday is the day of the week for you. Some suggestions for Tuesday enchantments would include:
*Wearing the fiery colors associated with this day: scarlet, red, black, and orange. Don some of the more daring and bewitching colors of your wardrobe on Tuesdays and turn a few heads.
*Carrying a bloodstone in your pocket or wearing garnet-studded jewelry to reinforce your convictions
*Working with protective and fire-associated plants such as the snapdragon, thistle, and holly to boost your shields and bravery
*Burning spicy-scented energy-enhancing candles to add a little magical aromatherapy to your home
*Cooking up a hearty meal featuring carrots, peppers, and garlic (all Mars foods and spices) to empower yourself for victory and success
The Energy of Mars
Weekday ruled by Mars: Tuesday
Stones:
Bloodstone
Garnet
Carnelian
Pink Tourmaline
Herbs and Plants:
Red Rose
Cock' comb
Mugwort
Mullien
Nettle
Thistle
Wormwood
Magickal Intention: Courage, physical strength, revenge, military honors, surgery, breaking negative cycles, war, viltality, Assertiveness.
Your Daily Magickal Applications for Tuesday
Tuesday is the day associated with the planet Mars. In mythology, Mars was the Roman god of war. If you're wondering how this day came to be named, it's because to the Norse, Anglo-Saxon, and Germanic people, this day was Tiw's day (Tuesday). Tuesday actually got its name from the Norse deity Tyr, Tiw, or Tiu, who was also a god of battles and courage. This deity was very similar to the Roman Mars, and the names of the days of the week became switched and substituted as the Germanic peoples replaced the older deities with their own gods. So the name was changed from the Latin Dies Martis ("Mars' day") to the old English Tiwesdaeg.
The Norse god Tiw, or Tyr, was known for his sense of justice, discipline, and integrity. This day's planetary influence brings with it the aggression, bravery, and honor of soldiers, as well as the passion and strength of those of us who must fight for what we believe in.
Source
Book of Witchery: Spells, Charms & Correspondences for Every Day of the Week
Ellen Dugan
Tuesday & The Perfect Corresponding Spell – A Mirror Spell of Protection for the Home
Compose an altar: place a censer in the center before an image of the Goddess. Have a 12 inch (or so) round mirror there as well. Ring the altar with 9 white candles. Burn a protective incense (such as sandalwood, frankincense, copal or rosemary) in the censer. Beginning with the candle most directly before the Goddess image, say these words:
"Lunar light protect me!"
Repeat as you light each candle until all are glowing. Now, holding the mirror, invite the Goddess in Her lunar aspect with these words:
"Great Goddess of Lunar Light and Mistress of the Seas;
Great Goddess of the mystic night and of the mysteries;
Within this place of candles bright and with your mirror nigh;
Protect me with your awesome might while ill vibrations fly!"
Standing before the altar, hold the mirror facing the candles so that it reflects their flames. Keeping the mirror toward the candles, move slowly, clockwise, around the altar, watching the reflected firelight bouncing off your surroundings.
Gradually increase your speed, mentally invoking the Goddess to protect you. Move faster and faster; watch the light shattering the air, cleansing it, burning away all negativity and all lines along which the ill energies have traveled into your home.
Charge you home with the protective light of the Goddess. Race around the candles until you've felt the atmosphere change, until you feel that your home has been cleansed and guarded by the Great Goddess.
When finished, stand once again before the image. Thank the Goddess in any words you wish. Pinch out the candles one by one, bind them together with white cord and store them in a safe place until (and if) you need to use them again for this same purpose. Say:
"In no way will this spell cause me
to suffer any adverse effects!"
Tips for Magickal Timing
Author: Taliesin McKnight
Magick is a very ancient science, and one thing that the sages of old have passed on to us is magickal timing. This truly reveals the scientific nature of the craft. Think of the sun, moon, and stars as a great cosmic clock. Everything has its time and place. The Master and founder of Christianity said that there is a time and a season for everything. This certainly is the case with occult science. There are certain cycles in the natural order and certain ebbs and flows exist in the Universe. Therefore, to move with the tides and cycles of nature is to add power to your spells and rituals. To go against these rhythms is to swim against the current, so to speak. Magick may still be effective, but not nearly as much so if done at the appropriate time. There are four main things to consider when doing magick: the cycles of the planets, the Sun, the Moon, and the weather. In addition to these there are internal conditions that are important for magick.
There are seven ancient planets recognized by the ancient astrologers and magicians. The seven ancient planets are the Sun, Moon, Saturn, Jupiter, Mars, Venus, and Mercury. You may notice that, not only are certain planets omitted, but also some are added that are not even considered planets by modern standards. Nonetheless, these are the astrological forces considered when working magick. The seven ancient planets have been called the "Governors of the World."
This is because the great cosmic clock is said to affect the destiny of Man, and they hold in their hands the strange and surreal element known as fate. The seven planets rule over the seven days of the week and the planets also rule the hours in the day. The names that we have for the days of the week are derived from: Sunday (Sun day) , Monday (Moon day) , Tuesday (Mars day) , Wednesday (Mercury day) , Thursday (Jupiter day) , Friday (Venus day) , and Saturday (Saturn day) . Thus, when doing a love spell, for example, it would be best to do this on a Friday and during the hour of Venus (more on this in a moment) . Below I have listed the seven planets and their characteristics and correspondences.
Sun: The Sun is the bright orb of day. In Latin, it is called "Sol, " which means "only." The Sun is definitely the most important force in astrology and religion began with worship of the sun and the forces of light as opposed to darkness. The Sun rules over Sunday. The Sun rules over success, gain, riches, wealth, happiness, popularity, friends, social gatherings, healing, education, and spirituality. Mythological correspondences include Apollo, Mithras, Osiris, Jesus, Baldur, Belenos, and many others.
Moon: The Moon is the satellite that orbits the earth and pulls the ocean's tides. The moon has been connected to the female principle of creation and to menstrual cycles in women for a very long time. It is for this reason that she is often depicted as a goddess, or even as the Goddess. The Moon rules over Monday. The Moon rules over psychic ability, divination, astral projection, intuition, dreams, journeys and business by the water, messages, meditation, and communicating with spirits. Mythological correspondences include Diana, Artemis, the Virgin Mary, Aradia, Mawu, Benis, and many others.
Mars: Mars is the god of war. Mars rules over Tuesday. This planet rules over war, competition, battle, fighting, struggles, overcoming enemies, military honor, victory, and strength. The mythological correspondences of Mars include Aries, Nuada, Tyr, Camullos, Indra, and others.
Mercury: Mercury is primarily the god of communication and education. This planet rules Wednesday. Mercury presides over communication, messages, communicating with spirits, divination, prophecy, apparitions, education, teaching, knowledge, and finding lost objects.
Jupiter: Jupiter is the sky god and King of the gods. He rules over Thursday. Jupiter has power over government, rulership, leadership, dominion, power, riches, wealth, business, promotions, good luck, money, judgment, legal papers, contracts, legal problems, courts, finance, and wisdom. Mythological correspondences include Zeus, Thor, Taranis, and Father Sky, among others.
Venus: Venus is the goddess of love. Her day is Friday. She governs romance, love, sex, marriage, fertility in women, beauty, attracting the opposite sex, friendships, brotherly and sisterly love, popularity, and social gatherings. Her mythological correspondences include Aphrodite, Aine, Freya, Innana, Ishtar, and Hathor.
Saturn: Saturn is the god of time and of death. His day is Saturday. He rules over riches, success, good or ill fortune, judgment, destroying enemies, death, destruction, famine, disease, pestilence, karma, summoning spirits and the dead, overcoming bad habits, and purification. Mythological correspondences include Sadorn, Kronos, El, Arawn, and others.
In addition to the seven days of the week being ascribed to the seven ancient planetary deities or divine powers in nature, the hours of the day are also ascribed. There are two basic methods for calculating the planetary hours of the day. One of these merely follows the hours in the day, and the other is based upon the Sun. In the first system, the planet governing the day also rules over the hours at 6 am, 1 pm, and 8 pm. Therefore, on Friday (the day of Venus) , the hours of Venus would be at 6 in the morning, 1 in the afternoon, and 8 in the evening. Using the other method, the planet rules over the first hour after sunrise and every eighth hour after that. It is not necessary to follow the days and the hours of particular planets to do a spell, but it certainly is helpful. Now let us move on to other astrological conditions.
The phases of the moon are also a very important element to consider when doing magick. The main thing that affects magick is the phases of the moon. While the moon is waxing (growing) and during the full moon it is a time for creative magick and increase. Thus, this is the perfect time for bringing things into your life, such as prosperity, a new job, romance, beginnings, and growth of any kind. The waning (decreasing) phase and the new moon are for destructive magick and getting rid of things. Therefore, when the moon is decreasing, this is a good time to do magick for decrease such as getting rid of bad habits, losing wait, banishing negativity, removing obstacles, removing unwanted people from your life, protection, communicating with the dead, divination, and death.
In addition to this, the moon also enters a different sign of the zodiac ever few days. Thus, when the moon is in the sign of Taurus or Capricorn (Earth signs) , this may be a good time for prosperity spells. In the same way, when the moon is in the sign of Pisces or Cancer (Water and emotional signs) , this may be a good time for love spells. Of course, these are both creative forms of magick and should be done during the increase phase of the moon. To find the zodiac sign of the moon or to see lunar phases, simply look it up online, or find a good astrological calendar. When looking it up online, be sure to check a few sites to make sure they all agree and the information is accurate.
The Sun has its own phases and patterns, of course. These may be placed into 3 categories: zodiacal, seasonal, and daily. These are rarely used in magick. This may seem come as a surprise, and rightly so! The Sun is the single most important astrological force. However, since this is rarely used, feel free to discard it. Going by the moon and the planets is enough according to many magickal systems. On the other hand, it could do nothing but help your magick to go by these natural tides and rhythms as well. The sun enters the different phases of the zodiac every month or so. The signs of the zodiac are 12 constellations or groups of stars.
When the Sun rises in a particular constellation or zodiac sign, it is in that sign. It would lend power to a spell to do work during the appropriate zodiacal sign, such as Aries for leadership or Capricorn to aid in business. The 4 seasons have power as well. It would be unrealistic and rather limiting to work only a certain form of magick for a whole season or month! Perhaps this is why most magickal systems discard this form of timing. Spring is for new beginnings and fertility. Summer is for the same. Fall or Autumn is for harvest, reaping rewards, and death or endings. Winter is also for death and for deep meditation and rest. These are natural cycles, which were the basis for the celebrations and rites of the pagans as well as for Christians (Christianity is derived from older pagan religions) . Sunrise, noon, sunset, and midnight serve as power points, when the Veil between the worlds is open. Sunrise is for new beginnings. Noon is for peaks of power and growth. Sunset is for endings and death. Midnight is a powerful point in time that can be used for anything. In fact, midnight has long been regarded as the "witching hour."
The weather should be considered only in certain cases. Thus, this is a minor issue. Would it be best to do a ritual calling on the powers of the Sun on a cloudy day when it is not within view? Of course not! This would best be done on a Sunday, during the hour of the Sun, on a day when the sky is clear and sunny, and during the daytime (preferably at noon) . In the same way, a ritual calling on the Element of Air or on the powers of Jupiter (the sky god) would best be done on a cloudy and preferably windy day. Jupiter is also the god of lightening and thunder and storms. Thus, a thunderstorm would be an ideal time to invoke this god. Storms are also a time when destructive powers of nature are present and awakened. Furthermore, considering the powerful influence of the Elements and the charged atmosphere, storms are a great time to add power to any kind of spell or ritual.
Internal conditions are the last kind of influence to consider. Do you feel tired? Then this may not be a good time for magick. If you feel angry or irritable, this may not be a good time to do rituals or spells for peace! Magick is the extension of the magician. Therefore, considering that the power comes from the practitioner, internal influences may be the most important thing to consider. One's interior nature should reflect that of the spell. With practice, one may be able to turn on or turn off emotions at will and may be able to put oneself in the proper mind for the rituals at hand. This, however, takes practice to master.
By going along with the cycles and tides of nature, one's spells would be greatly enhanced. The magus does not have to obey these timings, but it is strongly advised. To go against them is like trying to swim against a strong current. This takes strength. But to ride the tide takes no effort at all. In fact, the powerful tides and currents of the forces of nature may carry a weak magician in the proper direction toward his or her goals. Put quite simply, it is always best and advantageous to "go with the flow."
The Current Moon Phase for Tuesday, August 22nd
Waxing Crescent
Illumination: 1%
The Moon today is in a Waxing Crescent Phase. A Waxing Crescent is the first Phase after the New Moon and is a great time to see the features of the moon's surface. During this phase the Moon can be seen in the wester sky after the sun dips below the horizon at sunset. The moon is close to the sun in the sky and mostly dark except for the right edge of the moon which becomes brighter as the days get closer to the next phase which is a First Quarter with a 50% illumination.
Phase Details for – Tuesday, August 22, 2017
Phase: Waxing Crescent
Illumination: 1%
Moon Age: 0.79 days
Moon Angle: 0.53
Moon Distance: 378,901.73 km
Sun Angle: 0.53
Sun Distance: 151,282,121.93 km
Source
Weekly Karmic Forecast: August 20 – 26, 2017
The Karmic Tools Weekly Forecast covers the current planetary transits which affect people in different ways and to various degrees of intensity. Take notice when it is a Personal planet (Sun / Moon / Mercury / Venus / Mars) interacting with a Social (Jupiter/Saturn) or Collective planet (Uranus / Neptune/Pluto). And pay extremely close attention when it is a Social planet interacting with a Collective planet because that means something *big* is brewing that will move large groups of people along their evolutionary paths. Tuning into the energy and rhythm of the planets can serve as a useful *guide* as you move along your Individual Path. It also helps to understand your place within the context of the larger Social & Collective Story. Below, you will find out how these energies tend to manifest, as well as guidance and direction.
*NOTE*  There are some days when there are NO CONTACTS (besides the Moon), please note that there are no missing entries, we just list the actual Activations of each week + the day they happen.  
Weekly Forecast:  August 20 – 26, 2017
8/20 ~ Mars (your desire) ~sextile~ Jupiter (your Truth):
This energy will help you figure out what your deepest desires and authentic Truth really are for you. If you are not sure, this expansion will illuminate the possibilities for you. This is a potent opportunity to take things to the next level. Mars often lends a boost of energy, so definitely be active, work in some physical activity (but don't over-do it), make any presentations you need to make, negotiate any contracts or deals you need to because all is supported for you knowing who you are and what you want in a way that conveys without much effort on your part.  The effort required to activate this easy energy is to actively pursue your desires, to expand your horizons by learning something new, by being around other like-minded souls and putting that extra energy behind some worthy project … YOU!
8/21 ~ Sun (core identity) ~trine~ Uranus (individuality):
This energy is wonderful for a little self-examination and taking action on your own behalf. Look at your habits, home situation, work or anything else that is important to you and look at how you've gotten to where you are. What kind of choices led here? This is a good time to look around and see how you can conserve what is useful and release that which is no longer relevant for you going forward. It's also a good energy for organizing & clearing the decks, so to speak, of things that have piled up but still need to be dealt with (or released altogether). You may be feeling very practical, possibly selfish, but it's actually self-preservation.
8/22 ~ Mars (energy & drive) ~trine~ Saturn (stamina & patience):
This is a delicious & potent combo! This is like a great Father/Son working on a project energy. The Son has all the muscle, energy & enthusiasm and the Father is the brilliant, steady man who directs that energy and teaches in every moment. Internally, this is your Inner Authority guiding your innate desire nature to the tangible results it so craves. Saturn brings the long-term goals to the table and Mars' energy can fuel your efforts creating amazing results. This energy enables you to focus longer, attend to the details, overcome obstacles, and get more tangible results of your actions. Normally, these two get together is more the 'tortoise and the hare' energy, which can be frustrating for some. However, they are in a blessed position to each other and if there is any major project which needs your attention, now is the time you will likely be in the mood to tackle it and be completely supported.
8/24 ~ Venus (love, finances & relationships) ~square~ Uranus (sudden change):
This is a test to grow that you cannot plan for. Venus rules your values & priorities and an activation with Uranus signifies something sudden and seemingly out-of-the-blue. Of course, this isn't true, but it can feel that way. The truth is, it is time to do something "different" where your love, finances or relationships are concerned. Making a conscious effort to do things in a completely new way will be rewarded with a lesson and a blessing you would've never considered. Due to new revelations happening within you, the immediate response will come from those closest to you. If you're in relationships (personal or professional) that have reached a point where they have to change or end, this is a good time to try to discuss it openly and with as much detachment & objectivity as possible.
*Uranus is in Aries right now so self-preservation is high on the list these days and we are all finding radically new ways to maintain our independence as well as our connection to the whole. Flexibility of mind, body & spirit will help soothe any harshness associated with this combo.
8/26 ~ Mercury (communication & self-expression) ~conjunct~ Sun (core essential Self):
This energy will compel you to express yourself on many levels. Communication will be a focus, just make sure it is reciprocated. You will have access to some powerful energy that can (and probably will) make quite an impression on others (if you need to). This is a good time to travel if possible too. However, if not physically, than mentally and certainly within your own area, you will take in more information per square inch than usual. Pay attention! You may even gain the much deserved recognition from others that you have worked so hard for.
Eclipse Energy
As we move into the energy of the eclipse, I want to say that, as with all eclipses, it doesn't matter whether you physically see the eclipse or not, for energy is energy; Light is Light; it affects you wherever you are. The energy of this eclipse will be with us for at least many months. It's just that when it is occurring it is most potent. Eclipses bring change, so not only does this affect you, it affects all on Earth and Earth itself. High frequency Light Codes are coming in and are now entering us even before the actual eclipse. This eclipse most likely affects our Heart; the core (coeur) of our being. Within our hearts is the Hieros Gamos: the sacred marriage of the Divine Feminine and Divine Masculine. This helps dissolve any separation we might hold within.
This is a time in which we have the opportunity to anchor higher dimensions (possibly higher than and yet including the 5th Dimension); it depends on where you are consciousness-wise. It is an opportunity to shift out of old programs and patterns unless we are afraid to let go of them. Keep things simple and observe any unexpected events. Keeping things simple means to let go of working at anything and rather, allow things to unfold on their own. We are not only giving birth; so is our Earth becoming New. As we become more crystalline, more multi-dimensional, we are able to hold more Light. Even our chakras, which are aligned with our endocrine system, are upgrading. This can affect our physical bodies, so move away from thinking something is wrong if you are experiencing some sort of physical phenomena and realize this is all a part of our new birth.
There is a balancing of our mental body with our Heart, for they had been separate for eons till now. Meditation greatly helps with this, as meditation strengthens the Heart, so that it leads the mental body and not the other way around. As our Hearts and minds merge as One (partners), you very well may feel this in your High Heart; your Thymus Chakra, for it is here in which Heart and mind are One. This is in fact a sacred marriage of the Heart and mind as well as the Divine Feminine and Divine Masculine.
The higher chakras closed when we bought into separation, which led to density and a blockage of Awareness. This is all shifting now. Of course, we are more than our chakras, since we are nothing but energy/Light. Realize too that not only are all our bodies one unit in that one cannot experience their mental, emotional, spiritual or physical body as if in a vacuum. Each affects the other. Likewise with Gaia. We are connected with Her as one of our bodies. We are not separate from Earth; just as we are not separate from the Stars, Moon or Sun.
If there is any kind of blockage in our connection to the Stars or Earth, we do not receive and integrate the downloads of high dimensional Light. We can use the Power of the eclipse to ground us to Heaven and Earth, which serves to open us up as conduits of Light, so that it flows through us into Earth without impediment. You can visualize a tube of Light that connects you with Source/Central Sun and have it flow through you, connecting all your chakras and connecting to Earth's Crystal Cluster in Her Heart.
As we birth the New as us, we become more and therefore can be of greater service. When we do what we love, it is amplified; so that we are of greater Divine Service. It doesn't matter what we do; if we love it, then that Love flows out in waves and touches, wholes and transforms all. As we move more into being New, our lives reflect even more of where we hold ourselves back. Do not curse the dark, but embrace and be the Light. Cursing the dark only empowers it.
What change will this eclipse inspire? Where do you want to see a great shift in your life? Can you allow something to die (transform), so you may birth something New? What will you create? Can you be thankful for all that has been and all that is not yet manifest? How will it feel to be completely free to be more? How do you see this eclipse affecting the Earth; you? How you answer these questions aligns you with your highest vision for yourself and the world.
Being free means you are the creator of your world. It means taking full Responsibility for all in your life. It means standing tall and strong in your own Power; not someone else's. You are a sovereign being of Light. As such, you have no fear and you are not separate from Source and yet you do choose to step away from the 3D Matrix of duality. You are no longer a puppet, being told what to do and how to do it. You need not comply with anything outside your own knowing. It is O.K. to disagree with the status quo; in fact it is sometimes necessary.
This eclipse presents a breakthrough. What are you breaking through? And what about your society/culture? How does your society/culture dictate who you are and what you do? Do you see that there is a breakthrough to a different way of being? If you can be focused on how you are birthing a New You, your choices also help the larger society make choices. Remember though, that all is not what it seems. Change might not be what you thought it would be and yet, if you allow it the space to transform, it can be more than what you thought it would be! Be patient. Be in Allowance. Don't get distracted by what you judge to be "bad" or "good," for these are illusions of duality. Energy is neutral; it awaits your focus. Where is your focus? Is it within or out there in the land of illusion?
This Week's Astrology: Here Comes the Sun
Your weekly Astrology highlights for August 21-27, 2017
There's plenty of planetary action happening in the sky this week! Reveal which areas of your life will be affected…
Monday, August 21: Solar Eclipse in Leo; Sun trine Uranus
A Solar Eclipse in Leo on Monday wants to change your heart. This eclipse will be trine Uranus, allowing the most unexpected event to open your world to a whole new creative or romantic experience.
Tuesday, August 22: Mars trine Saturn; Sun enters Virgo
On Tuesday, Mars will trine Saturn while the Sun enters Virgo. This is workhorse energy that you'll find to be quite productive — use it well!
Thursday, August 23: Venus square Uranus
Venus in tender Cancer will square off with Uranus on Thursday. You might feel as if the only way to grow in your love or financial life is to ignore your security needs. Stretching outside your comfort zone is never easy, but it is also the only way you can invite something new and possibly better into your world. Manage risk-taking with prudence.
Friday, August 25: Saturn Direct
On Friday, Saturn will turn direct after having been retrograde for several months. You'll be able to continue building a positive structure around your ideals and morals without feeling as if you have to worry about any cracks in the foundation.
Saturday, August 26: Venus enters Leo; Sun conjunct Mercury
Venus will enter Leo on Saturday where she'll remain until September 19. You'll truly enjoy the most pleasure now for the remaining weeks of Summer. Fun, romance, and pure joy are yours for the taking. The Sun will connect to a retrograde Mercury on this day as well, helping you fix any mistakes you might find in a work assignment.
Part of the Daily Insight Group ©2017
Your Daily Horoscopes for Tuesday, August 22nd
Aries
You're in a great position today to share your plans with someone and perhaps brainstorm to improve them, dear Aries. Monetizing a hobby, putting in extra effort for a creative project, and developing satisfying rules or expectations in a relationship can be in focus now as your ruler, Mars, harmonizes with organized Saturn. Priorities come easily, and you can effectively tune out distractions as you feel more motivated to handle a matter or pursue a project or personal interest. The Moon spends the day in your work and health sector, furthering the theme of taking care of business until the Moon moves on tomorrow night. However, the Sun moves into this same area of your solar chart and will stay considerably longer — until September 22nd. During this month-long cycle, the spotlight is on work, service, health, daily affairs, and personal habits or routines. You're taking more pride and interest in these things so that you're likely to want to improve them. Keep in mind that Mercury remains retrograde until September 5th, so brand new initiatives may not take off, but you can certainly work on building, tweaking, and organizing your work in meaningful ways.
Taurus
Steady energy is with you today for getting things done, dear Taurus, and also for pacing yourself after hectic days. Work on domestic projects that have long-term benefits can be satisfying. You can see the value of step-by-step efforts, and you're patient enough to realize that good things truly do take time and effort. Even so, the Moon spends the day in your romance and leisure sector, encouraging you to have some fun, too! The Sun arrives here today as well but will stay longer. The Moon hangs around only until tomorrow night, while the Sun visits this area of your solar chart until September 22nd. This is a month-long expressive and creative cycle that encourages you to invest in more playtime. It's a show-and-tell house of your chart so that expressing your talents, abilities, and affections comes naturally. A stronger urge is with you to create, put talents to use, show others what you can do, experience and enjoy romance, and partake of many of life's pleasures. Mercury's retrograde here can slow you down in this respect, at least until the end of the month, but it's nevertheless a playful, magnetic period for you.
Gemini
Today, confidence comes from meeting your responsibilities and making mature choices, dear Gemini. You can apply yourself to your work, projects, or special interests and feel that you're making headway. Working with someone one-on-one can be of mutual benefit. However, there is also a focus on personal time and your domestic world today with the Moon spending the day in your home and family sector and the Sun moving into this same area of your chart. A month-long transit of your solar fourth house begins this afternoon. You're taking more pride and interest in your domestic life, family, foundation, or closest ties now. In many ways, this is a time for anchoring or nesting on a psychological level. It's not the most adventurous or outgoing cycle in the Sun's journey through your solar chart, but it's a useful period for gaining a stronger sense of self. Soothe yourself with familiar activities and step into your comfort zone for awhile! It will help you meet the demands of the outside world later.
Cancer
There is good energy with you today for taking care of business, dear Cancer, so be sure to put concerted effort and energy into something worthwhile to you. You're also likely to feel in sync with a partner or close friend now. The Moon spends the day in your communications sector, encouraging some diversity, however. In fact, the Sun moves into this same area of your solar chart today but will stay much longer — until September 22nd. As a result, the next month is likely to be a busy one in which you're more engaged with others but not always focused. You're taking more pride and interest in your personal environment, communications, and interactions with others, making it an excellent time to make improvements to these things. Studies or personal interests can grab your attention now. This cycle is more about discovery and branching out than specializing. Keep in mind that Mercury, ruler of this sector of your chart, remains retrograde until September 5th, and you're better off reviving old interests or building upon projects already in place than beginning something brand new.
Leo
You are especially motivated to get things done today, dear Leo, and you're willing to start small and work yourself up to the big stuff. This patience will reward you. You're quick to focus on your priorities, but you're taking things slowly but surely, and you're bound to enjoy the process. Meeting your responsibilities and building something valuable is satisfying now. The Moon spends the day in your practical second house, further encouraging a step-by-step, measured approach. While the Moon stays in this sector of your solar chart until tomorrow night, the Sun extends the energy as it begins its month-long transit here today. This also means that the Sun's moving out of its yearly transit of your sign and you're symbolically moving on. You're likely to find this cycle grounding, and you should take advantage of this energy to focus on being more emotionally present in various areas of your life. This can also be a time for making the most of your natural talents and abilities. Opportunities can arrive that have you taking charge of your income and valuables, although it's most likely that you're making these opportunities.
Virgo
There is a feeling of "back to reality" today, dear Virgo. You can be especially productive around the home or set yourself up by taking care of various loose ends that need attention. The Moon is in your sign all day, enlivening and prioritizing your feelings, and the Sun enters Virgo, too. While the Moon will move on tomorrow night, the Sun will continue its visit until September 22nd. The cycle ahead is one in which you're especially noticeable and feel more in charge and capable. If you've been considering making changes to the personal image you project, then this is a superb time for doing so, although it may be better to wait until after Mercury's retrograde (from September 5th forward) for maximum impact and choices that you don't later regret! You have increased personal presence now. Make the most of this period by being positive and believing in yourself, as this is the start of a new solar year. As more attention comes your way, you quite naturally want to get your act together. You are more readily attracting what you need into your life now.
Libra 
Reliable energy is with you today for pouring into practical projects, teamwork, personal interests, and studies, dear Libra. Even so, the Moon is in your privacy sector all day, encouraging some form of retreat or slowing down to catch your breath. While the Moon stays here only until tomorrow night, the Sun enters this sector for a longer stretch – until September 22nd. This yearly, month-long cycle is necessary for reflection, rest, and recollection. You are gathering your strength for busier times to come, but this isn't an idle time. In fact, you can actively reflect upon recent events and shedding attitudes and situations that have run their natural course. It can be a time of connecting with your more spiritual side, but for some, there can be a feeling of being a little lost, unnoticed or ignored until you understand the purpose of this period: recharge. Mercury's retrograde here reinforces the need to look back before pushing forward. Goals may not be clear or could need some refinement. This is a clean-up period on emotional or psychic levels, so aim to use it well!
Scorpio
This is a day for taking care of business, and the motivation to do so is high, dear Scorpio. Being productive can satisfy a big need now. Your practical affairs benefit, and any work you do on advancing your goals is bound to be meaningful and purposeful. Even so, the Moon spends the day in your social sector, and you're in a good position to balance work and play. The Sun moves into this same area of your chart today, but while the Moon stays here only until tomorrow night, the Sun will remain for a month, encouraging more interaction with friends, teams, groups, networks, or the community. Until September 22nd, your interest in what makes you happy and how you fit in with others or contribute to the group/community increases. The focus is on collaboration and cooperation. This is a time when participating in some way can be satisfying, and when putting ego needs to the side in favor of group efforts can be helpful. While it's not yet the time to move projects or new plans forward with Mercury retrograde in the same sector, this is a good period for building up momentum and inspiration.
Sagittarius
You're likely to feel quite comfortable with your responsibilities, your work, or independent efforts, dear Sagittarius. Energy levels even out. You could get fired up about an idea or belief, and this can motivate you to brush up on old studies or a personal interest. The Moon spends the day at the top of your chart, encouraging you to get in touch with your larger goals and aspirations. The Sun begins its transit of this same sector today as well, but while the Moon remains here only until tomorrow night, the Sun moves through this area of reputation and career until September 22nd. What you do and how you perform are in focus in this cycle. Some of you will take on new responsibilities during this period, or you may simply feel more ambitious and focused on achievement or goal-setting. You are coming across as an authority. Pride can improve your reputation, but too much of it will have the opposite effect. While this is a take-charge time for professional and public efforts, Mercury's retrograde points to the need to wait for pushing plans forward.
Capricorn
You're likely to feel especially on top of things today, dear Capricorn, as your energy levels improve and energetic Mars harmonizes with your ruler, Saturn. Today supports structured and practical activities, but you're also in a beautiful position to enjoy yourself. The Moon spends the day in your sector of adventure and spirit, and the Sun enters this sector as well. While the Moon stays here until tomorrow night, the Sun spends the next month in this area of your chart (until September 22nd). This cycle is excellent for spirited, spontaneous activities as well as activities that help you promote, share, explore, and discover. Moving out of your routine from time to time is important during this cycle so that you can get a sense of the bigger picture. This can be a good time for doing more studying, learning, and venturing out and about. However, with Mercury retrograde until September 5th, it's best to build up inspiration before putting brand new plans into motion.
Aquarius
This is a good day for working together with others towards a common goal, dear Aquarius. Even if it's just with one trusted person, you're at your best now in a partnership or team, and you can get quite a bit done. Your focus is improved today, and you're especially interested in seeing results for your efforts. Prioritizing comes readily now. The Moon spends the day in your intimacy sector and will transit here until tomorrow night, encouraging an inward focus. The Sun begins its transit of this same sector today and will continue to influence this area of your chart until September 22nd. This is a time of year when self-transformation can be in focus as you seek to grow and evolve. There can be an increased determination to improve your life from the inside out now, and there can be changes both of the internal and external variety to prove it. The spotlight can be on intimate connections and sharing or financial and emotional support. You'll seek out a relationship or project that motivates you and that you can explore in depth or connect with on a deeper level. Keep in mind that Mercury is retrograde until September 5th (in this sector until the end of August), and you may want to hold off on brand new initiatives.
Pisces
You're taking a special interest in the practical side of your endeavors today, dear Pisces, and you're willing to put in the extra effort to secure or accomplish something important to you. You may come to highly workable long-term strategies. Keep in mind that what you build now can have staying power, but it's important to put off big launches as we're still in the wake of an eclipse and Mercury remains retrograde until September 5th. As work-focused as you are, the Moon spends the day in your partnership sector, stimulating your need for people, and more likely, someone special in particular. The Sun moves into this same sector of your chart today as well, but while the Moon stays here only until tomorrow night, the Sun spends its usual full month in this area of your solar chart. This cycle puts the spotlight on partnerships and close friendships until September 22nd. Through others, you see yourself and your life more clearly. You take more pride in how you get along with others and how well you find harmony and balance in your personal environment.
Courtesy of Cafe Astrology

If You Were Born Today, August 22
One of your most distinguishable traits is your common sense – you are grounded and logical, and although you are a dreamer, you prefer to imagine realizable goals. You have a straightforward manner, and you are magnetic and intuitive. You can be quite determined, independent, and some might call you stubborn. You value some level of routine and structure. You are practical, yet also enthusiastic when you see something you like. Your people skills are strong, but you are also able to be direct when necessary. Open to new ideas and visions, you also have your feet firmly planted on the ground, always considering the viability of any endeavor carefully. You are filled with quality advice for others, and others turn to you for your opinion often. You are attracted to youthful, confident, and dynamic lovers. However, you might often find yourself attracted to people who resort to trickery or other dubious activity.
Famous people born today: Ray Bradbury, John Lee Hooker, Tori Amos, Cindy Williams, Ty Burrell, Kristen Wiig, Richard Armitage, Rodrigo Santoro, Rick Yune, Dakota Goyo.
Birthdays on the Leo-Virgo Cusp
Learn all about the personality born on "The Cusp of Exposure"
---
If you were born on the Leo-Virgo cusp, from about August 19 to August 25, you were born on "The Cusp of Exposure," but that's not as risque as it sounds. In fact, you face some not-so-fun and conflicting energy in your life.
Leo is a Fire sign and Virgo is an Earth sign, which means there are contrary elements to your personality. The question is, will the fire in your heart be smothered by the Earth, or will it burn bright?
Because these cuspers were born between such very different signs, it's hard to say which way they'll lean. Some on the Leo-Virgo cusp gravitate more toward Leo's need for drama and attention, while others are more like Virgo and prefer a quiet, less social lifestyle.
Whichever way you lean, though, your personality will most likely be hardworking and passionate, especially when dedicated to a particular cause.
Learn more about the challenging Leo-Virgo Cusp:
Name of Cusp: The Cusp of Exposure
Date Range: August 19 to August 25
Strengths: Hardworking, passionate, discriminating, positive, success-driven and honest.
Weaknesses: Critical, antisocial, manipulative, stubborn, quarrelsome and melodramatic.
How Leo and Virgo energy work together: Leo's flair for drama and Virgo's down to earth practicality don't always mix well. These cuspers need to be careful of living a life of extremes — either bold and loud or silent and secretive. But if they can strike a balance between their extroverted and introverted sides, they will master the rare ability to know exactly when to speak up and when to remain silent.
What they love: Getting behind a good cause. Leo is a loving and natural born leader, while Virgo is hardworking, detail oriented and devoted to helping others. Together this is a persuasive cusp combination that is happiest when rallying a group of people in support of a great cause. And know this: They will succeed!
What they need: Intimacy. It won't come easy for these cuspers, who value secrets and privacy above all else, but they really need to have people in their lives who know them well and love them for exactly who they are.
Advice: Leo-Virgo cuspers must learn to share more of themselves with others, which will in turn help them get in better touch with their own feelings and emotions.
Famous people born on the Leo-Virgo cusp: Coco Chanel, Matthew Perry, Bill Clinton, John Stamos, Gene Roddenberry, Robert Plant, Fred Durst, Connie Chung, Kenny Rogers, Wilt Chamberlain, Kim Cattrall, Ray Bradbury, John Lee Hooker, Tori Amos, Barbara Eden, Gene Kelly, River Phoenix, Shelley Long, Kobe Bryant, Marlee Matlin, Dave Chappelle, Leonard Bernstein, Sean Connery, Gene Simmons, Elvis Costello, Billy Ray Cyrus, Claudia Schiffer.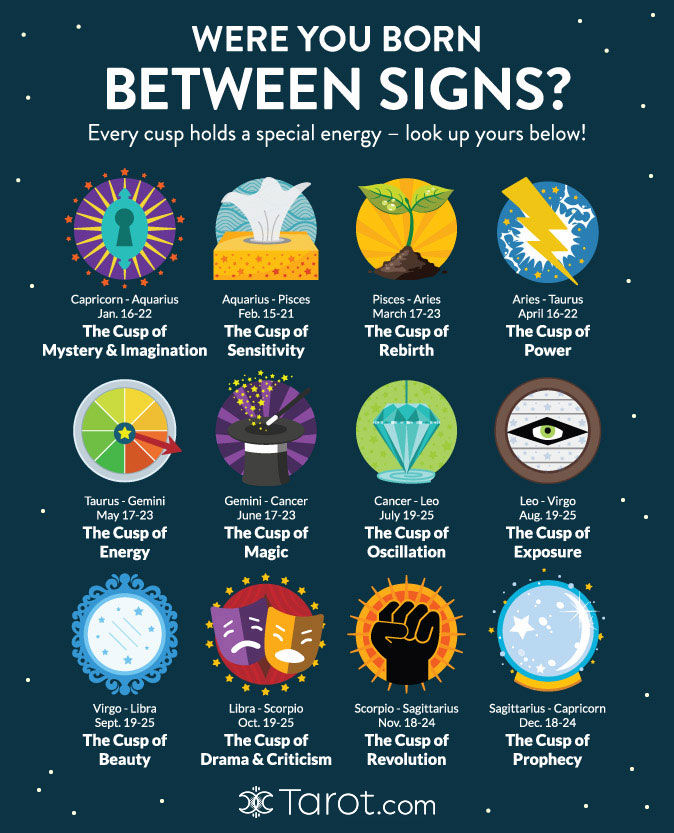 Part of the Daily Insight Group ©2017
Get A Jump On Tomorrow….
Your Daily Horoscopes for Wednesday, August 23rd
Aries
The morning is good for a continuing feeling of flowing productivity, dear Aries. The remainder of the day also flows well but is far less work-oriented. Loving feelings come easily. With Venus in self-protective Cancer these days, you assign a high value to familiar situations, people, and feelings, particularly in love. You may be doing a lot of reminiscing about old relationships, particularly comfortable ones! Today, you are particularly interested in creating or maintaining harmony in your relationships and your home life. If you need to repair a relationship or come to a better understanding of a past hurt, this is a particularly potent time for doing so. Changing things up is important now when it comes to approaching relationships such that you're not only repeating old patterns. There can be healing happening through quiet or family activities, or through some solitude.
Taurus
The day is excellent for putting concerted energy and quality time into a creative project or even a love relationship, dear Taurus, especially this morning. You find it easy to get carried away, in a nice kind of way! As the day advances, you're more likely to unwind, but you're also well-starred for your social and romantic life. While the usual retrograde Mercury cautions are still in effect, this is a good time for expressing your affection. Generally the Venus-Chiron influence active today is good for presenting your ideas or your case, but you may need to hold off on the big things. However, your actions and mannerisms can certainly help build trust and win favor now. If there have been relationship difficulties, you might feel a gentle rush of optimism and energy to repair them.
Gemini
This morning is excellent for pouring your energy into a major project or an endeavor that's close to your heart, dear Gemini. As the day advances, you tap into a flowing, supportive, accepting energy that's fabulous for your relationships but also powerful for practical and business sense. You have outstanding instincts for what is truly valuable to you. Even though we might think we're tuned into this energy, much of the time we're distracted from what truly means the most to us, whether that's a person, relationship, concept, or material thing. It's also a perfect time for dropping some inhibitions, particularly about expressing your affection, and the Moon's move into your creative and romantic solar fifth house tonight fans the flames. For some of you, combining talents, abilities, and resources with someone can be successful now. An unusual or nontraditional approach to business, purchases, and money matters today and tomorrow can be most worthwhile.
Cancer
The morning is for tapping into whatever inspires you and pouring your energy into it, dear Cancer. Even with the Mercury retrograde caveats still in effect, you are in a good position to connect with a partner or good friend and thoroughly enjoy yourself. Use your energy well today, such as dedicating yourself to getting a project right. As the day advances, you are more inclined to relax and feel very much at ease, and the benefits continue, just in different ways! Venus is in your sign these days, boosting your popularity and friendliness. Today, Venus moves towards a harmonious angle to Chiron, and this gets an even bigger boost. People are especially drawn to your wisdom and advice or support, and they see your opinions and perspective as especially unique and standout. You can feel an opening up of your heart, and if you've been feeling insecure about a relationship, this can dissipate today. You are more courageous with your feelings and emotionally sure-footed, and it's your ease and naturalness that is most appealing.
Leo
This morning is good for devoting yourself to a pet project, dear Leo, or to a business idea or endeavor. You seem to have the right combination of ambition and willingness to put forth the effort at your disposal. While as the day advances you're more inclined to unwind and productivity may slip, it seems exactly the right time to do so. You can meet with nice opportunities to revitalize a relationship or to reconnect with your inner world. This is a potentially lovely time for seeing others in a particularly compassionate light, and this feels healthy and affirming. In the process, or through conversation and observation, you may come to a greater understanding of a private matter or relationship. You are a little more open to sharing something personal, and this can be a pleasant, helpful release. While the advice to let go shouldn't always apply, particularly if you're rallying for an important cause, for many things, it does, so turn the focus to unblocking and healing now.
Virgo
This is a potentially powerful day, first for dedication to something important to you, and later, for enjoying good company, dear Virgo. There can be a surge of motivation to take care of business, take steps to get healthy (or healthier), or to resume an old project in the morning. You're ready to commit yourself to something worthwhile and, fortunately, you have a strong sense of what is valuable and worthy of your energy. As the day moves forward, you're more inclined to relax, but benefits continue. There can be some wonderful connections made or particular pleasure derived from friends and plans for the future. Your dreaming world is active now — and heartwarming! You prefer to see others for their good traits, but you're not over-idealizing them. You're inclined to drop the instinct to judge. You can learn a lot about yourself and your needs through others with your heart as open as it is today.
Libra 
The morning is excellent for grabbing a piece of time to yourself and working out a problem, dear Libra, or for devoting yourself to a loved one or domestic project. As the day advances, you're more inclined to relax and enjoy your feelings. The Moon moves into your sign tonight, where it will stay until Saturday morning, and this brings emotions up to the surface. You're less inclined to hide away and more likely to assert your needs. Personal appeal is good, and matters of the heart are strong as your ruler, Venus, moves into a fabulous aspect with Chiron — one that's strong for love, relationship, and business, as well! With openness and humbleness, you can learn a lot today. Business and practical sense improve with a nice dose of intuition and confidence, and you could feel more valued by others, especially those you work with or in a position of authority. If you feel a need to improve or repair trust and warmth in a relationship, this can be a good time for it.
Scorpio
While today is excellent for boosts to your relationships, dear Scorpio, it's also quite powerful on a mental level. You have a new perspective on people in your life and on personal projects. Personal power is excellent this morning, after which you tend to fare best if you leave your ego at the door and simply enjoy yourself in a laid-back kind of way. Even with Mercury retrograde, you're in a good position to express your affections. Acceptance and patience are key ingredients for successful relationships now, and fortunately, quite easy to muster up. A Venus-Chiron influence is warm, encouraging, and holds the potential for healing through opening up, loving feelings, compassion, and acceptance. Sharing visions of the future or new ideas and activities can boost a relationship.
Sagittarius
The morning's energies are busy, involved, and focused, dear Sagittarius, making it an excellent time for dealing with practical affairs with extra gusto and confidence. Be proactive and attend to tasks that you don't typically feel motivated to complete for best results. Take advantage! As the day advances, you're in a great position to unwind and smooth your emotions out. Venus has been transiting your intimacy sector for over three weeks now, and this influence finds you in stronger touch with your emotional attachments and inner passions. Today, the pipeline opens even wider as Venus connects with Chiron. Chiron is currently a guest in your sector of home, family, the past, and personal identity, stirring up vulnerabilities and offering gifts of vision in these areas. Be willing and open to address problem areas today. This can also be a good time for working through problems with finances, the sharing of money or power, as well as other matters of support. You're more willing than usual to try to understand people in your life.
Capricorn
The morning is powerful for dedicating yourself to a particular project or endeavor that excites you, dear Capricorn, especially related to promotion, publishing, or studies. You're also in a good position to persuade and influence others now. However, as the day moves forward, connections and attachments, as well as emotions and feelings, tend to take over, and you're ready to relax, unwind, and enjoy yourself in a different way. Personal appeal is high, and relationships improve with a spirit of openness and willingness to be a little vulnerable. Venus has been moving through your partnership sector for over three weeks, and this tends to promote increased harmony in relationships, particularly committed ones. Today, Venus connects beautifully to Chiron, stimulating added understanding, acceptance, compassion, and respect. Mercury's retrograde is still a factor, but you're getting your message across well today, anyhow!
Aquarius
It's easy to pick up inspiration and enthusiasm today, dear Aquarius, and you can become deeply engaged in making plans and strategies for improving your life and relationships, dear Aquarius. You stand to gain new insight into your inner workings as well. A positive show of support may be in the offing now, and it's not a time for passing up on sincere offers of help. As the day advances, life is less intense but not quite lazy. You are in an improved position for seeing what's truly valuable to you — something that seems intuitive but isn't always the case with life's many distractions that can have us losing sight of what we genuinely value. Of course, this increases business intuition and can translate to the scoping out of a good deal. You might also enjoy a comforting feeling of being pleased with recent accomplishments or the work you're doing or aspiring to do. On another level, however, you appreciate people and situations that you may sometimes take for granted. This is a good day for healing, accepting, and unblocking.
Pisces
There is great energy for feeling passionate about a cause, project, or relationship this morning, dear Pisces. In fact, all day holds promising energy for repairing, healing, and enjoying relationships, friendship, love, and business, but in the morning, it's about active commitment and as the day progresses, a more relaxed, accepting approach to relating. You're magnetizing situations and people that/who are right for you or leave you with a sense that you're learning, improving, and growing. Personal appeal skyrockets. You've had Venus in your romance sector for over three weeks now, and today, Venus connects beautifully with Chiron in your sign. This opens your heart and improves your natural appeal and powers of attraction even further. Guiding others or allowing someone to guide you along gently leaves you feeling stronger and happier. It's also a perfect time to express yourself creatively and romantically, although more through actions than words since Mercury remains retrograde.
Tarot Card of the Day
Six of Coins
---
August 22nd, 2017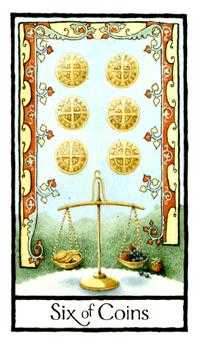 This suit, most often named "Coins" or "Pentacles", is a symbol for a magical talisman that represented wealth or potential. This suit represents something supportive that is available to you — whether it be health, some kind of talent, a material or financial resource.
The Six of this suit is the card of patronage — generosity with strings attached. The picture shows a rich man giving alms, his reputation enhanced from his giving, but without having helped anybody really better him or herself. Sometimes there is an inference that the giver will be expecting something back for his giving, perhaps sexual favors.
Sometimes this card is interpreted as referring to some kind of patron or benefactor who rescues a talented person from oblivion, but then wants to dictate what the artist works on as his fame grows. Inequality of power is generally a factor in this card, and the person being helped needs to be careful not to trade off heart and soul for a shortcut to fame or fortune. Each player in this scenario needs to examine the possibility they are taking one side or the other in an unbalanced power struggle.
Part of the Daily Insight Group ©2017
This Week's Tarot Card Reading
A one-card reading gives you a glimpse at what's coming
---
For the week of August 21, I chose the Four of Swords!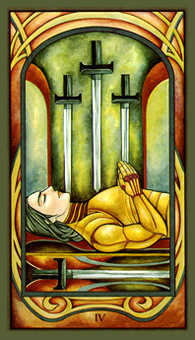 This week, make sure you factor in some downtime so you can rest and relax. You've been working hard and now it's time to step back and pause for a moment so you can regather your strength and restore your energy for the next phase.
You might choose to take a couple of catnaps during the day, go on a weekend retreat, meditate daily, or do a digital detox. Even though you're in the midst of a big project, you need to take this time out right now so that you have the energy for what is to come.
And, with Mercury Retrograde in full effect, it might just be the perfect time to go into hibernation!
Ask the Tarot: How can I rest my mind?
Part of the Daily Insight Group ©2017
Psychic Tip of the Day
SHARP WORDS
This is a "torch-tongue"" day. Mild critiques suddenly become harsh attacks. Speak softly and be aware you will feel criticized
Your Daily Rune for August 22nd
Jera
"Yehr-ah" – Literally: "Year" – Esoteric: Harvest
Rune of harvest and reward for, or reaction to, right actions in a horizontal (naturally ordered) cyclical process. Rune of peace on the land and in the heart.
Psi: psychological time, patience, the measurement of time
Energy: good harvest, orbits, cycles, progress, biorhythms, right effort
Mundane: waiting, gardening, farming, the seasons, harvest
Divinations: Reward for positive action, plenty, peace, proper timing; or repetition, bad timing, poverty, conflict, regression.
Governs:
Fertility, creativity and harmony with the land
Peace, prosperity and plenty
Realization of the cyclical nature of the multiverse, invoking the power of time and cycles
Bringing other concepts gently into material manifestation
Initiating gradual and lasting change in flow of life
Your Crowley Thoth Tarot Card for Today
The Chariot


The Chariot is the representation of Victory and the personality traits required to attain victory. The Chariot indicates self-awareness and control. Courage—the ability to overcome fear and confront the unknown head on–is a primary ingredient of any victorious campaign and is denoted by the Chariot. So too is force of will. Often success is as much the product of will power and a refusal to surrender as it is anything else. The Chariot also represents the healthy personality of someone who believes in themselves; someone who can take control of the situation and bring events to a positive end. His successes come in competition with others.
Your Weekly Influence for Monday, August 21
Tarot Influence
The Western Emperor
This card embodies success through practicality and sheer force of will. The Western Emperor's prowess as a leader is well honed by experience.
Astrological Influence
Scorpio Reversed
Scorpio reveresed represents the lack of will and confidence to move ahead
Element Influence
Fire Reversed
Fire reversed denotes calamity that may be on a catastrophic level. Prepare to deal with changes you do not want.
Your Ancient Symbol Card for Today
The Journey


While physical travel may be involved, The Journey represents an individual's spiritual trek from one point to another. The Journey is represented by a sailboat gliding across an open sea. Like those traversing the ocean The Journey requires that we move off the firm ground of our present state and strike out for a new destination. The trip itself may well be full of adventure and challenges. There may be times when we lose sight of where we came from and possibly not even know where we're going. Storms may crop up without warning. Diversions may slow our progress to our destination down. While it's good to have an idea of where you want to go, it's equally important to remember that often it's the getting there and not the destination that is the most rewarding. To take such a spiritual voyage takes courage and conviction that direction in which your are moving is right for you.
As a daily card, The Journey indicates a time in which you are likely to derive insight and spiritual growth by moving off your everyday path. Although the time span is short, this movement may have a profound and enduring effect on your life. Indeed you may be on the verge of experiencing a revelation, or enjoying a period of self actualization. Be open to new paths and you may well end up with some very positive changes in your life.
Your Animal Spirit for Today
August 22, 2017
Squirrel
Hoard, hoard, hoard! Squirrel has been a busy fellow, gathering food for the long winter ahead—and he advises you to do the same. Have you set enough money aside to get you through lean times, or do you squander what you earn? We all love a shopping spree, but if Squirrel scurries into your reading, he's cautioning you to spend a little, but also save a little
Your Charm for Today
Today's Meaning:
There is a good vibration surrounding this aspect. It feels better than it has in quite some time. Maintain your faith in your diety of choice and this good vibration will remain. Waiver from your faith and this good vibration will dissapate.
General Description:
This Estruscan talisman – a tusk carved in basalt, and elaborately mounted in gold filigree work – was worn as a protector from danger and evil influences. The charm was supposed to attract good fortune and success. The Tusk represented one of the horns of the Crescent Moon, which was a symbol of the Egyptian goddess Isis, who, in the course of time, became the most universal nad powerful of all the goddesses. The Estrucans, Greeks and Romans had great faith in the reputed virtues of amulets, a belief which was greatly influenced by the Egyptians.
Crack the Cookie

The Wisdom of Buddha
Health is the greatest gift, contentment the greatest wealth, faithfulness the best relationship.
Sun in Virgo
Discerning, modest, detail-oriented
---
________________________________________
A Little Humor for Your Day
Remember Love Is The Law
Save