This Week's Tarot Card Reading
A one-card reading gives you a glimpse at what's coming
---
For the week of August 14, I chose the Ace of Pentacles reversed!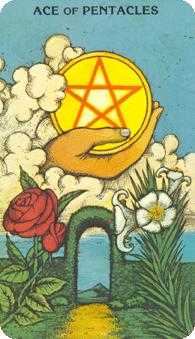 The Ace of Pentacles typically indicates a new opportunity associated with money, career, or physical things. It might be a new business opportunity, a new job, or a new investment opportunity.
Given this card is reversed this week, you may want to keep this new opportunity under wraps, especially if it is in the very early stages of development. You might have just had the idea to start a new business, or you might be in early negotiations for a new job. It doesn't feel like the right time just yet to go shouting it from the rooftops (just in case it doesn't come to fruition).
And, given we've just started Mercury Retrograde, it is very possible that you might change your mind about the opportunity in the next few weeks. So, take it easy, okay?
Ask the Tarot: What new opportunity is presenting itself to me?
Part of the Daily Insight Group ©2017