Lugh of the Long Arm
"O Lugh of the Long Arm:
You arch over earth
To kiss the corn,
To call it forth,
To see it born.
Your hillslopes flaunt,
breathe golden bees.
From parched fields
Scant dewfall flees.
Your chest is opened
Your heart exposed
Your blood like bronze
And amber flows.
Sun sears your flesh
Asprawl in thistles
Through your wound
Your life's breath whistles.
You laid you down
In fragrant thyme,
To bleed the sun's
Entranced decline.
You wrestled harvest,
Corn to capture –
Now we see at sunfall
Your face of rapture."
– Lughnasadh Ritual by Llwyn y Ser, The Grove of the Stars
Your Daily Sun & Moon Data for Sunday, July 30
The Sun
Sun Direction: ↑ 81.50° E
Sun Altitude: 19.86°
Sun Distance: 94.365 million mi
Next Equinox: Sep 22, 2017 3:01 pm (Autumnal)
Sunrise Today: 5:58 am↑ 66° East
Sunset Today: 8:03 pm↑ 294° Northwest
The Moon
Moon Direction: ↑ 31.93° NNE
Moon Altitude: -58.61°
Moon Distance: 247900 mi
Next Full Moon: Aug 7, 20171:10 pm
Next New Moon: Aug 21, 20171:30 pm
Next Moonrise: Today1:24 pm
Current Moon Phase:Waxing Crescent
Illumination:51.9%
Lunar Calendar

First Quarter: Jul 30, 2017 at 10:23 am
(Next Phase)
New Moon: Jul 23, 2017 at 4:45 am
(Previous Phase)
Source
Your Astronomy for Sunday, July 30th
The Moon is in Scorpio all day.

The Moon is waxing

and in its Waxing Crescent until 11:23 AM, after which it's in its

First Quarter

phase.
The

First Quarter Moon

occurs today at 11:23 AM.
Mercury is in its pre-retrograde shadow (Mercury will retrograde from August 12-September 5).
Moon in Scorpio
Intensity is what the Moon in Scorpio is all about. Whether it's passion, elation, sorrow, or desire, emotions are felt on a deeply personal level. We are motivated by the desire to get to the bottom of things, and we instinctively read between the lines. Superficiality won't work for us now. The Moon in Scorpio urges us to uncover our own power, and it's an excellent time to rid ourselves of old fears and limiting habits. It can be an intimate and passionate time. Avoid manipulative tactics, brooding, and suspicion.
The Moon in Scorpio generally favors the following activities: Taxes, accounting, intimacy issues, psychological examinations, research, self-examination, getting rid of old things.
Sunday's Conjuring
Sunday – is associated with the Sun
Candle colors – Red, Gold, and Orange
This is a Leo's power day
Conjuring Work Excellent for Sundays: Power, Health, Success, Personal Finances, Prosperity, Home life, Control, Hotfoot work, Shut your mouth conjure, Sunday is good for all hot work.
—Old Style Conjure Wisdoms, Workings and Remedies
Starr Casas
Sunday, July 30
Traditionally, Sunday is the first day of the week. It is also known as the Lord's Day from it original association with the Lord, that is, the Sun God, personified as Helios, Apollo, Ogmios, Mithras, and St. Elia. But in the Northern Tradition, the sun is seen as feminine, personified as the goddess known as Phoebe in East Anglia and Saule in eastern Europe. The sun rules the conscious element of the human being, the ego, the real self, and Sunday is the day on which this conscious power is at its most effective.
Deity: Sol
Zodiac Sign: Leo
Planet: Sun
Tree: Birch
Herb: Snakeroot
Stone: Ruby
Animal: Lion
Element: Fire
Color: Gold
Rune: Sigel
Celtic Tree Month of Tinne (Holly) – July 8 – August 4
Runic Half-Month of Thorn (defense) – July 29 – August 12
Goddess of the Month of Kerea – July 11 – August 8
Source
The Pagan Book of Days
Nigel Pennick
The Magickal Day of Sunday
In many traditions of Paganism, days of the week are very important aspects of effective spellcasting. For example, spells to do with abundance or prosperity could be done on Thursday, because it is associated with riches and desire. When casting a spell concerning business or communication, one might prefer to work on a Wednesday due to its associations.
While not all traditions follow this rule, when you're doing any sort of magical working, always be sure to document the day of the week you're performing the spell.
You might be surprised later on to see some connections!
Sunday Magical Correspondences
Sunday is associated with the colors yellow and gold, which shouldn't be surprising – it's the day of the sun, right? Because of this planetary association, this is a day that's also connected to solar deities like Helios and Ra. Interestingly, in some Celtic traditions, Brighid's day is Sunday as well.
When it comes to crystal use, Sunday is related to quartz crystals and diamonds, as well as the yellowish hues of carnelian and amber. For herbs and plants in magical workings, use marigolds, sunflowers or cinnamon.
What kind of magic is best performed on Sunday? Well, it's a day that generally has a number of associations – agriculture, beauty, hope, victory, self-expression and creativity are all connected to this particular day. Plant or harvest something new (not just material crops, but metaphysical ones as well), create something from nothing, and prepare to win at everything.
Author
Patti Wigington, Paganism/Wicca Expert
Article originally published on & owned by ThoughtCo
The Witches Guide to Sunday
Ruler: Sun
Colors: Gold or yellow
Power Hours: Sunrise and sunset.
Key Words: Love, happiness, health, wealth
It is easy to spot the ruler of this day by its name. Sunday is the day of the sun. Community work, volunteer services, exercise, outdoor sports, buying, selling, speculating, meeting people, anything involving groups, running fairs and raffles, growing crops and taking care of all health matters fall under the influence of the Sun. With all this activity and the brightness of the sun, it's easy to see why the child that is born on the Sabbath day is bonny and blithe, and good and gay.
Michael is the primary angel of Sunday but each hour of this day also has it's secondary angel. These angels are Michael (first hour), Anael (second hour), Raphael (third hour), Gabril (fourth hour), Cassiel (fifth hour), Sachiel (sixth hour), Samael (seventh hour), Michael (eighth hour), Anael (ninth hour), Raphael (tenth hour), Gabriel (eleventh hour), and Cassiel twelfth hour). Notice some of the angels do double duty this day.
On Sundays, (unless you are invoking a specific angelic energy) the hour of sunrise will be the most powerful time to work, especially if you want to infuse energy into your work. Sunset is the second best time and is favored when you need to calm down a situation. Check the local newspaper, astrological calendar, or almanac to determine your local sunrise.
Source:
The Witches Honey-Do-List for Sunday
Those ambitious, successful spells and charms will be heightened by working on the day of the week that has the planetary influence of the sun. So light those sunny candles, wear some luminous colors, and break out the gold jewelry! Bake up some cinnamon rolls or low-fat cinnamon muffins for an enchanting family breakfast. Take an orange with you to eat at lunch today. Try using a little magickal aromatherapy and burn some cinnamon-scented incense to encourage success and wealth today. Make the talisman to keep your solar magick with you. Sprinkle some dried marigold petals around your house-or across the threshold-to pull triumph and protection toward you and your family.
Get outside and tip up your face to the sun. Take a walk outside, and soak up some sunshine! Acknowledge the power of Sunna or Helios as they blaze across the sky and bring courage and motivation into your life. Sit outside at sunrise on a Sunday morning and bask in its warm, rosy-golden glow Acknowledge Brigid as the inner, creative spark of imagination and inspiration. She can help these gifts burn brightly within your own soul. Use your imagination and create your own brand of witchery and magick. Here comes the sun, and it's your turn to shine!
—–Book of Witchery: Spells, Charms & Correspondences for Every Day of the Week
Ellen Dugan

The Witches Almanac for Sunday, July 30
Micman Festival of St. Ann
Waxing Moon
Second Quarter 11: 23 am
Moon Sign: Scorpio
Incense: Marigold
Color: Yellow
Correspondences for Sunday, July 30
Sunday (day of the sun)
Planet: Sun
Colors: Gold, Orange
Crystals: Diamond, Amber, Tigers Eye, Carnelian, Sunstone, Topaz, Gold
Aroma: Cedar, Frankincense, Sun Oil, Lemon Herb: St. Johns Wort
Traditionally the first day of the week and ruled by the Sun, it personified as Helios, Apollo, Lugh, and Beli or Bel. In some traditions, the sun is seen as feminine, personified as Phoebe (East Anglia), and Saule (eastern Europe).
The Sun rules the conscious element of the human mind, the ego, the "real" self." Sunday is the day on which this power is most effective.
Magical aspects: protection, healing, spirituality, and strength.
Sunday is the perfect day for the magic of Fatherhood. A father wishing to cast a spell for his children might want to try a little prayer on a Sunday. However it is probably wiser to cast on a Monday if the idea is to conceive. Sunday is also the day for social and political furtherment, so try going out to see some friends on a Sunday or just mingle.
This is the proper day of the week to perform spells and rituals involving exorcism, healing, prosperity, individuality, hope, fortune, work, power, promotions, strength, spirituality, swift change, and God rituals.
Sunday is Ruled by the Sun
Sunday corresponds to the sun, our closest star. This day is full of wonder and all sorts of magical potential for success, wealth, and fame. Sundays are for personal achievements of any kind such as working towards a promotion at your job, seeking fame and wealth, or being acknowledged for a job well done. All of these goals fall under the golden influence of the sun. Some suggestions for Sunday enchantments would include:
Sitting outside at sunrise and calling on the goddess Brigid for illumination and inspiration
Wearing gold jewelry or clothing that is gold or sunshine yellow to pull some color magic into your life
Arranging a few sunflowers in a vase and empowering these "flowers of the sun" for fame and ambition
Gathering up the common marigold flower and scattering it's petals about to encourage prosperity
Baking up a batch of cinnamon rolls for the family and enchanting them for health and success
Snacking on a solar fruit, the orange, and enjoying the magical boost it brings to your life
Home & Hearth Magick for Sunday, July 30th
On Sunday, work for success, healing and blessings.
Planetary Influence: The Sun
Household Symbols: A rooster, a sun, gold jewelry
Colors: Yellow and gold
Kitchen Spices: Cinnamon and orange peels
Source:
Cottage Witchery
Natural Magick for Hearth and Home
Author: Ellen Dugan
The Witches Current Moon Phase for Sunday, July 30th
First Quarter
Illumination: 49%
The Moon today is in a First Quarter phase. This phase occurs roughly 7 days after the New Moon when the earth is one quarter of the way through it's orbit around the earth. Exactly half the moon will be illuminated and half dark. On the day of the First Quarter phase the moon is high overhead at sunset and is visible until mid-night when it sets in the west. The First Quarter phase is a one day event and in the following days enters a Waxing Gibbous phase becoming more illuminated each day until the Full Moon.
Phase Details for – Sunday, July 30, 2017
Phase: First Quarter
Illumination: 49%
Moon Age: 7.26 days
Moon Angle: 0.50
Moon Distance: 399,478.52 km
Sun Angle: 0.53
Sun Distance: 151,859,307.32 km
Source

This Week's Astrology: All Over the Map
Your weekly Astrology highlights for July 31 – August 6
---
Things could get interesting in a few different areas of your life this week! See what the cosmos has in store for you…
Monday, July 31: Venus enters Cancer
Love planet Venus enters tender Cancer on Monday and will remain in this sign until August 25. As a result, matters of the heart are deeply connected to emotional and domestic security. You'll want to pursue a romance that feeds your soul. Fortunately, it'll be easy to achieve this while Venus is in Cancer. Emotional nourishment will be available to all.
Thursday, August 3: Uranus Retrograde
Uranus turns retrograde on Thursday, and will remain retrograde until January 2, 2018. This 6-month period allows a resting space for all the crazy, quirky events that might be going on in your life. Now is the time to process them.
Friday, August 4: Jupiter square Pluto
On Friday, Jupiter and Pluto square off. Expansive struggles with those in authority are possible, but on the flip side, it's just as likely that you will stop fighting your own influence and finally slip into your personal power suit. It'll fit like a glove.
Part of the Daily Insight Group ©2017
Your Daily Horoscopes for Sunday, July 30th
Aries
Creatively speaking, you've been on top of your game recently, dear Aries. However, today you may be dealing with some temporary blocks to this flow. This may come in the form of a delay, interruption, or block, as Mars and Saturn form a minor challenging aspect. Focusing too much on the process of reaching your goals may only serve to frustrate now. Energy is very much stop-and-go right now, and motivation may falter just for the time being. Doing editing, reviewing, and fixing work makes the most sense. It's not the best day for feeling that you're moving forward, at least until tonight when you are less likely to be counting the minutes or problems! There is an easing of pressure, particularly if you focus on the bigger picture.
Taurus
You may need to bypass blocks, challenges or conflicts to pursue your desires today, dear Taurus, or you may decide to wait until a better time altogether! Impatience sets you back right now, and slowing down a tad, in fact, makes the most sense, particularly with family or household pursuits. You may need to alter your plans or goals to keep them viable. Reacting to delays carefully and maturely is your best bet. If you can contain yourself and focus, you'll solve some problems that help you out for some time to come. Worries about finances, especially money that comes from other sources than your income, may get in the way of your fun. It's probably best not to take a financial or emotional risk today. By tonight, you'll pull everything back together.
Gemini
The Moon spends today and tomorrow in your work and health sector, dear Gemini, and you're emotionally geared to fix problems and sort things out. Nevertheless, a Mars-Saturn aspect today can serve to frustrate, particularly if you're trying to rush something that requires concentration. Challenges in a relationship can present themselves, and this can involve a current relationship or a past one that has your brain hopping. Examine the emotions that are surfacing now a little more carefully, as they likely have to do with something you've buried or swept under the carpet recently. If you frequently find that a person in your life doesn't budge or compromise enough, aim to work things out when you have the patience and time. Tonight, you're in great shape for letting things go.
Cancer
Rigidity with schedules may prevent you from enjoying yourself today, dear Cancer. Work needs doing, and you may be facing rules, technical problems, or interruptions and blocks now that throw a wrench in your plans. A partner may not be very compromising, either. It's not the best day for pushing forward with plans. In fact, spending more time perfecting them will eventually work more in your favor. The day's challenging energies ease considerably by tonight as you let go and find your center. You see dwelling on lingering anger as a waste of your time, and you're right! The Moon spends today and tomorrow in your sector of entertainment, creativity, self-expression, and spontaneity, after all, and while you can't and probably shouldn't escape your responsibilities, this Moon position can keep your sense of humor from flatlining.
Leo
You may be coming on a little too strong today for your audience today, dear Leo, likely because people are taking themselves a little too seriously right now! The more you push, the stronger their resistance, so it makes sense to back off and act a little detached or aloof. Misunderstandings with a love interest are possible now, or there can be obligations to fill that make you feel less than independent. Others may see you as overly frustrated, animated, or impatient — perhaps even a bit reckless.  Draw on patience now. Tonight, you'll find it easier to live and let live. You're inclined to enjoy some time out and diversions. In fact, resolutions to frustrations seem to come effortlessly now.
Virgo
The Moon spends today and tomorrow in your busy third house, dear Virgo, and you seek out mental stimulation, connection, and variety. However, with a Mars-Saturn aspect active today, it's not the best time to further your goals quickly or for spontaneity and warmth in your exchanges. There can be a sense that someone's limiting you or blocking your progress, and this can be frustrating. However, with a little patience, this can be a good time to wait things out and to put in extra effort to get things right before pushing ahead with plans. Tonight, the mood shifts considerably. You're ready to let go of anything that winds you up.
Libra 
The Moon spends today and tomorrow in your solar second house, dear Libra, and this tends to slow you down enough to enjoy and appreciate what's currently in your life. While you can benefit from a slower pace, a Mars-Saturn minor challenging aspect can nevertheless serve to frustrate you. It makes it hard to work quickly towards a goal, and can also lead to blocks in communication or transportation, possibly due to technical problems or mechanical breakdowns, but also misunderstandings with others. Treat slowdowns as the chance to catch your breath and to refine your goals rather than waste your energy harping on problems, and you will fare much better today. Tonight, you're better able to let go of frustrating problems and enjoy fun diversions.
Scorpio
Your emotions are strong, and they might even feel urgent today, dear Scorpio, as the Moon spends the full day in your sign. However, instant gratification is unlikely to come right now with a Mars-Saturn aspect active today blocking things up. Even with your desire to make waves or take action so intense, you may not get very far! You could discover that what you had planned is too expensive or otherwise not feasible. Try your best not to push yourself, projects, or others today and resolve to fix problem areas or work on things that need a little extra attention. The day's pressures tend to ease tonight, although it may very well be that you care far less about frustrations! Focusing on what's working in your life instead of what you don't have is the key to peace and enjoyment now.
Sagittarius
It's best to take things easy today, dear Sagittarius, with the Moon in the sign just behind yours (Scorpio). As well, a Mars-Saturn challenge can make everything seem quite slow, particularly those things you're not thrilled about doing. It's not the best time for interpersonal relations, particularly before evening, and trying to push your case is likely only to make matters worse. You may feel that others are (temporarily) not supporting you or your plans. You may also be feeling off-center and perhaps a little unyielding, too. Take a deep breath and do what you can to keep a positive frame of mind. With patience and concentration, you'll do well now, even if you're not likely to charge full speed ahead.
Capricorn
The Moon spends today and tomorrow in your friendship sector, dear Capricorn, and you're likely to seek out like-minded company or pressure-free social situations. This is a period of the lunar month when you focus on happiness goals. Even so, there may be a hurdle to clear today, likely due to slowdowns or delays. However, with patience and further thought, these can afford you more time to finish up something that needs additional attention. You tend to be more sensitive than usual to the emotional atmosphere around you. You see the less flattering side of relationships just for now, but by evening, your mood improves, and you begin to seek out intangible rewards and experiences.
Aquarius
The Moon spends today and tomorrow at the top of your solar chart, dear Aquarius, and you may feel that all eyes are on you. You can't seem to get away with much right now! A partner or friend may not be seeing eye-to-eye with you when it comes to long-term goals or career. A Mars-Saturn challenge encourages work, but it can be difficult seeing the end of the road as slowdowns are likely. Attempts to push something too hard or too fast meet with blockages. Your social life may leave something to be desired, or you simply can't seem to finish what you're doing to enjoy a more frivolous activity today entirely. You may want something that you can't have, or your plans might fall through due to obligations to a friend. Don't let any of this truly get to you. Resolve to carry out your plans on a better day. Tonight brings easier, laissez-faire energy.
Pisces
While you may want to move something forward quickly, dear Pisces, a Mars-Saturn challenge can seem to block or slow you down. This delay or obstacle is likely to do with a rule, superior, or concern about your reputation. Impatience slows you down further, so consider that reviewing, editing, or adjusting make more sense than taking direct and immediate action just for the time being. You may be able to see which actions you take that tend to cause problems, challenges, or hard feelings in general, and taking notes can help prevent future problems. The Moon's harmony with Neptune, your ruler, in your sign tonight comes in especially handy – it allows you to unwind and let go of tensions.
If You Were Born Today, July 30th….
You are highly creative, spontaneous, humorous, entertaining, and likable. Emotionally impulsive, you need to feel inspired in order to truly perform. You have a definite flair for the dramatic. You might frequently make sacrifices for others, and often willingly do so. You are highly perceptive and insightful, and this draws others to you, particularly as you mature. While your good-heartedness may be taken advantage of by less noble individuals, you tend to bounce back quickly and although you toughen up to some degree with life experience, you keep your youthful, loving, and generous spirit alive throughout life.
Famous people born today: Henry Ford, Arnold Schwarzenegger, Kate Bush, Hilary Swank, Delta Burke, Lisa Kudrow, Christopher Nolan.
Get A Jump On Tomorrow…..
Your Daily Horoscopes for Monday, July 31st
Aries
You're focused and interested in intensive projects rather than spreading your attention around today, dear Aries. The Moon spends another full day in your intimacy sector, encouraging introspection, problem-solving, and research. Also today, Venus moves into your home and family sector. During this transit that lasts until August 26th, you seek out and (mostly) achieve peace and serenity within the home or with family. It's a great time for entertaining in the home, hosting, and occasions to remember. Use this cycle to iron out difficulties on the domestic front, boost warmth in close relationships, make yourself more comfortable, and redecorate or beautify your surroundings. It's a great time to learn more about your needs for security, love, and nurture. While this is not the most openly expressive period for your affections with the rest of the world, it is a strong time for connecting with family.
Taurus
Your social life, close relationships, partnerships, and companionship are in stronger focus today with the Moon in your solar seventh house all day, dear Taurus. Also today, Venus moves into your communications sector for the next three and a half weeks. During this creative cycle, you're likely to enjoy greater involvement with siblings, neighbors, classmates, and acquaintances. You might take pleasure in running errands or opportunities open up to you as you go about your daily affairs. You also enjoy exploring mental interests and topics as well as learning new things. Love and communications are connected to one another in significant ways now. For some, there can be increased communications with friends and lovers, or you are meeting people through daily routines, transportation, and places of learning. You're also bringing more charm and warmth to your communications, and you might take on the role of mediator.
Gemini
The Moon spends another day in your work and health sector, dear Gemini, and you're focused on the details more than the big picture. This is a day for fixing problems and getting your life back on track. Also today, Venus leaves your sign today and enters your resources sector, where she will stay until August 26th. This transit tends to improve or make favorable your finances and resources. You're likely to enjoy an ease of pressure on financial fronts, or you take greater comfort and pleasure in what you already have. This transit awakens and augments your practical eye and natural sense of balance. Security and comfort are important to you during this period — more one than the other depending on your current circumstances. Love could be a little quieter, but also more stable or status quo. It's a time for wanting to settle in and enjoy yourself.
Cancer
The Moon spends the day in your sector of creativity and fun, dear Cancer, enlivening your mood. Also today, Venus moves into your sign, ending a several-week cycle in which you were on the fence with your affections or feeling a little underwhelmed or overlooked in your personal life. Venus in Cancer lasts until August 26th and gives a boost to your personal popularity. While this can be a time of some over-indulgence, it may very well be deserved! You're likely to receive more positive attention during this cycle, and people find you especially attractive or pleasant. This is a time for carrying yourself with more confidence and warmth. Efforts to improve your image or style can be very successful during this cycle, and it's a better time of the year to socialize, date, mingle, shop, and discover new sources of pleasure and entertainment.
Leo
The Moon spends another day at the bottom of your solar chart, dear Leo, stimulating a need to reconnect with your roots, get comfortable, or stick with familiar places and faces. Also today, Venus enters your privacy sector. During this transit that lasts until August 26th, you'll do well for yourself taking more time to yourself or for rest, relaxation, solitude, and peace. Watch for a tendency to do too much for others to the point that your own needs go unnoticed. However, underplaying your needs may be useful and appropriate just for now as you reconnect with what feels right. You may be in a supportive role to others. This can either be a quieter time for your love life, a time of endings, or merely an inclination to keep your feelings or relationships private. When it comes to money and love, which can seem a little more complicated than usual, you may be going over the past and taking more time to come to conclusions or decisions.
Virgo
The Moon spends another full day in your communications sector, dear Virgo, and you're likely to keep yourself busy. Curiosity keeps you mentally engaged, although sometimes rather distracted! Effort does have its payoffs this morning, however. Also today, Venus enters your social sector for a three and a half week stay. This visit is a pleasant one, as it enhances your popularity and appeal. It can be a time of increased social invites or pleasant contact with friends and groups. It can also be a great cycle for strengthening or forming friendships and connections that benefit you both personally and professionally. You may be a little more detached, perhaps just enough to facilitate enjoying yourself more thoroughly in new situations. Camaraderie is of particular importance in your love life and your social life during this cycle that lasts until August 26th.
Libra 
The Moon spends another day in your resources sector, dear Libra, and you're looking to settle in and enjoy yourself. It's a good day for finding reasons to appreciate your life in fundamental ways, as well as for earthy, grounding activities. Also today, Venus begins its transit of your solar tenth house. With Venus at the top of your solar chart, your finer qualities are getting noticed! For some, your feelings for someone or your relationships or personal life may become a little more public. Your reputation and image improve. Superiors see you in a more favorable light. You're bringing more charm to your professional or public life, and your creative vision or people skills can be on show. It's a good time to polish your look, image, and style. Advancing your career now can involve being especially friendly and personable.
Scorpio
The Moon spends another day in your sign, dear Scorpio, and you're enjoying more visibility, attention, and colorful feelings and experiences. Its harmony with your ruler, Pluto, this morning helps you feel especially connected and purposeful. Also today, Venus moves into your adventure and spirit sector, and into a favorable position to your sign. This transit, lasting until August 26th, is a good one for enjoying more cultural events, learning, and engaging experiences in your life. Friendly relations with in-laws, teachers, lawyers, or publishers can be in focus for some of you. It can be a pleasant and productive period for activities related to sharing, learning, promoting, and imagining. You may be inspired by someone or by an idea or experience during this cycle, and opportunities, particularly social and financial, can emerge from non-routine places and experiences.
Sagittarius
The Moon spends another day in your privacy sector, dear Sagittarius, marking the tail-end of a lunar cycle. This is a time for sorting through recent experiences and deciding what to leave behind you and what to bring forward into the new cycle that begins tomorrow. The Moon enters your sign tomorrow morning. Also today, Venus enters your solar eighth house and will be a guest in this sector until August 26th. It's a great time for gaining support, if needed, or for smoothing out problems related to debts, ownership matters, and power dynamics. There are stronger themes of passion, attachment, and intensity in your love life or relationship with yourself now. You'll take particular pleasure in private moments, thoughts, and observations during this cycle, and you tend to evaluate situations and people based on deep hunches and feelings.
Capricorn
The Moon spends the day in your friendship sector once again, dear Capricorn, and you're looking for comfortable, friendly activities and connections. People are generally supportive of you today — and you of them! Also today, Venus enters your partnership sector — a transit, lasting until August 26th, that typically brings helpful, friendly people into your life or special warmth to existing relationships. It can be ideal for one-to-one relationships, which are particularly trustworthy or peaceful and content at this time. Your rapport with others builds or steadies now. You are more companionable than usual, and you're also more attentive to others' needs and wants. You're going to unusual lengths to understand and enjoy others in your life, which has nice payoffs!
Aquarius
The Moon spends its second full day in your sector of career and reputation, dear Aquarius, and you're particularly goal-focused and ready to take charge. You're more aware than usual of your image and performance. Also today, Venus moves into your work and health sector, blessing working relationships and improving your relationship with your job and routines until August 26th. This is a good cycle in which to create more balance and happiness in your daily life and working life. You could be forming friendships or possibly love connections on the job, or you might pretty up your work environment now. Others more thoroughly appreciate your help and service, primarily because you're sincerely enjoying it more.
Pisces
The Moon spends another full day in your adventure sector, dear Pisces, and lifts your thoughts and feelings to greater heights as you connect with the needs of your spirit. You seek out new ways to enjoy yourself or to experience life more fully. Learning and sharing ideas can be in stronger focus. Also today, Venus moves into your romance and creativity sector — one of the best house transits of Venus. This can be a time of new or increased romance, pleasure, and satisfying games, pastimes, and recreation. This transit lasts until August 26th and is a strong time for vacationing or attending to hobbies and leisure activities. You're inclined to splurge a little or share your feelings more openly than usual. This is a good period for creative pursuits, dates, and interviews.
Your Daily Tarot Card for July 30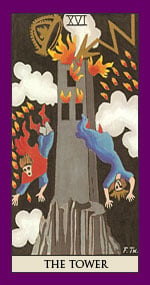 The Tower
Keywords: sudden change, pride, houses and buildings, liberation!
Astrological Correspondence: Mars
The Tower card first and foremost illustrates that neither physical nor emotional structures that we build are permanent and stable; instead, they can be destroyed suddenly, thereby initiating change that we have tried to avoid. The sudden change resembled by the crumbling tower reminds us of letting go of outgrown beliefs and values, of releasing an illusion, an unhealthy relationship, an old way of life. The sudden change frees us to face the unknown, frees us to move forward instead of stagnate, frees us from social conventions and enlightens us on our path so that we reach a new level of understanding about our purpose in life. Not embracing the inevitable change brings out the negative elements that the Tower also depicts: being struck down by one's own doing, by vanity and the inability to change so that one remains stagnant.
Your Daily Love Tarot Card for July 30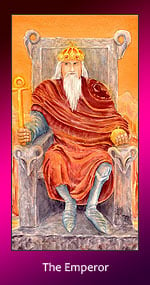 The Emperor
Are you involved in a relationship with a dominating personality? Does this person just keep on taking just as much as you can give? Let the image of a 'steamroller approaching a bruised peach' flash through your mind. Do you really want to be either the former or the latter? The Emperor card selected you to urge you to get back in touch with your inner strength and power.
Your Erotic Tarot Card for July 30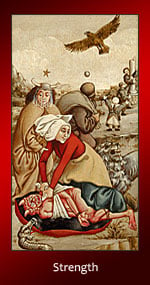 Strength
Your sex life gains some serious momentum today with the appearance of the Strength card. You have tremendous inner strength when it comes to getting what you want, and that includes sexual conquests. If you've been waiting for the right time to try out some new moves, the Strength card urges you to act now! There may be some obstacles in your way, but you welcome any and all challenges. Anyone playing hard to get right now is like putty in your hands.
Your Daily Rune for July 30 is Eihwaz
Eihwaz
Yew-was" – Literally: "Yew" – Esoteric: Yggdrasil or Kundalini
"The axis or process of spiritual becoming." Upper and lower worlds meeting in Midgard (earth). Rune of the mysteries of life and death.
Psi: death mysteries, the timeless, kundalini,
Energy: axis of heaven-earth-hel, secrecy, encoding, immortality, the chakra system (hvel)
Mundane: longevity, initiations, trees
Divinations: movement toward Enlightenment, endurance, initiation, protection; or confusion, destruction, dissatisfaction, weakness, death
Governs:
Initiation into the wisdom of the World Tree (Yggdrasil) and hvel (chakras)
Liberation from the fear of death.
Development of spiritual endurance and hard will to gain initiative
Spiritual vision
Communication between levels of reality – the Worlds or Yggdrasil
Your Daily Thoth Card for July 30
The Sun

Only The Universe card of the Crowley Tarot can match the blessings that come with The Sun. While it certainly doesn't promise a life's path without some bumps in the road, The Sun indicates all will be well. The Sun is our Cosmic Nurturer. Life flourishes under its radiant beams. It provides the illumination to find Truths and lights one's path so they do not get lost. To stand in the rays of The Sun is to shine. To absorb its energy promotes growth, exceptional physical and mental health, and good fortune. The Sun is empowering, elevating and fills those who bask in it with confidence and sense of self-worth.
Your Daily Karmic Number for July 30
The 6 appears now to remind you to have faith that you will find and keep true love. It may not be today, unless you are 100 percent comfortable with who you are at this very moment. Yes, it starts with you as an individual in self-love. When Harry met Sally they barely tolerated each other before falling in love. Six says you can skip the drama if you focus on yourself first. You had too many demands in a previous life that left you in a string of unsavory situations. Save time and practice self-love. Then you will meet the one who truly deserves your attention.
The Words of Confucius
You cannot open a book without learning something.
Lughnasadh
The Celtic harvest festival on August 1st takes its name from the Irish god Lugh, one of the chief gods of the Tuatha De Danann, giving us Lughnasadh in Ireland, Lunasdál in Scotland, and Laa Luanys in the Isle of Man. (In Wales, this time is known simply as Gwl Awst, the August Feast.)
Lugh dedicated this festival to his foster-mother, Tailtiu, the last queen of the Fir Bolg, who died from exhaustion after clearing a great forest so that the land could be cultivated. When the men of Ireland gathered at her death-bed, she told them to hold funeral games in her honor. As long as they were held, she prophesied Ireland would not be without song. Tailtiu's name is from Old Celtic Talantiu, "The Great One of the Earth," suggesting she may originally have been a personification of the land itself, like so many Irish goddesses. In fact, Lughnasadh has an older name, Brón Trogain, which refers to the painful labor of childbirth. For at this time of year, the earth gives birth to her first fruits so that her children might live.
Tailtiu gives her name to Teltown in County Meath, where the festival was traditionally held in early Ireland. It evolved into a great tribal assembly, attended by the High King, where legal agreements were made, political problems discussed, and huge sporting contests were held on the scale of an early Olympic Games. Artists and entertainers displayed their talents, traders came from far and wide to sell food, farm animals, fine crafts and clothing, and there was much storytelling, music, and high-spirited revelry, according to a medieval eye-witness account:
"Trumpets, harps, hollow-throated horns, pipers, timpanists, unwearied…fiddlers, gleemen, bone-players and bag-pipers, a rude crowd, noisy, profane, roaring and shouting."
This was also an occasion for handfasting, or trial marriages. Young men and women lined up on either side of a wooden gate in a high wall, in which a hole was carved, large enough for a hand. One by one, girl and boy would grasp a hand in the hole, without being able to see who was on the other side. They were now married, and could live together for year and day to see if it worked out. If not, the couple returned to next year's gathering and officially separated by standing back to back and walking away from each other.
Throughout the centuries, the grandeur of Teltown dwindled away, but all over Ireland, right up to the middle of this century, country-people have celebrated the harvest at revels, wakes, and fairs – and some still continue today in the liveliest manner. It was usually celebrated on the nearest Sunday to August 1st, so that a whole day could be set aside from work. In later times, the festival of Lughnasadh was christianized as Lammas, from the Anglo-Saxon, hlaf-mas, "Loaf-Mass," but in rural areas, it was often remembered as "Bilberry Sunday," for this was the day to climb the nearest "Lughnasadh Hill" and gather the earth's freely-given gifts of the little black berries, which they might wear as special garlands or gather in baskets to take home for jam.
As of old, people sang and danced jigs and reels to the music of melodeons, fiddles and flutes, and held uproarious sporting contests and races. In some places, a woman-or an effigy of one-was crowned with summer flowers and seated on a throne, with garlands strewn at her feet. Dancers whirled around her, touching her garlands or pulling off a ribbon for good luck. In this way, perhaps, the ancient goddess of the harvest was still remembered with honor.
Lughnasadh Ritual Tools, Symbols, and Decorations
Altar Decorations: Gold or yellow altar cloth; gold altar candles; four ears of corn, each tied with a yellow and orange ribbon; small basket of fruit; gold-colored pillar candle; chalice covered with a yellow cloth; red and white wine; cornbread or ritual cakes.
Symbols: Corn; bread and all baked goods; the pentacle; the hearth, broom, and things connected with the home; baskets filled with corn and fresh vegetables; gift baskets filled with fresh baked goods and tied with gold ribbons; dried corn husks for making corn dollies.
Setting Up Your Lammas (Lughnasadh) Altar
It's Lammas, or Lughnasadh, the Sabbat where many Pagans choose to celebrate the beginnings of the harvest. This Sabbat is about the cycle of birth, life, death and rebirth — the grain god dies, but will be reborn again in the spring. Depending on your tradition, you may also observe this Sabbat as the day of the Celtic craftsman god, Lugh. Either way, you can try some or even all of these ideas — obviously, someone using a bookshelf as an altar will have less flexibility than someone using a table, but use what calls to you most.
Colors of the Season
It's the end of summer, and soon the leaves will begin to change. However, the sun is still fiery and hot. Use a combination of summer and fall colors — the yellows and oranges and reds of the sun can also represent the turning leaves to come. Add some browns and greens to celebrate the fertility of the earth and the crops being harvested. Cover your altar with cloths that symbolize the changing of the season from summer to harvest time, and use candles in deep, rich colors — reds, burgundies, or other autumn shades are perfect this time of year.
Symbols of the Harvest
The harvest is here, and that means it's time to include symbols of the fields on your altar. Sickles and scythes are appropriate, as are baskets. Sheafs of grain, fresh picked fruits and vegetables, a jar of honey, or loaves of bread are perfect for the Lammastide altar.
Honoring the God Lugh
If your celebrations focus more on the god Lugh, observe the Sabbat from an artisan's point of view.
Place symbols of your craft or skill on the altar — a notebook, your special paints for artists, a pen for writers, other tools of your creativity.
Other Symbols of Lammas (Lughnasadh)
Grapes and wine
Corn dolls
Ears of corn
⦁ Iron, such as tools or weaponry or armor
⦁ Fall flowers, such as cornflowers or poppies
⦁ Straw braids
Onion garlands
Author
Published on ThoughtCo
Lammas incense
Ingredients:
2 parts frankincense
2 parts sandalwood
1 part pine resin
1/2 part bay
1/2 part cinnamon
1/2 part coriander
1/2 part meadowsweet
1/2 part oregano
1/2 part rosemary
A few drops rose oil
Slightly less oak moss oil
Very little patchouli oil (start with one drop)
Mix well. Burn during Lughnasadh/Lammas rituals.
Lammas Ritual Potpourri
Ingredients:
20 drops clove bud oil
25 drops sandalwood oil
1 cup oak moss
2 cups dried pink rosebuds
2 cups dried red peony petals
1 cup dried amaranth flowers
1 cup dried heather flowers
Mix the clove bud and sandalwood oils with the oak moss and then add the remaining ingredients. Stir the potpourri well and store in a tightly covered ceramic or glass container. Simmer during Lughnasadh/Lammas rituals
Lughnasadh Philtre
Ingredients:
Yarrow
Rose
Poppy seeds
mushrooms
Barley
Basil
Raspberry leaf
Strawberry leaf
Mugwort
Heliotrope
Comfrey
3 drops Macha oil
3 drops Cerridwen Oil
3 drops Lugh Oil
Lammas Soap
⦁ 1 cup grated unscented soap
⦁ 1/4 cup hot water
⦁ 1 tbsp. apricot oil
⦁ 1 tbsp. sunflower petals
⦁ 1/2 tbsp. blackberry leaves
⦁ 6 drops rosemary oil
⦁ 3 drops sandalwood oil
Place grated soap in a heat-proof non-metallic container and add the hot water and apricot oil. Leave until it is cool enough to handle, and then mix together with your hands. If the soap is floating on the water, add more soap. Leave to sit for 10 minutes, mixing occasionally, until the soap is soft and mushy. Once the soap, water, and oil are blended completely, add the dry ingredients. Once the mixture is cool, then add the essential oils (essential oils evaporate quickly in heat). Enough essential oils should be added to overcome the original scent of the soap. Blend thoroughly and then divide the soap mixture into four to six pieces. Squeeze the soaps, removing as much excess water as possible into the shape you desire, and tie in a cheesecloth. Hang in a warm, dry place until the soap is completely hard and dry.
Recipe adapted from Kate West's The Real Witches' Kitchen Sabbat Soap recipe.
Deities of the Fields
When Lammastide rolls around, the fields are full and fertile. Crops are abundant, and the late summer harvest is ripe for the picking. This is the time when the first grains are threshed, apples are plump in the trees, and gardens are overflowing with summer bounty. In nearly every ancient culture, this was a time of celebration of the agricultural significance of the season. Because of this, it was also a time when many gods and goddesses were honored.
These are some of the many deities who are connected with this earliest harvest holiday.
Adonis (Assyrian): Adonis is a complicated god who touched many cultures. Although he's often portrayed as Greek, his origins are in early Assyrian religion. Adonis was a god of the dying summer vegetation. In many stories, he dies and is later reborn, much like Attis and Tammuz.
Attis (Phrygean): This lover of ⦁ Cybele went mad and castrated himself, but still managed to get turned into a pine tree at the moment of his death. In some stories, Attis was in love with a Naiad, and jealous Cybele killed a tree (and subsequently the Naiad who dwelled within it), causing Attis to castrate himself in despair. Regardless, his stories often deal with the theme of rebirth and regeneration.
Ceres (Roman): Ever wonder why crunched-up grain is called cereal? It's named for Ceres, the Roman goddess of the harvest and grain. Not only that, she was the one who taught lowly mankind how to preserve and prepare corn and grain once it was ready for threshing. In many areas, she was a mother-type goddess who was responsible for agricultural fertility.
Dagon (Semitic): Worshipped by an early Semitic tribe called the Amorites, Dagon was a god of fertility and agriculture. He's also mentioned as a father-deity type in early Sumerian texts and sometimes appears as a fish god. Dagon is credited with giving the Amorites the knowledge to build the plough.
Demeter (Greek): The Greek equivalent of Ceres, Demeter is often linked to the changing of the seasons. She is often connected to the image of the Dark Mother in late fall and early winter. When her daughter Persephone was abducted by Hades, Demeter's grief caused the earth to die for six months, until Persephone's return.
Lugh (Celtic): Lugh was known as a god of both skill and the distribution of talent. He is sometimes associated with midsummer because of his role as a harvest god, and during ⦁ the summer solstice the crops are flourishing, waiting to be plucked from the ground at Lughnasadh.
Mercury (Roman): Fleet of foot, Mercury was a messenger of the gods. In particular, he was a god of commerce and is associated with the grain trade. In late summer and early fall, he ran from place to place to let everyone know it was time to bring in the harvest. In Gaul, he was considered a god not only of agricultural abundance but also of commercial success.
Neper (Egyptian): This androgynous grain deity became popular in Egypt during times of starvation. He later was seen as an aspect of ⦁ Osiris, and part of the cycle of life, death and rebirth.
Parvati (Hindu): Parvati was a consort of the god Shiva, and although she does not appear in Vedic literature, she is celebrated today as a goddess of the harvest and protector of women in the annual Gauri Festival.
Pomona (Roman): This apple goddess is the keeper of orchards and fruit trees. Unlike many other agricultural deities,  Pomona is not associated with the harvest itself, but with the flourishing of fruit trees. She is usually portrayed bearing a cornucopia or a tray of blossoming fruit.
Tammuz (Sumerian): This Sumerian god of vegetation and crops is often associated with the cycle of life, death and rebirth.
Author
Published on ThoughtCo
Lammas Customs and Traditions
In many cultures, there are different legends and lore surrounding Lammas (Lughnasadh). Here are a few of the stories about this magical harvest celebration from around the world.
⦁ In Israel, the festival of Shavout commemorates the beginning of the harvest, as well as honoring the date that Moses received the Torah on Mt. Sinai. The final sheaf of wheat is brought to the rabbi for a blessing, synagogues and homes are decorated with flower, and a great feast is prepared for all to enjoy.
⦁ The festival of Onam is celebrated in India, and people dress up in their finest clothes and give food to the poor. Onam is celebrated in honor of King Mahabali, who was a ruler of Kerala. In one story, the god Vishnu approached Mahabali dressed as a beggar, and asked for land, which Mahabali gave him. Mahabli ended up buried under the earth by Vishnu, but was allowed to return once a year, symbolizing the planting of the seed and the subsequent harvest.
Thor's wife, Sif, had beautiful golden hair, until  Loki the prankster cut it off. Thor was so upset he wanted to kill Loki, but some dwarves spun new hair for Sif, which grew magically as soon as it touched her head. The hair of Sif is associated with the harvest, and the golden grain that grows every year.
⦁ In the Shetland Islands, farmers believed that grain harvesting should only take place during a waning moon. They also believed this about the fall potato crop, and the cutting of peat.
⦁ At Lughnasadh, calves are weaned, and the first fruits are ripe, such as apples and grapes. In some Irish counties, it was believed farmers had to wait until Lughnasadh to start picking these fruits, or bad luck would befall the community.
⦁ In some countries, Lammas is a time for ⦁ warrior games and mock battles. This may hearken back to the days when a harvest festival was held, and people would come from miles around to get together. What better way for young men to show off their strength and impress the girls than by whacking away at all the competition? Games and contests are also held in ⦁ honor of Lugh, the mighty Celtic craftsman god, in which artisans offer up their finest work.
⦁ It's become a custom to give people the gift of a pair of gloves at Lammastide. In part, it's because winter is just around the corner, but it's also related to an old tradition in which landowners gave their tenants a pair of gloves after the harvest. The glove is a symbol of authority and benevolence.
Author
Published on ThoughtCo
The Legend of John Barleycorn
John Barleycorn is a character who symbolizes not only the harvest, but the products made from it as well.
In English folklore, John Barleycorn is a character who represents the crop of barley harvested each autumn. Equally as important, he symbolizes the wonderful drinks which can be made from barley — beer and whiskey — and their effects. In the traditional folksong, John Barleycorn, the character of John Barleycorn endures all kinds of indignities, most of which correspond to the cyclic nature of planting, growing, harvesting, and then death.
Although written versions of the song date back to the reign of Queen Elizabeth I, there is evidence that it was sung for years before that. There are a number of different versions, but the most well-known one is the Robert Burns version, in which John Barleycorn is portrayed as an almost Christ-like figure, suffering greatly before finally dying so that others may live.
In The Golden Bough, Sir James Frazer cites John Barleycorn as proof that there was once a Pagan cult in England that worshipped a god of vegetation, who was sacrificed in order to bring fertility to the fields. This ties into the related story of the Wicker Man, who is burned in effigy. Ultimately, the character of John Barleycorn is a metaphor for the spirit of grain, grown healthy and hale during the summer, chopped down and slaughtered in his prime, and then processed into beer and whiskey so he can live once more.
The lyrics to the Robert Burns version of the song are as follows:
There was three kings into the east,
three kings both great and high,
and they hae sworn a solemn oath
John Barleycorn must die.
They took a plough and plough'd him down,
put clods upon his head,
and they hae sworn a solemn oath
John Barleycorn was dead.
But the cheerful Spring came kindly on'
and show'rs began to fall.
John Barleycorn got up again,
and sore surprised them all.
The sultry suns of Summer came,
and he grew thick and strong;
his head well arm'd wi' pointed spears,
that no one should him wrong.
The sober Autumn enter'd mild,
when he grew wan and pale;
his bendin' joints and drooping head
show'd he began to fail.
His colour sicken'd more and more,
and he faded into age;
and then his enemies began
to show their deadly rage.
They took a weapon, long and sharp,
and cut him by the knee;
they ty'd him fast upon a cart,
like a rogue for forgerie.
They laid him down upon his back,
and cudgell'd him full sore.
they hung him up before the storm,
and turn'd him o'er and o'er.
They filled up a darksome pit
with water to the brim,
they heav'd in John Barleycorn.
There, let him sink or swim!
They laid him upon the floor,
to work him farther woe;
and still, as signs of life appear'd,
they toss'd him to and fro.
They wasted o'er a scorching flame
the marrow of his bones;
but a miller us'd him worst of all,
for he crush'd him between two stones.
And they hae taen his very hero blood
and drank it round and round;
and still the more and more they drank,
their joy did more abound.
John Barleycorn was a hero bold,
of noble enterprise;
for if you do but taste his blood,
'twill make your courage rise.
'Twill make a man forget his woe;
'twill heighten all his joy;
'twill make the widow's heart to sing,
tho the tear were in her eye.
Then let us toast John Barleycorn,
each man a glass in hand;
and may his great posterity
ne'er fail in old Scotland!
Author
Published on ThoughtCo
Ritual Honoring Lugh of the Many Skills
Lugh was known to the Celts as a god of craftsmanship and skill — in fact, he was known as the Many-Skilled God, because he was good at so many different things. In one legend, Lugh arrives at Tara, and is denied entrance. He enumerates all the great things he can do, and each time the guard says, "Sorry, we've already got someone here who can do that." Finally Lugh asks, "Ah, but do you have anyone here who can do them ALL?"
Take the opportunity this day to celebrate your own skills and abilities, and make an offering to Lugh to honor him, the god of craftsmanship.
Before you begin, take a personal inventory. What are your strong points? Everyone has a talent — some have many, some have one that they're really good at. Are you a poet or writer? Do you sing? How about needlecraft, woodworking, or beading? Can you tap dance? Do you cook? How about painting? Think about all the things you can do — and all of the things you'd like to learn to do, and the things you'd like to get better at. Once you sit down and think about it, you might be surprised to realize how accomplished you really are.
Decorate your altar with items related to your skill or talent. If your skill relates to something tangible, like sewing or jewelry-making, put some of your craft supplies on the altar. If it's an ability to DO, rather than MAKE, such as dancing or singing, put some symbol of your ability on your altar.
Do you have a favorite outfit you wear when you dance? A particular song lyric that you know you're fabulous with? Add as many items as you like to your altar.
You'll need a candle to symbolize Lugh, the god. Any harvest color is good, because he came up with the idea of a grain festival to honor his foster mother, Tailtiu.
Place the candle on your altar in the center. Feel free to add some stalks of grain if you like — you can combine this rite with one honoring the harvest, if you choose.
Light the candle, and take a moment to think about all the things you are good at. What are they? Are you proud of your accomplishments? Now's your chance to boast a little, and take some pride in what you've learned to do. Announce your own talents in the following incantation. Say:
Mighty Lugh, the many-skilled god,
he who is a patron of the arts,
a master of trades, and a silver-tongued bard.
Today I honor you, for I am skilled as well.
I am deft with a needle,
strong of voice,
and paint beauty with my brush strokes.
**Obviously, you would insert your pride in your own skills here.
Now, consider what you wish to improve upon. Is your tennis-playing out of whack? Do you feel inadequate at bungee jumping, yodeling, or drawing? Now's the time to ask Lugh for his blessing. Say:
Lugh, many-skilled one,
I ask you to shine upon me.
Share your gifts with me,
and make me strong in skill.
At this time, you should make an offering of some sort. The ancients made offerings in exchange for the blessings of their gods — quite simply, petitioning a god was a reciprocal act, a system of exchange.
Your offering can a tangible one: grain, fruit, wine, or even a sample of your skillwork — imagine dedicating a song or painting to Lugh. It can also be an offering of time or loyalty. Whatever it is, it should come from the heart.
Say:
I thank you, mighty Lugh, for hearing my words tonight.
I thank you for blessing me with the skills I have.
I make this offering of bread and wine* to you
as a small token of honor.
Take a few more moments and reflect on your own abilities. Do you have faith in your skills, or do you deflect compliments from others? Are you insecure about your abilities, or do you feel a surge of pride when you sew/dance/sing/hulahoop? Meditate on your offering to Lugh for a few moments, and when you are ready, end the ritual.
If you are performing this rite as part of a group, family or coven setting, go around in a circle and have each person take their turn to express their pride in their work, and to make their offerings to Lugh.
Author
Published on ThoughtCo
Lammas Gratitude and Bread Blessing Ritual
As anyone who practices gratitude on a regular basis will tell you, it really pays to express appreciation for the blessings in your life. This is because of the Law of Attraction—the more you appreciate, the more you attract new things and circumstances to appreciate!
But it's also good to express gratitude simply for its own sake. Any Sabbat is an excellent occasion to do so, but it's especially appropriate at Lammas, the season of the first fruits.
This ritual provides a simple, elegant structure for thanking the God and Goddess, Nature, or whatever your term may be for the powers that govern the Universe. If seven candles are too much to manage for whatever reason, you can certainly use fewer, but it's nice to get a little decadent with this if you can.
You will need:
7 gold, yellow and orange candles (any size and in any combination)
Handful of fresh sunflower and/or calendula petals
Loaf of fresh-baked bread
Pen (or pencil) and writing paper
Instructions:
Arrange the candles and sprinkle the petals among them in a manner that pleases you.
Place the bread in front of the candles and light one of them.
Now, make a list of at least 10 blessings you've experienced over the past few months. These can be hugely significant or "little things." Usually, it will be a combination of both. You will likely find that more and more things occur to you as you write (again, the Law of Attraction at work).
When you've got a good list together, light the rest of the candles and then read the list aloud, starting with "Thank you for…" before each item.
Now, hold the bread up toward the sky and say the following (or similar) words:
"God and Goddess, I thank you for this bread, which represents all the blessings I have listed here and more. May all on Earth be nourished by the bounty of Nature. So let it be."
Eat some of the bread, and be sure to use the rest of it over the coming days.
Source
Wicca Wheel of the Year Magic: A Beginner's Guide to the Sabbats, with History, Symbolism, Celebration Ideas, and Dedicated Sabbat Spells
Lisa Chamberlain