The Witches Digest No. 9
Tuesday, July 25th, 2017
A Witch's Tale
What is it like
To cast a spell?
To chant a charm?
To ring a bell?
To cast a circle?
To praise the moon?
To love the Earth?
To read the rune?
To love the Goddess?
To live her way?
To ebb and flow
Every day?
The trees, the grass,
The clouds and hills;
All these things
Witchcraft fills.
Every laugh,
Every cry,
Need you ask
The reason why?
The power can be found
From deep witin,
When you find it
You're ready to begin.
—By The Light Of The Crystal Moon: A Book of Pagan Poetry and Short Stories
Elizabeth Gardiepy
Your Daily Solar & Lunar Info for Tueday, July 25th
The Sun
Sun Direction: ↑ 91.04° E
Sun Altitude: 35.04°
Sun Distance: 94.417 million mi
Next Equinox: Sep 22, 2017 3:01 pm (Autumnal)
Sunrise Today: 5:54 am↑ 65° Northeast
Sunset Today: 8:07 pm↑ 295° Northwest
The Moon
Moon Direction: ↑ 81.34° E
Moon Altitude: 6.67°
Moon Distance: 231504 mi
Next Full Moon: Aug 7, 20171:10 pm
Next New Moon: Aug 21, 20171:30 pm
Next Moonset: Today9:52 pm
Current Moon Phase: Waxing Crescent
Illumination: 6.4%
Lunar Calendar
Moon Phase Tonight: Waxing Crescent
First Quarter: Jul 30, 2017 at 10:23 am
(Next Phase)
New Moon: Jul 23, 2017 at 4:45 am
(Previous Phase)
Source
Your Astronomy for Tuesday, July 25th
The Moon is in Leo until 6:32 AM, after which the Moon is in Virgo.
The Moon is waxing and in its New phase.
The New Moon occurred on the 23rd in the sign of Leo and the First Quarter Moon will occur on July 30th.
Mercury is in its pre-retrograde shadow (Mercury will be retrograde from August 12-September 5).
Mercury enters Virgo today (Mercury transits Virgo July 25-August 31 and then September 9-29).
Daily Astronomy Overview for Tuesday, July 25
The Moon continues its transit of Leo until 6:34 AM EDT when it enters Virgo. The Virgo Moon is practical and helpful. While we can find many things to do and we're busier than usual, it's easy to get into a comfortable routine. We want to be useful and productive, and focusing on details seems the best route to making headway. We are analytical, critical, and technical under the influence of a Virgo Moon. The details of daily existence capture our attention more than usual now, and in the coming weeks as well with Mercury's move into the sign today. Mercury will transit Virgo until August 31st and then again from September 9-29 — a longer stay than usual due to Mercury's upcoming retrograde from August 12th to September 5th. Mercury feels right at home in Virgo, one of the signs that it rules (the other is Gemini). We aim for more precision in our speech, thoughts, and methods during this cycle. We need to be careful that we don't lose perspective if we find ourselves lost in details. We should also be aware of the possibility of expressing ourselves in a too factual manner, so much so that we come across as dry, critical, or unimaginative. Otherwise, this is a useful transit, particularly for skill-building, organization, and analysis.
A void of course Moon occurs from 5:23 AM EDT, with the Moon's last aspect before changing signs (a conjunction to Mercury), until the Moon enters Virgo at 6:34 AM EDT.
The Sky This Week for July 25 to 30
Constellations, a crescent Moon, and other cool things to look for in the sky this week.
By Richard Talcott
Tuesday, July 25
The waxing crescent Moon stands some 8° to the upper left of the Mercury-Regulus pair this evening. Nine percent of Luna's face appears lit tonight, and the greater illumination combined with the higher altitude make it much easier to see than it was yesterday.
Wednesday, July 26
By the time morning twilight starts to paint the sky, brilliant Venus already dominates the scene. The planet rises around 3 a.m. local daylight time and stands 10° high at the start of twilight an hour later. It's hard to mistake Venus for anything else — at magnitude –4.0, it shines far brighter than any other object in the morning sky. Although the view with the naked eye or through binoculars is dazzling, you also should point a telescope in the planet's direction. Not only does Venus show an 15″-diameter disk that appears nearly three-quarters illuminated, but this morning also offers a bonus: The planet lies less than 1° south of the Crab Nebula supernova remnant (M1).
Mars reaches solar conjunction at 9 p.m. EDT, when it lies on the far side of the Sun from our perspective. The Red Planet will remain hidden in our star's glare until it emerges into morning twilight in September.
Thursday, July 27
As an inner planet, Venus moves quickly relative to the background stars. After passing south of M1 yesterday, this morning the planet appears 0.4° north of the 3rd-magnitude star Zeta (z) Tauri, the southern horn of the constellation Taurus the Bull.
Friday, July 28
The waxing crescent Moon appears about one-third illuminated this evening, when it lies just 3° above brilliant Jupiter. The two lie about 25° high in the southwest an hour after sundown and look spectacular from then until they set after 11 p.m. local daylight time. Although the naked eye and binoculars show this conjunction best, a telescope delivers great views of magnitude –1.9 Jupiter all week. The giant planet's disk spans 35″ and shows a wealth of detail in its massive atmosphere.
Saturday, July 29
Mercury pops out of the twilight glow this evening as the sky begins to darken. The innermost planet lies 27° east of the Sun tonight, its greatest elongation for this evening apparition (the configuration officially occurs at 1 a.m. EDT on the 30th). Look for it 30 minutes after sunset, when it lies some 8° above the western horizon. The innermost planet should be fairly easy to spot because it shines brightly, at magnitude 0.3. (Use binoculars if you can't see it with naked eyes.) Through a telescope, Mercury appears 8″ across and slightly less than half-lit.
The Southern Delta Aquarid meteor shower reaches its peak overnight, but meteor rates remain essentially the same from July 27 to August 1. And with the nearly First Quarter Moon setting around midnight local daylight time, early morning viewing conditions should be ideal. The meteors appear to radiate from the constellation Aquarius, which rises in late evening and appears highest in the hours before dawn. At its best, the shower produces 20 to 25 meteors per hour under a dark sky, though the highest rates occur at tropical locations and in the Southern Hemisphere.
Sunday, July 30
First Quarter Moon arrives at 11:23 a.m. EDT. Our satellite won't rise until around 1:30 p.m. local daylight time, however, so observers in the Americas won't see it precisely half-lit. As darkness falls this evening, the Moon appears about 55 percent illuminated and resides among the background stars of Libra the Scales.
Venus' rapid eastward motion relative to the background stars carries it from Taurus the Bull into Orion the Hunter this morning. The planet will reside in this non-zodiacal constellation for only two days, however, and will cross into Gemini the Twins on August 1.
Source
25 things to bring to the eclipse
You know to bring eclipse glasses and a camera, but here are some things you will also want to bring along.
By Michael E. Bakich

I drew up this list for people who will be traveling to see the eclipse but won't be part of an organized travel group. You might be planning to observe the eclipse alone, with friends or family, or at a public event. I wanted to provide a checklist of both common and unusual items that I'll be bringing along and that I think you should bring to the eclipse as well. Such an inventory could get out of hand quickly, so I limited it to 25 entries. They're not ordered in any special way except for items #1 and #2, which I consider the most important of all.
1. Sunscreen
When someone says, "solar safety," this is what I think of. So should you. And here's something to note: If your bottle of sunscreen is more than two years old, replace it. That's the standard shelf life for this product. If you see someone who has forgotten sunscreen, please be a peach and share. You also might want to bring an umbrella for some welcome shade.
2. Water
August 21 will be warm everywhere in the United States and hot in many places. Even large events may run out of this vital fluid. Don't leave home without it. If you're driving, bring at least a case of bottled water with you. For just a couple of bucks, you'll be guaranteed not to dehydrate.
3. Approved solar filter
Whether you use eclipse glasses, a homemade filter using solar Mylar, or a #14 welder's glass, you will need this to view the partial phases. Also, if you plan to view the partial phases through any equipment (binoculars, telescope, etc.), you will need approved solar filters — not eclipse glasses — for each of them.
4. Camera
You'll want to document the day and the activities surrounding the event. My advice remains firm, though: Do not photograph the eclipse! For those of you ignoring this sage wisdom, also pack a tripod.
5. Transistor radio
Some events (like the one in St. Joseph, Missouri) will be broadcasting as the eclipse happens. Others will be reporting eclipse-related news, including important items like traffic and weather. The nice thing about a radio is that the broadcast will come in no matter how many people are listening. That won't be true if you're relying on Wi-Fi or cell service. Make sure your radio's batteries are fresh.
6. Binoculars
This is a great way to get close-up views of the corona during the total phase of the eclipse. And during the half-hour or so prior to totality, you can scan the sky away from the Sun to try to locate Venus (and Jupiter from locations east of Idaho).
7. An eclipse guide
Several are available as books or e-books. You might, for example, check the selections at Astronomy's online store, http://www.myscienceshop.com.
8. Food or snacks
Certainly this isn't as critical as water; I mean, you're not going to starve. You probably will get hungry waiting for the eclipse to start, however. Don't assume your location will have food. We expect millions of people to flock to events along the center line. It's quite possible that even well-stocked stores and supply stands will sell out even before you arrive. Consider having some healthy snacks or premade sandwiches. Such items can help you avoid fast food and give you options in more culinary-challenged communities.
9. Medicine
Be sure you have any prescriptions you need to take with you. And some pain medication also is a good idea. Sometimes too much Sun gives certain people headaches, and too much standing for older folks can be painful. Which leads to . . .
10. Chairs
Bring at least one chair (fold-up varieties pack best) for each person in your party. Even if you attend an organized event, don't assume anyone will provide seats. Do assume that if there are seats, they will already have been taken. You're not going to want to stand for (a minimum of) three hours, and if you're like me, you don't do well lying on the ground. The best chairs you can bring let you sit upright or recline. Actually, if I weren't hosting an event, I'd bring the nice air mattress we keep for those occasions when several guests visit.
11. Toilet paper
Let's see, millions of people on the road, rest stops few and far between . . . you fill in the details.
12. Hand sanitizer
13. Extra eyeglasses
You won't forget the ones on your face, but something may happen to that pair.
14. Kids' stuff
I have no children, so I can't specify items. I can, however, advise you to bring whatever you will need to keep your offspring happy, comfortable, and occupied. Be aware that, in many locations, cellphone and Wi-Fi access may be limited or nonexistent. Bring along something that doesn't rely on wireless access to entertain your kids. You may discover, much to your chagrin, that your young children do not share your appreciation or awe for the eclipse. Obviously, you're a terrible parent. But don't worry; they'll be seven years older when the 2024 eclipse rolls around.
15. Broad-brimmed hat
This will keep the Sun off your head and face, and also your neck if the hat's brim is wide enough. You'll probably sweat, but that's a reasonable trade-off. Keep drinking water.
16. Power inverter
You can't plug most laptops or video players directly into a car. A small DC-to-AC power inverter will let your passengers play games or movies for the whole length of the trip without having to worry about draining the batteries in their devices. Another similar device is a car-lighter-plug-to-USB socket. Such adapters can operate or charge items that don't require much power, like cellphones.
17. Pillow
Actually, bring a pillow for every reclining chair you take along. Your passengers also might like to use these in the car if the ride is long.
18. Sunglasses
Remember, despite their name, sunglasses are not for viewing the Sun through. They are for providing eye comfort when you look at everything else.
19. Cash
If you meet me at the event I'm hosting in St. Joseph, Missouri, you can thank me with this. Seriously, some vendors at eclipse events may not take credit or debit cards, and, even for those who do, with the huge numbers of people in transit, paying with cash may save you some serious time.
20. Insect repellent
The farther along the shadow's path toward the southeastern United States you set up, the more important this item will become.
21. Phone
I list this mainly for completeness. Does anyone ever forget to bring a phone anymore? Certainly nobody under 35. Now, permit me one further note about this item. It's probable that at large events (especially in smaller towns), the number of people accessing their cellphones will overwhelm nearby cell towers. Be sure to tell anyone tracking your movements that you may be out of touch for a significant amount of time. If you need definite access to communication, consider renting a satellite phone for the weekend. I hope you don't need it, but a small investment will yield peace of mind.
22. Telescope
But reduce the hassle by bringing along only the minimum number of items to go with it. I won't detail them here because everyone's scope "kit" is different. Before you pack it, set up your scope either outside in the daytime or indoors, and verify that you have a complete system.
23. Astrophoto gear
If you're going to photograph the eclipse, you'll need more than a camera. Make sure you have whatever essentials you need. Keep these items together, preferably in the same bag or container as your camera. Check them twice, then have someone else check them while you watch.
24. Odd parts and tools
If you have a telescope, you'll understand what I mean. As an example, some of the things my kit contains are extra knurled knobs, an Allen wrench set, half a dozen small ziplock plastic bags, at least two each of three types of small clamps, a micro-screwdriver set (also useful for fixing eyeglasses), lens-cleaning paper, at least a dozen each of two sizes of plastic zip ties, extra hardware for any tripod-mounted setups I may attempt, extra solar filters, and, you guessed it, duct tape.
25. Personal items
You won't be hiking the Himalayas or venturing into the deep ocean aboard a submarine to experience this event. You'll have room for a few extras, especially if you're driving. If there's something that's especially meaningful to you and you want to bring it along, no harm done.
This list is originally from Astronomy Magazine's August 2017 special eclipse issue.
The Magick of Tuesday
Magickal Intent:
Courage
Binding
Protection
Achievement
Power
Initiation
Protection
Passion
Planet: Mars
Colors: Red, Orange
Crystal: Garnet, Ruby
Incense: Myrrh, Ginger, Cardamom
Plant: Cardamom
Today is Tuesday, July 25th
Tuesday is dedicated to the powers of the planet Mars, personified in Ares, Tiwaz, Tiw, Tuisco and Tyr. Tuesday rules controlled power, energy and endurance.
Deity: Tiwaz
Zodiac Sign: Aries
Planet: Mars
Tree: Holly
Herb: Plantain
Stone: Agate
Animal: Crab
Element: Fire
Color: White
Number: 2
Rune: Tyr (T)
Celtic Tree Month of Tinne(Holly) – July 8 – August 4
Runic Half-Month of Ur (primal strength) – July 14 – July 28
Goddess of the Month of Kerea – July 11 – August 8
Source
The Pagan Book of Days
Nigel Pennick
On Tuesday, July 25th, We Honor The Goddess Spider Woman
MANY CULTURES AROUND THE world believe that all of the world's creatures are connected by a strong, but delicately woven, web. The Pueblo Indians credit the spinning of this web of life to a creation goddess so potent that her true name is never spoken aloud. Some call this goddess Spider Woman. She is also honored as Thought Woman, because everything was created from her thoughts.
Spider Woman existed before the world existed. By spinning and chanting, she was able to create the four directions of the universe—north, south, east, and west. Within this sacred space, she produced her daughters, Ut Set and Nau Ut Set. Following their mother's directions carefully, Ut Set and Nau Ut Set made the sun, moon, and stars to banish darkness from the universe; they created these heavenly bodies from shells, turquoise, red rock, yellow stone, and clear crystal.
As she spun her web and thought, Spider Woman made all of life, including the mountains, lakes, oceans, and deserts. She also created the different races of people from differently colored clays. Finally, using a last thread of her web, Spider Woman connected each human being to her always.
Other Native American traditions acknowledge Spider Woman. She is a creatress to the Pima and Zia Indians. The Navajo believe she taught them how to weave. Among the Hopi Indians, who settled in what is now known as Arizona, she was one of the deities who created Poquanghoya and Palongawhoya; these powerful twins created the earth, with its bountiful fields, seas, and mountains.
Source
The Book of Goddesses: Expanded Anniversary Edition
Kris Waldherr
The Magickal Day of Tuesday
Named for the Norse god Tyr, who was a deity of heroism and combat, Tuesday is a very martial sort of day – color associations include bright red and oranges, as well as warrior-like metals such as iron and steel.
The ancient Romans called this day Martis, after the warrior god Mars – other deities associated with Tuesday include Ares, the Morrighan, and other gods of battle and glory. Red gemstones like rubies and garnets come into play on Tuesdays, as do herbs and plants such as thistles, holly, coneflowers and cacti – you'll notice these are all sharp, prickly plants!
One of the interesting – and more than a little amusing – aspects of Tuesday magic is that in addition to war and conflict against your enemies, this is a day also associated with marriage. You can also use this day of the week for magical workings connected to protection and initiation. Use Tuesday to assert yourself, make a mark and stake your claims
Source
Patti Wigington, Paganism/Wicca Expert
Article originally published on & owned by ThoughtCo.
The Witches Guide To Tuesdays
A god, goddess, or planet governs each day of the week. It is usually easy to spot the ruler of the day by its name. The word Tuesday, however, is not so easy, but if we look at the word in Spanish, Martes, we clearly see its connections to Mars.
Because Tuesday revolves around the energy of Mars, Tuesdays are good for business, mechanical things, buying and selling animals, hunting, beginning studies, gardening, sexual activities, and confrontation. This is a day for sex magick, energy, stamina, and health. As in the old saying, Tuesdays child is full of grace, is also good for success magick and defense against enemies.
Angels of Tuesday are Camael, Samael, Satael, Amabiel, Friagne, and Hyniel. When invoked, Camael takes the form of a leopard. In Druid mythology he is a god of war, which is why we see him associated with Mars. Camael is said to be a member of the "Magnificent Seven" in some circles. Camael is another "terminator" angel.
Samael walks both worlds as a magician and sorcerer. some see him as the angel of death, others as "the bright and poisonous one." Many consider him more of a demon, and accuse him of being Satan. However, there is reference to the satans (plural) as enforcers of the law, a sort of angelic police, if you will. Supposedly, when Samael is around, dogs howl in the night. On one hand, he is the ruler of the fifth heaven and in charge of two million angels; on the other, he is the one who changed into a serpent and convinced Eve to partake of the forbidden fruit of knowledge.
Satael is an angel of air invoked in magic rites and is the presiding spirit of the planet Mars. Amabiel is another spirit of the planet Mars; however he spends his energy on issues of human sexuality. Friagne, also an angel of this day, is invoked from the east. He is a member of the fifth heaven. Hyniel also belongs to this day and is subject to the east wind.
On Tuesdays the hour of sunrise and every eight hours after that are also ruled by Mars, and that makes these times of the day doubly blessed. These four hours are the strongest ones to do ritual in. Check your local newspaper, astrological calendar, or almanac to determine your local sunrise.
Source:
The Witches Almanac for Tuesday, July 25th
Illapa Festival (Incan)
Waxing Moon
Moon phase: First Quarter
Moon Sign: Leo
Moon enters Virgo 6: 32 am
Incense: Geranium
Color: Gray
Moon in Virgo
We instinctively gravitate towards practical activities under the influence of a Virgo Moon. In order to set things right, we might easily find ourselves re-organizing and rethinking plans. Emotional satisfaction comes from solving problems, making order out of confusion, and helping others. Health matters might come into focus. We notice the smaller parts that make up the whole, and instead of letting nagging details bother us, we might work on ironing them out so that we can feel more confident moving ahead.
The Moon in Virgo generally favors the following activities: Mental pursuits, work activities, services, and routines. Activities that would benefit from tending to details.
Correspondences for Tuesday, July 25th
Tuesday (Tiw's-day)
Planet: Mars
Colors: Red and Autumn Shades
Crystals: Bloodstone, Ruby, Garnet, Flint, Rhodonite, Iron and Steel
Aroma: Basil, Ginger, Black Pepper, Mars Oil, Dragon's blood and patchouli
Herb: Basil
The day of Mars. This day could only ever symbolize the sheer power of the god of war! The ideal spells to be cast on this day are that of force, power war and protection.
Dedicated to the powers of the planet Mars, personified as Ares, Tiwaz, Tiw, and Tyr.
Magical aspects: controlled power, energy, and endurance, passion, sex, courage, aggression, and protection.
This is the proper day of the week to perform spells and rituals involving courage, physical strength, revenge, military honors, surgery, the breaking of negative spells, dynamic energy, matrimony, war, enemies, prison, hunting, politics, contests, protection, victory, and athletics.
Tuesday Is Ruled By Mars
Tuesday is a Mars day, and just like the god of war, this is the time to tap into magicks to call for strength and courage. This day of the week is for rebels and warriors. If you are facing a challenge of any kind, need a boost to your courage, or want to enhance your passions, Tuesday is the day of the week for you. Some suggestions for Tuesday enchantments would include:
*Wearing the fiery colors associated with this day: scarlet, red, black, and orange. Don some of the more daring and bewitching colors of your wardrobe on Tuesdays and turn a few heads.
*Carrying a bloodstone in your pocket or wearing garnet-studded jewelry to reinforce your convictions
*Working with protective and fire-associated plants such as the snapdragon, thistle, and holly to boost your shields and bravery
*Burning spicy-scented energy-enhancing candles to add a little magical aromatherapy to your home
*Cooking up a hearty meal featuring carrots, peppers, and garlic (all Mars foods and spices) to empower yourself for victory and success
The Energy of Mars
Weekday ruled by Mars: Tuesday
Stones:
Bloodstone
Garnet
Carnelian
Pink Tourmaline
Herbs and Plants:
Red Rose
Cock' comb
Mugwort
Mullien
Nettle
Thistle
Wormwood
Magickal Intention: Courage, physical strength, revenge, military honors, surgery, breaking negative cycles, war, viltality, Assertiveness.
The Witches Magick for Tuesday, June 25th – Amaterasu Sun Goddess Ritual
You will need:
1 red candle to represent the goddess
1 candle to represent yourself in your preferred color
1 black candle to represent the shadow self
1 white candle
Round mirror or mirrors (makeup compact mirrors are okay)
Crystals, if desired
Cinnamon incense
Oils, such as Jasmine and/or Dragon's Blood
Cast your Circle; call in the Elements, 4 Directions, and the Higher Powers. Also your ancestors and guides, if you wish.
'Dress' or oil your candles. If you are going to carve anything on them though, do that first. On the red candle, carve an image of the sun. On the black candle, carve 'facing the shadow self' and 'releasing negativity'. You can use two black candles if you wish, up to you. You can carve your name on yours, and since the white one will represent Spirit or Enlightenment, you can carve that on it or just leave it blank. (The intent is always the main thing!) Put mirrors around to represent the sun goddess, and crystals such as white quartz or citrine, yellow topaz.
Light your candles. Put the white candle next to the black candle to represent illumination. Put your candle next to the goddess candle. Put mirrors and crystals around the candles.
Center yourself; then say this invocation three times.
INVOCATION TO AMATERASU
Amaterasu, bright Goddess of the Sun!
Shine upon us who call upon you!
Light the path before us,
Keep us safe in your warm comfort.
You who abhor violence and strife,
Please defend us from any evil ones
With your heavenly arrows.
Help us laugh like you did with Uzume,
As she did her funny dance for you!
Shed light on our shadow selves
So we can work through darkness within,
And find the love and joy we need.
…….
When you are through with the invocation, visualize bravely facing the shadows within yourself. Visualize light being shed upon any darkness within, and then coming out of a cave and into the light. You are greeted by your ancestors, guides and guardians, and surrounded with love. Amaterasu gives you a kiss on your forehead and gives you her blessing.
When you are through, go to the door and open it. Visualize yourself as guided, protected, and full of joy, and this going out into the Universe to manifest. Then say, "So Mote it Be!" Clap your hands and visualize any extra energy going into Mother Earth.
© Beth Clare Johnson (Mystic Amazon)
A Little Humor for Your Day – Signs That You Need More Room For Ritual
Your goals for ritual include finishing without knocking over the fire element.
You need to time your rituals to last no more than 1 hour, in order to not be suffocated by the one incense stick in the east.
Your familiar entering the circle pushes you out of it.
And your familiar is a dragon fly.
Your cauldron is a coffee cup and your altar is a dinner plate.
You must dance while sitting, so you don't trip over Freya.
You think your carpet has turned white, but then you realize it's the salt you used to mark the circle.
The last time you invoked the Horned One, you had to patch the ceiling.
The water element sunlight's a fishbowl, a drinking glass, and a sink, simultaneously.
Your coven is only three people, and you still have to leave your shoes in the hallway to make room.
You have to offer money to the Gods, because a steak or loaf of bread would take up too much space in the circle.
You have to fold the bed against the wall to fit the air element in.
Your rituals are all skyclad, after that nasty incident of an overanxious candle torching all the coven's robes at once last Lammas.
You're a Taurus, and you still think this situation must change.
You're a Scorpio, but you're developing a fear of candle fire.
You're a Gemini, but you have no indecision about the need for more room.
You're a Leo, and you're growing shy because it's your bedroom we've been practicing in.
You're an Aries, but you're now adept at dancing around numerous candles on the floor without burning yourself, for reasons of survival.
You're a Cancer, but you don't need to ask your mother if this is enough space. You know it's not.
You're a Virgo, and you can't manage to engineer the space in order to fit everyone.
You're a Libra, and you're firmly with Gemini on this one.
You're a Sagittarius, but the remains of the sea glass from the West at last Esbat which will still not leave your feet are starting to depress you.
You're a Capricorn and you are starting to dream of grand forests with acres of space, and a mansion to practice in on rainy days.
You're an Aquarius and the burning hair problem is starting to make you emotional.
You're a Pisces but you know that something's wrong.
You're a Discordian, but when asked if the problem needs to be fixed, you reply, "Yes, immediately! How about my place?"
You're a New Ager, but not even you believe another crystal will help.
You're an Old Wiccan, but have started using the chalice and wand for the Great Rite anyway.
You're a Neo Wiccan, but you've had to remove some of the rainbows and "Goddess loves us!" banners in order to make room for your name.
You're Asatru, but you're starting to consider putting some of your battle axes into storage.
Last time to walked to the West you flooded the place.
Casting a circle involves moving things out of the way.
Jumping over your bed is part of the spiral dance.
If the whole coven ever drew their athames to call the quarters, you would wind up with CSI: Between The Worlds.
You are openly Pagan but still can say you're in the closet.
Source
The Witches Current Moon Phase for Tuesday, July 25th
Waxing Crescent
Illumination: 6%
The Moon today is in a Waxing Crescent Phase. A Waxing Crescent is the first Phase after the New Moon and is a great time to see the features of the moon's surface. During this phase the Moon can be seen in the wester sky after the sun dips below the horizon at sunset. The moon is close to the sun in the sky and mostly dark except for the right edge of the moon which becomes brighter as the days get closer to the next phase which is a First Quarter with a 50% illumination.
Phase Details for – Tuesday, July 25, 2017
Phase: Waxing Crescent
Illumination: 6%
Moon Age: 2.32 days
Moon Angle: 0.53
Moon Distance: 376,973.35 km
Sun Angle: 0.52
Sun Distance: 151,941,683.83 km
Source
Weekly Forecast: July 23 – 29, 2017
The Karmic Tools Weekly Forecast covers the current planetary transits which affect people in different ways and to various degrees of intensity. Take notice when it is a Personal planet (Sun / Moon / Mercury / Venus / Mars) interacting with a Social (Jupiter/Saturn) or Collective planet (Uranus / Neptune/Pluto). And pay extremely close attention when it is a Social planet interacting with a Collective planet because that means something *big* is brewing that will move large groups of people along their evolutionary paths. Tuning into the energy and rhythm of the planets can serve as a useful *guide* as you move along your Individual Path. It also helps to understand your place within the context of the larger Social & Collective Story. Below, you will find out how these energies tend to manifest, as well as guidance and direction.
*NOTE* There are some days when there are NO CONTACTS (besides the Moon), please note that there are no missing entries, we just list the actual Activations of each week + the day they happen.  
Weekly Forecast:  July 23 – 29, 2017
7/24 ~ Venus (relationships & resources) ~oppose~ Saturn (physical limits & reality):
Where Sun opposite Saturn has you focused squarely on you, Venus opposite Saturn often illuminates the relationships you've magnetized (or repelled) in your life. It is here that I also like to remind folks how valuable midpoints can be as they give you a direct look back at your starting point, which offers unbelievable clarity about what you may be dealing with in the present moment. There is push-pull between your true values and the current reality of your relationships & your resources. You may find yourself questioning what (and who) is or is no longer of value or important to you. Or you may find yourself facing some hard and unavoidable personal truths. Do not feel sorry for yourself and do not take it out on others. It is time to take responsibility for making new choices here & now today, looking back will only trip you up. Challenges may center around commitments you've made out of obligation and/or a sense of duty, rather than because you actually wanted to contribute. You can use this energy & activation to align your reality with the values of your heart. Do not allow the anxiety associated with change to keep you from making some important decisions at this time. If you give in to your fears, you could get caught up in martyrdom and victim consciousness. Deciding what you want, committing to the work it will take to manifest your vision and getting to work! Saturn rewards deepened dedication & focus with tangible results. You won't regret it.
7/24 ~ Mercury (voice) ~trine~ Uranus (individuality):
This activation gives you access to your Higher Mind and opens the way for new, deeper insights that can guide & direct you at this time. Business as usual will not work, it's time to open up to the unusual, do something different, look at things from another angle and watch the ah-ha's start pouring in. Your intuition will be firing on all cylinders, giving you access to unprecedented clarity. While your thinking may lack discipline, your ability to access solutions to any recent (or long-standing) challenges will be off the charts. This energy will not be contained, even though it is generally all mental, you really will have a hard time keeping up with the ideas, thoughts, concepts & intuitions that come to you under this influence so try to take notes that you can refer to later when the grounding will be necessary. Pay attention to the messages that come through/from others as well since you never know how the Universe will show up. This alone is an indication that whatever your consciousness may not have been previously ready to assimilate or process is awakening now to that which is just for you!
7/26 ~ Sun (essential Self) ~conjunct~ Mars (desire):
This is the most potent combination of 'who you are' and 'what you want' joining forces and increasing the power. The blessing of this energy is that if you are clear on those two points, you will have immense energy to pursue your goals & aspirations, both personally & professionally. Do not waste the opportunity to tap in to this energy which can, and most likely will, propel you to the next level. This energy can/will only make you irritable and argumentative if your ego is engaged and your insecurities become overwhelming. It would be much more productive to take some time alone to assess how you could improve things for yourself and begin that process, fully supported by this potent, creative, fiery energy.
Mercury in Virgo
Minds and words are sharp as Mercury transits critical Virgo
---
Put on your thinking cap and make sure it's adjusted perfectly — communication planet Mercury moves into critical Virgo on July 25, 2017! Mercury in Virgo signals a time when our minds are sharp, our speech becomes precise, and we're able to communicate with others more efficiently.
Until Mercury turns retrograde on August 30, we'll be thinking in much more practical terms. Whereas Mercury in Leo was more playful and chatty, Mercury in Virgo has no time for idle chit-chat. This transit is about analyzing ideas until they're perfected and speaking seriously about most matters.
Virgo is Mercury's home sign (along with Gemini), so the communication planet feels comfortable here and is ready and willing to think clearly, get organized and manage complex projects. It's not necessarily the most imaginative or fun transit Mercury makes, but it's definitely productive!
Top dos and don'ts for Mercury in Virgo:
Do solve problems — Break out the Sudoku! Analytical Virgo is great at taking an existing problem and working it over and over until … POOF! The problem is solved!
Don't be narrow-minded — Mercury in Virgo enhances focus and critical thinking, but be careful you don't become overly critical and way too picky about everything during this transit.
Do perform an act of service — Virgo is the sign of service, and with communication planet Mercury transiting this sign it's the perfect time to speak out or write a letter on behalf of a person or organization you're passionate about.
Don't bite someone's head off — Mercury is crisp and efficient in Virgo, with no time for unnecessary pleasantries. Remember to be polite, even if you are in a hurry to get to the point.
Do learn something new — Mercury in Virgo is a made for learning! Take a class, enhance your knowledge or practice skill-building now, while your mind can best absorb new knowledge.
Don't neglect your imagination — Mercury is so practical in Virgo that it's likely your creativity and imagination could become blocked. Do what you can now to give yourself an extra boost in creativity through books or movies or anything that gets you out of your head for a while.
Part of the Daily Insight Group ©2017
Your Daily Horoscopes for Tuesday, July 25th
Aries
While you've been very focused on injecting more fun or romance into your life recently, dear Aries, the Moon moves into your work and health sector this morning, and you are geared up to get some sorting and organizing done. Mercury enters this same sector today, but while the Moon stays here for just over two days, Mercury stays until August 31st and then again from September 9-29. This gives you plenty of time to take care of business. It's an excellent period for attention to details, running errands, and organizing your work and routines. If you need to brush up on skills or gain specialized knowledge, this is an excellent period for doing so. The technical side of a topic can be appealing now. You may do some information gathering related to diet and health. Crafts, writing, specialized disciplines, and services can thrive now. Watch for a tendency to over-analyze, criticize, or worry about health.
Taurus
The Moon moves into your creative sector this morning, dear Taurus, and you can be in the mood for some fun and games. The next couple of days are excellent for letting the child within come out to play. Mercury also enters this sector of your solar chart today, but while the Moon stays here for just over two days, Mercury will be here for over a month. In the weeks ahead, you take a greater interest in games, creative expression, the technical side of creative projects or art, and craftsmanship or hobbies. Intellectual creativity can be in strong focus in the coming weeks. Romance with someone younger can be in focus for some of you now. Relationships can be very verbal, and others are likely to find your ideas particularly appealing.
Gemini
The Moon moves into your home and family sector this morning, dear Gemini, awakening a need for extra rest, time at home or with loved ones, and familiar places and faces. Mercury moves into this same sector, and while the Moon stays here for just over two days, Mercury will influence this area of your solar chart for over a month. This can mean you're talking and thinking about (and with) family far more than usual in the coming weeks, or there can be more activity (primarily mental) in your home environment. You tend to look at problems from their root or origin, and this means you may take a little more time to come to decisions, but when they do come, they're likely to be well-considered ones. You can be doing more reflecting on emotional issues from the past and your relationship with parents and siblings. This is more than mere reminisce — you're inclined to want to sort things out and make sense of everything.
Cancer
The Moon moves into your sector of communication this morning, dear Cancer, and for the next couple of days, you're particularly interested in talking and thinking about your feelings and attachments. Mercury moves into this same sector but for a longer stay — until August 31st and then returning from September 9-29. During these cycles, you're in particularly good shape for learning new things and brushing up on skills, connecting with the information you need or want, and making contacts. Your analytic ability and interest increase many times over during this transit. You may very well discover a new interest or passion, and with Mercury's upcoming retrograde beginning on August 12th, this can be about rediscovering a past interest and reviving it. This can be a time when you're particularly curious, and you seek out variety. Gossip and news can be in stronger focus. For some, this can be a time of extra media contact.
Leo
The Moon enters your solar second house this morning, dear Leo, and while in many ways you are feeling spirited and independent, this two-day transit is good for catching wind and grounding yourself emotionally. Mercury also moves into this sector of your solar chart today but will spend much longer here — until August 31st and then again from September 9-29. This is a fabulous time for sorting out your financial affairs and business matters. The second house reflects your talents and potential sources of income, and Mercury here finds ways to put these resources to good use. You may be able to make money through communicating, teaching, publishing, and connecting. This is a time for clarifying your financial position and, on another level, your self-worth or fundamental values. It's a time for working smartly and for great resourcefulness.
Virgo
The Moon moves into your sign this morning, dear Virgo, adding more color to your emotional life and motivating you to connect with others and express yourself. Mercury also moves into your sign today, but while the Moon stays here for only two days, Mercury will be in Virgo far longer: until August 31st and then again from September 9-29. This transit gives you a stronger voice and a bigger reason to want to express your ideas. You'll be making more executive decisions, and you're likely to find decision-making far more clear-cut in the weeks ahead, although Mercury's upcoming retrograde period (starting August 12th in your sign) suggests some hesitancy or looking back is in order. This is an inventive time when others notice you for your intelligence, wit, versatility, adaptability, and good humor. News and things you read or learn now affect you more powerfully than usual.
Libra 
The Moon moves into your sector of privacy, retreat, and reflection this morning, dear Libra, and this is a time for catching your breath, looking back, and doing some important thinking. Mercury's move into this same sector today elevates and extends these themes for many weeks ahead. In fact, Mercury's transit of this sector of your solar chart lasts until August 31st, and it returns from September 9-29. Your imagination is keen during this cycle, and you're seeing ordinary things a little differently at this time of the year — from an emotional or intuitive perspective. You might benefit from extra time spent alone or in private for mental tasks such as writing, reading, or contemplating. Talking with people anonymously or about private matters may figure strongly now. For some of you, it can be a time for wrapping up a significant project.
Scorpio
The Moon enters your social sector this morning, dear Scorpio, and as much as you're focused on achievement and accomplishment, you can benefit from a brief change of focus. This is a good time for spending time with friends or in situations where you don't feel any pressure to perform, as this can refresh you. Mercury also moves into this sector of your solar chart today, and while the Moon spends just over two days here, Mercury will stay longer — over a month. Your thinking is progressive and inventive during this cycle. It can be an excellent time for objective thinking and decision-making. Communications with friends, associates, or groups increase. There can be a stronger mental focus on long-term happiness goals, your social life, and your contributions. Others are especially interested in your ideas and input.
Sagittarius
The Moon moves to the top of your solar chart this morning, dear Sagittarius, and you can be particularly invested in your work, reputation, or long-term goals today and tomorrow. This is a time for assessing your performance and looking for ways to improve it, if necessary. Mercury also moves into this sector of your solar chart today and will stay there much longer than the Moon — until August 31st and then from September 9-29. This is a time for smart planning or for making full use of your ideas and intelligence to get ahead in your career. It can also be a time for more activity with the public. You may be doing more communicating, commuting, and information gathering in your career, or you may gain recognition for your ideas and advice. Networking can thrive, but it's also important to note that your words have more impact at this time, so choose them carefully!
Capricorn
The Moon moves into your solar ninth house this morning, dear Capricorn, and this serves to pull you out of an introspective phase. You're inclined to want a change of scenery or a change of pace — or both! You're looking for a little more excitement than usual. Growing something, whether it's a business, project, a perspective, or your mind, is especially attractive right now. This Moon transit lasts just over two days, but Mercury moves into this same sector today and will influence you for far longer — until August 31st and then again from September 9-29. It's a beautiful time for teaching, disseminating knowledge, sharing ideas, broadcasting, publishing, and otherwise spreading the word. You have a stronger sense of future trends during this cycle. You're inclined to look for new interests or to broaden your knowledge now.
Aquarius
The Moon moves into your solar eighth house this morning, dear Aquarius, and while you've been more active and open with others these days, this brief, two-day transit suggests a need for more depth in your relationships and projects or the desire for more introspection. Mercury also moves into this sector of your chart today and will stay far longer — until August 31st. During this upcoming cycle, you're in a great position to think and talk through matters of sharing, finances, psychology, and intimacy. It's a wonderful time for researching a matter further or delving into a pet project and thoroughly enjoying the process and your discoveries! At times, you may be a little too focused on or even a bit obsessed with certain topics and ideas, but in moderation, this can be a powerful time for moving a project along or learning important things about yourself and your relationships.
Pisces
This morning, the Moon moves into your partnership sector, dear Pisces, at the opposite side of your solar chart, challenging you to see your life from a different perspective. A partner or good friend can be in stronger focus, and your desire for companionship or simply good company increases. Mercury also moves into this sector of your solar chart today, but while the Moon stays here for only two days, Mercury hangs out for far longer — until August 31st and then from September 9-29. This is a time for seeking out intellectual companions. Communications with others assume far greater importance in your life. It's a good time for counseling and advising, whichever side you happen to be on. You'll find that conversations with others tend to jumpstart your thinking processes.
If You Were Born Today, July 25
You have a wonderful sense of fun and a way with words. Playful, unique, and respectable all at once, you can be well-liked, and more so as you mature, probably because you retain a youthful playfulness throughout life. Even so, there is an element of mystery surrounding you, and others might sense that there is more to you than meets the eye. You do have a developed spiritual side that is not always obvious. Certainly, you are an idealist and prefer to see the best in people, which of course can also lead to some ups and downs or disappointments in your social or love life. Even so, you are not one to become bitter.
Famous people born today: Estelle Getty, Matt LeBlanc, Iman, Brad Renfro, James Lafferty, Jack Gilford.
Get A Jump On Tomorrow……
Your Daily Horoscopes for Wednesday, July 26
Aries
You can feel rather excited or restless now, dear Aries, as the Sun and Mars join in your solar fifth house. Fifth house matters are potential areas for stimulation, impatience, or thrills, and they include romance, relationships with children, recreation, sports, creativity, and self-expression. The desire to have more fun is strong these days, but is insistent today! It can be a highly-charged and animated time. Ideally, you can rise above the impulsiveness or rashness of this combination and instead tap into its bravery and confidence. Inner stores of courage are readily accessible now. It's a fantastic time to follow your passions, but do so mindfully, and be sure you know what they are. Don't let unrest blur your real desires. You are very attractive to others now, particularly when you're taking the lead.
Taurus
There is extra energy with you today, dear Taurus, and this can reach a level of combust or, if you find the right channels to express it, a more courageous and bold approach to your life that opens up doors. The Sun-Mars conjunction responsible for this increase in energy happens in your home and family sector and in a sign that conflicts with yours, pointing to possible frustration. Watch out for ego-driven conflicts and impatience to push something forward prematurely. Be direct but also sensitive to others' feelings, as difficult as this may be today. You may be coming across as brusque, but you are more sensitive than usual, and you may not be prepared for others' reactions! You may be moved to defend a loved one today. Aim to do a household project or invigorating activity with family now for best results. Being active and productive is the most satisfying use of today's energies.
Gemini
The Sun and Mars come together in your communications sector today, dear Gemini, and your enthusiasm to get things done, succeed, and excel is through the roof, particularly when it comes to learning, sharing, and connecting. Do watch out for impatient or pushy words and aggressive moves now, as these can be cause for regret. Something that's communicated can get you all riled up! Slow drivers or walkers, or simply people and things in your way, can be hard to take at the moment. You tend to speak before thinking, as well as to come across as a tad impetuous or even antagonistic. Try not to voice your unsatisfied desires if they've come on suddenly — give them time. Throw excess energy into pet projects, courageous moves, making contact, or following through on a missed connection.
Cancer
The Sun and Mars align in your resources sector today, dear Cancer. This energy has been teased for a few days now, and it's finally coming together. You can accomplish a lot as long as you tap into the bravery, courage, initiative, and enthusiasm of this combination, particularly related to your income, business matters, and talents or other resources and assets. Be self-aware and try, as much as possible, to avoid the egocentric, impatient, and rash side of this combo. Impulsive spending is a potential problem for some of you now. You may very well need to take a risk, but the more aware of your needs that you are, the better judge you are of your next move. Very much like driving, you need to scan what's behind, beside, and ahead of you to make the right decisions when the need to do so comes on suddenly. For some of you, business or money matters move forward or require action. You feel strongly about what you're worth. Defend yourself if necessary, but don't lash out unnecessarily.
Leo
Your ruler, the Sun, aligns with fiery, action-oriented Mars today, dear Leo. This combustible energy has been teased for a few days now, and can point to increased courage and energy, or, if you're not careful, you could blow it by acting childishly or impatiently. While it can be an excellent day for pushing forward with personal plans, it's important to be as self-aware as possible. Get a good look at what's happening around you and what you feel so that if you need to make quick decisions, you'll be in the right headspace. Taking charge, taking the lead, and being direct and straightforward are all favored now, but it wouldn't hurt to tone things down if you're feeling hot and bothered. Confidence is attractive; impatience leads to poor choices. Doing your own thing can be rewarding now that you have more confidence and energy. This is a particularly strong time for solo efforts.
Virgo
The Sun and Mars just recently entered your privacy sector, and today they're joining forces, dear Virgo. This alignment happens in the sector of your solar chart that rules secrets, privacy, service, charity, self-undoing or self-sabotage, anonymity, and endings. Feelings about the past or a private matter have been complicated recently, but with this alignment, you can have a sudden surge of desire to put a problem behind you, rid yourself of a burden, or bring an end to a situation that's been dragging you down. Of course, this can be a great thing. You're courageous, in charge, and taking care of yourself and your needs. Watch, however, for acting too quickly on a matter or for chasing a desire that is not an accurate reflection of your wants. Anger that you've buried or hidden can now emerge, and you feel strongly about doing something about it, once and for all!
Libra 
The Sun and Mars have been moving through your social sector, firing you up, dear Libra, and today they come together, prompting you to take action. Of course, you'll want to be as self-aware as possible for this, because this energy can come on quickly and demand a fast answer. Your social life is likely to be very animated. Excitement can be stirred but so can competitiveness or aggression, so be mindful of your choices. If a change is needed in a friendship, this can be a time when the issue is forced. On the other hand, it can also be a time for getting the courage to reach out to someone. You might assume a leadership role in a group or take a courageous step in your social life. This combo demands activity and movement as well as a say about how to achieve your goals. It can also be a time for partnering up with someone special.
Scorpio
The Sun and Mars recently reached the top of your solar chart, dear Scorpio, and this can be one of the most ambitious times of the year. You're in an excellent position to take charge of your life. You want to stay on top of matters and reach for something better for yourself now. The Sun and Mars align today — something that's been teased for several days now — and you can feel a real surge of desire to take action. However, be careful that you don't push something or someone too hard (or too early). Draw upon the courage and initiative of the combination, and avoid the rash, impatient, and egocentric side of it as much as you can. Your performance is in the spotlight, and you're making a huge impact. Activity increases involving career, reputation, or relationships with parents and authority figures. You have a desire to do things your way, and that's great, but watch for a runaway ego. You're showing a more confident, braver, and bolder image to others now.
Sagittarius
With the Sun and Mars in alignment today in your sector of learning, expansion, and beliefs, dear Sagittarius, you may feel a strong desire to stand up for your ideas or to state your case. You may be craving more activity and life experience, as well as a change of pace. You might get the courage to pursue a goal that you've wanted for some time. Travel, publishing, promotion, announcements, education, and learning can be part of this story. The desire to pick up and leave or for an adventure can take hold now. Certainly, the routine is looking mighty dull right now! Competitive activities can thrive, and these include those of the physical and mental variety. Watch for the seeking of instant gratification which can distract you from genuine desires and needs. Also, watch for attempting to win at all costs! This can, however, be an excellent time for personal appeal and charisma, particularly with people or in situations that are unfamiliar or exotic in some way.
Capricorn
The Sun and Mars come together in your intimacy sector today, dear Capricorn, and this stirs up all sorts of desires from deep within. When these two bodies join forces, they stimulate courage and impulse but sometimes rashness as well, so aim to be mindful of what you're pursuing and what you genuinely want. This alignment happens in the area of your solar chart that rules intimacy, sharing, money or assets shared with others or received through others, attachments, and self-empowerment. You may suddenly get a push or impulse to pursue these things, or there can be an argument stimulated now revolving around power dynamics. Mars rules your home sector, so the impulses you experience now may be family or home-related. Your hunger for emotional and physical stimulation runs high now, and it makes sense to listen to your desires but choose wisely when it comes to putting them into action. A new business, money, or intimate relationship may emerge now.
Aquarius
The planet of action, Mars, aligns with the influential leader, the Sun, in your relationship sector today, dear Aquarius, and high energy is brought to a partnership. This influence may be about you getting the courage to pursue a companion, or it may be about a strong need to take action in a relationship. Others are bringing out strong feelings and desires in you, and conflicts entered into now may serve as a useful reflection of your own desires for action and reaction. Or, someone may be trying to take the lead in your life. Conflicts are possible, particularly if you don't know where to direct excess energy now. Pairing up to get something done can come naturally and can be very stimulating. However this combination plays out, it's  likely to be an animated day in which impulses rule over the head. Follow your instincts to a certain point, but avoid throwing all caution to the wind. This is a potentially excellent day for going after what (or who!) you want.
Pisces
A dynamic combination of the Sun and Mars brings high energy and excitement to the sector of your chart that rules health, routines, and work, dear Pisces. You might experience this as a strong desire to start or step up a fitness or health program, ambition and enthusiasm about your job or services, or a strong desire to get organized and in better shape. Do what you can to avoid the downside of Sun-Mars where impatience, haughtiness, and ego get in the way of its clear benefits, which are courage, initiative, drive, and vigor. Being active or taking on an active role today is best. Otherwise, excess energy can lead to impatience or brusqueness with others and unnecessary stress, particularly with work and the people you spend time with as you pursue your daily goals. You'll want to take the lead now, and this may be at the root of frustration. Channel all of this dynamic energy into beneficial pursuits.
Tarot Card of the Day
Seven of Coins
---
July 25th, 2017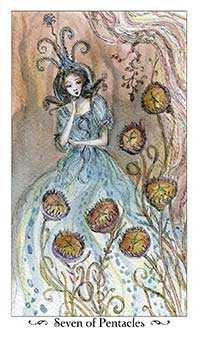 The Seven of this suit is typically a paean to the humble laborer who is willing to show up every day and sweat in the sun for next season's bounty. The traditional concept is cultivation, with an attitude that slow and steady wins the race, with faith in nature's assistance. The protagonist of this card doesn't make excuses, isn't whimsical or moody, but is dedicated and sees the job through. Of course, it's no good to count your chickens before they hatch, but there's no question that the person who is vigilant over a project is more likely to get the desired result.
Someone who works with nature, cooperating with her ways, will waste less energy and time than the person who works against her. As a side meaning, we sometimes see this normally humble farmer in a moment of frenzy, betting the crop on a roll of the dice. This represents a moment of dementia, addiction or desperation which hopefully will not last long enough for the farmer to lose everything!
Daily Love Tarot
The Sun
__________________________________________
July 25, 2017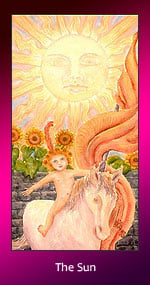 The Sun is an invitation to a supportive relationship in which you can be yourself around your significant other. You feel relaxed and loved, with a sense of peace of heart. You've struck gold and entered into a new realm. Keep looking if this is not how you feel because it is how things should be. You can't expect improvement in a long-term union if you do not take effective steps to create it.
Your Erotic Tarot
The Judgement
_________________________________________________
July 25, 2017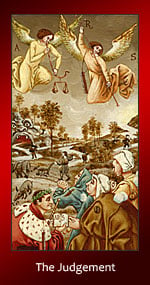 The Judgement card represents a sexual awakening, and now that you aren't afraid to move in a new direction, a whole new world awaits you. What sex positions do you want to try, and which fantasies have you been dying to act out? Being honest with yourself and potential partner(s) about the details of what you desire will help you get what you want faster, and the end result will be much more satisfying. And above all, enjoy your sexual liberation!
Your Daily Rune for Tuesday, July 25
Mannaz
"Man-az" – Literally: "Mankind"
Esoteric: Humankind, awareness
Rune of the Divine structure of intelligence in the human soul or psyche. Rune of the horizons of human existence and collective potential.
Psi: mind & memory (Hugin & Munin), the difference between human and all other life, development of the intellect, rational mind, perfected intelligence
Energy: psychic order of the gods reflected in humankind, projection of Self into time
Mundane: thinking, planning, analysis, the human condition, people at large (contemporary: the masses)
Divinations: Divine structure, sustainability, intelligence, awareness, social order, divine influence in life; or depression, mortality, blindness, self-delusion, collective suicide, bigotry, elitism, intellectual arrogance.
Governs:
Self-Actualization
Realization of the divine structure in humankind
Increase in intelligence, memory and mental powers (passing tests)
Unlocking the third-eye hvel, the "mind's eye"
Activating the dynamics of your own inner Christus, or Higher Self
Awareness of our roles as co-creator with the gods and nature
Mental and spiritual potential
Your Animal Spirit Guide for Tuesday, July 25th
The Falcon
The Wisdom of the Budda
To be idle is a short road to death and to be diligent is a way of life; foolish people are idle, wise people are diligent.
A Little Thought from Me to You…….
I pledge allegiance
to the Earth
Of our Beloved Solar System
and to all
of Her creatures
for here they dwell
One planet
united in harmony
with universal love
and compassion for all.
—2016 livingsky.org
For all Your Magickal Needs, Think Magickal Necessities….
Save