The Witches Digest No. 5
Thursday, July 20, 2017
Witches Affirmation
A witch is…
One who has power over her/his own life
One who makes his/her own rules, but can abide by the rules of Nature
One who refuses to submit to self-denial
One who recognizes no authority with greater esteem than her/his own, who is loyal to self
One who is untamed and tamed
One who transforms energy for the good of all
One who can be passionate about her/his ideals and values as they are changing
One who is explosive, whose intensity is like volcanoes, floods, winds, and fire
One who is disorderly and orderly
One who is ecstatic
One who alters reality
One who says, "I am a witch" aloud three times
"I am a witch"
"I am a witch"
"I am a witch"
The Sun & Moon Data for Thursday, July 20th
The Sun
Sun Direction: ↑ 83.27° E
Sun Altitude: 26.36°
Sun Distance: 94.456 million mi
Next Equinox: Sep 22, 2017 3:01 pm (Autumnal)
Sunrise Today: 5:50 am↑ 63° Northeast
Sunset Today: 8:10 pm↑ 297° Northwest
Length of Daylight: 14 hours, 20 minutes
The Moon
Moon Direction: ↑ 118.76° ESE
Moon Altitude: 57.80°
Moon Distance: 225107 mi
Next New Moon: Jul 23, 20174:45 am
Next Full Moon: Aug 7, 20171:10 pm
Next Moonset: Today5:32 pm
Current Moon Phase: Waning Crescent
Illumination: 11.7%
Lunar Calendar
Moon Phase Tonight: Waning Crescent
New Moon: Jul 23, 2017 at 4:45 am
(Next Phase)
Third Quarter: Jul 16, 2017 at 2:25 pm
(Previous Phase)
Reference
Astronomy for Thursday, July 20
The Moon is in Gemini all day.
The Moon is waning and in its Third Quarter phase until 12:10 AM, after which the Moon is waning and in its Waning Crescent phase.
The Last Quarter Moon occurred on the 16th, and the New Moon will occur in Leo on the 23rd.
Mars enters Leo today (Mars is in Leo from July 20-September 5).
Moon in Gemini
The Moon is traveling through witty Gemini today. Call, text, send email, write letters. Visit someone you've missed. Watch a movie and talk about it at a coffee shop. Get out and about. Don't sleep in.
Our instincts are to communicate, think, and learn under the influence of Moon in Gemini. We are motivated by a desire for variety and by an instinctive curiosity. The Moon in Gemini is light-hearted, breezy, and curious, but it can also be restless and fickle.
The Moon in Gemini generally favors the following activities: Mental and communicative actions, and more than one activity at once. Reading, learning, letters and emails, errands, writing, teaching, making connections, short trips.
The Sky This Week for July 20 to 23
An asteroid in a constellation, a meteor shower, and other amazing things to look for in the sky this week.
By Richard Talcott
Thursday, July 20
Early risers should be on the lookout for this morning's spectacular conjunction between Venus and the waning crescent Moon. The two rise around 3 a.m. local daylight time and come to dominate the eastern sky by the time twilight begins an hour later. Brilliant Venus shines at magnitude –4.1 just 3° to the upper left of the 12-percent-lit Moon. If you view the planet through a telescope this morning, it shows a 16″-diameter disk that appears 70 percent illuminated.
Friday, July 21
Perhaps no month better epitomizes summer in the Northern Hemisphere than July. And this month finds the season's namesake asterism, the Summer Triangle, on prominent display. The trio's brightest member, Vega in the constellation Lyra the Harp, stands nearly overhead shortly before midnight. The asterism's second-brightest star, Altair in Aquila the Eagle, then lies more than halfway from the southeastern horizon to the zenith. Deneb, the luminary of Cygnus the Swan, marks the Summer Triangle's third corner. Although it is this asterism's dimmest star, it's the brightest point of light in the northeastern sky.
The Moon reaches perigee, the closest point in its orbit around Earth, at 1:12 p.m. EDT. It then lies 224,462 miles (361,236 kilometers) from Earth's center.
Saturday, July 22
Pluto reached the peak of its 2017 appearance last week, and it remains a tempting target for those with an 8-inch or larger telescope. The 14th-magnitude world is visible all night among the background stars of northeastern Sagittarius, some 1.8° east-southeast of 3rd-magnitude Pi (p) Sagittarii. See "In pursuit of Pluto" in the July Astronomy for complete details on finding this world.
Sunday, July 23
New Moon occurs at 5:46 a.m. EDT. At its New phase, the Moon crosses the sky with the Sun and so remains hidden by our star. But that won't be the case the next time our satellite completes an orbit of Earth. On August 21, the New Moon will pass directly in front of our star, bringing a total solar eclipse to millions of observers across the United States from Oregon to South Carolina. The rest of the country will experience a partial eclipse, though viewers should try their best to get into the path of totality
Reference
Two dozen tips for the August 21, 2017, total solar eclipse
Posted by Michael Bakich
You know, I've served as a tour guide to 10 total solar eclipses. During my conversations and lectures, I've given people lots of advice. So, I thought why not repeat some of it here? I therefore present my top 25 tips related to the United States' 2017 eclipse.
1. Take eclipse day off — now!
You may think three years is a bit of a long lead time, and, unless you work for a magazine called Astronomy, it may be. The point I'm making is that August 21, 2017, may turn out to be the most popular vacation-day request in history. If not now, figure out the earliest date that makes sense for you to request August 21 as a vacation day, and mark it on your calendar.
2. Make a weekend out of it
Eclipse day is a Monday. Lots of related activities in locations touched by the Moon's inner shadow will occur on Saturday and Sunday. Find out what they are, where they're being held, and which you want to attend, and make a mini-vacation out of the eclipse.
3. Attend an event
Trust me when I say you'll enjoy the eclipse more if you hook up with like-minded people. If you don't see any special goings-on a few months before August 21, call your local astronomy club, planetarium, or science center. Anyone you talk to is sure to know of eclipse activities.
4. Get involved
If you interests include celestial events and public service, consider volunteering with a group putting on an eclipse event. You'll learn a lot and make some new friends in the process.
5. Watch the weather
Meteorologists study a chaotic system. Nobody now can tell you with absolute certainty the weather a specific location will experience on eclipse day. And don't get too tied up in the predictions of cloud cover you'll see for that date. Many don't distinguish between "few" (one-eighth to two-eighths of the sky covered), "scattered" (three-eighths to four-eighths), or "broken" (five-eighths to seven-eighths) clouds and overcast. You need to dig deeper.
6. Stay flexible on eclipse day
Unless you are certain August 21 will be clear, don't do anything that would be hard to undo in a short time. For example, let's say you're taking a motor home to a certain city. You connect it to power, hook up the sewage hose, extend the awnings, set up chairs, start the grill, and more. But if it's cloudy six hours, three hours, or even one hour before the eclipse starts, you're going to want to move to a different location. Think of the time you would have saved if you had waited to set up. Also, the earlier you make your decision to move, the better. I only can imagine what the traffic might be like on eclipse day.
7. Don't plan anything funky
Totality will be the shortest two and a half minutes of your life. All your attention should be on the Sun. Anything else is a waste. And be considerate of those around you. Please, no music.
8. Pee before things get going
Yes, I could have phrased this more politely, but I wanted you to read it. And, trust me, you'll thank me for this tip above and beyond any other on this list. Don't wait until 10 minutes before totality to start searching for a bathroom. Too much is happening then. Make a preemptive strike 45 minutes prior.
Perhaps as much as 30 minutes before totality, someone in your group is likely to have spotted brilliant Venus.
9. Notice it getting cooler?
A point-and-shoot camera that takes movies will let you record the temperature drop. Here's a suggestion: Point your camera at a digital thermometer and a watch, both of which you previously attached to a white piece of cardboard or foamcore. Start recording video 15 or so minutes before totality and keep shooting until 15 minutes afterward. The results may surprise you.
10. Watch for the Moon's shadow
If your viewing location is at a high elevation, or even at the top of a good-sized hill, you may see the Moon's shadow approaching. This sighting isn't easy because the shadow is moving at more than 1,000 mph (1,600 km/h). Another way to spot the shadow is as it covers thin cirrus clouds if any are above your site. Again, you'll be surprised how fast the shadow moves.
11. View the 360° sunset
During totality, take just a few seconds to tear your eyes away from the sky and scan the horizon. You'll see sunset colors all around you because, in effect, those locations are where sunset (or sunrise) are happening.
12. Get a filter in advance
Cardboard "eclipse" glasses with lenses of optical Mylar cost about $2. Such a device — it's not a toy — will let you safely look directly at the Sun. It filters out most of the light, all of the dangerous infrared (heat) and ultraviolet radiation, which tans our skin. Buy one well in advance, and you can look at the Sun anytime. Sometimes you can see a sunspot or two. That's cool because to be visible to our eyes, such a spot has to be larger than Earth. Another safe solar filter is a #14 welder's glass, which also will cost you $2. Wanna look cool at the eclipse? Buy goggles that will hold the welder's glass. I've even seen people wearing whole helmets. Either those or goggles serves one purpose — you won't need to hold the filter, so you can't drop it.
13. No filter? You can still watch
Except during totality, we never look at the Sun. But what if you've forgotten a filter? You can still watch by making a pinhole camera. It can be as simple as two pieces of paper with a tiny hole in one of them. (Try to make the hole as round as you can, perhaps with a pin or a sharp pencil.) Line up the two pieces with the Sun so the one with the hole is closest to it. The pinhole will produce a tiny image, which you'll want to have land on the other piece of paper. Moving the two pieces farther apart will enlarge the Sun's image but will also lessen its brightness. Work out a good compromise.
14. Bring a chair
In all likelihood, you'll be at your viewing site several hours before the eclipse starts. You don't really want to stand that whole time, do you?
15. Don't forget the sunscreen
Most people who go outside during the summer know this. Remember, you'll be standing around or sitting outside for hours. You may want to bring an umbrella for some welcome shade. And if you see someone who has forgotten sunscreen, please be a peach and share.
16. Take lots of pictures
Before and after totality, be sure to record your viewing site and the people who you shared this great event with.
A Sunspotter solar telescope by Learning Technologies (and sold through a variety of dealers) provides a sharp image of the Sun that many people can view simultaneously.
17. The time will zoom by
In our August 1980 issue, author Norm Sperling contributed a "Forum" in which he tries to convey how quickly totality seems to pass. You can read it here.
18. Bring snacks and drinks
You're probably going to get hungry waiting for the eclipse to start. Unless you set up next to a convenience store, consider bringing something to eat and drink. And keep in mind that August is warm. A cooler with ice-cold drinks is a great idea.
19. Nobody you meet will have seen totality.
If you're planning an event or even a family gathering related to the eclipse, consider this: Statistically, 100 percent of the people you encounter — to a high degree of accuracy — will never have experienced darkness at noon. You will be the expert.
A telescope equipped with an approved solar filter will help Sun-watchers get the most from the eclipse.
20. Invite someone with a solar telescope
In the event you're thinking of hosting a private get-together (ignoring #3 above), make sure someone in attendance brings a telescope with a solar filter. While it's true that you don't need a scope to view the eclipse, having one there will generate quite a bit of buzz. And you (or the telescope's owner) can point out and describe sunspots, irregularities along the Moon's edge, and more.
21. Experience totality alone
The 2017 eclipse plus the events leading up to it will combine to be a fabulous social affair. Totality itself, however, is a time that you should mentally shed your surroundings and focus solely on the sublime celestial dance above you. You'll have plenty of time for conversations afterward.
A get-together with family and friends after the eclipse will help you unwind a bit and hear what others experienced during the eclipse.
22. Schedule an after-eclipse party or meal
Once the eclipse winds down, you'll be on an emotional high for hours, and so will everyone else. I've found no better time to get together with family and friends and just chat. Or, if you're like me, take a secondary position and just listen to others talking about what they've just experienced. Fun!
23. Record your memories
Sometime shortly after the eclipse, when the event is still fresh in your mind, take some time to write, voice-record, or make a video of your memories, thoughts, and impressions. A decade from now, such a chronicle will help you relive this fantastic event. Have friends join in, too. Stick a video camera in their faces and capture 30 seconds from each of them. You'll smile each time you watch it.
24. Don't photograph the eclipse
This tip — specifically directed at first-time eclipse viewers — may sound strange because it's coming to you from the photo editor of the best-selling astronomy magazine on Earth. But I've preached this point to thousands of people who I've led to far-flung corners of our planet to stand under the Moon's shadow. True, few of them have thanked me afterward. But I can tell you of upwards of a hundred people who have told me with trembling voices, "I wish I'd followed your advice. I spent so much time trying to center the image and get the right exposures that I hardly looked at the eclipse at all." How sad is that? And here's another point: No picture will capture what your eyes will reveal. Trust me, I've seen them all. Only the top 1 percent of the top 1 percent of photographers have ever come close. And — no offense meant — but you, with your point-and-shoot pocket camera or off-the-shelf digital SLR, are not one of them.
25. DO NOT PHOTOGRAPH THE ECLIPSE!!!
I'll state this again for emphasis. Why, oh why, would you even consider looking down and fiddling with a camera when you could be looking up at all that heavenly glory? This eclipse will — at maximum — last 162 seconds. That's it, my friends. If your camera isn't doing what you think it should, you're going to lose valuable time adjusting it. There will be plenty of pix from imagers who have viewed a dozen of these events. So just watch. Watch your first eclipse with your mouth agape, where your only distraction is occasionally wiping tears of joy from your eyes. You will not be disappointed.
Reference
Thursday, May 25th
Thursday is the day of the planet Jupiter, dedicated to Thunor(Thor), god of thunder and agricultural work. His parallels in various European traditions are Zeus, Taranis, Perun, Perkunas, and St. Olaf. The faith of the Northern Tradition holds Thursday sacred. This is why almost all adages about Thursday are positive, such as "Thursday's child has far to go," "Sneeze on Thursday, some better," or "Cut nails on Thursday for wealth." Thursday rules controlled optimism, energetic growth, physical well-being, and material success.
Deity: Thor
Zodiac Sign: Capricorn – Sagittarius
Planet: Jupiter
Tree: Oak
Herb: Henbane
Stone: Turquoise – Topaz
Animal: Goat – Aurochs
Element: Fire
Color: Orange – Brown
Number: 3
Rune: Thorn (TH)
Celtic Tree Month of Tinne(Holly) – July 8 – August 4
Runic Half-Month of Ur (primal strength) – July 14 – July 28
Goddess of the Month of Kerea – July 11 – August 8
Source
The Pagan Book of Days
Nigel Pennick
The Goddess Book of Days for Thursday, July 20th
In Lithuania, the Binding of the Wreaths, a lover's festival like Opet. Goddesses of Love are: Aphrodite, Venus, Oshun, Erzulie, Aida Wedo, Astarte, Isis, Inanna, Flora, Ishtar, Freya, and Xochiquetzal. Also Day of St. Margaret of Antioch, Goddess of Childbirth (Carmen, Carmenta, Mary, Isis, Yemaya, Kwan Yin, Oddudua, Ix Chel, Diana, Artemis, Eileathyia, Demeter, Sheela, Baubo, Mylitta, Spider Woman, Chalchiuhtlique.
Reference
The Goddess Book of Days
Diane Stein
On Thursday, July 20th, We Celebrate the Goddess Amaterasu
AMATERASU
Amaterasu, in full Amaterasu Ōmikami, (Japanese: "Great Divinity Illuminating Heaven"), the celestial sun goddess from whom the Japanese imperial family claims descent, and an important Shintō deity. She was born from the left eye of her father, Izanagi, who bestowed upon her a necklace of jewels and placed her in charge of Takamagahara ("High Celestial Plain"), the abode of all the kami. One of her brothers, the storm god Susanoo, was sent to rule the sea plain. Before going, Susanoo went to take leave of his sister. As an act of good faith, they produced children together, she by chewing and spitting out pieces of the sword he gave her, and he by doing the same with her jewels. Susanoo then began to behave very rudely—he broke down the divisions in the rice fields, defiled his sister's dwelling place, and finally threw a flayed horse into her weaving hall. Indignant, Amaterasu withdrew in protest into a cave, and darkness fell upon the world.
The other 800 myriads of gods conferred on how to lure the sun goddess out. They collected cocks, whose crowing precedes the dawn, and hung a mirror and jewels on a sakaki tree in front of the cave. The goddess Amenouzume began a dance on an upturned tub, partially disrobing herself, which so delighted the assembled gods that they roared with laughter. Amaterasu became curious how the gods could make merry while the world was plunged into darkness and was told that outside the cave there was a deity more illustrious than she. She peeped out, saw her reflection in the mirror, heard the cocks crow, and was thus drawn out from the cave. The kami then quickly threw a shimenawa, or sacred rope of rice straw, before the entrance to prevent her return to hiding.
Amaterasu's chief place of worship is the Grand Shrine of Ise, the foremost Shintō shrine in Japan. She is manifested there in a mirror that is one of the three Imperial Treasures of Japan (the other two being a jeweled necklace and a sword). The genders of Amaterasu and her brother the moon god Tsukiyomi no Mikato are remarkable exceptions in worldwide mythology of the sun and the moon. See also Ukemochi no Kami.
Reference
Today We Celebrate….
Moon Day (United States)
HINA
Themes: Moon; Communication; Cycles; Mediation
Symbols: Lunar (silver/white items or any corresponding plants/stones); Coconut
About Hina:
This Tahitian goddess is the Lady in the Moon who shines on us with her changing faces. As the dark moon, she presides over death. As the waxing moon, she is the creatrix who made people from clay and the moon, her home. As the full moon, she embodies a mature woman's warrior spirit. As the waning moon, she is the aging crone full of wisdom and insight.
According to tradition, coconuts were created from the body of Hina's lover, an eel god, after he was killed by superstitious locals. She also governs matters of honest communication, and when properly propitiated, Hina sometimes acts as an intermediary between humans and the gods.
To Do Today: On July 20 in 1969, American astronauts visited Hina in person, landing on the moon's surface and exploring it. In spiritual terms this means taking time to explore the magical nature of the moon today. If the moon is dark, it represents the need to rest from your labors. If it is waxing, start a new magic project and stick with it so the energy grows like the moon. If Hina's lunar sphere is full, turn a coin in your pocket three times, saying "prosperity" each time so your pocket remains full. If the moon is waning, start taking positive action to rid yourself of a nagging problem. Eat some coconut to help this along by internalizing Hina's transformative powers.
Reference
365 Goddess: A Daily Guide To the Magic and Inspiration of the goddess
Patricia Telesco
Thursday's Conjuring
Thursday – is associated with Jupiter
Candle colors – Green, Purple, Orange, or Blue
Business, Gambling, Power, Material Wealth, Luck, Road Opening
—-Old Style Conjure Wisdoms, Workings and Remedies
Starr Casas
The Magickal Day of Thursday
Thursday is a day of royal blues and greens, associated with the planet Jupiter and metals like tin. When it comes to deities, look at leader type gods like Thor, Zeus, and Jupiter. Gemstone correspondences for Thursday include turquoise, amethyst and lapis lazuli, and plant associations can be found in honeysuckle, cinquefoil, and even oak trees.
This is a day for honor, fealty and family loyalty, as well as harvesting, success, and prosperity.
Take advantage of Thursday's different aspects and do spellwork that brings abundance to you, declares your allegiance, and embraces prosperity.
Source
Patti Wigington
Article published on ThoughtCo
The Witches Guide To Thursday
Today is the day for prosperity work of all kinds. It can also be used for healing work, whether that is a physical healing of an illness or an emotional healing. Also remember that you have to follow up your healing work and prosperity magick and physical action.
I can't tell you the number of times I have met new witches who complain to me that their prosperity spell or "I need a better job" spell did not work as they expected. They'll ramble on and on about how much time and money they spent working their magick….but, alas, they had no glorious manifestation of wealth or fabulous job that suddenly dropped out of the sky and landed in their laps.
Then, when I gently ask them, "Did you enchant your resume or application when you filled it out? Did you do a little confidence-boosting spellwork when you went to apply for the job or went to the interview?" typically they give me a blank, confused stare.
Nine times out of ten, their response is, "You mean I have to go out and actually look for the job too?" Um, yes, my dear, you certainly do. Magick follows the path of least resistance, which means it's going to manifest along the simplest, quickest route. Get out there and hit the pavement. See what you can find. Times are tough and competition for good jobs is fierce, so you need whatever edge you can get. For folks like us, we're going to get the edge by using our magick and our spellcraft.
Thursdays have such a rich source of magick for us to draw upon that, honestly, the sky is the limit. This is the day associated with the gods of the sky and heavens, after all. Get to know these deities and add their wisdom and magick into your days
Source
Book of Witchery: Spells, Charms & Correspondences for Every Day of the Week
Ellen Dugan
Witchery for Your Thursdays
Try wearing some honeysuckle-scented perfume to encourage prosperity. Bewitch someone by wearing deep royal blue or brighten up a dreary day by wearing lucky, prosperity-drawing green. Brew up a pot of mint tea to help increase your cash flow. Try adding a pinch of nutmeg or cinnamon to an unscented candle to encourage some fast cash. Bake up a loaf of wheat bread for the family, and celebrate abundance and be thankful for all that you have.
Conjure up a witchy craft and create a philter or two for your magickal needs. Work with the deities and the magickal plants featured in this chapter and experiment. How did the energies of the plants of Jupiter enhance your magick?
What did you learn by working with Juno, Jove, or Zeus? The truth is that by adding these new techniques and information into your spellcasting repertoire, you will indeed advance your skills, thereby moving up in the ranks to become a more adept magickal practitioner.
Just by believing in yourself and working toward creating abundance, health, and prosperity, you have already begun to transform your outlook on life. Put your game face on; think positively. Work with Thor for perseverance and courage, and apply those qualities to your own prosperity spells and healing witchery. Break out the tarot cards; take a careful look at those images of the three featured cards in this chapter. How could you incorporate that symbolism into other spells of your own design?
Call on the gods and goddess of Thursday and bring some positive change, abundance health, and prosperity into your life!
Source
Book of Witchery: Spells, Charms & Correspondences for Every Day of the Week
Ellen Dugan
The Witches Almanac for Thursday, July 20th
Binding of Wreaths (Lithuanian)
Waning Moon
Moon phase: Fourth Quarter
Moon Sign: Gemini
Incense: Myrrh
Color: Crimson
Correspondences for Thursday
Magickal Intentions: Luck, Happiness, Health, Legal Matters, Male Fertility, Treasure and Wealth, Honor, Riches, Clothing Desires, Leadership, Public Activity, Power and Success
Incense: Cinnamon, Must, Nutmeg and Sage
Planet: Jupiter
Sign: Sagittarius and Pisces
Angel: Sachiel
Colors: Purple, Royal Blue and Indigo
Herbs/Plants: Cinnamon, Beech, Buttercup, Coltsfoot, Oak
Stones: Sugilite, Amethyst, Turquoise, Lapis Lazuli and Sapphire
Oil: (Jupiter) Clove, Lemon Balm, Oakmoss, Star Anise
Jupiter presides over Thursday. The vibrations of this day attune well to all matters involving material gain. Use them for working rituals that entail general success, accomplishment, honors and awards, or legal issues. These energies are also helpful in matters of luck, gambling, and prosperity.
Thursday is Ruled By Jupiter
Thursday is a Jupiter day. Here is the day of the week for prosperity, abundance, and good health. Thursday is "Thor's day." This Norse god gave the day his name and many of his attributes, including strength and abundance. Some suggestions for Thursday enchantments would include:
Wearing a regal and royal shade of blue to see how it affects your mood and your magic. Other colors for the day include purple and green
Carrying a turquoise tumbled stone in your pocket to draw a little protective and healing energy your way Incorporating honeysuckle blossoms and cinquefoil foliage into prosperity charms
Calling on Thor for abundance, or on the Roman god Jupiter for the ability to peacefully referee a fight
Adding a few oak leaves—which are sacred to these Thursday gods—to your charms to see how much better your spell works out
Casting a charm with wheat stalks for prosperity, and calling on Juno Moneta to bring wealth into your life
Baking up some whole wheat bread and blessing it for abundance. Be sure to thank the gods for your family and your good health.
Energy of Jupiter
Notes: Perform on a Thursday and/or during the waxing moon, with the Full moon being strongest. A purple or blue candle.
Color: Thursday
Color: Blue, purple
Metal: Tin
Stones: Lapis lazuli, amethyst, turquoise, sapphire.
Plants: Anise, betony, cinquefoil, jasmine, lavender, oak sage, yerba santa.
Rules: Sagittarius, Pisces
Oils: Anise, beramot, cedar, fir honeysuckle, jasmine, laveder, ntmet, orris, strawberry.
Rules Involving: honor, riches, health, friendships, the heart's desires, luck, accomplishment, religion, trade and employment, treasure, legal matters.
Thursday & The Perfect Corresponding Spell
Thursdays are good days for travel and change. It's the perfect day to re-arrange the furniture of your house and gain a new perspective on something. Even if you are not able to do any traveling on this day, you can still use Thursdays to do spells for travel. You can even do spells for positive change, and re -arrangement of your life. It's a good idea to exercise on this day, as well. That way, your body can be in-shape by the time Friday comes along.
Vehicle Blessing Before Traveling
Goal: To bless a new or existing vehicle.
Optional extras: Sage smudge stick; salt and water
Notes: This spell can be used for any vehicle, including trucks, motorcycles, boats, etc. Before or during the spell, walk around the vehicle and smudge it with the sage, then sprinkle it with the salt and water. Visualize a shining shield being placed around the vehicle. (You can substitute the word car, truck, or whatever.)
With fire and air, I bless this vehicle
With earth and water, I bless this vehicle
May it run smoothly
May it carry me safely
Wherever I travel
And return me safely to my home
In the name of the goddess
I bless this vehicle
In the name of the god
I protect this vehicle
And all who travel in it
So Mote It Be
Source
Everyday Witch A to Z Spellbook: Wonderfully Witchy Blessings, Charms & Spells .
Deborah Blake
The Dragon
The dragon is a fantastic beast that appears in almost every mythological tradition throughout the world. Often depicted as a mix of several different creatures, it represents the four elements of life: air, fire, water, and earth. The dragon has the wings of a bird and is covered with the scales of a fish or snake. It is capable of breathing fire, and usually guards a horde of treasure deep within the earth. In pre-Christian Europe and the Far East, the dragon was seen a symbol of power, virility, and superhuman strength, and was considered to be a friend of mankind.
In magick, the dragon is wholly beneficent and is seen as the manifestation of life-giving waters (the serpent), and the breath of life (the bird).
Generally it is considered to be a celestial power, and has the attributes of both the sun and moon, masculine and feminine, good and evil sides of nature. The dragon and serpent are usually interchangeable as representations of the unmanifest and the creation of form and matter.
The dragon represents the highest spiritual power, the supernatural, and the spirit of change. When you align your forces with those of the dragon, you gain strength and power. Its magick can help you overcome negative thoughts and it can teach you how to live abundantly.
DRAGON MAGICK
Dragon Prosperity Spell
This spell is designed to create prosperity.
It works best if you have a job and are looking for a pay raise or bonus.
Items needed: One large green pillar candle, dragon's blood incense, incense burner and charcoal, dragon prosperity oil, a green silk pouch, five new coins (a penny, nickel, dime, quarter, and half-dollar), and an altar or small table.
Dragon Incense
(To make dragon's blood incense, mix 1/2 tsp. dragon's blood resin with 1/2 tsp. allspice, 1/2 tsp myrrh resin, 1/2 tsp. dried orange peel, 1/2 tsp. sandalwood powder. To the mixture add 3-drops cinnamon oil, and 3 drops orange spice oil.
Dragon Prosperity Oil
To make dragon prosperity oil, mix 5 drops cinnamon oil with 3 drops orange spice oil and 2 drops sandalwood oil in a small bottle.) (To make dragon prosperity oil, in a small bottle mix 5 drops cinnamon oil with 3 drops orange spice oil, and 2 drops sandalwood oil.)
The first thing you will need to do is engrave the figure of a dragon on the candle. This can be easily done using a ball point pen or small sculpting tool. The engraving does not have to be an elaborate work of art, just a simple outline will do.
Begin on the night of the new moon. Place the dragon candle on your altar with the incense burner in front of it. Place the coins on the left side of the candle and the silk pouch on the right side.
Light the green candle and charcoal. When the coal is glowing red, sprinkle some incense on it. Pick up the penny, hold it tightly, close your eyes and visualize the dragon in his cave. See his treasure and all the wealth he guards. In your mind's eye, slowly approach the dragon. Show the dragon your coin. Then, with great respect, ask the dragon to expand your wealth as you say:
O great dragon of wealth and power,
I greet thee in this sacred hour.
Great good fortune on me now shower.
That my prosperity shall blossom and flower.
Stay with the dragon for a short time. Listen to what he says, and take heed of his advice. When the dragon begins to fade, leave his cave and return to the present. Place the penny in the green silk pouch. Thank the dragon by saying:
I thank thee great dragon of power and might
For granting my wishes on this night.
Leave the candle to burn for four hours and then snuff it out. Repeat this spell every night until all of the coins have been placed in the green pouch. When the last coin has been placed in the pouch, allow the candle to completely burn out. The rite is then complete.
Celebrating Legends, Folklore & Other Spirituality 365 Days A Year for July 20th thru 21st
The Binding of the Wreaths
The Binding of the Wreaths is a popular festival among the young people of Lithuania. At sunset, the participants go into the forest and gather summer flowers. The flowers are then made into wreaths, crown circlets, and streamers to be exchanged the following day between lovers.
Household Magick for Thursday, July 20th
Increase prosperity on this day; work toward expansion and moving up in the world
Planetary Influence: Jupiter
Household Symbols: A dollar bill, coins, a paycheck stub, a picture of your home.
Color: Green and royal blue
Kitchen Spices: Sage and nutmeg
The Witches Current Moon Phase for Thursday, July 20th
Waning Crescent
Illumination: 12%
The Moon today is in a Waning Crescent phase. In this phase the Moon's illumination is growing smaller each day until the New Moon. During this phase the Moon is getting closer to the Sun as viewed from Earth and the night side of the Moon is facing the Earth with only a small edge of the Moon being illuminated. This phase is best viewed an hour or 2 before the sunrise and can be quite beautiful if you're willing to get up early. It can also be a great time to see the features of the Moon's surface. Along the edge where the illuminated portion meets the dark side, the craters and mountains cast long shadows making them easier to observe with a telescope or binoculars.
Phase Details for – Thursday, July 20, 2017
Phase: Waning Crescent
Illumination: 12%
Moon Age: 26.19 days
Moon Angle: 0.55
Moon Distance: 363,298.14 km
Sun Angle: 0.52
Sun Distance: 152,007,228.59 km
Source
Mars in Leo: Let the Good Times Roll!
Passion ignites as the action planet enters this showy Fire sign
---
When Mars enters Leo on July 20, 2017, you and the rest of the world know it. It's almost as if a cosmic parade is summoned, complete with all the fanfare you'd expect from Leo. When Mars — the planet of action and motivation — enters Leo the one thing that's on everyone's agenda is having a good time. In fact, this will be how you spend most of your energy over the coming weeks.
Mars in Leo isn't shy about going after what he wants. In fact, he tends to make grand displays in order to assure he's the center of attention. Confidence, enthusiasm, and playfulness are restored when Mars is in Leo. This shift will be palpable since now because Mars will concern itself with putting on a show.
Not so fast!
But there's also steadfastness about Mars in the Fixed sign Leo … a raw determination to lead and to pursue respect. Or, more appropriately, to demand it. Mars in Leo, when operating in its shadow, is prone to boastfulness and even narcissism … hubris. This is Mars in Leo's middle name.
Still, despite any extra drama (and expect plenty of it), Mars in Leo will help you courageously pursue the unfiltered expression of your ego self now. Expect plenty of extra stimulation sexually as well. Whether you prefer to purr like a kitten or roar like a tiger, pleasure is guaranteed!
Part of the Daily Insight Group ©2017
Your Daily Horoscopes for Thursday, July 20th
Aries
You can have a difficult time enjoying yourself with ongoing worries about your work or duties, dear Aries. As well, the Sun in your home and family sector forms a square to Uranus in your sign, suggesting that personal plans and your sense of freedom can also take a hit now. There are times when your "inner rebel" gets in the way of the calm you crave, and today, this can be obvious. You're wanted in all sorts of directions, and it can feel a little confining right now. Resist the urge to rebel or jump into — or out of — situations without forethought. You are indeed seeking out more security and comfort these days, but you also need to honor your need for a change of scene. Balancing your life makes sense now so that you can come back to a situation refreshed and at your best. Try to sniff out false distractions that steer you off course. There are ways of answering to both needs for independence and for comfort.
Taurus
You can feel torn between playing things safe and making a change today, dear Taurus. When it comes to money and valuables, you can be see-sawing on decisions since you're unclear about what you want most. Secrets can weigh heavily on your mind today as well. Aim to learn from the frustrations or resentments that arise suddenly and seemingly out of thin air. Keep in mind that there is a tendency for you to express something that ends up causing a stir today. In truth, a part of you wants to break free from confining patterns and secrets, but you're not certain how to do so just yet, and this secret desire may be at the root of foot-in-the-mouth moments. Perhaps you bring up something and then instantly regret it — but is this your way, on some level, of getting something out of your system once and for all? It's possible whenever unconventional Uranus in your privacy sector is activated. Mix-ups with instructions or involving transportation may frustrate today and can happen more frequently when you're distracted. Consider that changes of schedule or routes may lead to new and exciting connections.
Gemini
You can be in the mood for some fun and a change of scenery today, dear Gemini, but something seems to be preventing this. It may be guilty feelings or fear of leaving a situation unmonitored that's keeping you from being as free-spirited as you'd like. For some, it can be about sharing and ownership or power dynamics in a relationship. Debts to others can weigh more heavily on your mind than usual. Try not to make decisions under pressure and examine any jealousy or resentment that emerges today so that you can deal with it directly. Another challenging influence today — a square between the Sun and Uranus — can lend further tension to the day, particularly with a large dose of unpredictability. If you don't recognize a need for changes in the ways you connect with others, then circumstances may seem to conspire to prove the point to you! If you've been feeling a little too possessive of someone or even a thing, such as a business or project, or if you feel similarly "owned" by someone, then the issue can be forced now. For others, this is about dealing with unreliability in your social life.
Cancer
There can be an air of discontent to the day that's distinctive, dear Cancer, but there's a lot to learn by the end of it. A matter that you thought you put behind you — a.k.a. ghosts from the past — seep into your life now, perhaps through chance meetings, dreams, sudden memories, or other triggers. While the discovery that you may still be nursing a wound or that you haven't satisfactorily closed something can be frustrating, you may be thankful for the window into the situation now. After all, these things don't truly go away until you deal with them. You might also need to manage some unpredictability in your career or regarding long-term goals that interfere with the enjoyment of the moment. There can be surprises related to career, rules, and responsibilities. If you're frustrated about not having a clear goal or path, then consider focusing on small jobs with clear goals until things make more sense. Watch for provocative behavior that doesn't help your case now.
Leo
The desire to enjoy a more vibrant social life is real, dear Leo, even if a big part of you is seeking out extra time for reflection and rest. Today, however, you're challenged to find a balance. Fears of letting a work or health matter go unmonitored can get in the way of enjoyment. Whether there are power plays involved with people with whom you share your work or daily affairs, or if your own ambition is at play, it can be difficult truly letting go long enough to relax and have fun. Be sure to honor your need for some psychic space, as much as friends and work or health routines are calling to you. The square between the Sun and Uranus today can accentuate an inner conflict between seeking out new experiences and getting time to process recent ones. If your desire to grow and expand is pulling you away from healing activities and much-needed rest, keep in mind that you'll do nothing well if you don't refresh yourself.
Virgo
The day's energies are complicated but revealing, dear Virgo. While you are coming across well with superiors and the public as well as in your work these days, there can be some second-guessing goals or challenges harmonizing work and your personal life today. A predicament about children or a romantic relationship can interfere with your enjoyment of work. If thoughts of these problems are bringing you down, try to replace them with positive affirmations. There are too many things going on to know all the variables. You may also be dealing with conflicting feelings for a person or project. As much as you're seeking some stability these days, you don't want to stagnate. Change your methods and pull yourself out of the usual patterns if you're unfulfilled instead of expecting different results from the same approach. Accept surprises rather than let them discourage you, because in the process, you might discover something entirely new and precious. Later today, your mind opens to new ideas and possibilities.
Libra 
You may be wrestling with a decision or dealing with a tricky matter today, dear Libra, likely related to whether to try something new or stick with what you know. Desires for more freedom are in focus, but emotions are complicated, and you may struggle with a choice to make. People may be trying to pull your strings, or you may be worried about leaving a situation unattended. Perhaps it would be better to relax some control. Identify areas of your life that require a change or a new approach instead of falling back on the same behaviors that keep frustrating patterns alive, particularly in your career and with a partner. Try not to allow others' unreliability get in the way of the pursuit of your important goals. It can seem as if close relationships and your ambitions don't mix very well these days. Business and reputation matters are especially important to you, but while they are subject to ups and downs, you begin to see patterns and priorities today. Aim to break out of habits that don't serve you well and instead focus on making steady progress and improvements.
Scorpio
There can be complicated feelings to navigate today, dear Scorpio. You may not know how to express your feelings, or if you do, but it doesn't go over smoothly. With your ruler, Pluto, at odds with Venus today, this is not the best day for understanding others nor for gaining others' faith and trust, but keep in mind this is temporary. Lingering grudges may surface in unexpected ways. The desire to get close to someone is strong, but fears can lead to a feeling you need to control things which drives a wedge between you and others. Also today, a square between the Sun and Uranus tends to bring out your need for a change of pace or a new and improved routine. Rigidity leads to stagnation, so open your mind to new methods and approaches so that you can break out of dull patterns. If you haven't prepared well or if your daily life is chaotic, then you may have troubles getting away. The atmosphere is ripe for change, however, and the sooner you identify this, the better.
Sagittarius
This is not the easiest of days for feeling in sync with others, dear Sagittarius, even though you're in a particularly conciliatory cycle. Rhythms in relationships can be off, and satisfaction can be more difficult to achieve than usual. Defensiveness doesn't get you anywhere, but you may very well need more time to process your feelings and some emotional distance from a situation can buy you that time. You are hungry for more from life than the ordinary these days, but your approach to others can sometimes totally throw them off the scent altogether! Your playfulness is fantastic, but you don't always communicate your desire for a little more depth and meaning from your interactions and projects. You can have a hard time conveying your message right now, partly because you're torn on the inside, and partly because you have a hard time expressing your deeper needs. Be willing to let go of a pattern or habit so that you can magnetize more positive energy into your life.
Capricorn
You can feel slightly off today as Venus in your work sector forms an awkward angle to Pluto in your sign, dear Capricorn. Try to avoid the temptation to micromanage people or control a situation through manipulation. Letting go of some control can be one of the best things you can do for your mind, body, and spirit. You could feel that others are making too many demands on you or don't appreciate you for all that you do. Also today, a Sun-Uranus square keeps things unpredictable. Feeling unsettled when it comes to your home life, family, or living conditions can impact a relationship today. If you've been feeling some unrest due to feelings of being typecast or restricted, you're likely to want to handle the situation now. Don't wait for the rest of the world to decide what needs to change — taking steps to make your own changes is the path that empowers Fortunately, by the end of the day, you're willing to try fresh, new approaches to relating and living.
Aquarius
This is not an ideal day for gaining favor or for reliability, dear Aquarius. We can be more defensive than usual, and resistance to your plans or will is quite likely as a result. However, it's how you redirect yourself in the face of conflict or changes in schedule that matter most now. Friction, in fact, can motivate you to make changes that truly benefit you. If others are pushing your buttons, try to keep a cool head today. Talking openly and honestly about issues may be energy-draining but ultimately helpful, particularly when you explore possible resentments. However, it may be wise to observe now and work things out on a day when we're more conciliatory. Buried emotions that emerge today are real clues to what may be sabotaging your success and happiness, so pay close attention. You may be thrown off center temporarily by what seems like sudden changes of heart or changes of plans. Choose flexibility over frustration. In fact, a shuffling of responsibilities or activities may lead to good things or good times, if you allow yourself to enjoy the change of pace. Later today, defenses drop, and you find it easier to make adjustments willingly.
Pisces
With a Venus-Pluto quincunx, relationship problems can reach a difficult point, dear Pisces, but even though they're not likely to come a head yet, you receive some clues now. You may not be directly confronting issues, and while it's okay this way for now, try to avoid mind games and the like. Resentment robs you of energy, so work on a strategy or solution. Also active today, the Sun and Uranus form a square, challenging you to break out of a rut or a pattern that's preventing you from growing and changing. Be as mindful as possible, for if you act out without self-awareness, you may be taking risks, overpaying, or jumping into (or out of) something too quickly. Alternatively, uncertainty about your income or security can interfere with your desire to have fun. However, later today, you may open up to someone, and as defenses drop, you learn something about yourself and your real feelings.
If You Were Born Today, July 20th
You possess personal magnetism and mental power, and you can also be very fixed and stubborn. Positively, you stick with something for a long time without giving up easily. Negatively, you might hold on to things or situations that have outgrown their worth, or you might become obsessive. You are success-oriented, but you don't abandon your basic values and traditions in the process of achieving your goals. You tend to be most successful in partnership, whether your partner is involved in what you do or not.
Famous people born today: Carlos Santana, Natalie Wood, Kim Carnes, Josh Holloway, Judy Greer, Sandra Oh.
Birthdays on the Cancer-Leo Cusp
Learn all about the personality of "The Cusp of Oscillation"
---
If you were born on the Cancer-Leo cusp, from about July 19 to July 25, you have some challenges to face. When you combine the sensitive nature of Cancer and the expressive drama of Leo, it results in some contrary elements to your personality. Your life may be one of extreme ups and downs!
Cancer-Leo cuspers can be sensitive and shy one moment, and theatrical drama queens the next. This is because they're born of a conflicting mix of water (Cancer) and fire (Leo), which will take discipline to mix successfully.
If you can learn to center yourself and find more balance, your life will be filled with lots of love and lasting relationships.
Learn more about the magical Gemini-Cancer cusp:
Name of Cusp: The Cusp of Oscillation
Date Range: July 19 to July 25
Strengths: Loving, devoted, expressive, creative, cheerful, passionate.
Weaknesses: Self-absorbed, insensitive, dramatic, dependent, volatile.
How Cancer and Leo energy work together: Cancer's sensitivity doesn't always mix well with Leo's bold nature. These cuspers need to be careful of oscillating between extreme highs and lows, and of being either too sensitive or completely insensitive. If you can learn to let Cancer's soft side tone down Leo's outrageousness, you'll find more balance and peace.
What they love: Pendulums. Just kidding! These cuspers are in love with love. Because they are so loving and devoted, they develop long lasting relationships and often have big families.
What they need: A purpose greater than themselves! Cancer-Leo cuspers need to find balance, and in order to do so they need to get outside of themselves. Helping others or devoting time to a worthy cause is a great way to find peace and focus on something other than themselves.
Advice: Try to find a comfortable middle ground between the two extremes of your personality. Try activities like yoga or volunteer work to keep you connected to others so you don't become too self-involved.
Famous people born on the Cancer-Leo cusp: Edgar Degas, Campbell Scott, Elizabeth McGovern, Carlos Santana, Natalie Wood, Kim Carnes, Ernest Hemingway, Robin Williams, Jon Lovitz, Josh Hartnett, Cat Stevens, Willem Dafoe, David Spade, Rufus Wainwright, Woody Harrelson, Slash, Amelia Earhart, Jennifer Lopez, Barry Bonds, Zelda Fitzgerald, Estelle Getty, Matt LeBlanc, Iman and Brad Renfro.
Find out what all the cusps mean to you!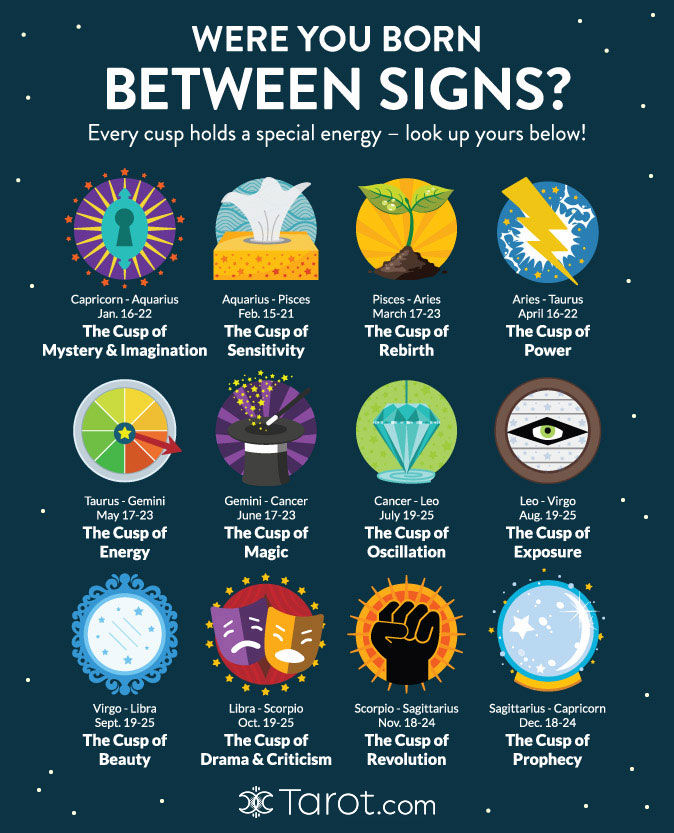 Part of the Daily Insight Group ©2017
Get A Jump On Tomorrow…..
Your Horoscopes for Friday, July 21st
Aries
Since Mars is your ruler, its transits are especially significant for you, dear Aries. With Mars now in your romance and creativity sector until September 5th, and the Sun soon to follow, you may feel as if the summer has truly begun! It's an excellent transit for smooth-flowing energy, self-expression, and entertainment. Your magnetism levels increase. Some of you are pouring a lot of energy into dating or romantic pursuits. For others, this is about stepping up your hobbies, pastimes, leisure time, creative works, or activities with kids. You've certainly been thinking about having more fun or pursuing your heart's desire in the past two weeks, and now you're coming to a point where you're ready to act on your thoughts and plans. This morning, your perceptions may not be super reliable, as you see things through the lens of wishful thinking. As the day advances, however, you become considerably more confident, alert, and directed. Your words are particularly creative, and there is a unique charm to your presentation.
Taurus
Until September 5th, Mars transits your home and family sector, dear Taurus, and this means you're pouring more energy into your personal life. While this is not the easiest position for smooth flow of energy, and in fact, you can experience variable energy and motivation levels now, it's an excellent time for taking care of household and family matters. Activities with or on behalf of family figure strongly now. Projects around the home can be satisfying now. Watch for bottling up anger or taking your frustrations with the outside world out on people you live with! This morning, a minor challenging aspect between the Sun and Neptune can pull up a feeling that others are draining you of energy or confidence, which can be the result of their negativity or your expectations of them. However, creative energy is good if you can direct it, and as the day advances, it becomes easier to do so. You are particularly creative with money and business. You are magnetic, and you may be taking the lead in charming and fruitful ways.
Gemini
Mars is transiting your communications sector now and until September 5th, dear Gemini, and this can serve to enliven your daily affairs as well as motivate you to learn more, pursue personal interests, get out and about, and connect with others. Mercury has been in this sector for the last two weeks, stirring up mental energy and encouraging you to make plans, but now with Mars here, you want to put plans or ideas into motion. The Sun will follow tomorrow, and the New Moon on the 23rd can get you going as well. You're moving into a far busier, more engaging period of your summer, and you're likely to have a great time with it! While you should watch for aggressive or impulsive words and transit during this cycle, it's a great time for taking the lead and the initiative with learning and sharing your ideas or reaching out to others. This morning, there can be a mental disconnect or illusions related to money and work to deal with, but as the day advances, you're increasingly more directed and motivated.
Cancer
Until September 5th, Mars moves through your resources sector, dear Cancer. Now that you're no longer hosting active, aggressive Mars in your sign, you're likely to find life becomes quieter. Even so, you're more motivated to build and develop something important to you, such as a business, pet project, bank account, or relationship. With less focus on personality development, you're moving into a great period for enjoying what you have and building upon your resources at a comfortable pace. While your drive to make money or to make your life more secure increases, you can sometimes be quite impulsive with your purchases. This morning, watch for self-deception, as you may not be seeing yourself and others very clearly. You mean different things to different people and this can confuse true understanding of yourself. As the day advances, clarity returns, and your creative juices flow. A private longing can take hold.
Leo
Mercury entered your sign on the 5th, dear Leo, and you've been thinking a lot about personal plans. Now that Mars entered Leo, you're taking on more of Mars' fiery, assertive, and courageous traits until September 5th. Tomorrow, the Sun will arrive in your sign, and then the following day, a New Moon occurs in Leo, so you're moving into a busier, more noticeable and personally influential period this week! This is a time of increased independence and initiative. You might be presenting yourself more boldly or taking on new projects now. Your energy levels increase, and your best bet is to pace yourself and take action on matters that need doing most. This morning, a minor challenging aspect increases your psychic sensitivity and you may feel a little disoriented temporarily. As the day advances, you can feel particularly invigorated by people around you.
Virgo
Until September 5th, Mars spends time in your privacy and soul sector, dear Virgo, and you're in particular need of extra rest as well as activities that aid healing and energy replenishment. This is also a time for working on motivation levels as you may be putting a particular venture to rest or wrapping up a project, and you now need to reorient yourself. Mercury has been in this sector for the past couple of weeks, and tomorrow, the Sun will move in here, too. On the 23rd, a New Moon occurs in the same area of your solar chart and next month, an eclipse happens here as well. All in all, you're in a strong position to do some soul-searching, vacationing, and resting as you consider new directions for the future. There can be considerable attention to the past now. You're also more inclined to feel out situations and pay special attention to what your intuition has to say, and it can be important stuff! In fact, over the coming weeks, you're likely to receive powerful messages from your inner guide. This morning, a person or a connection can be difficult to see clearly, but as the day advances, you'll feel more motivated and on track. It's a good time for making nice with bosses, customers, or associates.
Libra 
Until September 5th, Mars is lending extra energy, courage, assertiveness, and fire to your sector of groups, friendships, and aspirations, dear Libra. A more active and lively social life is likely now, or there can be a particular focus on group or teamwork. You can play a stronger role in others' lives now. Generally speaking, competitive energy with friends now is the motivating kind – something inspires you through your friends or networks to take better charge of your life or to work towards a special goal or dream. This morning, however, when it comes to practical matters, you may not be thinking realistically. You may be tempted to gloss over problems. As the day advances, a parallel aspect between your lovely ruler, Venus, and Mars can motivate you and fill you with enthusiasm and confidence. It also improves your powers of attraction, although you're not content to wait for something or someone to find you — you're ready to go and get what or who you want! You manage to be both gracious and assertive.
Scorpio
Until September 5th, Mars transits your career and reputation sector, dear Scorpio, bringing high energy and ambition, as well as motivation and competitive feelings, to your world. Life path goals, your public life, responsibilities, performance, business affairs, and career are the subjects of this sector of your solar chart, and these matters can awaken, enliven, and animate, assuming far more importance in your life than usual. Mercury has been in this sector of your chart for the last couple of weeks, and your thinking has become more goal-oriented. You now want to put your money where your mouth is, so to speak, and put ideas and plans into motion. It would be wise to do so after the Sun enters this same sector tomorrow, and after the New Moon occurs here the following day. In fact, a second attempt to get where you want to go can come after an eclipse takes place in this sector next month. Motivation to excel, improve, and advance increases in the coming weeks. You may experience some clashes with people who'd prefer to take the lead during this cycle, however. This morning, you may feel some temporary loss of direction, but the daydreaming and envisioning you do now can be helpful. Coming to a good balance between work and down time is a cinch as the day advances.
Sagittarius
Until September 5th, Mars moves in harmony with your sign, dear Sagittarius, and motivates you to actively learn and participate, as well as boost your spirits and zest for life. This is an enthusiastic and energetic cycle in which you feel more confident about making changes or trying new things. You're attracted to new physical or mental challenges and your desire to learn about the world and share your ideas and opinions increases. Debates can become very lively and passionate at this time. You may take up a new interest, self-publish, or pursue a course of study. You're seeking out truth and justice as well as greater understanding of the world around you and your place in it. Routines can bore you more than usual, however, and you'll be wise to keep one foot on the ground. While today can begin a little groggily, as the day advances, you're in a fabulous position to connect with others. This can be an exciting time for learning.
Capricorn
Now and until September 5th, Mars is heating up your intimacy sector, dear Capricorn, encouraging you to seek out deeper connections, whether this is with a project or a person! You're more strategic about going after what and who you want during this cycle. You're also more willing and courageous than usual to dig deep and acknowledge your innermost desires. If you've been having issues with power dynamics and sharing in a relationship, now is the time to pull them out of hiding. It can also be a time for pursuing a loan or support if needed. Your intimate life can heat up in the coming weeks. While the morning's energies are a little murky and undirected, the remainder of the day finds you particularly creative and resourceful. Impulsiveness in relationships and with your work is possible now, but this can also be a time for pursuing an exciting direction. You may want to act upon your desires today.
Aquarius
Mars is now transiting your opposite sign, dear Aquarius, and will animate your relationships until September 5th. This transit can play out in different ways. Some of you are attracting more energetic, assertive, and active people into your life. For others, this is a time for actively seeking out a relationship or for becoming more active with a partner. You're likely to find others energizing, or irritating! There can be a competitive feel to relationships. It's a great time for clearing the air or taking charge of problem areas if you don't mind some liveliness. This morning, dreamy or creative activities can be satisfying detours from pressures. As the day advances, creative energy builds but now with more purpose. You crave harmony, and you're ready and willing to take real steps to get to a position of mutual benefit, making negotiations very successful now.
Pisces
Mars is now animating your work and health sector, dear Pisces, and will continue to motivate you to get on top of your daily routines until September 5th, so take advantage! You may be pouring a lot more energy into organizing your space, pursuing fitness or other health methods, and providing services or doing your work during this cycle. You've had Mercury in this sector since the 5th, and where you've been thinking and talking about your plans to step up these things, you're now getting ready to act on your ideas or put plans into motion. Watch for pushing yourself too hard in these areas, and wait until after the New Moon on the 23rd to begin brand-new initiatives along these lines, but enjoy the rush of enthusiasm to take better care of yourself and your daily habits and routines. This morning, however, it can be difficult to get going on anything solid, but as the day advances, you begin to see something coming together. There can be uniquely creative, dynamic ideas about handling your home or personal life as well.
Tarot Card of the Day
Three of Coins
---
July 20th, 2017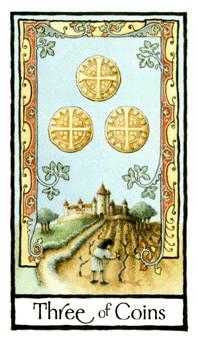 This suit, most often named "Coins" or "Pentacles", is a symbol for a magical talisman that represented wealth or potential. This suit represents something supportive that is available to you — whether it be health, some kind of talent, a material or financial resource.
The Three is traditionally the card of genius. Here we usually see a master craftsman conferring with his masons on the installation of a beautiful stained-glass window in the cathedral. This designer is often likened to Leonardo da Vinci or Michelangelo, a multi-talented visionary who has no peers in talent or productivity.
The masterwork is being proudly showcased for future generations, as an object of personal and collective pride. On some cards, the genius is portrayed at his studio, alone and burning the midnight oil, in a creative ferment — driven to draw, paint, invent, or whatever work genius wants to bring into creation. As a subtext to the rewards of genius are the days and weeks of intense concentration it takes to solve the problems that great works entail.
Part of the Daily Insight Group ©2017
Learn the Tarot:  How to Find Love Using the Tarot
Learn how to change the course of your romantic future
---
Does it feel like your love compass is broken? You might be single and struggling to find someone you deeply connect with. Maybe you keep ending up in relationships that fizzle out just as soon as they began. If past partnerships have left you feeling more defeated than desired, it's time to turn to the Tarot.
Tarot cards have been used for centuries to help guide people through complex situations in their lives — and is there anything more complicated than matters of the heart? No matter what issues you're facing, the Tarot will give you the clarity needed to put your love life back on track.
It's important to know what questions to ask in order to get the most out of your reading. Tarot is all about helping you manifest what you want so asking things like "What will my partner's name be?" or "Will I meet my soul mate tomorrow?" won't work. Instead, try asking questions that help you connect with your inner self. Here are some examples of questions that work well in a Tarot reading for love:
What is holding me back from finding love?
What can I do to attract love?
What can I learn from my past relationships?
How can I avoid repeating unhealthy patterns in my relationships?
How can I heal from the hurt of my previous relationship and move forward?
So, what is it that you'd like to ask the Tarot? Focus on your question, choose your cards, and reveal insight into your love future now. If you still have questions about what the Tarot can do for you, keep reading…
Here are some ways the Tarot can help the future of YOUR love life:
It shows you what you really want. Sometimes it isn't finding what you want, but knowing what you want that's your biggest challenge. What kind of relationship are you looking for? Who is your ideal partner? You already know the answers in your heart, but you may need a little help so you can finally see them. The Tarot allows you to tap into your intuition and discover what you've already known all along.
It reveals what is preventing you from finding love. True love starts from within. Everyone has insecurities, and we've all been burned by former lovers. These things can create emotional obstacles that hinder you in your quest to find — and keep — love. Maybe you've been choosing the same type of partner over and over again, or it could be that you're unknowingly sabotaging potential relationships. The Tarot will shine a spotlight on what you need to do to create positive and lasting love in your life.
It shows you what you're working with. In order to attract your soul mate, you must first recognize all of the unique qualities that you offer to others. The Tarot pinpoints exactly what it is about you that you bring to your relationships. Maybe you're an incredibly dedicated and loyal partner, or perhaps you're a pillar of strength when it's needed most. Like attracts like, and by knowing exactly who you are you will more easily find someone you are truly compatible with.
It allows you to see the truth about your situation. They say that people who are with the wrong person are farther away from finding true love than those who are single. This is why it's important to choose wisely in dating and relationships. Maybe you're on the fence about someone you've just met, or you're not sure if you should continue pursuing a relationship with someone you've been out with a few times. The Tarot gives you the insight needed to decide if you should hit the brakes, or continue moving forward in a specific situation.
We all want love, but finding it isn't always that simple. Stop and think about what it is that you need to know right now. Are you looking for guidance on how to attract the right mate? Do you need advice on how to overcome pain from the past so you can find love again? No matter what questions you may have, the Tarot can provide you with the answers you're looking for.
Part of the Daily Insight Group ©2017
Daily Love Tarot
The Magician
___________________________________
July 20th, 2017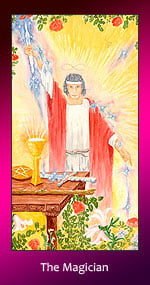 Do some magic of your own today, like penetrating facades and gaining insights into dubious stories that lack credibility. Hold onto your heartstrings until you know you haven't met a fickle flirt or a trickster. The Magician makes us see what we want to see regardless of the reality of a situation. He draws us in because we love secrets and mysteries, but who wants to live with them day after day and year after year?
Your Daily Rune for Thursday, July 20th
Othala
Othala – "Oh-thall-ah" – Literally: "Homeland" or "Ancestral Lot" – Esoteric: Inheritance, estate, noble
Rune of anscetral spiritual power, divine inheritance and earthly estate.

Psi: ancestral spiritual power
Energy: ancestral spiritual power, inheritance, heaven on earth, "The gift of Ing", paradise, utopia
Mundane: household, estate, inheritance
Divinations: A home or estate, group prosperity, group order, freedom, productive interaction; or lack of customary order, totalitarianism, slavery, poverty, homelessness, xenophobia, racism, genocide.
Governs:
Rightful inheritance from ancestral holdings
Collection of numinous power and knowledge from past generations
Acquisitions of wealth and property
Right understanding of global unity
Security, safety, protection, the walls of Asgard
Ascension to King amongst men
Realization of Paradise
Your Animal Spirit Guide for July 20th
The Wisdom of Buddha
The wise ones fashioned speech with their thought, sifting it as grain is sifted through a sieve.
Sun enters Cancer on July 20
On July 20, 2017, if you could see stars at daytime, you'd see the sun leaving the constellation Gemini and entering the constellation Cancer the Crab. The sun will remain within Cancer's borders until August 10, 2017, at which time the sun will move into the constellation Leo the Lion.
This doesn't jibe with your horoscope? Right. It's because we're talking about actual constellations in the sky, not signs of the zodiac.
Chart of constellation Cancer via IAU
As seen from Earth, the sun appears to travel full circle (360o) in front of the 13 constellations of the zodiac in one-year's time. Of course, this apparent eastward motion of the sun through the background stars is really a reflection of our planet Earth circling the sun.
Previously, we stated that the Earth goes full circle around the sun in one year. We should amend that statement to specify that Earth goes full circle around the sun, relative to the stars of the zodiac, in one sidereal year. So one sidereal year later, on July 20, 2018, the sun will again be at the border of the constellations Gemini and Cancer.
Some of you may know that the sun enters the sign Cancer every year on or near June 20, or precisely at the instant of the June solstice. That's in spite of the fact that the sun enters the constellation Cancer about one month later, on or near July 20.
Have a globe? Look for the tropic of Cancer at about 23.5o north latitude. To this day, we still say the sun at its northernmost point on the June solstice resides at zenith (straight overhead) over the tropic of Cancer.
However, if we had a time machine, and could transport ourselves back to the year 12 B.C., we'd actually find the sun entering the constellation Cancer on the June solstice. The sun would also be entering the sign Cancer as well, when the constellation Cancer and the sign Cancer were in alignment on the sky's dome over two thousand years ago.
The seasonal or tropical year, as measured by successive returns to the June solstice, is about 20 minutes shorter than the sidereal year – the year as measured by the backdrop stars. For that reason, the June solstice point has shifted about 30o westward relative to the constellations of the zodiac since the year 12 B.C. That means the sun on the June solstice now shines at the border of the constellations Gemini and Taurus, rather than at the border of the constellations Cancer and Gemini.
Signs of the tropical zodiac remain fixed relative to the equinox and solstice points. Therefore, the sun always enters the sign Cancer on the June solstice, irrespective of which constellation backdrops the sun at this time.
In our day and age, the sun enters the constellation Cancer each year on or near July 20, and then enters the sign Leo approximately two days thereafter, on or near July 22.
Bottom line: You may know that the sun enters the sign Cancer every year at the June solstice. The sun enters the constellation Cancer a month later, on or near July 20.
Bruce McClure has served as lead writer for EarthSky's popular Tonight pages since 2004. He's a sundial aficionado, whose love for the heavens has taken him to Lake Titicaca in Bolivia and sailing in the North Atlantic, where he earned his celestial navigation certificate through the School of Ocean Sailing and Navigation. He also writes and hosts public astronomy programs and planetarium programs in and around his home in upstate New York.
Aritcle published on EarthySky.org
l