The Hanged Man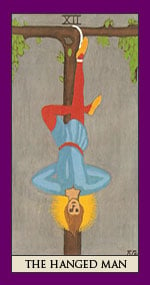 Keywords: Accepting, reflective, observant, calm, sacrifice!
Astrological Correspondence: Neptune
The Hanged Man is an unsettling, mysterious card, because it symbolizes the reversal of our life situations, all contradictions we face in ourselves and in life in general, and paradox in action. Although the Hanged Man seems restricted and helpless, he looks calm and relaxed. In this position the card represents the rational mind being turned off, acceptance of a new situation, a unique point of view, reflection and serenity. Deeply thoughtful, he seems to have reached a higher consciousness. By letting go and giving up, as painful as it may be, this symbolism suggests that we can overcome restrictions, find what we have been looking for, and ultimately become free, self-determined beings. In a negative setting the symbolism suggests manipulation, passivity, useless sacrifice, and apathy.