I don't know if you have seen these are not but they are listed on our store. We have had a lot of interest in these beautiful candles, off-line as well as on-line. We have sold about 35 off-line and they are starting to catch fire on the internet. We have several candles with various meanings and each one comes with a beautiful necklace. The necklace is either a charm or a stone. You get the necklace and the candle for only $14.00. This is a wonderful deal, the candles aren't the small ones at all, they are 7 inches tall so that means you will have plenty of burn time with these beauties. The one below is just one of 14 we have. They are going fast and we wanted to give you the opportunity to jump on them if you wanted on.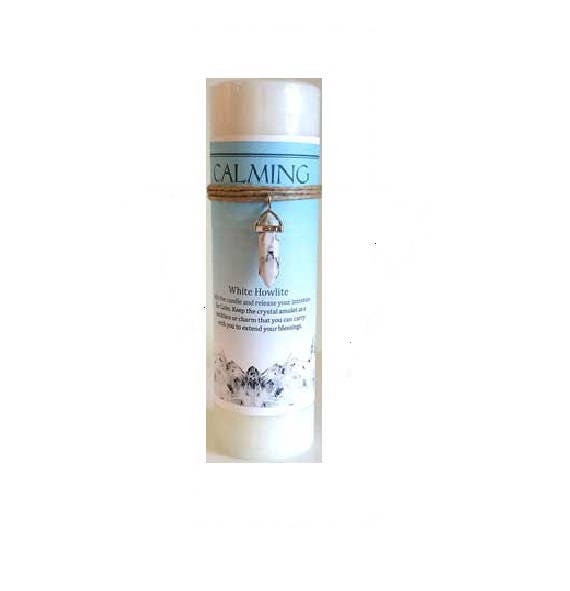 This is a calming candle with a Howlite charm necklace. Like I said, there are several other types of candles on our store. So check them out and see if you would like one.
Next, we are now making bindrunes. Yes, we have had several request for them and now we are back to making them. Well, I should say I am. Bindrunes are made out of a combination of runes. They can be used for anything for love to protection. The woodcutter finished cutting up my willow branches yesterday and now all I am doing is waiting for your requests. The bindrunes can be carried with you, put in your car or tucked safely in your child's room for protection from nightmares or anything else. They are powerful symbols and being made out of the magickal Willow only adds to their power. If you think you have had a curse or hex put on you, then you need a bindrune. If you are in need of financial success, you need a bindrune. The bindrunes have so many uses. They are ancient symbols that are once again see the light of day. You will receive a wooden token, with your special rune (picked out by you), wood burned and blessed by me. We are offering the bindrunes only to the members of the WOTC. The bindrunes will cost only $8.00. The way it works is that you send me your request or make a comment here for which one you want. I then make it and when it is done, I will contact you. Than you can either use Paypal or send us a money for the amount due. Nothing complicated, simple. Anyone can use a bindrune, I have one I grab every time I go out the door for safe journeying. I cannot emphasize enough how powerful they are. Once you get the rune in your hand, you will feel the power or it, I guarantee you that.
Below is a chart of the bindrunes, I will be making.  You will notice there is a bindrune for every occcasion. If you do not see one you need, let me know, there are many more runes than listed here. I hope you will take advantage of this opportunity because I only get into the mood to make bindrunes every once in a blue moon.
You will notice these are made into pendants. The willow bindrunes can also be turned into necklaces but I am not to adapt at using a drill. I hope you will take advantage of this opportunity. Bindrunes are ancient and very, very powerful.
You can leave your request here but do not include your personal mailing address. I will contact you for that. Or you can email your request to witches_of_the_craft@outlok.com. I hope you will take advantage of this offering, like I said it don't come around very often. And not to mention tese days and times, everyone could use a protection bindrune just to carry with them.
Save
Save
Save